Hands down the BEST Pumpkin Bread Recipe that I have ever made. A pumpkin spiced quickbread recipe that takes no time to prepare, topped with a delightfully spiced glaze, that will keep you coming back for more. Makes two loaves, one to keep and one to share or freeze for later!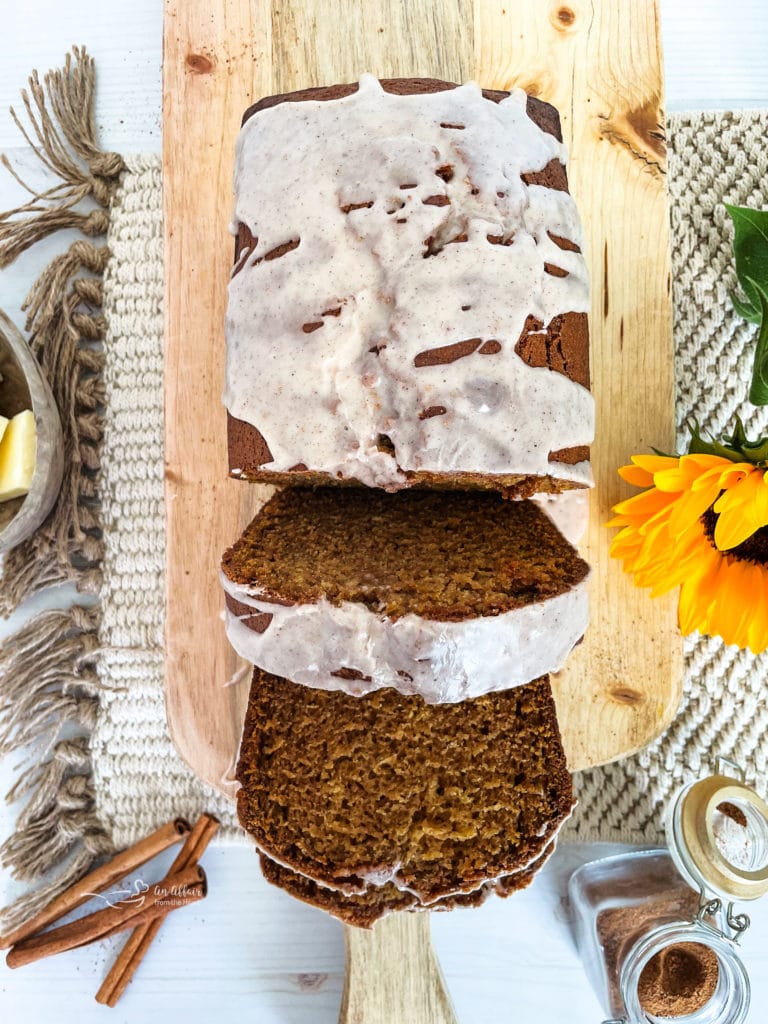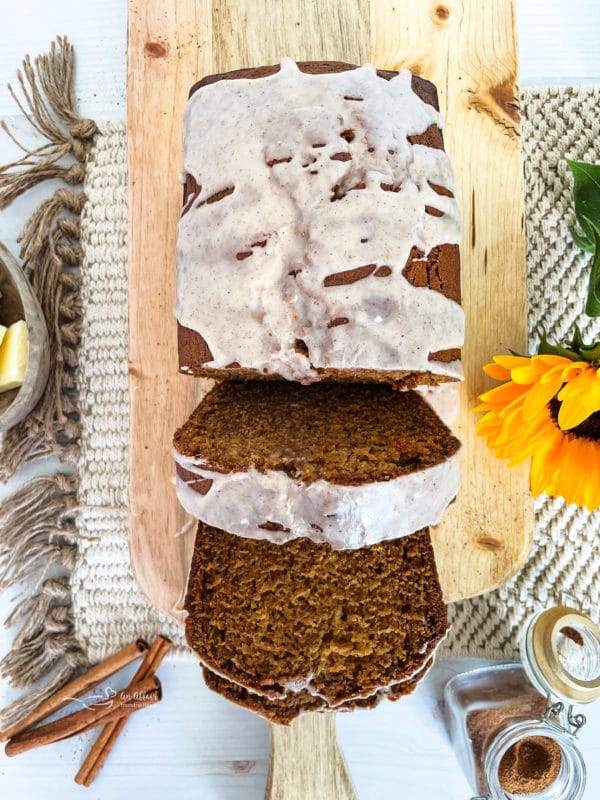 Does it get any more awesome? Homemade pumpkin bread uses the same combination of spices as pumpkin pie. So, you end up with a moist pumpkin bread that is just like that pumpkin loaf you may have tried at Starbucks.
Pumpkin bread
from scratch is pretty much just as easy as
zucchini bread
or
banana bread
. You toss the ingredients together. Stir and pop it in the oven. Then kick back, relax, and wait for it…The smell of those
pumpkin pie spices!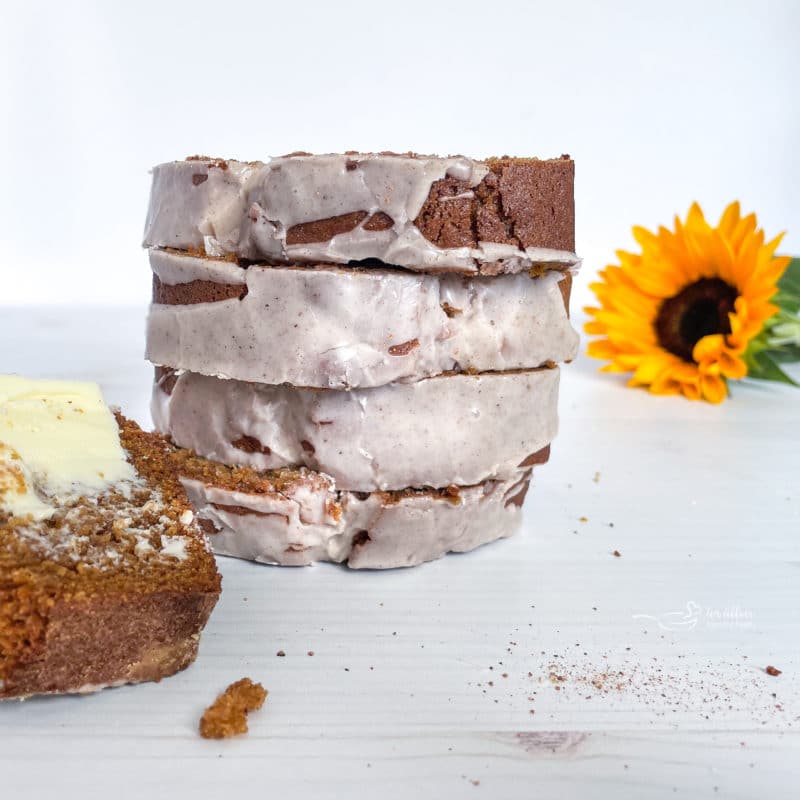 The Best Pumpkin Bread Recipe
We always have always had company for dinner on Halloween. I always make a few kinds of soup, and we have some nice crusty french bread for dipping! But back in 2012, I decided to make pumpkin bread, too, and this is the recipe I have made ever since. I love pumpkin, and trust me when I tell you, that this is truly the best pumpkin bread I have ever made or eaten!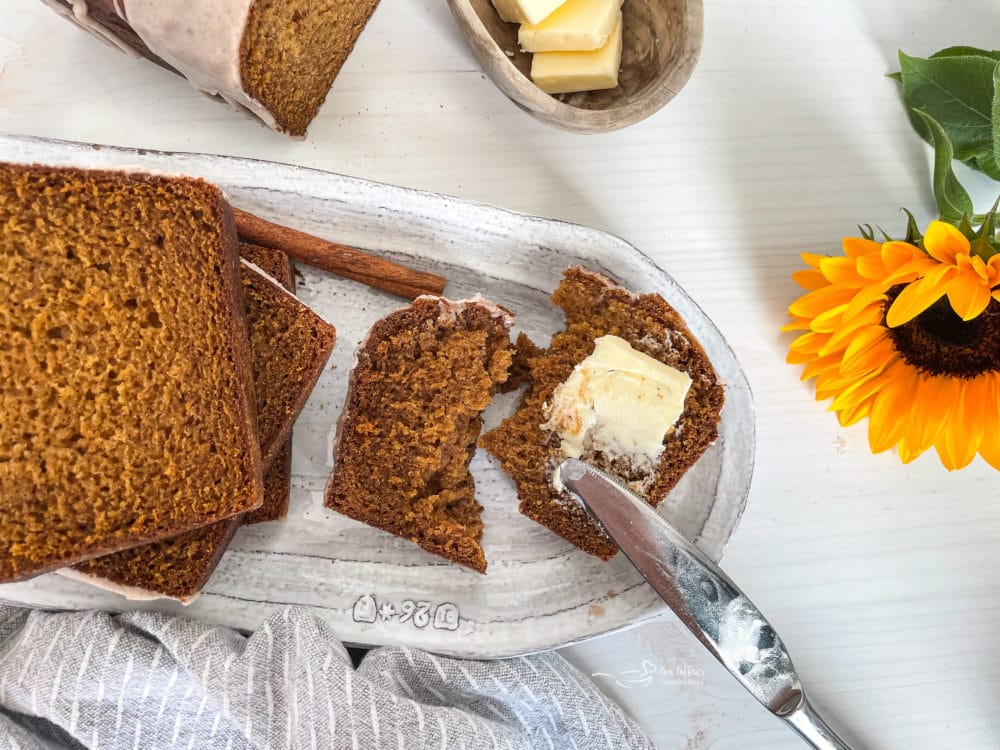 For pumpkin bread, which is also sometimes called "pumpkin loaf", you follow a recipe that might remind you of making banana bread. There are plenty of similarities. First, and most importantly, the baking soda helps the bread to rise. So don't worry. You don't have to deal with any yeast or waiting for the rise to happen a couple of times.
However, you do need to watch out for over-stirring the wet and dry ingredients once they are mixed together. Over mixing will create gluten strands that will give the bread a less pleasant texture. Ideally, you want light and fluffy, but also a little bit of dense and moist, all in balance.

What Ingredients Do I Need For Easy Pumpkin Bread?
For making pumpkin loaf from scratch, you will need the following ingredients:
For the bread:
pumpkin puree (unsweetened canned pumpkin)
eggs
vegetable oil
butter
water
brown sugar
sugar
vanilla
flour
baking soda
salt
cinnamon, nutmeg, ground cloves, ground ginger, pumpkin pie spice
For the Glaze:
powdered sugar
milk
cinnamon, nutmeg. ginger, cloves
(find the complete printable recipe at the bottom of this post)

The pumpkin puree is easy. Don't sweat cooking a pumpkin for hours to make your own. Just go with the canned puree. Make sure it's just plain pumpkin though, no sugar or spices added.
How To Make Pumpkin Bread
Get ready to mix your ingredients like you would other quick bread recipes. Mix the wet first.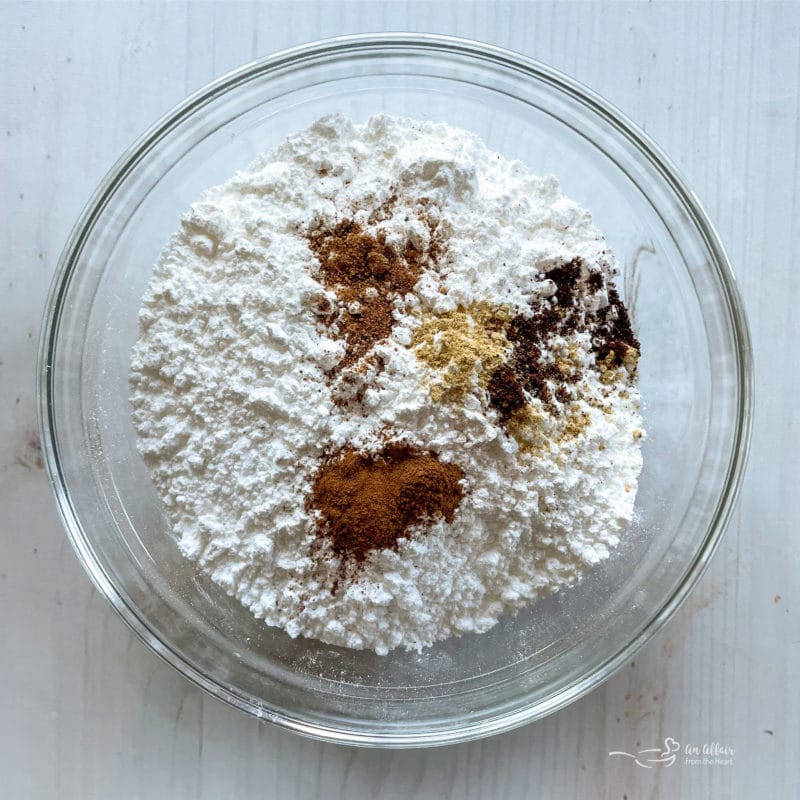 Now, mix your flour and baking soda. Get those sifted together nicely, then mix in your dried spices and sugar.

Mix the wet with the dry and be sure not to over stir everything. Just stir them all together until they are well combined. In this case, I recommend using just a regular mixing fork or spoon and not using the hand mixer. If you do use a mixer, then keep it quick and gentle.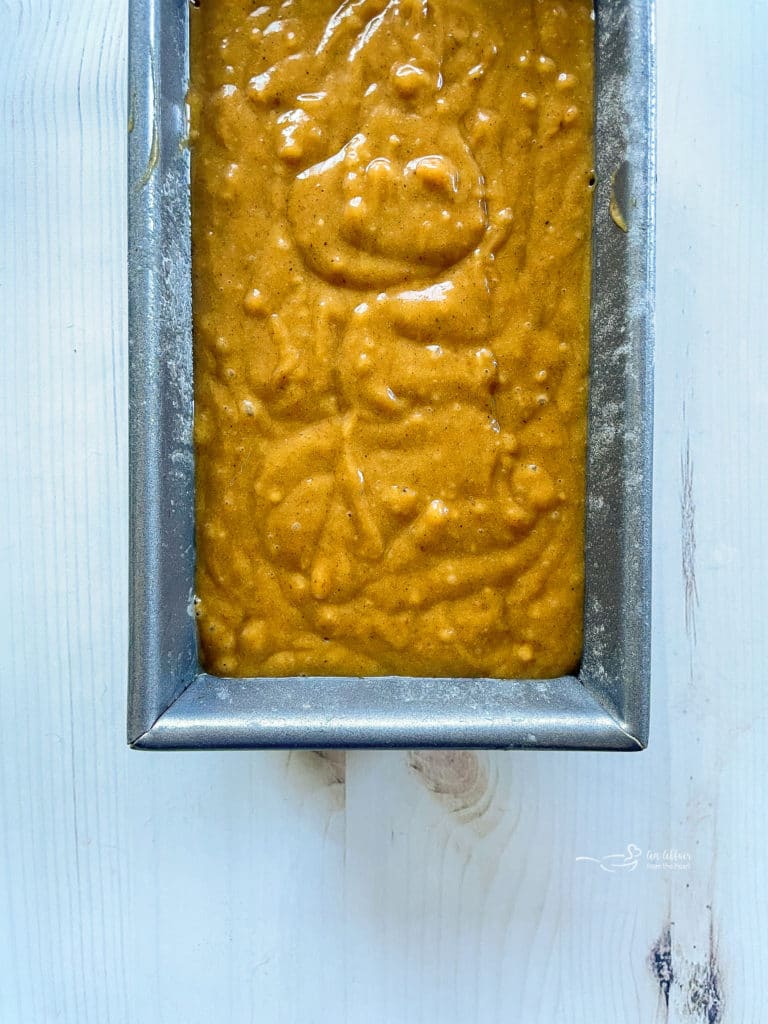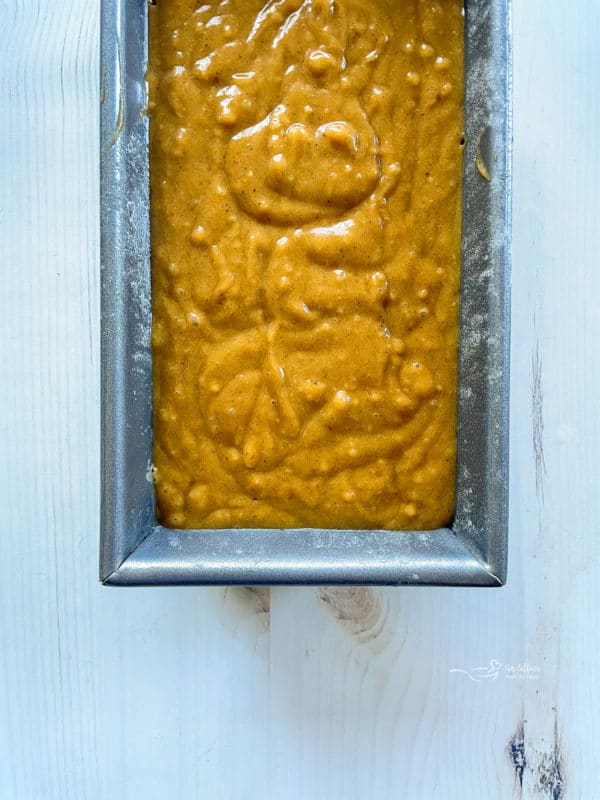 Slather everything into a standard loaf pan like you would use for your banana bread or zucchini bread. Now, make sure the oven is pre-heated because you are ready to bake it!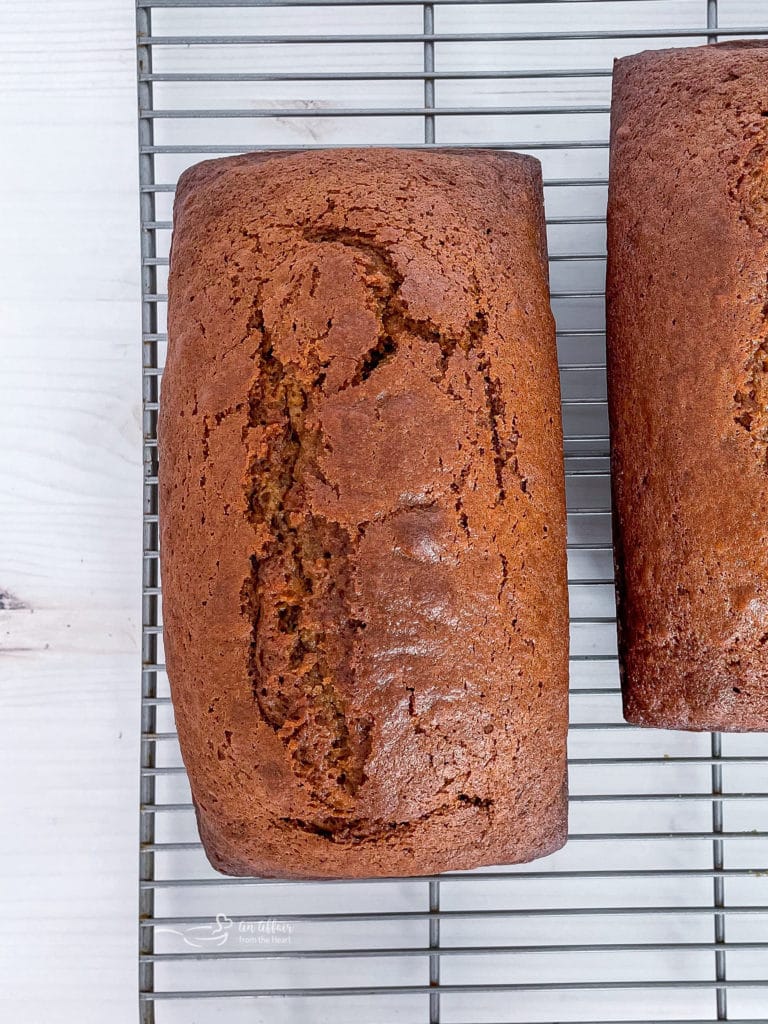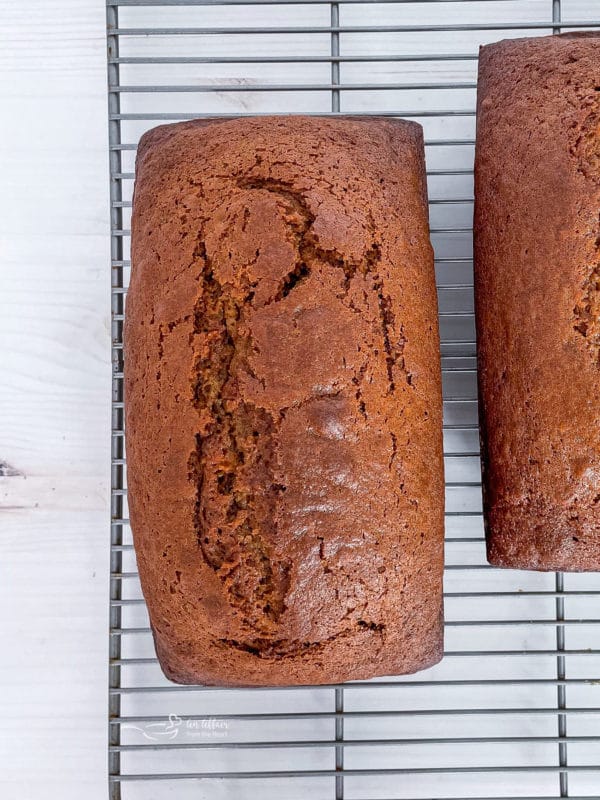 Once it is out of the oven, you have to be patient. It smells wonderful and, yes, you could eat a slice right now, but wait! Let the loaves cool enough so that you can easily frost them. If they are just warm enough for the frosting to melt over the top and cool, then that is great. Otherwise, too hot and the frosting just soaks right into the bread.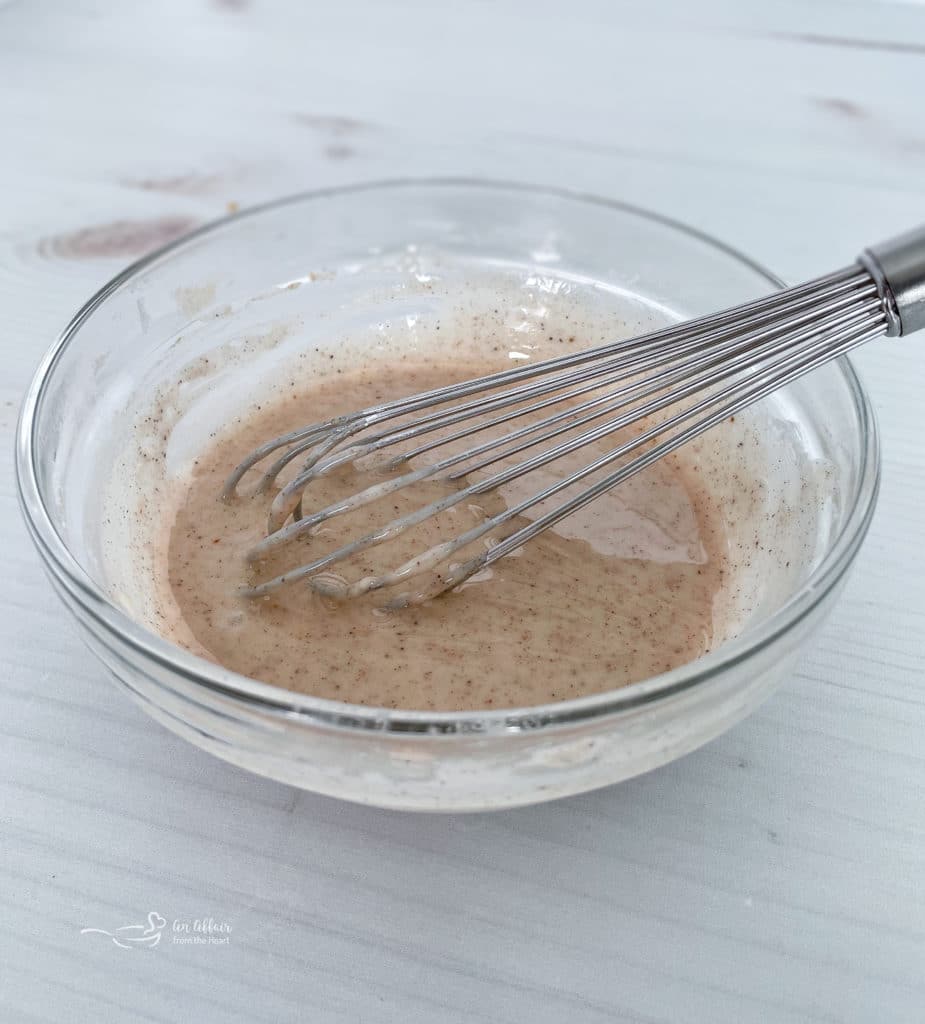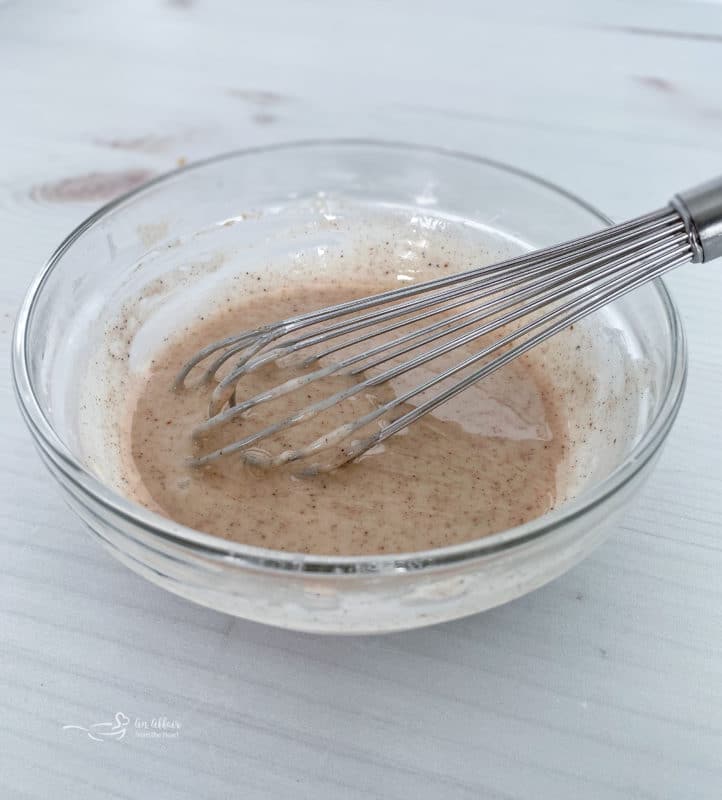 The pumpkin frosting also has spices mixed into it too, so every bite has that wonderfully exotic flavor of fall!
Let the frosting drip randomly over the top of the bread, or make crisscross designs. Your call and creativity is always going to make it more fun… therefore, more delicious looking too!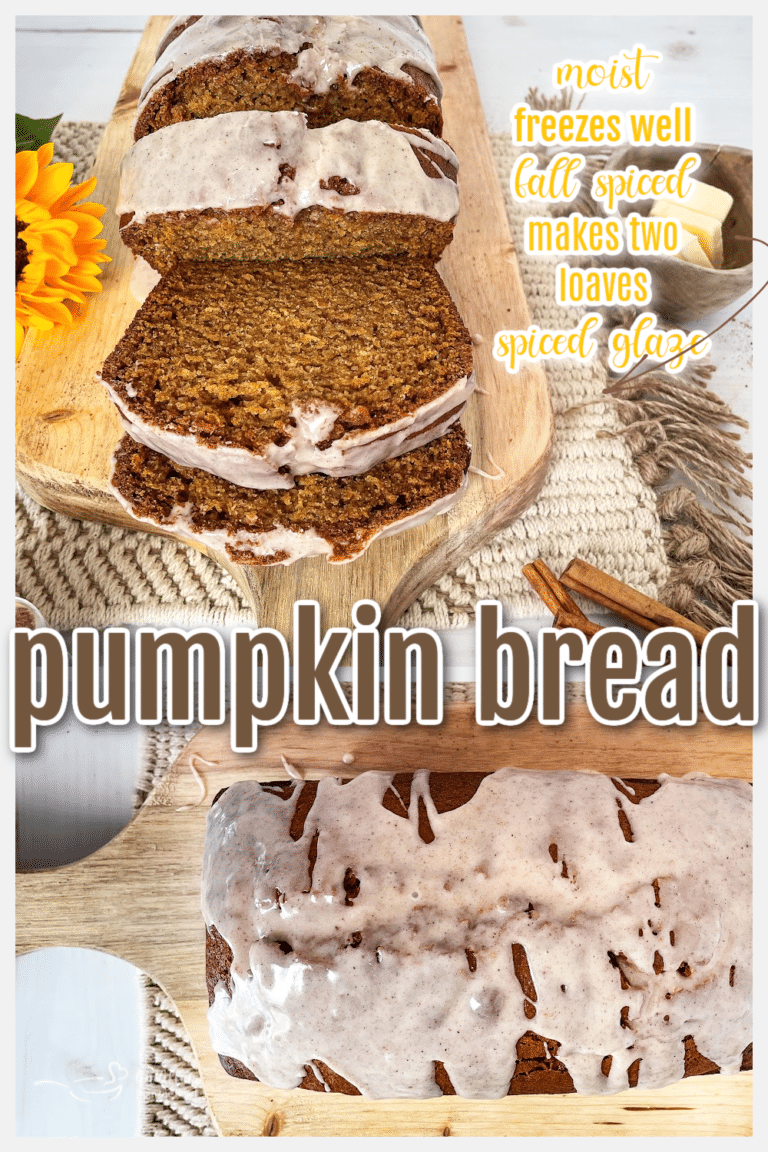 Love it? Pin it
Don't forget where you found the best recipe for pumpkin bread! Pin it to your favorite Pinterest board before you go!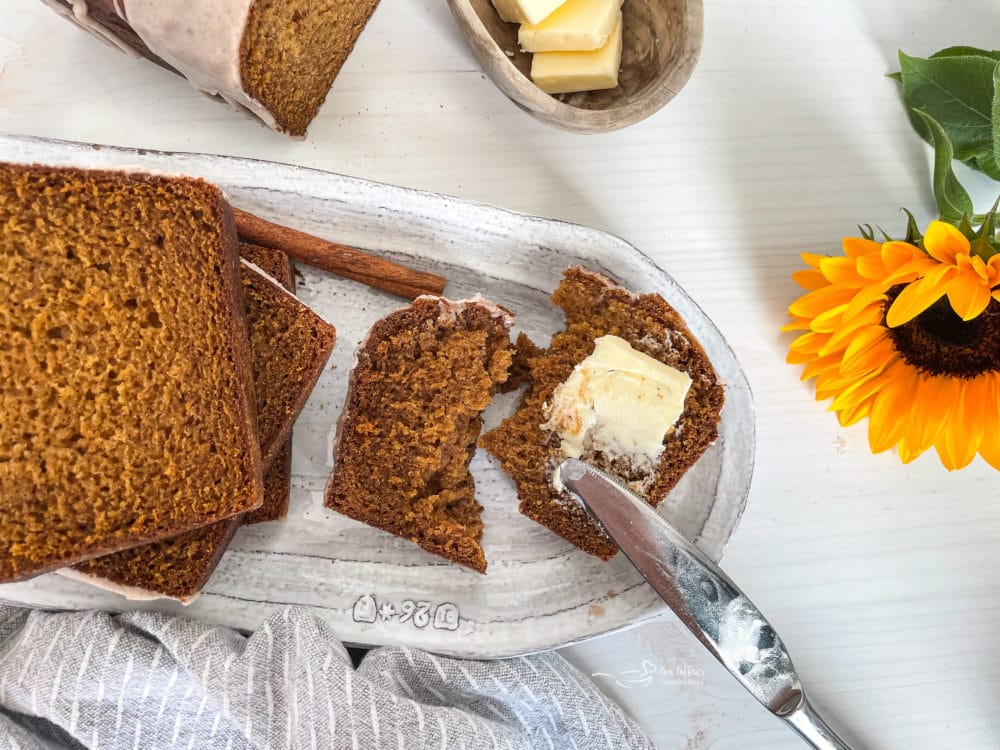 Let's just say this recipe has a lot of fans…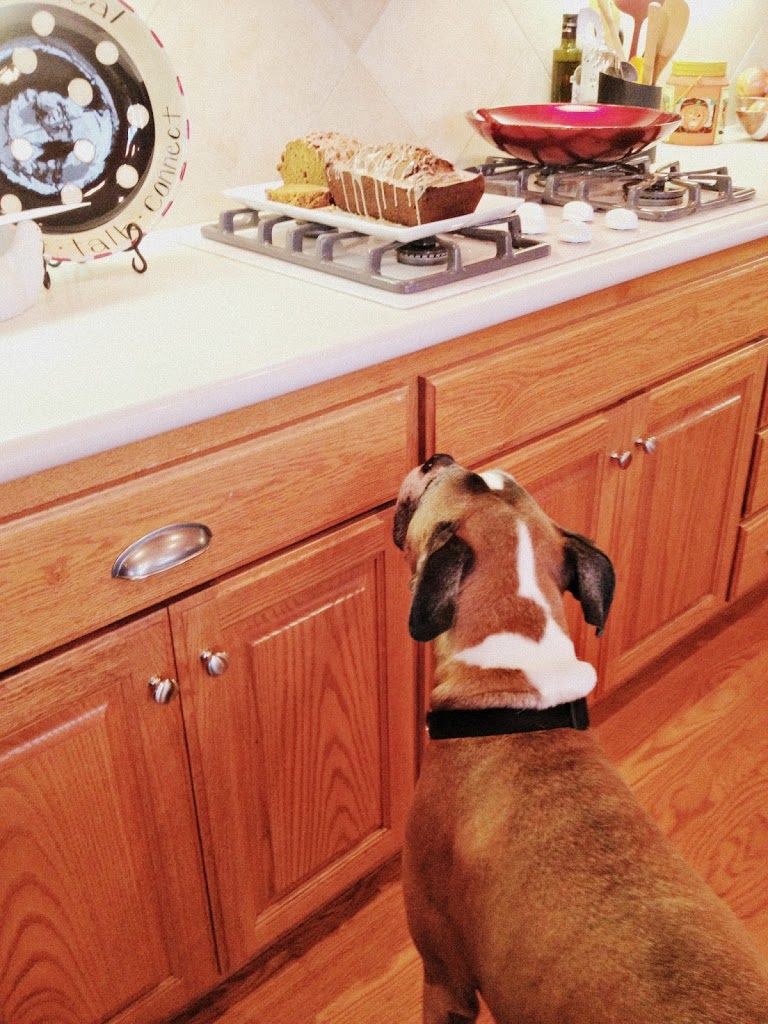 The Boxer's NOSE, KNOWS!!
When I updated the recipe for this pumpkin bread, I had to leave this old photo of our dog, Sully. He watched me so intently when I baked.
What Else Can I Add To This Recipe?
Of course, just like banana bread, you can feel free to add chocolate chips or butterscotch chips, nuts, or raisins… dried cranberries… You name it! Indeed, there are all sorts of ways to tweak this recipe if you like experimenting.

If you are like me, and can't get enough of that pumpkin spice flavor – you are going to need to take a look at some of my other pumpkin favorites!
More Pumpkin Spice Inspired Recipes For Fall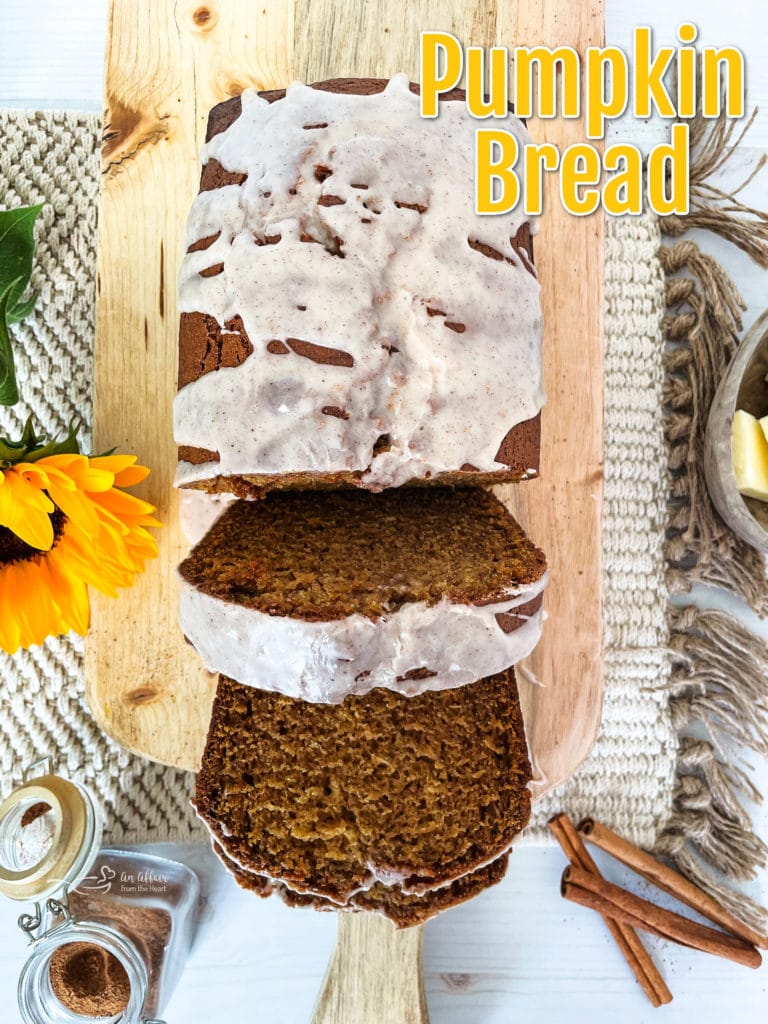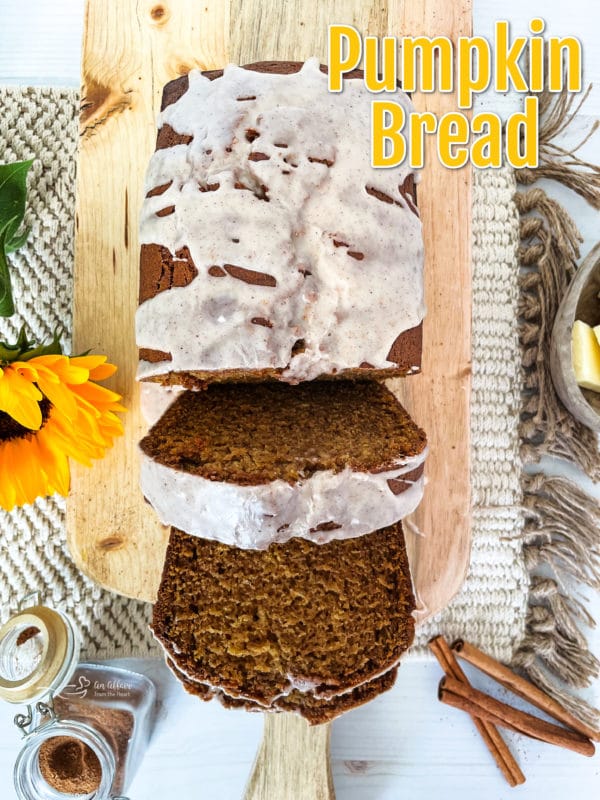 Let's bake some pumpkin bread! Will you share that second loaf? Or keep it for yourself?

Yield: 2 Loaves
Pumpkin Bread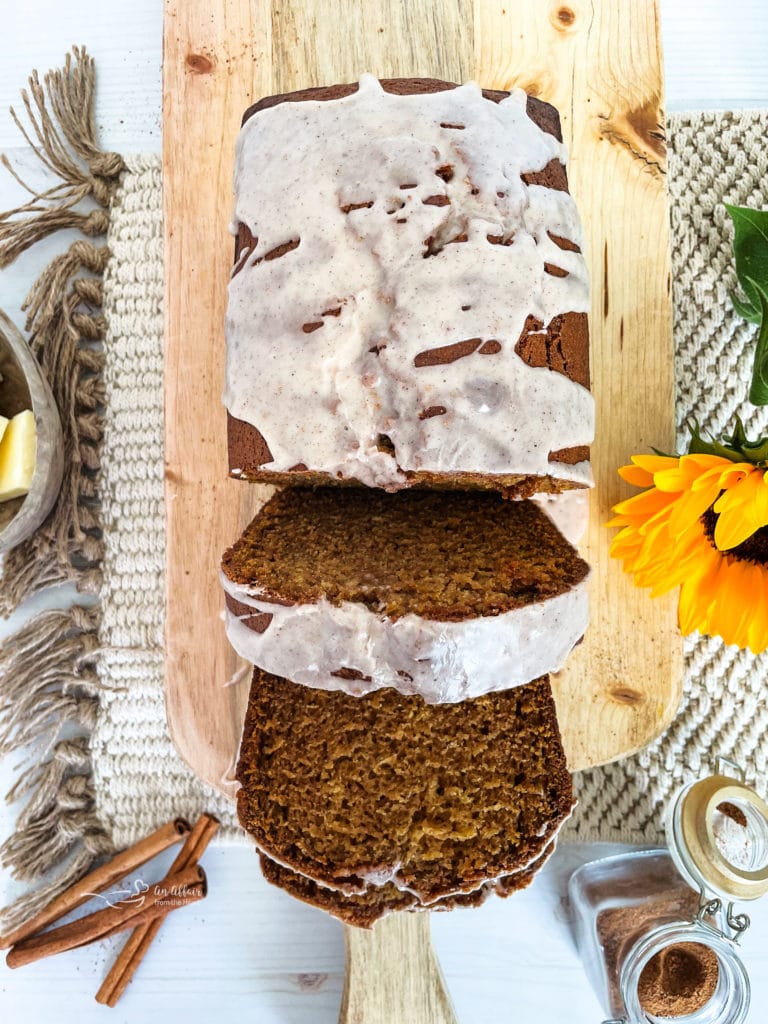 Hands down the BEST Pumpkin Bread Recipe that I have ever made. A pumpkin spiced quickbread recipe that takes no time to prepare, topped with a delightfully spiced glaze, that will keep you coming back for more. Makes two loaves, one to keep and one to share or freeze for later!
Ingredients
For the Bread:
1- 15oz can of pumpkin puree
4 eggs
1/2 c vegetable oil
1/2 cup butter melted
2/3 cup water
1 cup brown sugar
2 cups sugar
1 tsp vanilla
3 1/2 cups flour
2 tsp baking soda
1 1/2 tsp salt
1 tsp cinnamon
1 tsp nutmeg
1/2 tsp ground cloves
1/4 tsp ground ginger
1/4 tsp pumpkin pie spice
For the glaze:
1 cup + 3 Tbls powdered sugar
2 Tbls milk
1/4 tsp cinnamon
1/8 tsp nutmeg
1/8 tsp ginger
1/8 tsp cloves
Instructions
Preheat oven to 350 degrees. Grease and flour 2-9×5 loaf pans.
In a large bowl with a whisk, combine pumpkin, eggs, oil, butter, water, sugars, and spices.
In another bowl combine flour and soda, and add to wet mixture, stir until blended.
Pour into loaf pans.
Bake for 45-50 minutes or until a toothpick inserted in the center comes out clean.
Cool bread and mix up the glaze.
Drizzle glaze on the warm bread, slice and enjoy!!

Recommended Products
As an Amazon Associate and member of other affiliate programs, I earn from qualifying purchases.
Nutrition Information:
Yield:
24
Serving Size:
1
Amount Per Serving:
Calories:

322
Total Fat:

10g
Saturated Fat:

3g
Trans Fat:

0g
Unsaturated Fat:

6g
Cholesterol:

43mg
Sodium:

306mg
Carbohydrates:

56g
Fiber:

1g
Sugar:

40g
Protein:

4g
Please note that nutrition is not guaranteed accurate.
This recipe was originally posted on October 31, 2012. It was updated to improve user experience and reshared on September 22, 2021.

If you make this recipe, I'd love to know! Snap a picture, share the photo on social media with the hashtag #AnAffairFromTheHeart – I'd love to see what you made! – Michaela