Pumpkin Zucchini Streusel Bread is made with pumpkin, cinnamon, cloves and nutmeg – it's bursting with the flavors of fall! Add in some walnuts and top it off with a heap of that delicious streusel topping. Perfection! Makes two loaves, one to keep and one to share!

Easy pumpkin streusel bread
This recipe adds a bit of streusel topping to a pumpkin zucchini bread. Zucchini bread is always an easy and satisfying bread to make. Adding pumpkin and pumpkin seasoning puts a seasonal spin on it. It's moist, and delicious served warm. It's the pumpkin quick bread that eats like a cake!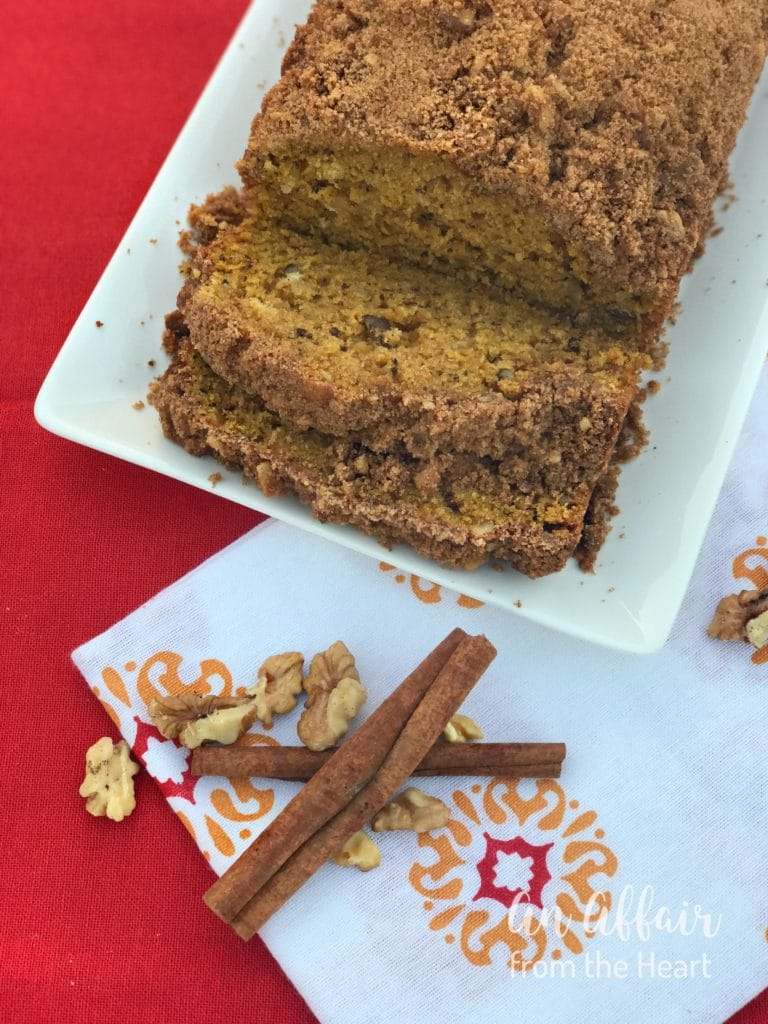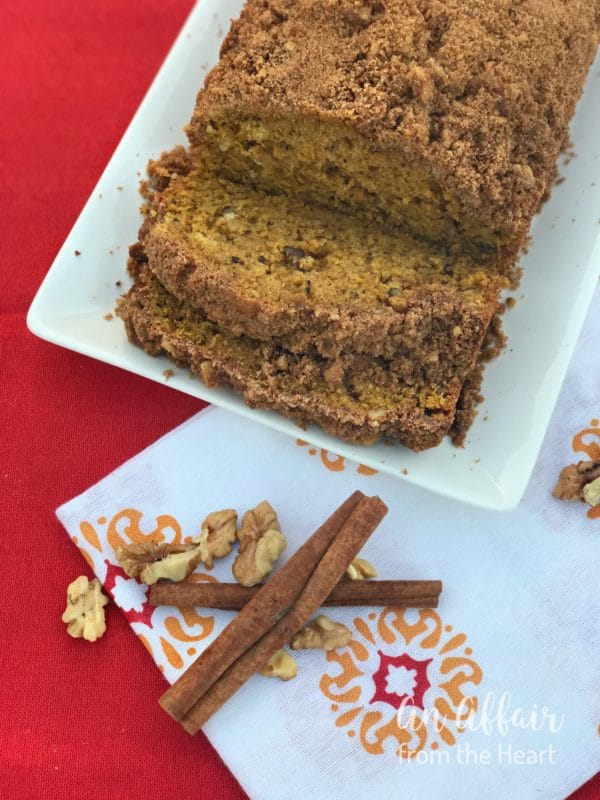 Who's ready for fall? I am always sad to see summer end, but fall has always been one of my favorite seasons. Something about the crisp air that comes with the sunshine and changing leaves. Not to mention the food! It's no secret how much I enjoy comfort food. Soups, stews, and fresh-baked bread just to name a few. This one here is a must bake.

My favorite zucchini bread recipe
I absolutely ADORE my Grandma's Zucchini Bread Recipe! In fact, where some people look at a gifted zucchini like "what am I supposed to do with this?" I do a little happy dance, because I know her zucchini quick bread recipe is the first thing I will make.
Then I am going to ask them to share any other zucchini extras they have so I can make ALL the Zucchini things!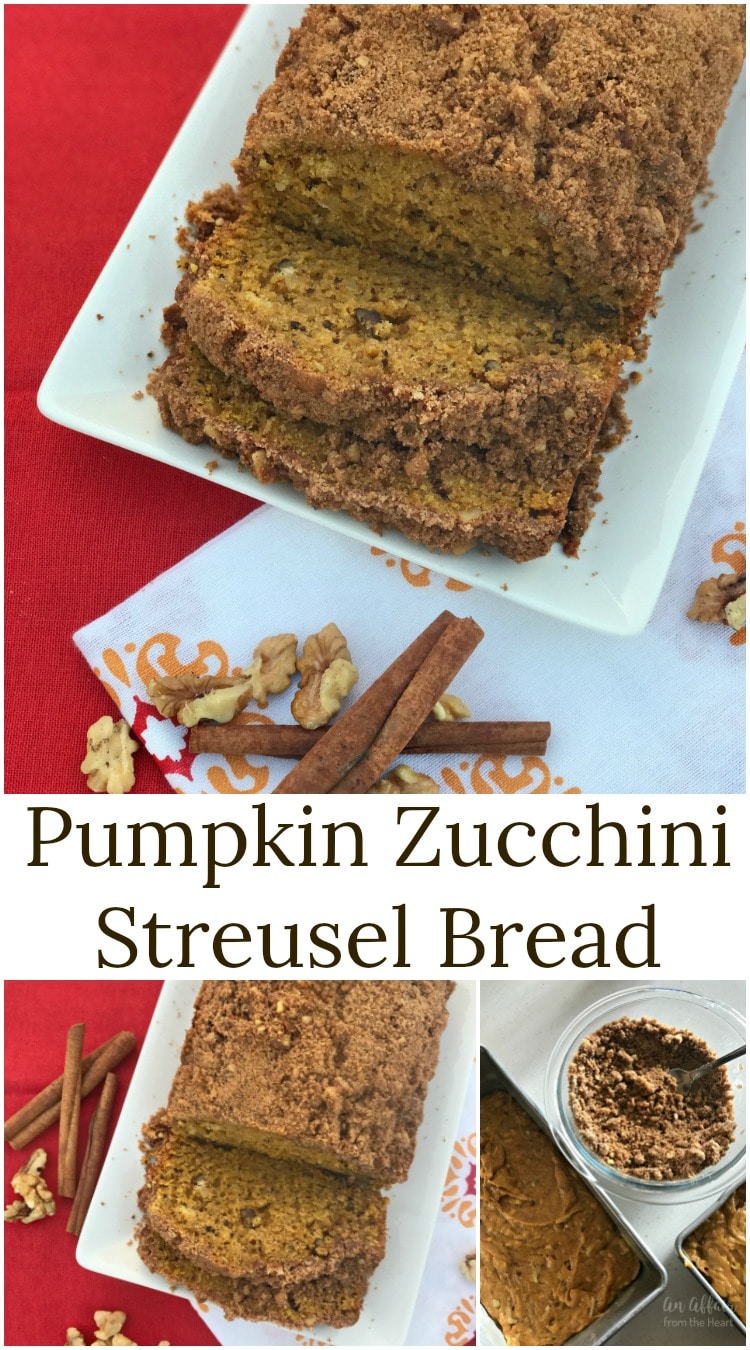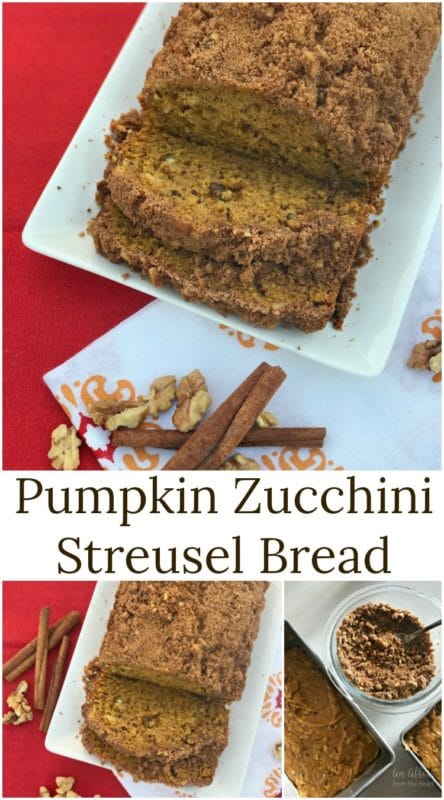 My pumpkin spin on typical zucchini bread
This year, in addition to making my grandma's recipe, I wanted to try something a little different and thought about adding pumpkin. I did a little searching on some recipes I had pinned on my Pinterest Boards. I saw a couple that I liked, and I decided to switch them up and combine them.
That is where this recipe came from.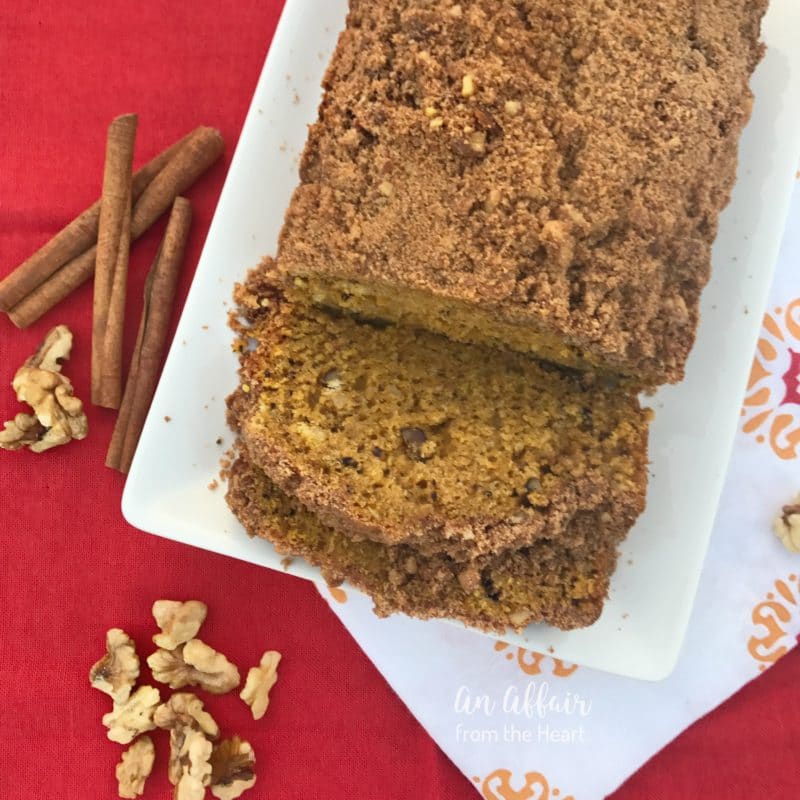 Is zucchini bread really bread or is it a cake?
When you make zucchini bread, you might wonder if you are actually making a cake. So, is pumpkin zucchini bread really bread or should it be called zucchini pumpkin cake instead? Well, truth be told, cake and quick bread are essentially the same things. I guess that is why I make this, and we enjoy it for dessert, too. It's amazing warm with whipped cream.
It also makes a great "coffee cake" for breakfast or for brunch.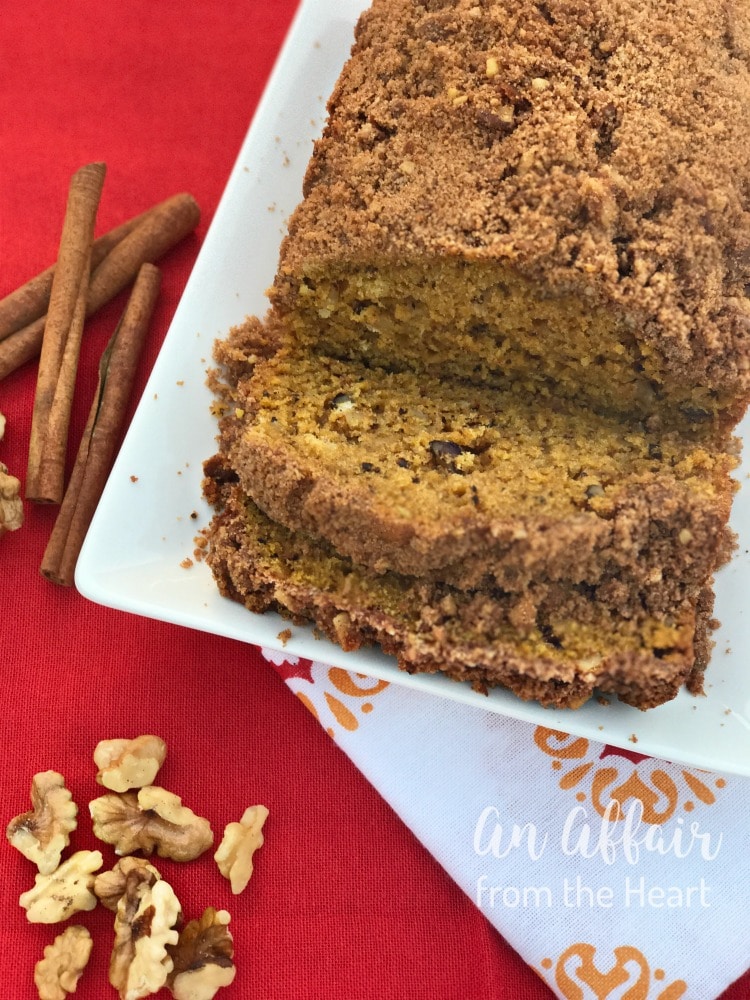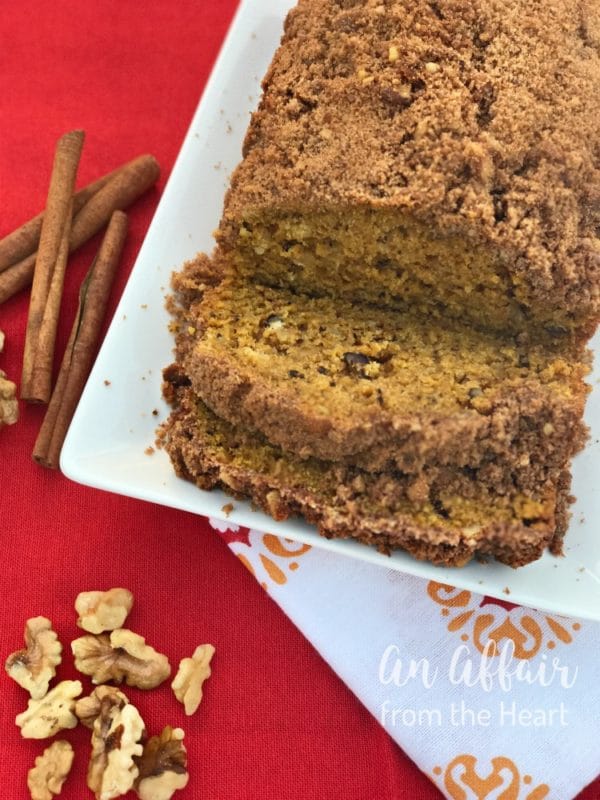 How to Make Pumpkin Zucchini Streusel Bread
The smell of this bread baking will make you want to pull out your fall decorations and immerse yourself in the season. It's better than any fall scented item you will pick up at Bath & Body!
Like I mentioned before, the batter makes enough for two loaves. One to keep and one to share. Don't feel like sharing? Pop one in the freezer and pull it out next time you have company over.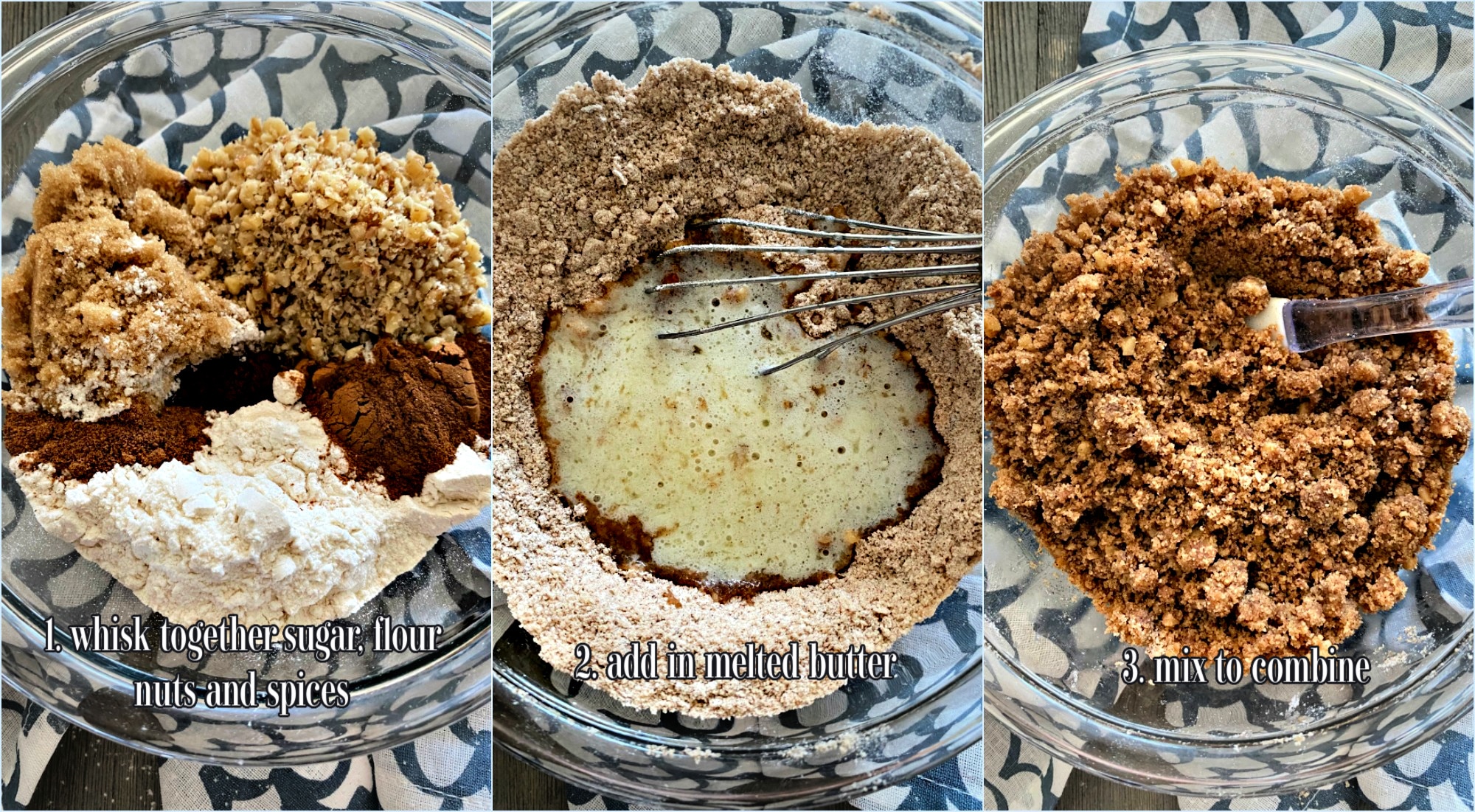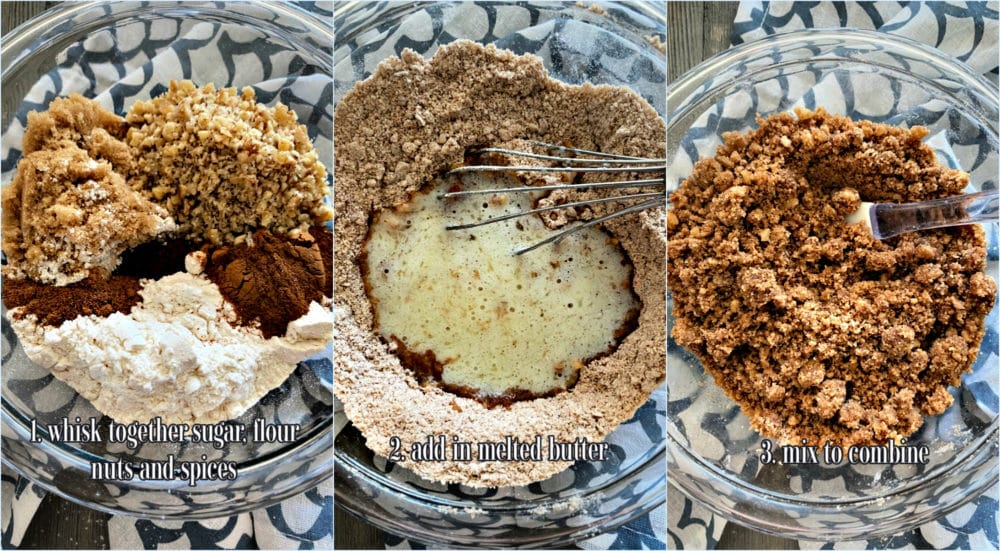 First, you will mix up your streusel topping. Whisking together sugar, flour, walnuts and spices. Then mixing in melted butter. The consistency will be like brown sugar. Set the streusel topping aside.
What is streusel topping?
The classic streusel topping is the best way to finish off everything from pies, cakes, and cupcakes, to any sort of sweet bread like zucchini or pumpkin. At the most basic level, streusel is a crumbly mix of sugar, butter, and flour. Mixed, then baked, it becomes that wonderful sweet crumble that makes the bite just right.
You can add a variety of things to make the streusel even tastier too. Oats, or a variety of nut meats also make streusel even more delicious. Nuts like pecans, walnuts, hazelnuts, or cashews.
In my streusel for this pumpkin bread, I use walnuts, but that is just the way I like to do it. I also season the streusel with cinnamon too. So delicious!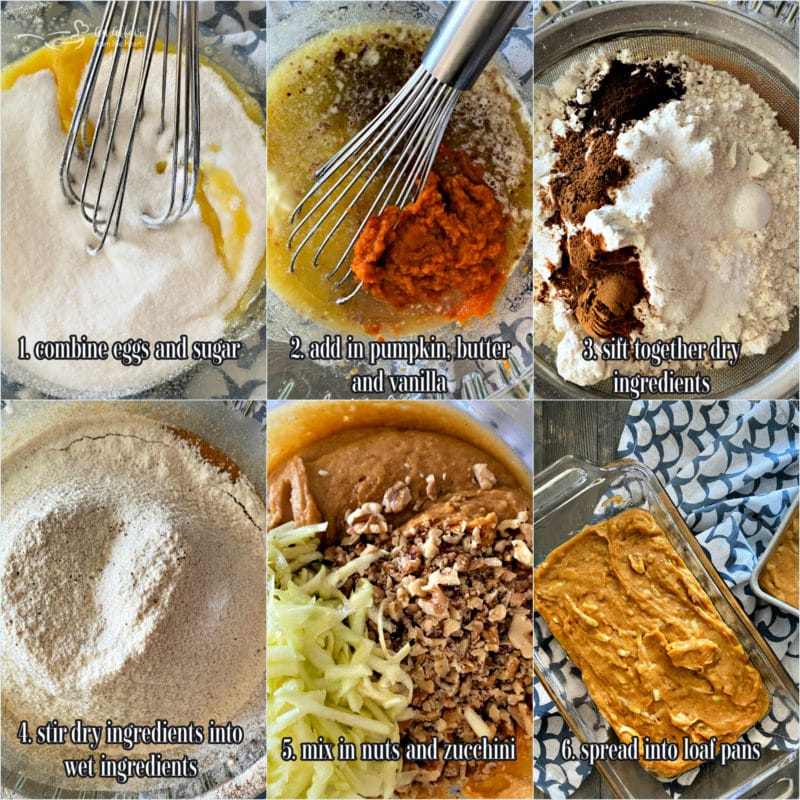 Now, we will mix up the batter for our pumpkin zucchini quick bread.
First, combine eggs and sugar together in a bowl. Mix in pumpkin, butter and vanilla. Next, sift the dry ingredients into the bowl, and stir to combine. Finally, fold in walnuts and shredded zucchini and spread into two loaf prepared loaf pans.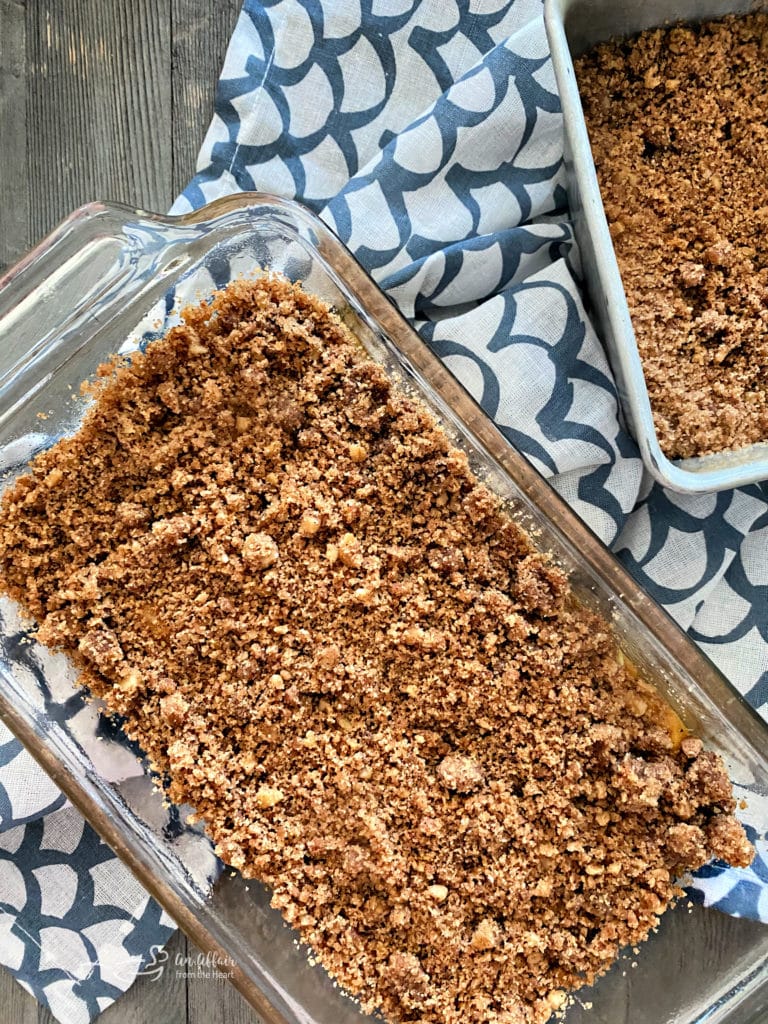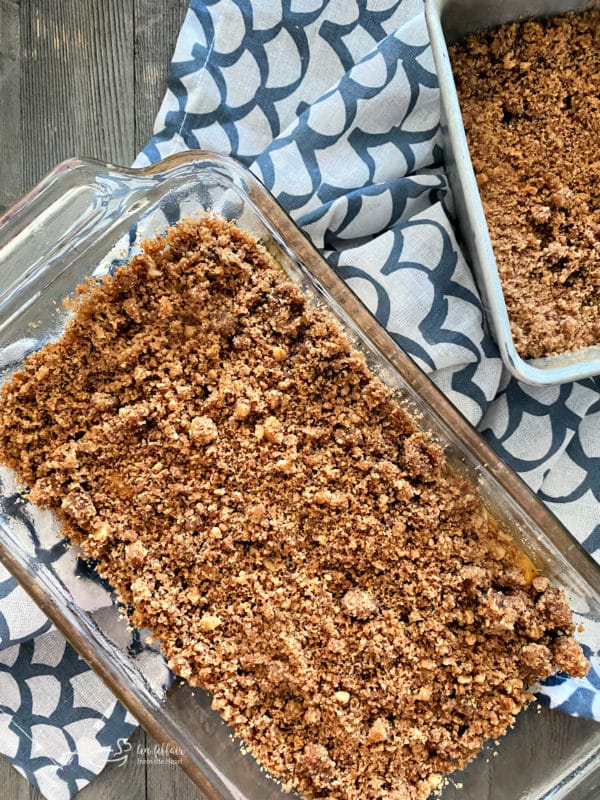 Divide the streusel topping and sprinkle a generous amount of it over each loaf. Bake.
Let the loaves rest in the pans for a few minutes to cool a bit, before removing them carefully from the pan and onto a cooling rack.
This bread would have been good without the streusel topping, but WHY would you make it without it? I mean, look at those chunks of walnuts inside. YUM.
I can never resist slicing a big hunk off while it's still warm.
You will find the full printable recipe card at the bottom of this post.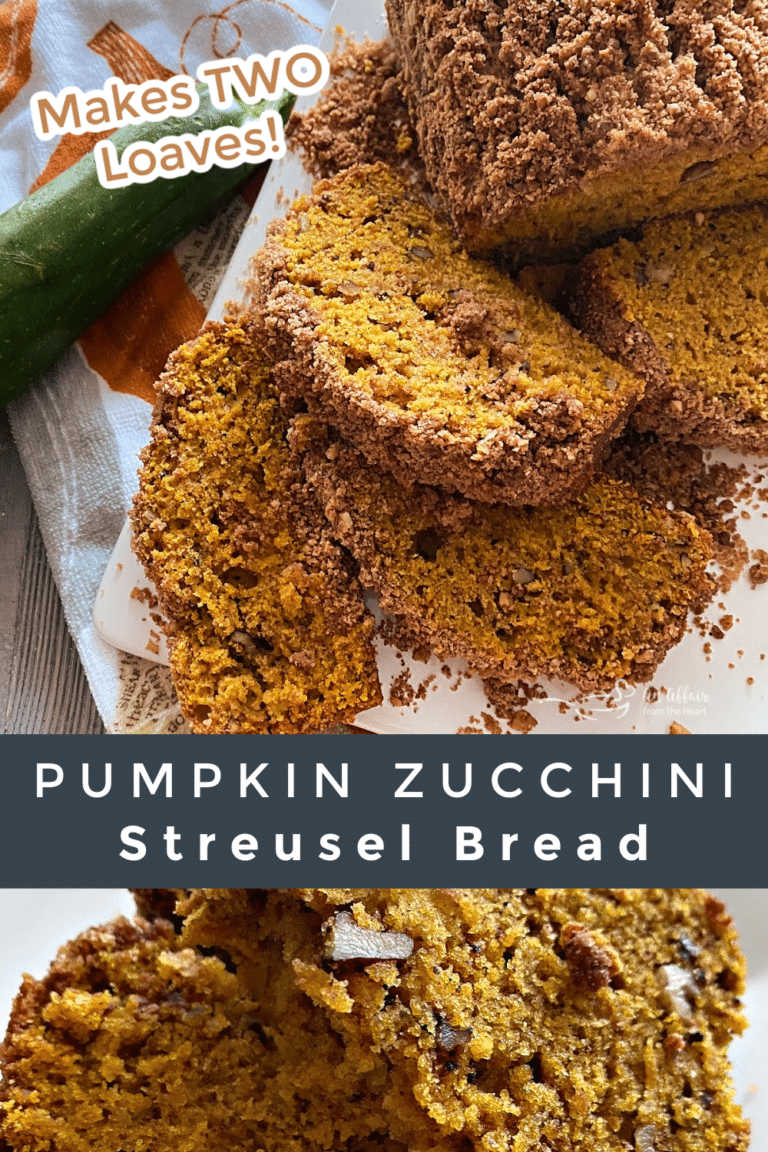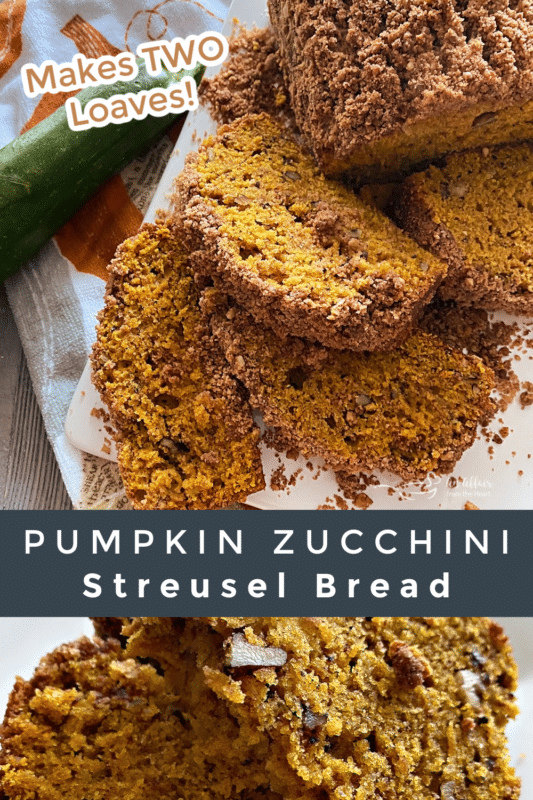 Love it? Pin it!
Don't forget where you found the recipe for this delicious pumpkin zucchini streusel bread! Pin the recipe before you go!

Do I have to skin the zucchini first for zucchini bread?
To peel or not to peel the zucchini, that is the question. Good news. You don't have to peel the zucchini. The skin of the zucchini isn't tough and bitter like a cucumber skin. So, you can simply shred the entire zucchini. Just make sure to cut off the woody end where the vine attached to the fruit.
I learned to peel it when I started making my Grandma's Zucchini Bread, so I typically do. But either way, you'll be fine.
Is zucchini a vegetable or a fruit?
Just like tomatoes, we all tend to think of zucchini as a vegetable, but in the botanical sense, zucchini is a fruit. That doesn't mean it can't be treated like a veggie though. Just like pumpkin, which is also a fruit. I bet you never really looked at this bread and thought "fruit bread" did you?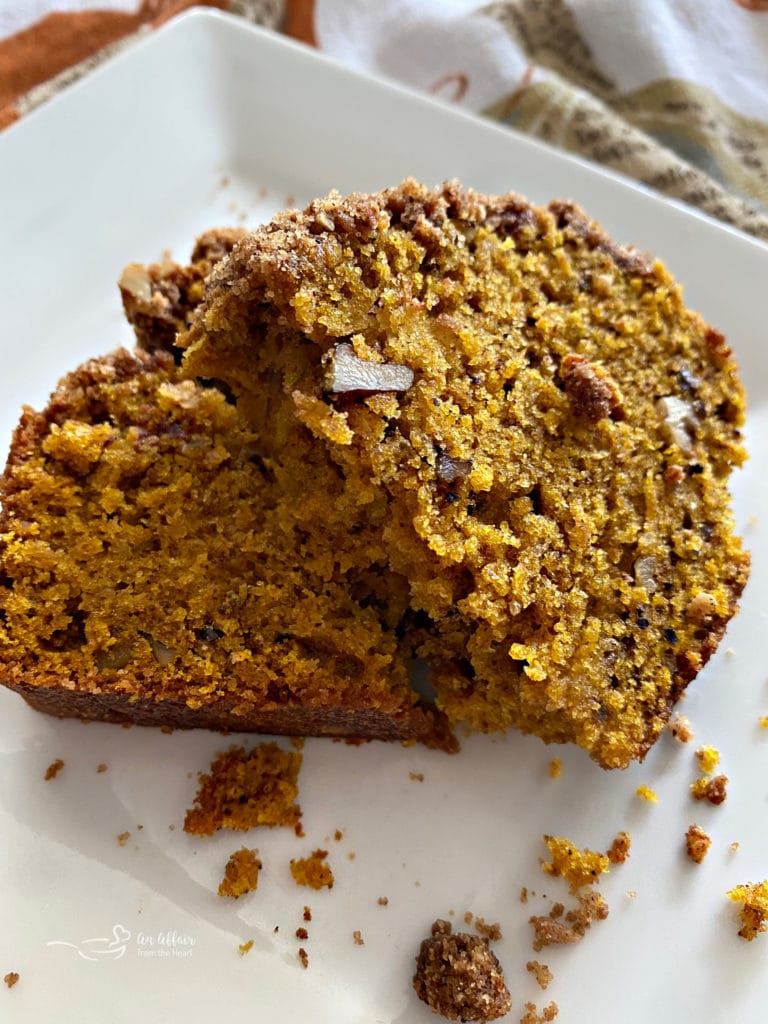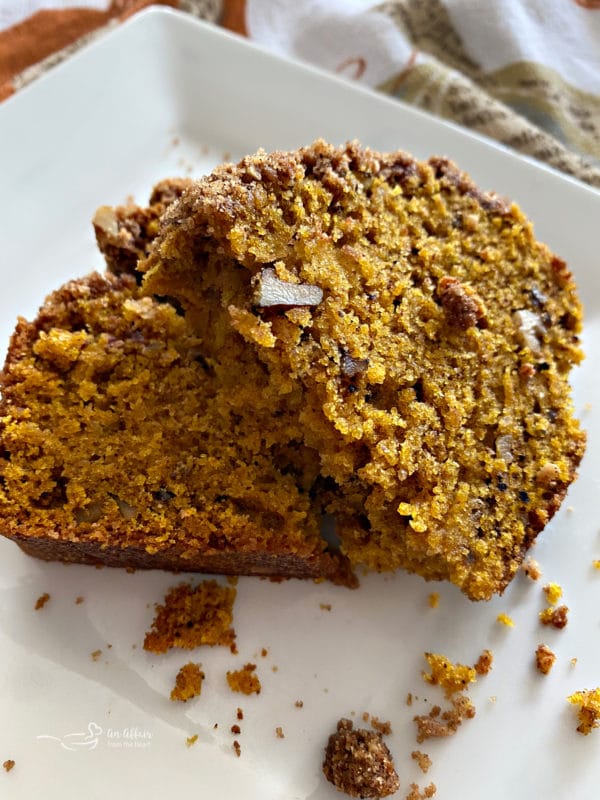 So grab your favorite mug, pour in something soothing, and let's get baking some pumpkin zucchini streusel bread, shall we?

Yield: 2 loaves
Pumpkin Zucchini Streusel Bread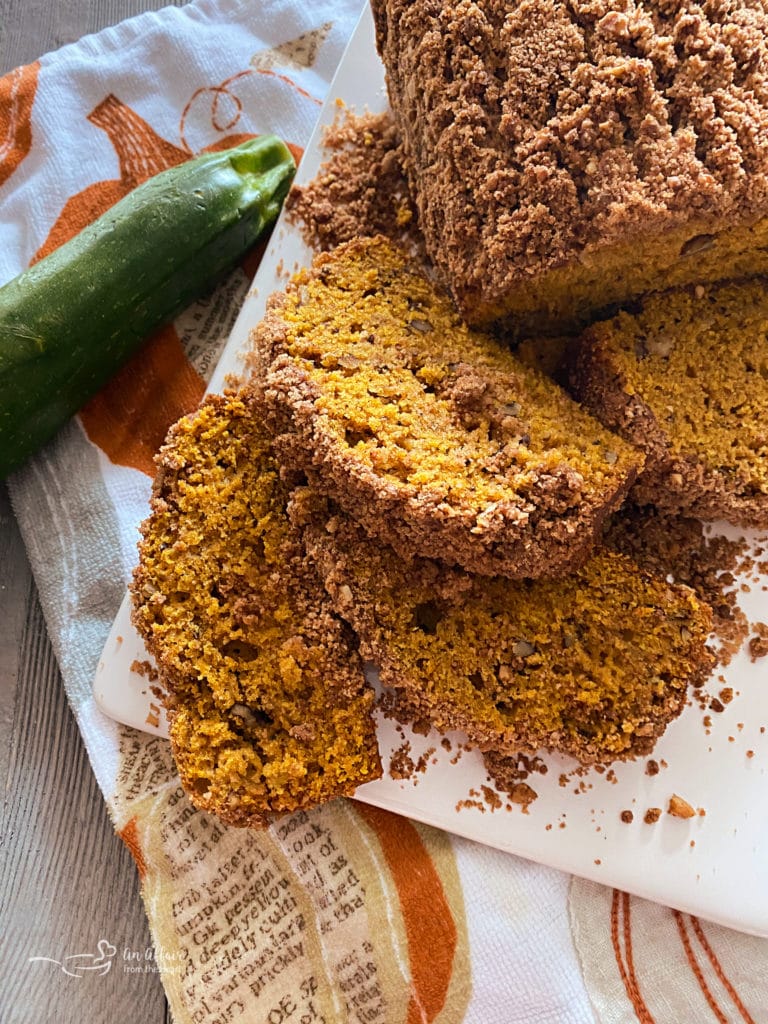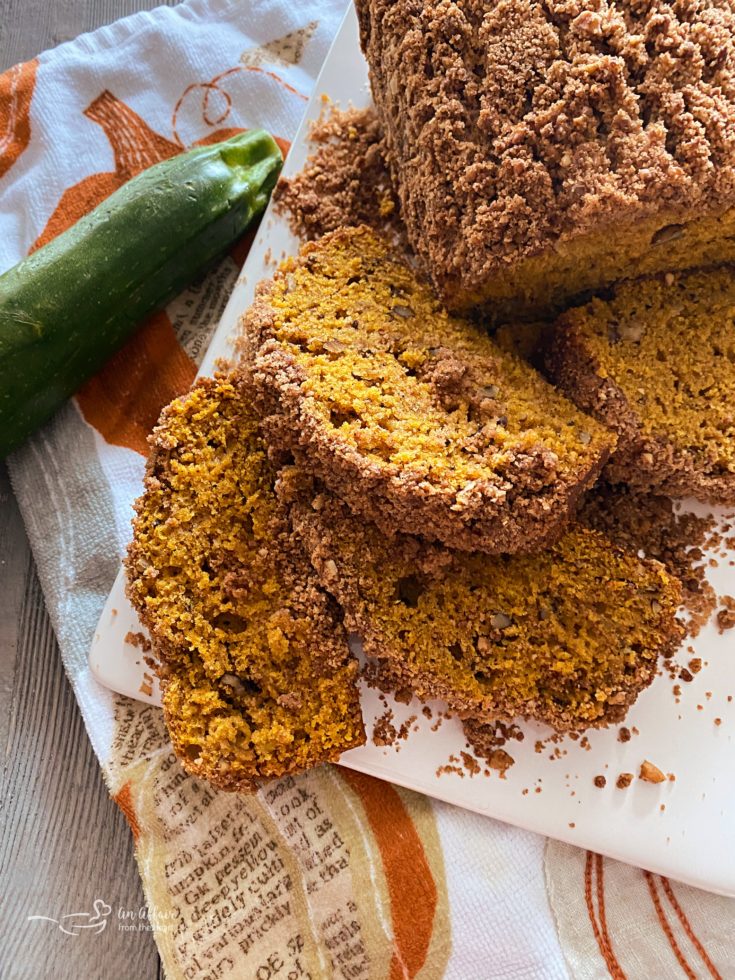 Zucchini bread made with pumpkin, cinnamon, cloves and nutmeg - it's bursting with the flavors of fall! Add in some walnuts and top it off with a heap of that delicious streusel topping. Perfection! Makes two loaves, one to keep and one to share!
Ingredients
For the Bread:
3 large eggs, lightly beaten
2 cups sugar
1 cup canned pumpkin
1 cup butter, melted
1 tablespoon vanilla extract
3 cups all-purpose flour
1 teaspoon baking soda
1/2 teaspoon baking powder
1/2 teaspoon salt
1 teaspoon ground cinnamon
1/2 teaspoon ground nutmeg
1/2 teaspoon ground cloves
1 cup shredded zucchini
1 cup chopped walnuts
For the Streusel Topping:
½ cup brown sugar
½ cup flour
2 tsp. cinnamon
1/2 teaspoon cloves
1/2 teaspoon nutmeg
¼ cup unsalted butter, melted
½ cup walnuts optional
Instructions
Preheat oven to 350 degrees and grease two 9x5-in loaf pans. Set aside.
To Prepare Streusel: In a bowl, Whisk the sugar, flour, and spices until combined. Stir in the nuts. Drizzle melted butter over the mix and stir with a spoon until your mixture is like wet sand, it will be lumpy.
To prepare Bread: In a bowl, combine eggs and sugar. Add pumpkin, butter and vanilla. Sift together dry ingredients, and gradually add to pumpkin mixture and mix well. Stir in zucchini and nuts. Pour into two greased and floured 9x5-in. loaf pans. Top with streusel. Bake at 350° for 45-50 minutes or until toothpick inserted in the center comes out clean. Cool in pans 10 minutes. Remove to a wire rack to cool completely.
Notes
Adapted from Taste of Home and Lil Luna
Recommended Products
As an Amazon Associate and member of other affiliate programs, I earn from qualifying purchases.
Nutrition Information:
Yield:
24
Serving Size:
1
Amount Per Serving:
Calories:

294
Total Fat:

15g
Saturated Fat:

7g
Trans Fat:

0g
Unsaturated Fat:

7g
Cholesterol:

49mg
Sodium:

179mg
Carbohydrates:

37g
Fiber:

2g
Sugar:

21g
Protein:

4g
nutrition isn't guaranteed accurate.
This post was updated on November 24, 2020
Pumpkin inspired recipes
This is a group of bloggers, some I am familiar with and some "new to me" food blogs, too. It's organized by Terri of Love and Confections. All this week, from October 1- 5th, 2017, you can visit our blogs for nothing but pumpkin recipes. Sweet, Savory and even drinks! Want to keep up with all of the Pumpkin Goodness? Simply search the hashtag #PumpkinWeek to see everyone's recipes!
Of course, Fall naturally brings in the bounty of the harvest, and pumpkins find their place in lots of great recipes. You don't have to go to Starbucks for a pumpkin spice seasoned latte to get in on the fun.
Here are today's #PumpkinWeek recipes:
Pumpkin Pie Moscow Mule from Love and Confections.
Chicken Enchiladas with Pumpkin Sauce from Hardly A Goddess.
Goat Cheese and Sage Pizza with Pumpkin Crust from The Spiffy Cookie.
Kaddo Bowrani (Afghan Pumpkin with Yoghurt Sauce) from Caroline's Cooking.
Pickled Pumpkin with Sage and Autumn Spices from Culinary Adventures with Camilla.
Pumpkin Beer Bread from Forking Up.
Pumpkin Beer Cheese Soup with Herbed Croutons from The Crumby Kitchen.
Pumpkin Chili from A Kitchen Hoor's Adventures.
Pumpkin Corn Chowder with Shrimp from Kudos Kitchen by Renee.
Pumpkin Focaccia Bread from Cookaholic Wife.
Pumpkin Ravioli with Parmesan Sage Cream Sauce from Rants From My Crazy Kitchen.
Pumpkin Rosemary Hummus with Sizzled Garlic from Amy's Cooking Adventures.
Pumpkin Stew with Chicken and Black Beans from Palatable Pastime.
Brown Butter Pumpkin Oatmeal Cookies from The Redhead Baker.
Cheesecake Stuffed Pumpkin Bundt Cake from Cooking with Carlee.
Easy Pumpkin Pie Cheesecake from Daily Dish Recipes.
Jumbo Pumpkin Spice Muffins with Pecan Streusel Topping from Family Around The Table.
Pumpkin Blondies from It Bakes Me Happy.
Pumpkin Cheesecake Bars from The Bitter Side of Sweet.
Pumpkin Coffee Cake from The Chef Next Door.
Pumpkin Madeleines from Mildly Meandering.
Pumpkin Pie Energy Bites from Making Miracles.
Pumpkin Pie Oatmeal from Seduction in the Kitchen.
Pumpkin Pie Tassies from Cindy's Recipes and Writings.
Pumpkin Scones from The Freshman Cook.
Pumpkin Spice Donuts from A Day in the Life on the Farm.
Pumpkin Spice Donuts from Hezzi-D's Books and Cooks.
Pumpkin Zucchini Streusel Bread from An Affair from the Heart.
Ridiculously Good Dark Chocolate Pumpkin Cake from Bacon Fatte.

If you make this recipe, I'd love to know! Snap a picture, share the photo on social media with the hashtag #AnAffairFromTheHeart – I'd love to see what you made! – Michaela