Applesauce Bread with Chocolate Chips
As an Amazon Associate and member of other affiliate programs, I earn from qualifying purchases.
This easy Applesauce Bread with Chocolate Chips is a 5-star recipe that is so easy to make! Incredibly delicious with aromatic flavors of cinnamon, cloves, and allspice, this moist and sweet bread recipe is fitting for whenever you're craving the comfort of Fall!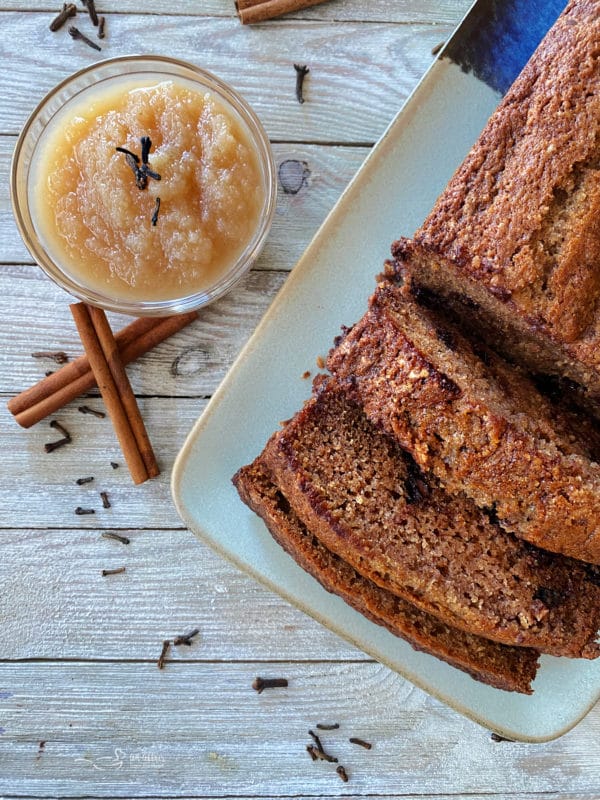 Sweet Chocolate Chip Spice Bread
Since I have such a thing for vintage cookbooks, I figured I would share another one of my favorite recipes with you all. This recipe is sort of like a cross between cake and bread with cinnamon applesauce to give it extra qualities of autumn and softness. The combination of chocolate and cinnamon may seem unusual, but I encourage you to give it atry! Of course, feel free to leave the chocolate chips out if you're not a fan of chocolate, or add some of your favorite chopped nuts if you like!
This crowd-pleasing recipe originated in a small town named Earling, Iowa which is where my husband grew up. Trust me when I say that no one in a small town commumity is going to put a recipe in a cookbook that isn't delicious. News travels like wildfire in a small town!
I have such a thing for baking with applesauce because, in my opinion, using applesauce allows the bread or cake recipes to have enhanced flavors that are super moist and just the right amount of sweetness. When I have some, I like to use my homemade cinnamon applesauce recipe made in my favorite kitchen gadget: the Crockpot. My applesauce recipe makes the whole house smell incredible, too!

Why You'll Love This Recipe
Easy: One thing I love about this recipe is that it is made in very few steps! All you do is preheat the oven and get to mixing all the ingredients, and in no time, you'll have applesauce quick bread ready in no time. If you're looking for a simple sweet bread recipe to woo the family, then you will really love the basic steps in this recipe.
Perfect for Holidays: This bread recipe is perfect for fall occasions and gatherings where people will be craving desserts. We LOVE to bake this bread during Christmas and winter, too!
Yummy: Out of all of the bread I have ever tasted, this one is probably one of my favorites. Butter mixed with warm spices and sugar creates such a delicious treat. Wouldn't you agree?
Ingredients for This Applesauce Recipe
Wet Ingredients
Butter: Softened butter gives this applesauce bread extra moisture and textures you will love.
Eggs: Use either farm-fresh or organic eggs for this bread! In my opinion, fresh eggs are much better to bake with!
Applesauce: Cinnamon applesauce is used because it is another way to add cinnamon and sweet flavors to this bread. A lot of people like to use applesauce in regular or vegan baking because it is a great substitute for oil or butter and is naturally sweet.
Dry Ingredients
Sugar: I just used white granulated sugar for this recipe because it is simple!
Flour: You can use your favorite brand of all-purpose flour for this recipe.
Baking Soda: You'll need this as a leavening agent that is used for a lot of baked goods. You will definitely need it!
Spices: A lovely combination of ground cinnamon, allspice, and cloves give this bread its spiciness.
Chocolate Chips: Semi-sweet chocolate chips or your favorite dark chocolate chips are great! As stated above, feel free to omit the chocolate chips.
How to Make Applesauce Bread with Chocolate Chips
Follow the steps below in order of the pictures from left to right and top to bottom.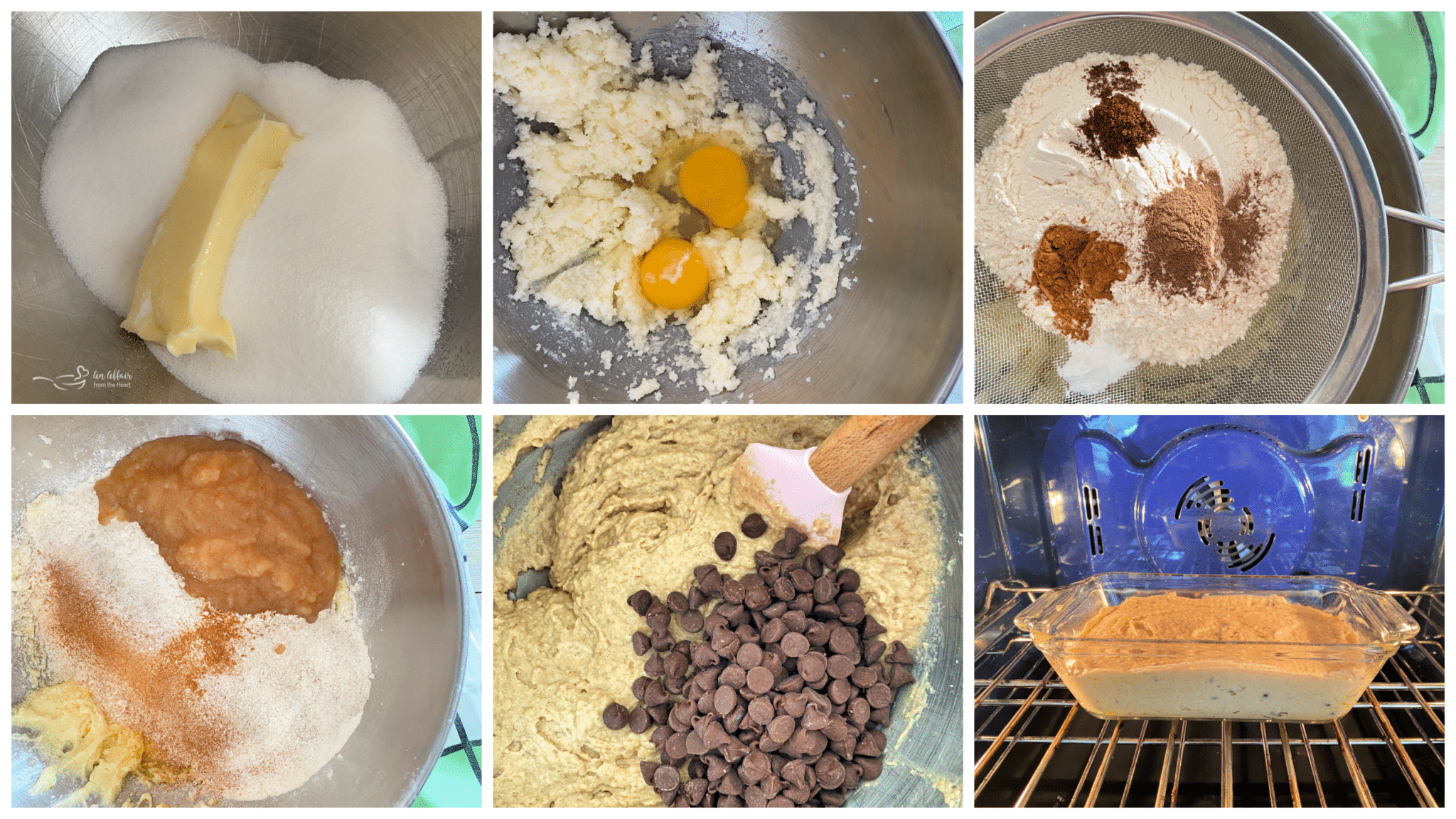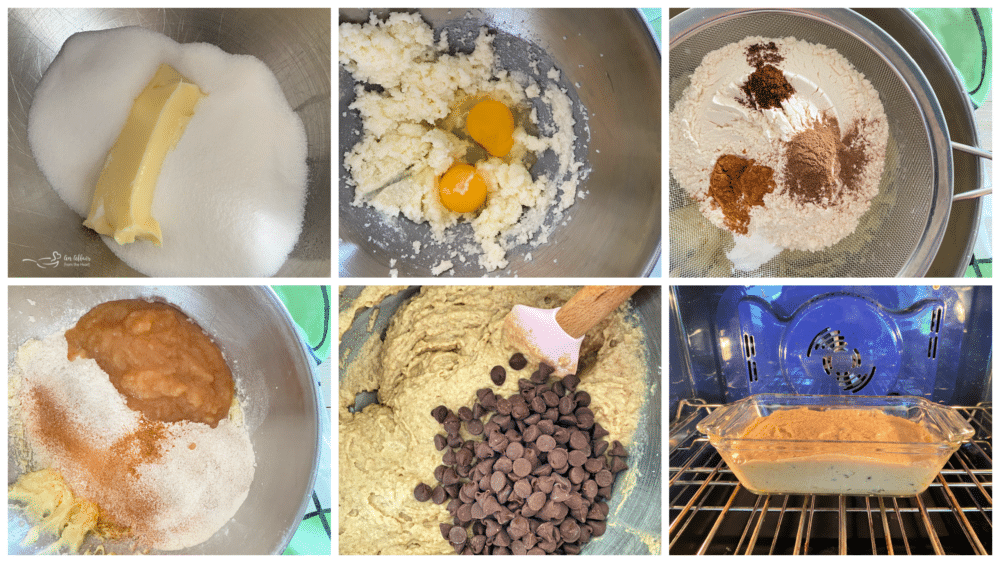 First Step – Cream Butter
First, preheat the oven to 325 degrees Fahrenheit. Grease a 9″x5″ loaf pan and set it aside.
Meanwhile, in a mixing bowl with an electric beater, cream together the butter, sugar, and eggs.
Second Step – Add Flour and Spices
Sift in the flour, baking soda, cinnamon, cloves, and allspice while alternating with the applesauce. Then, mix slowly.
Third Step – Bake
Next, fold in the chocolate chips and pour into a prepared loaf pan. After that, bake the bread for one hour until the bread is golden brown and the toothpick comes out of the center clean.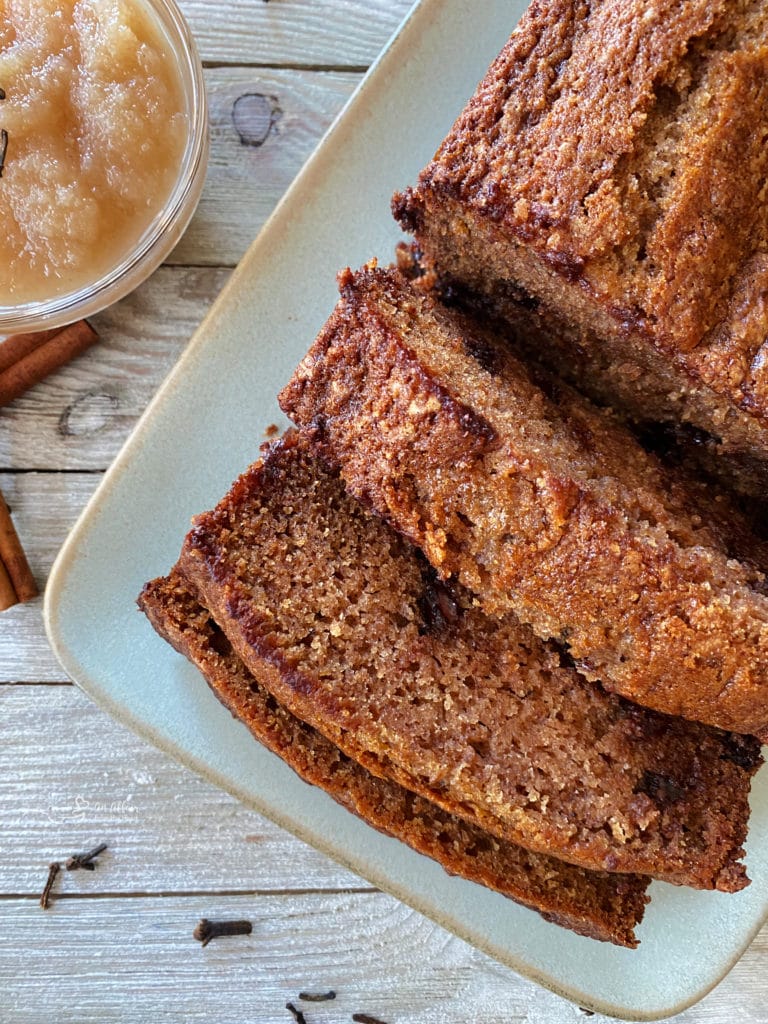 Finally, allow the bread to cool in the pan before transferring to a wire rack or it could break! Enjoy!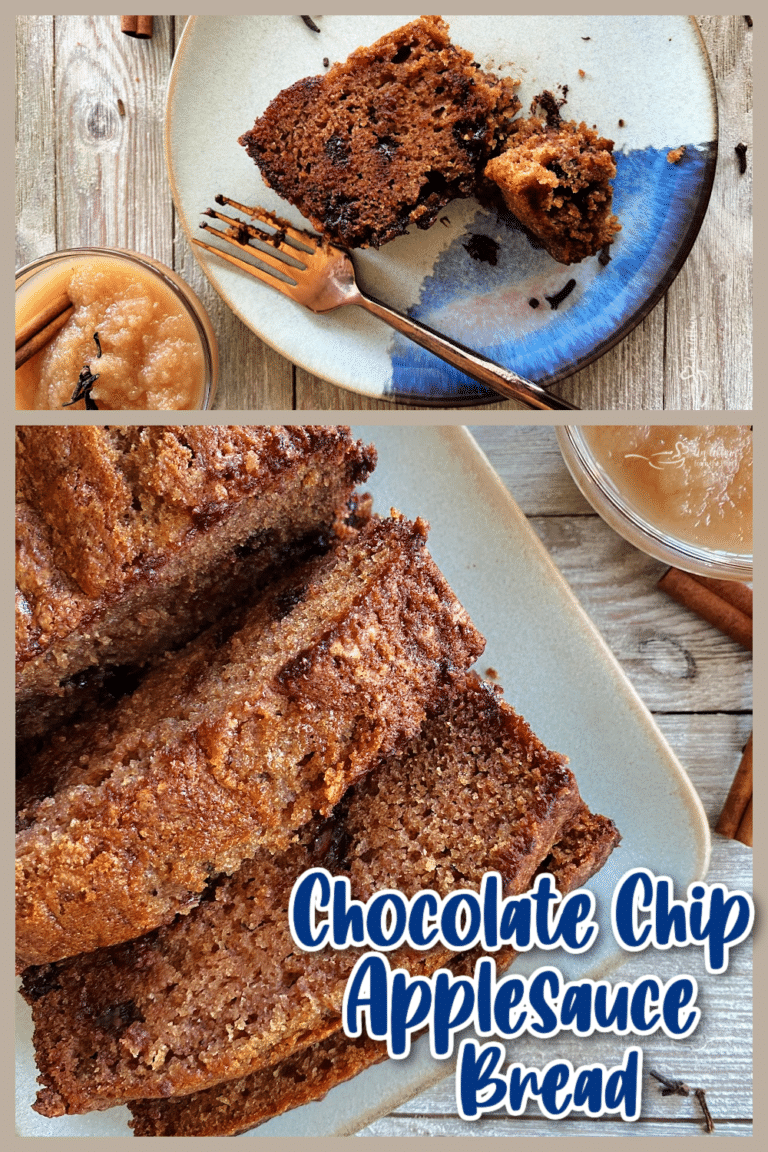 Love This Recipe? Pin It!
Be sure to save this extra indulgent bread recipe for whenever you're needing some extra chocolate to satisfy that sweet tooth! Save this applesauce bread recipe to your Pinterest board!
Tips
If you want extra flavors and protein, then add your choice of chopped nuts such as pecans, walnuts, or almonds.
Be sure to measure the flour properly so the bake doesn't come out dry.
Store the leftovers in an airtight container at room temperature for up to five days.
Serve this banana bread either warm or at room temperature as both options are delicious, though.
Additionally, freeze leftover bread slices in a freezer-safe bag for up to three to four months.
Serving Suggestions
Serve this yummy bread alongside any main dishes or check out my other Fall recipes for more inspiration and ideas. We love to serve this bread with softened butter, nut butter, fresh fruit, a glass of milk, or a cup of coffee or tea. Yum!

Other Quick Bread Recipes You Will Love
I love quick bread recipes, and so does my family! Here are a few more of our favorites: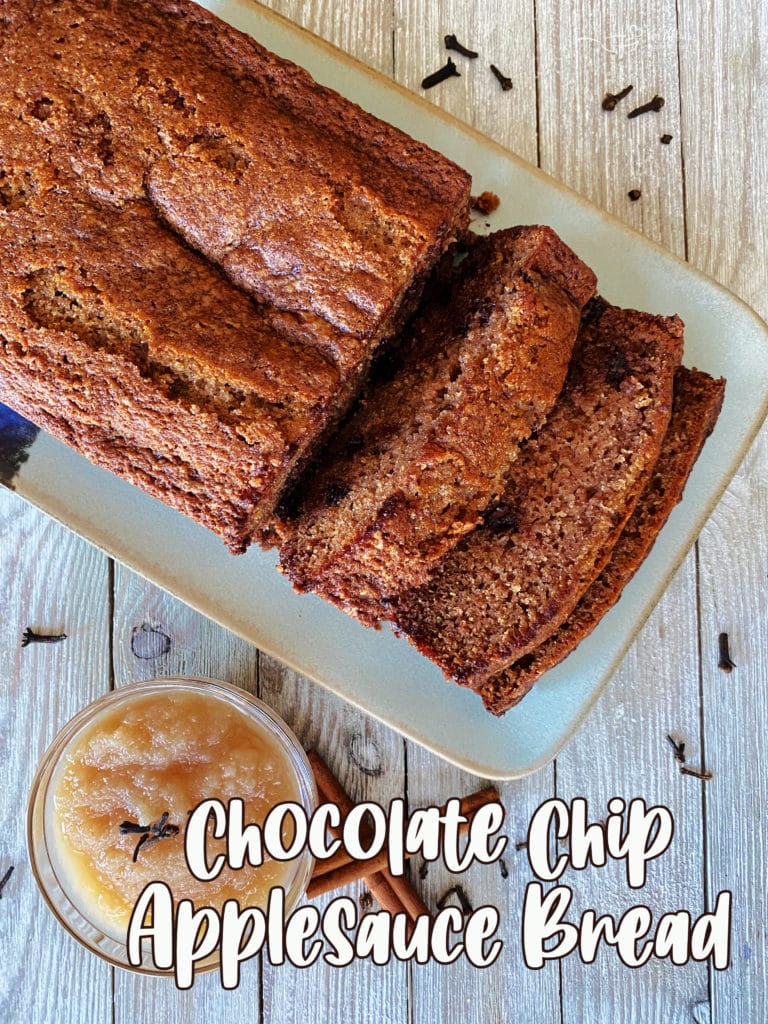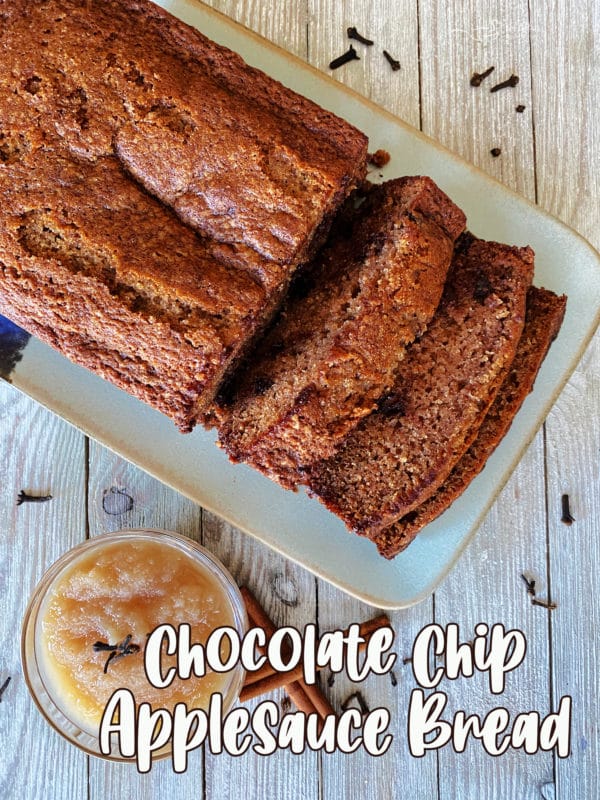 Let's bake some Chocolate Chip Applesauce Bread!

Yield: 12 servings
Applesauce Bread with Chocolate Chips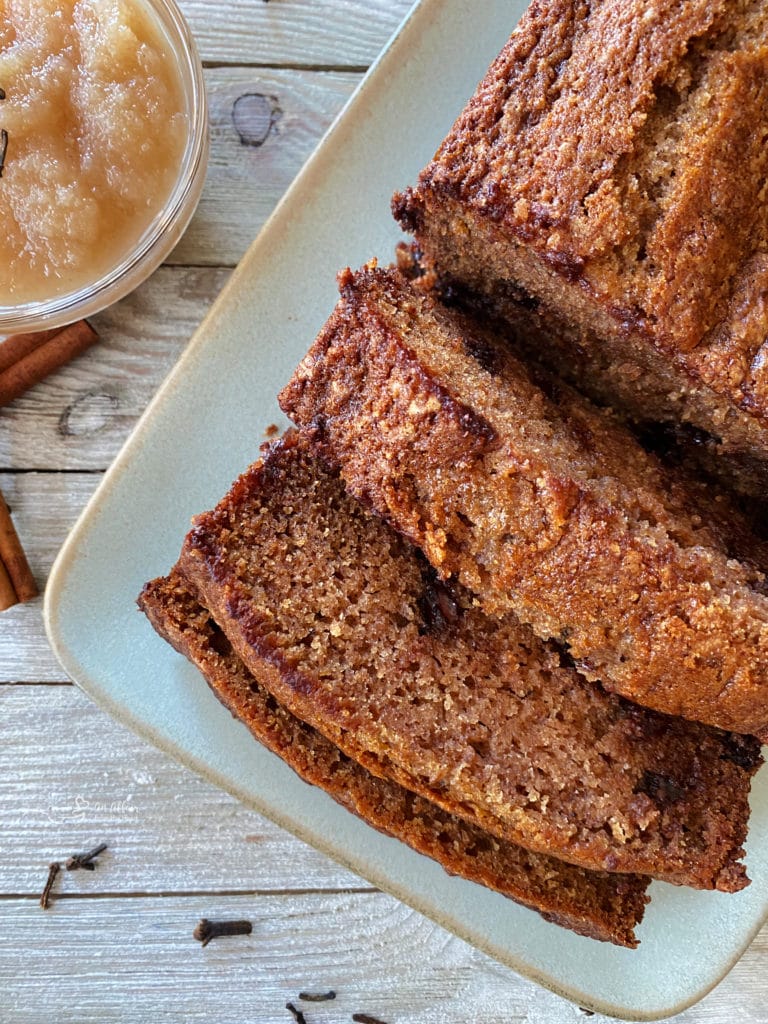 Cook Time
1 hour
15 minutes
Total Time
1 hour
25 minutes
Ingredients
1/2 cup (1 stick) butter, softened
1 cup sugar
2 eggs
1 3/4 cups flour
1 teaspoon baking soda
1/4 teaspoon cloves
1/2 teaspoon allspice
1 teaspoon cinnamon
1 cup cinnamon applesauce
1 cup semi -sweet chocolate chips
Instructions
Preheat oven to 325 degrees. Grease a 9"x5" loaf pan, set aside.
In your mixing bowl with an electric mixer, cream together butter, sugar and eggs.
Sift in four, baking soda and spices, alternating with applesauce, mixing slowly until it's all combined.
Fold in chocolate chips.
Pour into prepared loaf pan.
Bake for one hour, or until bread is golden brown on top and a toothpick inserted inside comes out clean. Cool for a bit in the pan before transferring to a wire rack to cool the rest of the way.