Rich, moist chocolate banana cake with my favorite sour cream chocolate frosting.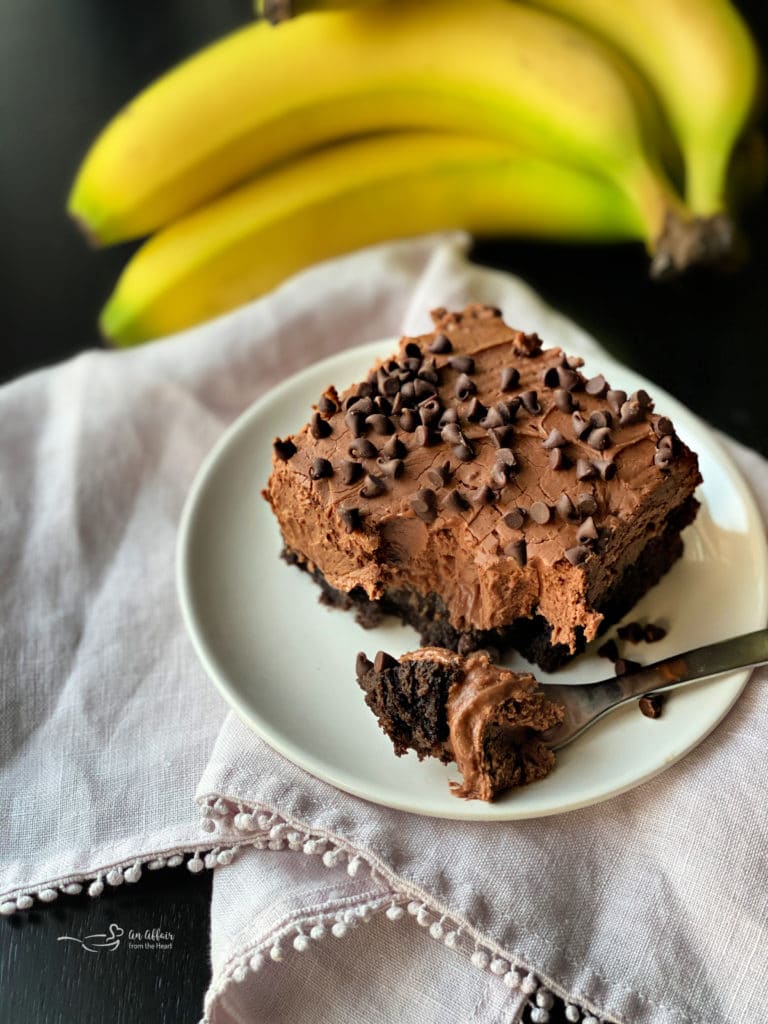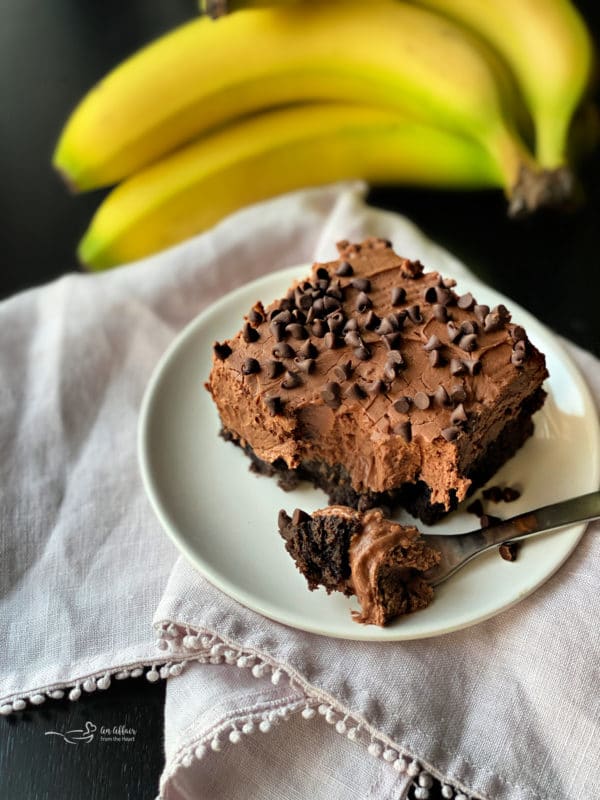 Look over at your kitchen counter, do have any ripe bananas there? Are they just getting a little browner every day? They are begging you … yes, begging you to be transformed. They want to be re-purposed into something magnificent and chocolaty — maybe even sprinkled with some mini chocolate chips for the finishing touch.
They want to hear you say "Mmmmmm….." when you take a bite. See a smile cross your face.
Don't you want that for your ripe bananas? This cake is a must bake. Trust me.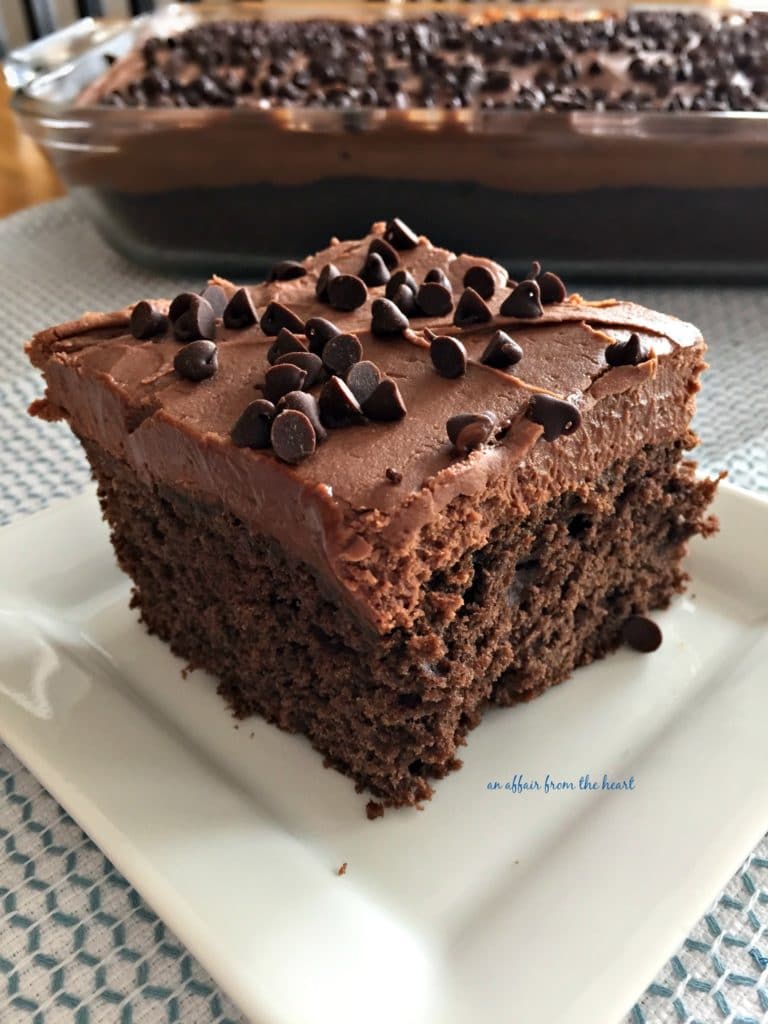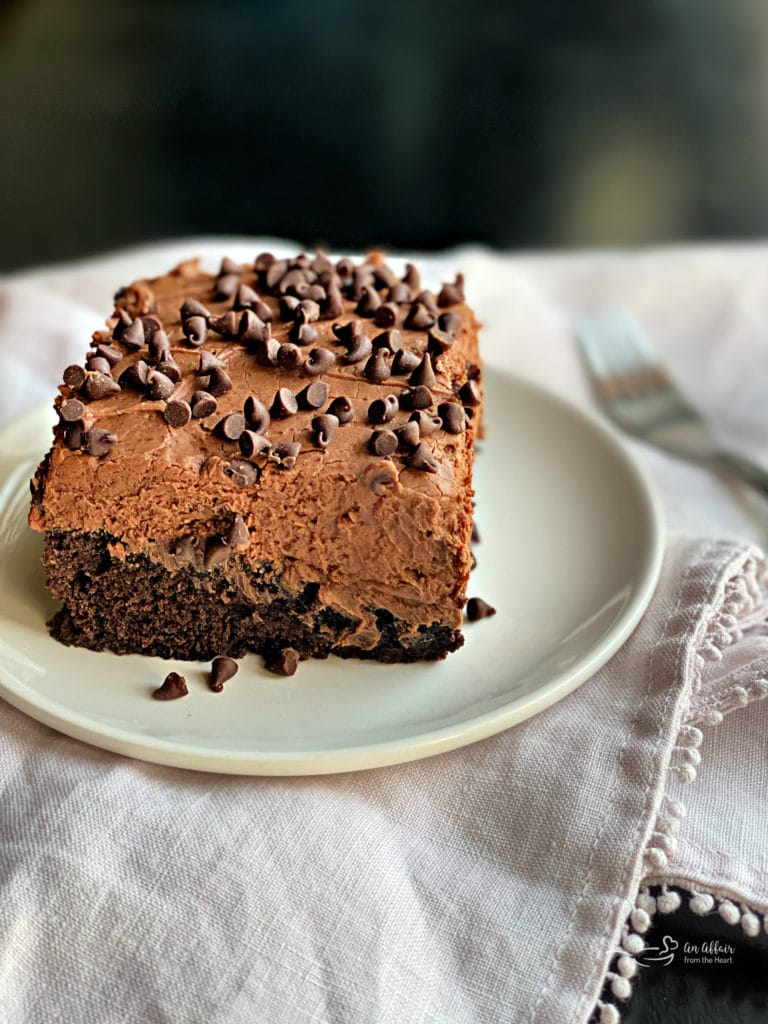 I saw this recipe pass through my facebook newsfeed a couple of weeks ago. I was drawn in by the dense chocolate cake, and the mountain of chocolate frosting. The one on facebook was topped with Nutella frosting and chocolate curls. I knew I had to make it.
Time to let you in on a little secret though — I am one of the few people in this world who doesn't like Nutella. So when I envisioned my bananas being transformed into something luscious like this cake, I knew just the frosting I was putting on it.
I have a recipe for Sauerkraut Chocolate Cake on my blog, which is to.die.for. I know, I know, I can already hear you groaning — people, don't knock it till you've tried it. I love the frosting on it – and I knew that was what would be topping my delicious banana cake.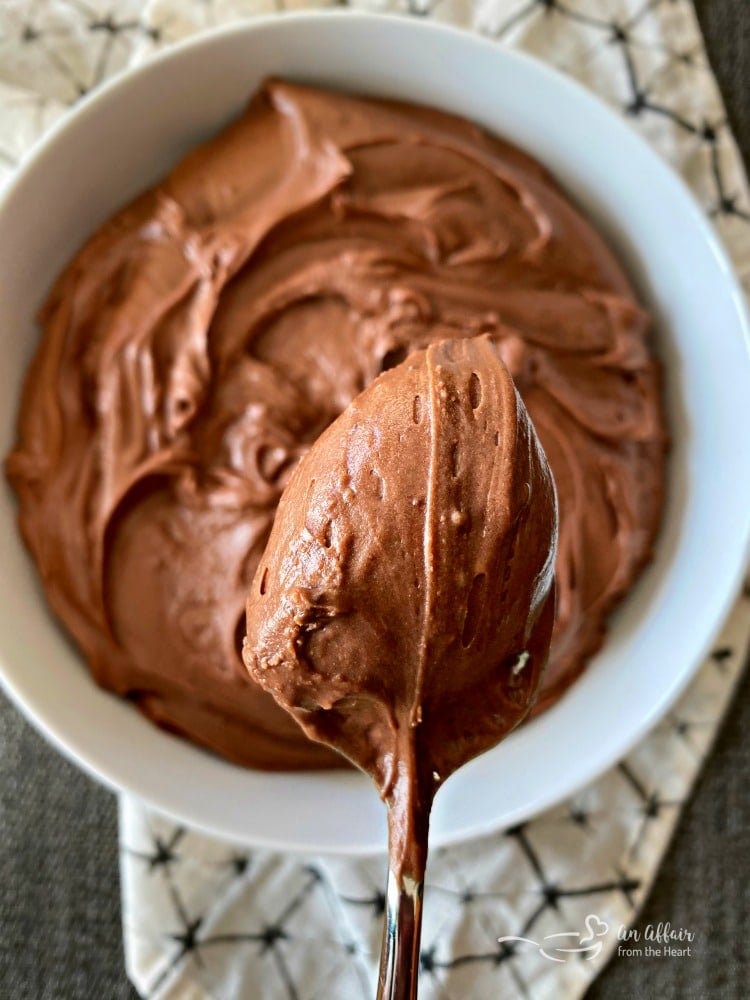 My chocolate banana cake frosting
I know you probably can't exactly understand how or why I suggested the frosting from my sauerkraut chocolate cake. Don't worry, even if you can't get your head around the idea, you can still try the frosting. (Hint… the frosting doesn't contain any sauerkraut) But that doesn't mean it doesn't have a hint of sour to tickle the taste buds.
By sour though, I am referring to the sour cream used in my Sour Cream Chocolate Frosting. This frosting is very smooth and delicious and super creamy. You don't taste the sourness of the sour cream, but you do feel like it is the richest chocolate frosting imaginable.
In this case, the sour cream pleasantly entices your taste buds and makes them more sensitive to the chocolate in the frosting. So, the chocolate just happens to taste… more chocolaty!
And there is nothing wrong with that.

How to keep a cake moist and delicious
The great thing about this cake is even a small piece tastes so rich and delicious that you actually get your sweet tooth craving satisfied easily. So, you may have some leftovers handy.
Most cakes will keep for a few days covered on the counter. But for this Chocolate Banana Cake, you'll want to store it covered in the fridge. That's because of the sour cream chocolate frosting.
There are some tricks to keep it perfectly moist too. If possible, keep a bit of extra frosting handy. I know it is tempting to use all the frosting at first, but if you hold some back it comes in handy.
Sure, putting plastic wrap on the cake sounds good in principle, but it is also the messiest way to go. Better than plastic wrap, use some of that extra frosting to cover the exposed cake. Now you have a completely frosted cake again! Even better, it will keep your cake nice and moist too.
Cover the entire cake with a cake cover or large saucepan if you don't have a cake cover handy.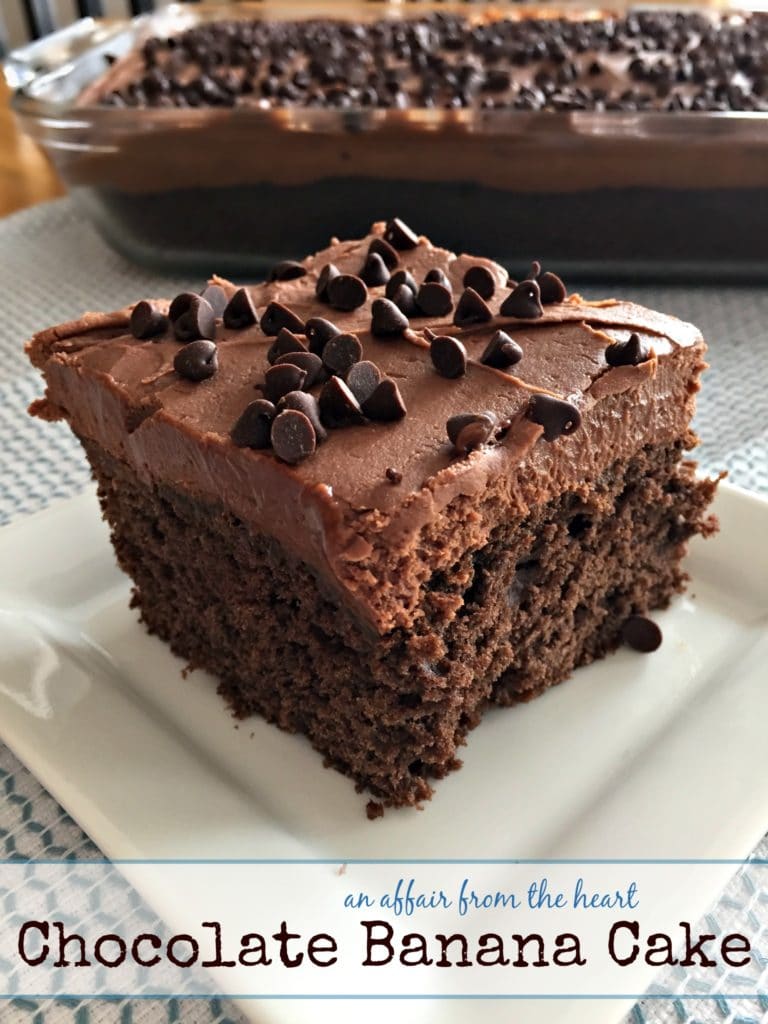 This is one of those cake recipes that I can almost make in my sleep I have made it so much. What's not to love? Am I right?

Love it? Pin it!!
Don't forget where you found this Chocolate Banana Cake Recipe!
More cake recipes to try
Few selfless acts like baking a cake for friends and family say "I love you" so simply and elegantly. It doesn't matter if it is a "box" cake or a cake made from scratch. Cakes go hand in hand with celebrations and festivals of every type and in every culture pretty much the world over. So, if you want to show the love, or have a party planned, or just feel like baking a cake, then I have some great suggestions to try.
A cupcake is a mini personalized cake, but it is still a cake. If you want to try something on the whimsical side and have some fun with it, then check out these "hamburger cupcakes." It looks like a burger… tastes like a cake!
Other times, perhaps you don't have time to actually bake a cake. In which case, no-bake style recipes save the day. This individual portion Lemon Raspberry Cheesecake is quick to make and still qualifies as "cake".
Of course, I also have to suggest trying an ice cream cake. This is like the best of both worlds, ice cream and cake all in one!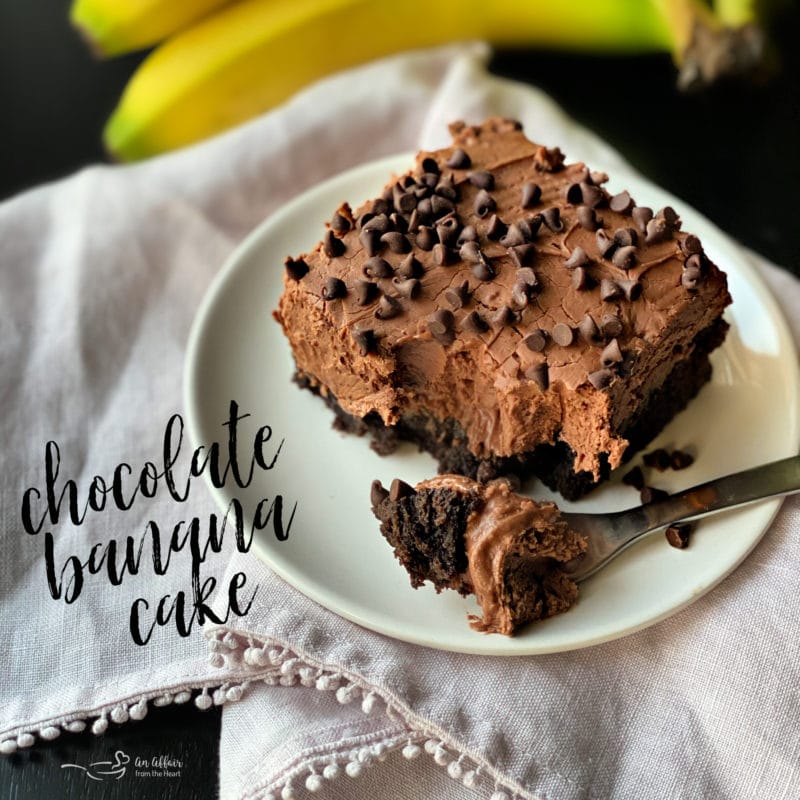 I hope that you love this recipe as much as we do!

Yield: 12
Chocolate Banana Cake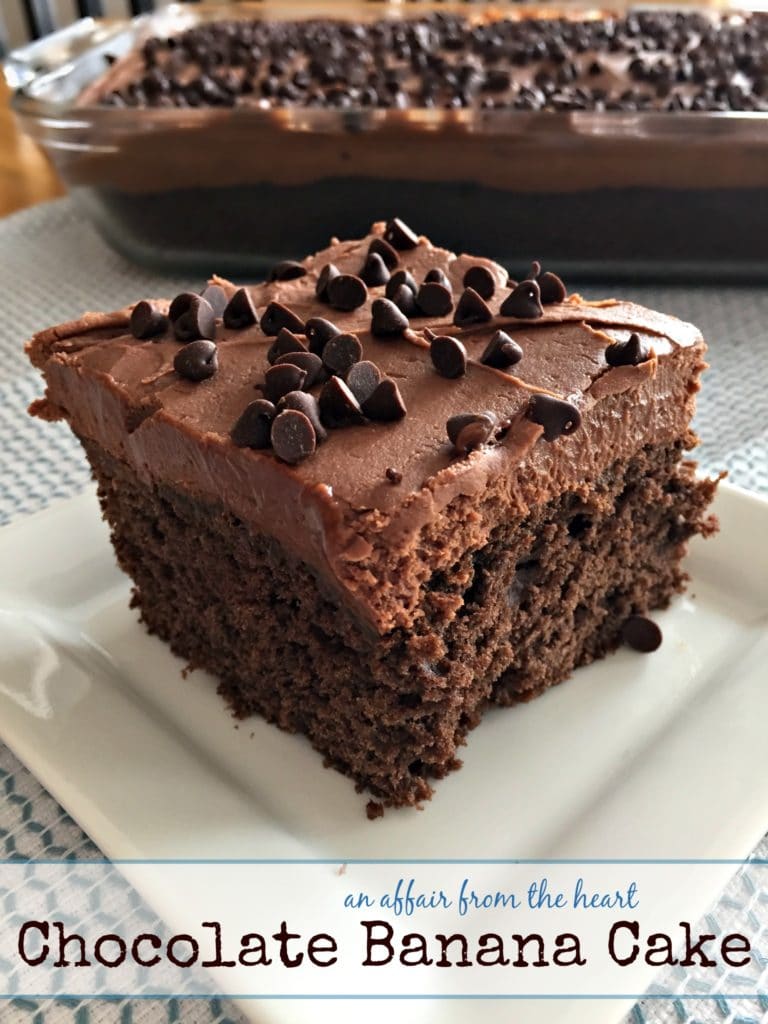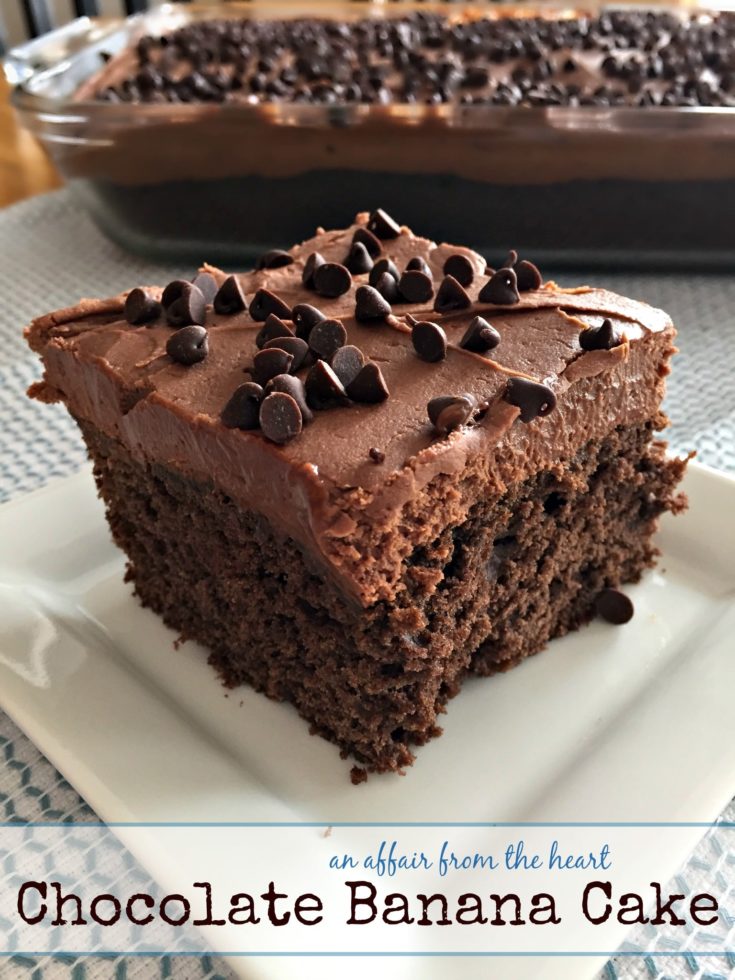 Rich, moist chocolate banana cake with my favorite sour cream chocolate frosting.
Ingredients
For the Cake:
1/2 cup butter, softened
3/4 cup sugar
3/4 cup brown sugar
2 eggs
2 teaspoons vanilla extract
1 teaspoon salt
1 teaspoon baking soda
1 teaspoon cinnamon
2 cups flour
1/4 cup dark cocoa powder
1 1/2 cups smashed ripe banana, (about 3)
For the Frosting:
12 oz. semi-sweet chocolate chips or squares
8 Tablespoons. butter
1 cup sour cream
2 teaspoons vanilla
½ teaspoon salt
5 cups confectioners sugar
Instructions
For the Cake: Preheat oven to 350 degrees. Grease a 9x13 baking dish. Cream together butter and sugars until smooth. Add eggs, one at a time, beating after each. Blend in mashed bananas, vanilla and beat until creamy. Whisk together in a separate bowl the flour, cocoa powder, baking soda, cinnamon and salt. Slowly incorporate mixture into the wet ingredients. Combine well and pour into prepared baking dish. Bake for 30 minutes or until toothpick inserted in center comes out clean. Cool completely.
For the Frosting: Melt the chocolate with butter on low heat until smooth. Remove from heat and pour into mixer. Blend in the sour cream, vanilla and salt. Gradually add the sugar until it is your desired spreading consistency. Whip until smooth. NOTE: This recipe makes a very generous amount of frosting. I like to have a thick layer on my cakes. If you don't want a thick frosting layer, simply cut the recipe in half.
Nutrition Information:
Yield:
15
Serving Size:
1
Amount Per Serving:
Calories:

560
Total Fat:

23g
Saturated Fat:

14g
Trans Fat:

1g
Unsaturated Fat:

7g
Cholesterol:

66mg
Sodium:

413mg
Carbohydrates:

89g
Fiber:

3g
Sugar:

70g
Protein:

4g
Nutrition isn't guaranteed accurate.
—
pin this recipe — your bananas will thank you later!
original cake recipe from Inside Bru Crew Life

If you make this recipe, I'd love to know! Snap a picture, share the photo on social media with the hashtag #AnAffairFromTheHeart – I'd love to see what you made! – Michaela