Brownie Chocolate Chip Cookie Dough Ice Cream Cake
As an Amazon Associate and member of other affiliate programs, I earn from qualifying purchases.
Using packaged ingredients, this Brownie Chocolate Chip Cookie Dough Ice Cream Cake comes together in no time, and is one showstopper of a dessert!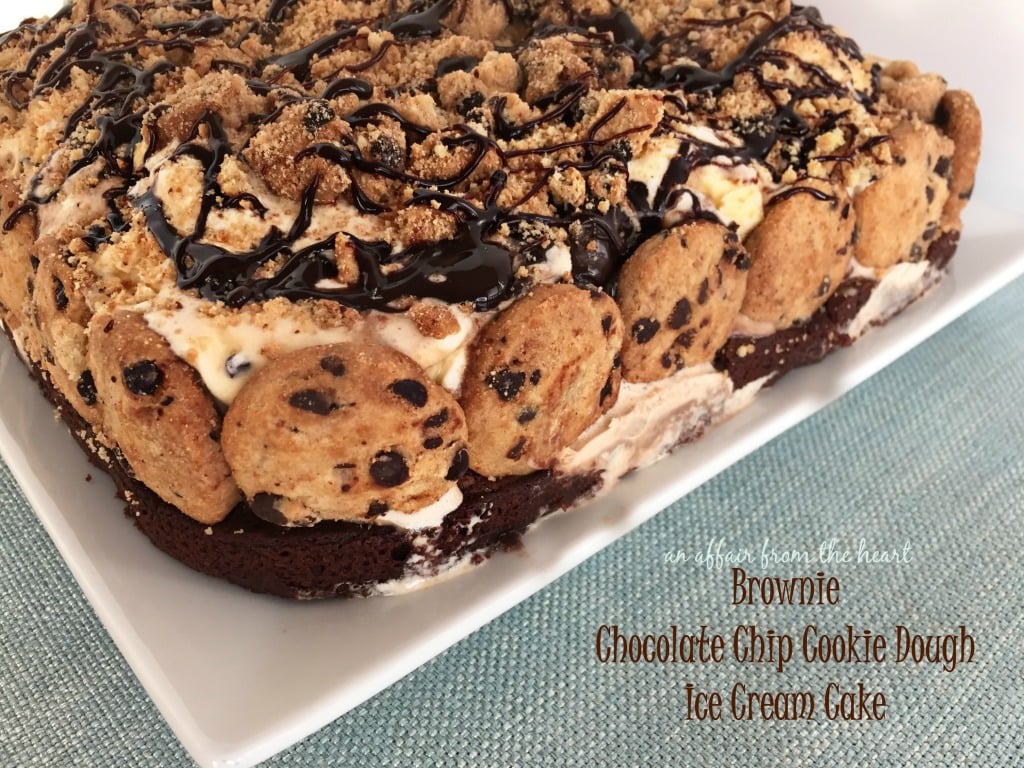 Brownie Chocolate Chip Cookie Dough Ice Cream Cake, it's a mouthful to say, right? Well, trust me it's a mouthful to EAT, too!
My oldest son has asked for homemade ice cream cake for his birthday as long as he has been able to speak, I think. He turned 20 yesterday. Twenty. How on earth did that happen? Trust me when you hear this, and I know this statement went in one ear and out the next when my kiddos were little, "cherish. every. single. minute."
Don't "I can't wait until they can do this or that" their childhood away, because trust me when I tell you that in the blink of an eye, all of those things you wished they could do on their own, they will do. Now pat yourself on the back a little, I mean we have to take some credit for them being able to do these things independently, right? right, and kudos to us when our kids turn out to be good, well-rounded individuals. But wow… I will tell you that I sure wish I could go back to the days of not wanting to put him back in his crib after a 3 AM bottle, because I just couldn't quit looking at his sweet little face, or marveling at how he grasped my finger so tightly. Or watching him build with blocks, or quietly line all of his matchbox cars up on his "racecar track rug." Yea, those legos and matchbox cars will sure make you unleash a string of curse words of when you step on one with bare feet, but trust be, it's better than lying in bed praying to God that your kids all make it home safely when they begin to drive.
All of these things were things that I am 100% certain my mom cherished and dreaded, and when you're in the moment, it's hardly thought of. I am sure someday when I am 80 and I am sitting in my rocker, I will want to go back to this day, too.
So, whatever the milestone, I say CELEBRATE…celebrate each and EVERY DAY.
What better way to do that than with cake? Ice cream cake = BONUS.
Cookies & Cream Ice Cream Cake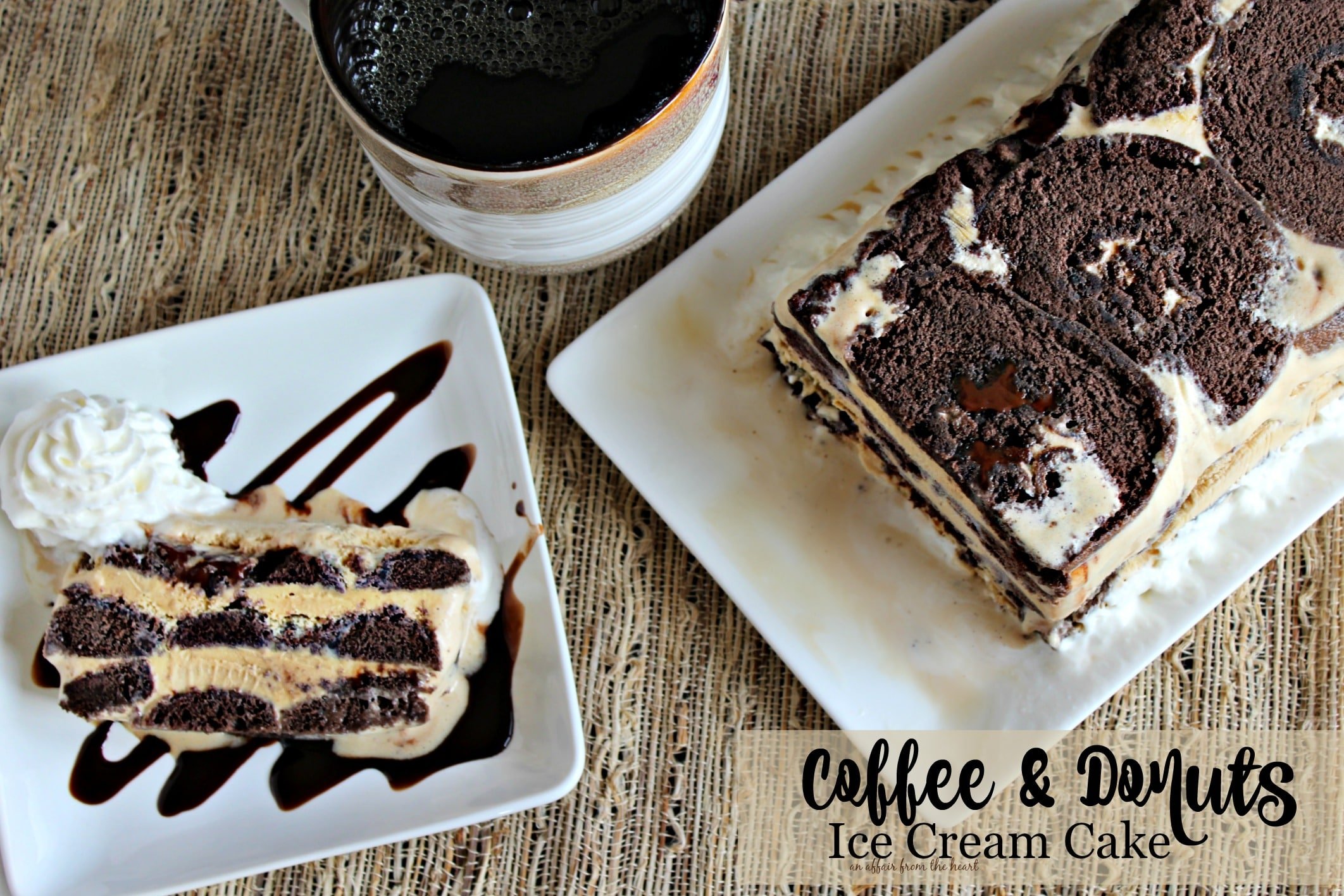 Here are a couple other favorites:
Here's a peek of the layers inside!
Here's how they stacked up from the bottom to the top:
Brownie, Hot Fudge, Chocolate Chip Cookie Dough Ice Cream, Hot Fudge, Chocolate Chip Cookie Crumbles, Hot Fudge Drizzle, all bordered by Chocolate Chip Cookies!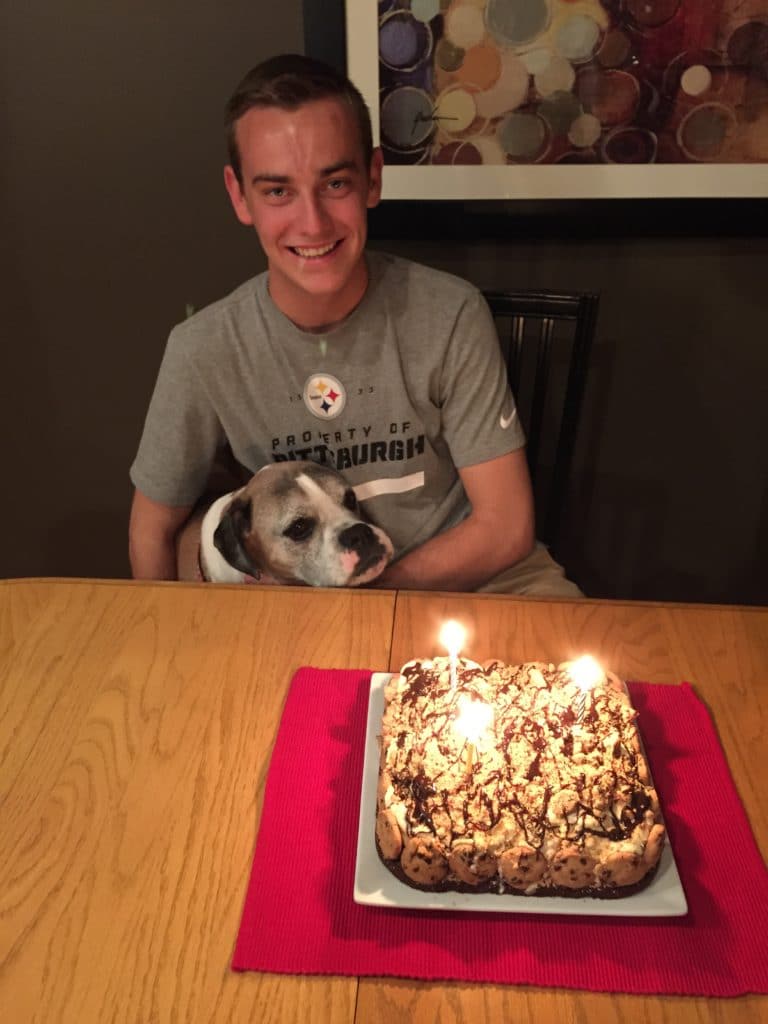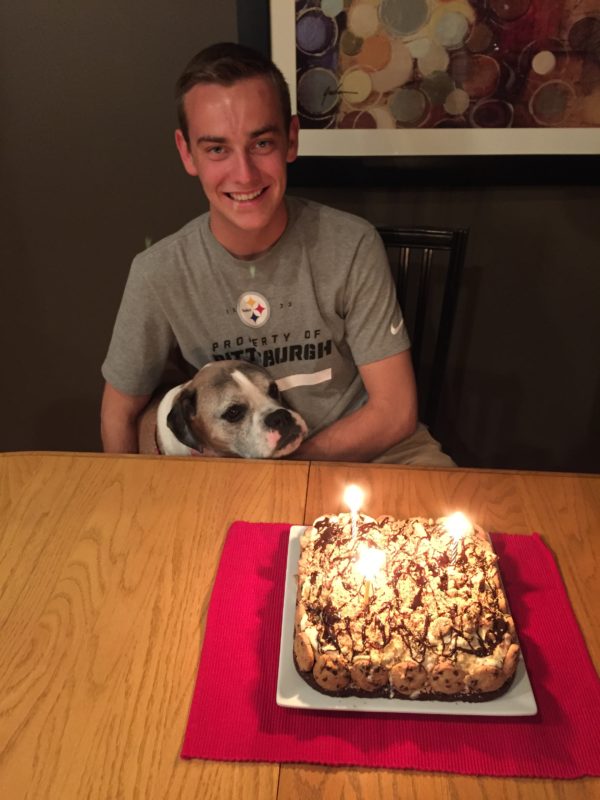 All of that and his dog, Sully, make Spencer a happy young man.
Yield: 9 pieces
Brownie Chocolate Chip Cookie Dough Ice Cream Cake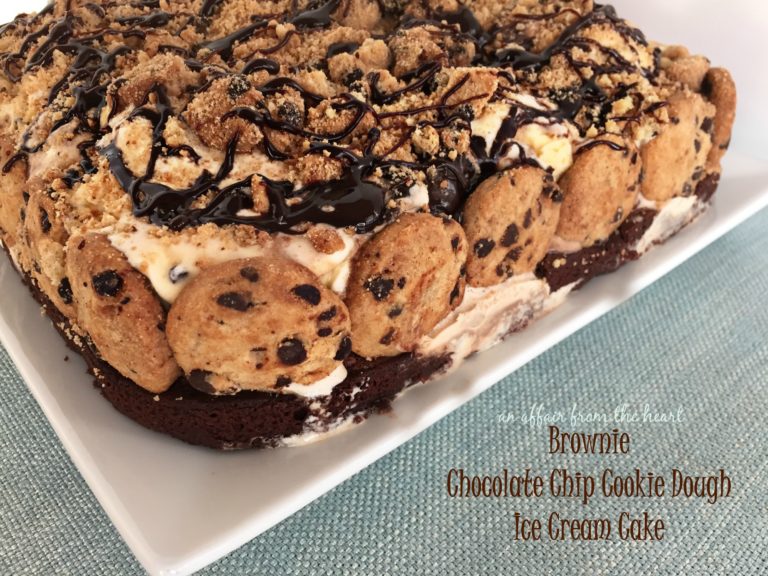 Using packaged ingredients this Brownie Chocolate Chip Cookie Dough Ice Cream Cake comes together in no time, and is one showstopper of a dessert!
Total Time
8 hours
30 minutes
Ingredients
1 package brownie mix (the size that makes a 9x9 pan)
1 package mini Chips Ahoy cookies
1 quart Chocolate Chip Cookie Dough Ice Cream
1 jar hot fudge
Instructions
Line the bottom of a spring form pan with non-stick foil, then spray the sides with non-stick cooking spray.
Prepare brownies as directed on package and bake in spring form pan.
When brownies are first removed from the oven, slide a cookie down inside of the brownie to line the outer edge of the pan. Place in fridge to chill.
Spread some of your hot fudge over the top of the brownie. Warm the rest of the jar in the microwave to use as drizzle.
Slightly soften ice cream, scoop into the middle of the cookies on top of the brownie and hot fudge. (you can smooth it out of you desire, but I like the lumpy look with the cookie crumbles!)
Drizzle with a small amount of hot fudge.
Crumble the remainder of the cookies over the top and drizzle with more hot fudge.
Place in the freezer over night.
Nutrition Information:
Yield:
9
Serving Size:
1
Amount Per Serving:
Calories:

456
Total Fat:

18g
Saturated Fat:

6g
Trans Fat:

0g
Unsaturated Fat:

11g
Cholesterol:

24mg
Sodium:

288mg
Carbohydrates:

72g
Fiber:

1g
Sugar:

16g
Protein:

5g
Nutrition isn't always accurate.