Marinated Vegetables
As an Amazon Associate and member of other affiliate programs, I earn from qualifying purchases.
My Mom's Marinated Vegetables were a summer cookout staple when I was growing up. These colorful crunchy fresh vegetables marinated in sweet dressing, are the perfect pot luck or picnic side dish!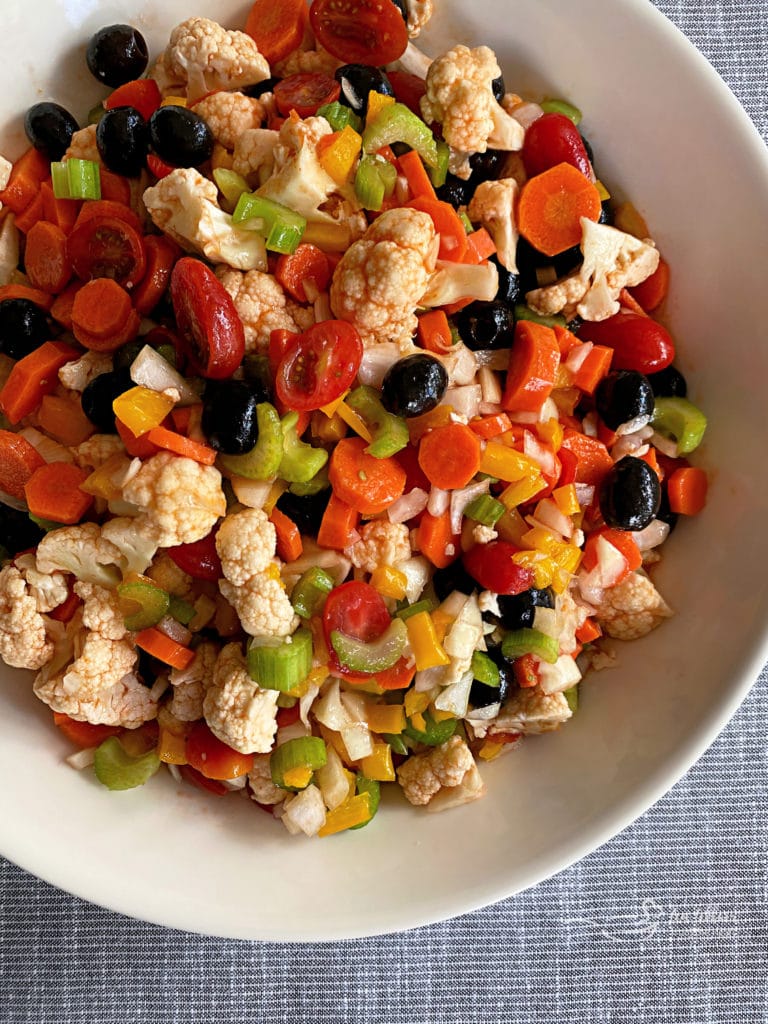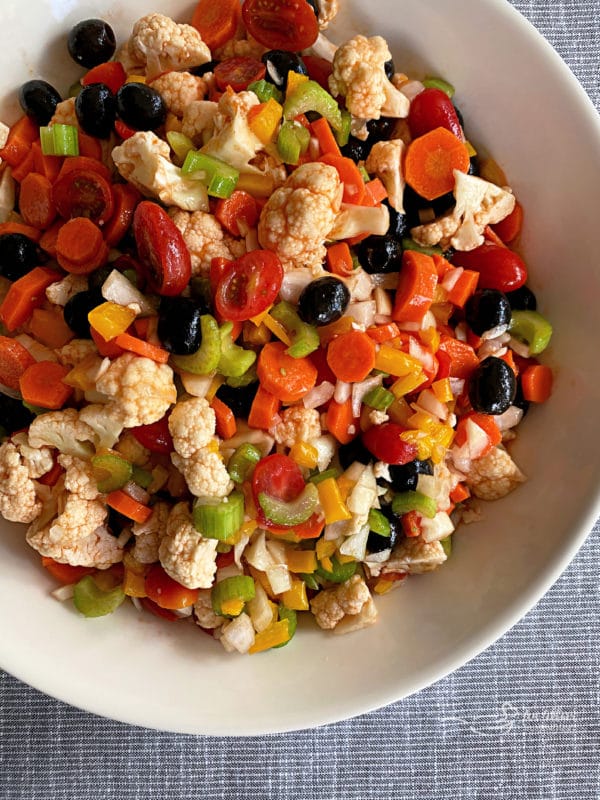 Looking back to when I was a little girl, whenever we had people over for a picnic or a big get together, I could almost always bet that my mom would make one or all of these favorites of mine. Either her Macaroni Salad, my Grandma's Pork & Beans, or these Marinated Vegetables.
A few years ago, we were having a cookout, and I asked my mom to bring a salad. I was delighted when she said she was bringing this Marinated Salad. I have had this recipe in my recipe box as long as I can remember, but somehow, they slipped my mind until she mentioned them to me. They were such a treat. Especially with those fresh from the garden tomatoes she had. YUM!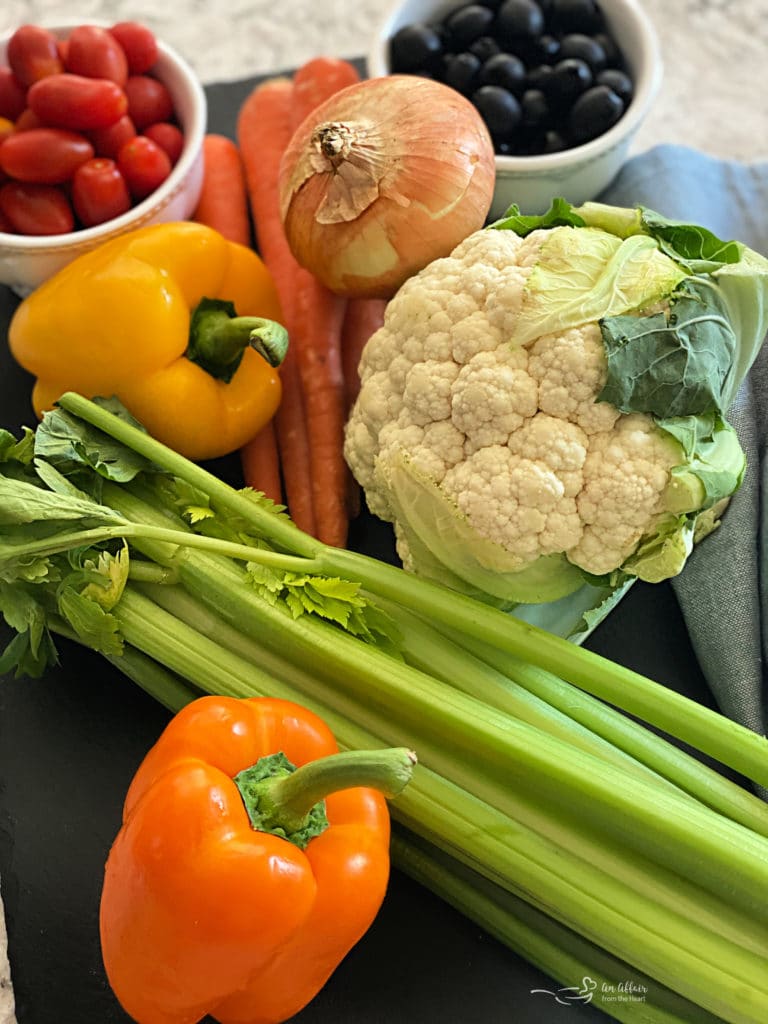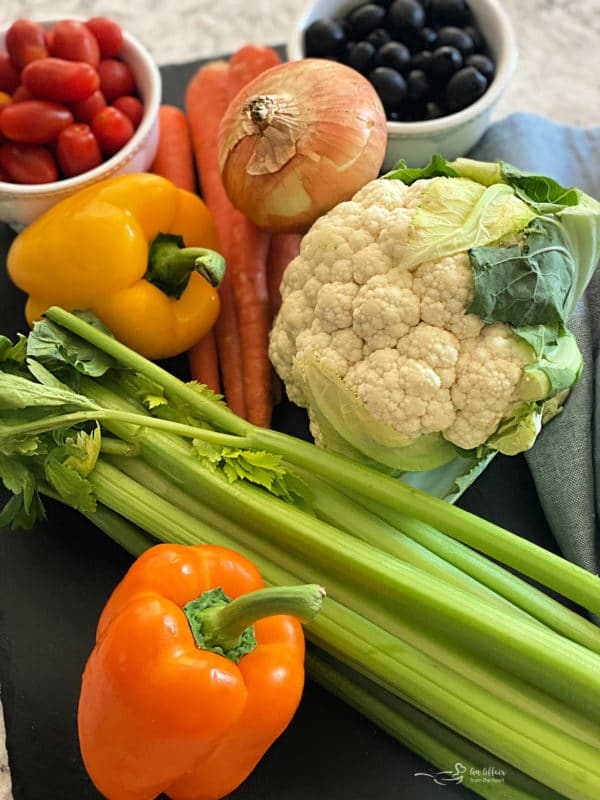 Mom's Favorite Marinated Vegetable Salad Recipe
I am not sure how I could possibly forget about it, I mean there is so much to love! With the veggies we use, you don't have to limit this salad to the summertime. In fact, it's perfect for any pot luck year round. I just especially crave it with those homegrown tomatoes!
Feel free to switch up the raw vegetables to your liking or to what you have on hand. I typically keep to these here: Celery, carrots, cauliflower, bell pepper, onions and tomatoes. I also love the addition of black olives. But then again I can eat a whole can of them myself!

Marinade for Raw Veggies
The marinade I use for my Marinated Vegetable Salad is a sweet one. It consists of vinegar, sugar, ketchup and oil.
The vegetables are soaked in the marinade overnight, or in my opinion, even better when they are soaked for 24 hours. They remain crisp and are such a delicious side to any meal.
If kept in an airtight container in the fridge, submerged in the marinade, marinated veggies can be kept for a long time. Even up to a couple of months!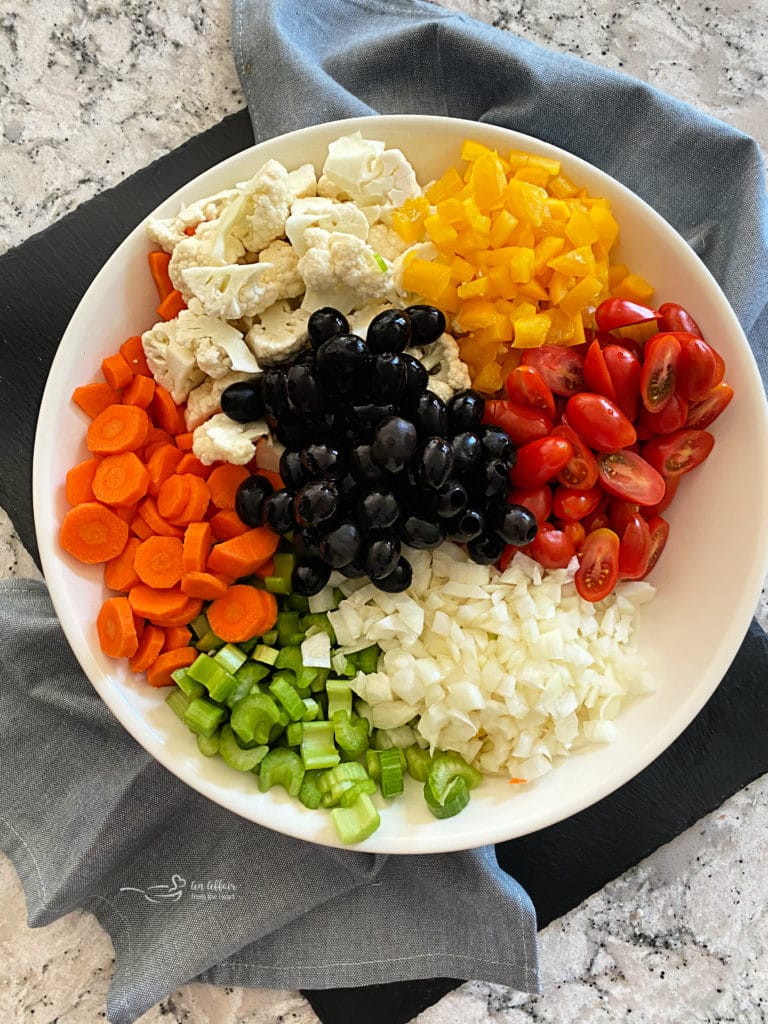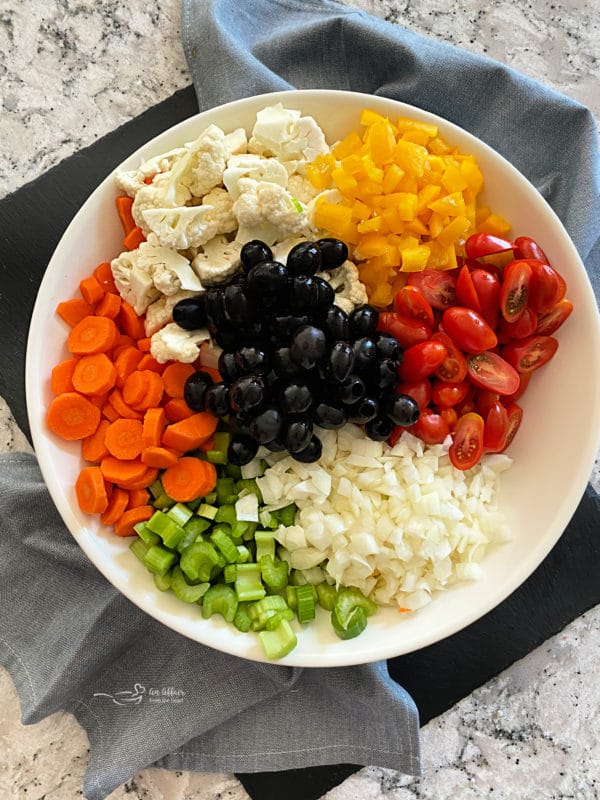 Best Vegetables for Marinated Raw Veggie Salads
As I said, I am a bit of a creature of habit, and use pretty much the same veggies every time I make this salad. Of course, you can swap out a green bell pepper for a sweet red, yellow or orange, or use red onion or a colored heirloom style tomato in place of the red cherry or grape ones.
I like to not only choose my vegetable by taste but by color. There is nothing more enticing to me than a cold fresh veggie salad loaded with all sorts of colors!
Other vegetables that would also work well are broccoli, kohl rabi, corn, zucchini, mushrooms and snap peas. Add in any veggies that you enjoy!
The olives can be omitted if you don't care for them, artichokes are another delicious addition.
Marinated Vegetables – Best Cookout Side Dish Any Time of the Year
Like I said, don't feel like this marinated vegetable salad is only good in the summertime! It makes a great large batch side dish any time of the year. The big bowl disappears quickly, but there is always plenty to feed a crowd!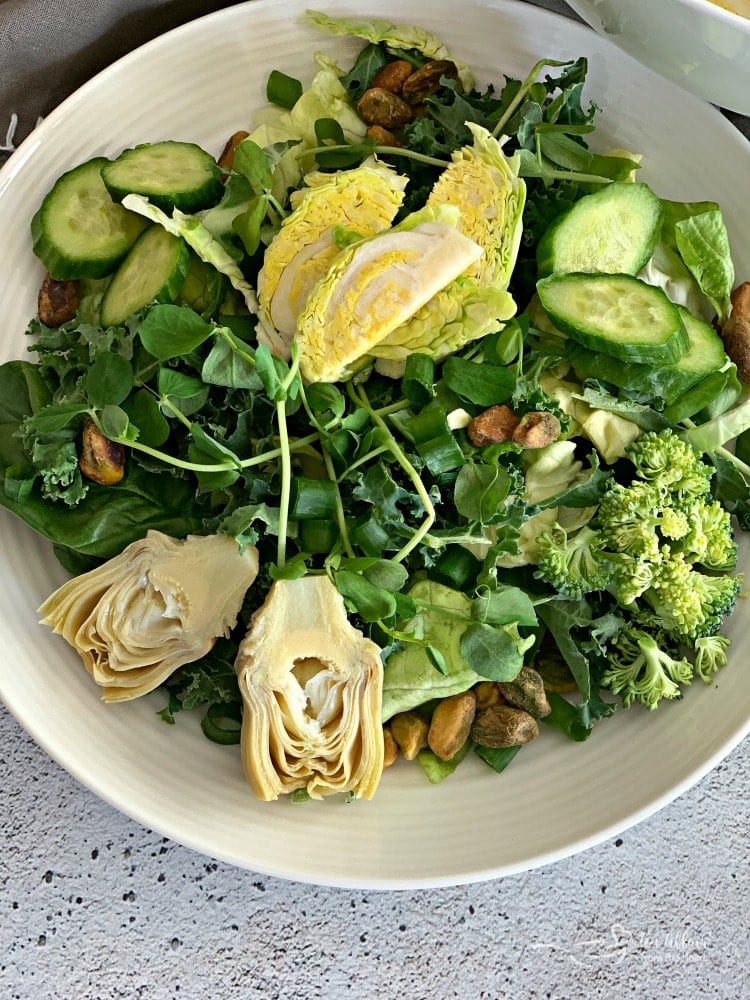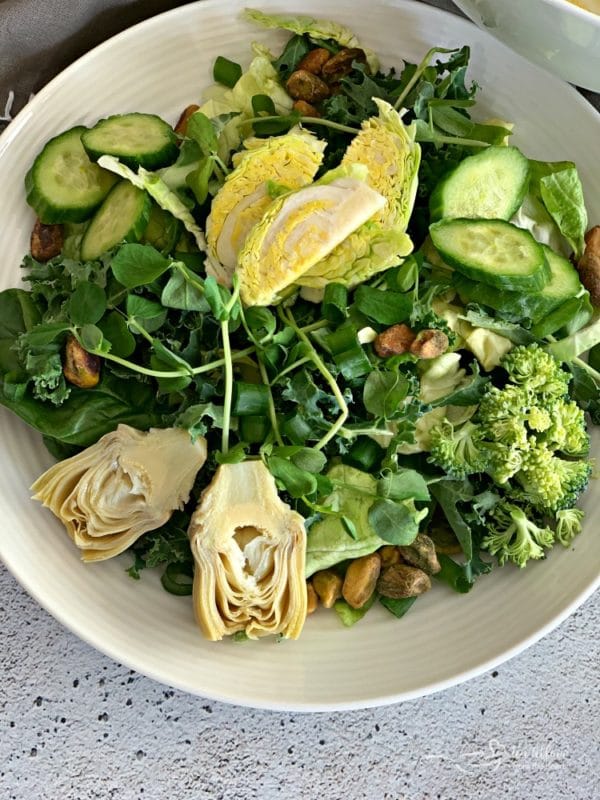 Raw Vegetable Salads
I love a good salad, don't you? This Marinated Vegetable Salad is just one of the many salads and side dish recipes you will find here. If you are looking for more ways to use those raw veggies, here are some of my other favorites!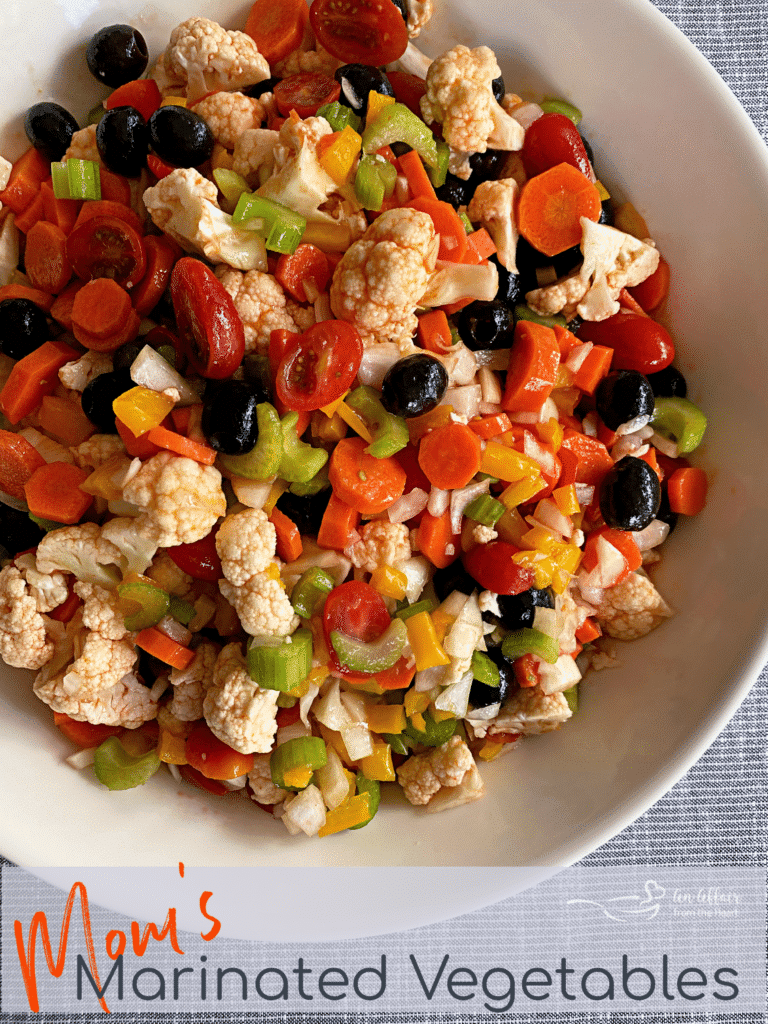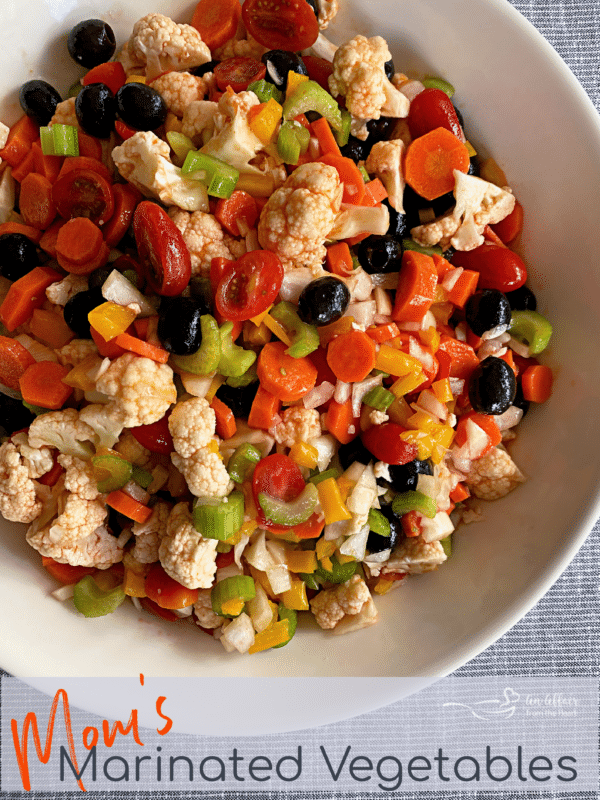 Who's ready for the recipe? Let's get to it!

Yield: 15
Marinated Vegetables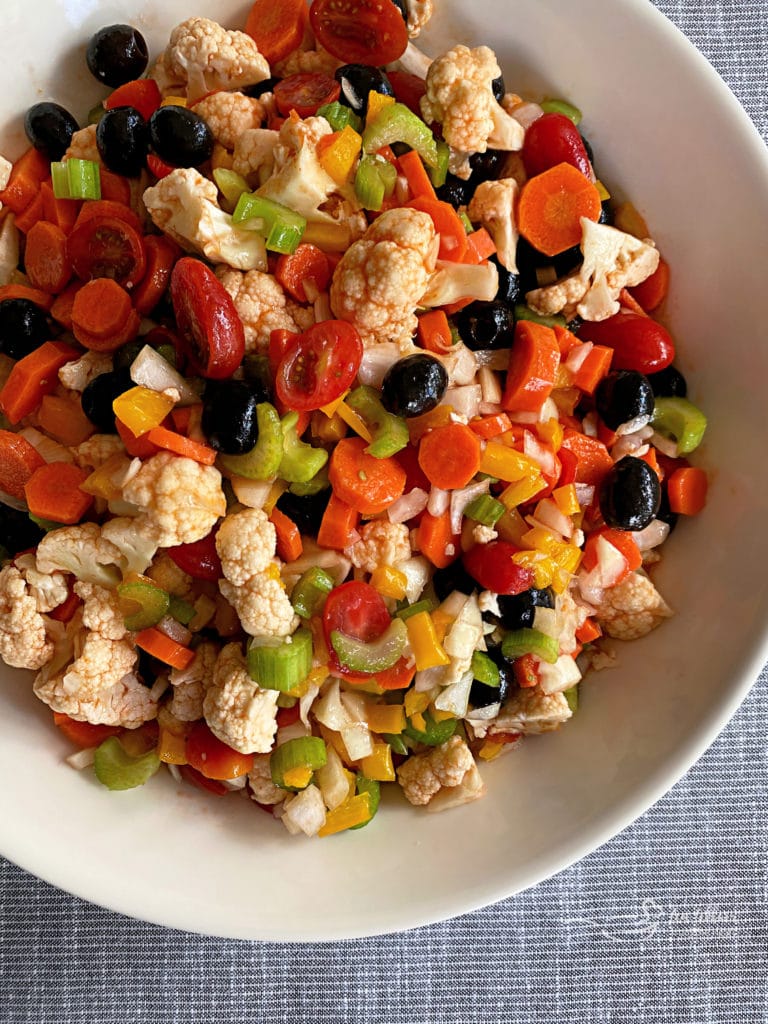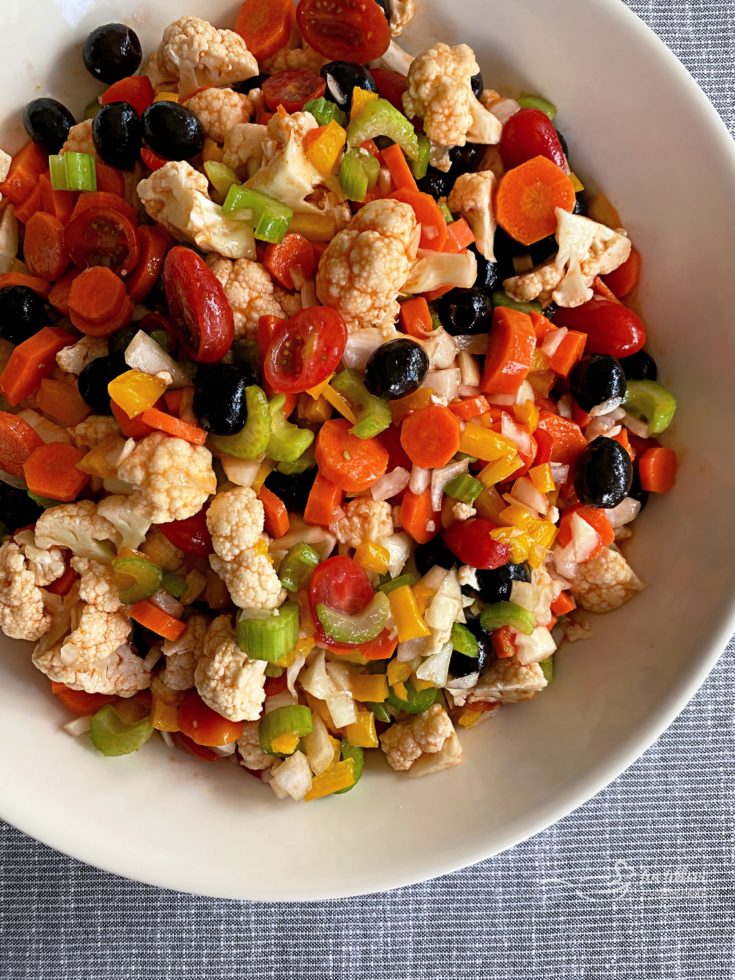 My Mom's Marinated Vegetables were a summer cookout staple when I was growing up. These colorful crunchy fresh vegetables marinated in sweet dressing, are the perfect pot luck or picnic side dish!
Additional Time
1 day
8 seconds
Total Time
1 day
10 minutes
8 seconds
Ingredients
1 small head of cauliflower, cut into bite sized pieces (about 4 cups)
5 carrots, sliced (about 2 cups)
5-6 Stalks of celery, sliced (about 2 cups)
1 small sweet onion, chopped (about 1 cup)
1 sweet bell pepper, diced (about 1 cup)
cherry or grape tomatoes, to taste (about 2-3 cups/1 pint)
Black olives, whole or sliced, your choice, optional (6 ounce can)
For the dressing:
1/2 cup sugar
1/2 cup vegetable oil
1/4 cup ketchup
1/4 cup white vinegar
Instructions
Chop veggies into bite sizes pieces place in an airtight container.
Whisk dressing together, pour over veggies, cover and refrigerate overnight, or for a full day even.
Serve chilled.
Notes
Switch up the veggies if you want, use what's on hand or what's in season. This makes a big bowl! Can be stored in the fridge in an airtight container in the marinade for up to a month or two.
Nutrition Information:
Yield:
15
Serving Size:
1
Amount Per Serving:
Calories:

117
Total Fat:

7g
Saturated Fat:

1g
Trans Fat:

0g
Unsaturated Fat:

6g
Cholesterol:

0mg
Sodium:

65mg
Carbohydrates:

13g
Fiber:

1g
Sugar:

10g
Protein:

1g
Nutrition isn't guaranteed accuarate.
---
This recipe was originally shared on October 21, 2015. It has been updated to improve user experience and reshared July 30, 2020.