Winter Fruit Salad with Lemon Dressing
As an Amazon Associate and member of other affiliate programs, I earn from qualifying purchases.
Fresh winter fruits tossed in a sweet lemon dressing with Chia seeds. High in fiber and big on flavor!
The number one New Year's Resolution is to lose weight. I will be honest and tell you that it's been mine pretty much every year for the last 15 years or so.
Ever hear that joke? "My New Year's Resolution was to lose 10 pounds, I only have 15 to go!"
I will tell you, that I can hardly believe it's 2016. It still feels like it should be the beginning of fall. I mean, wasn't the 4th of July like 10 minutes ago? The holidays were a HUGE blur for me. I was so busy. Aren't we all?
Well, I know that like me, many of you are looking to eat a little more healthy this year. Take better care of ourselves. I figured I should kick of the New Year with a great "in season" fruit salad. Now, I know that ALL of you aren't like me, and that you don't live here in the Midwest where the winters are long and cold and snowy. Some of you live where you can have wonderful fresh fruit year round. (I want to be you when I grow up …)
I thought it would be fun to make a salad using some of the fruit that is really good right now, in the Winter.
I found the inspiration for this one on Pinterest. I didn't change much, only a few things. It looks like the dressing has poppy seeds. I don't really care for them, so I actually used Chia seeds. We love them, and it totally amps up the already great fiber content. Who can't use a little "super food" in their diet, right?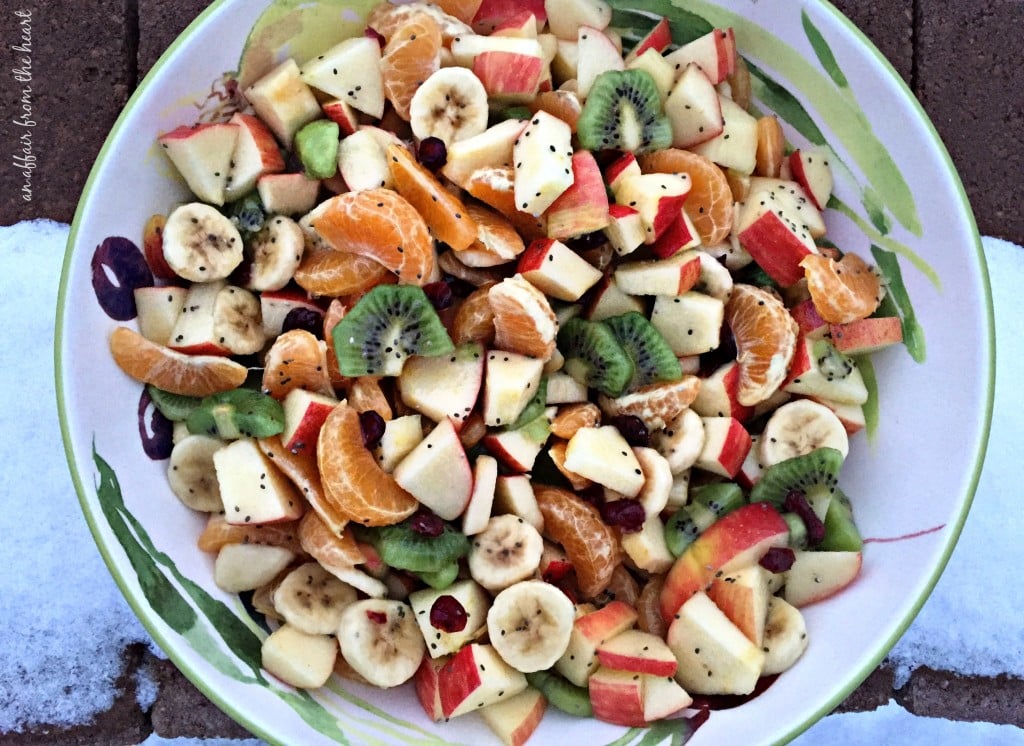 When Mother Nature give you snow — take photos in it! 😉
—
Yield: 10
Winter Fruit Salad with Lemon Dressing
Fresh winter fruits tossed in a sweet lemon dressing with chia seeds. High in fiber and big on flavor!
Ingredients
For the salad:
6 Cuties, peeled and segmented
4 apples, diced (I used 2 gala and 2 honey crisp)
3 bananas, peeled and sliced
3 kiwis, peeled and diced
1/2 cup Craisins
For the Dressing:
3 Tablespoons of fresh squeezed lemon juice
3 Tablespoons granulated sugar
1/4 cup vegetable oil
1/4 cup olive oil
4 Tablespoons honey
2 teaspoons Chia seeds (or you can use Poppy Seeds)
Instructions
Shake sugar and lemon juice in a jar until sugar is dissolved. Mix in honey and both oils. Add chia seeds.
Place fruit in a large bowl, drizzle with dressing, and toss to coat. Chill until ready to serve.
Nutrition Information:
Yield:
10
Serving Size:
1
Amount Per Serving:
Calories:

308
Total Fat:

12g
Saturated Fat:

1g
Trans Fat:

0g
Unsaturated Fat:

10g
Cholesterol:

0mg
Sodium:

4mg
Carbohydrates:

54g
Fiber:

6g
Sugar:

43g
Protein:

2g
Nutrition isn't always accurate.
—
Pin this one to try — I bet you love it like we did!