Lemon Blueberry Trifle
As an Amazon Associate and member of other affiliate programs, I earn from qualifying purchases.
Lemon Blueberry Trifle made with delicious lemon angel food cake cubed and layered in a trifle bowl with a tart lemon glaze, fresh blueberries, and Cool Whip. A simple light summertime dessert that everyone will adore!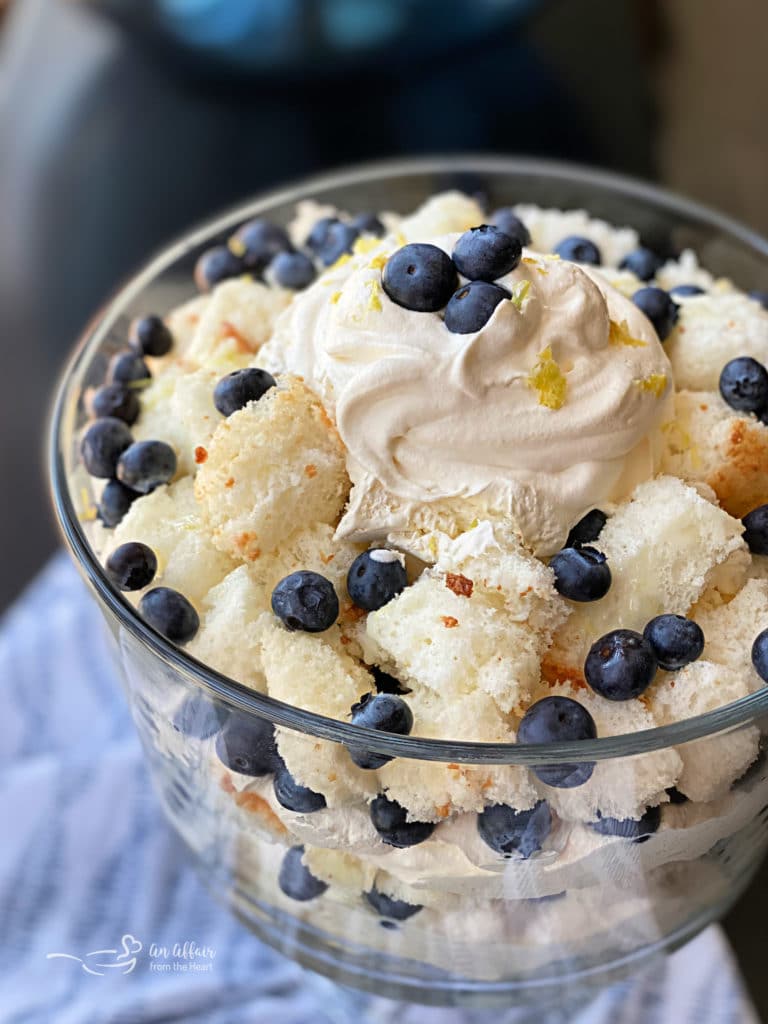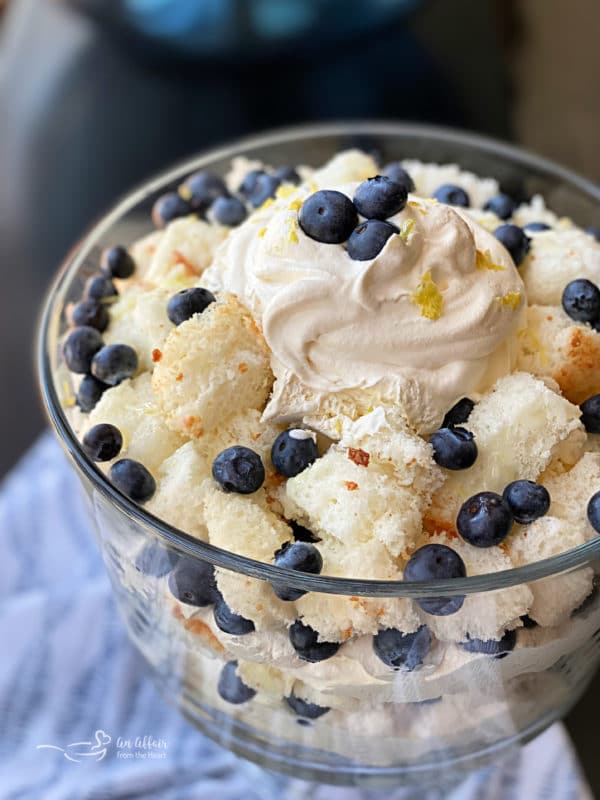 Easy Lemon Blueberry Trifle Dessert
Making a lemon blueberry trifle is so easy. You just layer the ingredients together, ideally in a clear glass pedestal bowl. Also known as a trifle bowl, the idea is to show off the layers of cake, custard or cream, and fruit.
In England, a trifle dessert is typically made with egg custard, but in this case, good ol' fashioned Cool Whip does the trick.
If you want to use homemade whipped cream instead, then feel free too! Lemonade and some lemon zest add a nice bit of tartness to the lemon trifle. In minutes, you create a very light but wonderfully refreshing dessert, perfect for summer.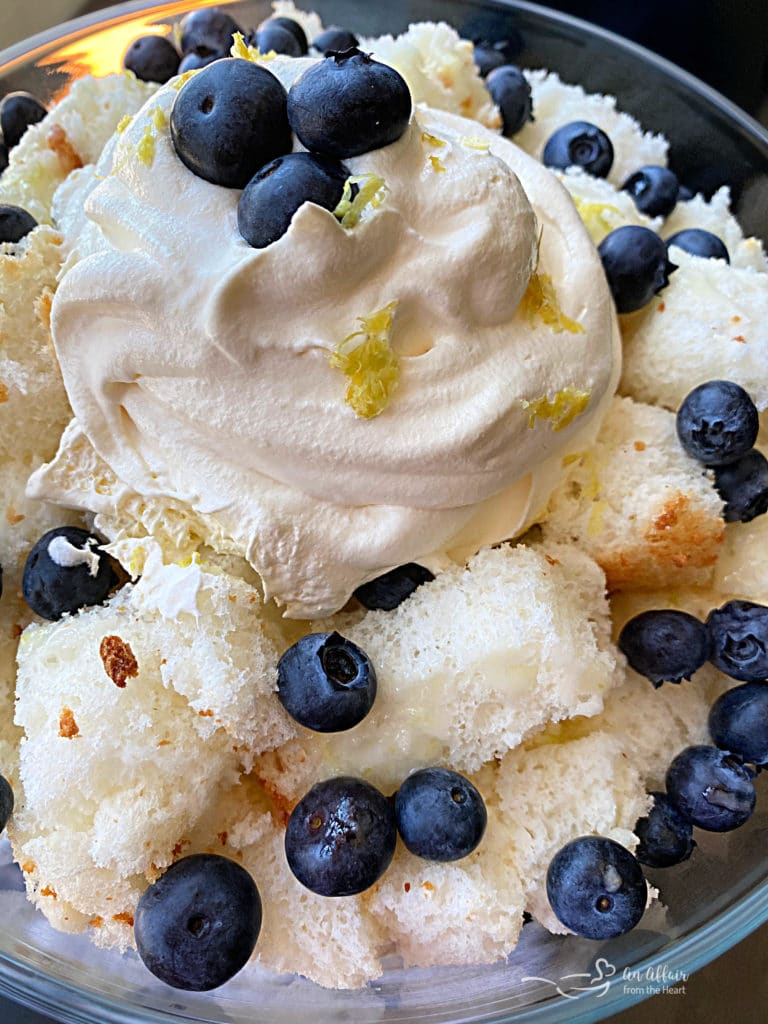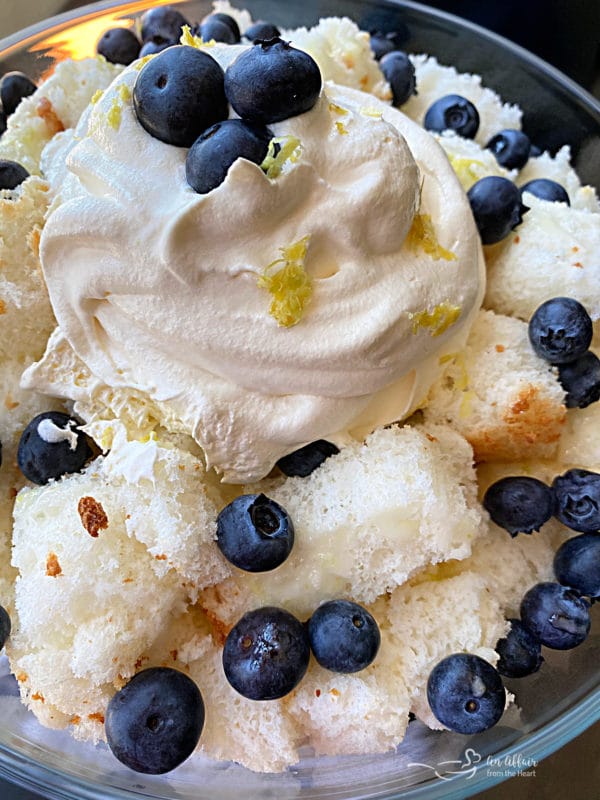 Where did trifle desserts come from?
The traditional trifle comes from England. The original dessert layers summer fruit, custard, and sponge cake soaked in fortified wine or sherry, then topped with whipped cream. I am sure this is delicious too, but say hello to potential dessert hangover!
My version is alcohol-free, but if you want, then you can always add a bit of sherry or perhaps some apricot brandy to soak up in the angel food cake. My version of a lemon trifle is of course more kid friendly, but nothing wrong with doing the adult version either.
Making a Trifle Cake with Lemon Angel Food Cake
There are so many different things you can do with an angel food cake, just think beyond the strawberries and whipped cream. I have a Two-Ingredient Pineapple Angel Food Cake recipe that is always a hit, and it's low fat and low on calories, too.
This lemon trifle was lightened up by omitting the custard or the pudding layer, and I promise you it wasn't missed. I made the lemon angel food cake by using lemonade in place of the water that the angel food cake mix calls for. Cut the cake into 1-1 1/2″ cubes and layered it into my trifle bowl.
Begin with a layer of cake, then a drizzle of lemon glaze, a layer of Cool Whip, a sprinkle of fresh blueberries, then repeat that step one more time. Finish it off by mounding the cake cubes a little higher in the center, drizzling the remaining glaze and adding the rest of the blueberries. Top it with a dollop of Cool Whip and a bit of lemon zest and refrigerate it until you're ready to dig in!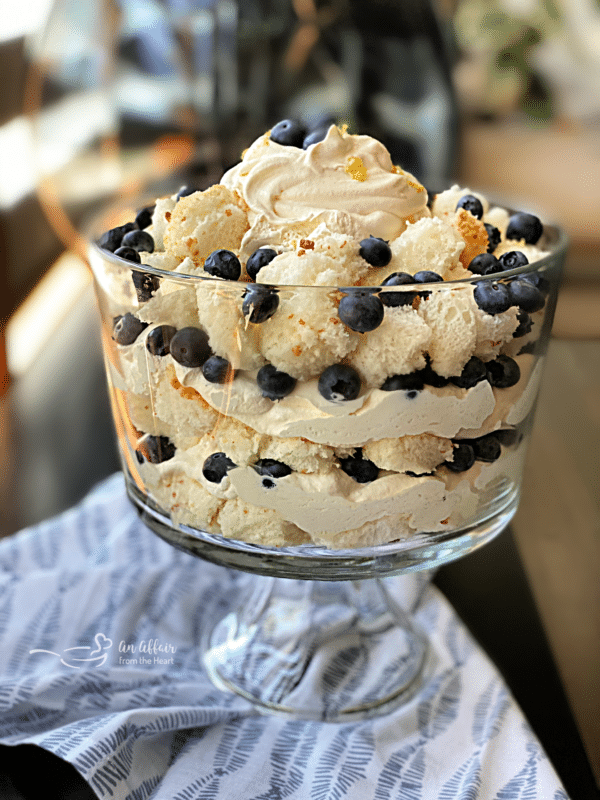 Making lemon glaze
The lemon glaze is super easy to make and just requires a couple of ingredients. In this recipe, you make the lemon glaze with just powdered sugar, lemon juice, and lemon zest. The only thing to keep in mind is what kind of consistency you want to end up with.
In my mind, the perfect lemon glaze should be thin enough to pour, but thick enough to coats thickly. If you pour in layers, then the glaze should be able to build up a nice thickness.
My suggestion is to pour in the lemon juice slowly at first and mix as you add the liquid. That way you can bring it to the perfect consistency as you go. If you do it that way then you don't find yourself adding more sugar or more lemon juice until you have twice as much as you need!

Love it? Pin It!
Don't forget where you found this easy summer dessert! Lemon and Blueberry desserts are so refreshing! Find this recipe easily by pinning it to your favorite Pinterest dessert recipe board!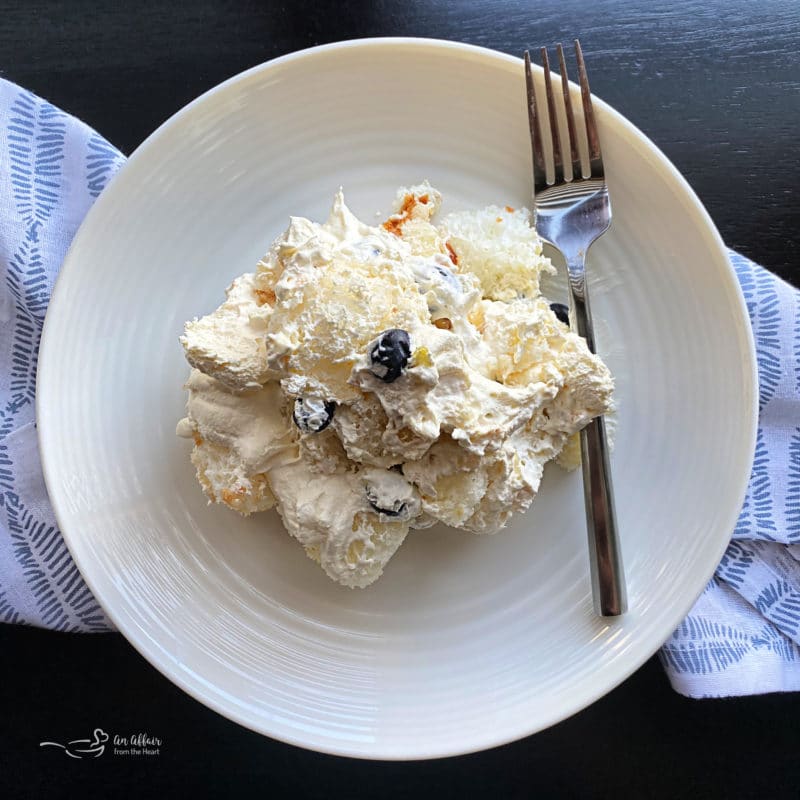 Serve with a spoon right onto your plate and dig in!
Variations on lemon blueberry trifle
You could try strawberries, or raspberries, blackberries, or even a combination of any of fruits you want. If you have a true trifle bowl, then the colors of the fruit make it a true work of art.
I have some other ideas to incorporate into trifle recipes to check out if you feel like some variation in your trifle layering too.
What exactly is Cool Whip?
Although Cool Whip is advertised as a "non-dairy" whipped topping, it does actually contain some dairy. But is also contains hydrogenated vegetable oil as well. In this respect, Cool Whip sort of exists somewhere between being a custard and a whipped cream. That is why it is so ideal for making all sorts of desserts.
You also have the option to use a non-fat or a low-fat version instead of their original creamy option, giving you the ability to reduce calories and fat in dessert recipes. Dessert without the guilt? Count me in!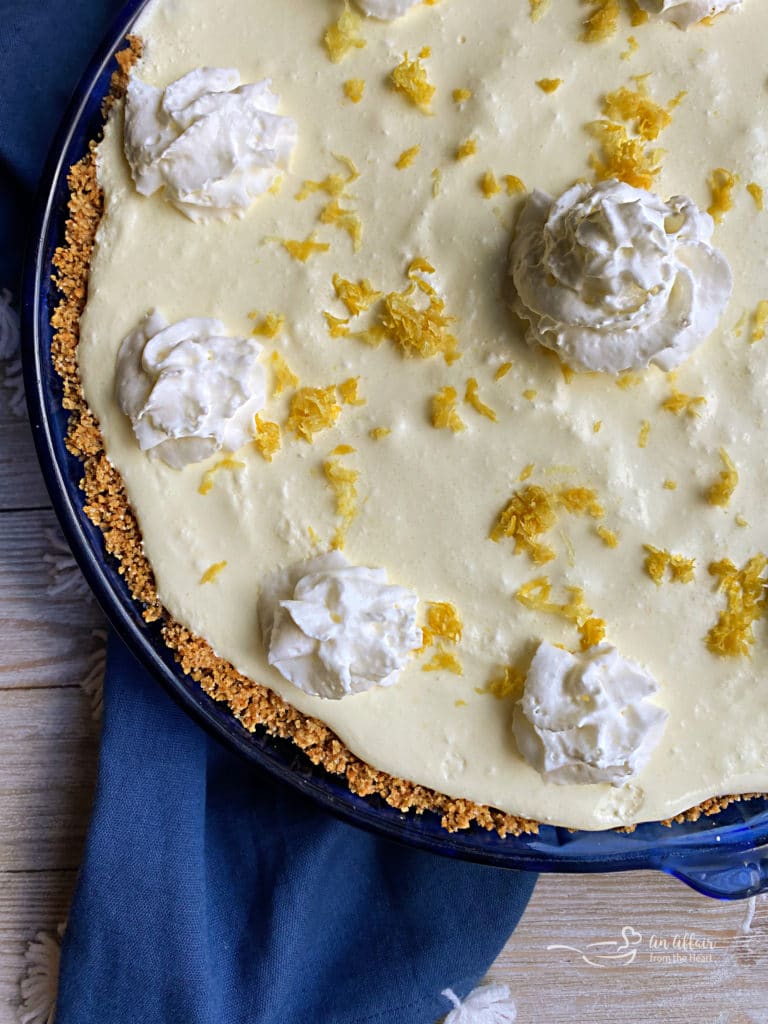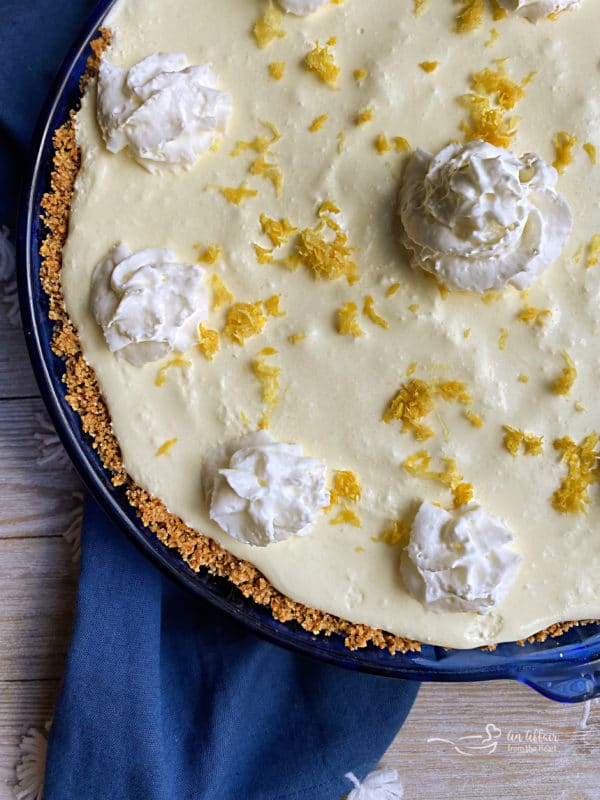 More great Lemon dessert recipes
Summer desserts all have a few things in common. They need to be light, easy to make, and take advantage of the beauty of all those fresh and ripe summer fruits! I think blueberries are great because they go so perfectly with the lemon, but lots of fruits go great with lemon right? So feel free to try other fruits as well.
If you are looking for more ideas, then I have some fun suggestions to try.
Lemon Dessert Ideas: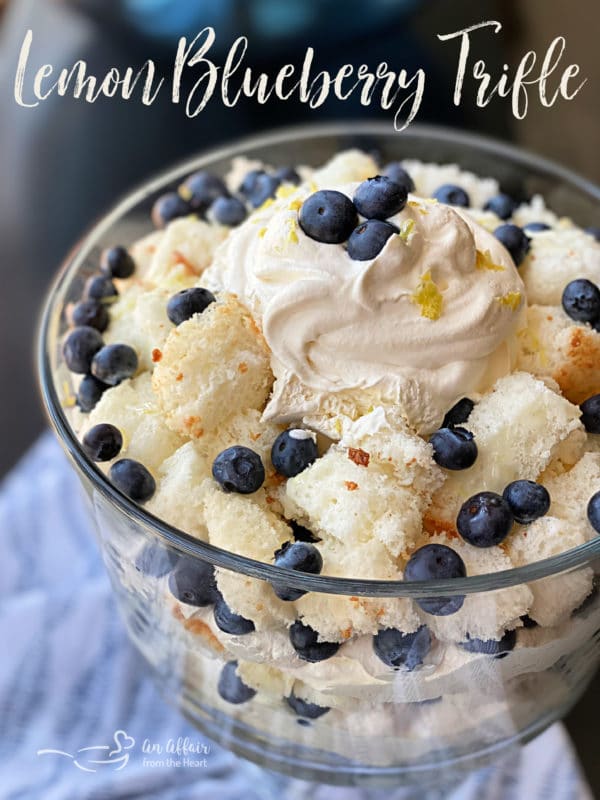 I hope you give this Blueberry Lemon Trifle a try – I can't wait to hear what you think!

Yield: 12
Lemon Blueberry Trifle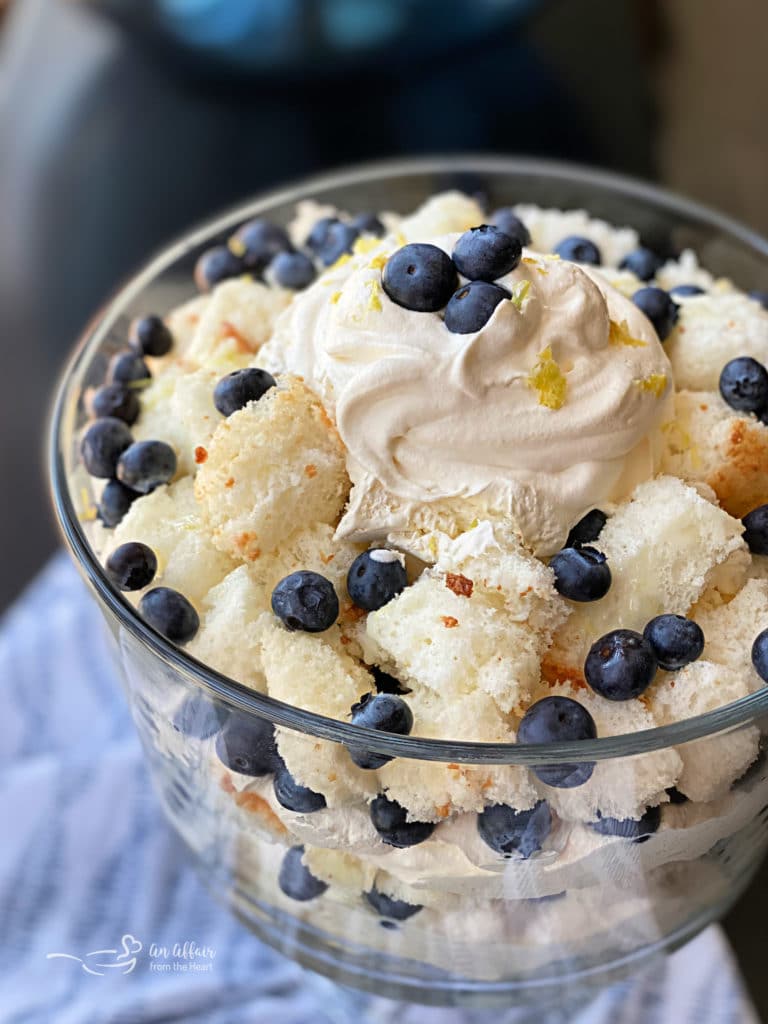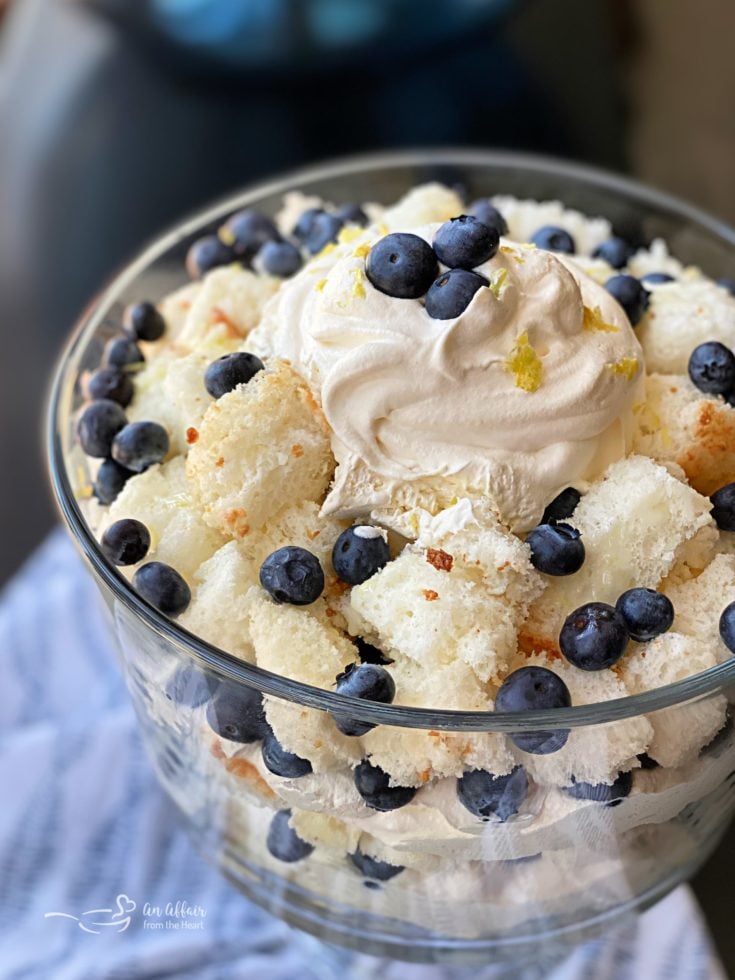 Delicious lemon angel food cake cubed and layered in a trifle bowl with a tart lemon glaze, fresh blueberries and Cool Whip. A simple summertime dessert that everyone will adore!
Ingredients
1 box angel food cake mix
1 1/4 cup Lemonade (use lemonade in place of water according to your box cake mix, adjust accordingly.)
2 lemons zested and squeezed, divided
2 cups fresh blueberries
16 ounces Cool Whip
For the Tart Lemon Glaze
2 cups powdered sugar
2-3 Tablespoons fresh squeezed lemon juice
1 Tablespoon Lemon Zest
Instructions
Prepare your angel food cake by following the cake mix instructions, but replacing the amount of water it calls for with lemonade. (I used Simply Lemonade) Add in 1 Tablespoon of the lemon zest to cake mix, too. Bake according to box instructions, cool. Cut cake into cubes.
Prepare the glaze by mixing together powdered sugar, lemon zest and lemon juice. Add more or less sugar/juice until you get to the consistency you want.
In a trifle bowl, place a layer of the angel food cake cubes in the bottom. Drizzle with 1/3 of the glaze. Top with 1/3 of the Cool Whip. Sprinkle with 1/3 of the blueberries. Repeat that same layer once again: a layer of the angel food cake cubes in the bottom. Drizzle with 1/3 of the glaze. Top with 1/3 of the Cool Whip. Sprinkle with 1/3 of the blueberries. For the final layer, fill the top of the trifle dish with remaining cake cubes, mounding them higher in the middle. Drizzle the remaining glaze over the top of the cake, and scatter the rest of the blueberries over the top, place a big dollop of Cool Whip in the center, add a couple of blueberries to the top and sprinkle with remaining lemon zest.
Keep in the refrigerator until ready to serve.
Nutrition Information:
Yield:
12
Serving Size:
1
Amount Per Serving:
Calories:

227
Total Fat:

10g
Saturated Fat:

8g
Trans Fat:

0g
Unsaturated Fat:

1g
Cholesterol:

0mg
Sodium:

29mg
Carbohydrates:

36g
Fiber:

1g
Sugar:

32g
Protein:

1g
Nutrition isn't guaranteed accurate.