Dutch Letter Bars
As an Amazon Associate and member of other affiliate programs, I earn from qualifying purchases.
In the mood for something incredibly satisfying, delicious, and full of buttery and flaky flavors? This easy Dutch Letter Bars recipe is the best way to enjoy the sweet notes that are found in traditional Dutch Letter pastries. Made with almond paste, sugar, and almond extract, you'll be head-over-heels for this recipe!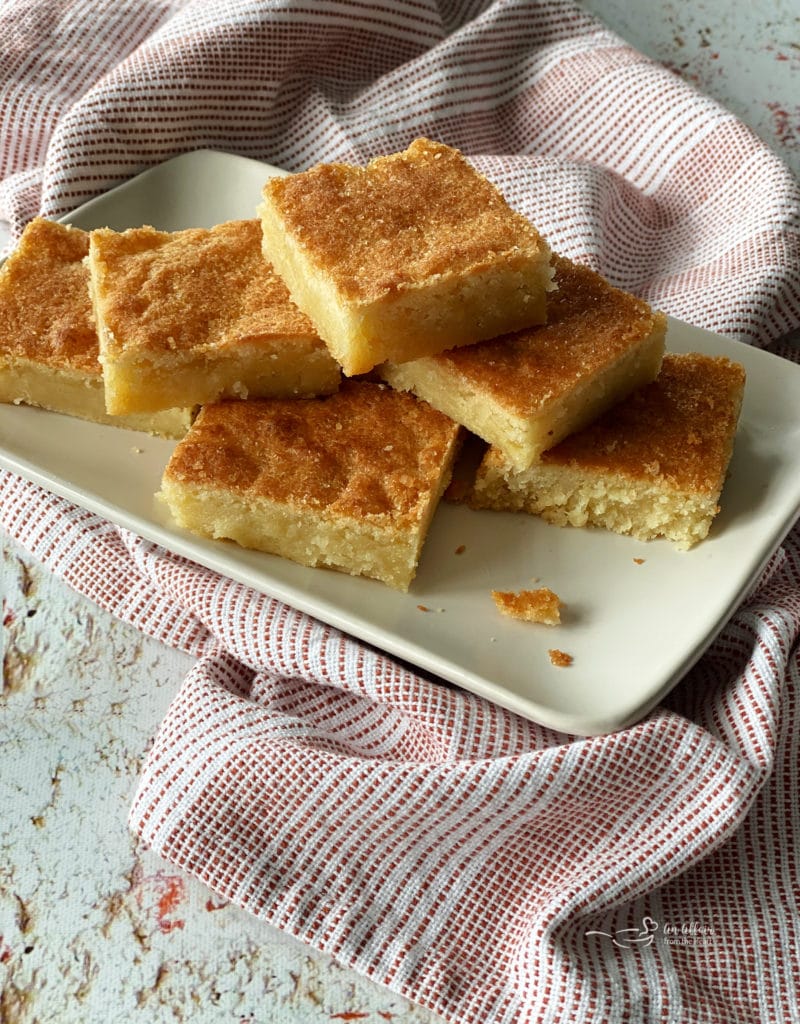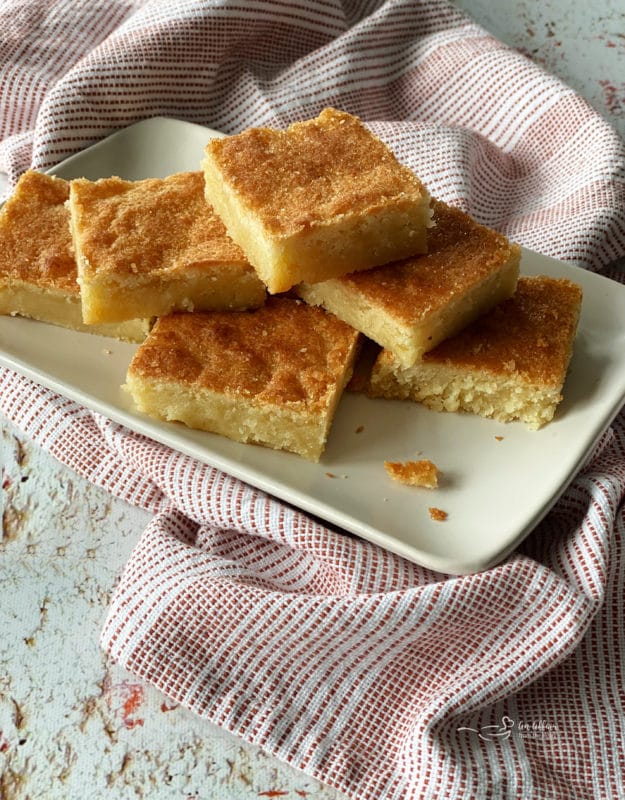 Gooey, soft, and sweet, these Dutch Letter bars are a more convenient way to enjoy the traditional almond flavors that are found in classic Dutch Letter pastries. Whether I'm enjoying this Dutch-inspired recipe during December or any other time of the year, there's just something so incredible about the soft and subtle flavors of almond paste cooked into a soft filling.
Also known as banketletter or botterletters, Dutch Letter pastries are both unique and comforting. With this Dutch Letter bar recipe, you don't have to go through the extra trouble of forming the pastry dough into the shape of a letter: Isn't that amazing?
How this letter bar recipe came to be
Last fall we had dinner with some friends of ours, Todd and Traci. Somehow the conversation turned to race cars, as it typically does since Todd and Brian raced together for over two decades. They started talking about going to one particular race in Knoxville, Iowa, and how we should road trip and watch.
When my eyes kind of glazed over with disinterest, as I have spent many a thousand weekends watching cars go in circles, and I was kind of "over it," Traci brought up the bakery they always visit in Pella, Iowa, nearby to get Dutch Letter Bars.
I will be honest, aside from knowing about them from just hearing about them, I had never had one. But Todd and Traci seemed to think that the enticement of these pastries could convince me that a "vacation" of watching races could change my mind. (they would have to be really good. lol)
where I got the recipe
A couple of weeks later, I was chatting with my friend, Betsy, and I don't even know how the conversation turned to that same part of Iowa and I asked her if she had ever had a Dutch Letter. She went on to tell me that she had, but when she craves them, she pulls out her recipe for Dutch Letter Bars instead. Since they were so much easier to make.
She sent it to me, and I baked up a batch the next week to share with you all.
Why You'll Love These Easy Dutch Almond Paste Bars
Easy: This recipe for these decadent treats is seriously so easy! All you need are just a handful of basic pantry ingredients to enjoy these transformative Dutch Letter bars.
Quick: Ready in under 30 minutes, you'll be able to relish the amazing flavors this recipe has to offer.
Minimal: With just a few simple steps, you can have dessert created in no time at all.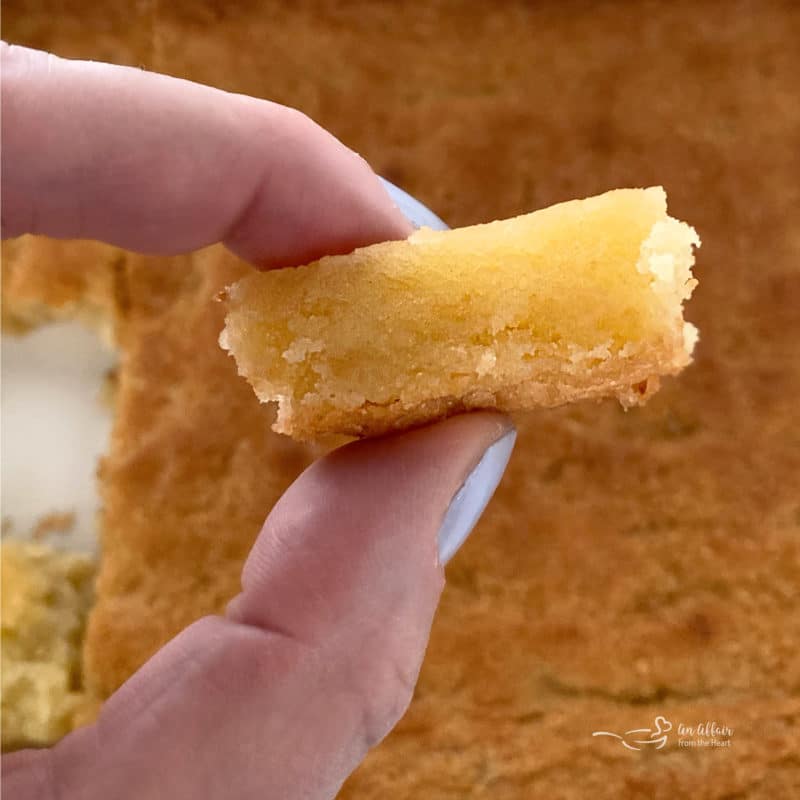 History of Dutch Letters
Traditionally celebrated in the Netherlands during festivals and a holiday known as Sinterklaasavond in the winter of December, Dutch Letters are often shaped into the first letters of Dutch families' surnames. Sinterklaasavond is a gift-giving holiday that occurs on the fifth and sixth of December each year in the Netherlands.
Introduced to North America in Pella, Iowa by Dutch immigrants in 1845, Dutch Letters have been enjoyed during all types of different occasions and festivities. Viewed as common delicacies in Iowa, Dutch Letters can be found at gas stations, convenient stores, and so much more.
Why are Dutch Letters always an "S"?
You may wonder why Dutch Letter pastries are always shaped in the letter "S". Well, the reason for this is that these pastries are commonly enjoyed during a winter-themed holiday in the Netherlands during December known as Sinterklaasavond.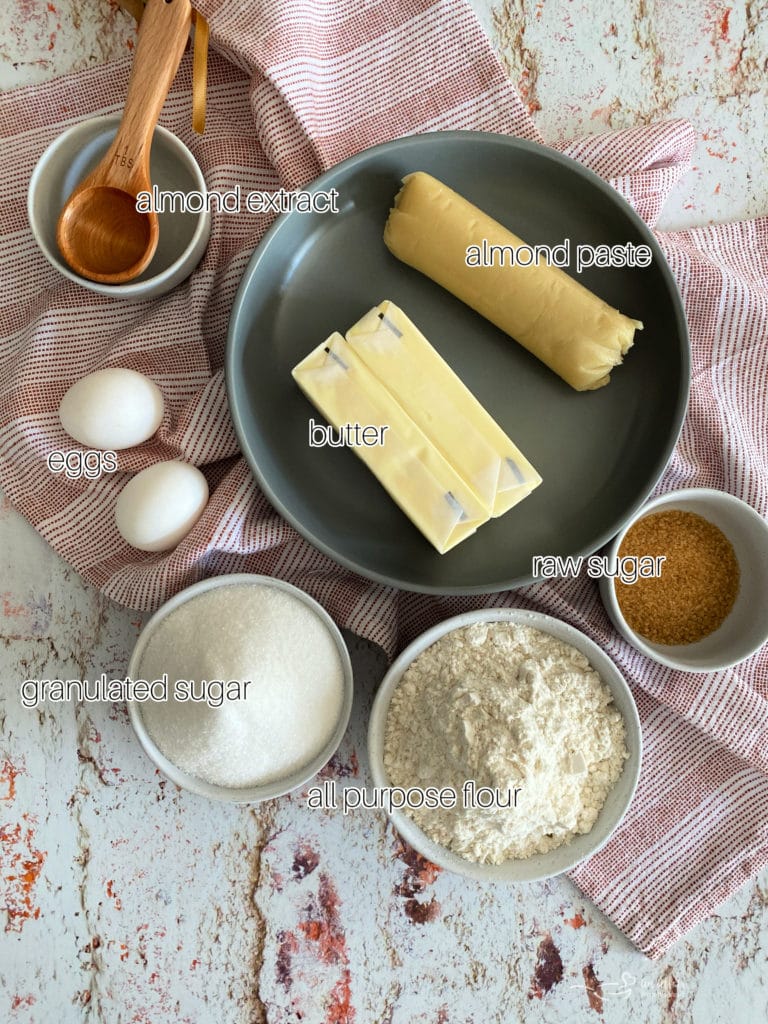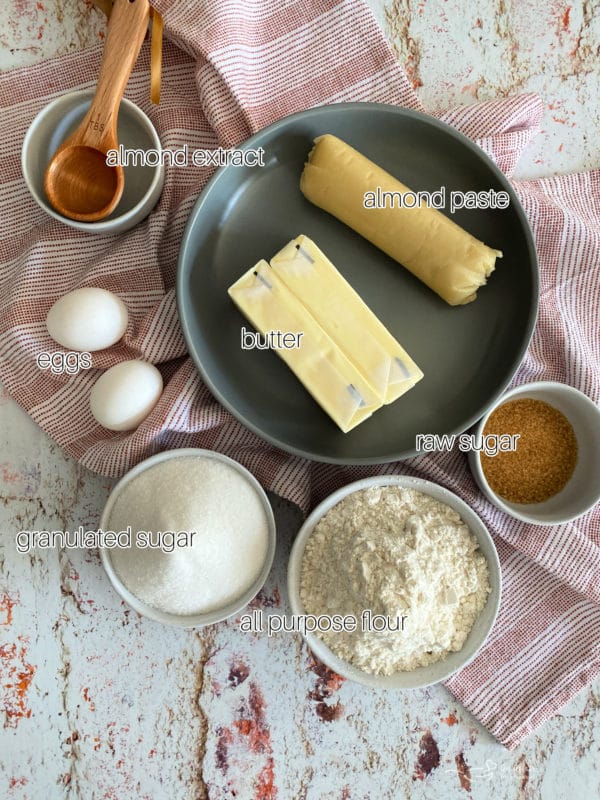 Ingredients Needed
Butter: You'll need to make sure you have butter for this recipe so the bars can be flaky and buttery.
Sugar: You will need both raw and regular granulated sugar for this recipe.
Eggs: Eggs allow the bars to bind together and create moisture.
Almond paste: The key ingredient to Dutch Letters, you'll want to make sure to have almond paste for this recipe. Almond paste is made from ground almonds and sugar that are cooked with cream and binder. You will most likely find it where the extracts and nuts are in the baking asile. It comes in a little tube.
Flour: All-purpose flour is needed for this recipe.
Almond extract: Another key component to the almond flavor in Dutch Flavors we all love, you can find almond extract in the baking aisle at most grocery stores.
Almonds: Optional, but slivered almonds are highly recommended for these bars. The almonds add a little bit of crunch!
How to Make Dutch Letter Bars
Preheat oven: First, preheat the oven to 350 degrees Fahrenheit. Butter a 9X13″ baking dish.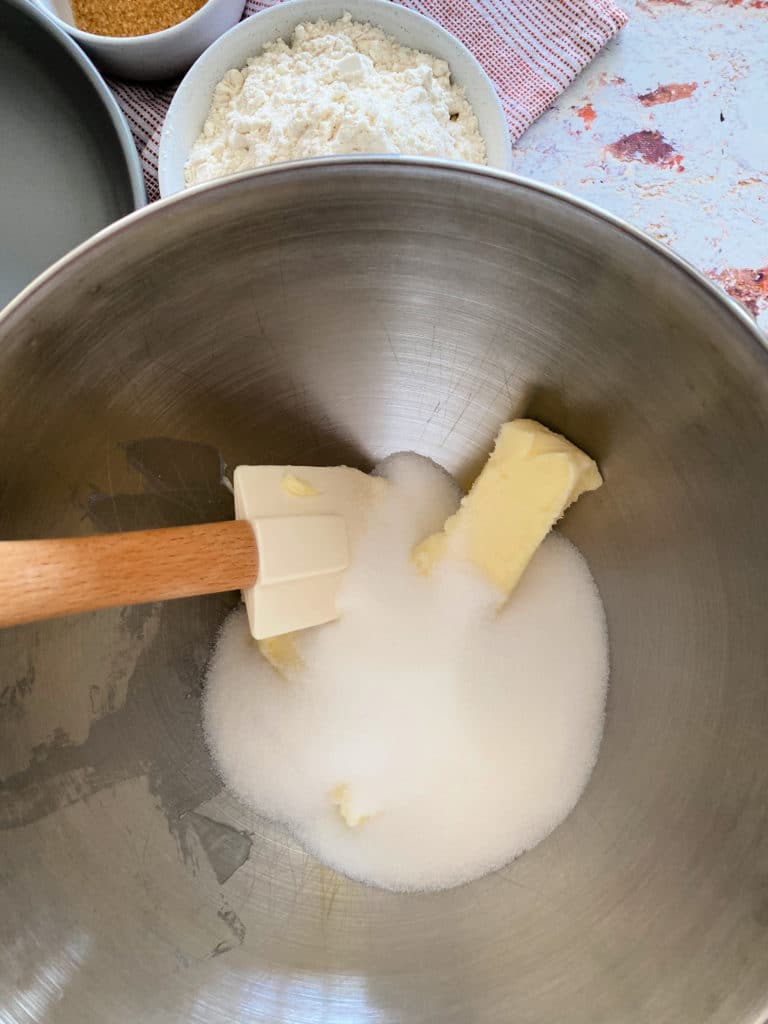 Cream the ingredients: Cream together butter, sugar, and eggs.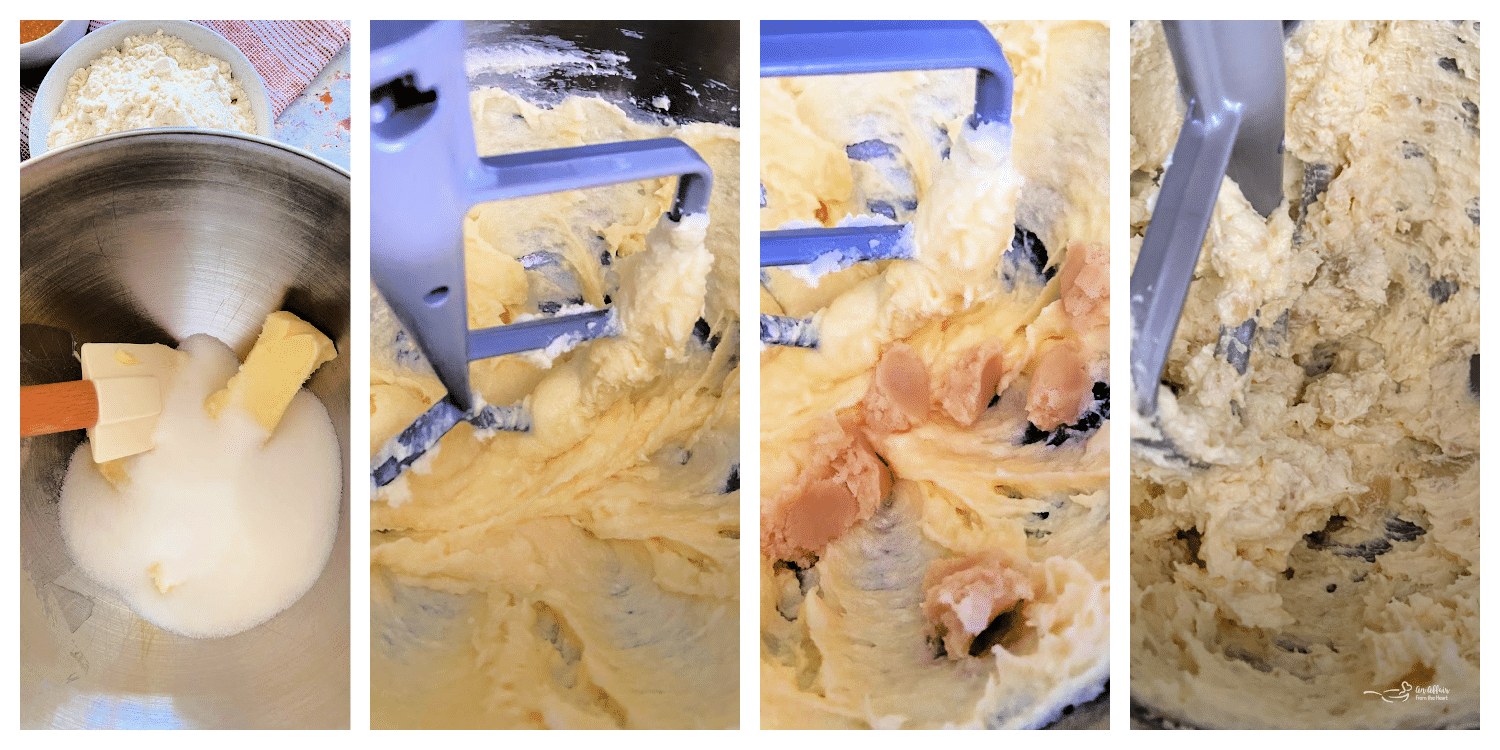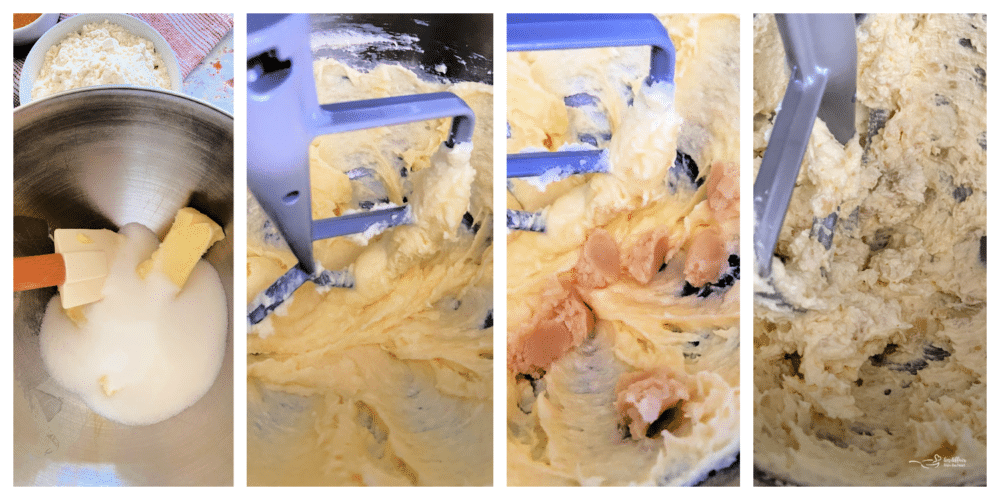 Almond paste: Add the almond paste in small chunks. Mix until incorporated.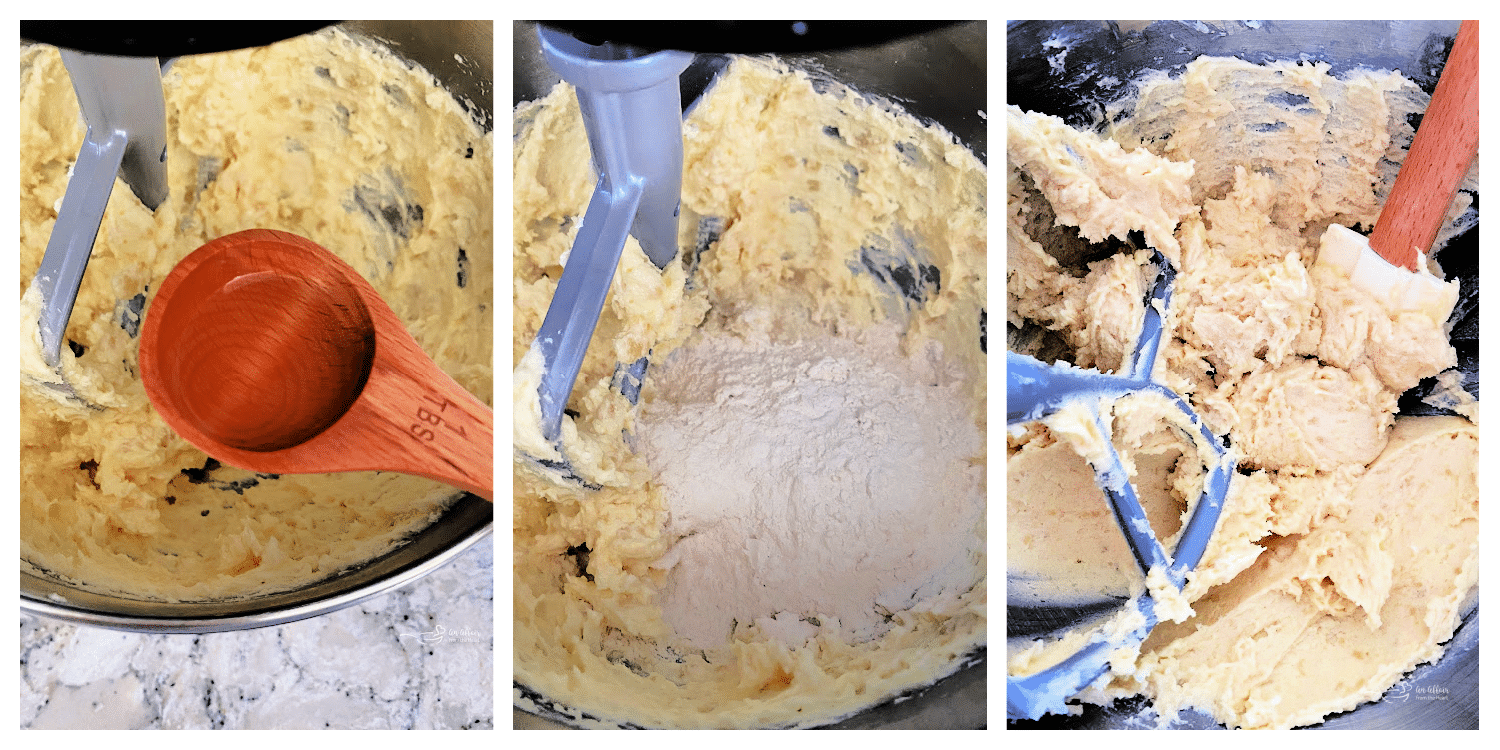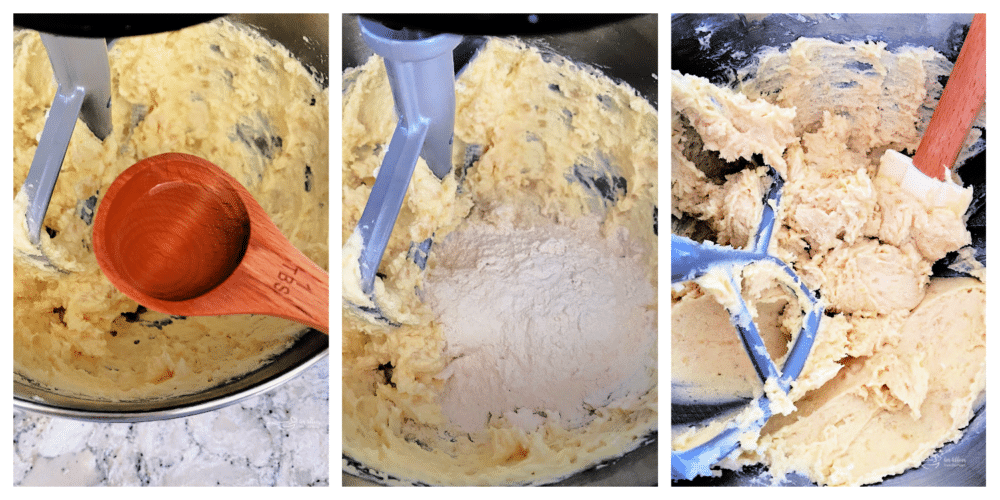 Add the extract: Next, add the almond extract and flour.
Transfer to the dish: Transfer to the prepared baking dish.
Optional toppings: Sprinkle the top with almonds or raw sugar, if desired.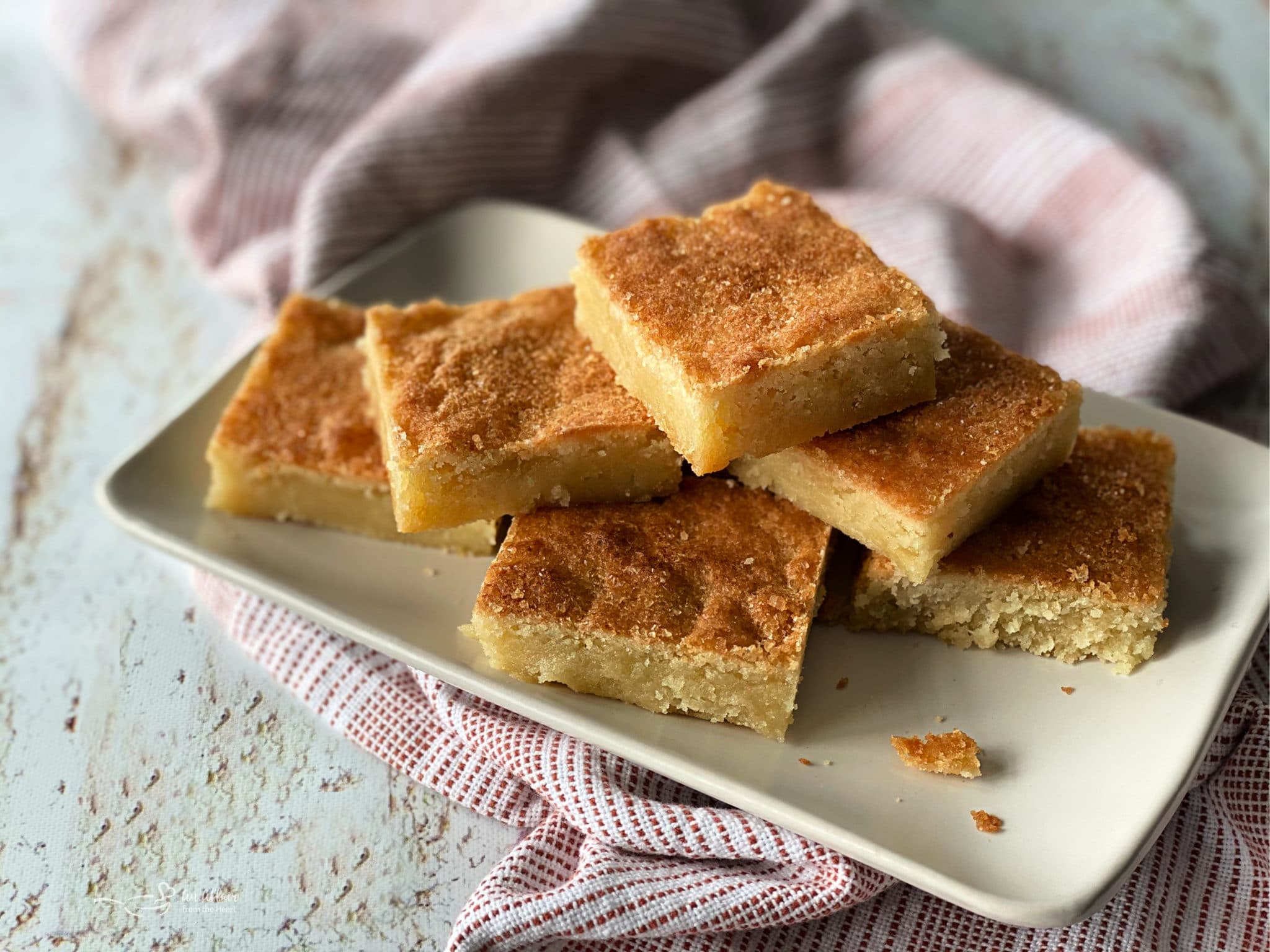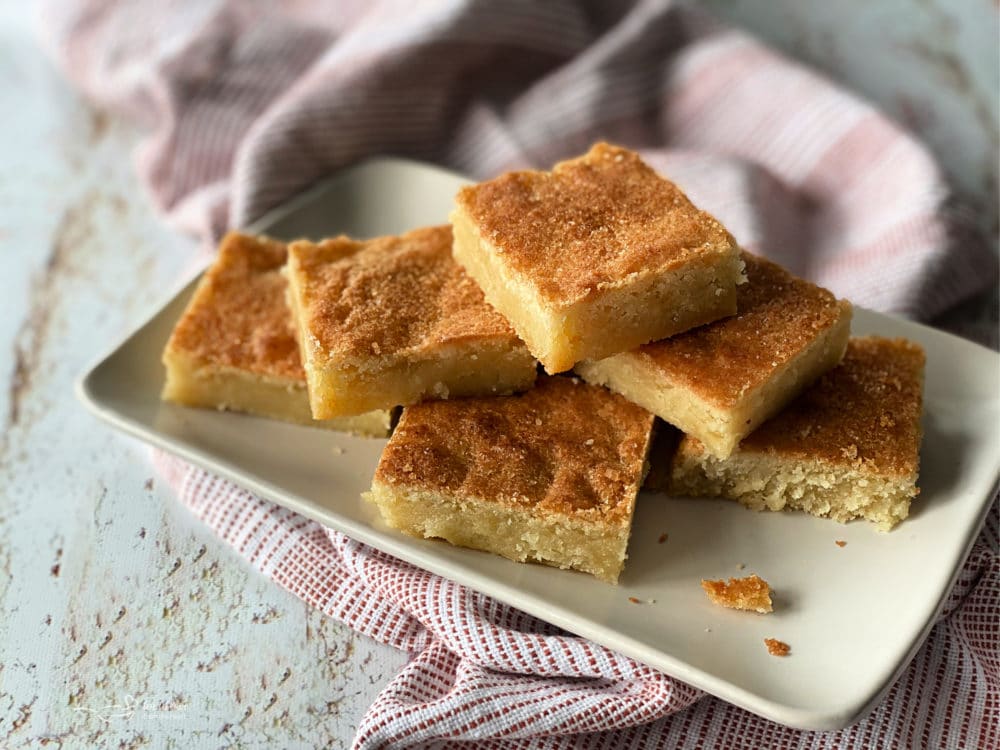 Bake to perfection: Finally, bake for 20-24 minutes.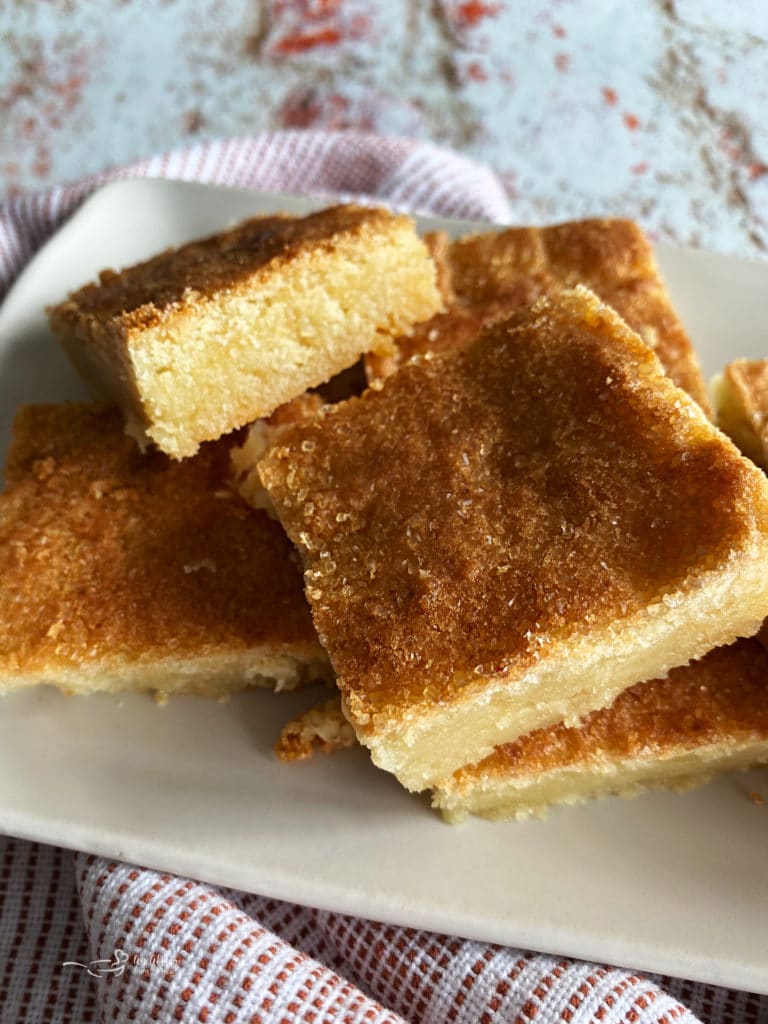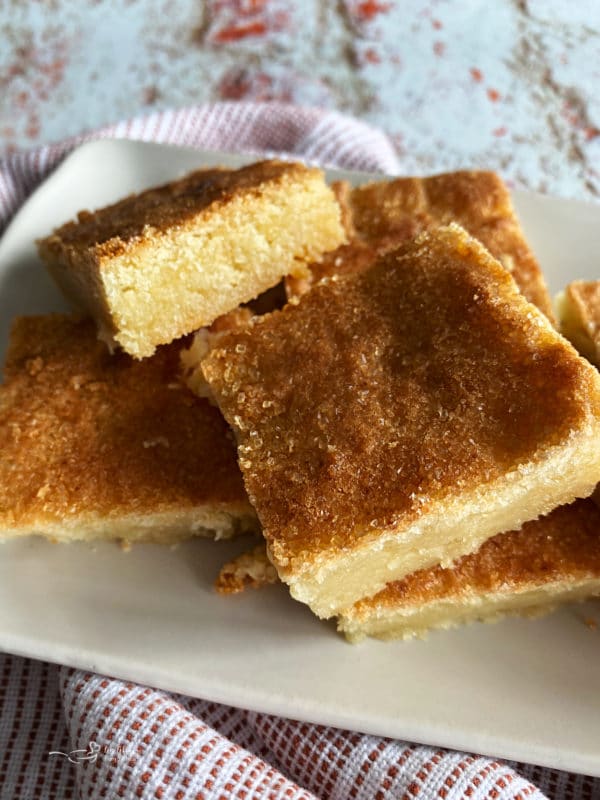 Tips
Don't over-bake these Dutch almond paste bars. Pull them out just as they turn golden brown on top.
I have found that the bars cook move evenly in a metal pan than they do in a ceramic one, like I have pictured here.
Store the leftovers in an airtight container in the refrigerator.
Make sure you have almond paste for this recipe! Almond paste is definitely an essential ingredient to this recipe.
You can make an almond paste from scratch or find it online, at a baker's store, or your local supermarket in the bakery aisle.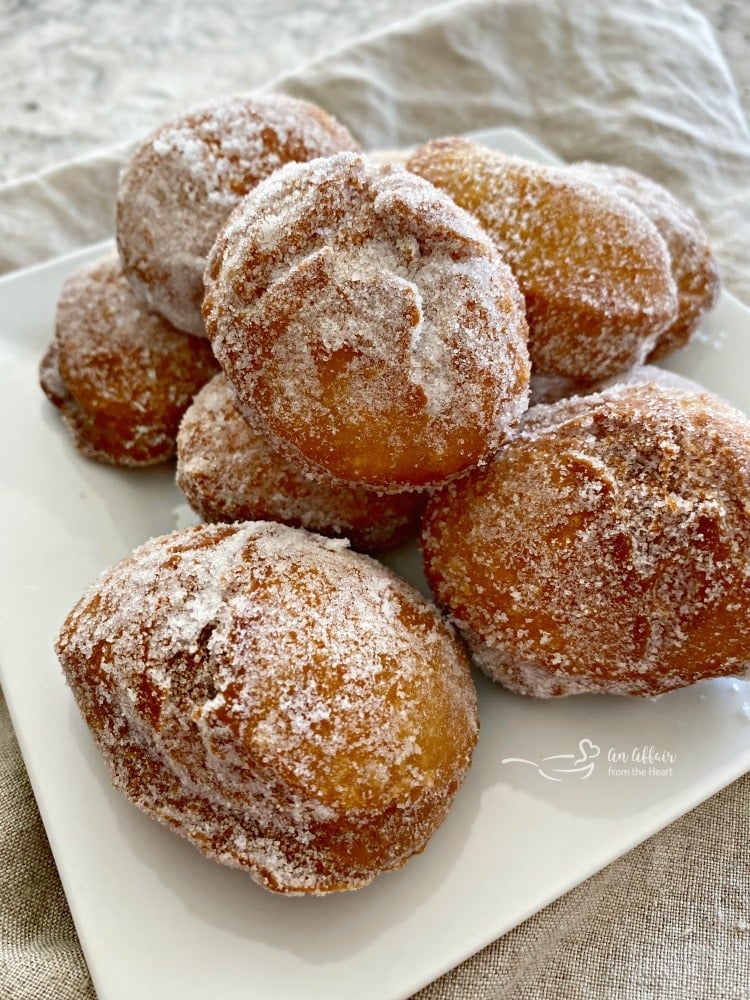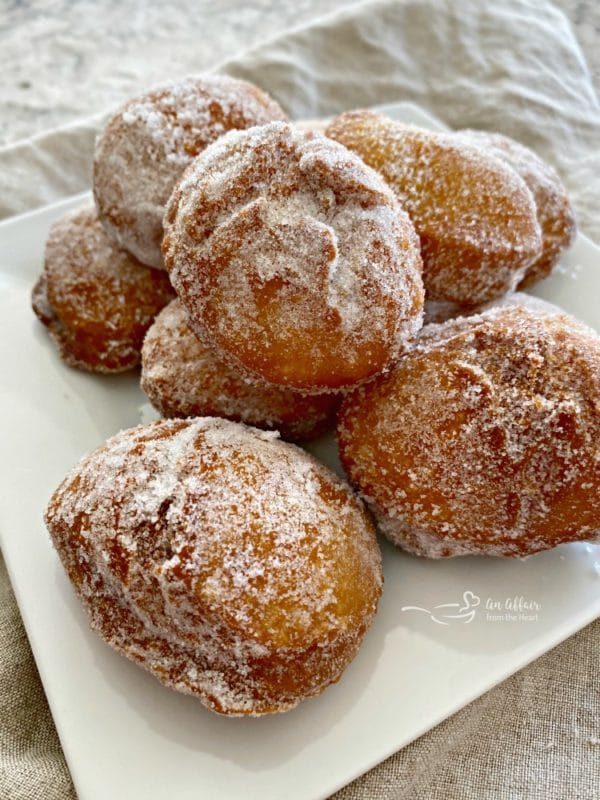 Other Recipes You'll Love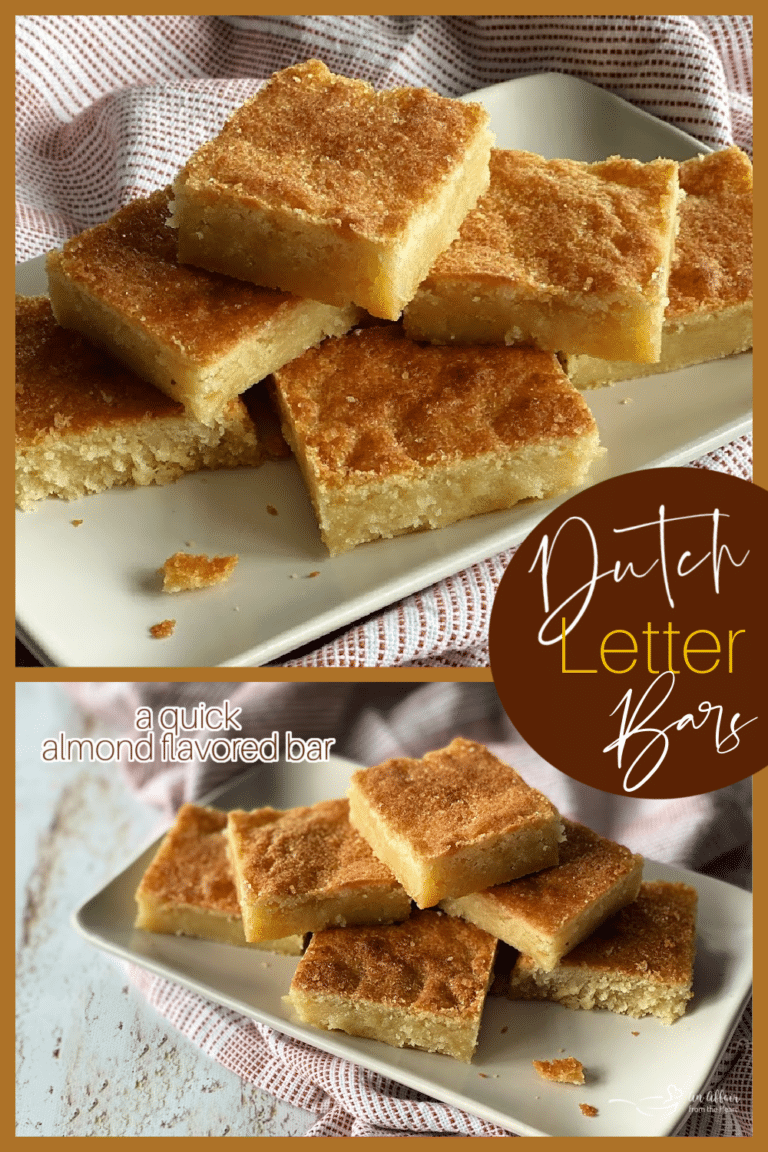 LOVE IT? PIN IT!
Don't forget where you found the recipe on how to make these Dutch Letter Bars! Pin it before you go!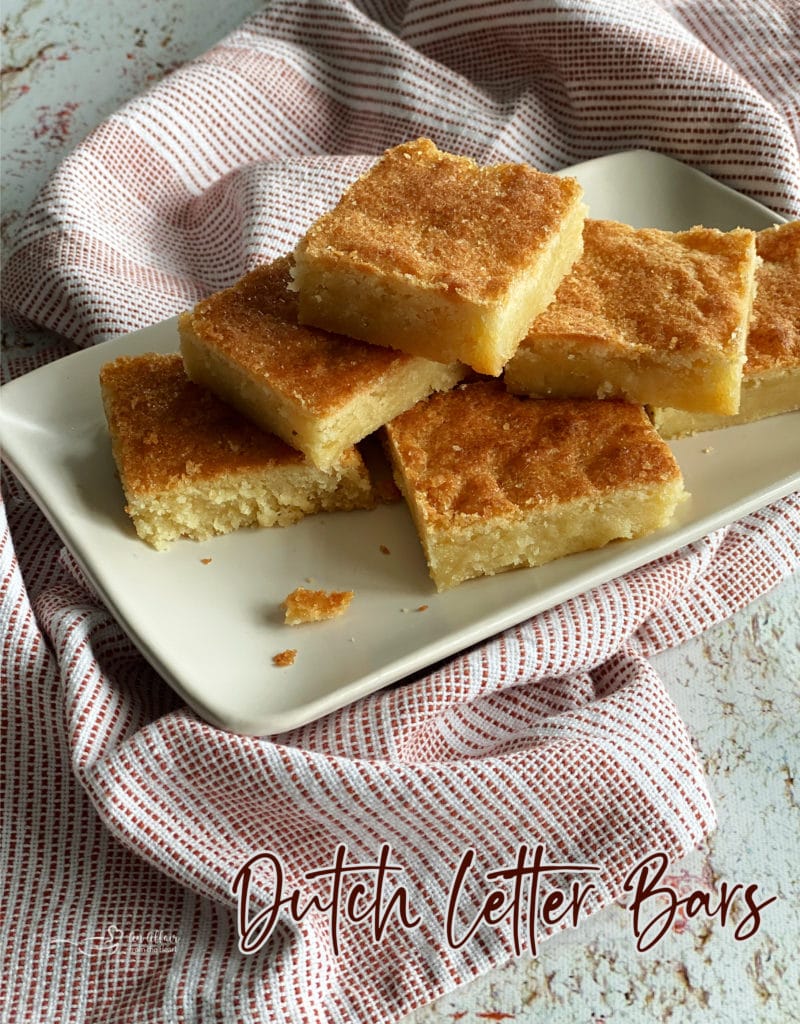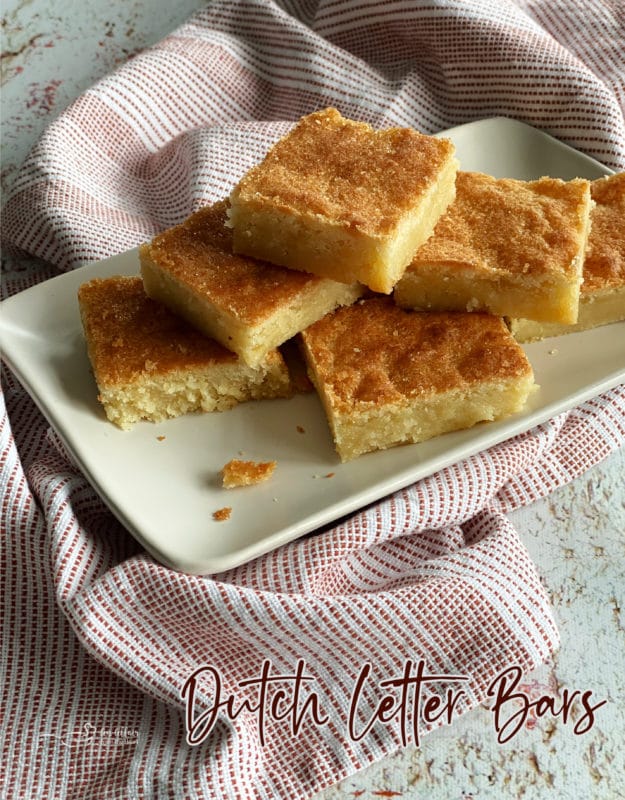 I think it's high time we bake up some of these Dutch Letter Bars, don't you?

Yield: 15 bars/9x13 pan
Dutch Letter Bars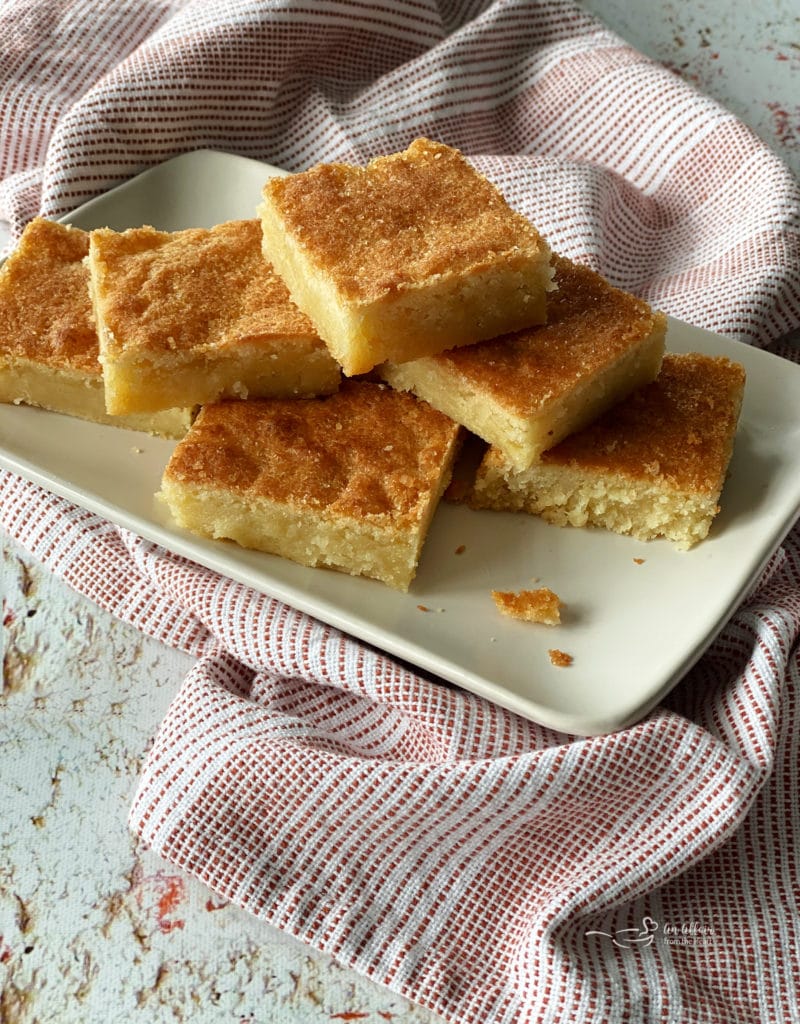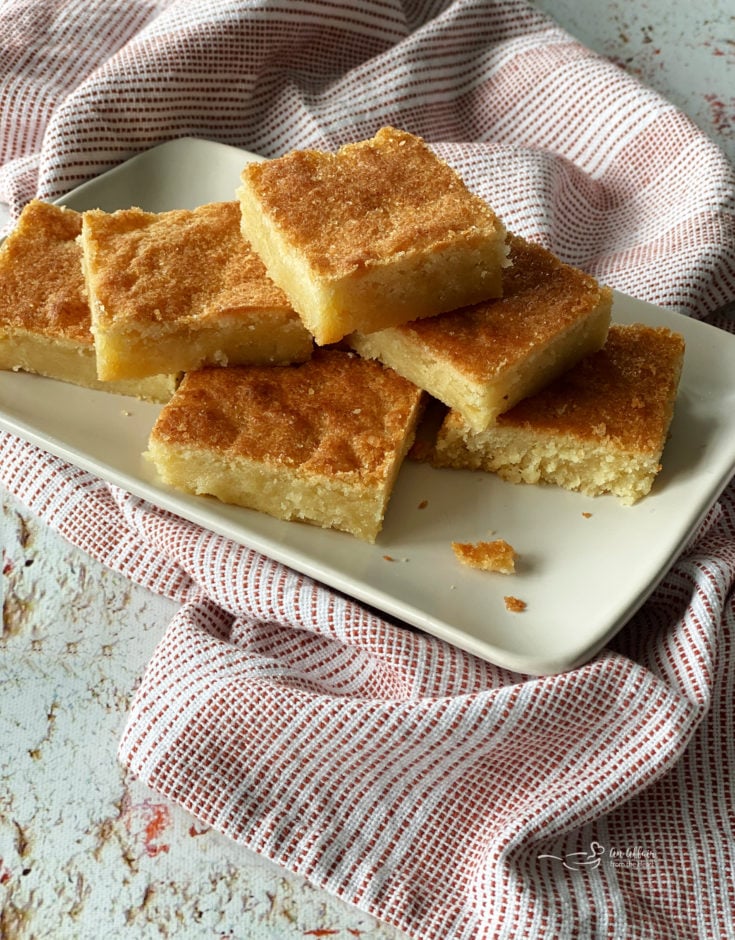 A Dutch letter bar is a simplified version of a Dutch Letter pastry. Rich in almond flavor, buttery and flaky, these bars will have any pastry lover swooning in no time.
Ingredients
2 sticks butter (1 cup)
1 1/2 cups sugar
2 eggs
7 ounces almond paste, broken into pieces
1 3/4 cup all-purpose flour
1 Tablespoon almond extract
raw sugar
slivered almonds (optional)
Instructions
Preheat oven to 350 degrees. Butter a 9x13" baking dish, set aside.
In your mixer cream together butter, sugar and egg until fluffy.
Add in almond paste in small chunks while the mixer runs until it's all incorporated.
Add in almond extract and flour and beat until combined.
Spread into a prepared baking dish.
Sprinkle the top with raw sugar or slivered almonds if desired.
Bake for 20-24 minutes. Or until the top of the bars is golden brown and bars are set in the middle.
Cool and slice.
Notes
store in the refrigerator.
Recommended Products
As an Amazon Associate and member of other affiliate programs, I earn from qualifying purchases.
Nutrition Information:
Yield:
15
Serving Size:
1
Amount Per Serving:
Calories:

320
Total Fat:

17g
Saturated Fat:

8g
Trans Fat:

1g
Unsaturated Fat:

8g
Cholesterol:

57mg
Sodium:

108mg
Carbohydrates:

38g
Fiber:

1g
Sugar:

25g
Protein:

4g
Please note that nutrition is not guaranteed accurate.