Swiss Cheese Dip
As an Amazon Associate and member of other affiliate programs, I earn from qualifying purchases.
A simple three ingredient Swiss cheese appetizer recipe, this Swiss Cheese Dip is ready in no time! It's served chilled and perfectly accompanies veggies, crackers, toasted bread and chips.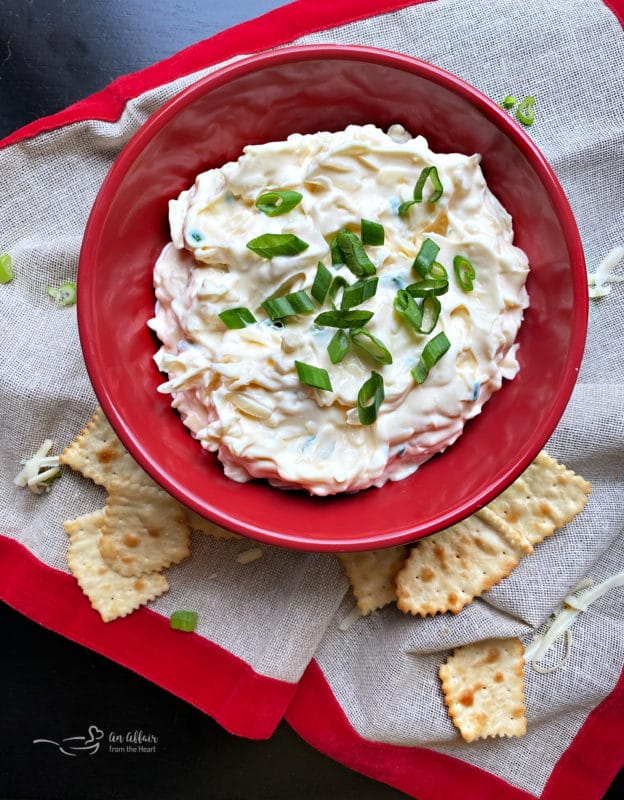 My friend Gigi likes to bring this dip to parties, and I am lucky enough to have had her bring it to some of mine. It was the first I had ever tasted anything like it. When I asked how she made her shredded Swiss Cheese Dip Recipe, I was shocked to hear just how simple it was!

Swiss Cheese Dip
It's actually almost embarrassing to tell you just how simple this recipe is. My favorite part? I typically have all 3 ingredients on hand at all times. Shredded Swiss Cheese, mayonnaise and scallions. (green onion tops)
This cheese and mayo dip is perfect when you get some surprise company, as it takes minutes to make. You can eat it right away, but I think it only gets tastier as it chills in the fridge and the flavors get a little time to get more acquainted.
We have served it a number of ways, from using it as a chip dip, to a Swiss cheese spread for crusty bread and crackers. I love it as a veggie dip, too. Plus it's a little more on the healthier side that way.

How to make Swiss Cheese Dip
The hardest part of preparing this Swiss cheese and onion dip? Shredding the cheese and slicing the scallions. Of course, I am being facetious, if that is as hard as it is, why wouldn't you make this dip?
You can purchase shredded Swiss cheese in a packet, but I would highly recommend that you take the extra couple of minutes to shred your own. It won't have that funky preservative that keeps it from sticking together in the bag. Just good 'ol cheese, the way it was meant to be.
Don't skimp on the mayo. No low fat or fat free stuff here. Use full fat mayonnaise for this recipe. I promise you, it's the only way.
If you want a more oniony flavor, you can add in some of the green onion to the dip. It gets really oniony really fast though, so you might want to make it as the recipe instructs the first time and switch it up after you taste it, if you feel you'd like to.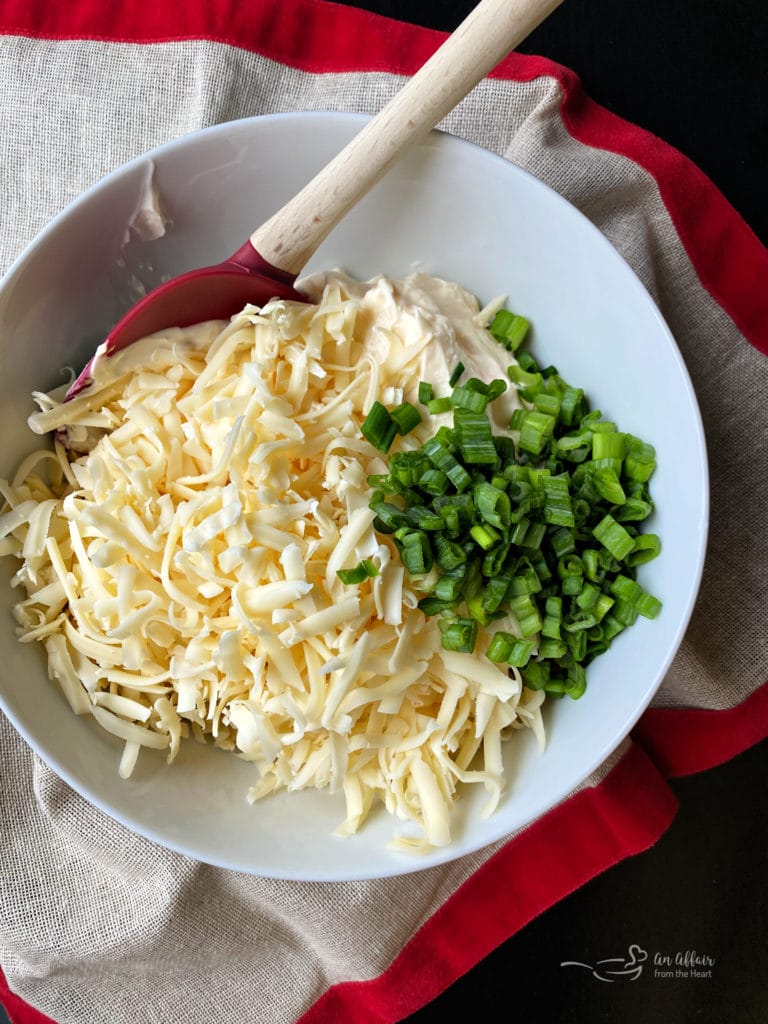 Simply combine the mayo, shredded Swiss, and scallions together in a bowl. Reserve a few scallions to garnish the top.
You can serve it right away, but I prefer to refrigerate it for a few hours before I do. I love it nice and cold, and then you'll get the full flavor effect.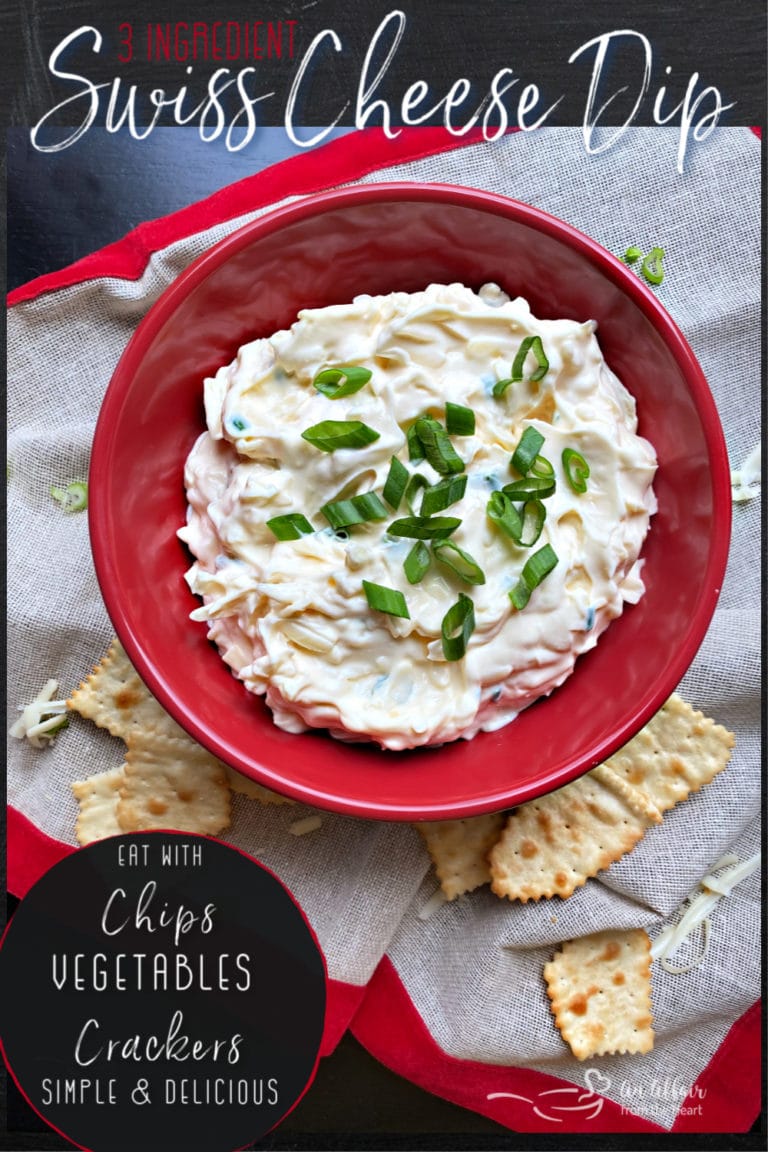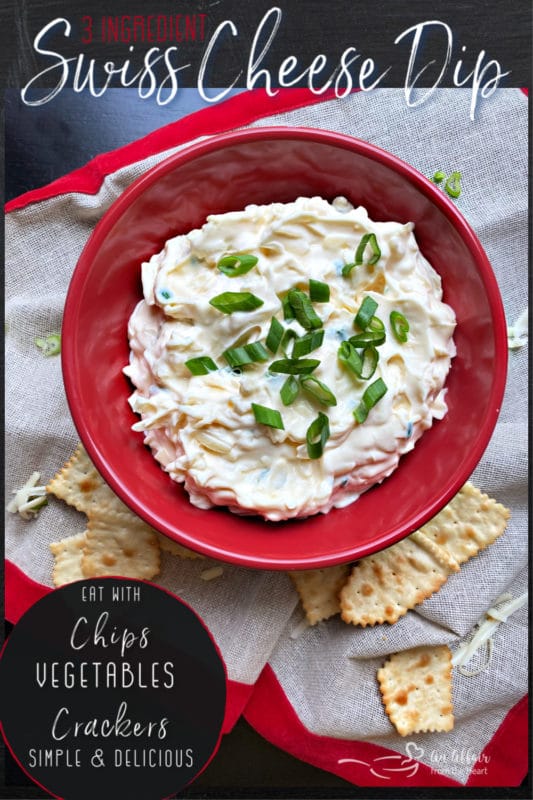 Love it? Pin it!
Don't forget where you found this delicious Swiss Cheese & Onion dip recipe! Pin it to your favorite Pinterest recipe board before you go so that you can find it easily.
Swiss Cheese vs. Jarlsberg Cheese
Switch this same recipe up by using Jarlsberg cheese in place of the Swiss. They are honestly both very similar in taste and in appearance. In fact, Jarlsberg is sometimes marketed as Swiss cheese, or Emmental.
Jarlsberg is sometimes referred to as Baby Swiss and has a sweeter, nuttier flavor than Swiss cheese does. It is a semi-firm yellow cheese you'll find beneath its wax rind exterior. Both Norwegian kinds of cheese have similar melting characteristics.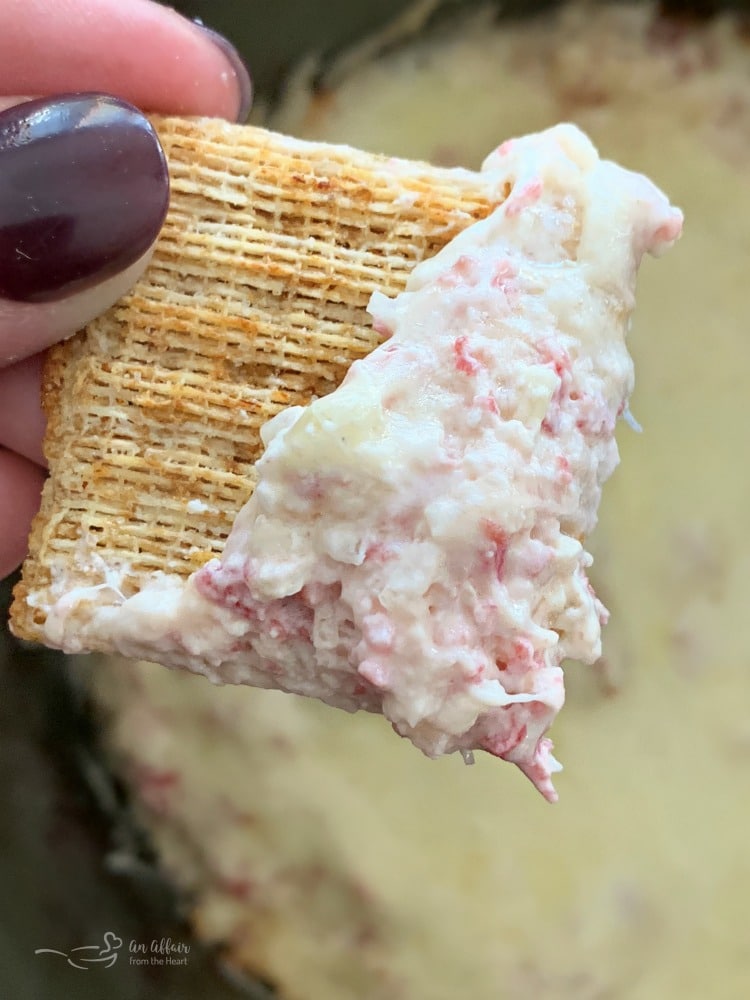 Other Swiss Cheese Appetizer Recipes to Enjoy
If you love this cheese dip with mayo and onion, I have a treat for you! You all know that I am the queen of
Reubenizing
, right? Wait? You haven't heard of Reubenizing? It's a term when you can take all sorts of recipes and give them the twist of a
traditional Reuben sandwich
.
One of the main components of a Reuben is Swiss cheese, so you know I have some great Reuben appetizers. My
Crockpot Reuben Dip
(pictured above) is one of my reader favorites.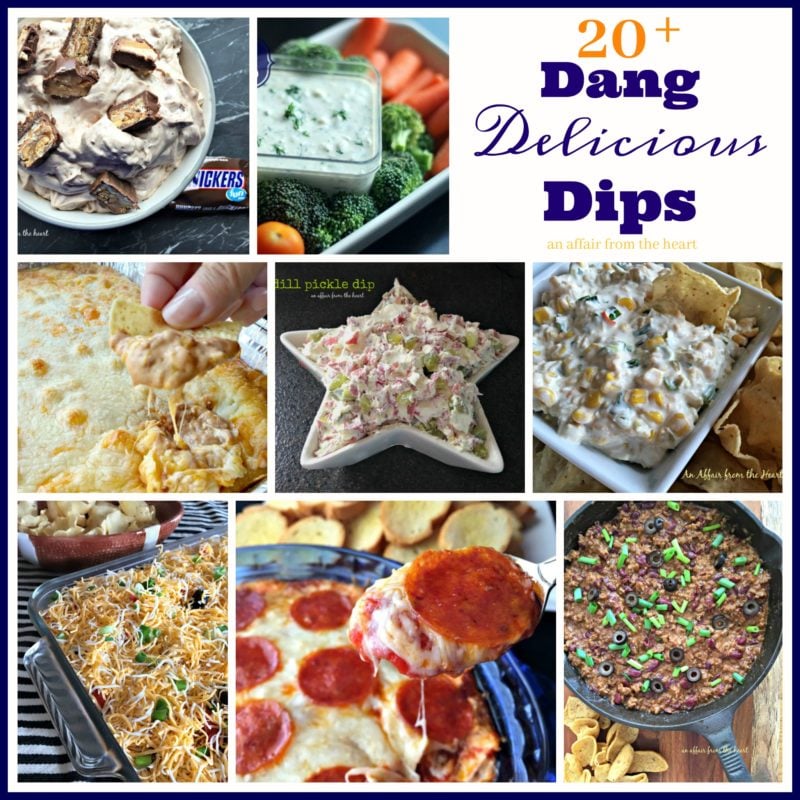 In addition to being the Reuben queen – I also have quite a reputation for making some pretty outstanding dips! You can check them all out on my
20+ Dang Delicious Dip Recipes Post.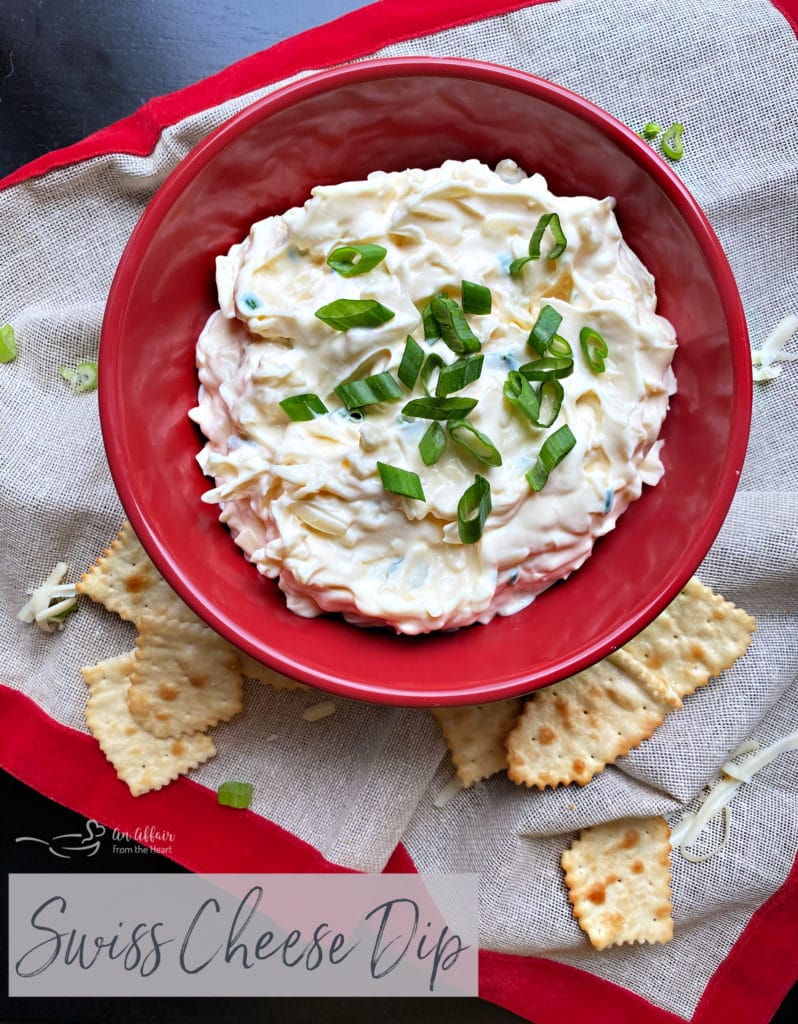 I can't wait to hear what you think of this Swiss Cheese dip! Shoot me a message or tag me online so I can see how yours turned out.

Yield: About 3 cups
Swiss Cheese Dip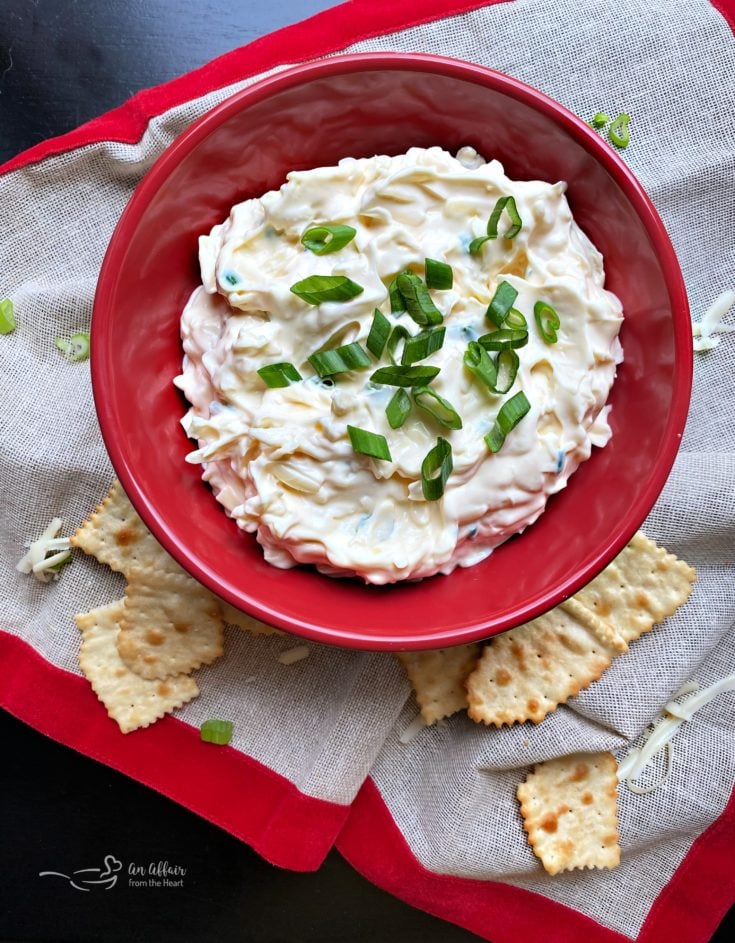 Creamy Swiss Cheese Dip, easily made with only 3 ingredients! Perfect for serving on crackers, or as a chip or vegetable dip.
Ingredients
6 ounces shredded swiss cheese
1/4 cup sliced scallions (green onion tops)
2 cups of mayo (REAL-- not the fat free or light kind)
Instructions
Combine all of the ingredients, reserving just a few of the green onions to sprinkle on the top of the dip.
Keep in the refrigerator until ready to serve.
Notes
Great as a spread on crusty bread or crackers, or as a chip or veggie dip, too!
Nutrition Information:
Yield:
12
Serving Size:
1
Amount Per Serving:
Calories:

304
Total Fat:

31g
Saturated Fat:

7g
Trans Fat:

0g
Unsaturated Fat:

24g
Cholesterol:

28mg
Sodium:

243mg
Carbohydrates:

1g
Fiber:

0g
Sugar:

0g
Protein:

4g
Nutrition isn't guaranteed accurate.
I first published this recipe on October 8th, 2013. It was updated to improve user experience and re-posted June 22nd, 2020.