Philly Cheese Steak Dip
As an Amazon Associate and member of other affiliate programs, I earn from qualifying purchases.
Hot and cheesy Philly Cheese Steak Dip is baked in the oven until bubbly, perfect, and will make you fall head over heels with it. This easy cheesesteak dip recipe is made with tender roast beef, green bell peppers, fresh onions, creamy cream cheese, and provolone cheese for the best comforting flavors that taste just like those classic Philly sandwiches.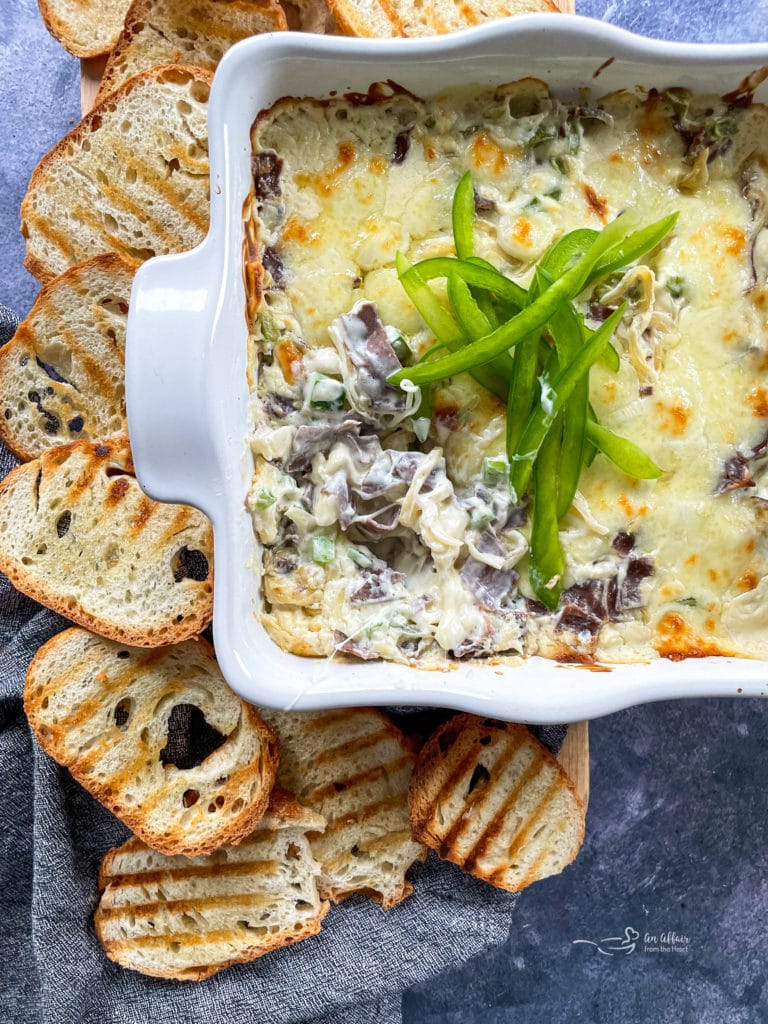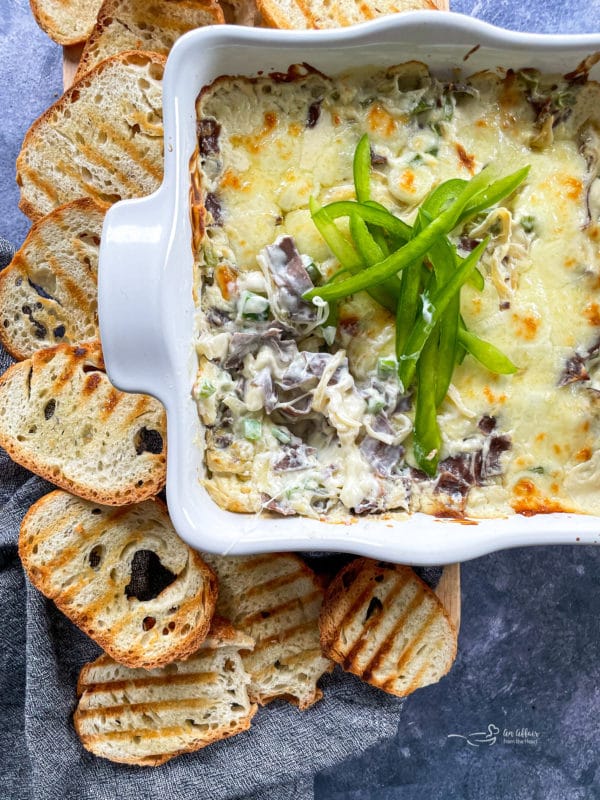 CHEESY STEAK DIP
Easy Philly cheesesteak dip is perfect for the holidays and different occasions when you want delicious, easy, and good to serve to guests or just yourself! I always impress a crowd when I serve this steak dip because the flavors are just out of this world. Everyone will be like, "Wow!"
This steak dip is the perfect amount of savory and robust thanks to the garlic, onions, and deli roast beef. Serve this dip with toasted baguette slices for the full experience!

WHY YOU'LL LOVE EASY THIS RECIPE
Great Appetizer: This hot cheesesteak dip is tasty served before main courses or just whenever you want to snack on finger foods. Perfect for serving for New Year's Eve, Easter, Fourth of July, and more!
Perfect for Tailgating: Watching the game on the TV or going out to the field? Make a batch of this yummy Philly cheesesteak dip to enjoy with friends for your favorite ballgame.
Family-Friendly: Who doesn't love cheesy and savory? All ages will enjoy this recipe!
Easy: All you do is just finish a few simple steps for the best steak dip recipe you've ever had.
Crockpot-Friendly: Want to make this in the slow cooker instead? Prepare the recipe as it but place it in the Crockpot and cook with the lid on low for at least six hours.
How this Dip Came to Be
When anyone makes a new recipe, it's always that person's hope that everyone will love it, right? Of course, that doesn't always happen, (don't worry — those don't get shared with you here) but for some reason, when my appetizer recipes do well, especially dips, I feel like I hit the jackpot.
Dip recipes are perfect for any kind of get-togethers, really. I have heard people talk of having parties with JUST DIPS. Brilliant! But even more so than parties … I love having new dip recipes to take to our tailgates. So it's always a win when a new one that I try is a keeper.
A Goal. A Home Run. A Hole In One. A Touchdown if you will?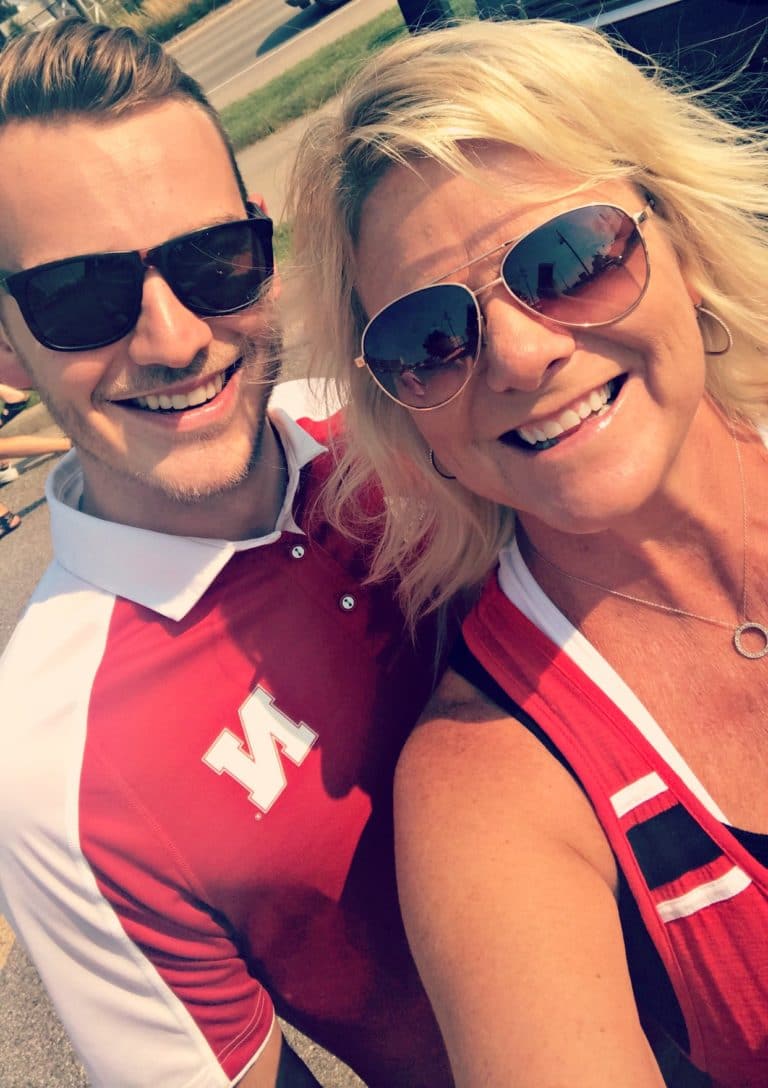 Our oldest son attends the University of Nebraska at Lincoln. Ever since he began there, we started having tailgates for the home games. He brings along his friends from school, I make a whole bunch of food and we get ready to go in and cheer on our team, The Nebraska Cornhuskers. They don't always do well, especially this year, ugh, but we go and cheer them on nonetheless.
October is Tailgate Month
Back in 2016 and 2017, I participated in National Tailgate Month. In 2016, I made this super tasty Hot Beef & Bean Dip. This stuff ROCKS. I made it right in a cast-iron skillet, that made it easy to heat right on our tailgating grill. Serve it up with Frito's corn chips and watch it disappear.
INGREDIENTS
Cream Cheese– Softened cream cheese allows this steak dip to be filled with creamy flavors and gives it extra richness, too. It's so good in this dip. Yummy!
Sour Cream– You will want to use sour cream to make sure the dip is extra delicious!
Butter– Salted or unsalted butter is used to sautée the veggies and gives them nice buttery flavors.
Brown Sugar– Sweet brown sugar is the secret ingredient in this delicious dip and gives it a nice twist.
Onions– White or yellow onions are sautéed until fragrant and mixed within the dip for savoriness.
Garlic: Fresh garlic is great for this recipe because it is aromatic and so full of flavor! I love to use fresh garlic anytime I'm cooking.
Green Pepper– Green bell peppers are classic ingredients for Philly cheesesteak sandwiches so, of course, this dip contains fresh green peppers.
Roast Beef: Sliced deli roast beef is chopped and baked until crisp and done.
Provolone Cheese: Melted smooth provolone cheese is mixed throughout the dip and on top!
HOW TO MAKE THIS RECIPE
First, preheat the oven to 375 degrees Fahrenheit. In a stand or hand mixer, beat the softened cream cheese and sour cream until mixed.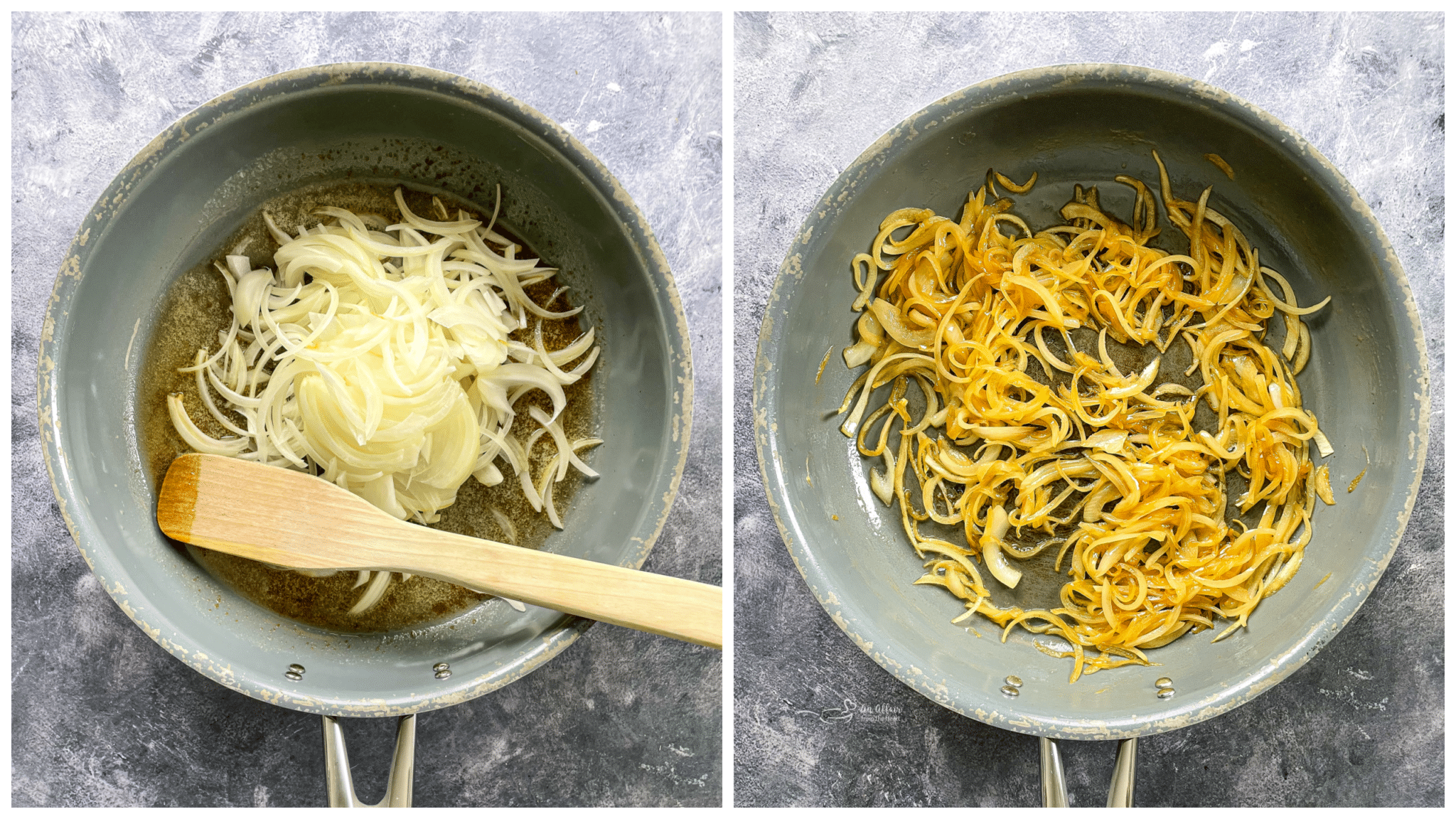 Next, in a skillet over medium heat, add the butter and brown sugar. Cook until the butter is melted and toss the diced onions in until they are translucent. Cook the onions for about ten minutes.
Add in the minced garlic and peppers and cook until softened. Chop the veggies with the spatula.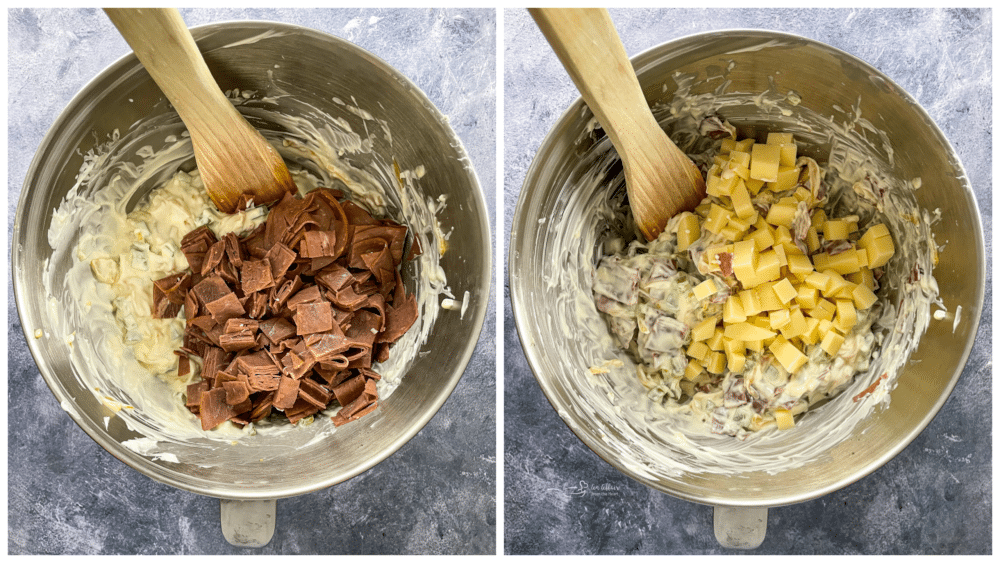 Add the cooked veggies to the cream cheese mixture. Fold in the chopped roast beef, then fold in some of the provolone cheese making sure to reserve some for the topping.
Spread the mixture into a greased baking dish and top with the rest of the provolone.
Bake the dip in the oven for 25 to 30 minutes until the cheese is melted and bubbly! Carefully, remove the dip from the oven.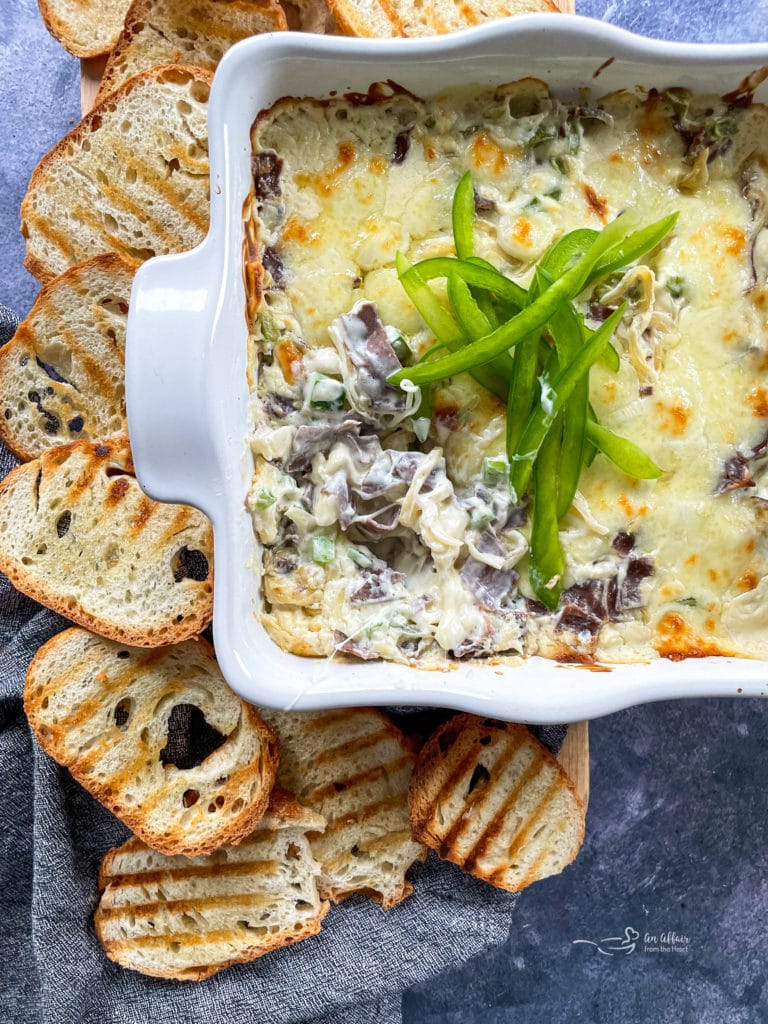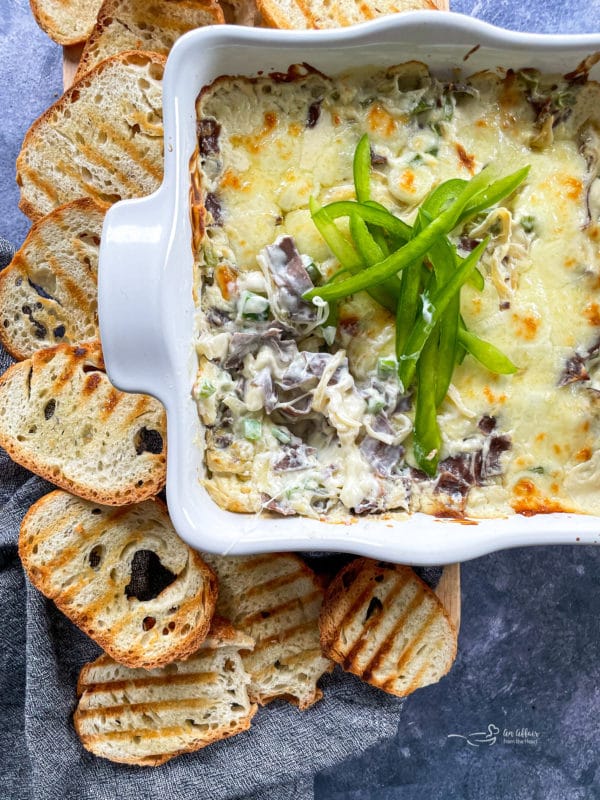 Serve with crackers, baguette slices, veggies, and more!

Love it? Pin it!
Don't forget where you found the recipe for the BEST Philly Cheesesteak Dip! Pin it to your favorite Pinterest recipe board to find it easily!

TIPS
Use chicken instead of roast beef for this dip.
Store the leftovers in an airtight container and place them in the refrigerator for four days. When ready to reheat, reheat the dip in the oven or microwave until fully warmed through.
Prep this recipe ahead of time by cooking and storing it in the refrigerator up to two days before serving.
Top with fresh parsley or green onions for extra flavors.
Serve this dip with Philly cheesesteak dipping sauce.
Make at your Tailgate Location: If you wanted to make this at your tailgate location, simply bake it ahead of time. Cover it with foil and place it right on your grill to reheat it. This would also be a good one to make in a cast-iron skillet.
Other Philly Cheesesteak-Inspired Recipes to Love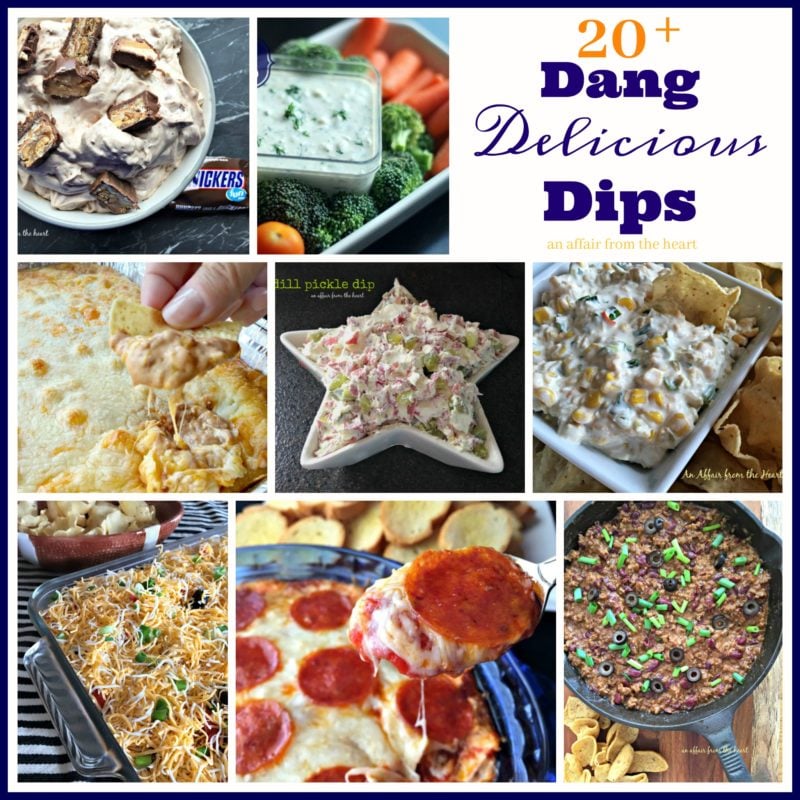 20+ Dang Delicious Dips – A WHOLE BUNCH of delicious dips right in one spot!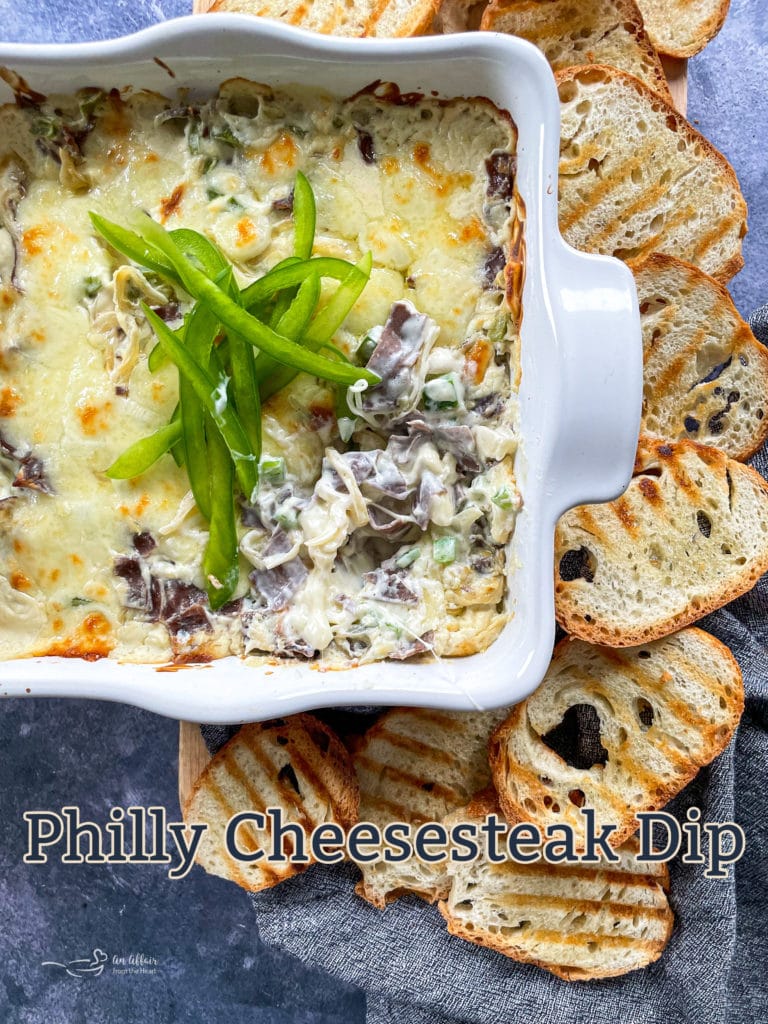 This hot cheesy dip tastes just like a Philly Cheese Steak sandwich. Full of caramelized onions and green peppers served on toasted baguette bread. A crowd pleaser!


Yield: about 36
Philly Cheese Steak Dip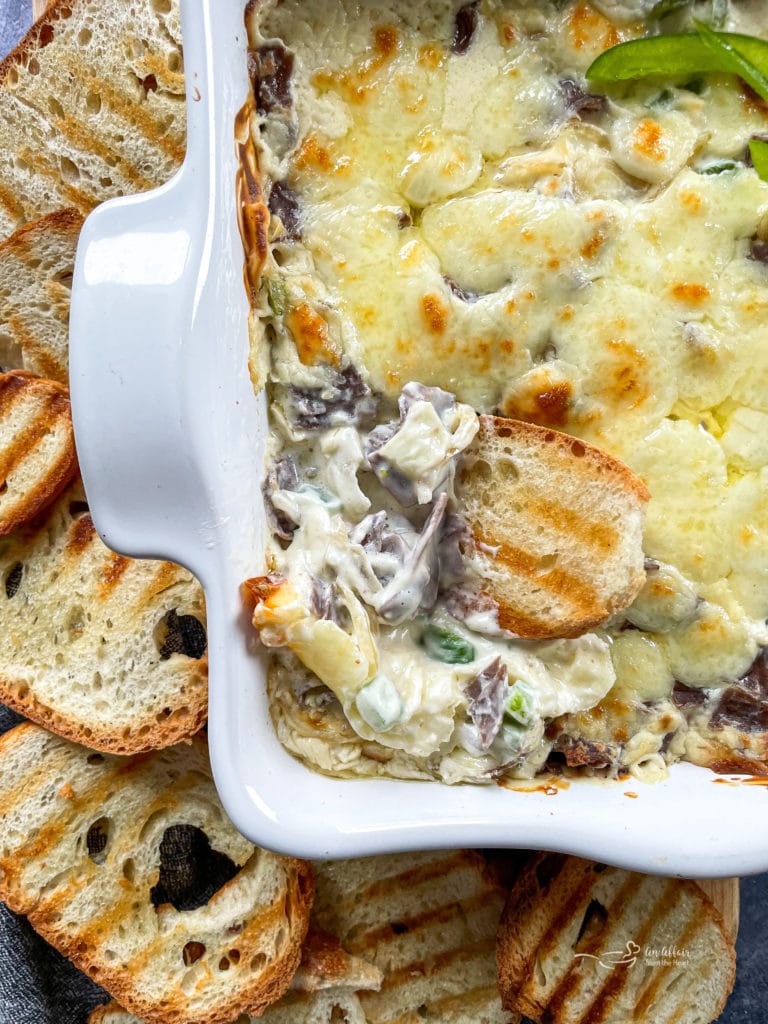 This hot cheesy dip tastes just like a Philly Cheese Steak sandwich. Full of caramelized onions and green peppers served on toasted baguette bread. A crowd pleaser!
Ingredients
1 large yellow onion, thinly sliced
1/2 stick of butter (4 Tablespoons)
1 heaping Tablespoon brown sugar
1 large green bell pepper, chopped
3 cloves garlic, minced
1 teaspoon salt
1 (8 ounce) brick cream cheese, softened
1 cup sour cream
1/2 pound of deli roast beef, roughly chopped
2 (8 ounce) packages sliced Provolone cheese, chopped
Instructions
Preheat oven to 375 degrees.
In your mixer beat cream cheese. Add in sour cream.
In a skillet over medium heat, add butter and brown sugar. Toss in onions and saute them until they are nice and caramelized. This will take about 10-15 minutes.
Add in garlic and green pepper and cook for a few minutes more. Let the green pepper get a little bit tender. Using your spatula, roughly chop the veggies.
Add veggie into the mixer and fold into the cream cheese mixture. Add in the roast beef, fold in. Fold in Provolone cheese reserving about 1/2 cup.
Spread mixture into baking dish. Sprinkle with the remaining cheese.
Bake for 25-30 minutes or until dip is hot and bubbly, and cheese is slightly brown on top.
Serve hot with sliced toasted baguette.
Nutrition Information:
Yield:
36
Serving Size:
1
Amount Per Serving:
Calories:

55
Total Fat:

4g
Saturated Fat:

3g
Trans Fat:

0g
Unsaturated Fat:

1g
Cholesterol:

14mg
Sodium:

169mg
Carbohydrates:

1g
Fiber:

0g
Sugar:

1g
Protein:

3g
Nutrition isn't always accurate.
This recipe was originally posted on October 24, 2017. It has been updated to improve user experience and reshared on December 27, 2021.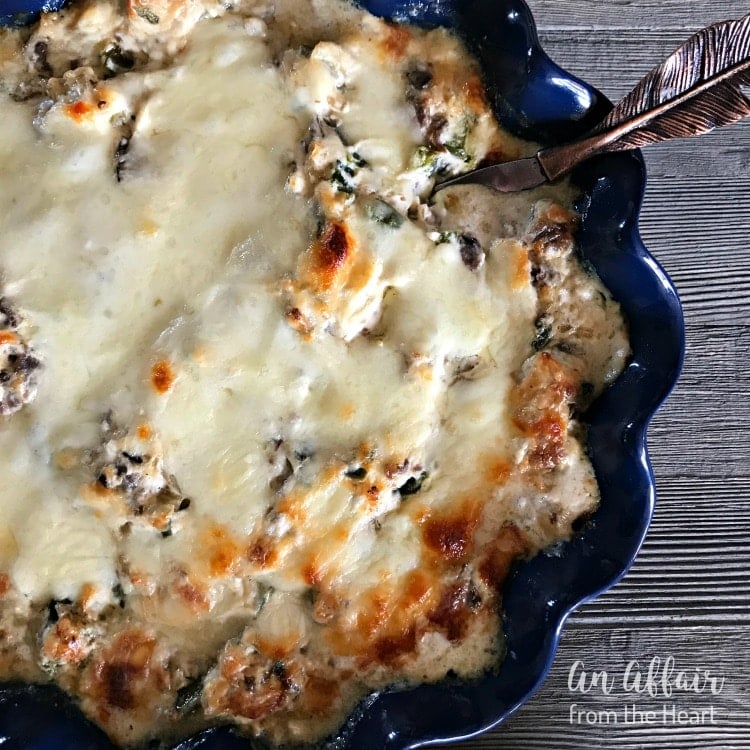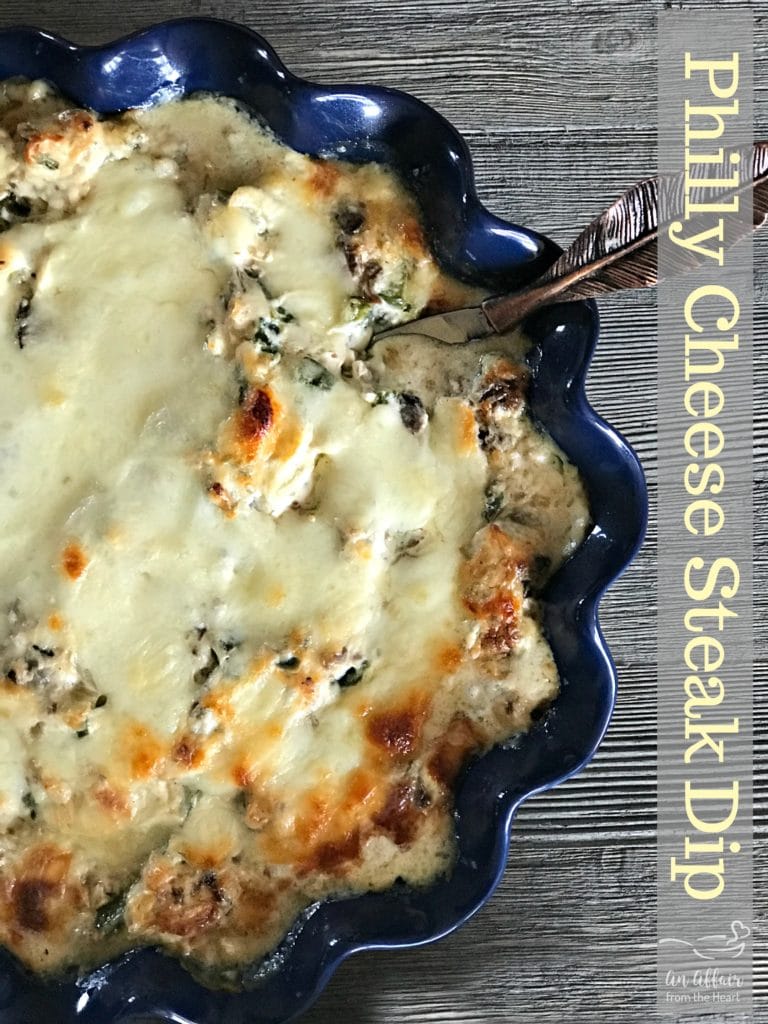 October is Tailgating Snacks Month — and I am excited to be a part of this fun group of blogging friends that are sharing all sorts of tailgating snacks this month. It's a great group organized and masterminded by my friend, Debi, of Life Currents. All month long you can join in for all things tailgating.
OCTOBER IS TAILGATING SNACKS MONTH 2017
Hosted by Life Currents
October 12 Chili Relleno Dip Skillet by Take Two Tapas
October 14 Soft Pretzel Beer Cheese Dip by Mildly Meandering
October 14 Healthier Greek Yogurt Buffalo Chicken Dip by Full Belly Sisters
October 16 Garlic Butter Dipping Sauce by Life Currents
October 18 Low Sugar Chicken Meatball Parmesan Sliders by Seduction In The Kitchen
October 20 Sofritas Chipotle Potato Skins by Bowl Me Over
October 22 Loaded Slow Cooker Cheeseburger Dip by Who Needs A Cape?
October 23 Easy Tortilla Pinwheels by The Devilish Dish
October 24 Philly Cheese Steak Dip by An Affair from the Heart
October 24 Chorizo & Pico De Gallo Queso Dip by LeMoine Family Kitchen
October 25 TBD by Hostess At Heart