Philly Cheese Steak Sloppy Joe's
As an Amazon Associate and member of other affiliate programs, I earn from qualifying purchases.
These Philly Cheesesteak Sloppy Joe's combine two classics, nestled between a toasted hoagie roll. Ground beef, Onions, Peppers, and Mushrooms, topped with a Provolone cheese sauce – a one pot meal the whole family can get behind!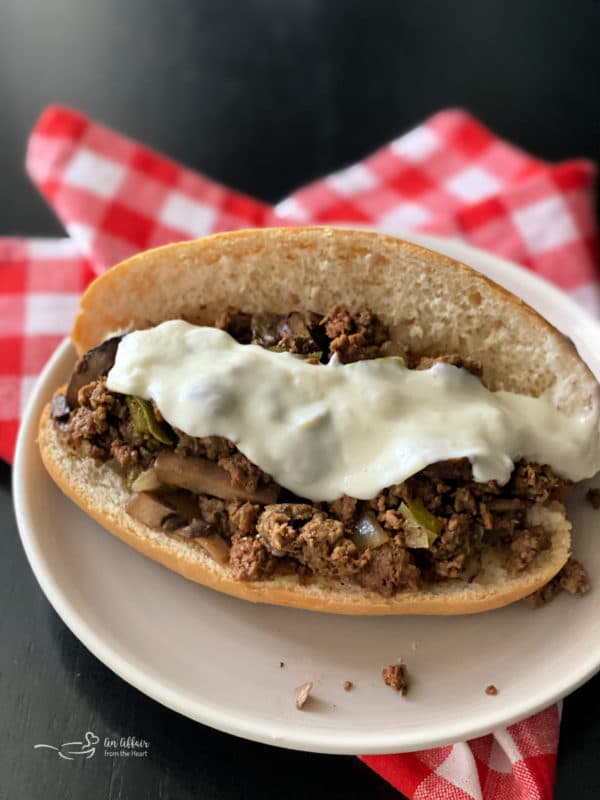 Philly Cheese Steak sandwiches are by far one of my MOST favorite of all sandwiches. Anytime we end up eating what we affectionately call "bar food," that's what I order. When I saw this recipe for Philly Cheese Steak Sloppy Joe's, I knew I HAD to try it!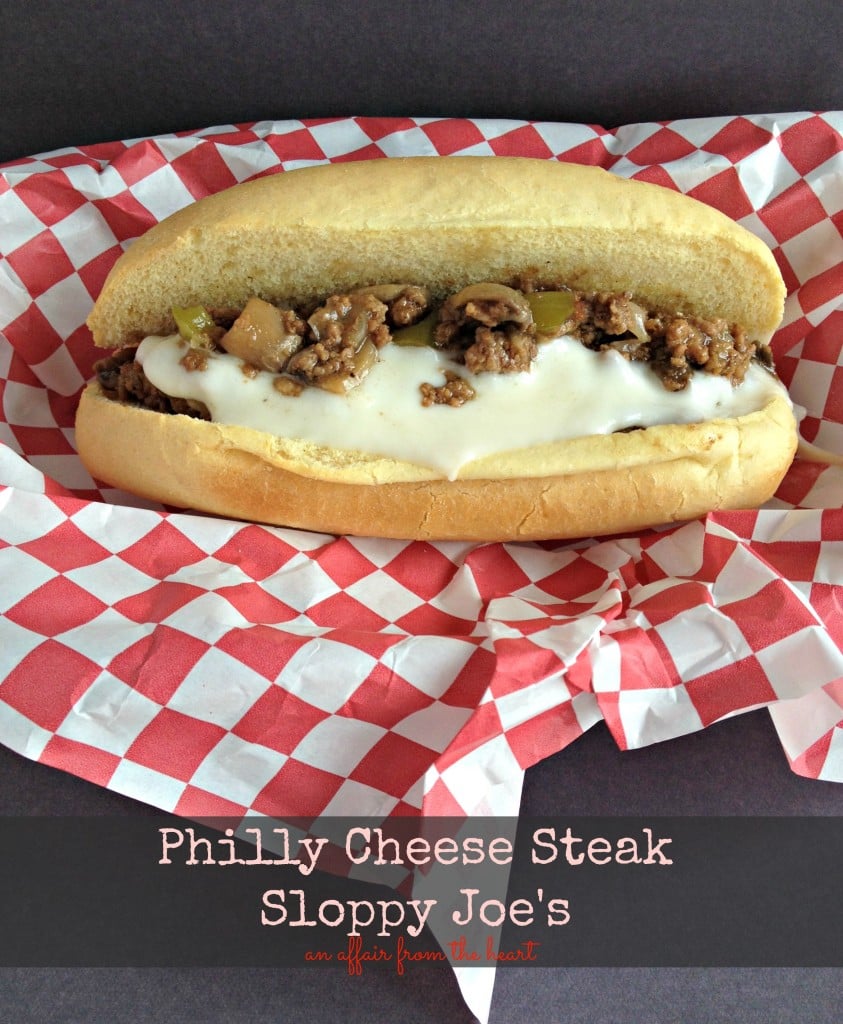 I, myself, LOVE Sloppy Joe's, my husband, not so much. I am not sure what he holds against them, but they just aren't his favorite. But I had a feeling that if I made them this way I could totally pull it off. I was right!
This super easy meal comes together quickly.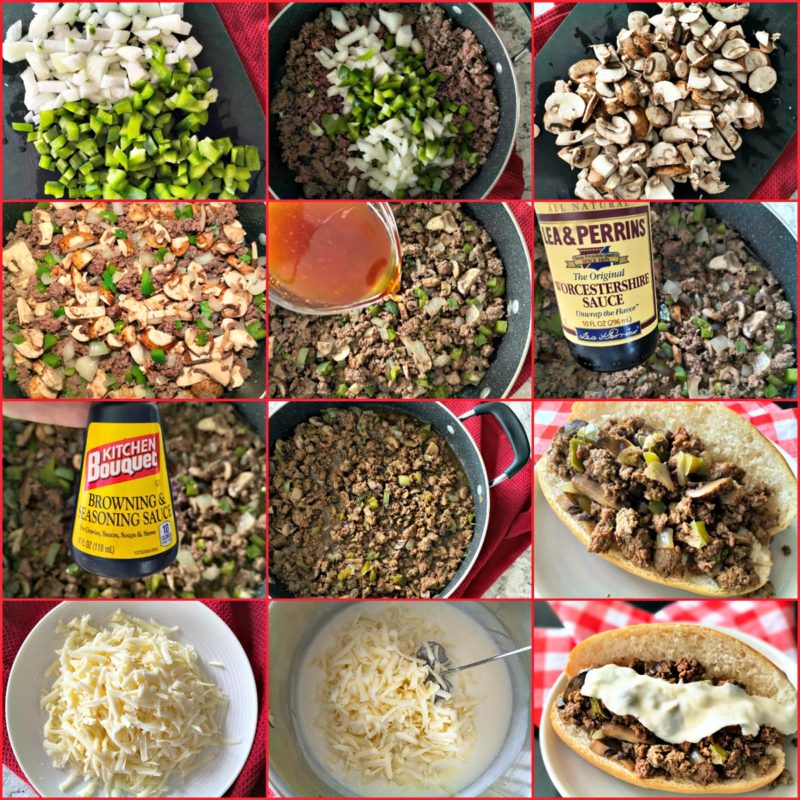 Preparing Philly Cheesesteak Sloppy Joe's
Brown ground beef in a large skillet, when it is about halfway done, add in your peppers and onions. Cook for a few minutes then add in the mushrooms and give them about 5 minutes more. Browning the hamburger with onions, green pepper and mushrooms, if only we had a scratch and sniff so you could smell just how fantastic this smells!
Next comes the beef stock, Worchestershire sauce, Kitchen bouquet and salt and pepper. Simmer for a few minutes more, while you prepare your Provolone cheese sauce, and toast your hoagie buns for about 5 minutes in the oven on 375 degrees F.
Make a roux with butter and flour in a saucepan, then whisk in milk. Remove from heat and whisk in shredded Provolone cheese.
How I switched up the Philly Cheesesteak Sloppy Joe's
The original recipe doesn't call for mushrooms, but I added them because, honestly, I put mushrooms in just about everything! Where I adapted this recipe, she served her sandwiches up on regular buns. It would have been great to do that, but I decided to use hoagie rolls to keep with the Philly Cheesesteak theme.
However you slice it, you gotta try it. These are an easy, hearty, weeknight meal that the whole family will enjoy!
What Is A Philly Cheesesteak Sloppy Joe?
Well, a Philly Cheesesteak Sloppy Joe sits at the intersection of sloppy joes and cheesesteaks. It offers the best of both… The beef, the melted cheese, onions and peppers, and the sauce. Instead of sliced beef, you use ground beef and the sloppy joe sauce is just a fun way to pack in more flavor.
I know anyone from Philly is probably going to show up one day and say "who ya kiddin'? That's not a Philly!" I get it. They are passionate about their cheesesteak sandwiches and so am I.
But why not be inspired by them and find new and unique ways to enjoy those flavors? I have a few Philly cheesesteak sandwich inspired recipes like Cheesesteak Stuffed Peppers, and Cheesesteak Soup. I even do Cheesesteak Dip. Like I said… I am a fan.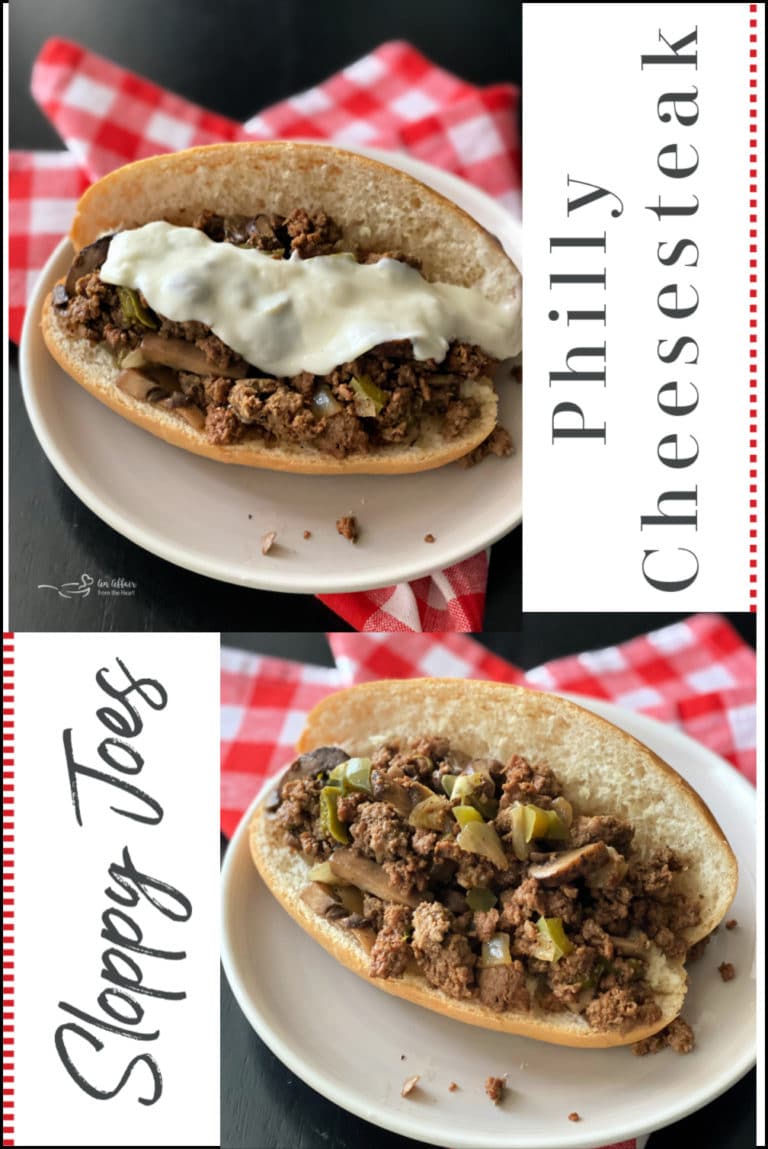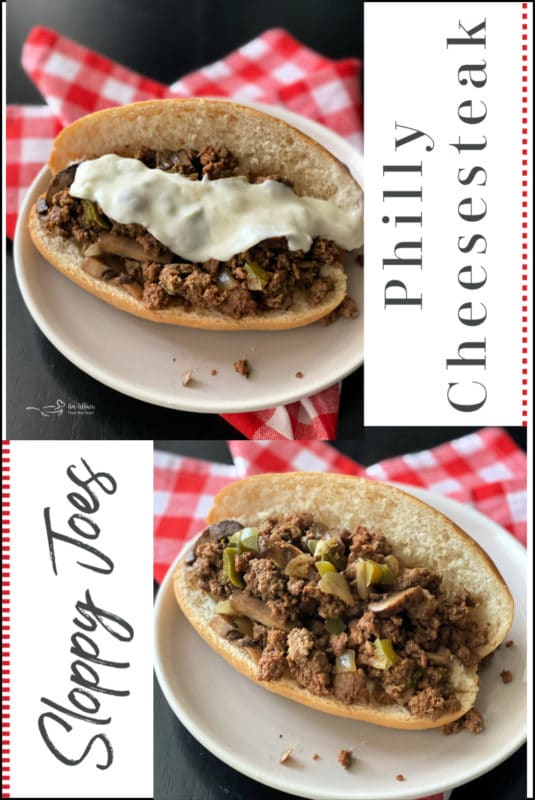 Love them? Pin them!
Don't forget where you found this recipe! Pin it to your favorite Pinterest board before you go!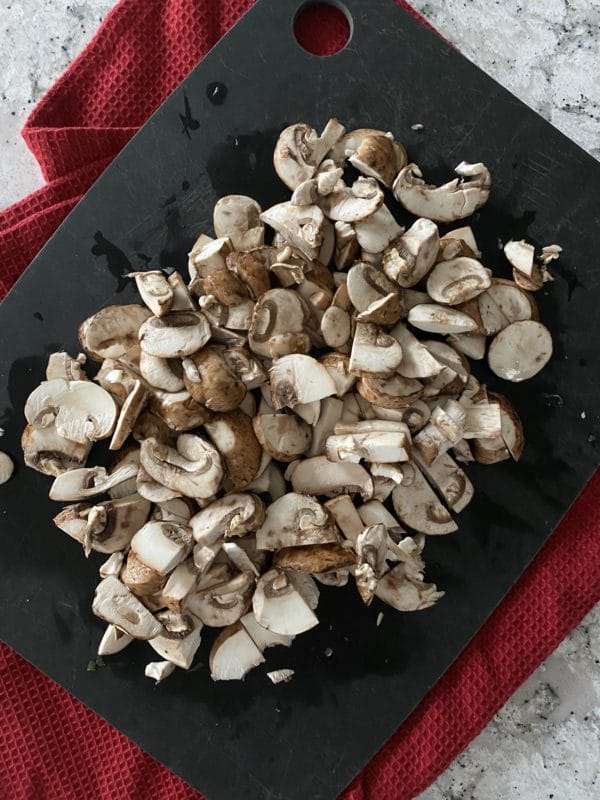 What Kind Of Mushrooms do You Recommend?
I love all kinds of mushrooms but no need to get too fancy here unless you really want to with wild mushrooms. I just use white or brown crimini mushrooms. They are the easiest to find in the market and work perfectly.
You could also use a portabella. They are big and have a bit more flavor and texture. Shitakes also work but those are typically a bit more expensive. They have a nice chewy texture and supposedly have a whole slew of health benefits as well.
Just don't tell anyone from Philly.
What Is The Best Cheese For Cheesesteak Sandwiches?
Here is where tradition makes a lot of sense. Go with provolone cheese. Provolone works great because it has a nice melt to it for the cheese sauce. It is a mild-flavored cheese that won't overwhelm the flavor of the beef, onions, and peppers.
If you can't find provolone or have some other cheese handy, then you can use them no problem though. Mozzarella comes the closest to Provolone but any slightly hard cow's milk cheese will work. Oaxaca cheese from Mexico is another in that same style of cheese that works just fine too.
What Makes It A Sloppy Joe?
Sloppy Joe sandwiches are typically ground beef or pork with a sauce made from Worcestershire sauce. I think a lot of people either love or hate sloppy joes depending on how well their grade school cafeteria made them for lunches.
Too bad… because done right a sloppy joe is a very tasty sandwich on its own merits. Combining it with the cheese sauce of a Philly steak sandwich just makes it more incredible. And it doesn't hurt using the hoagie style roll either. They stand up a bit better to the wet sauce.
I think of sloppy joe meat as sort of a sweet version of chili. Instead of needing to pour ketchup and mustard onto a burger, the meat is cooked in that sauce which brings in all those flavors and more.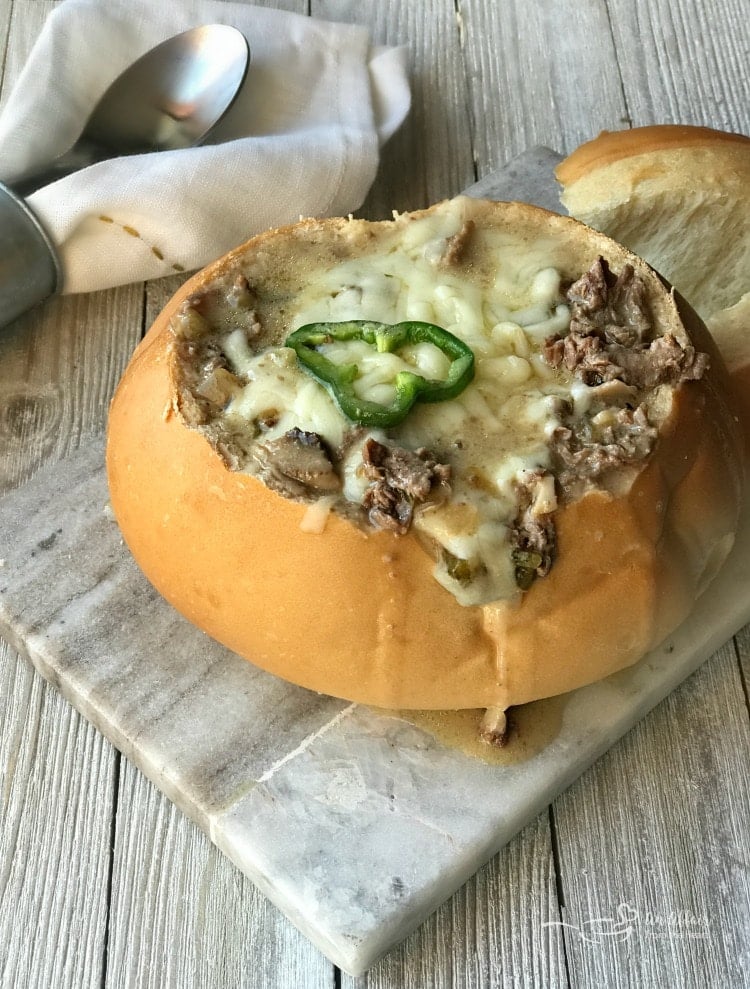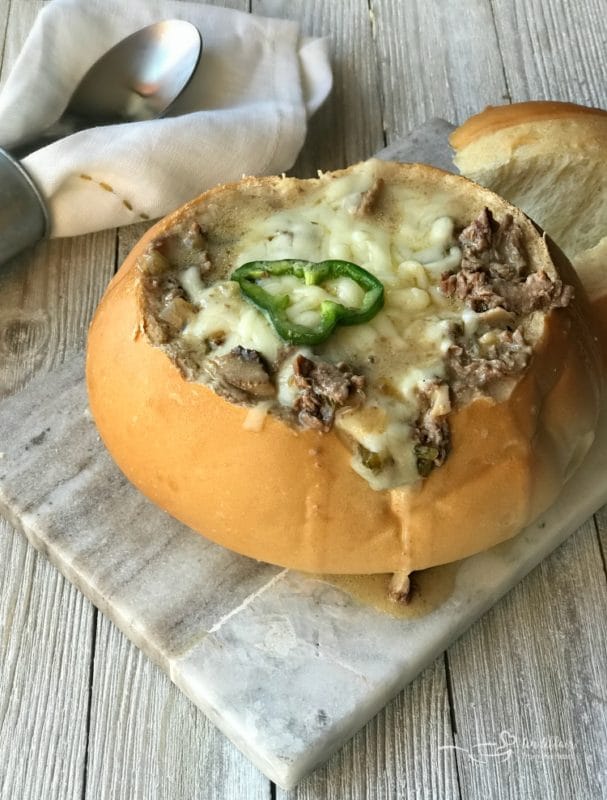 Want A Few More Cheesesteak & Sloppy Joe Inspired Recipes?
As I said, I love my cheesesteaks! Sloppy joes are great too. Here are a couple more recipes you can try which I think are on the same wavelength…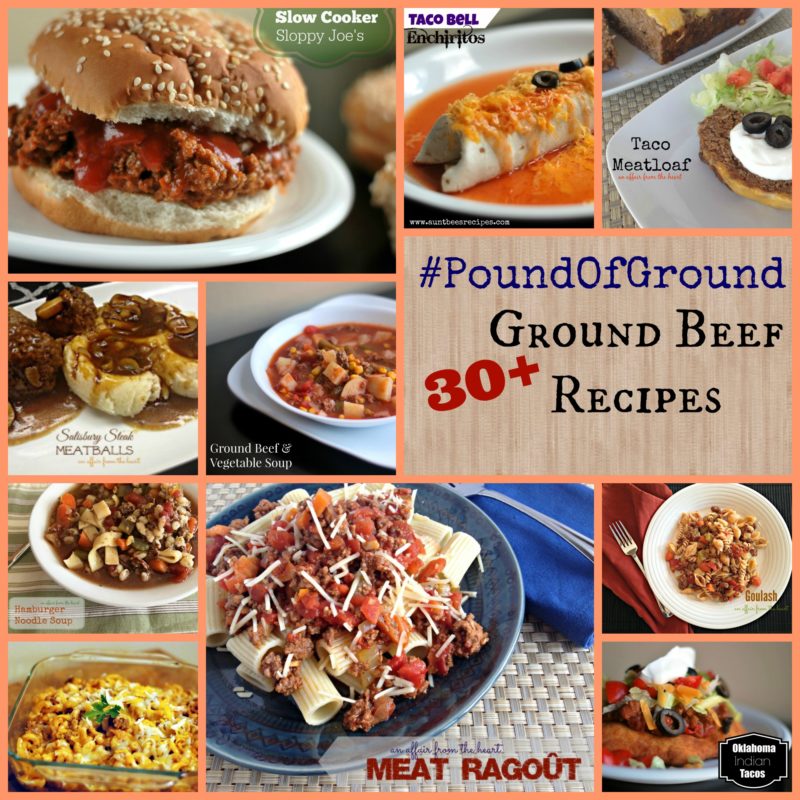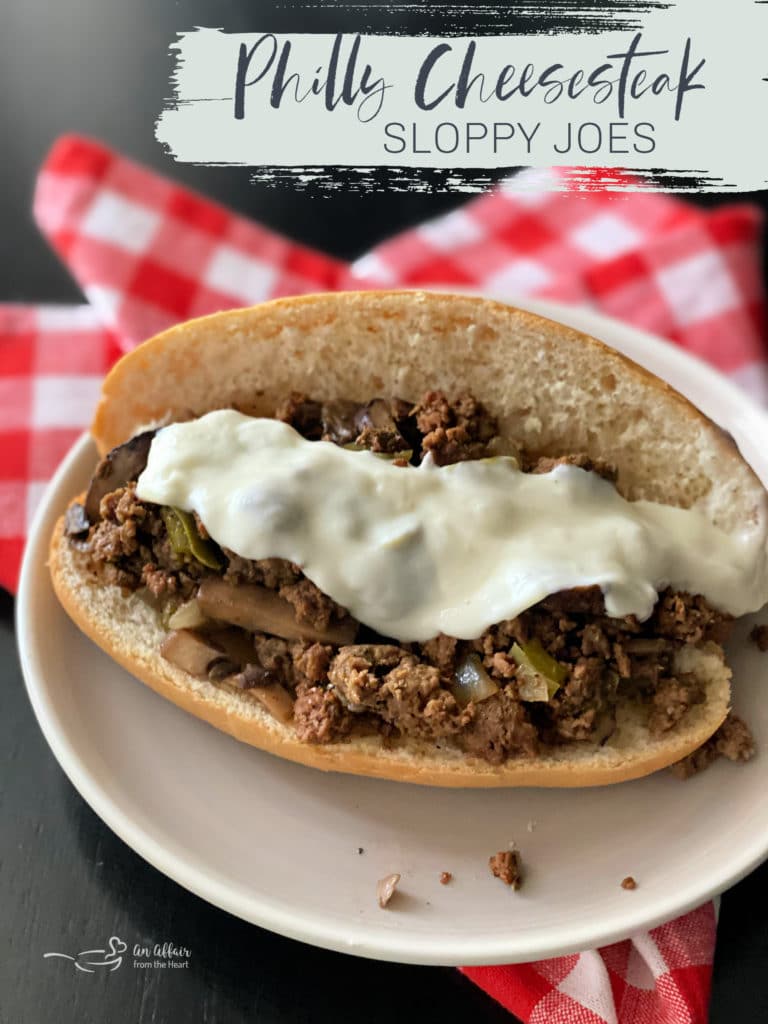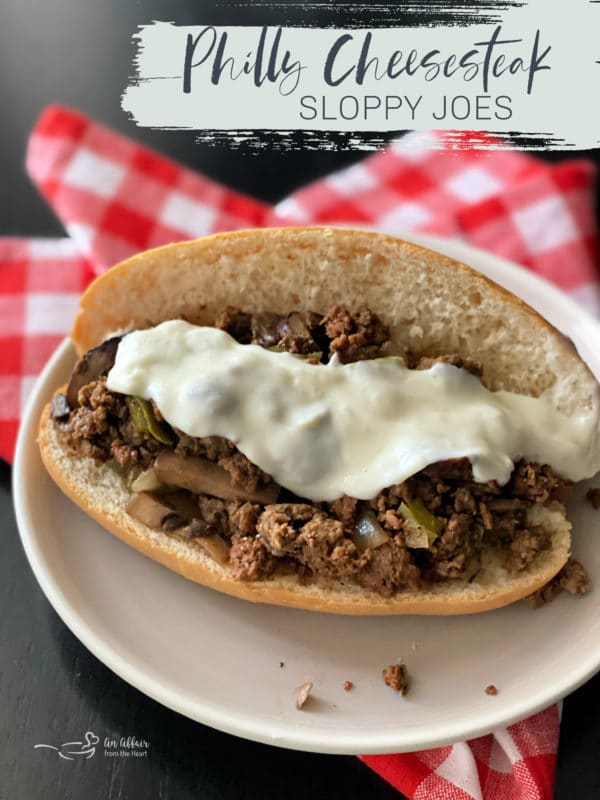 I hope that you enjoy these Philly Cheesesteak Sloppy Joe's as much as we did!

Yield: 6 sandwiches
Philly Cheese Steak Sloppy Joe's
These Philly Cheesesteak Sloppy Joe's combine two classics, nestled between a toasted hoagie roll. Ground beef, Onions, Peppers, and Mushrooms, topped with a Provolone cheese sauce - a one pot, economical meal the whole family can get behind!
Ingredients
2 pounds lean ground beef
1 sweet onion, chopped
1 green pepper, chopped
12 ounces fresh mushrooms, sliced
2 tablespoons Worcestershire Sauce
1 cup beef stock
2 teaspoons Kitchen Bouquet
Salt and ground black pepper
1 tablespoon butter
1 tablespoon flour
1 cup milk
1 cup Provolone cheese, shredded
6 Hoagie Rolls
Instructions
For the Meat Sauce: In large skillet over medium-high heat, brown the ground beef for about 5-6 minutes.
Add the onion and green pepper and cook another 3-4 minutes, until the vegetables start to get tender. Add in the mushrooms and cook for a couple of minutes more.
Stir in the Worcestershire sauce and beef stock, add the Kitchen Bouquet and season with salt and pepper, bring up to a bubble and cook for about 2 minutes.
For the Cheese Sauce: Melt the butter in a medium-size pot over medium-high heat. Stir in the flour and cook about 1 minute.
Whisk in milk, bring up to a bubble and let thicken, about 2 minutes.
Turn off heat and stir in the cheese.
To serve add to toasted rolls and top with cheese sauce.
Nutrition Information:
Yield:
6
Serving Size:
1
Amount Per Serving:
Calories:

594
Total Fat:

30g
Saturated Fat:

14g
Trans Fat:

1g
Unsaturated Fat:

13g
Cholesterol:

166mg
Sodium:

797mg
Carbohydrates:

23g
Fiber:

3g
Sugar:

7g
Protein:

56g
nutrition isn't guaranteed accurate.
This recipe was originally posted on August 14, 2014. It was updated and re-posted on April 10, 2020. Updates are made to upgrade user experience.
Recipe Adapted from Cheesecurds in Paradise