Strawberry Cheesecake Muffins
As an Amazon Associate and member of other affiliate programs, I earn from qualifying purchases.
Slightly sweet muffins made with fresh strawberries, filled with a cheesecake center and dusted with a cinnamon sugar topping.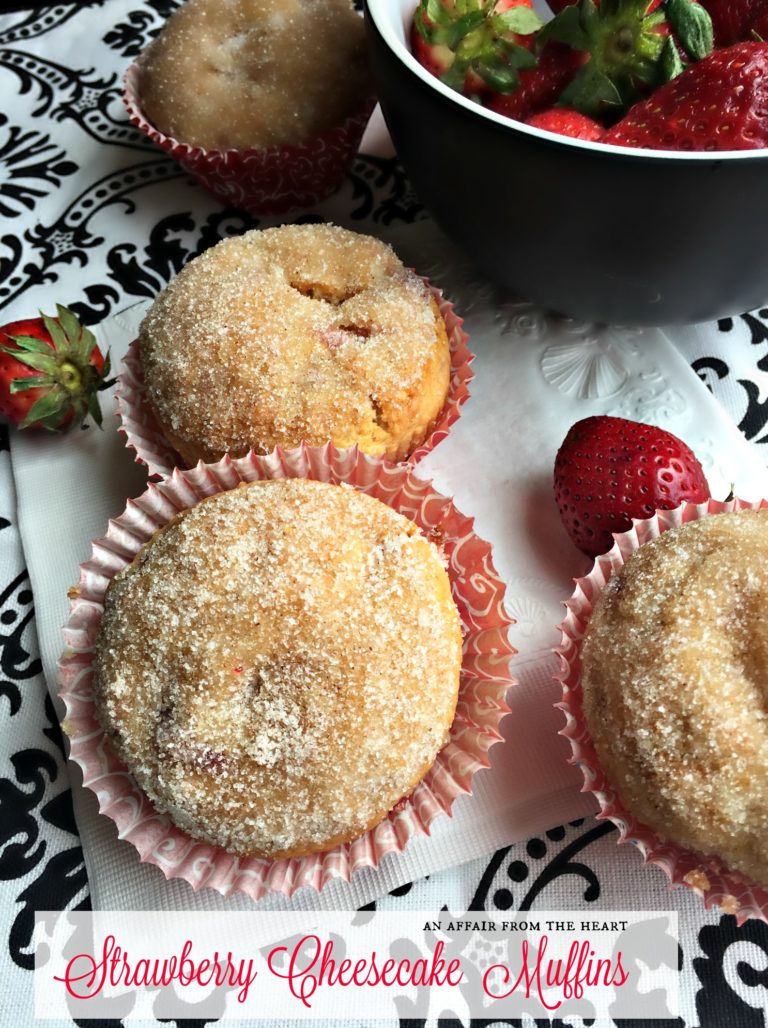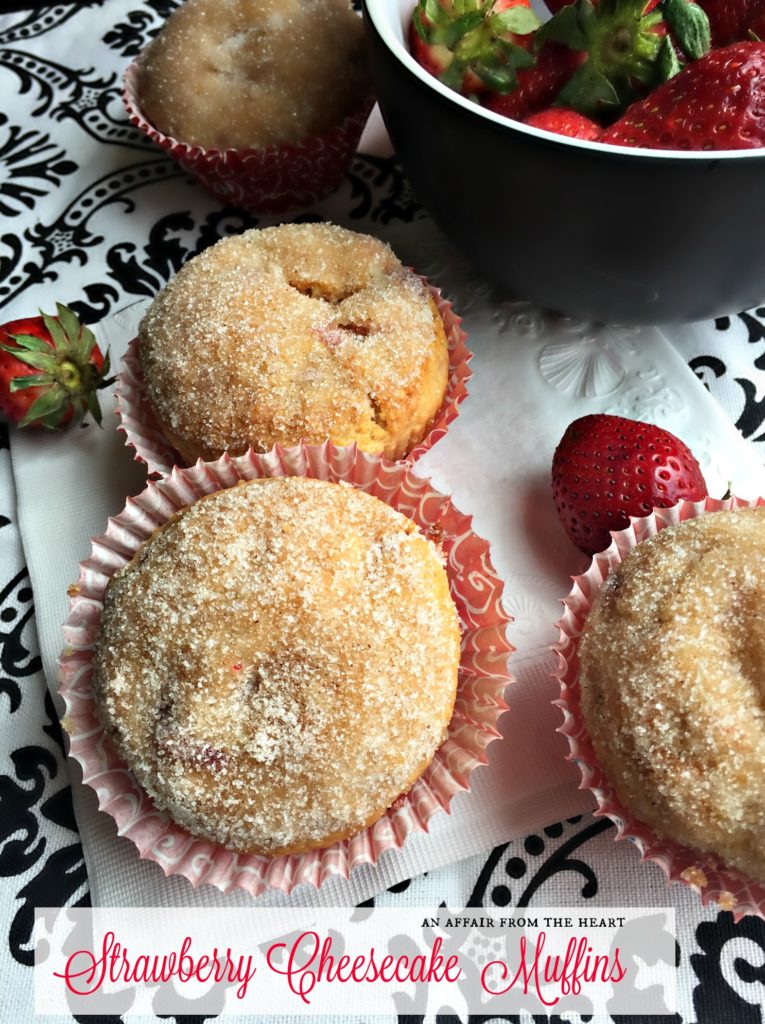 Want to start your day off right? Start with a muffin, but let me be specific, THIS muffin.
I know I am not alone when I say that Springtime is one of my favorite times of the year. I love all of the produce, everything seems to come to life. Now, you readers that are fortunate to live where it's nice all year, you might take this for granted. Here in the Midwest, when it's Springtime and the berries are bursting with flavor, I have to keep my fridge stocked.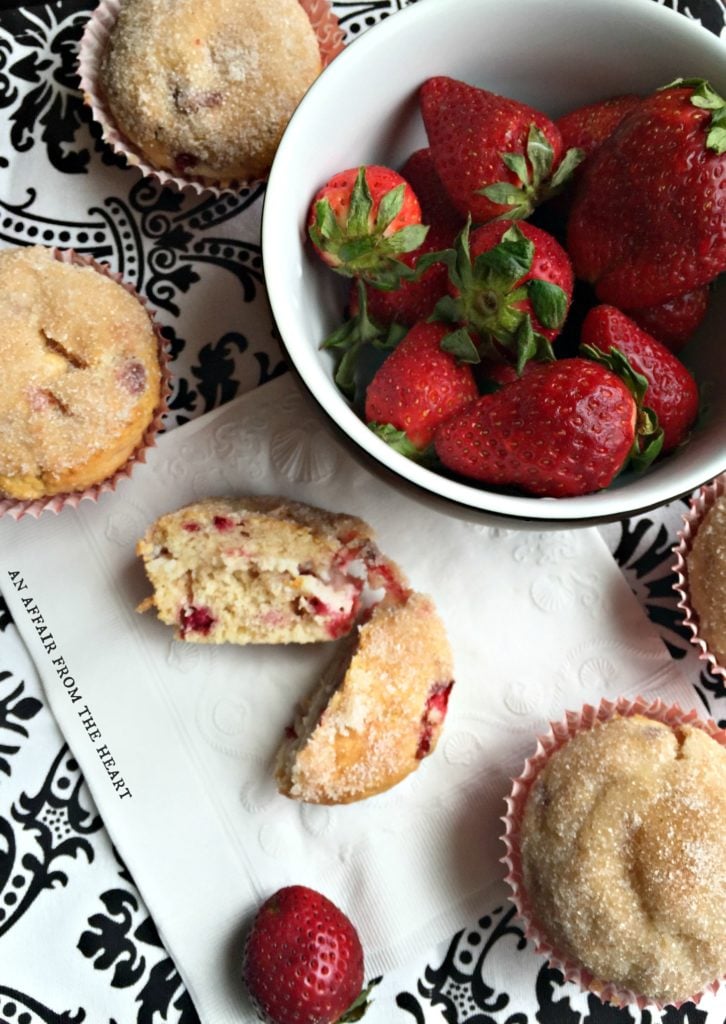 That's why when I saw this recipe for Strawberry Cheesecake Muffins on Belle of the Kitchen's blog, I knew exactly what I would be making for my Freaky Friday Spring recipe post. If you are new here, you may be wondering what Freaky Friday is? It's a blog hop where a group of my blogger friends is secretly assigned a blog to cook/bake from and we reveal who we had, all at the same time.

Here are some of my other Freaky Friday Recipe Posts.
I was tickled to get Belle of the Kitchen this round! Ashlyn, the owner of the blog, is lucky to live where it's beautiful all year, Hawaii! Ashlyn's husband is in the Army, and they are stationed there. She is the stay-at-home-mom of two darling little kids, and let me just tell you, she is one heck of a cook and photographer! It was hard to choose what to make, everything she shares makes your mouth water! Chicken Alfredo Pizza, Creamy Bruschetta Dip and Spaghetti and Meatball Soup were at the top of my list. In the end her Strawberry Cheesecake Muffins won out. This isn't the first recipe I have made from Ashlyn's blog, do you remember the Greek Style Cucumber Salad I shared last September? That was from her, also.
You are going to make two components for this recipe, first the muffin batter using fresh strawberries, next, the cheesecake center.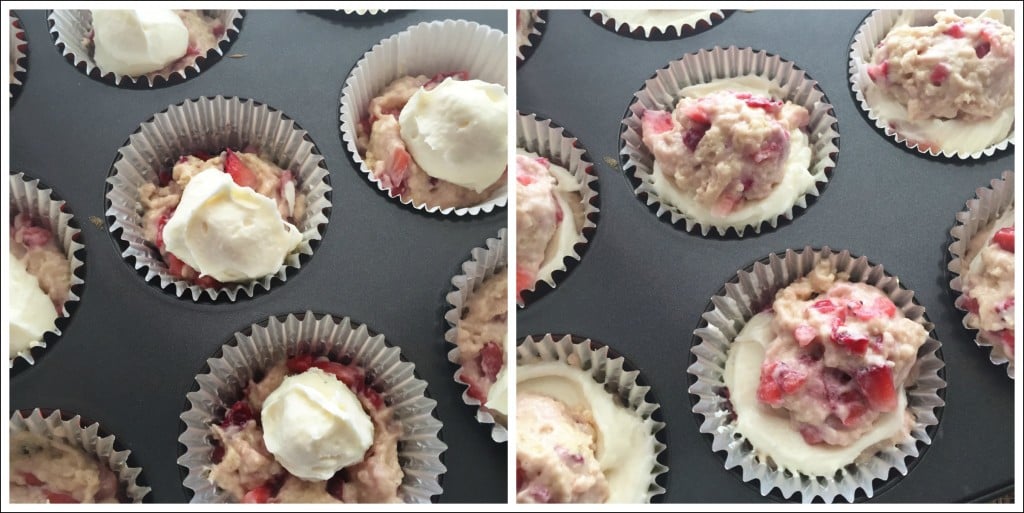 Spoon the muffin batter into the bottom of a cupcake pan, lined with cupcake liners, next top with cheesecake layer, spreading it over the top, then topping with additional muffin batter.
Dust them with cinnamon and sugar and bake them up into these perfect little beauties!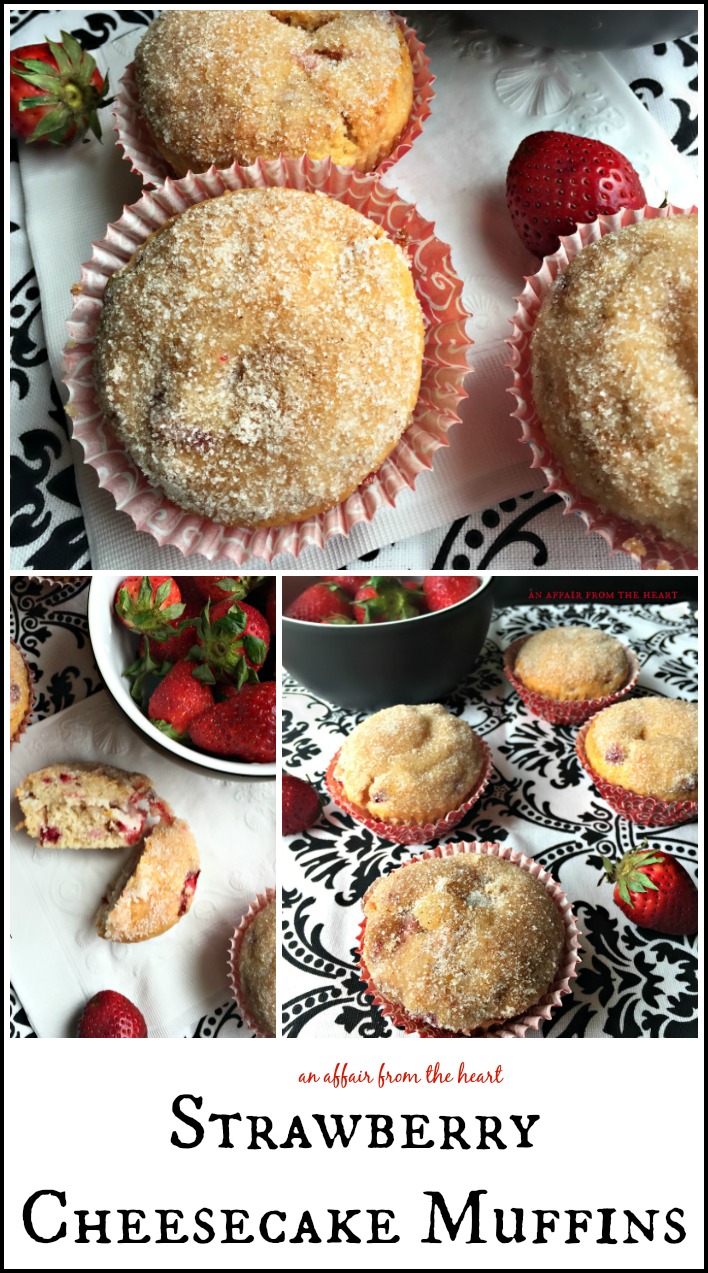 Ready for the recipe? Let's get to it!
—
Yield: 1 dozen muffins
Strawberry Cheesecake Muffins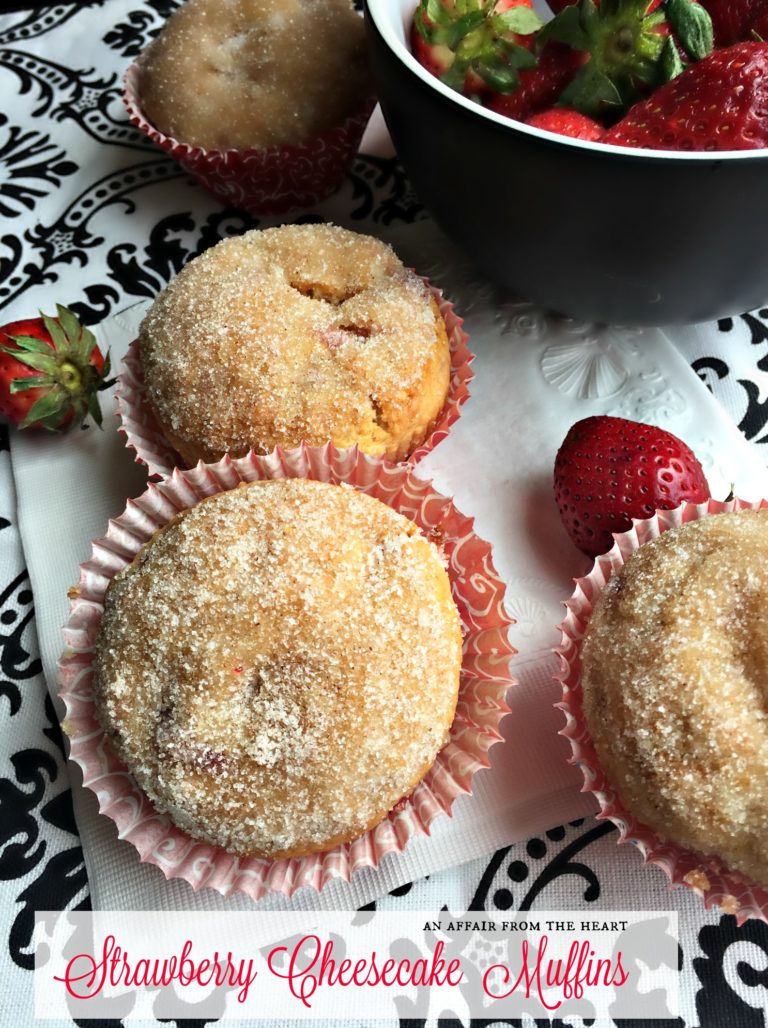 Slightly sweet muffins made with fresh strawberries, filled with a cheesecake center and dusted with a cinnamon sugar topping.
Ingredients
For the Muffins:
⅓ cup butter, softened
½ cup sugar
1 egg
1½ cup flour
1½ teaspoon baking powder
¼ teaspoon salt
¼ teaspoon cinnamon
½ cup milk
1 cup diced fresh strawberries
For the Cheesecake Filling:
4 oz. cream cheese, softened
⅓ cup granulated sugar
½ teaspoon vanilla extract
For the Topping:
3 Tablespoons butter, melted
¼ cup sugar
½ tsp. cinnamon
Instructions
Preheat oven to 350 degrees. Line muffin pan with 12 paper liners.
For the Muffin Batter: Combine flour, baking powder, salt, and cinnamon in a bowl and whisk well. Set aside. In your mixer, beat butter and sugar until light and fluffy. Slowly mix in egg. Add in dry ingredients and milk, mixing just until combined. Fold in strawberries.
To prepare the cheesecake filling: In your mixer, beat cream cheese, sugar, and vanilla together until smooth.
Place one heaping Tablespoon of muffin batter into each prepared muffin cup. Next, layer one tablespoon of cheesecake filling on top. Finish with a final layer of muffin batter, dividing equally among the muffins.
Bake in preheated oven for 30 minutes or until toothpick inserted into center comes out clean. Allow to cool in pan slightly before cooling completely on a wire rack.
Melt butter in a small, shallow bowl. Combine cinnamon and sugar in another small bowl. When muffins have cooled slightly, dip the tops of each into the melted butter, then into the cinnamon sugar topping.
Nutrition Information:
Yield:
12
Serving Size:
1
Amount Per Serving:
Calories:

247
Total Fat:

12g
Saturated Fat:

7g
Trans Fat:

0g
Unsaturated Fat:

4g
Cholesterol:

47mg
Sodium:

210mg
Carbohydrates:

32g
Fiber:

1g
Sugar:

19g
Protein:

3g
Nutrition isn't always accurate.
—
Thanks for the great recipe, Ashlyn!