These big, beautiful, bakery-style cookies have the most amazing flavor from the addition of brown butter and of course a large amount of dark chocolate chunks! These Brown Butter Chocolate Chunk Cookies may just be your new favorite cookie!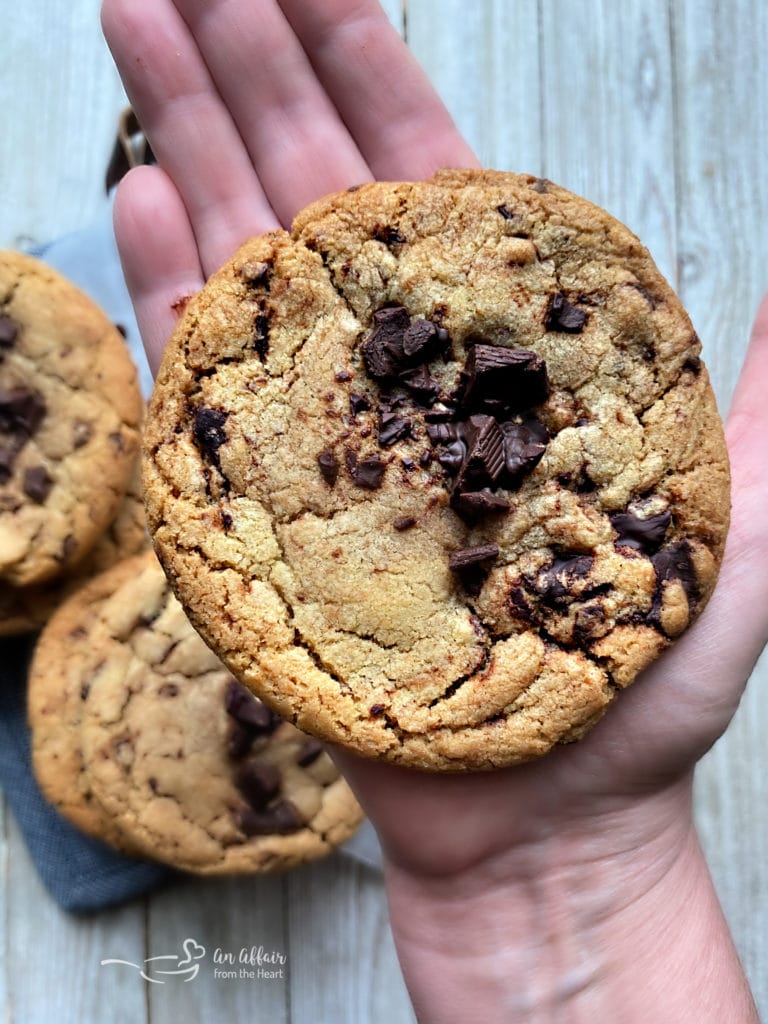 Check out these HUGE Brown Butter Chocolate Chunk Cookies!! I mean, my mouth waters just looking at them!
But of course, I hope that after you read all about them, you won't just look at them, you'll make a batch for yourself and taste them, too!
I have long been a big fan of recipes that contain brown butter, and these cookies are certainly no exception! In fact, what that browned butter does to the flavor of these cookies can best be described as magical. A glorious treat for your taste buds.

I have to come clean here. When I made these cookies, it wasn't the first time I had been able to enjoy them. You see, I am lucky to have a good friend here in Omaha, named Julie, that is also a food blogger.
Up until this lousy virus had us stuck in our homes for the last two months, she and I tried to get together for coffee or lunch every other month or so. Now, we chat via messenger, text, or phone, and she and I meet with our Mastermind Group via video chat once a month.
One time when we were together, she brought me two of these cookies. As you can see above, they are not tiny cookies, and I planned to share them with the hubs and the kiddos when I got home. Yea, that didn't happen.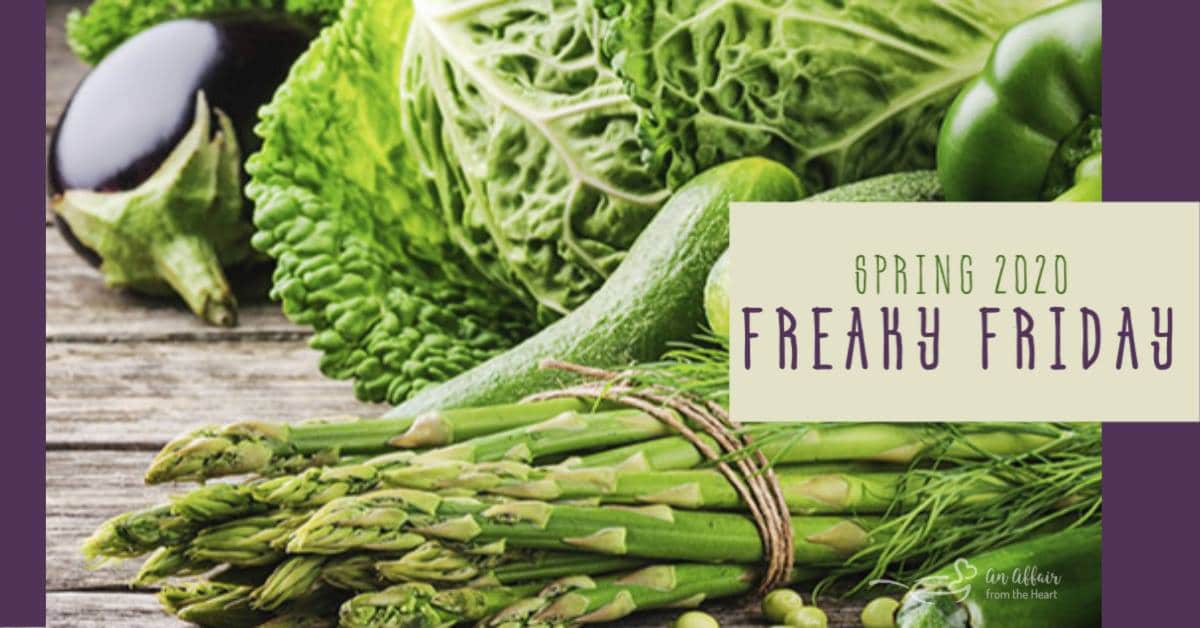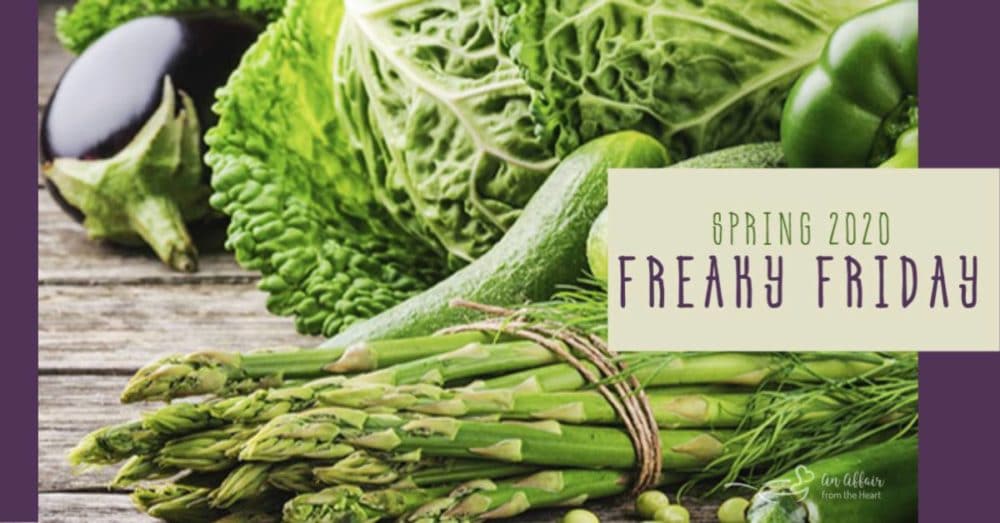 Freaky Friday Recipes
So, fast forward a few months from when that cookie first touched my lips, and it's today — but it's not just a regular Friday today — it's FREAKY FRIDAY!
Freaky Friday is a good old fashioned blog hop that I do 5 times each year with some of my blogger buddies. We are all secretly assigned one of the other member's blogs to cook/bake from and then we reveal our recipes on the same day!
It's always so much fun to see who had your blog, and what they chose to make. This round, I was given Julie's blog, Hostess at Heart.
Hostess at Heart Blog
To say that I knew exactly what I would choose to make wouldn't be exactly true. Her brown butter chocolate chip cookies were of course in the front of my noggin' though.
Julie is the queen of all things bread. I recently made her Double Chocolate Muffins and they were so good! I contemplated making something from her wide range of bread, rolls, and muffins.
But then I saw her dessert section and lingered there a little too long!
Salted Caramel Butterscotch Budino? Black Russian Cake with Kahlua Filling? Peanut Butter Coffee Cake? I mean, where to begin??
I narrowed it down to these brown butter cookies and her Creamy Angel Food Pie, which I will have most likely made by the time you read this.
The cookies were made first, and they disappeared so quickly — I knew I had to share them!
Brown Butter Chocolate Chunk Cookies
I changed very little when I made this recipe. There was one part that I did miss in her instructions, where one part of the butter gets melted and one part didn't. Melting all at once worked, too!
Julie uses chocolate chips in her cookies, but I had some excellent quality bittersweet and semi-sweet chocolate squirreled away, and it was begging to be added to the cookies.
I used a combination of 70% Cocoa, Bittersweet, and 55% cocoa Semi-Sweet baking chocolate. You could absolutely use chocolate chips in these cookies, but I recommend good quality chocolate.
Trust me, the brown butter cookie batter deserves good quality chocolate.
If you are a fan of milk chocolate, you could use that, but I am team the darker chocolate the better, and the bittersweet/semi-sweet combo was a no brainer for me.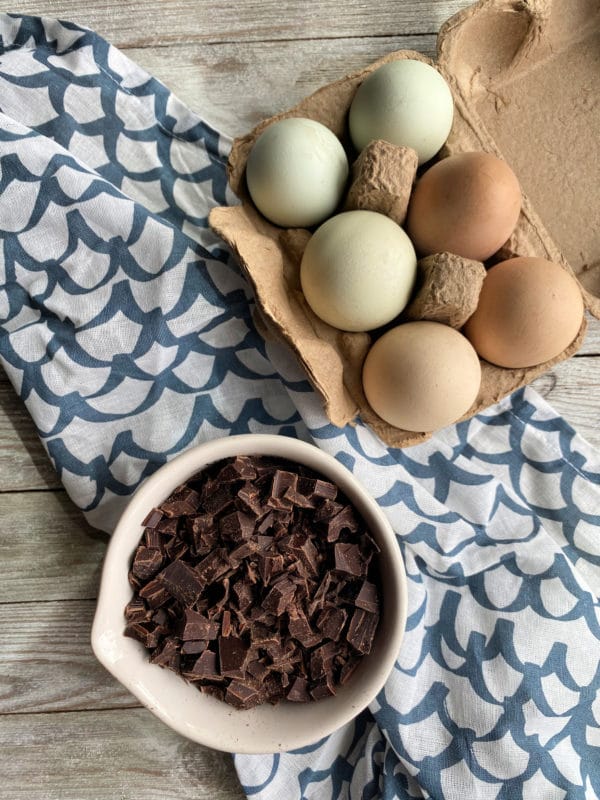 The day I made these cookies, I scored big. My niece dropped off a dozen eggs from her farm. Aren't they pretty?
Questions about Browned Butter
If you have never cooked or baked with brown butter, you may wonder what all of the hype is about. I am going to do my best here to answer your questions, but if I missed something, please let me know and I will answer yours, too!
FAQ's: Brown Butter
What does brown butter mean? Brown Butter is also known as beurre noisette, which is a French sauce that begins with browning butter until it is a deep yellow, almost brown color. It's used in both savory recipes like vegetable sauce or pasta, and in sweet recipes like French pastries.
How do I brown butter? Browning butter is simple. Add real butter to a saucepan or small skillet, and melt it. Give it a swirl occasionally. The butter will become foamy. As it browns it will change from a lemon-yellow color to a deeper golden color, and finally a toasty brown color. Don't over brown it, because you can burn it. I can always tell when it's ready, not only but the toasty brown color but by its amazing nutty aroma. It will take about 3 minutes or so to brown butter on your stovetop.
Can I brown butter in the microwave? You absolutely can! Making brown butter on the stove isn't difficult, but being able to brown it in the microwave gives you options. Cooking the butter in short increments as to not burn it. Prep to finish is about 10 minutes.
Can I brown margarine if I don't have butter? No. You will not get the brown butter effect with margarine as it doesn't contain milk solids. The milk solids are what are actually browning. Stirring or swirling the pan as they brown. Some feel a need to strain the little darker bits from the butter before using it, that is a personal preference. Those little bits can actually intensify the flavor.
What does brown butter taste like? The taste of brown butter is achieved in the same way searing a steak makes it taste so much better. The Maillard reaction, it's called, when animal proteins breakdown while heating to cause them to achieve hundreds of flavor compounds. I feel like brown butter is best described as a nutty flavor that resembles a toffee. It has both a sweet and savory taste with an aroma of caramel.
How does brown butter affect the taste of these chocolate chunk cookies? They have a deeper, richer, more intense flavor. From the first bite, you will taste the butter and the toasted nutty flavor. It just makes them so much better.
Making Brown Butter Chocolate Chunk Cookies
Aside from the butter and the chopped chocolate, you'll need flour, salt, baking soda, both brown sugar, and granulated sugar, vanilla, and eggs to make these delectable cookies.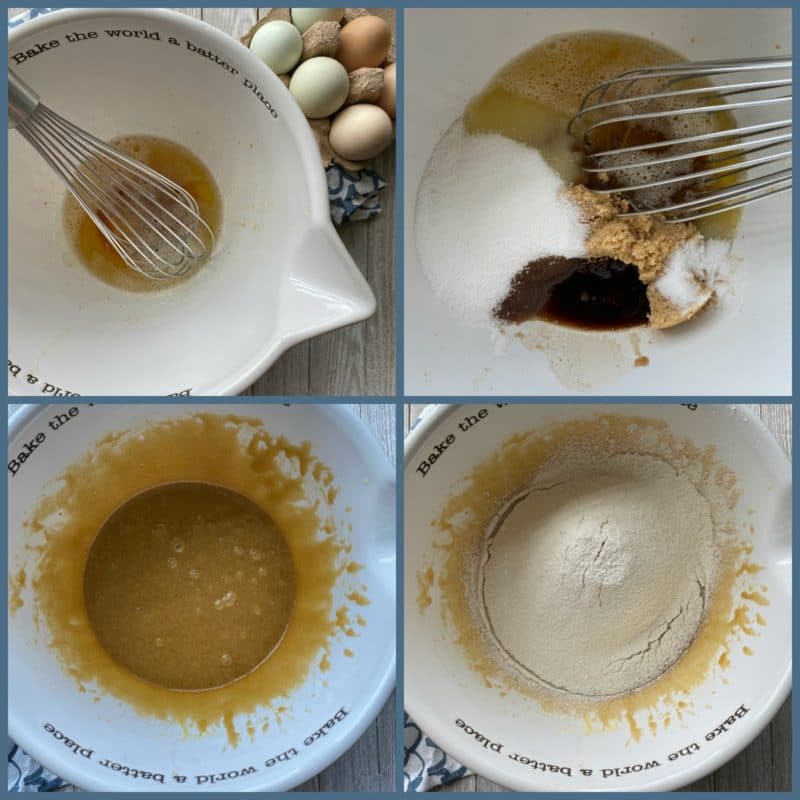 You will add the browned butter to your mixing bowl, and whisk in your sugars, salt and vanilla.
You will then whisk in one whole egg and one egg yolk.
Whisk the mixture for 30 seconds. Let it rest for 3 minutes before whisking for 30 seconds again, then resting for 3 minutes. Repeat this process a total of 3 times.
The mixture will be silky smooth. Sift your flour and baking soda into the mixing bowl and stir to combine.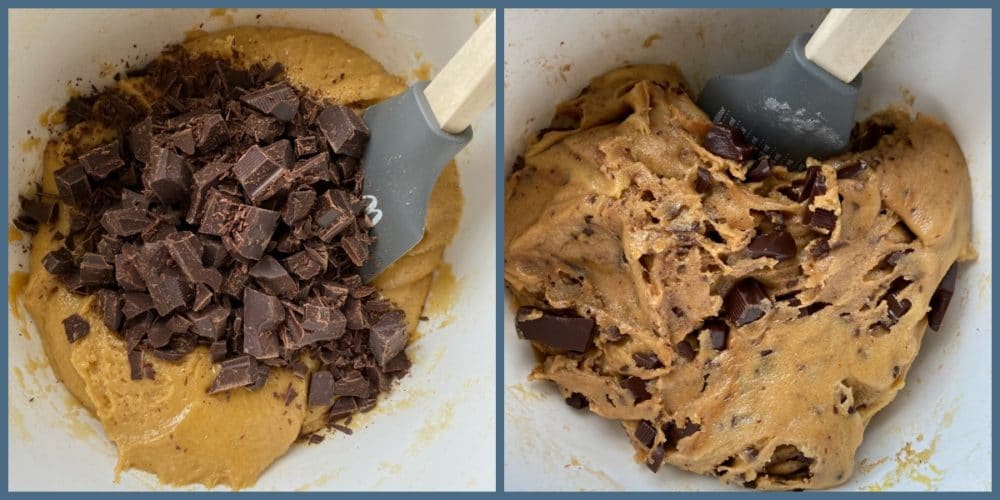 Fold chocolate chunks into the batter, reserving some to top the cookies with before baking.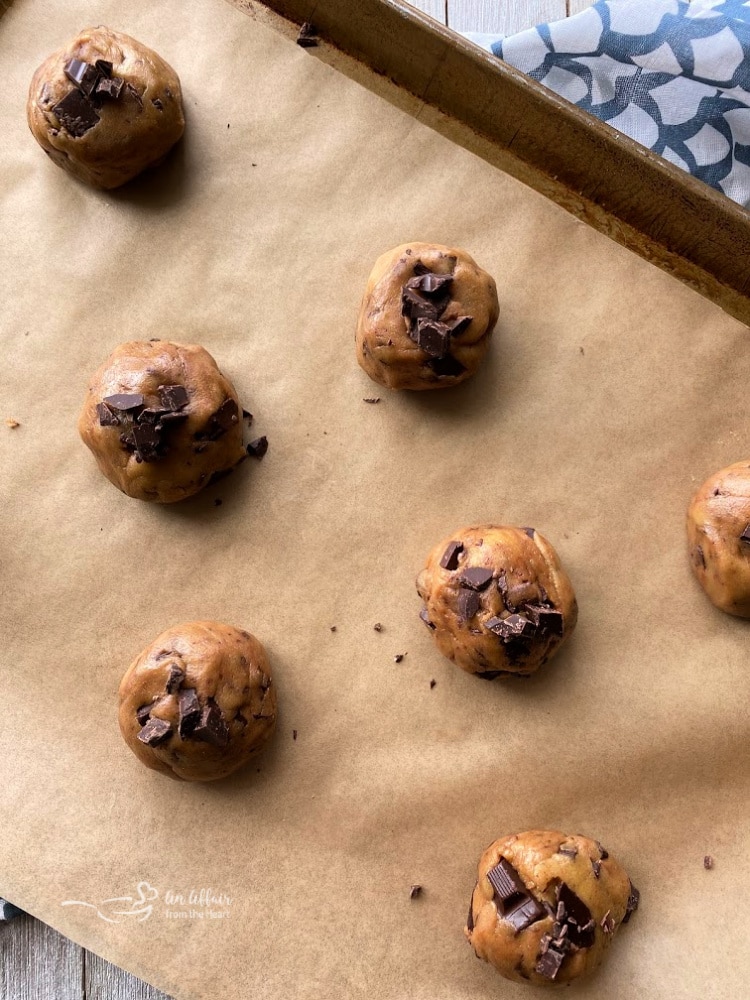 As I mentioned, these are not wimpy cookies! Each dough ball is approximately 3 Tablespoons. I baked 8 at a time on a parchment-lined cookie sheet. Top each dough ball with a little more chocolate.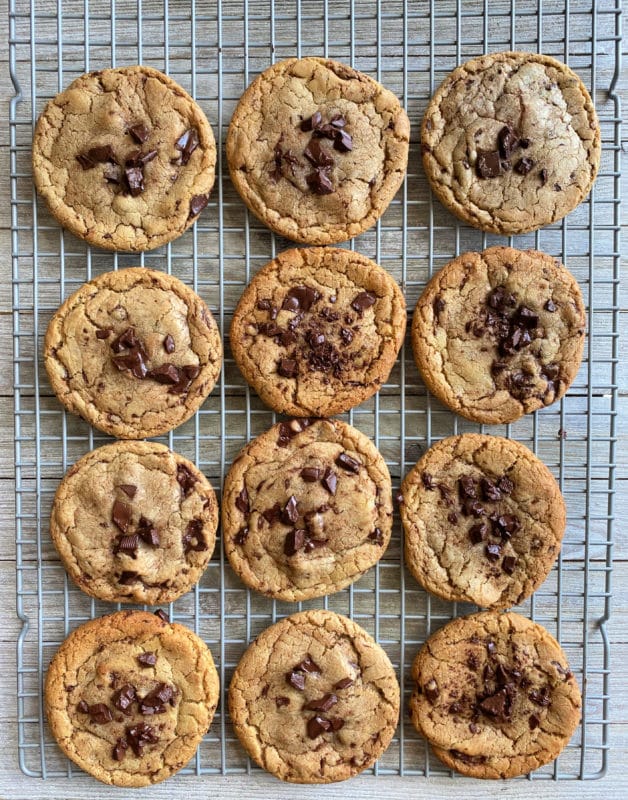 Let the cookies rest on the cookie sheet after baking for 5 minutes before transferring them to a cooling rack to cool the rest of the way.
Julie said she gets 16 cookies from this batch, I only got 13, a baker's dozen!
Either I made them bigger or I ate more cookie dough than I thought!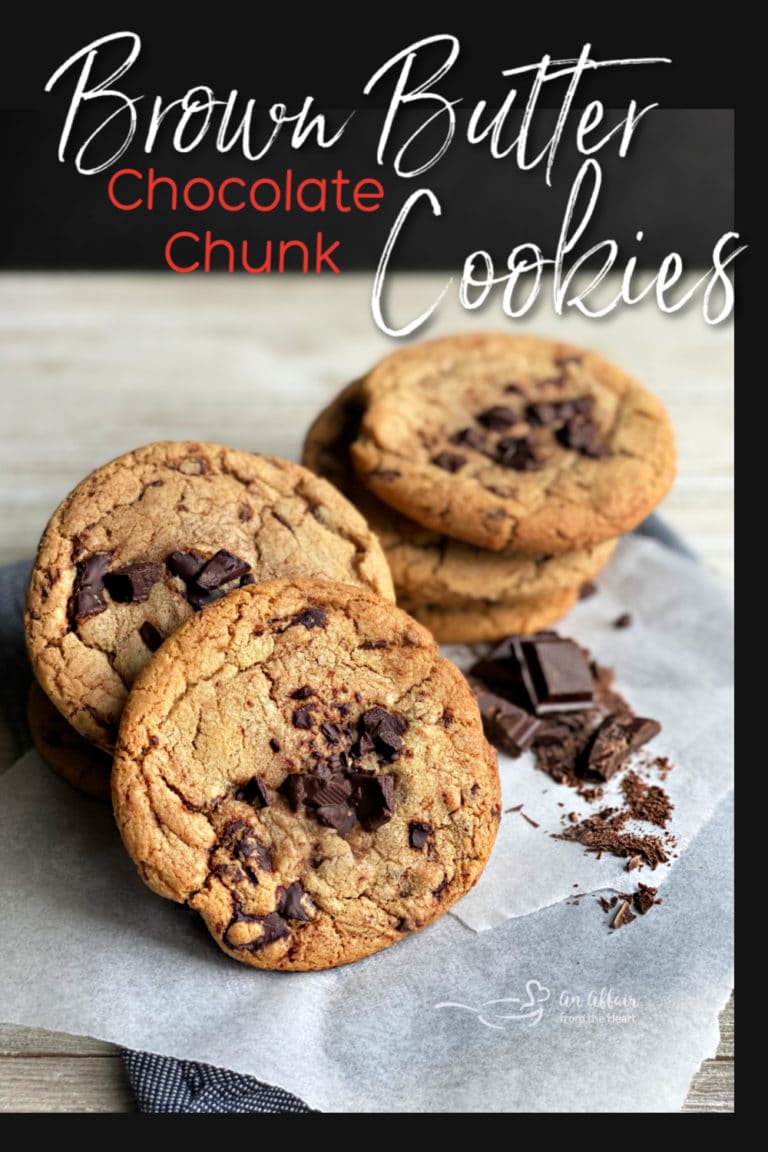 LOVE THEM?? Pin THEM!!
Don't forget where you found this Brown Butter Chocolate Chunk Cookie Recipe! Pin them to your favorite Pinterest board before you go!
Thanks to Julie, for the amazing recipe!
Take a look at all of our 2020 Freaky Friday Spring Edition Recipes: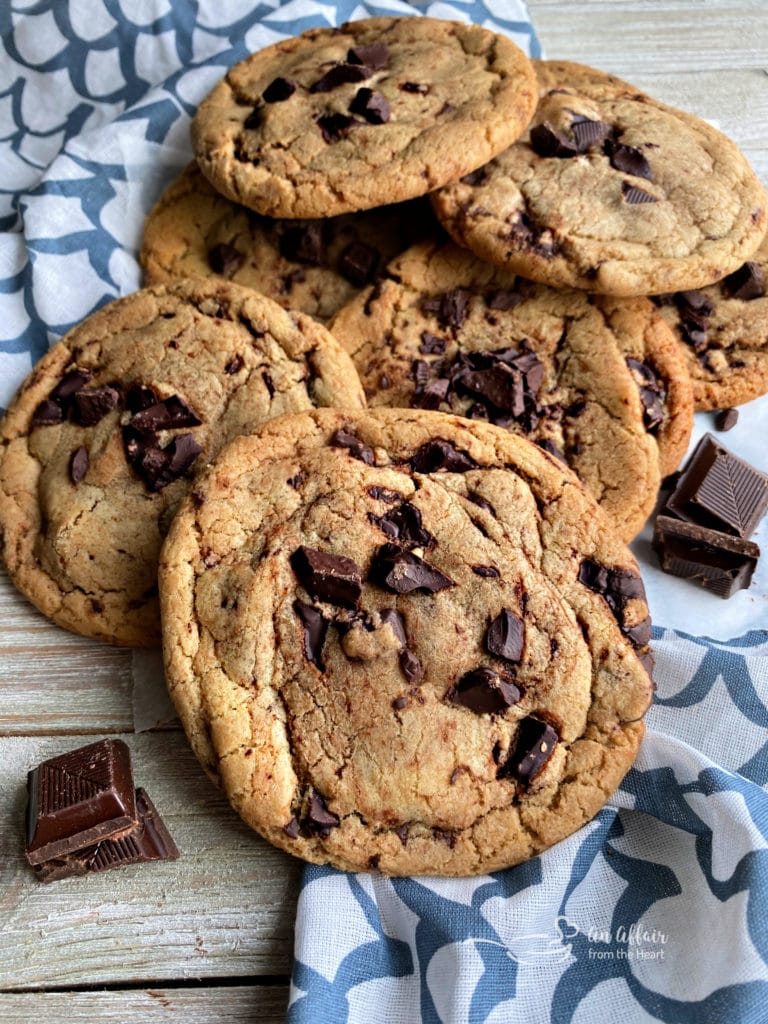 My mouth is watering just thinking about them! Let's get to baking!

Yield: 13 BIG cookies
Brown Butter Chocolate Chunk Cookies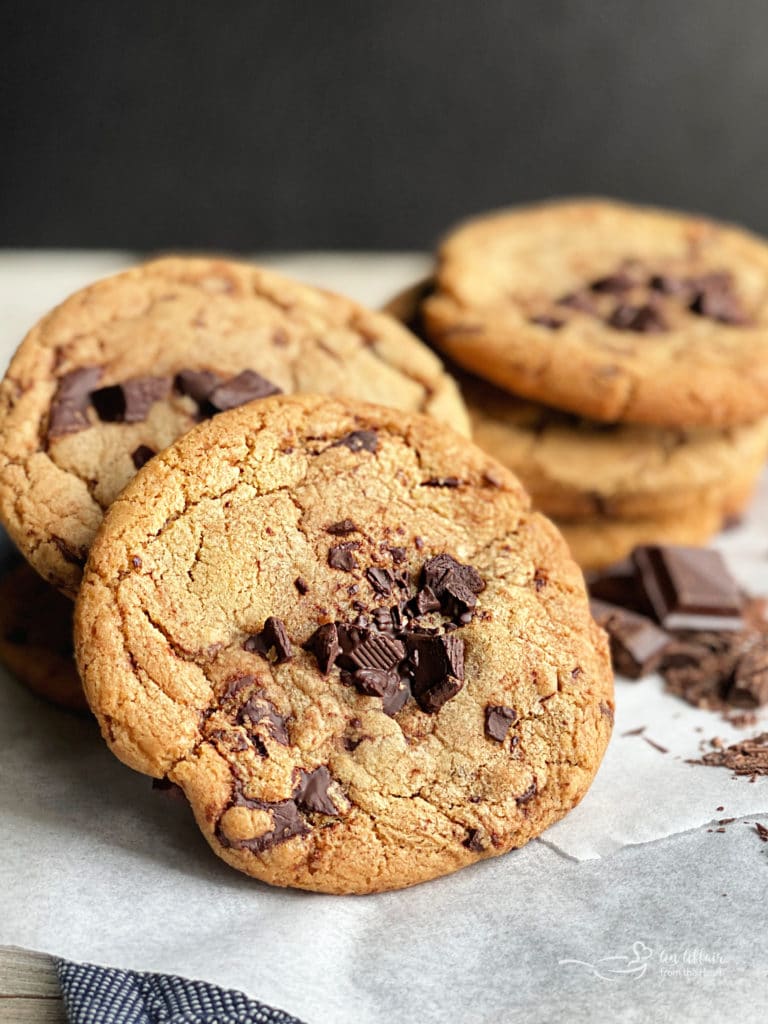 These big, beautiful, bakery-style cookies have the most amazing flavor from the addition of brown butter and of course a large amount of dark chocolate chunks! These Brown Butter Chocolate Chunk Cookies may just be your new favorite cookie!
Ingredients
1 3/4 cups all-purpose flour
1/2 teaspoon baking soda
14 Tablespoons unsalted butter
3/4 cup brown sugar
1/2 cup white granulated sugar
1 teaspoon salt
2 1/2 teaspoons vanilla extract
1 large egg
1 large egg yolk
1 1/4 cups dark chocolate chunks, I used a combination of half 70% bittersweet and half 55% semi-sweet chocolate
Instructions
Preheat oven to 375°F. Prepare two baking sheets with parchment paper. Set aside.
Melt butter in a 10-inch skillet, swirling the pan until butter is golden brown.
Pour browned butter into a mixing bowl. Add brown sugar, white sugar, salt and vanilla extract. Whisk until completely combined.
Add in one egg and one egg yolk. Whisk for 30 seconds. Let batter rest for 3 minutes. Whisk for another 30 seconds. Let rest for 3 minutes. Whisk for 30 seconds and let rest a final time for 3 minutes. The mixture with be silky smooth.
Sift flour and baking soda into the mixture. Stir until combined.
Fold chocolate chunks, reserving a bit to top the cookies with.
Form cookies by scooping 3 tablespoons of dough and roll into balls. Place on prepared cookie sheet, giving them room to spread out. I baked 8 at a time.
Top each dough ball with a few loose chocolate chunks.
Bake, 1 sheet at a time, in the center of your oven, until cookies are browned on the edges, 8-10 minutes, rotating halfway through.
Let cookies rest on the cookie sheet for 5 minutes before moving them to a cooling rack to cool the rest of the way.
Store in an airtight container. They freeze very well.
Notes
Nuts can be added if desired.
Recipe adapted from Hostess at Heart.
Recommended Products
As an Amazon Associate and member of other affiliate programs, I earn from qualifying purchases.
Nutrition Information:
Yield:
13 BIG cookies
Serving Size:
1 cookie
Amount Per Serving:
Calories:

385
Total Fat:

21g
Saturated Fat:

12g
Trans Fat:

0g
Unsaturated Fat:

7g
Cholesterol:

77mg
Sodium:

233mg
Carbohydrates:

45g
Fiber:

2g
Sugar:

29g
Protein:

4g
Nutrition isn't guaranteed accurate.

If you make this recipe, I'd love to know! Snap a picture, share the photo on social media with the hashtag #AnAffairFromTheHeart – I'd love to see what you made! – Michaela