Taco Pork Chops
As an Amazon Associate and member of other affiliate programs, I earn from qualifying purchases.
These simple, one pan, Taco Pork Chops are just the pizzazz your Taco Tuesday needs! (Or any day for that matter!) Tender boneless pork chops simmered in a spiced up tomato sauce.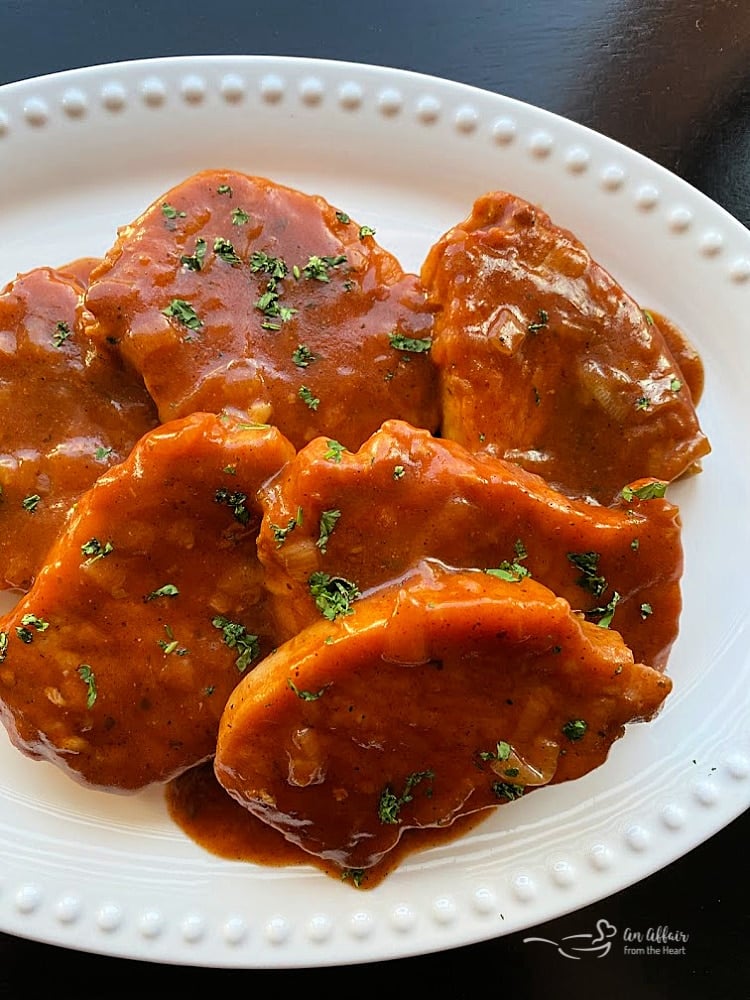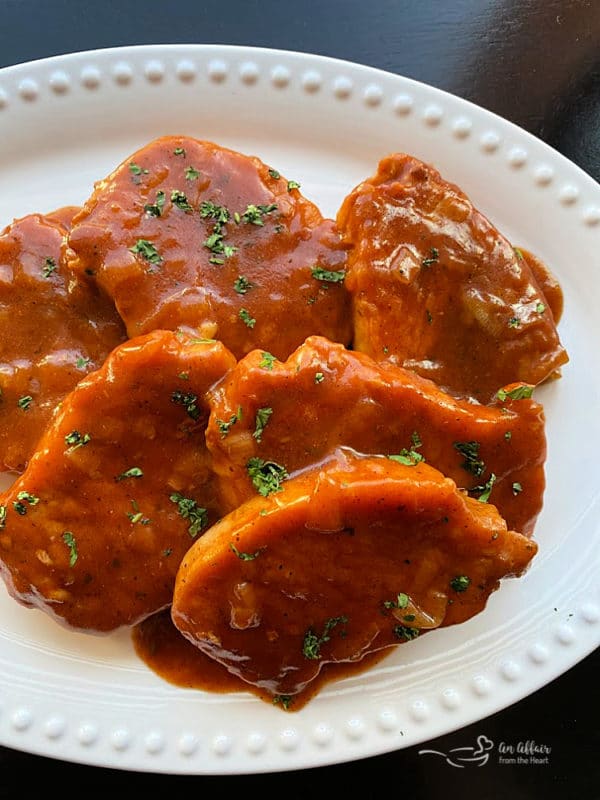 You guys. I have been SO EXCITED to share these Taco Pork Chops with you!! And TODAY is the DAY!!
They were an instant hit with my family, even to the ones who are typically more on the lukewarm side of loving pork chops.
Even though they are called "taco" – I felt the sauce could best be described as similar to a red enchilada sauce.
SOME OF THE ITEMS BELOW CONTAIN AFFILIATE LINKS; I AM A PARTICIPANT IN THE AMAZON SERVICES LLC ASSOCIATES PROGRAM, AN AFFILIATE ADVERTISING PROGRAM DESIGNED TO PROVIDE A MEANS FOR US TO EARN FEES BY LINKING TO AMAZON.COM AND AFFILIATED SITES. I AM ALSO AN AFFILIATE FOR OTHER BRANDS. HOWEVER, I ONLY PROMOTE THINGS THAT I LOVE AND THINK YOU WILL LOVE, TOO. FOR MY ENTIRE DISCLOSURE POLICY PLEASE

CLICK HERE

.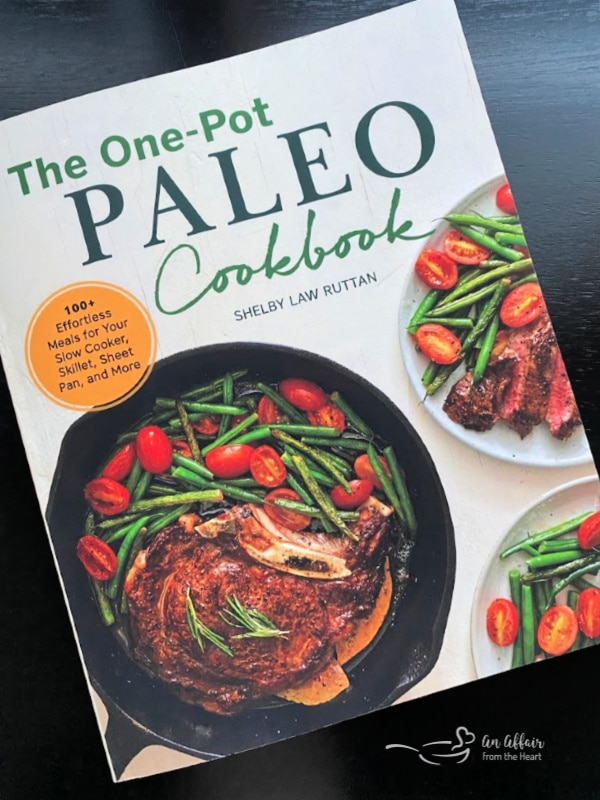 This recipe comes from my friend, Shelby's new cookbook, The One-Pot Paleo Cookbook. This beautifully done cookbook has 100+ recipes that are, you guessed it, made in one pot, whether that be a skillet, sheet pan or slow cooker. The meals are simple to make and so far, I have about 10 pages bookmarked that I want to try.
One-Pot cooking almost always means easy cooking and ingredients, as well as easy cleanup. Who doesn't love that!?
Paleo Cooking
I am going to be honest and tell you that I myself have never tried the Paleo or Keto lifestyle. But I know so many that have, and as a food blogger, I get requests for it. It's always nice to be able to direct someone to a blog or a cookbook that you know are tried and true.
Shelby, the author of The One-Pot Paleo Cookbook, also has two food blogs, Grumpys Honeybunch and Honeybunch Hunts.
What does Eating Paleo Mean?
Paleo-style of eating is the "Hunting and Gathering" mentality of eating. Eating lean meats, fish, vegetables, fruits, seeds and nuts. Things that can be hunted or gathered, like in the Paleolithic era. Some refer to it as the Caveman Diet or the Stone Age Diet.
Things that can't be eaten are grains, legumes and dairy products. One exception to legumes being green beans, and one exception to dairy being ghee, which is a clarified butter, clarified meaning the milk solids have been removed.
Shelby does a wonderful job explaining all about the Paleo diet, it's benefits and how to go about eating the way they did as far back as 2 million years ago. Back when everything was organic, and there were no weird additives in our food.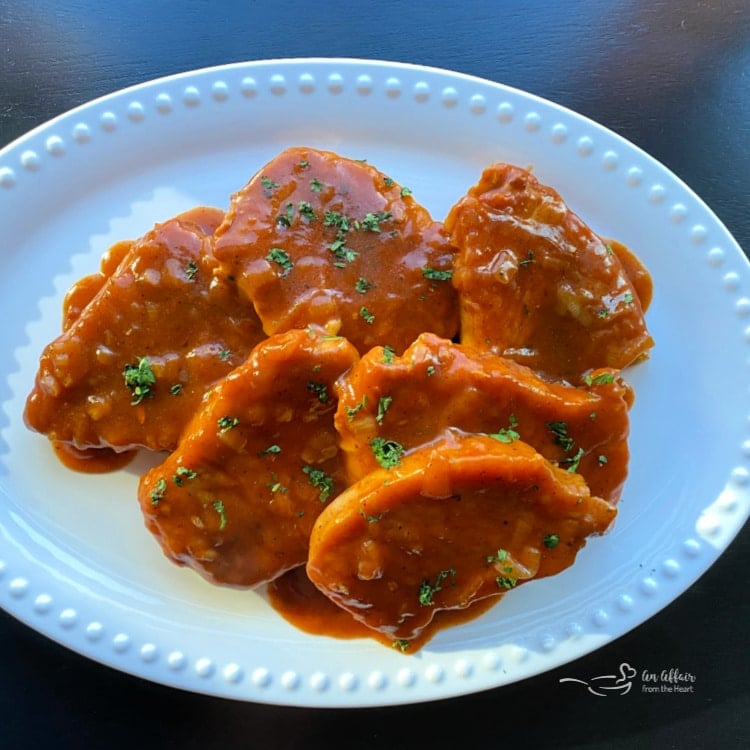 Taco Pork Chops
Why did I choose these Taco Pork Chops over all of the other 100 recipes? Well, the first answer would be "taco." You all know I adore all things taco flavored! I also get a huge kick out of switching up our Taco Tuesdays from just the normal ground-beef-crunchy-Taco-Bell-Style-Tacos.
Other Fun Taco Tuesday Recipes:
The next reason I chose this particular recipe to share with you, is because like everyone right now, we have been asked to stay in place. To stay home. To shop only when we absolutely need to.
When I received an early copy of Shelby's book in the mail a couple of weeks ago, I wanted to dive right in after seeing the cover. I looked at some of these other recipes Chopped Veggie Salad Bowl, Easy Cod Curry, Sheet Pan Pork Fajitas and Ground Beef and Cabbage Stir-Fry. It seemed I was always missing one ingredient.
When I landed on the Taco Pork Chops, I did a happy dance, because, again, taco, and because I had everything I needed in my freezer, my fridge and my pantry.
What do I need to make Taco Pork Chops?
There are no weird packet ingredients, no strange things you may not have on hand. They require a can of tomato sauce, water, onion, spices like chili powder, cumin, garlic powder, oregano, salt and pepper. You'll need 6 thin boneless pork chops and some Olive oil. If you have some fresh cilantro, sprinkle some of that over the top before you serve. Or don't, it's your choice.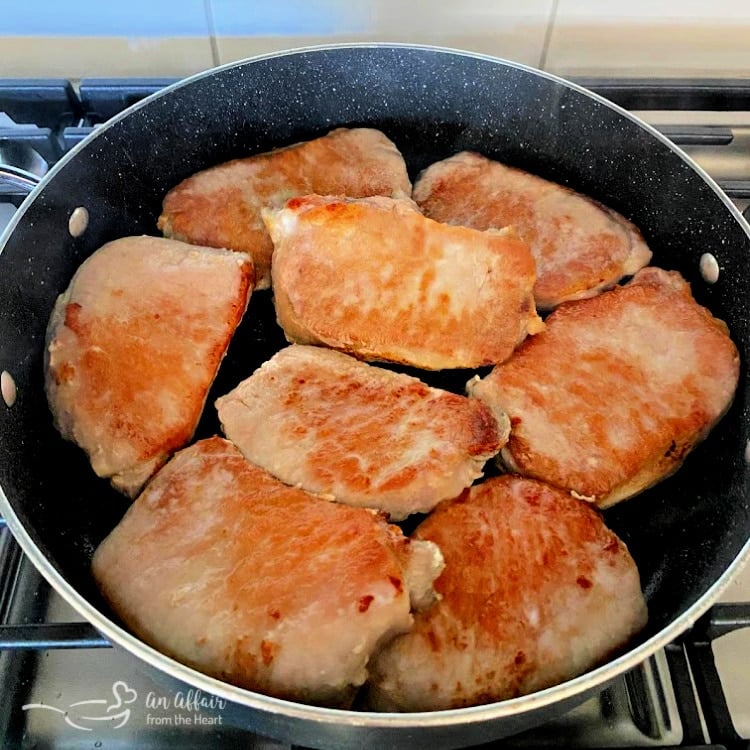 Begin by browning your pork chops on both sides in a skillet with your Olive oil.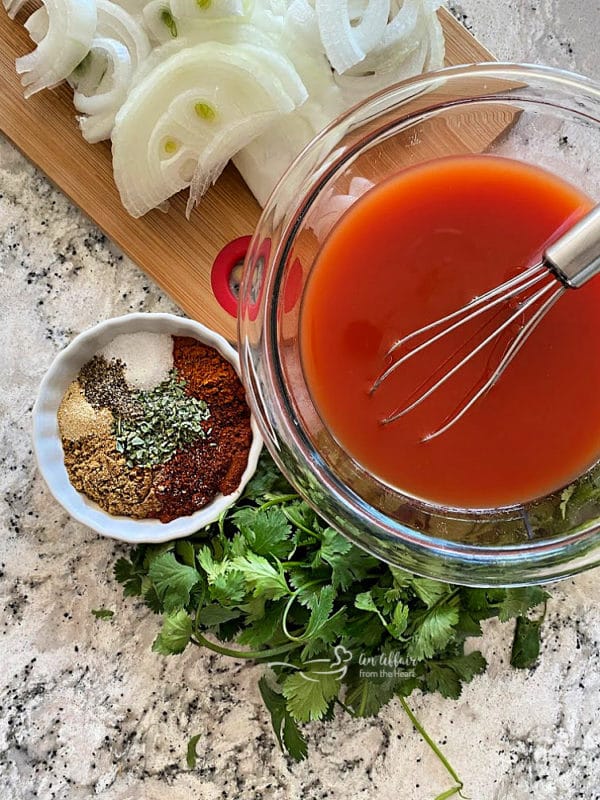 While they brown, whisk your tomato sauce and water together, gather your spices and slice your onion.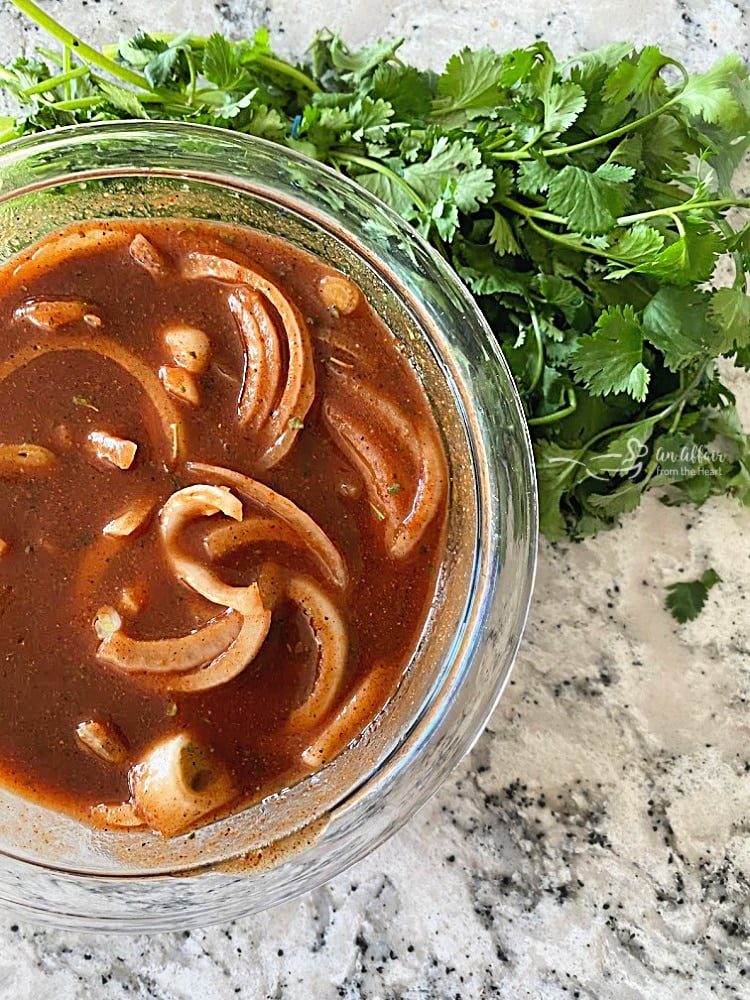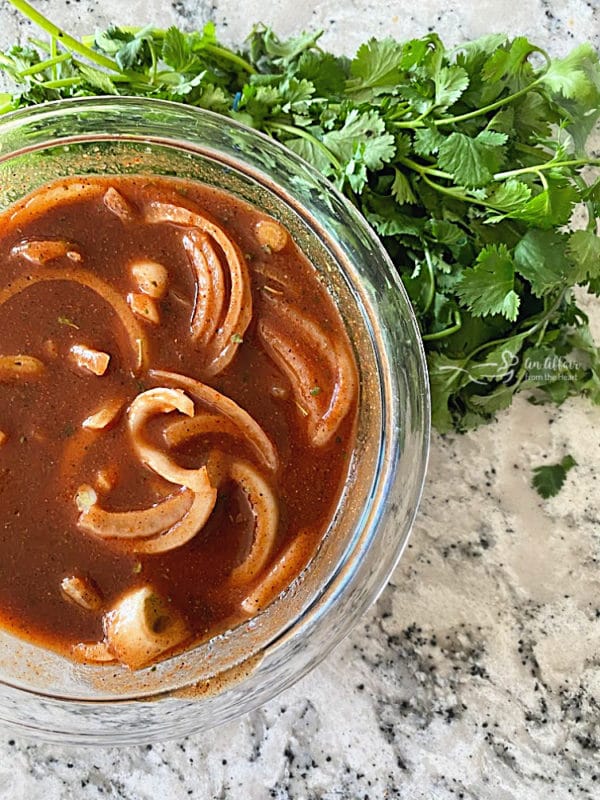 Whisk the spices into the tomato sauce, and stir in your sliced onion.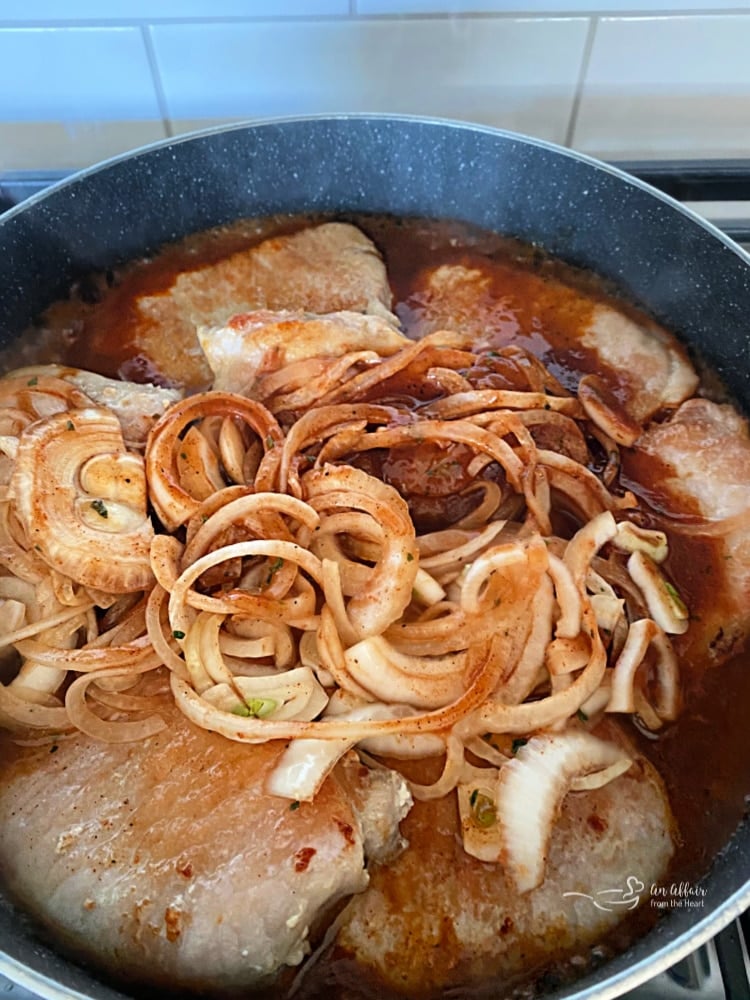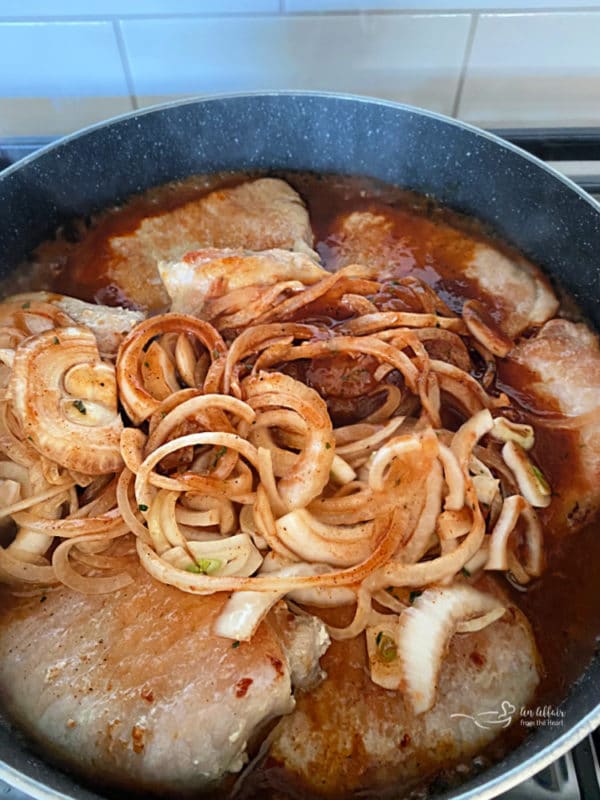 When your pork chops are browned, pour the onion/tomato sauce mixture over the top and cover them with a lid and let them simmer.
In no time, you'll be slicing into a perfectly spiced, tender pork chop.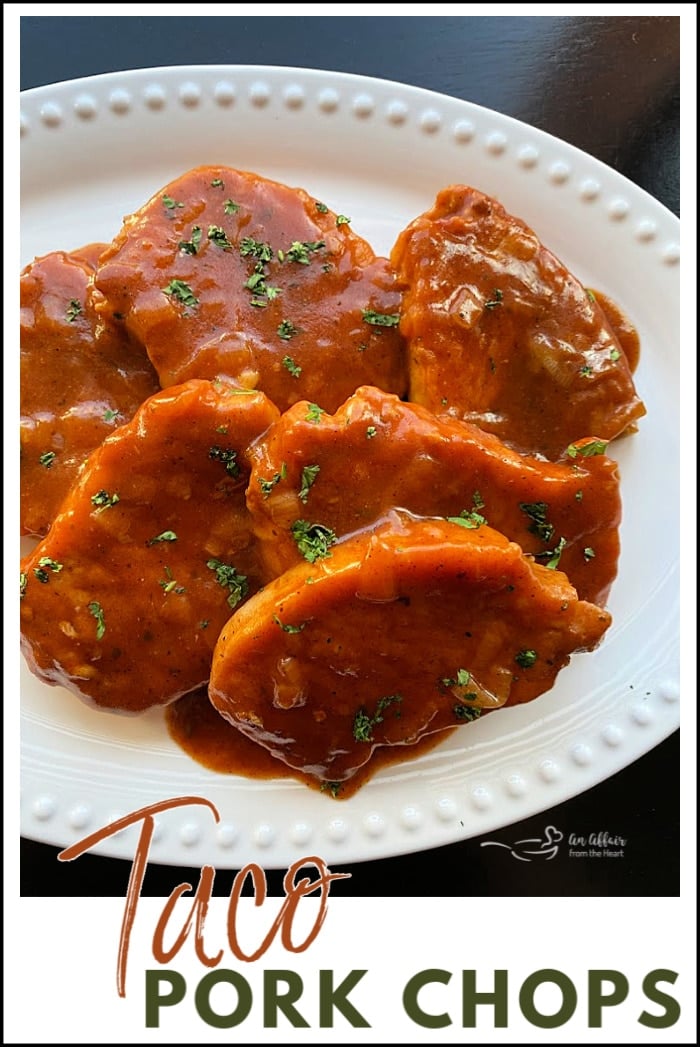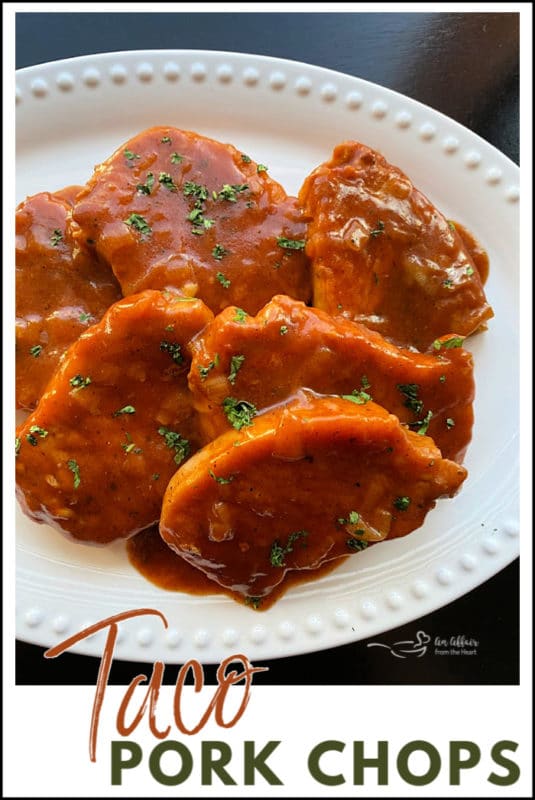 Love it? Pin it!
Don't forget where you found this recipe! Pin it to your favorite Pinterest board before you go!

How I adapted these Taco Pork Chops
I did make a couple of minor changes to Shelby's recipe. First, my pork chops I had on hand were thicker than what the recipe calls for, so I simmered them for quite a while longer, because I love when you can cut them with a fork.
Secondly, I added more water, because I not only had bigger pork chops, I had 8 of them. The sauce was thinner because of that, so I thickened mine with a small amount of corn starch and water. Note: using the cornstarch is NOT Paleo. If you want to use the changes that I made, and still keep it Paleo, use Arrowroot Powder in place of the cornstarch.
I simmered mine covered in the sauce for about 40 minutes. The chops and the onions were so tender and delicious.
And since we aren't following the Paleo diet I served ours with sweet corn and my Cilantro Rice. It was amazing!
How my recipe differs from the original
Shelby's original recipe, again, uses thinner pork chops, and fewer of them, they brown and cook much faster, and her recipe is done in 20 minutes from start to finish.
She serves hers with a Paleo friendly guacamole made with smashed avocado and Paleo approved salsa. So if you are following a Paleo diet, please refer to her original recipe in her One Pot Paleo Cookbook.

How do I get my hands on The One Pot Paleo Cookbook??
The cookbook officially launches on Tuesday, April 14, 2020. You can purchase a copy on Amazon. But you know what? I am giving one away here, too!
Look for the Taco Pork Chops on Facebook and Instagram, and enter using the Rafflecopter Entry Here: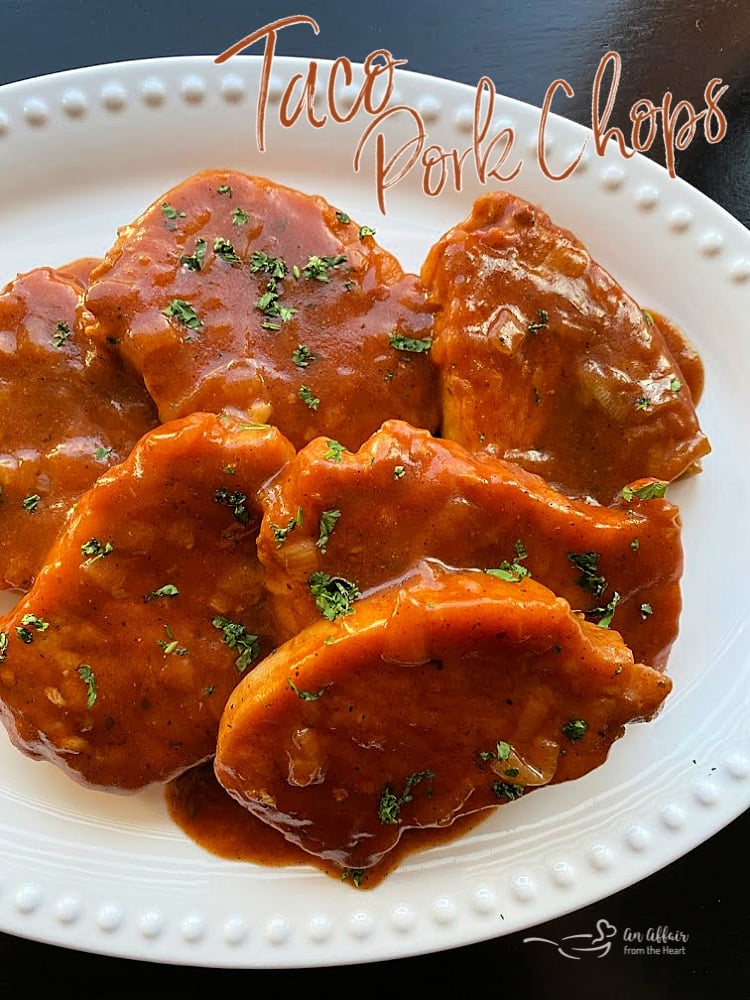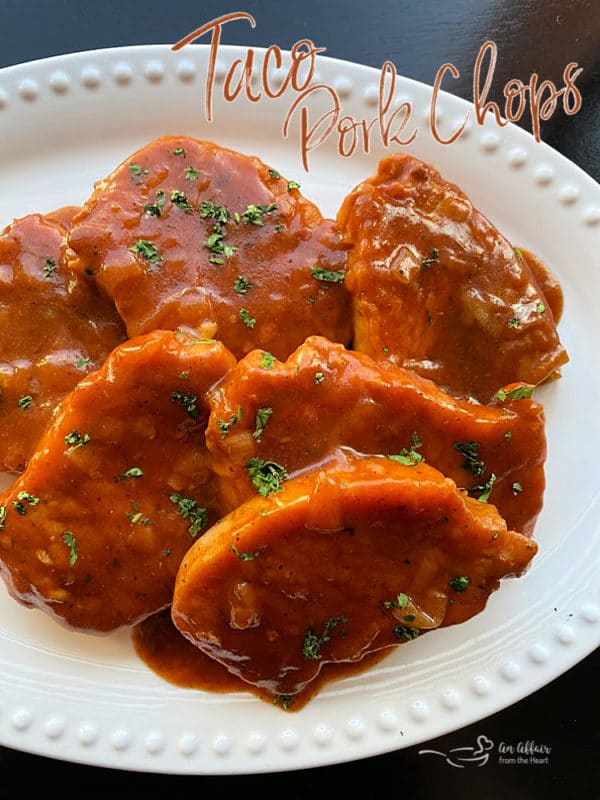 Here is the recipe for my slightly adapted recipe for Taco Pork Chops. I hope you'll love them as much as we did!

Yield: 8 pork chops
Taco Pork Chops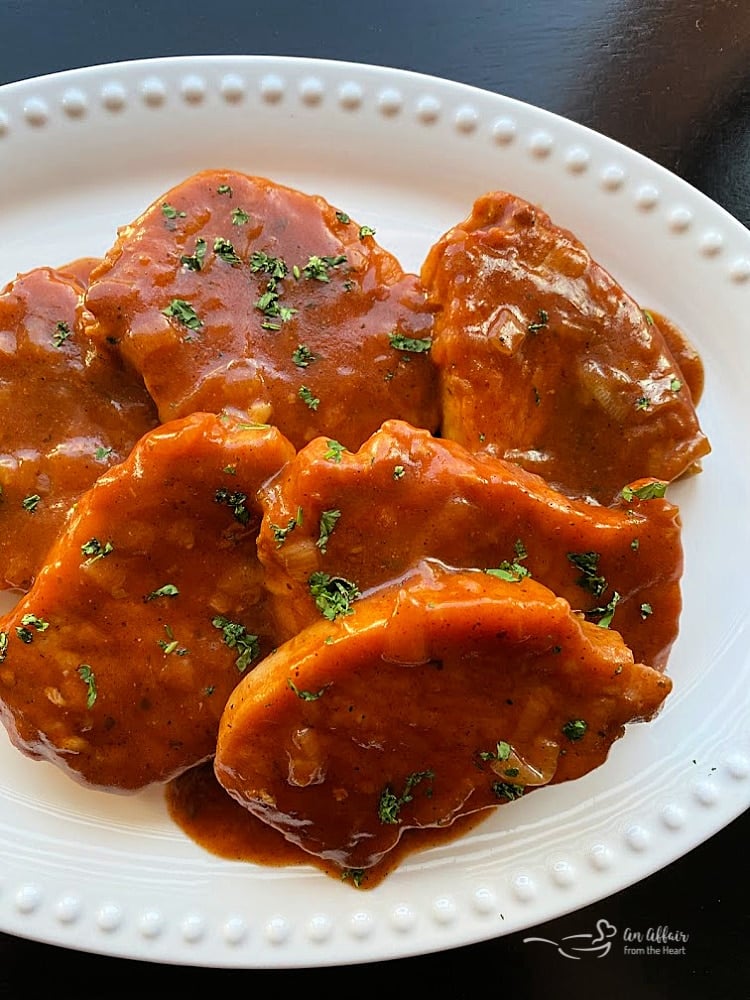 These simple, one pan, Taco Pork Chops are just the pizzazz your Taco Tuesday needs! (Or any day for that matter!) Tender boneless pork chops simmered in a spiced up tomato sauce.
Ingredients
2 Tablespoons olive oil
8 boneless pork chops
1 (8 ounce) can Tomato Sauce
2 cups of water (divided)
1 small onion, sliced
1 Tablespoon chili powder
2 teaspoons ground cumin
1 teaspoon paprika
1/2 teaspoon garlic powder
1 teaspoon dried oregano
1/2 teaspoon salt
1/2 teaspoon freshly cracked pepper
2 Tablespoons cornstarch, optional
fresh cilantro, sprinkled over the top before serving, if desired
Instructions
In a large skillet, over medium-high, heat olive oil, and place pork chops in a single layer. Brown well on each side. (about 5 minutes for each side)
Whisk together 1 3/4 cup of water, tomato sauce, and dried spices. Add in the sliced onion.
Pour tomato/onion sauce over browned pork chops. Cover with a lid and reduce heat to simmer.
Simmer covered for about 30-40 minutes, stirring occasionally, until pork chops are tender.
If the sauce isn't desired thickness, mix 1/4 cup of water with 2 Tablespoons of corn starch and add to the sauce to thicken, if necessary.
Sprinkle with fresh cilantro before serving, if desired.
Nutrition Information:
Yield:
8
Serving Size:
1
Amount Per Serving:
Calories:

358
Total Fat:

22g
Saturated Fat:

7g
Trans Fat:

0g
Unsaturated Fat:

14g
Cholesterol:

103mg
Sodium:

356mg
Carbohydrates:

3g
Fiber:

1g
Sugar:

1g
Protein:

37g
Nutrition isn't guaranteed accurate.