Green Chile Mushroom Burger with Monterey Jack Cheese Sauce
As an Amazon Associate and member of other affiliate programs, I earn from qualifying purchases.
Colossal burgers filled with fantastic flavors; green chilies, marinated mushrooms and onion. Pan fried and topped with homemade Monterey Jack cheese sauce.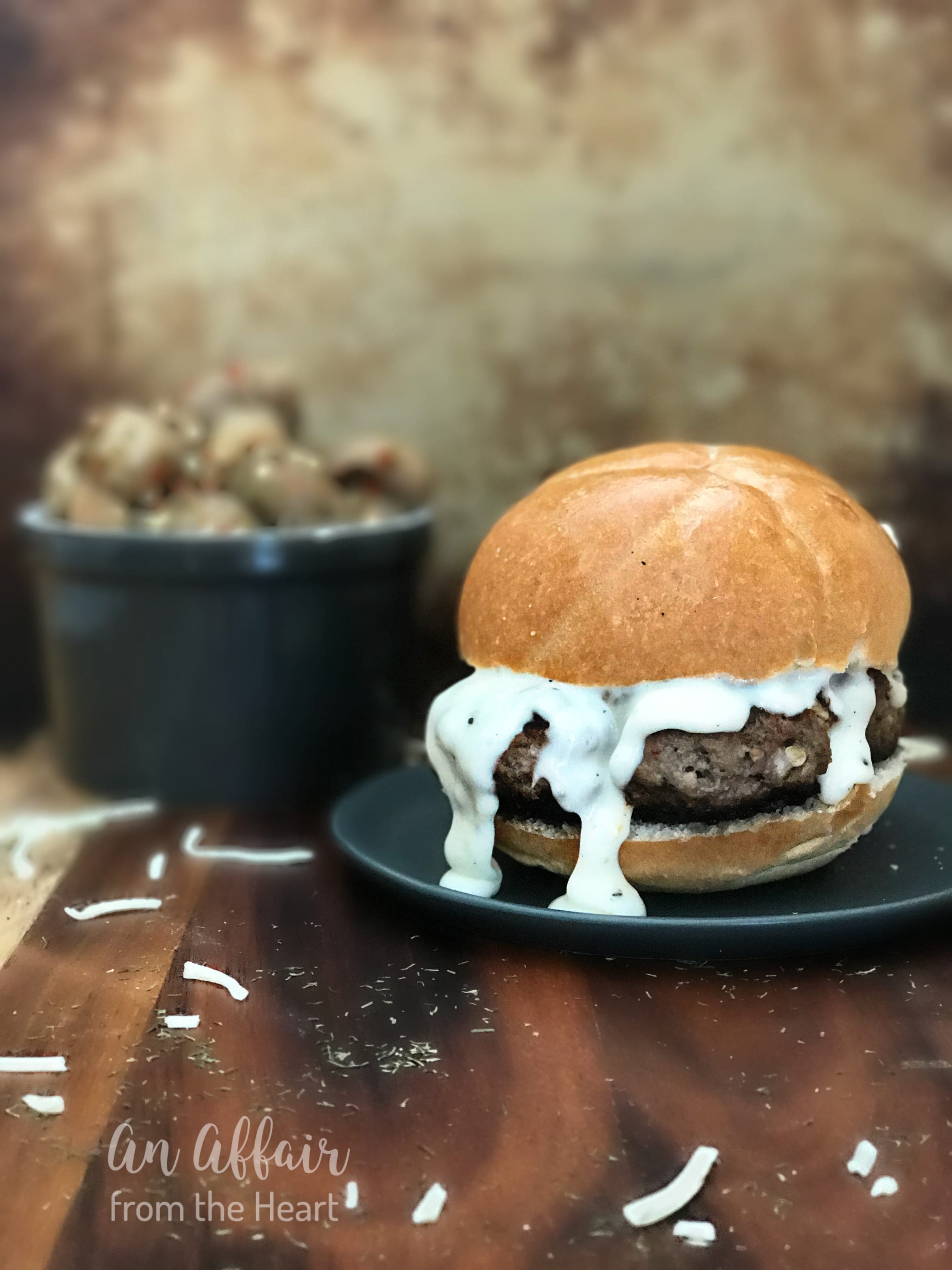 This is a sponsored conversation written by me on behalf of Paisley Farm, but the opinions are all my own. Thank you for supporting the companies and products that make An Affair from the Heart possible.
National Cheeseburger Day – September 18, 2017
Raise your hand of you LOVE a good cheeseburger.
This right here? This cheeseburger isn't just good. I would call this cheeseburger EPIC.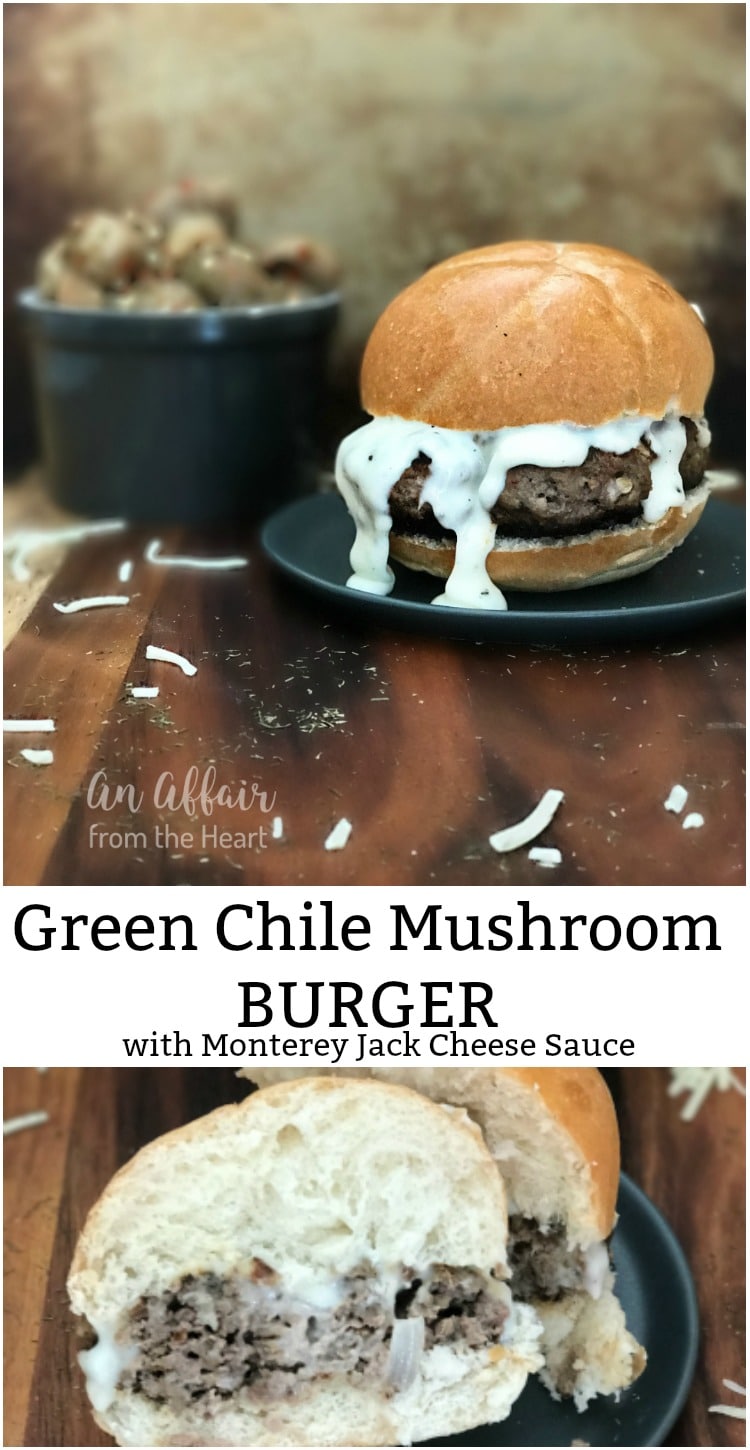 Have you tried the Paisley Farm Organic Marinated Mushrooms yet? We've been enjoying them for about a year now, and I am here to tell you, I thought I loved them before. Now? Now the love affair has been taken to a totally new level.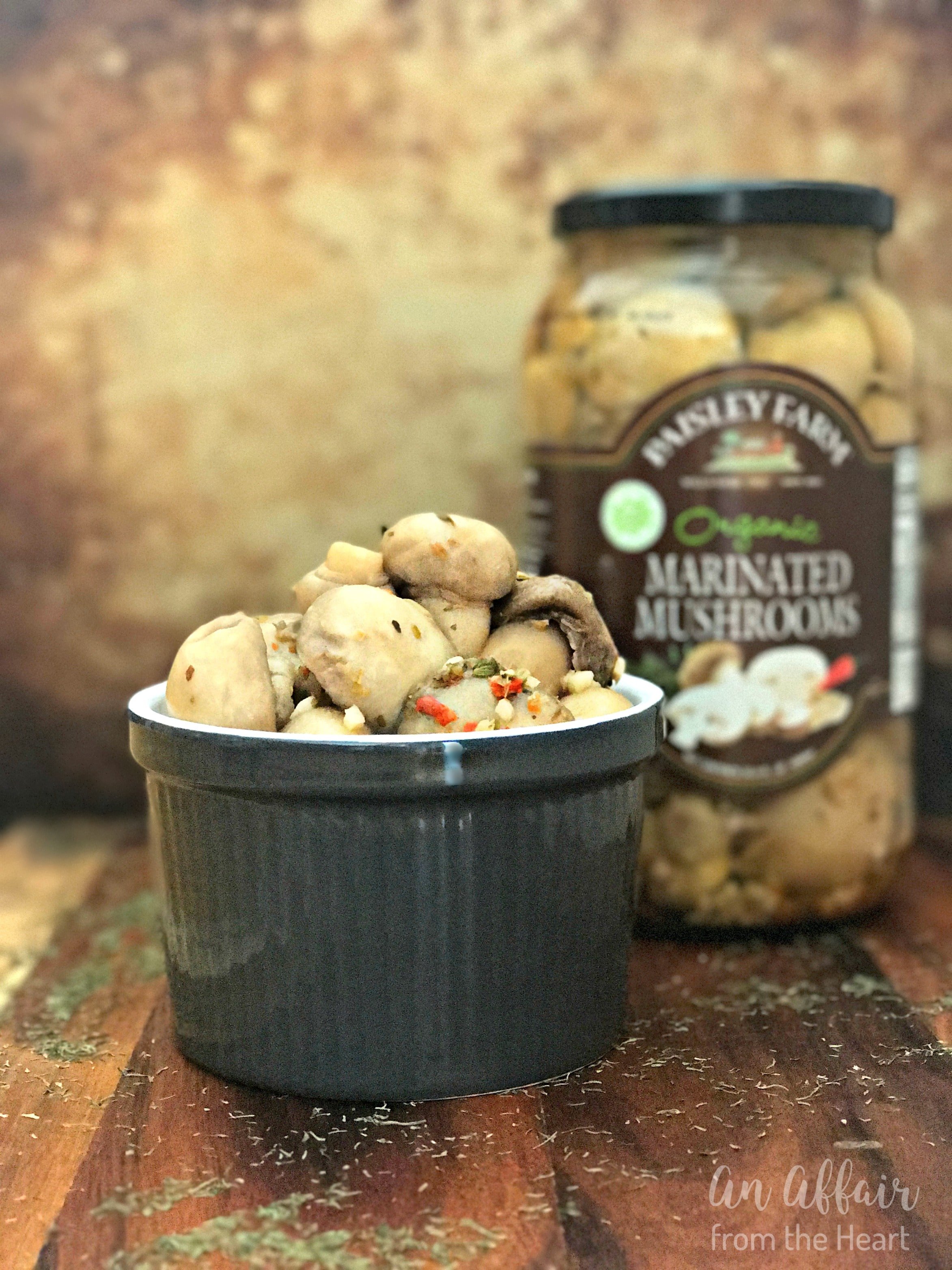 Paisley Farm Organic Marinated Mushrooms are marinated in all natural flavors; water, vinegar, garlic, sugar and salt, oregano and red pepper. They are gluten free and certified organic by OEFFA. The robust flavors of these little beauties took our burgers over the top!
When my good friends at Paisley Farm asked me to make a cheeseburger to celebrate #NationalCheeseburgerDay using their mushrooms, I was so excited to get to it! Initially, I planned to top the burger, then I thought about stuffing the middle (which I still plan to try … ) but in the end, I decided, I wanted mushrooms in every bite of my cheeseburger. Chopping them and putting them right inside the burger meat itself was the way to achieve that.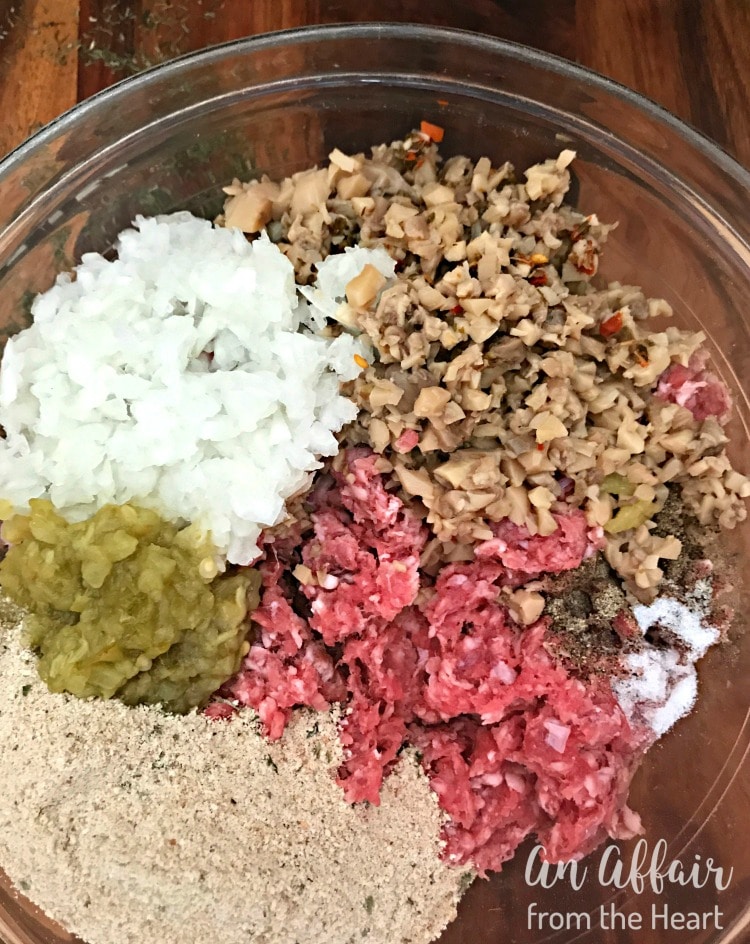 Ground beef, seasoned bread crumbs, onion, green chilies, Paisley Farm Marinated Mushrooms and salt and pepper. You may think I needed more seasoning than that? Nope. The herbs the mushrooms are marinated in were the perfect amount. Best flavor you can imagine.
These are not wimpy burgers my friends. Not at all.
That was punny, right?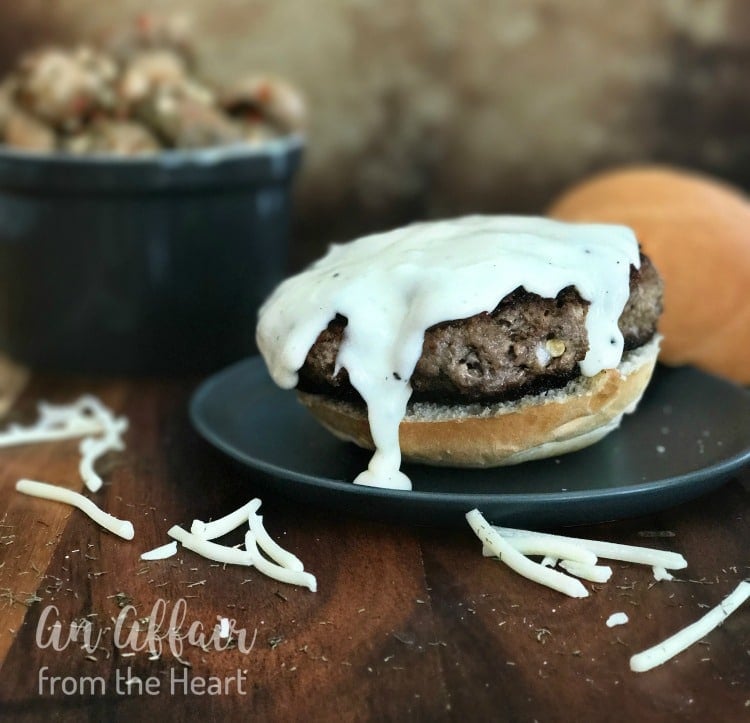 After the burgers were cooked, I placed them on a Kaiser roll. Use a bun if you prefer, but I like to switch it up sometimes. I love that crusty outside of a Kaiser roll. Then you know what I did? I made a simple cheese sauce with Monterey Jack cheese, and I poured that on top.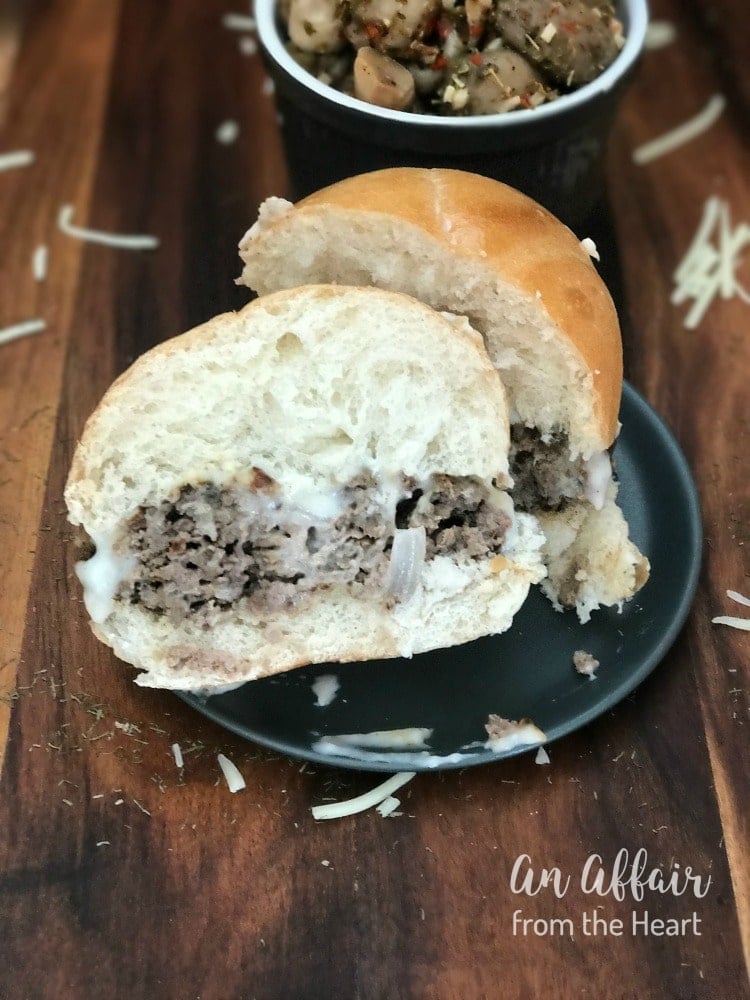 Mushrooms, onions and green chilies in every single bite.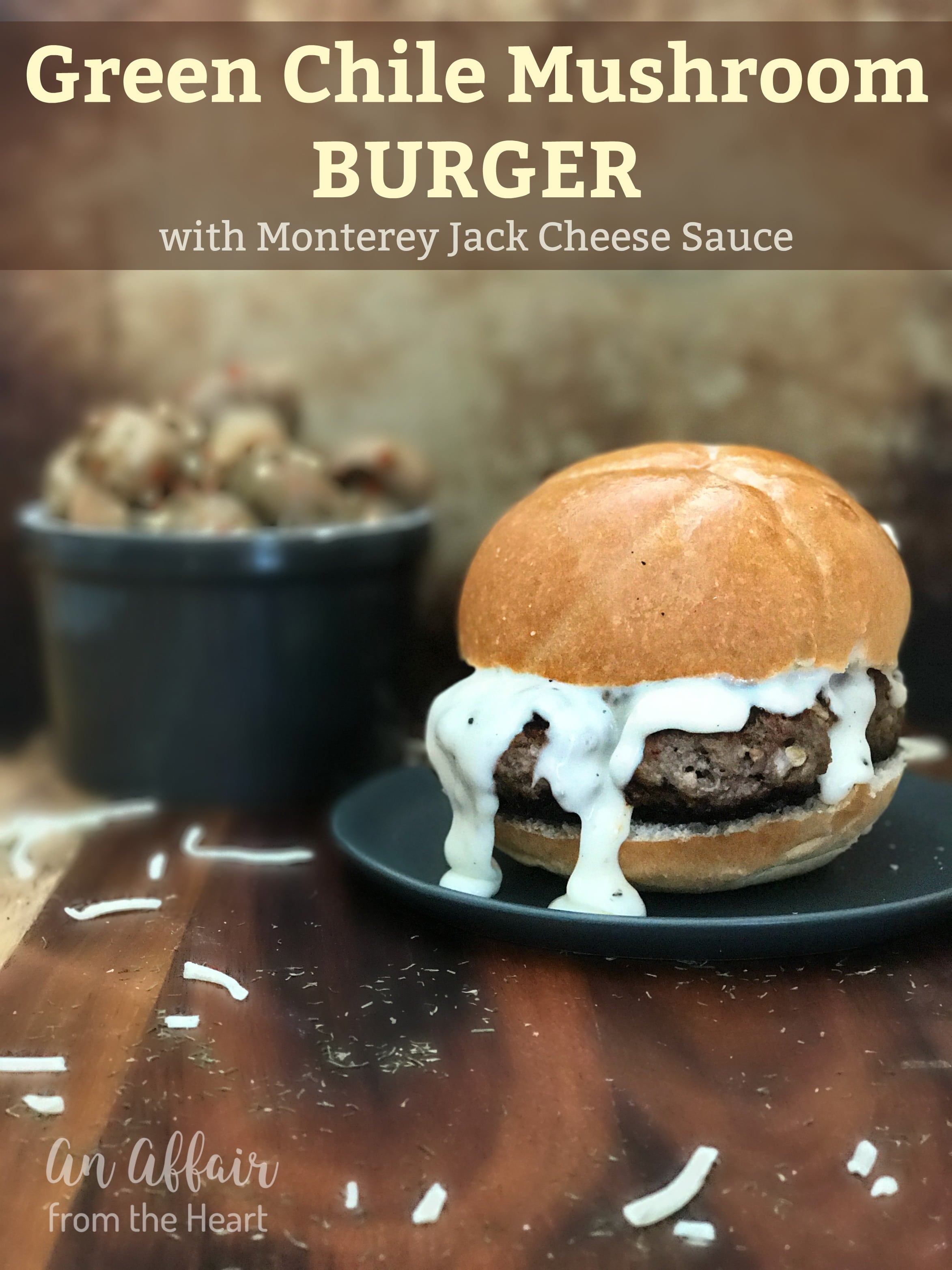 Tell me what you think about this epic cheeseburger!
Make it yourself! Visit the Paisley Farm website for recipes, products and store locations.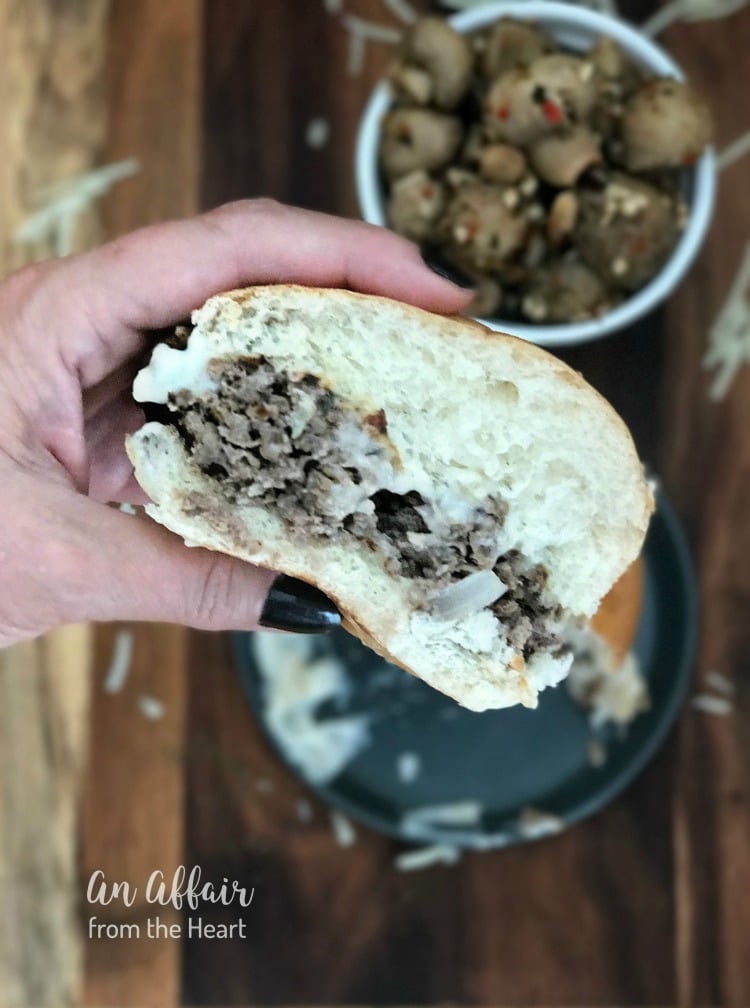 If you love this one — check out the Other Paisley Farm recipes here on my site, and Follow Paisley Farm on FaceBook, Instagram and Pinterest for loads of great recipes!
What do you say we get to that recipe??

Yield: 6
Green Chile Mushroom Burger with Monterey Jack Cheese Sauce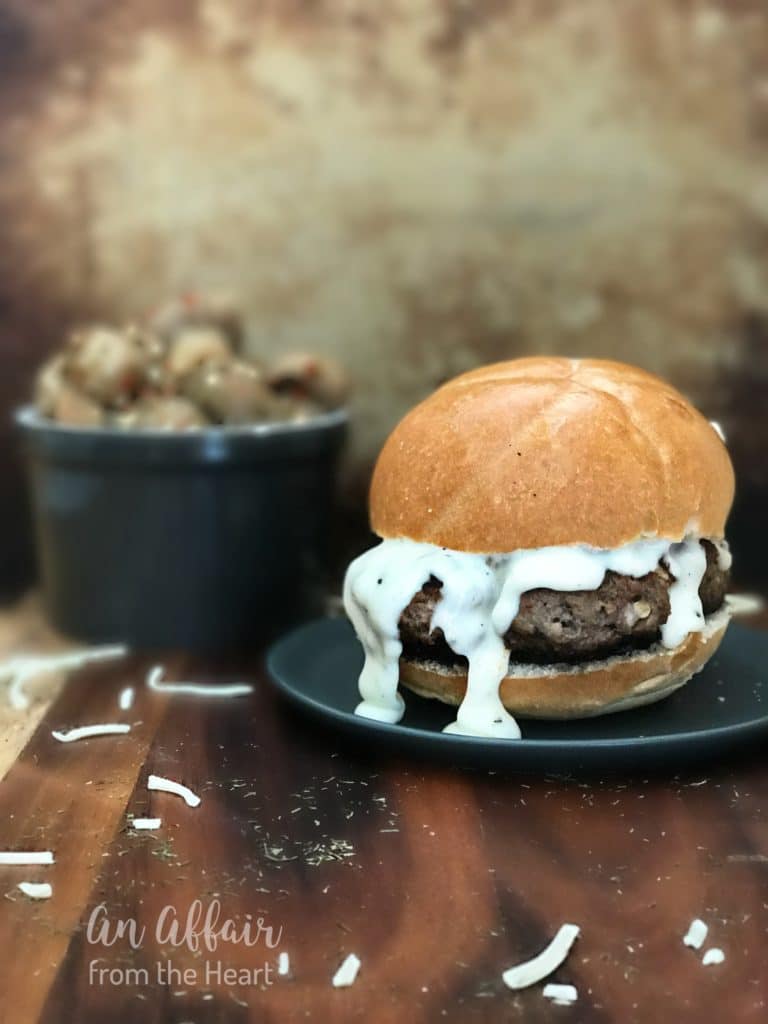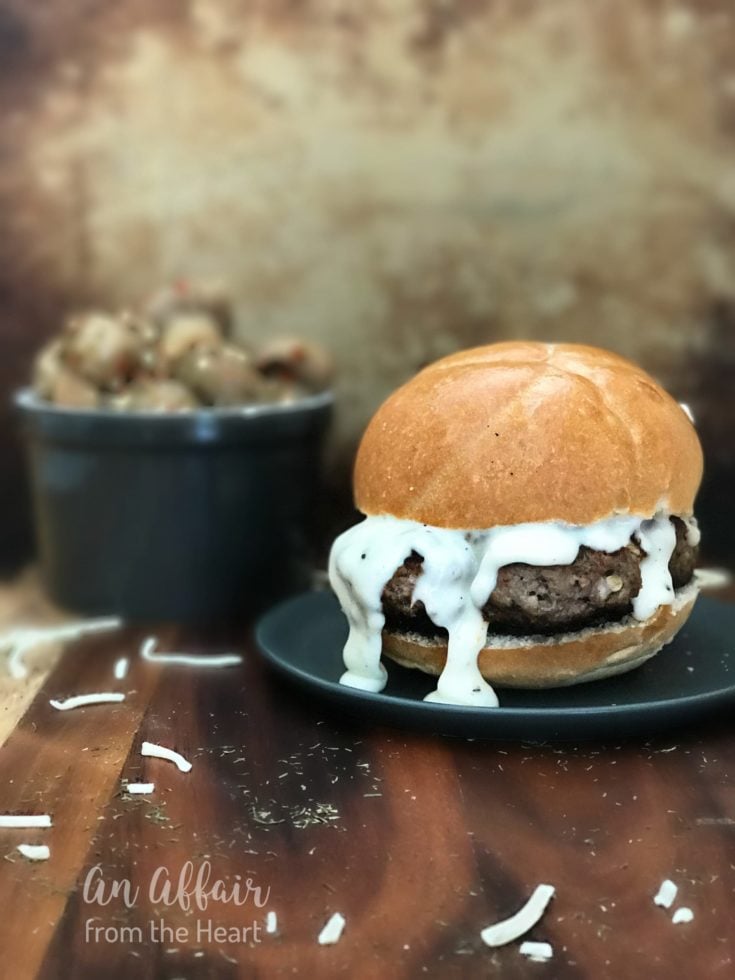 Colossal burgers filled with fantastic flavors; green chilies, marinated mushrooms and onion. Pan fried and topped with homemade Monterey Jack cheese sauce.
Ingredients
For the Burgers:
1.5 pounds lean ground beef
1/3 cup green chilies, chopped fine
1/3 cup onions, chopped
1/2 cup seasoned bread crumbs
1/2 teaspoon each salt and pepper
butter for frying
For the Cheese Sauce:
3/4 cup milk
3 teaspoons flour
dash of salt
1/2 heaping cup shredded Monterey Jack cheese
1/4 teaspoon black pepper
Instructions
Combine all burger ingredients (except butter) in a bowl. Form into 6 patties.
Melt butter in a skillet until hot. Place burgers in the skillet and cook for 7 minutes. Flip and cook for 7 minutes more. Burgers will be done, and will not be pink inside. Resist the urge to squeeze them down with your spatula. Keep the juices inside!
Use a meat thermometer to check if you are concerned. Ground beef isn't truly done until it reached 156 degrees F. It's not recommended eating rare ground beef, but I know many who love their burgers medium rare. Temperature scale: 120 degrees = Rare * 130 degrees = Medium-Rare * 140 degrees = Medium * 150 degrees = Medium Well * 160 degrees = Well Done
While the burgers are cooking, prepare your cheese sauce. In a saucepan over medium heat, add milk, salt and flour. Whisk until flour is incorporated and there are no lumps. Bring to a boil and then reduce heat to a simmer. Whisk for about 2-3 minutes or until liquid thickens. Remove from heat and add in pepper and cheese. Whisk until cheese is melted.
Place burger on roll or bun, top with cheese and serve. Add condiments of desired.
Nutrition Information:
Yield:
6
Serving Size:
1
Amount Per Serving:
Calories:

381
Total Fat:

20g
Saturated Fat:

9g
Trans Fat:

0g
Unsaturated Fat:

8g
Cholesterol:

117mg
Sodium:

445mg
Carbohydrates:

12g
Fiber:

1g
Sugar:

2g
Protein:

38g
Nutrition isn't always accurate.