Country Chic Graduation Party for my Daughter
As an Amazon Associate and member of other affiliate programs, I earn from qualifying purchases.
My daughter graduated from High School last month, and I promised you, my readers, a little peek inside of her party we threw her the last weekend in May. So, here you will see our decorations, a bit about our menu and a fun way to serve a classic dessert!
~
When I talked with her to get ideas about what she thought she might like for her party, she was certain she wanted pasta for the dinner, she wanted to have a candy bar with all of her favorites, and for the decorations she wanted to use mason jars. She called it "Country Chic."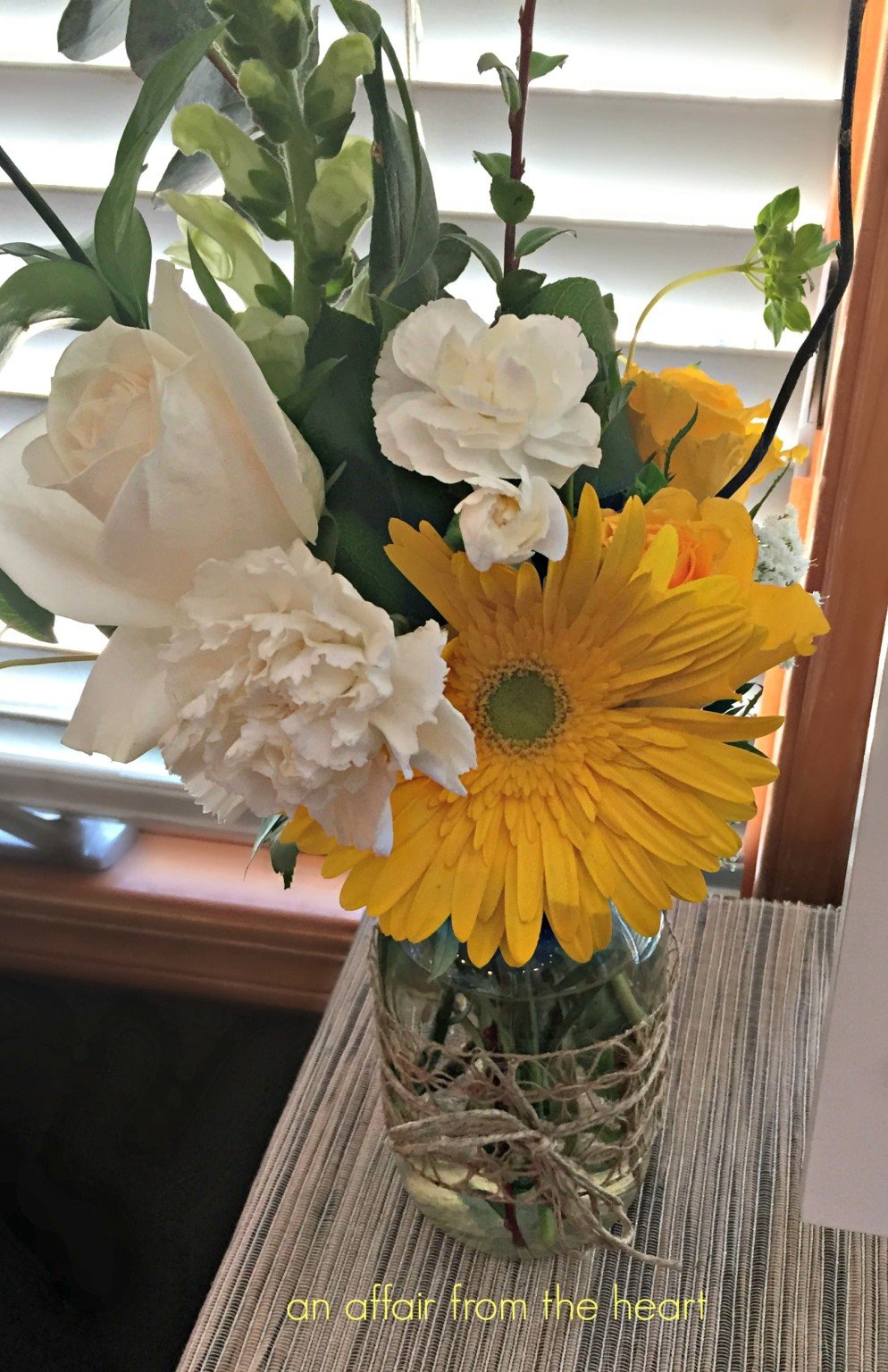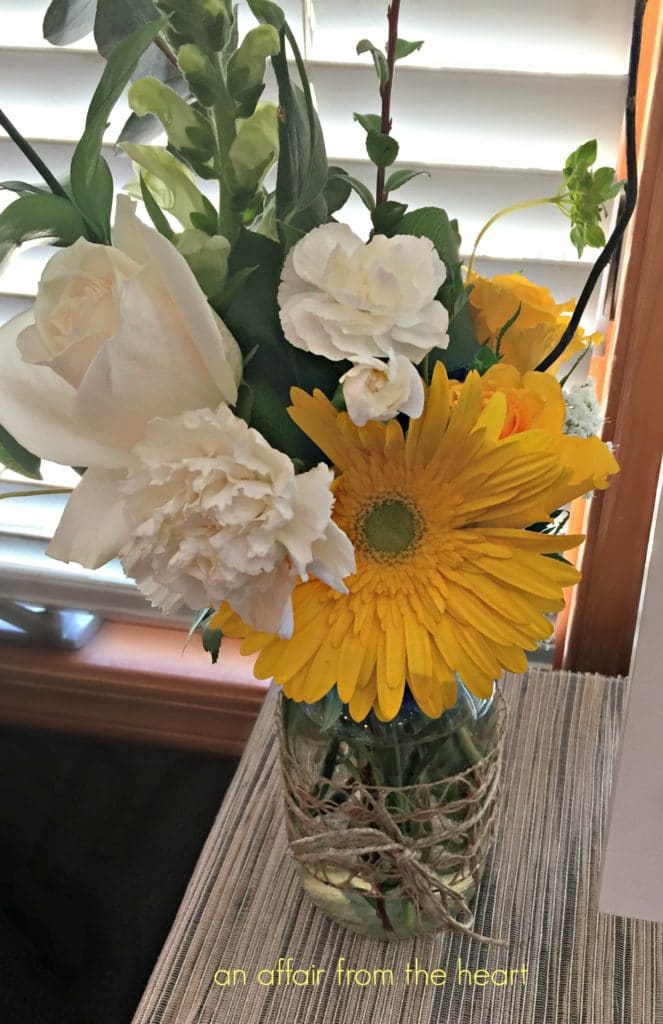 I used quart sized jars for the flowers vases. I found some cool woven twine wide ribbon at Hobby Lobby, we wrapped them and added a twine bow. I bought lots of greenery, white flowers and touches of yellow. I love Gerber Daisies, don't you?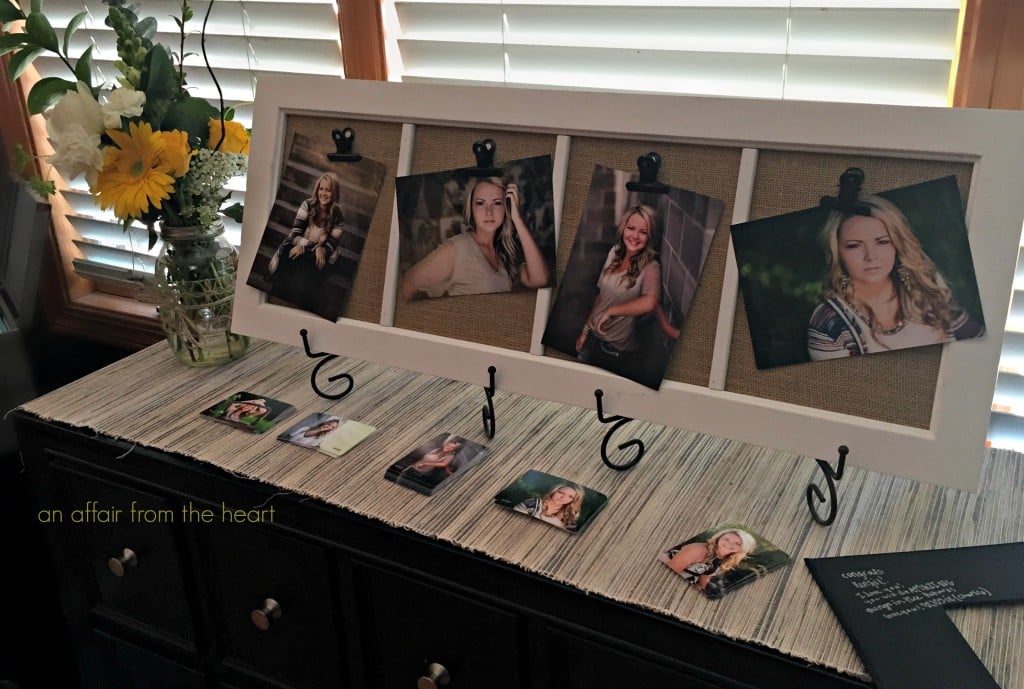 I ran a burlap runner the length of my buffet, used plate holders to prop this distressed wood cork board frame to display some of her senior pictures.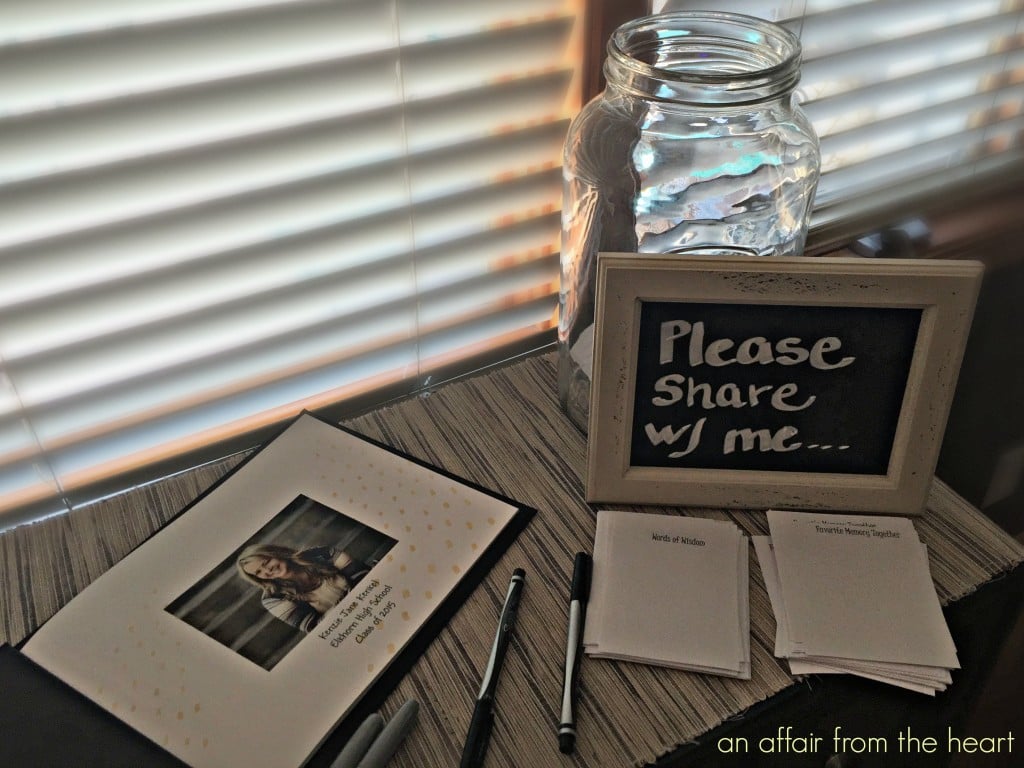 On the same buffet, opposite corner, we had a giant mason jar I found at Tuesday Mornings, and she had slips of paper that asked guests to share either their favorite memory with her, or words of wisdom for her. We printed a photo book at our local Walgreens full of photos from High School and friends, leaving space to let guests sign it.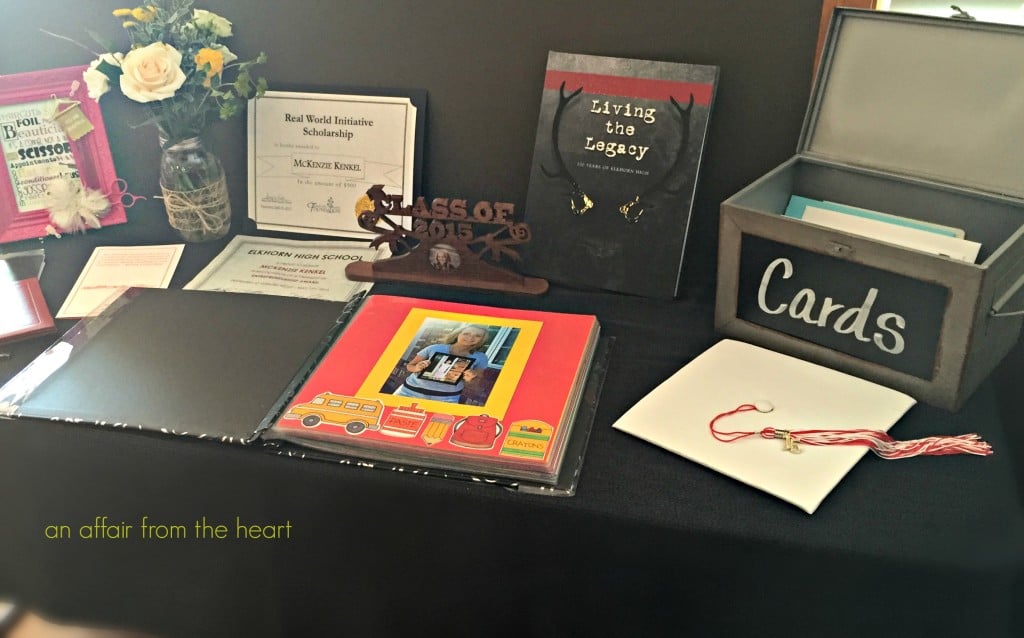 Another small table showed off her yearbook, scholarships and awards, her diploma, her scrapbook I made her with photos from Preschool through Senior year, her cap and tassel and a big metal box with a chalkboard front for her cards.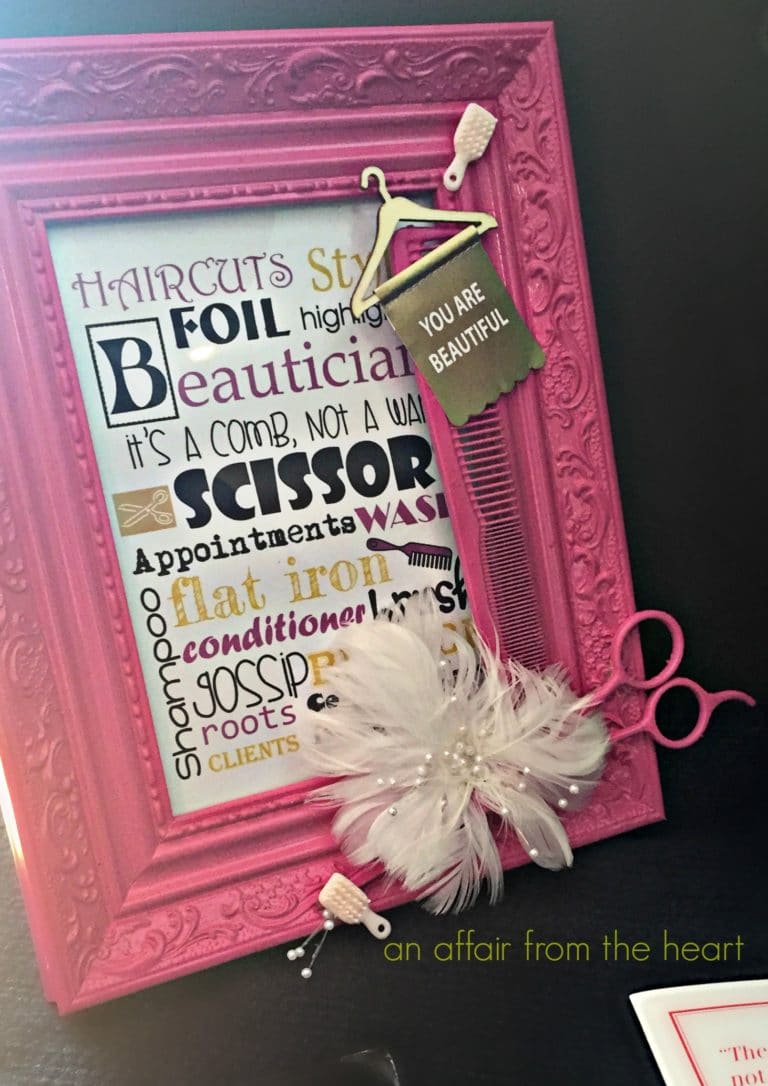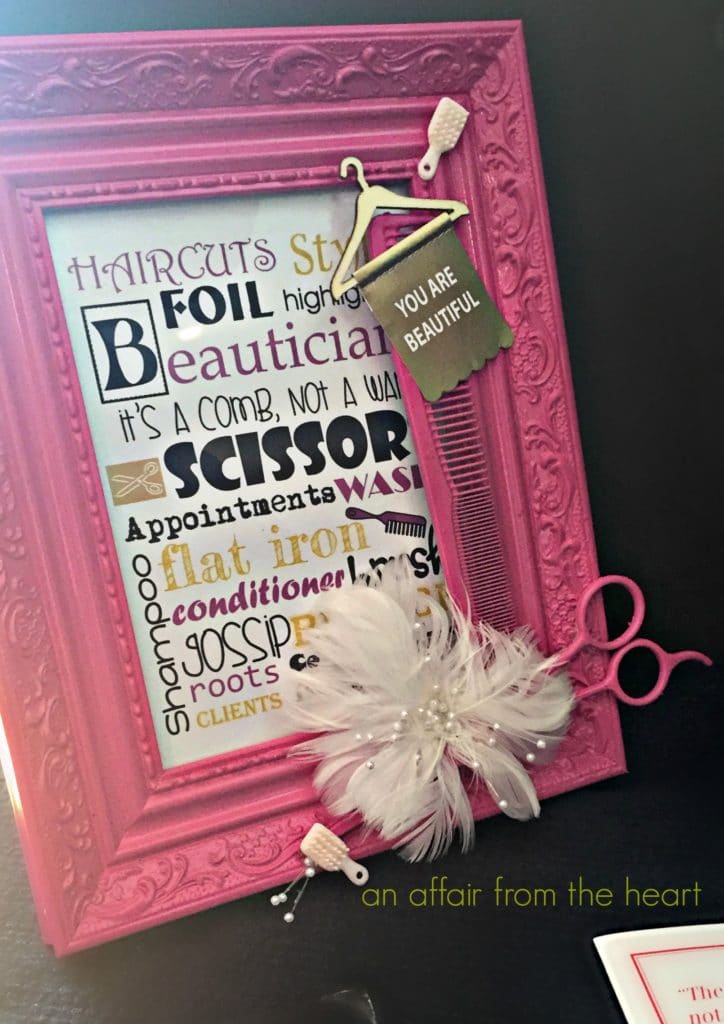 We also added this super cute frame that she received from my dear friend, Candi, from The Devilish Dish. Yes, you guessed it, my daughter is going to Cosmetology & Aesthetics school!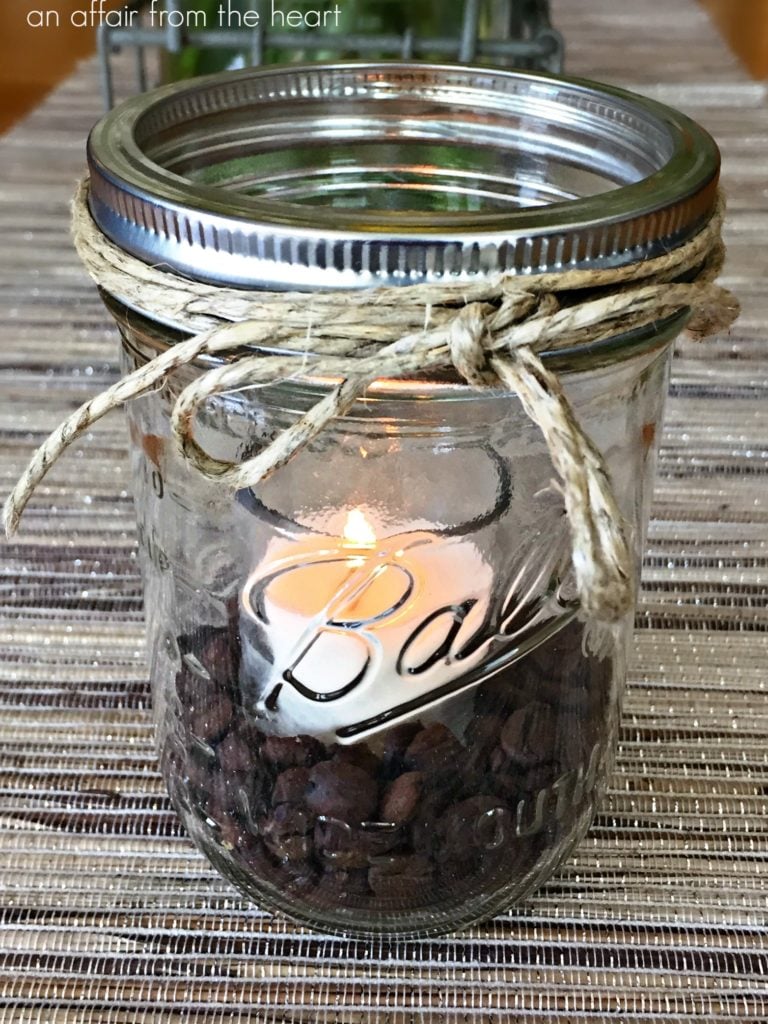 Each table had one of these Mason jar candles in the middle. I used a quart jar, filled the bottom with Butter Pecan flavored coffee beans and popped in a glass votive candle that I found at Hobby Lobby. I wrapped twine around the top and tied it in a bow. The warmth from the candle inside made the coffee beans give off an amazing aroma!
The Menu:
We ordered pasta from Big Fred's in Omaha. They made both Alfredo and marinara pastas, their house salad with all of the fixings, I had Italian meatballs and her favorite Hawaiian Rolls. I didn't take a picture of that part. But all of the plates and napkins were Tiffany blue, her favorite color. Just because it's graduation, doesn't mean you can't just use their favorite color instead, right?
Bring on the desserts! We kind of did a play "Oprah's Favorite Things," and did all of her favorites for the dessert table. My dining room table was set with black linens, burlap place mats, tin buckets for the silverware, and all of her favorites!
We had Chocolate chip cookies, her Grandma's rice krispy treats, and strawberry shortcake trifle!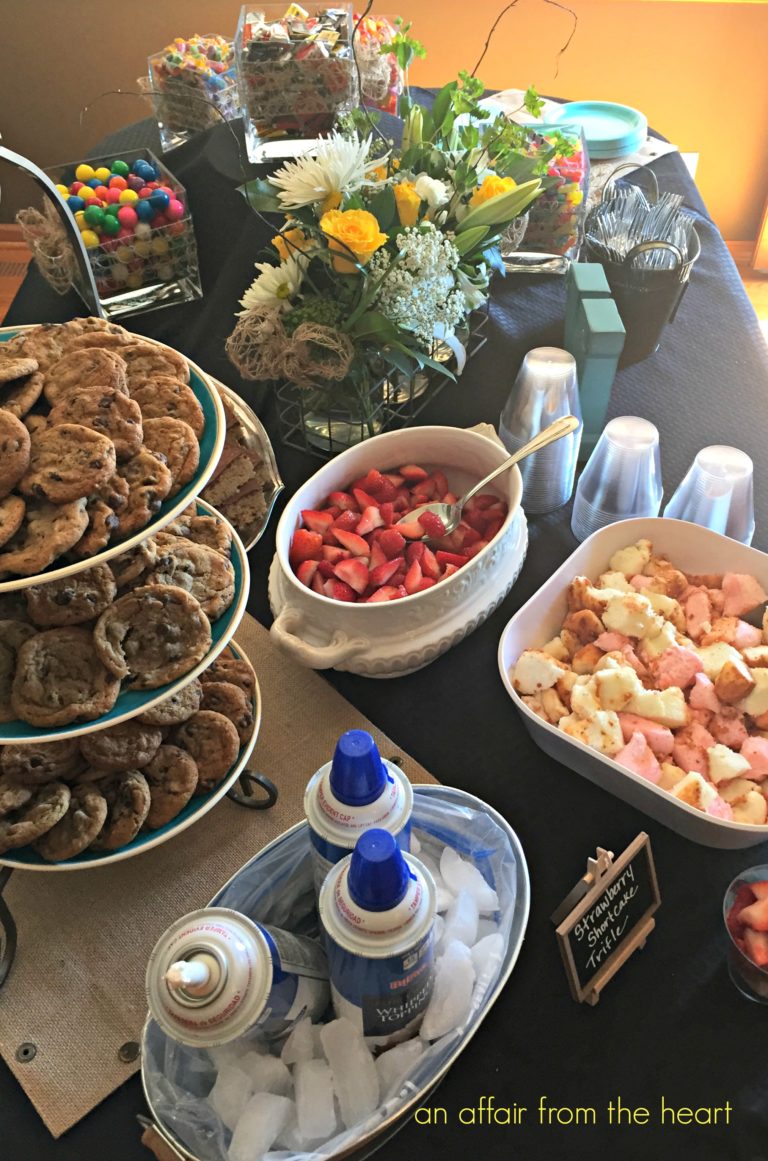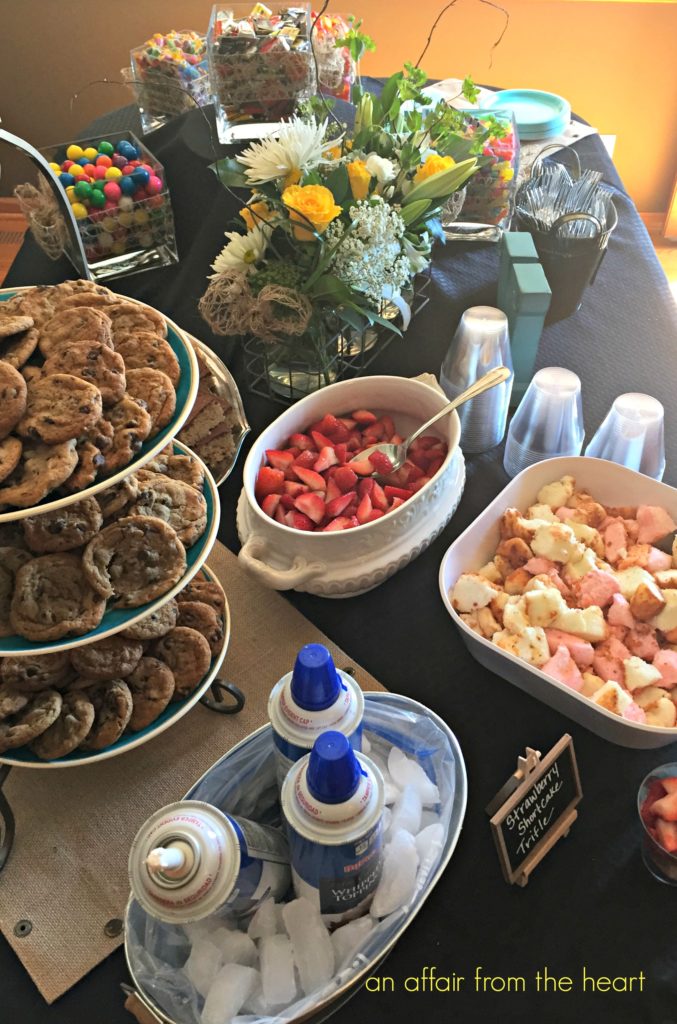 She also wanted a candy bar, with her favorite candies. It was fun to watch the kids load up their pockets with gumballs, jolly ranchers, sour patch kids, Hershey's miniature and starbursts. I ordered all of the candy in bulk on Amazon.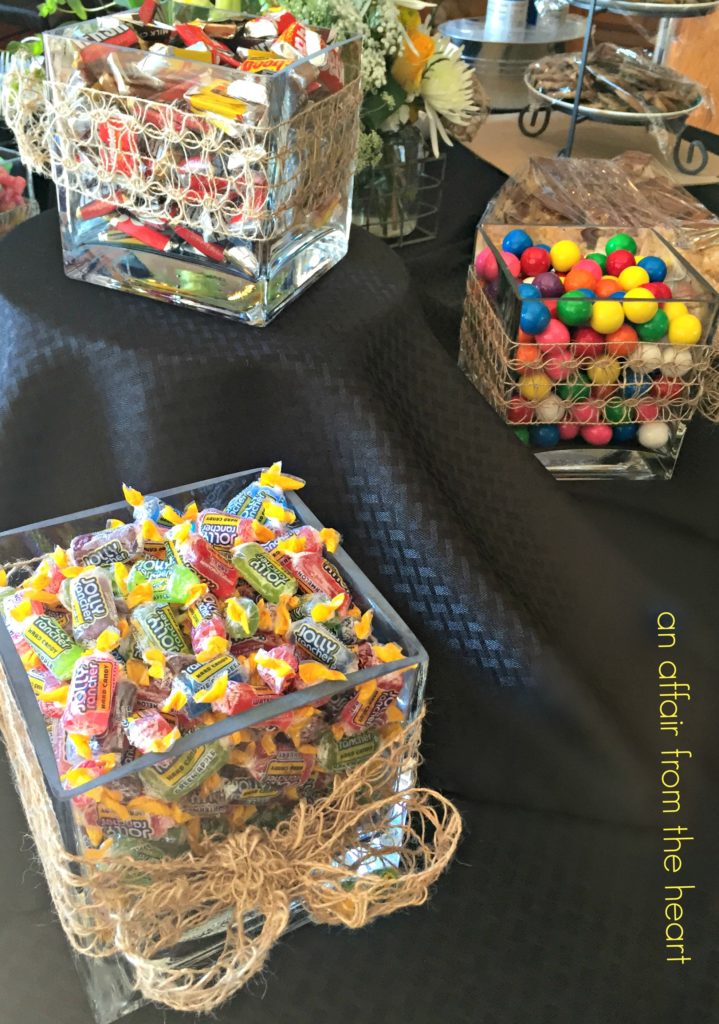 I used my big 6'x6′ vases that I bought to make the Peep Centerpieces and I also used them for my Floating Lily Centerpieces for my in-laws 50th wedding anniversary. I wrapped them in the same ribbon I used for the Mason flower vases. I tied big bows and added the candy. I layered two table clothes that were the same to add a height to the table, putting a couple things underneath to prop up some of the items.
The hits of the dessert table though were the individual Strawberry Shortcake Trifles! I made these last year for her boyfriend's party, and they were very well received. She decided she wanted them, too!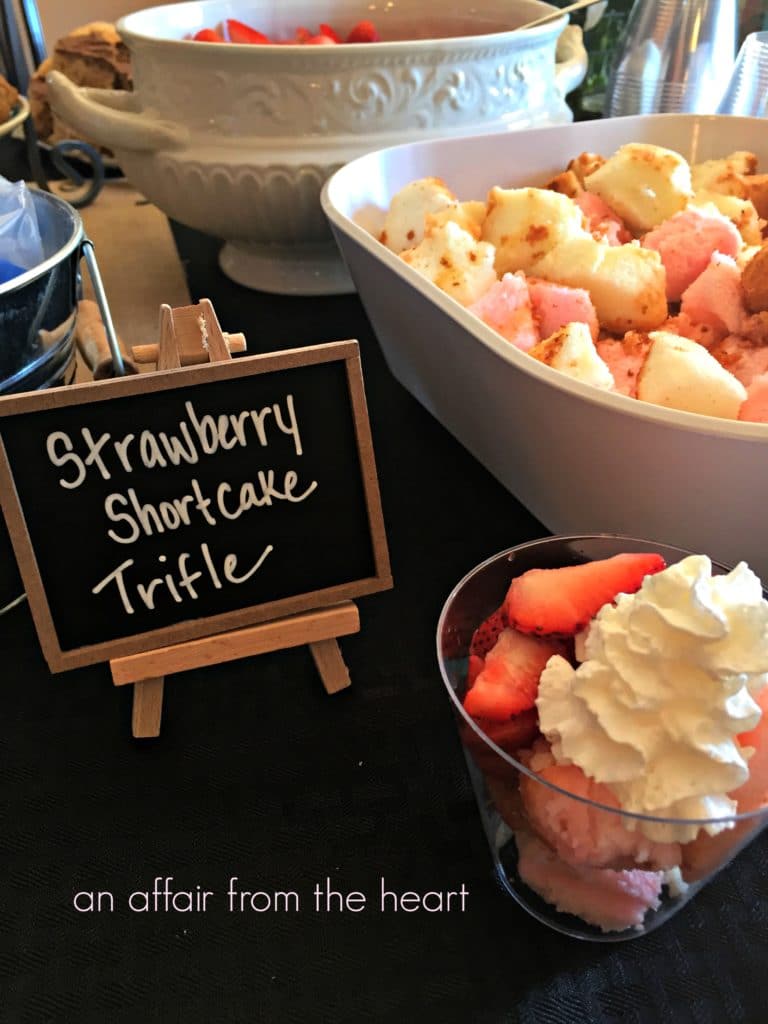 I made both plain white angel food cake and my pink angel food cake. I cut them into bite sized cubes, and placed them in a bowl. Along side are your strawberries, and then cans of whipped cream in a tin bucket full of ice. I purchased the small clear beverage glasses, and layered the cake, strawberries and whipped cream. They were super cute, and a huge hit with the guests!
Have someone helping make them, or let them be self serve, it's your choice, just know that you will go through LOTS of whipped cream if it's self serve!
Here is my daughter, the guest of honor, peeking from behind the lemonade!
I hope you enjoyed the peek into the party!
Here are a couple of candid photos from some of the guests, you can see that Mother Nature blessed us with a beautiful day!
My kids with their babysitter when they were growing up. Posing with her hubby and her daughter.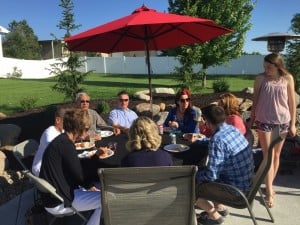 Outdoor seating even required some sun umbrellas! A welcome change from the rain ones we had needed the week prior!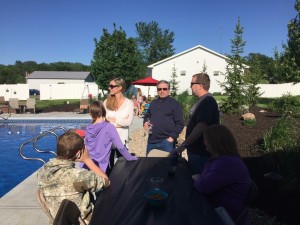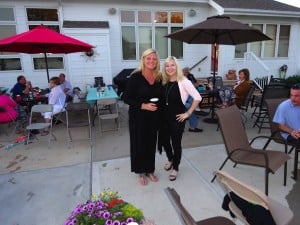 My sis came from California to share the day with us!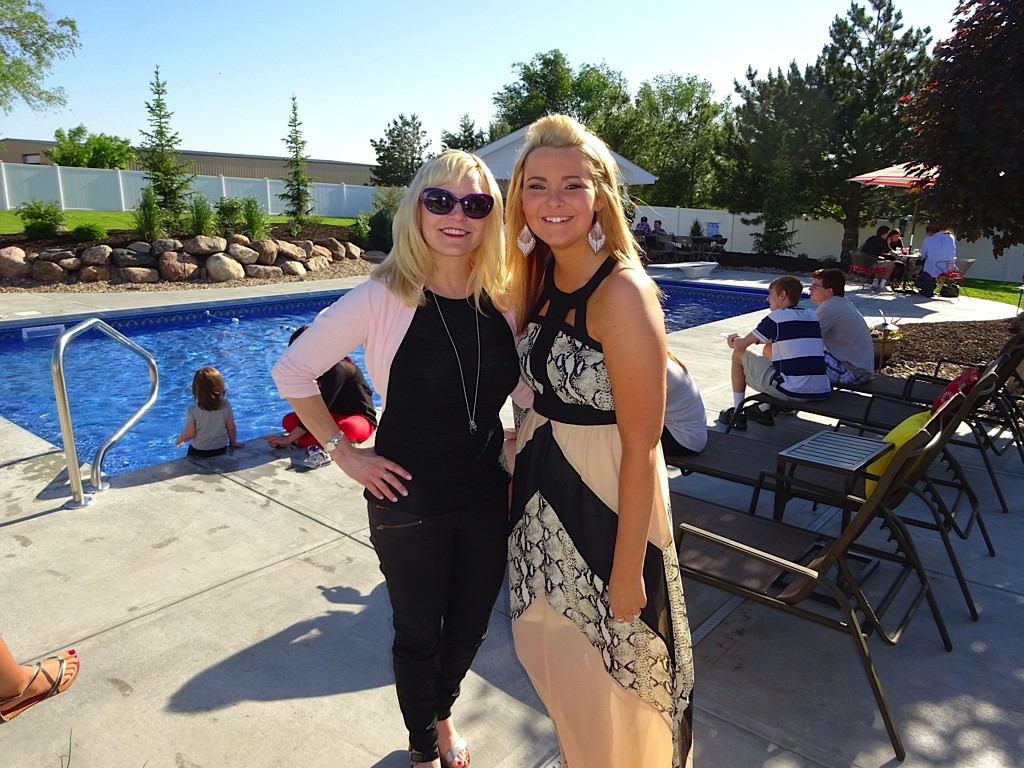 All smiles with her God-Mother!
She has always been a Daddy's girl!
Enjoying some time (and a cocktail!) with some of my family when the night settled down.
I think it was a success – but boy was I tired. ( For like a WEEK!!)
I have 6 years before I plan another one of these – I need to rest up!