Pickled Beet Salad with Pears, Walnuts & Goat Cheese
As an Amazon Associate and member of other affiliate programs, I earn from qualifying purchases.
Spring mixed greens with pickled beets, pears, walnuts & goat cheese drizzled with a homemade sweet red wine vinaigrette dressing.
This is a sponsored conversation written by me on behalf of Paisley Farms, but the opinions are all my own. Thank you for supporting the companies and products that make An Affair from the Heart possible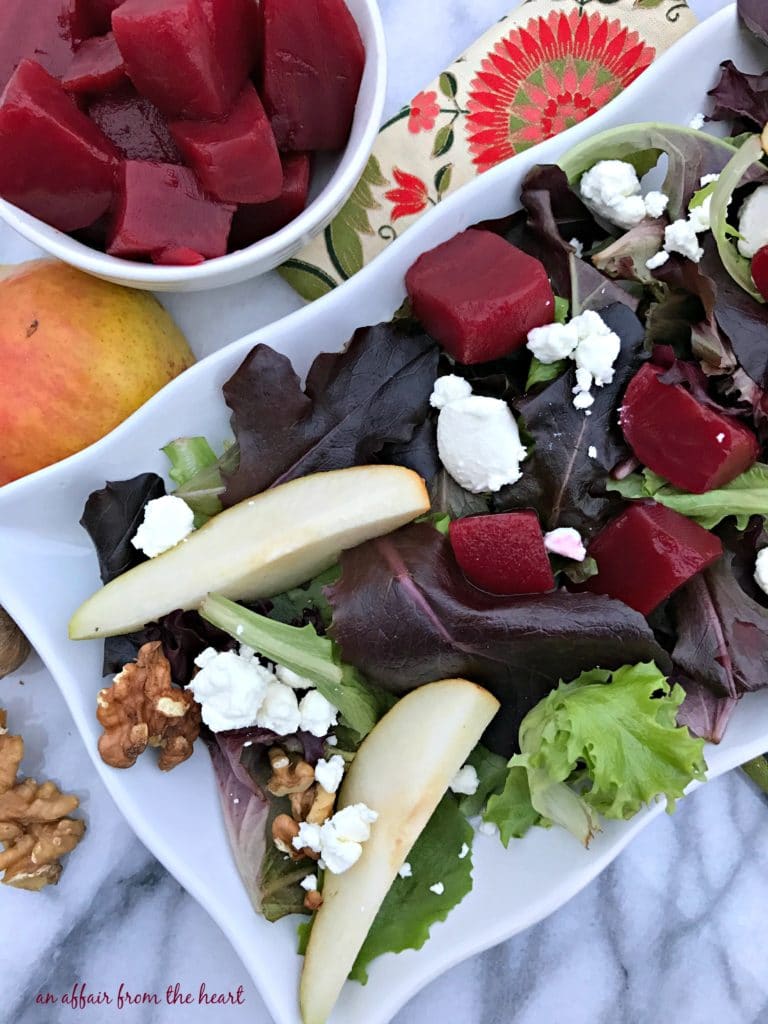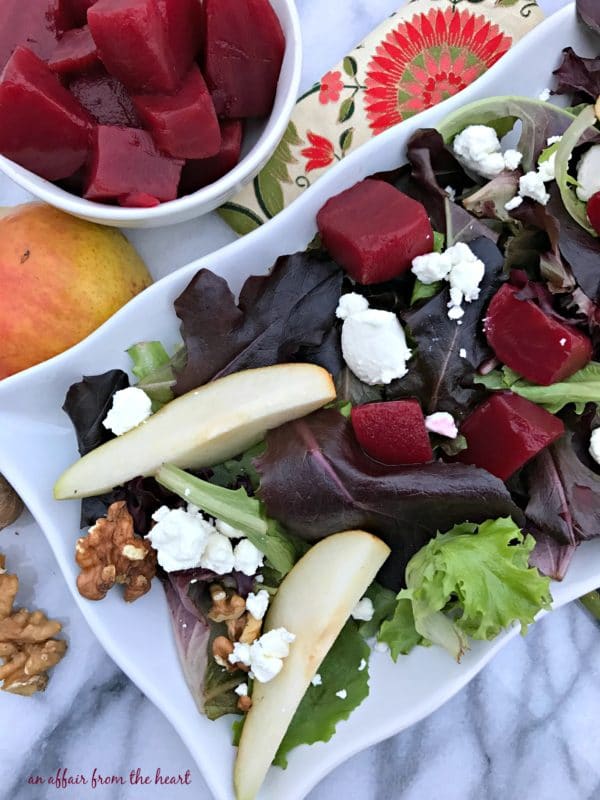 Eating in color.
There is just something more satisfying to look down at your plate and see a wide array of colors, isn't there?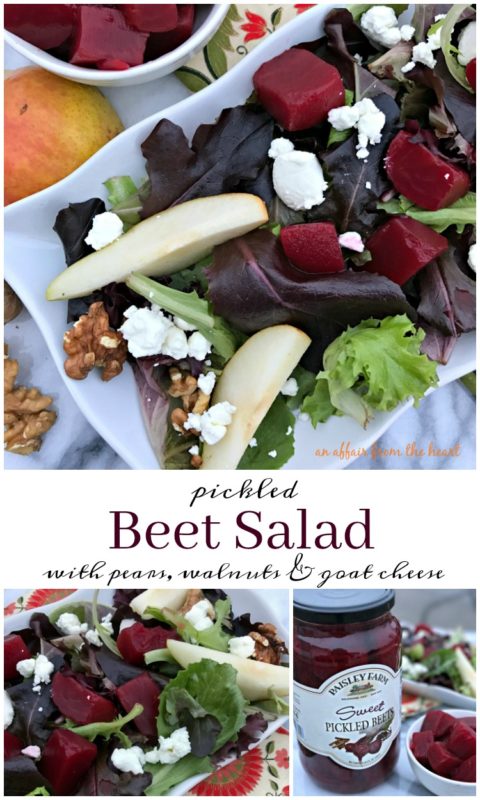 Even better, the likelihood of what you are about to consume being a whole heckuvalot better for you when you're seeing a plateful of color is really good.
Winter. Ugh. Cold and grey and pretty much good for nothing. Am I right?
As happy as I am to consume a nice comforting meal in the wintertime, every once in a while a girl just needs a salad! I mean, as fast as time flies by, it'll be swimsuit season before you know it, so we can't live like bears the whole winter!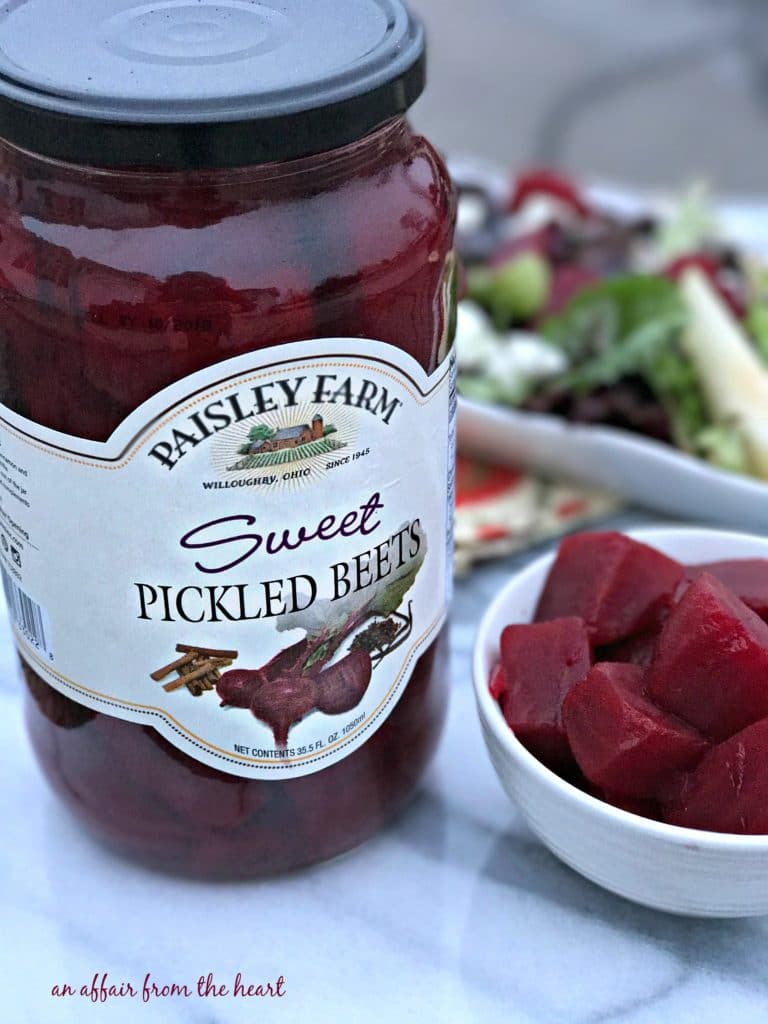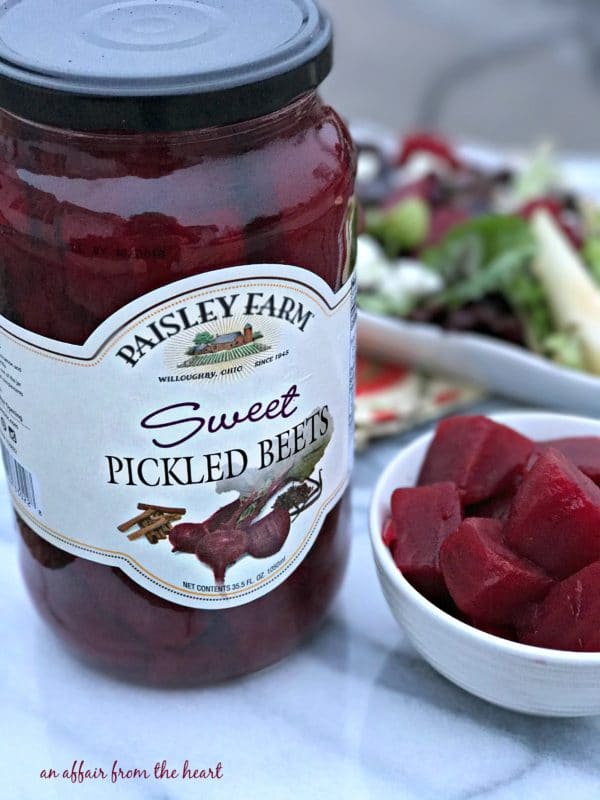 I have, once again, partnered with my good friends at Paisley Farm, to feature a new recipe using their Sweet Pickled Beets. Remember last month, I shared the recipe for the Chocolate Beet Cake? It's rich and chocolaty flavor was perfect for the holidays. I told you we would save the salads until January – – and I am one to keep my promises.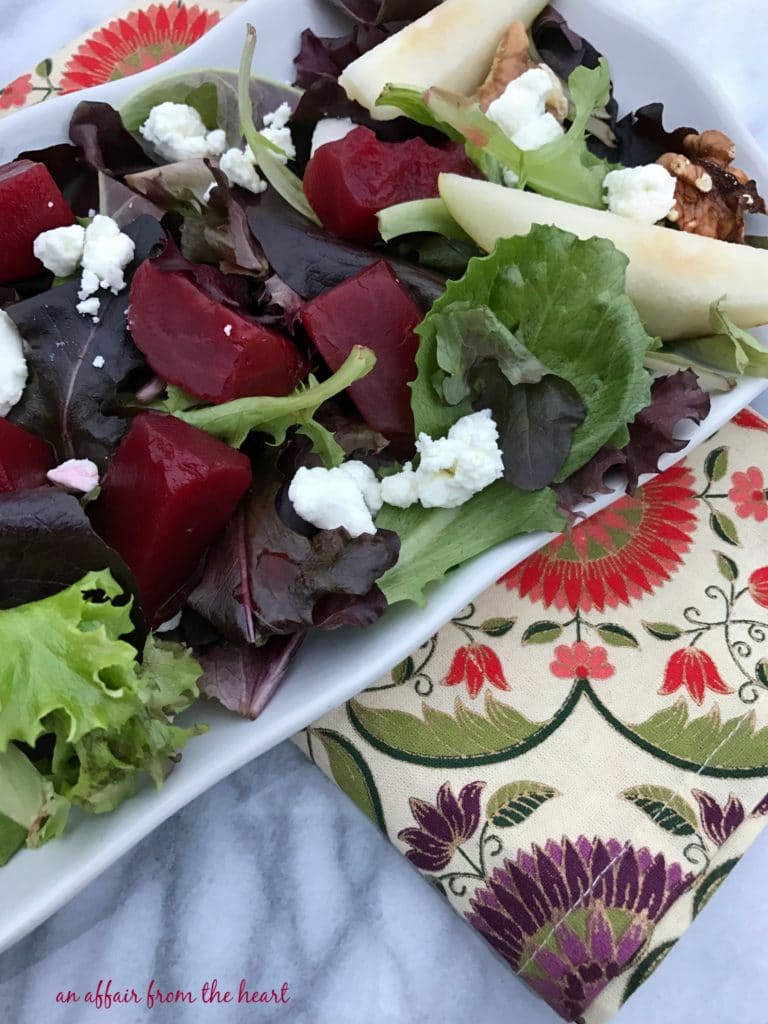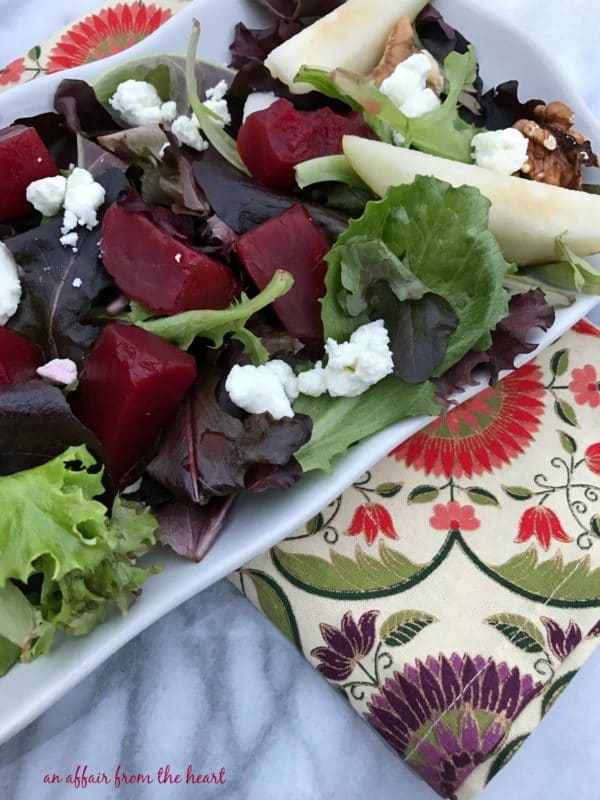 To say that beets are "good for you" is quite an understatement.
"Beets are high in immune-boosting vitamin C, fiber, and essential minerals like potassium (essential for healthy nerve and muscle function) and manganese (which is good for your bones, liver, kidneys, and pancreas). Beets also contain the B vitamin folate, which helps reduce the risk of birth defects. The betalin pigments in beets support your body's Phase 2 detoxification process, which is when broken down toxins are bound to other molecules so they can be excreted from your body. Traditionally, beets are valued for their support in detoxification and helping to purify your blood and your liver. The powerful phytonutrients that give beets their deep crimson color may even help to ward off cancer. " source: Mercola
Adding these Sweet Pickled Beets to a salad, couldn't be simpler. They are perfectly sweetened with just a hint of cinnamon. The salad started with an organic spring mix of greens, I topped it with the Paisley Farms Sweet Pickled Beets, half of a pear, some toasted walnuts and a sprinkling of goat cheese. I topped it with a homemade dressing that was so quick to whip up; a couple of basic spices, a little olive oil, red wine vinegar and honey. If you wanted to add some more protein, I think a little grilled chicken would be a nice addition.
If you haven't heard of Paisley Farm Foods, you really need to pop over and check out their website. Their mission is to make fresh vegetables readily available in your kitchen.
"Paisley Farm has been putting smiles on faces since 1945. Our recipe for success is simple: work with fresh vegetables, uniquely combined to deliver flavor on demand. Our products are there for you, at your fingertips, just when you need them, to prepare meals for your family. From side dishes and appetizers to garnishes, dips, non-GMO, organic ketchup and our legendary bean salads, Paisley Farm has a complete line of vegetable products to complement your culinary imagination and make every meal memorable. From farm to jar to you, that's the Paisley Promise. " – Paisley Farm Foods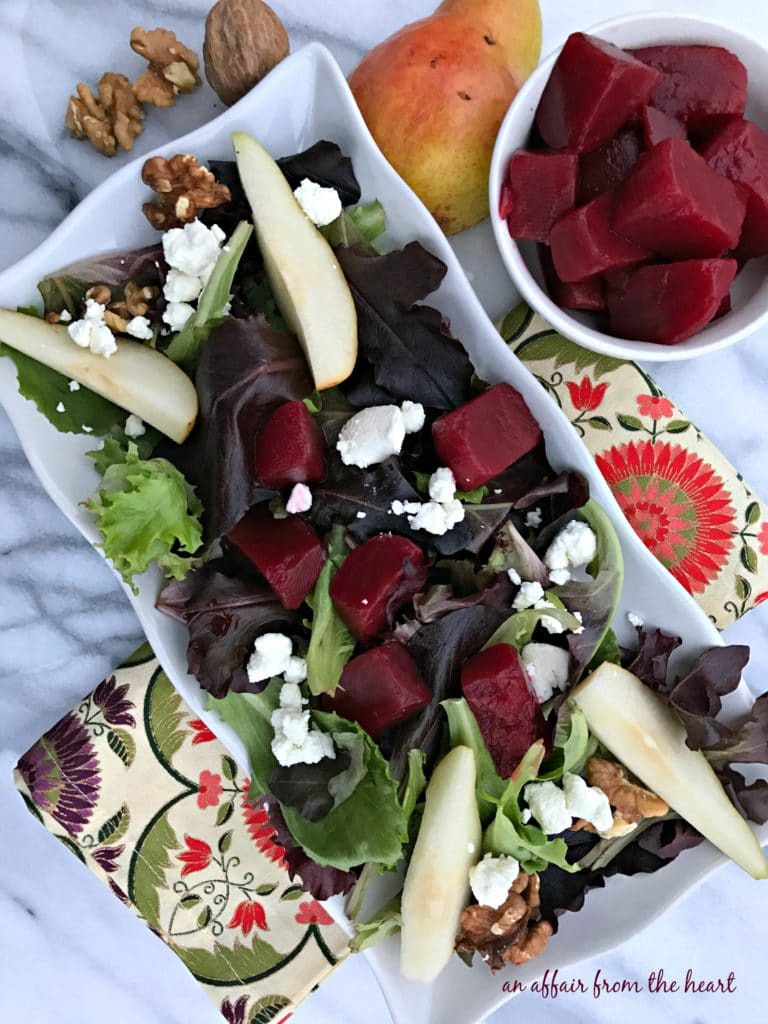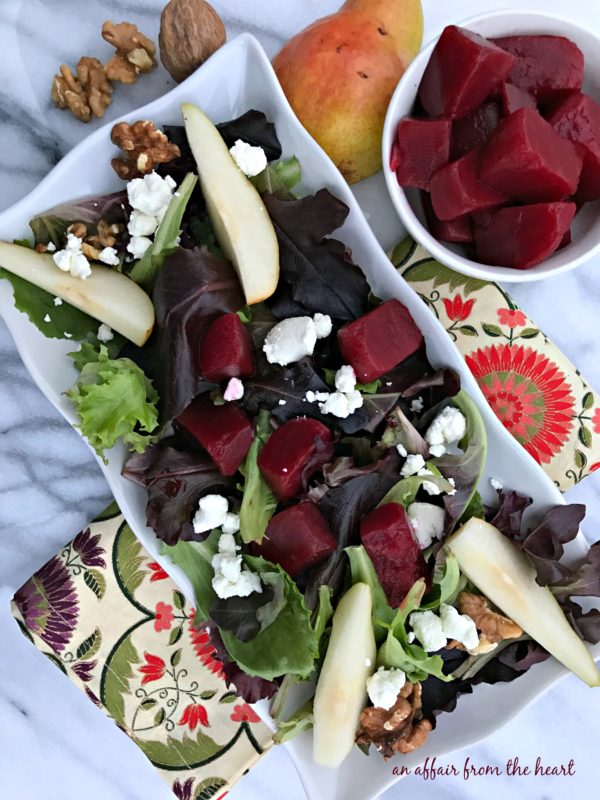 Let's get to that recipe, shall we?
Yield: 2 dinner salads
Pickled Beet Salad with Pears, Walnuts & Goat Cheese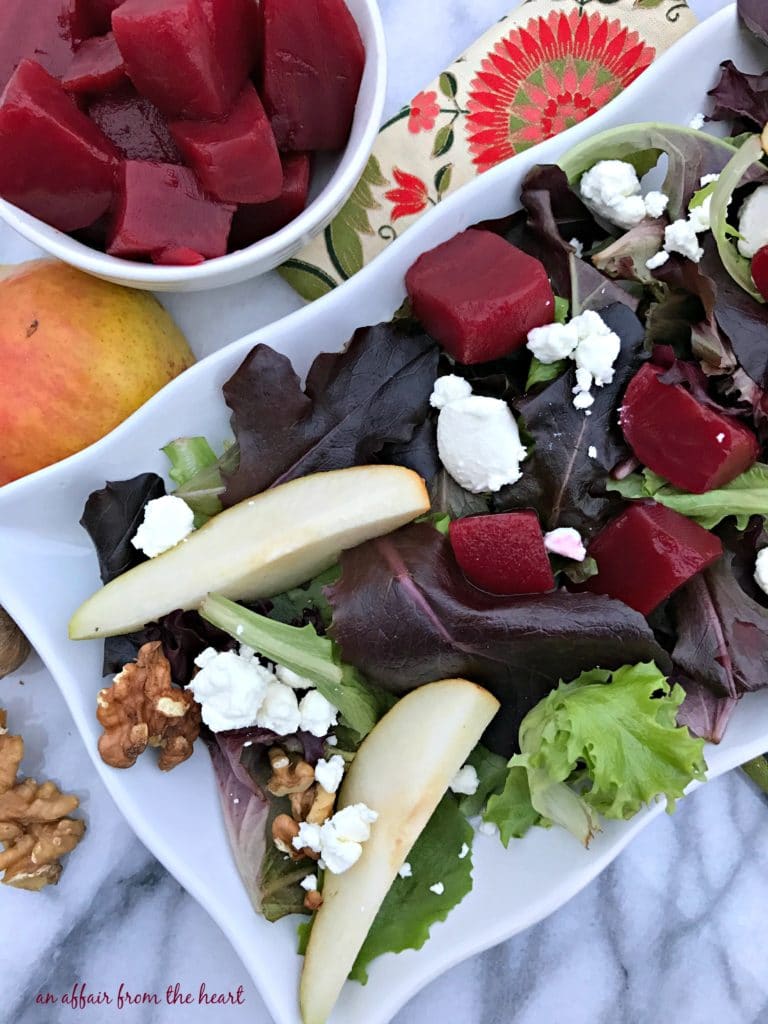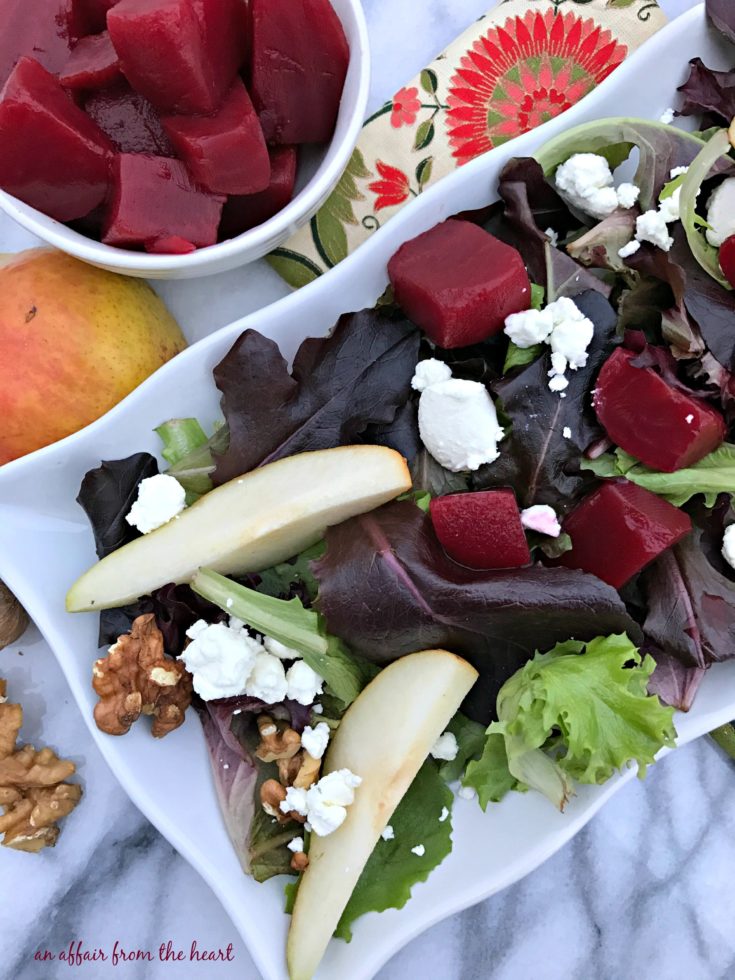 Spring mixed greens with pickled beets, pears, walnuts & goat cheese drizzled with a homemade sweet red wine vinaigrette dressing.
Ingredients
About 4 healthy handfuls of Organic Spring Mix greens
1/2 cup crumbled goat cheese
1/2 cup toasted walnuts, chopped
1 pear, sliced
1/2 cup Paisley Farms Sweet Pickled Beets, drrained
[i]For the Dressing:[/i]
1/4 cup olive oil
1 clove garlic, minced
1 Tablespoon raw honey
2 Tablespoons red wine vinegar
Salt & Pepper, to taste
Instructions
Prepare the dressing by placing the contents in a jar with a lid. Shake until combined. Set aside.
Divide the greens evenly onto two plates, divide the beets, pears, walnuts and goat cheese and place on top of the greens.
Top with dressing. Serve.
Nutrition Information:
Yield:
2
Serving Size:
1
Amount Per Serving:
Calories:

779
Total Fat:

59g
Saturated Fat:

14g
Trans Fat:

0g
Unsaturated Fat:

43g
Cholesterol:

26mg
Sodium:

633mg
Carbohydrates:

51g
Fiber:

8g
Sugar:

32g
Protein:

19g
Nutrition isn't always accurate.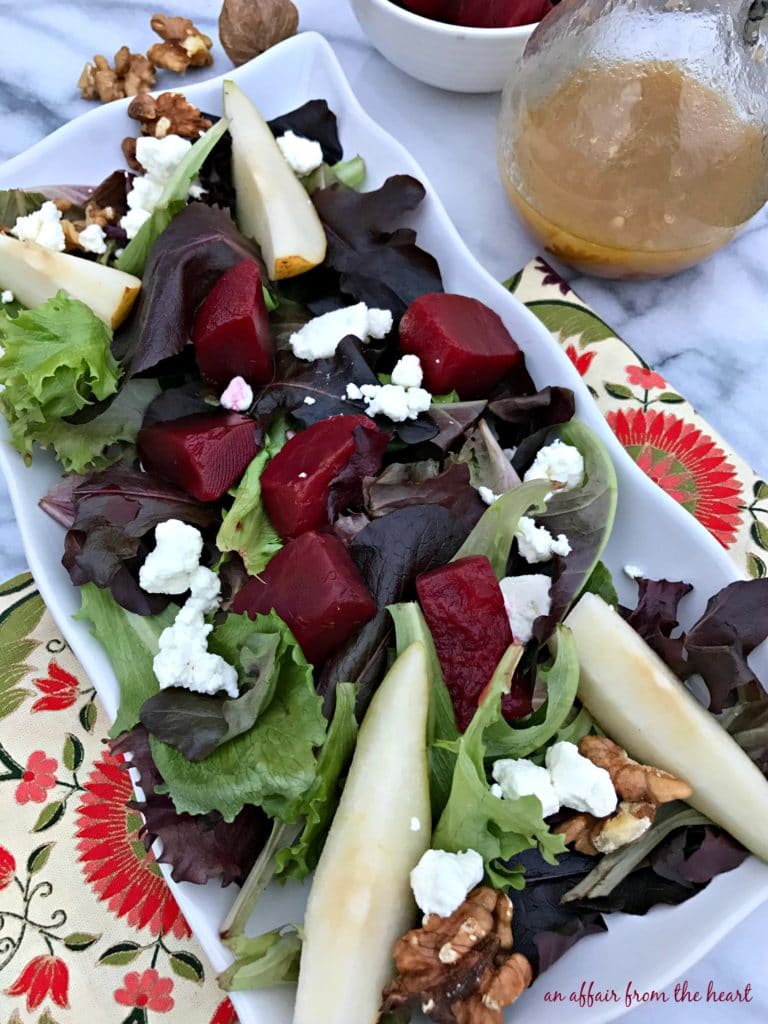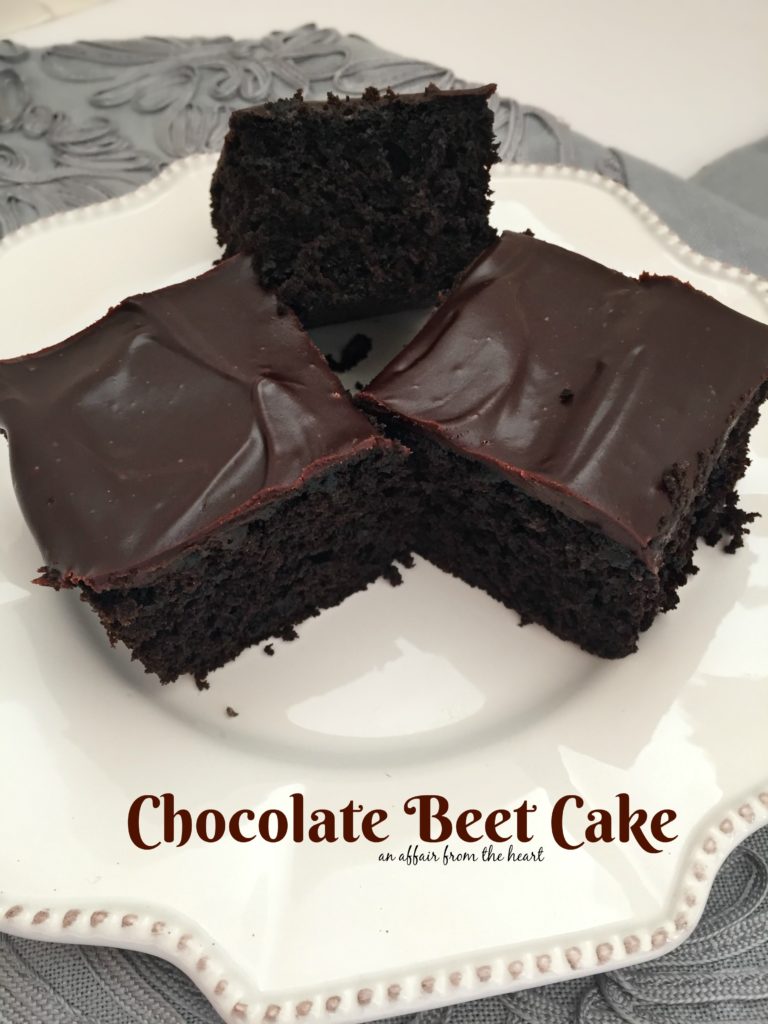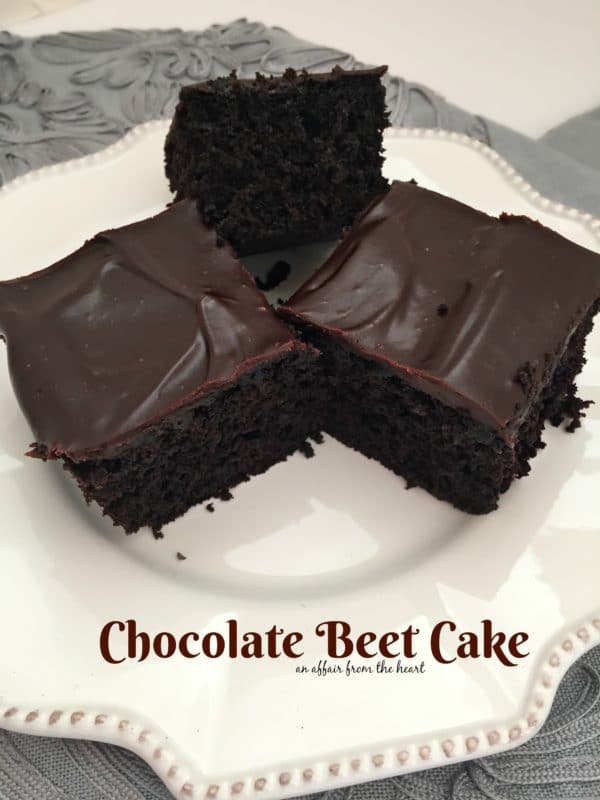 Check out Paisley Farms website for recipes, products and store locations.