Valentine Dessert Cheese Board with Red Velvet Heart Shaped Cheese Ball
As an Amazon Associate and member of other affiliate programs, I earn from qualifying purchases.
This Valentine Dessert Cheese Board has a heart shaped red velvet cheese ball and assorted fruits, cheeses and sweets to share with your special someone.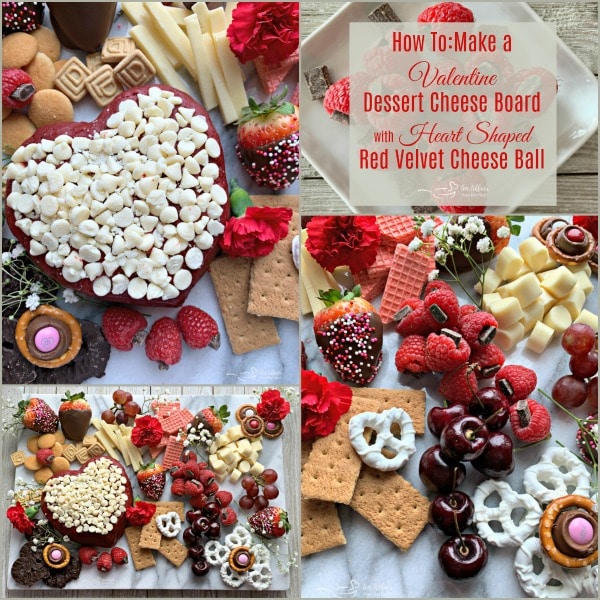 This Valentine Inspired Dessert Cheese Board is my first Dessert Cheese Board to hit my blog. What better time than for Valentine's Day?
Whether you are snuggled up with that someone special, having game night with the family, or maybe even having a Galentine's Day get together with your favorite gal-pals, this cheese board is perfect. Snack time, happy hour, wine time, dessert, its super versatile, and easily adaptable to your tastes and the company you are keeping at the time.
The center-piece of this sweet cheeseboard is most certainly this heart shaped red velvet cheeseball.
Of course, if you have happened upon this post, and it's NOT Valentine's Day — you can make a traditional cheese ball. Whatever you do, just make the cheese ball! It's like red velvet cheesecake, all dressed up with white chocolate chips. Serve it with graham crackers, vanilla wafers or shortbread cookies. Or eat it with a spoon. No judgment here.
SOME OF THE ITEMS BELOW CONTAIN AFFILIATE LINKS; I AM A PARTICIPANT IN THE AMAZON SERVICES LLC ASSOCIATES PROGRAM, AN AFFILIATE ADVERTISING PROGRAM DESIGNED TO PROVIDE A MEANS FOR US TO EARN FEES BY LINKING TO AMAZON.COM AND AFFILIATED SITES. I AM ALSO AN AFFILIATE FOR OTHER BRANDS. HOWEVER, I ONLY PROMOTE THINGS THAT I LOVE AND THINK YOU WILL LOVE, TOO. FOR MY ENTIRE DISCLOSURE POLICY PLEASE

CLICK HERE

.
For many years, when my kids were younger and most of my friends were stay at home moms, I held a Valentine brunch every year. It was one of my favorite things to host every year.
It was always full of good food, and good friends. One year I had a "Spicy Valentine's Luncheon" and we drank margaritas and ate Mexican food. One year, everyone came for brunch and we all wore pajamas! I think that year was my favorite. You can see those old posts in my Valentine archives.
As the years wore on, and so many of my friends went back to work, it got harder and harder to have a brunch. Then we started visiting my in laws in San Diego over Valentine's Day, because our kids always had time off from school. I haven't had one for a long time.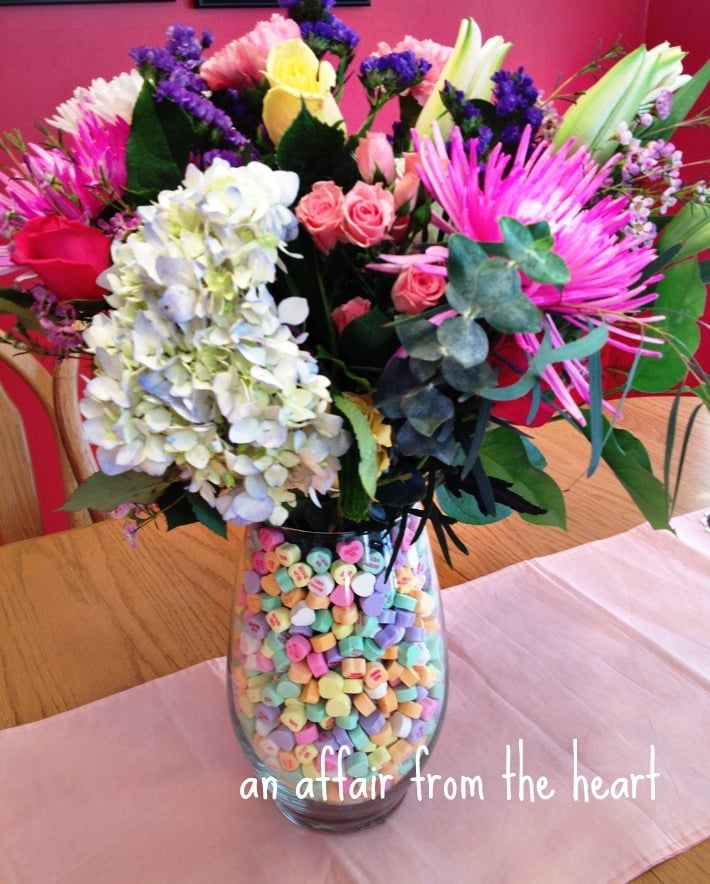 I have been considering starting it over this year? I know it's hard to have a luncheon, but I am pretty sure they would be game for happy hour!! Don't you think that this dessert cheese board would be well received?
Like I mentioned, you can easily adapt the cheese board to your likings. You can make a large one for a bigger crowd, or keep it small or a more intimate gathering. Today I will share some ideas for things that make this a great dessert board. But I welcome you to tell me what you think would be a great contribution.
Dessert Cheese Board Ingredients:
Red Velvet Cheese Ball
Red Fruits like Raspberries, Strawberries, Cherries, Grapes
Cheese like white cheddar, mozzarella, gouda
cookies and crackers like graham crackers, shortbread, vanilla wafers, strawberry sugar cookies
chocolates, brownie bites, chocolate covered pretzels
flowers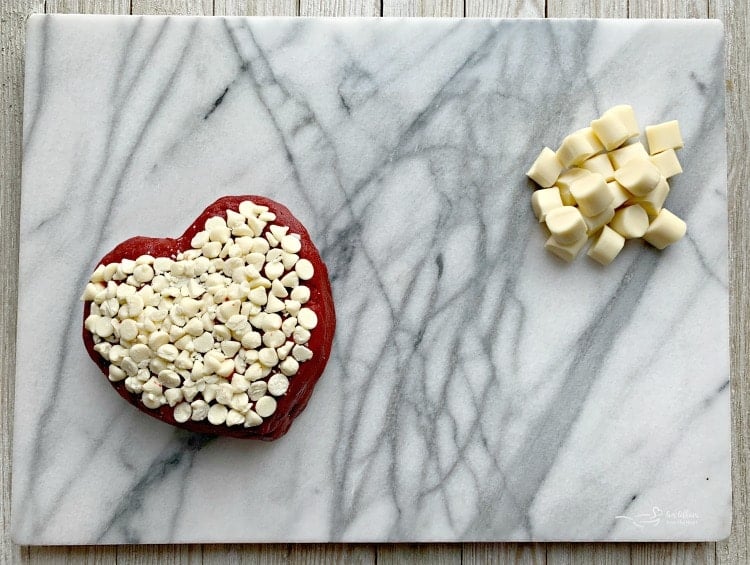 I started with a white marble board. Added my Red Velvet Heart Shaped Cheese Ball, and bite sized pieces of mozzarella string cheese. I decided after the fact to add one more, and cut some white cheddar into "matchstick" slices.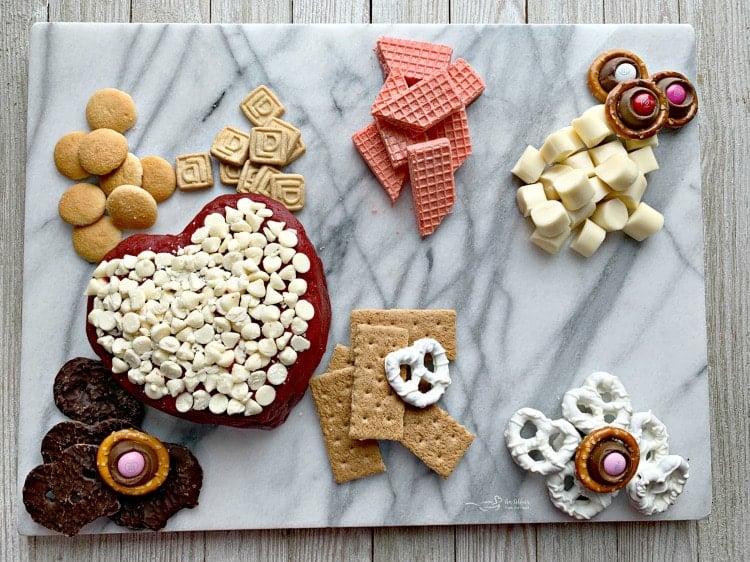 Next up, graham crackers, some mini Lorna Doone Shortbread cookies and vanilla wafers. Next up, I made some little Rolo pretzels, by melting a Rolo candy into a circle pretzel and pushing an M&M into the center. I purchased some Dark Chocolate Dipped Pretzel Chips and some white chocolate dipped pretzels and some pink strawberry wafer cookies that I cut in half. I tried to stick with white, red and pink.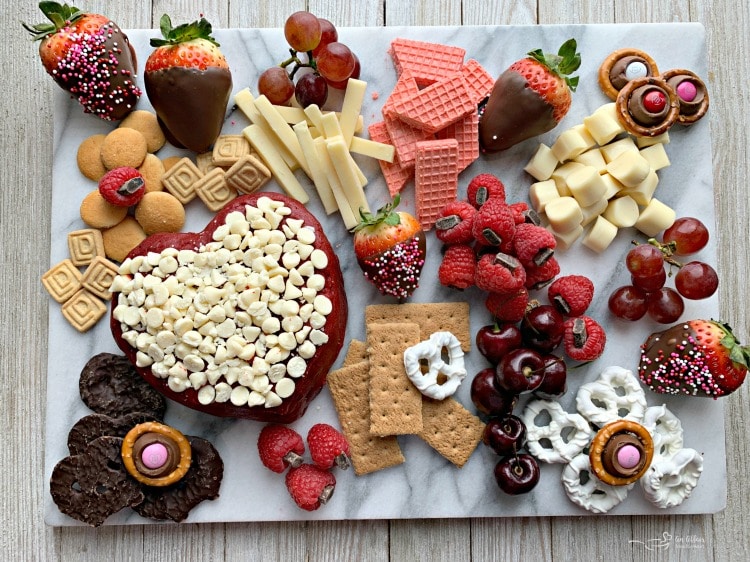 Next I added my fruit. I added some bing cherries, red grapes, chocolate covered strawberries and raspberries stuffed with dark chocolate.
I took some dark chocolate chunks that I bought in the baking section, and stuffed them inside of my raspberries. That flavor, chocolate and raspberries? One of my favorites!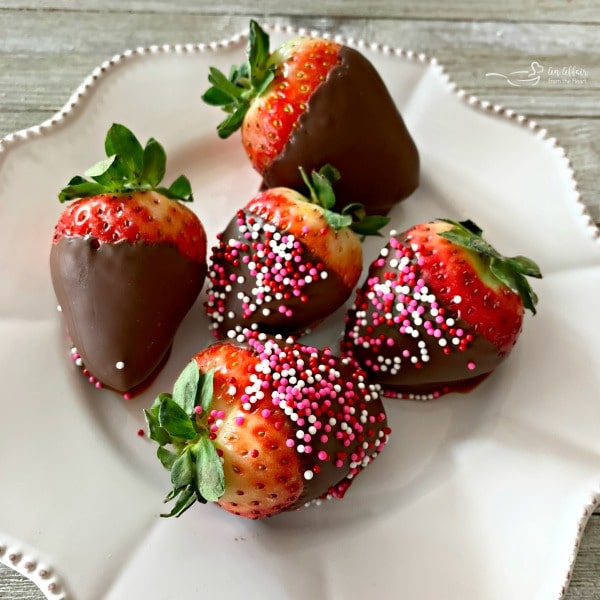 I dipped some strawberries in milk chocolate, and dusted some of them with sprinkles. If you have never chocolate covered strawberries before, you need to try it!! Buying them is so expensive!! Here is a great tutorial on How to Dip Strawberries. Whether you use white chocolate, dark or milk chocolate, they are incredible, and they make such a beautiful presentation.
Want to really take it to the next level? Try these Samoa Strawberries! yum!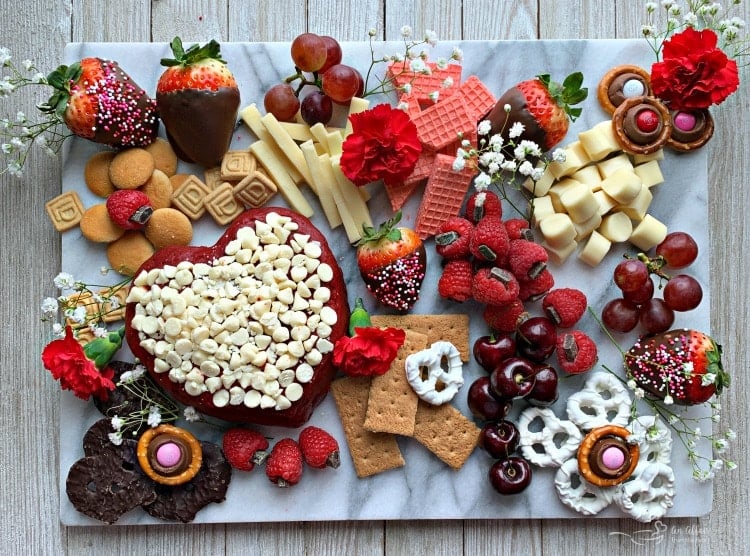 Typically, I like to add fresh herbs to my cheese boards. This time, I thought it would be fun and festive to add flowers. I picked up some red carnations and some white baby's breath. I thought it added a nice touch. Don't you?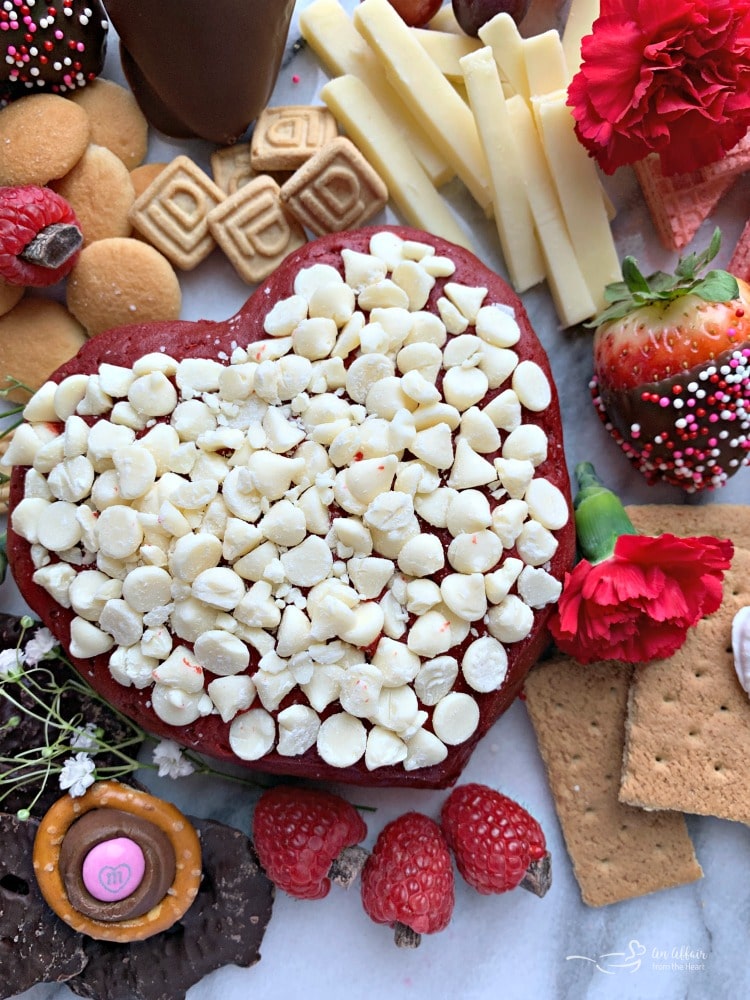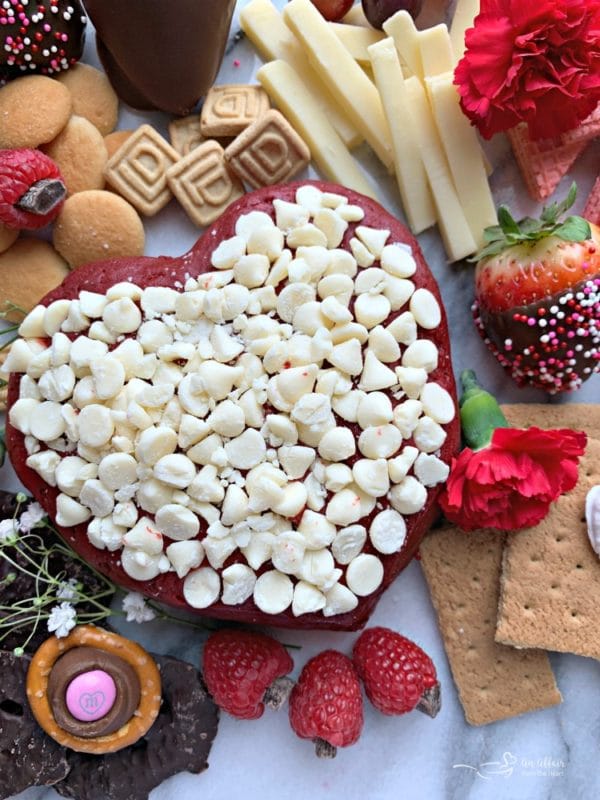 Love Cheese Boards? Here are some other examples of cheese boards I have done for Inspiration: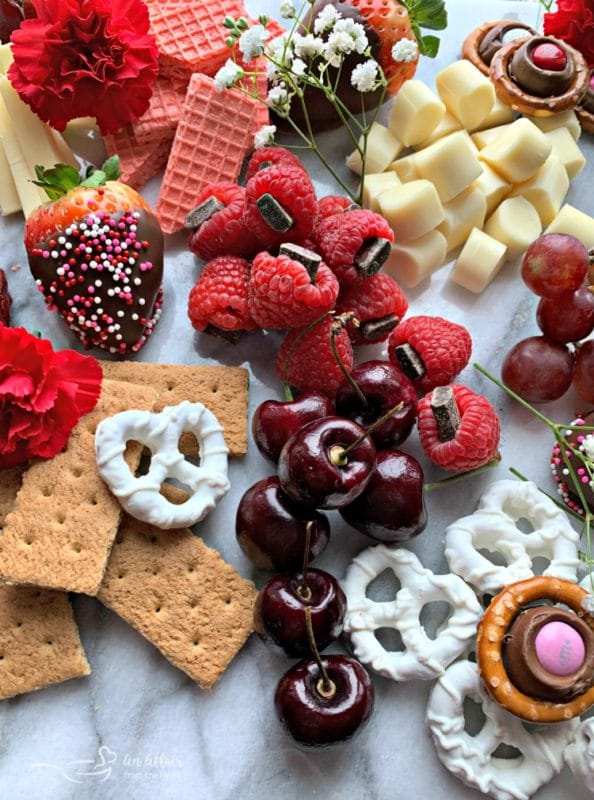 How ever you celebrate — I hope your Valentine's Day is a special one!