Cheesy Cacio e Pepe with Mushrooms is an easy, buttery, pasta dish recipe for two to enjoy! Indulge and treat yourself and a loved one to simple pasta meals for two such as this comforting Italian-style recipe made with a creamy sauce cooked with soft noodles, tender mushrooms, and parmesan cheese. This cheesy pasta will please almost anyone!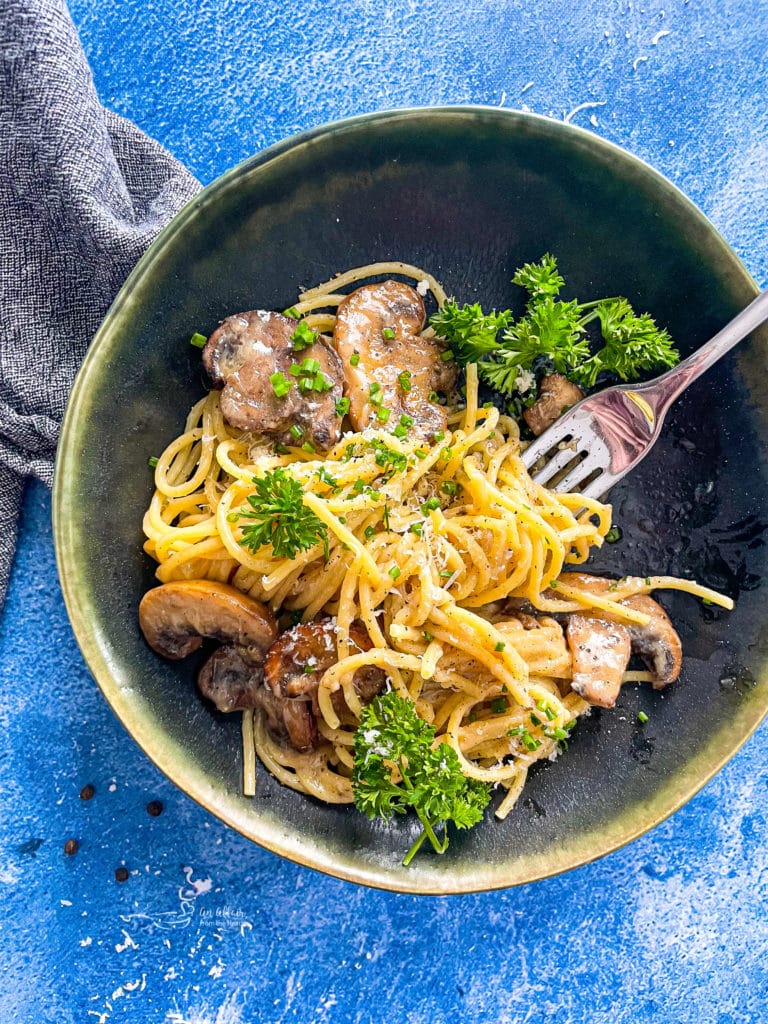 This Cacio e Pepe recipe is a creamy mushroom pasta that is so simple to prepare in about 30 minutes or less. This recipe is one of my favorite pasta meals for two because it is so easy to make and filled with such classic rich flavors! Freshly grated cheese and butter equal perfection especially whenever they are mixed with earthy mushrooms, salt, pepper, and pasta.
If you don't have a whole household to cook for, delicious and simple pasta dishes for two are always winners because the recipes make just enough without all the extra leftovers. We love to enjoy our comfort foods like pasta with other favorites like my Loaded Spinach Salad, Garlic Cheese Asparagus, and Italian Bean Salad. Sometimes we just like to eat this pasta all by itself–it depends on how hungry we are!

Recipes for Two Series
Back in the fall, my husband and I became empty-nesters. I have to say that learning how to cook for two people again has been incredibly challenging for me. I have had kids in my house for 27 years!
So I decided that I would start a series this year with recipes that are just enough for two people. Now, of course, they can be multiplied as many times as you like to cook for a group, or even if you just want to have leftovers! I mean, I still get the opportunity to cook like I am used to for 8-12 on Sundays!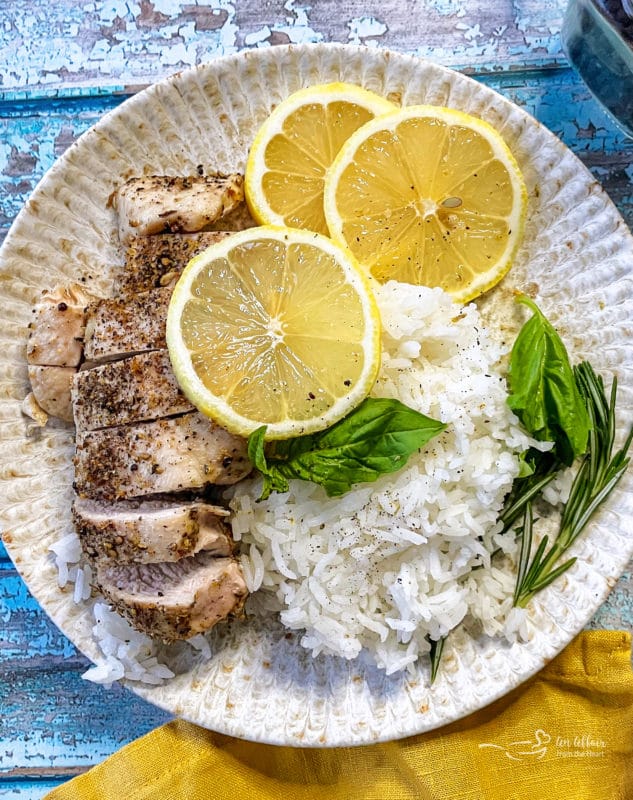 Lemon Pepper Chicken for Two – Made with homemade Lemon Pepper Seasoning
What is Cacio e Pepe?
Cacio e Pepe is a pasta dish that contains a simple mixture of black pepper, cheese like parmesan or pecorino romano, and pasta like spaghetti. This pasta dish translates to "cheese and pepper" and is a classic Roman recipe. Similar to carbonara but a little different!

Why You Will Love This Creamy Mushroom Pasta
Full of Flavor: The mushrooms are perfectly cooked and provide so much flavor to the yummy cheese and pepper flavors! The Cacio e Pepe sauce is buttery and so savory from the cheesy parmesan.
Easy to Make: This Cacio e Pepe with Mushrooms is great for whenever you're looking to have dinner ready within minutes with very simple steps! This simple pasta dish is effortless and so easy.
Versatile: Add or substitute your other favorite vegetables with or without the mushrooms. You can even add your own proteins and noodles, too.
Great for Two: Enjoy this classic Italian pasta dish for date nights at home or on other special occasions. This recipe makes the perfect amount just for two!
Ingredients
Pasta: I like to use spaghetti noodles because they absorb the creamy sauce and are classic for this Cacio e Pepe recipe. You could also try fettuccini or angel hair.
Olive Oil: Silky olive oil is the perfect base for this pasta dish. The olive oil provides just enough extra flavor!
Butter: Unsalted butter is used for the Cacio e Pepe sauce base and allows it to be buttery smooth and creamy.
Mushrooms: Freshly sliced mushrooms are used for this recipe. I like to use portabella or button mushrooms for this recipe but you can use any kind of mushrooms such as Lion's Mane, Morels, Shiitake, Porcini, or Giant Puffballs.
Salt and Pepper: The simple blend of salt and pepper gives this pasta dish its classic flavors and what it's known for.
Parmesan Cheese: Freshly grated parmesan cheese is the best, but other Italian cheese will work for this recipe such as Pecorino Romano, Asiago, or Parmigiano-Reggiano, or even shredded Parmesan.
Garnish: Make this pasta even more delicious by adding fresh chives, chopped parsley, more parmesan, and a drizzle of olive oil. Even a spritz of lemon juice would be yummy!
Variations
Use gnocchi in place of the spaghetti noodles for different yummy flavors. You can use spaghetti squash for a gluten-free version.
Add chicken to this pasta recipe or your favorite cooked fish. You can also add crispy tofu.
Make this dish without mushrooms and leave it as is or use other vegetables like broccoli, tomatoes, or spinach.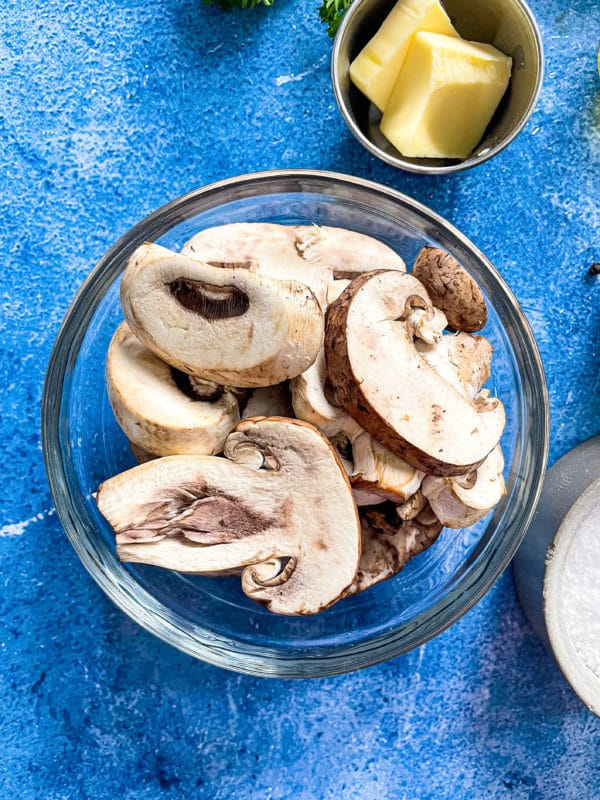 How do you Pronounce Cacio e Pepe?
Cacio e Pepe is pronounced like ca-cho ee pepe or sounds like kaa-chee-ow ee peh-pay when spoken aloud.
How to Make This Pasta Recipe
First, cook the pasta noodles according to the package's instructions. Drain and set the noodles aside while you prepare the sauce.
While the pasta is cooking, heat one tablespoon of olive oil in a large skillet along with one tablespoon of unsalted butter. Add the sliced mushrooms to the skillet and sauté them for four minutes or until they have released some of their moisture.
Salt and pepper the mushrooms to taste. You can add however much you would like!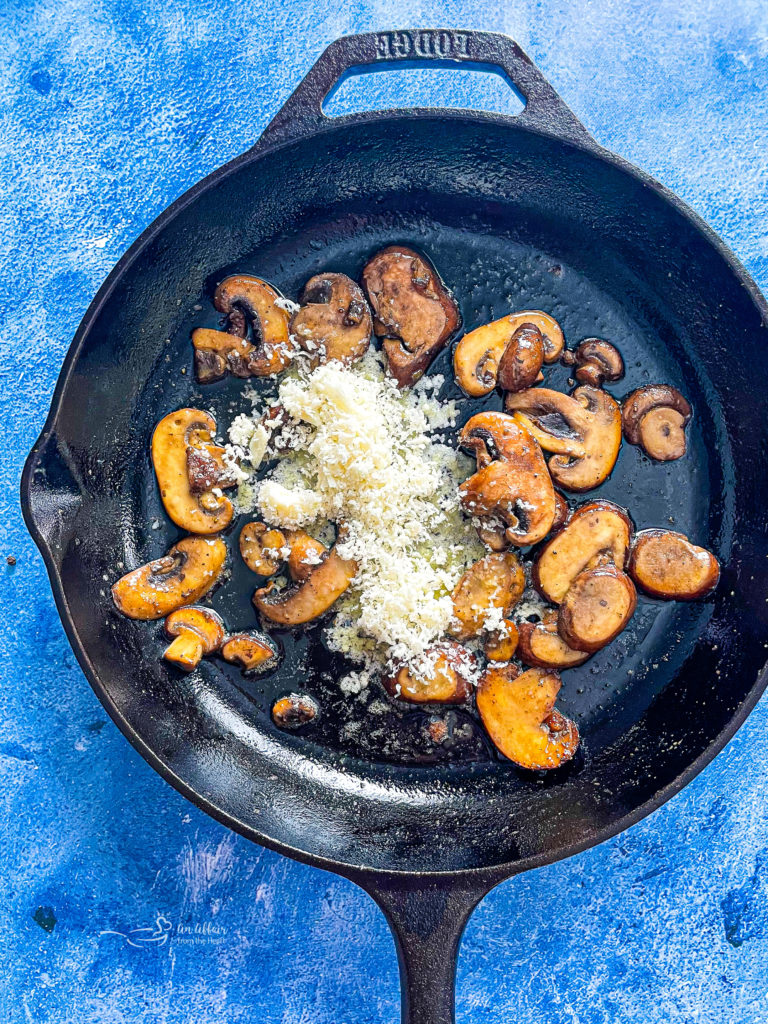 Next, add the remaining olive oil and butter to the mushrooms. Reduce the heat to low and stir in the grated parmesan cheese until fully melted and thoroughly mixed.
Tip: If you find the sauce to be too sticky or thick, add in a bit of the hot pasta water and stir until desired thickness is achieved.
Finally, stir in the cooked pasta until creamy and combined. Drizzle with extra oil, garnish with fresh herbs and serve with extra cheese.
Enjoy while it's warm!
What Wine Pairs Well with Cacio e Pepe?
Mmm, this is a great question! Some of my favorite varieties of wine to serve with classic Italian pasta dishes such as this one include nice reds like Cabernet Sauvignon, Chianti, Pinot Noir or bold white wines like Reisling, buttery Chardonnay, or Pinot Grigio. There are so many delicious options!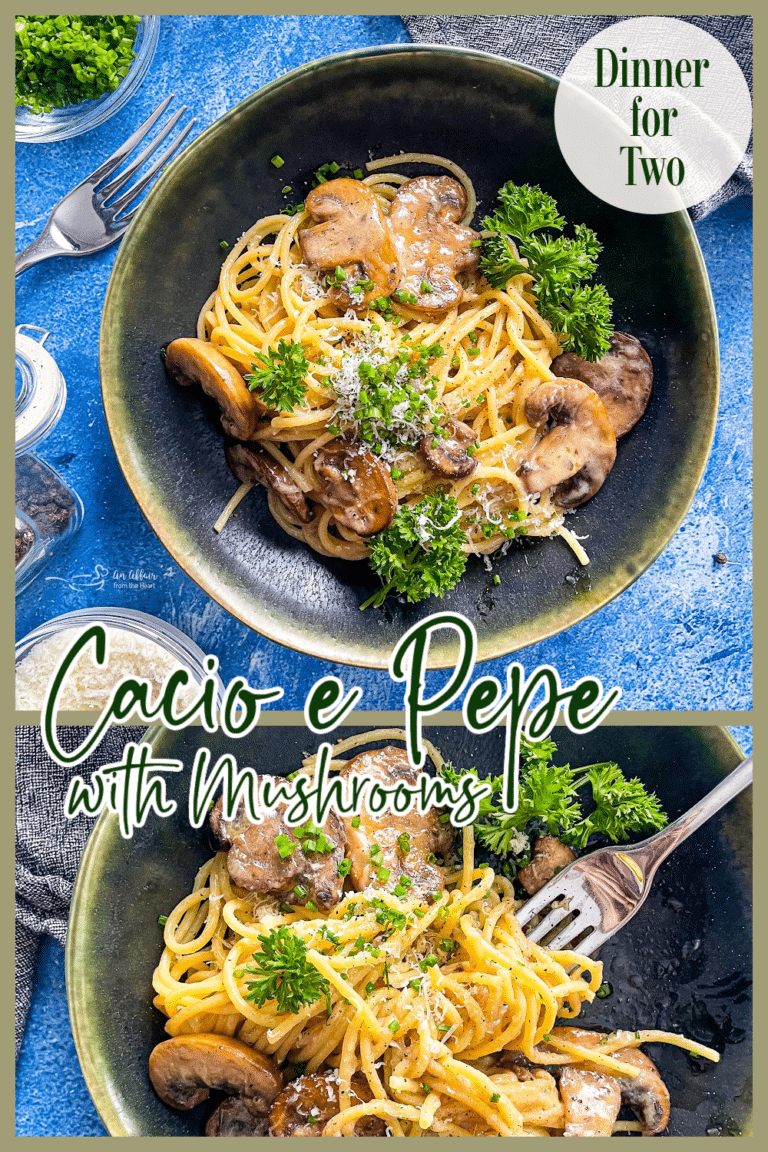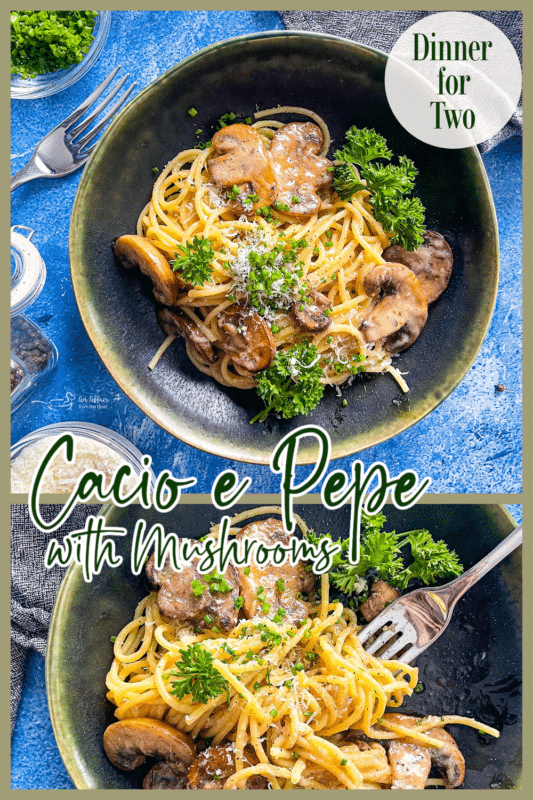 Love it? Be Sure to Pin it!
Save this classic Cacio e Pepe with Mushrooms the next time you're craving a simple pasta meal for two. Add this to your board of pasta dishes for two!
TIPS
Store the leftovers in an airtight container in the refrigerator for four to five days.
Use vegan butter and vegan parmesan for vegan Cacio e Pepe.
Serve with your favorite rolls, buns, or garlic bread.

Other Recipes You Will Enjoy!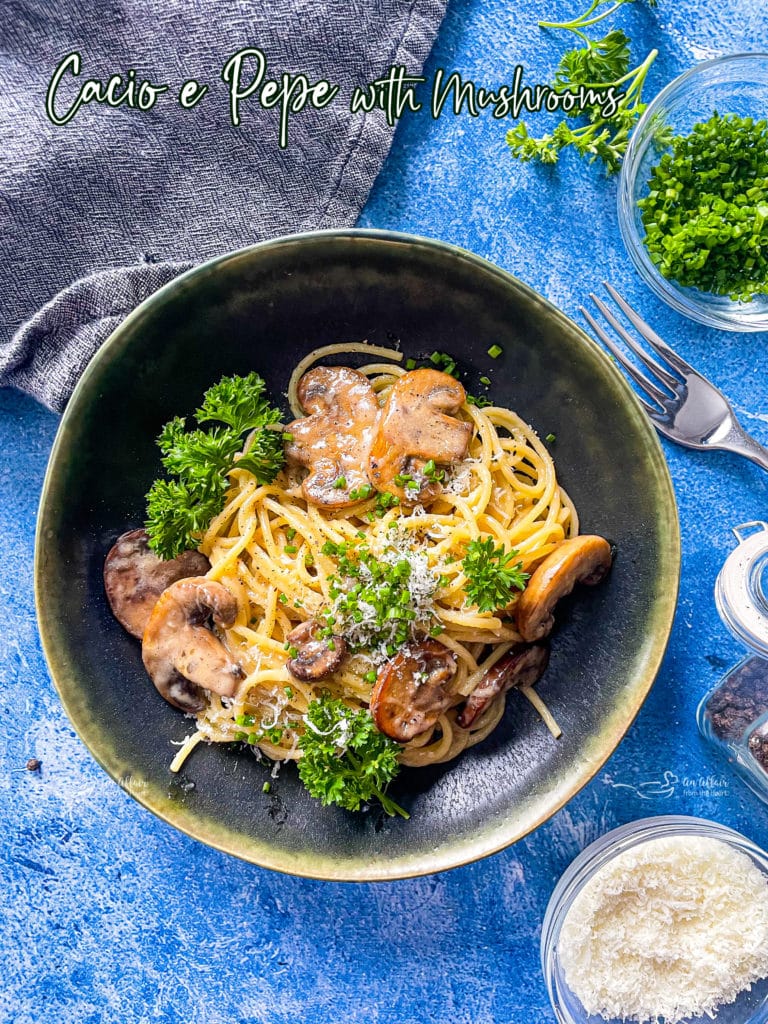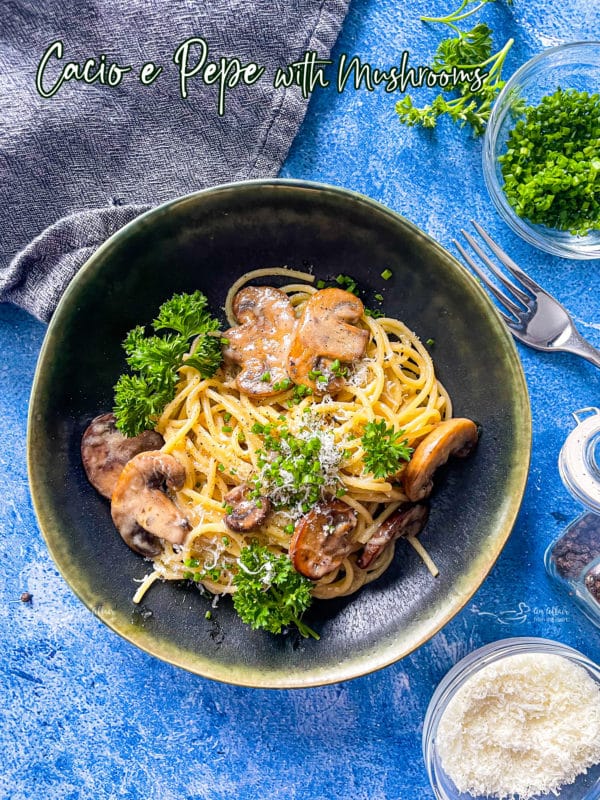 Let's make a nice dinner for two! Cacio e Pepe is perfect for a romantic night in and easy enough for a weeknight meal!

Yield: 2 servings
Cacio e Pepe with Mushrooms (for two)
Cacio e Pepe with mushrooms is a creamy mushroom pasta filled with flavors of parmesan, salt, pepper, and spaghetti noodles! Just for two!
Ingredients
5 ounces uncooked pasta, cooked al dente
2 Tablespoons olive oil, divided
2 Tablespoons unsalted butter, divided
1 cup sliced mushrooms
1 ½ cups freshly shredded parmesan cheese
Salt & pepper to taste
Garnish with more parmesan cheese, drizzle of olive oil and fresh herbs like chives and parsley
Instructions
Cook pasta according to the package. Drain.
While pasta is cooking, heat 1 tablespoon of olive oil and 1 tablespoon of butter in a skillet. Add sliced mushrooms and saute for about 4 minutes or so. Mushrooms will be browned on both sides. Salt and pepper to taste.
Add in the remaining butter and olive oil to the mushrooms in the pan.
Reduce the heat to low, and stir in the shredded parmesan cheese until it's melted. (*see notes)
Stir in cooked pasta.
Drizzle with a little olive oil. Serve hot, garnished with fresh chives, parsley and more parmesan.
Notes
If the sauce seems too thick after stirring in the cheese, add a bit of the hot pasta water and stir it in. Continue the process until the sauce is where you like it.
Recommended Products
As an Amazon Associate and member of other affiliate programs, I earn from qualifying purchases.
Nutrition Information:
Yield:
2
Serving Size:
1
Amount Per Serving:
Calories:

833
Total Fat:

50g
Saturated Fat:

21g
Trans Fat:

0g
Unsaturated Fat:

27g
Cholesterol:

76mg
Sodium:

1220mg
Carbohydrates:

61g
Fiber:

4g
Sugar:

4g
Protein:

35g
Please note that nutrition is not guaranteed accurate.

If you make this recipe, I'd love to know! Snap a picture, share the photo on social media with the hashtag #AnAffairFromTheHeart – I'd love to see what you made! – Michaela