Perfectly roasted Garlic Cheese Asparagus is baked to perfection and coated with a creamy cheese sauce that is made with Parmesan and cheddar cheeses. This easy recipe comes together in less than 30 minutes and offers a great combination of healthy, yet delicious.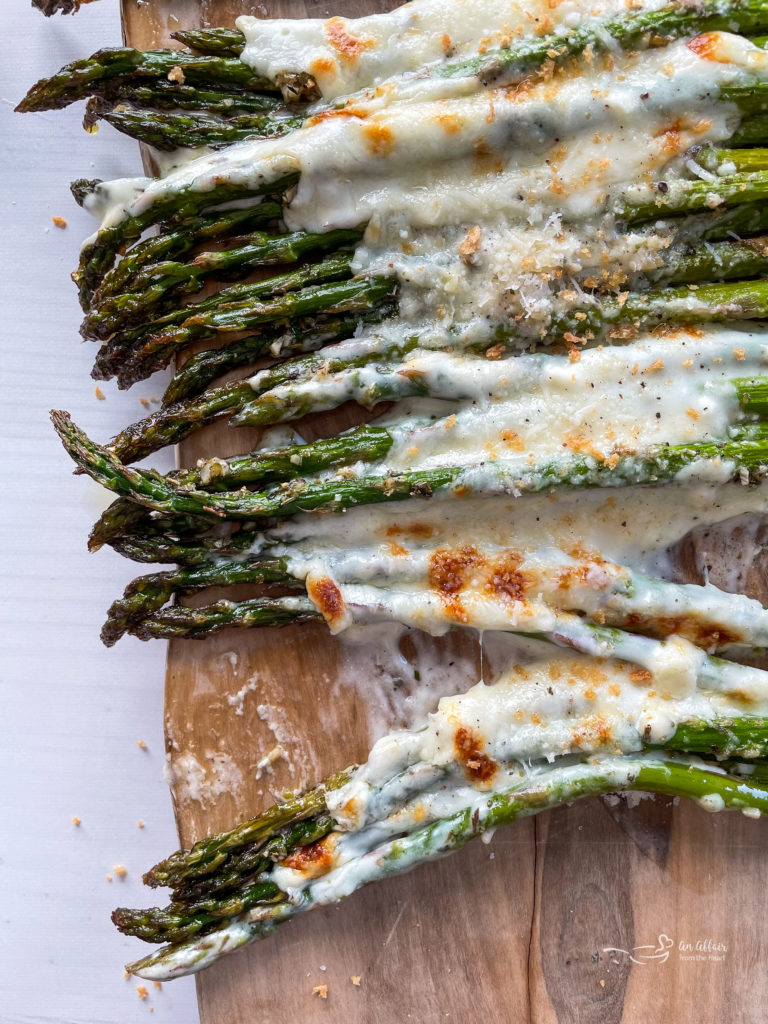 This baked asparagus recipe is the perfect amount of crispiness with seasoning. Who could ever go wrong with tenderly roasted asparagus topped with savory cheeses?
Rich in flavor without all the extra guilt, this asparagus is tossed with Italian seasoning and topped with an easy cheese sauce that makes it the ultimate side dish for any main protein. You're really going to love this one.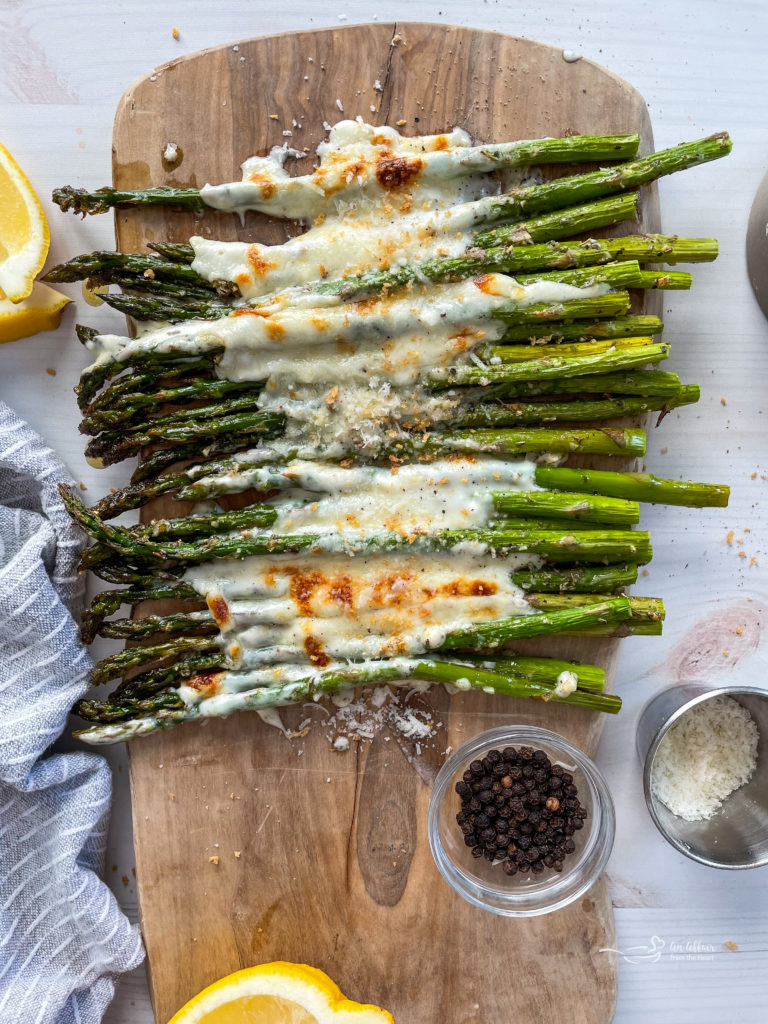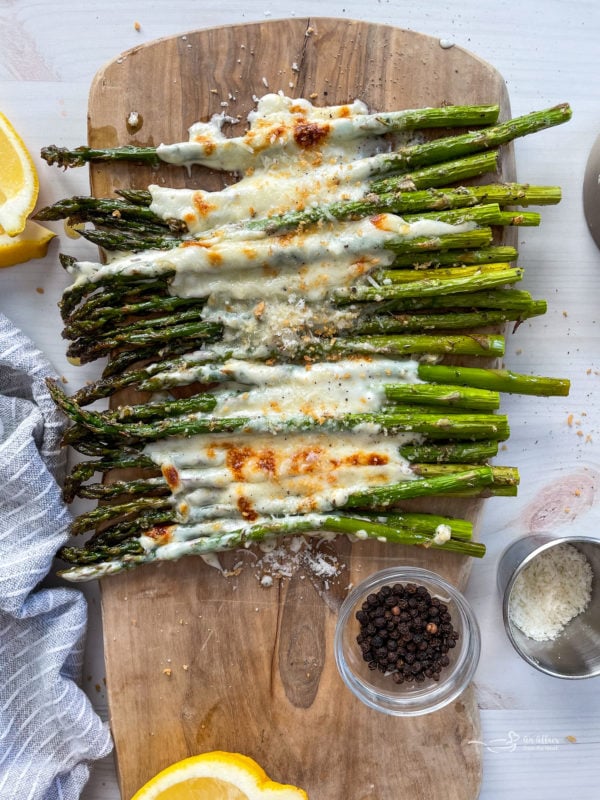 Why You're Going to Love This Recipe
Simple to make: This recipe is so easy to make and seriously comes together in less than 30 minutes! Seriously, perfect for anyone that's looking for an easy recipe with minimal steps and preparation.
Loaded with flavor: Although this garlic cheese asparagus recipe is simple, it's packed with incredible flavors all thanks to garlic, Italian seasoning, and cheese.
Healthy: It's still considered healthy if it's a vegetable, right? The asparagus creates a nicely balanced recipe with the cheeses.
How to Clean Asparagus
To properly clean asparagus, you'll want to make sure you to soak the asparagus in a bowl of water or rinse it thoroughly under running cool water. Alternatively, you can place the asparagus stalks in boiling water to remove any dirt, grit, or other particles that may be hiding in the crevices.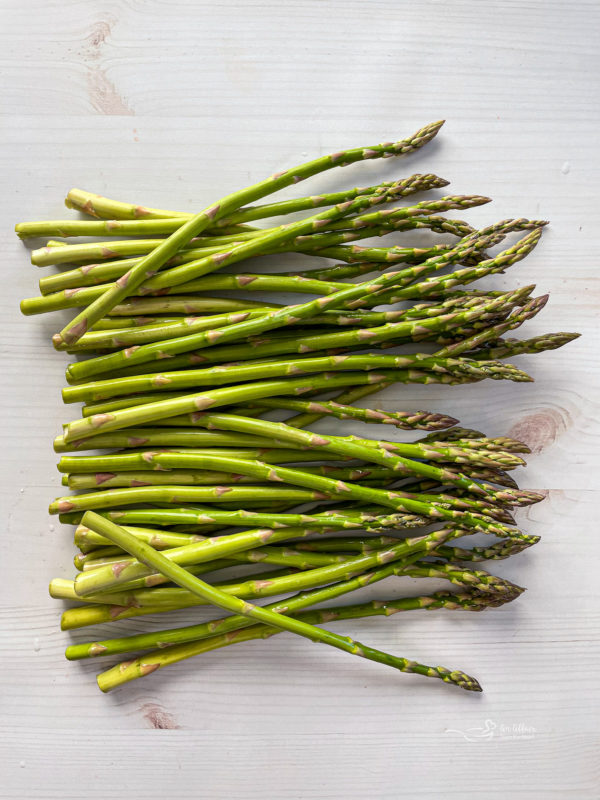 Ingredients for Roasted Asparagus with Cheese
Asparagus: Fresh asparagus is best for this recipe! I haven't tested it with frozen asparagus, but it would probably work as long as you allow it to defrost beforehand.
Olive oil: Used for its charming flavor profiles, olive oil is mixed together with the seasonings. You could substitute with any other oil, but it will lose some of the olive oil flavor.
Garlic: Freshly minced garlic creates an outstanding flavor.
Seasoning: You'll need Italian seasoning, salt, and pepper for this recipe. Simple, right?
Cheese: For this recipe, I used Parmesan and white cheddar.
Flour: All-purpose flour is used for the cheese sauce. If you have an all-purpose gluten free flour, then you can use that.
Milk: Dairy milk is what gives the sauce its rich and creamy flavors. Whole milk was what I used.
What cheese goes well with asparagus?
Honestly, I like the combination of nicely aged white cheddar cheese paired with a robust Parmesan. I'll let you in on a little secret: Grate your own cheese.
You'll never go back to pre-shredded cheese if your life depended on it, but if you only have time for the bagged stuff, then that's also perfectly okay. As long as it's cheese, right?
How to Make Cheesy Baked Asparagus
Preheat oven to 400 degrees Fahrenheit. Prepare a sheet pan (15″x10″) with non-stick cooking spray.
Combine the Italian seasoning, salt, and pepper. Next, toss the asparagus in the seasoning.
Bake the asparagus: Transfer the coated asparagus to a prepared sheet pan, then roast for 10 minutes or until the asparagus is "crisp-tender".
In the meantime, set the broiler to high.
On the stovetop in a pan, bring the milk to a simmer.
Combine the cheese and flour with the milk, then whisk in the cream cheese. Reduce heat to low and cook until mixture thickens.
Spoon the cheese mixture over the roasted asparagus, then sprinkle the Parmesan cheese over it. Broil for 4-5 minutes or until cheese becomes golden brown.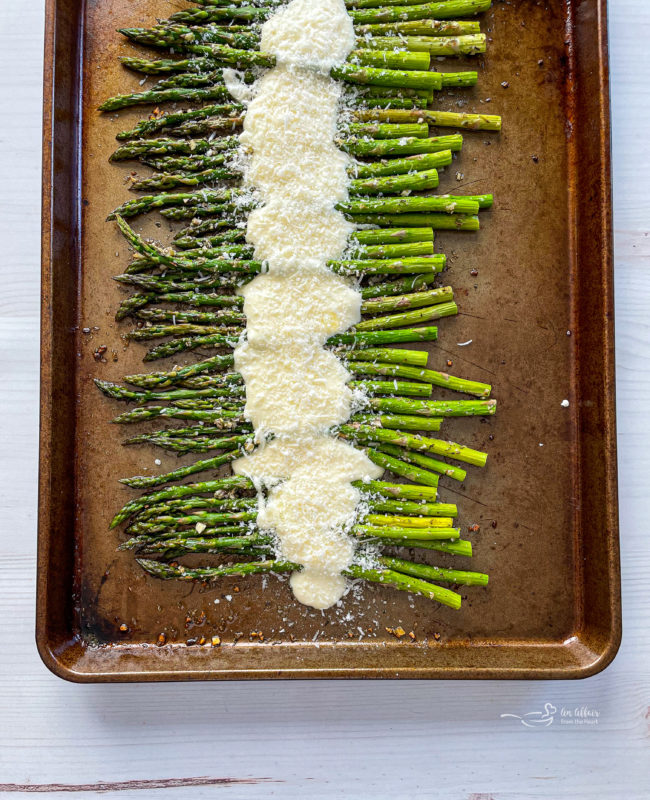 If desired, garnish with breadcrumbs.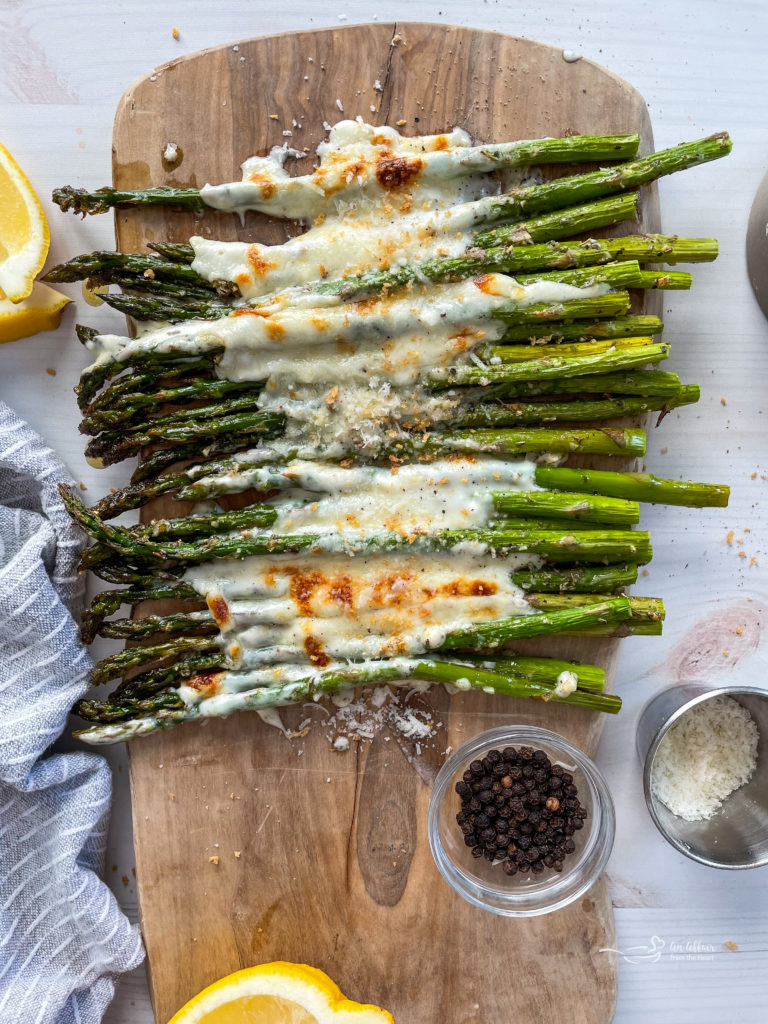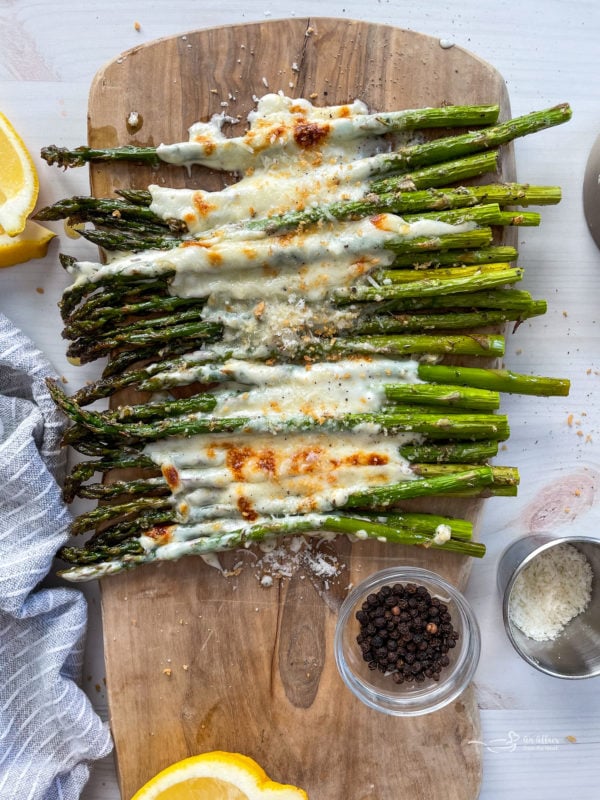 Love it? Pin it!
Don't forget to save this recipe to find it easily! Pin it to your favorite Pinterest recipe board before you go!
How do you know when asparagus is done in the oven?
When fully cooked, the asparagus will transfer into a bright and vibrant green that is paired with a roasted finish. You don't want your asparagus to be too overcooked, but with just the right amount of crunch.
What does asparagus pair well with?
You can serve asparagus with any main course such as this chicken piccata, grilled bratwurst kabobs, or any of my delicious pasta recipes. This recipe is the perfect option for when you're looking to have a side of veggies.
Tips
Store the leftovers in an airtight storage container in the refrigerator for three to four days.
Don't overcook the asparagus! You want to make sure you still have a slight amount of crunch to it.
Remove the thick, stalky parts of the asparagus by trimming them with scissors or bending in half like you would to snap a green bean.

Similar Recipes You'll Love
Bacon & Cheese Phyllo Wrapped Pickled Asparagus
Bacon Wrapped Hot Brussels Sprouts
Turkey Oscar Style – pictured above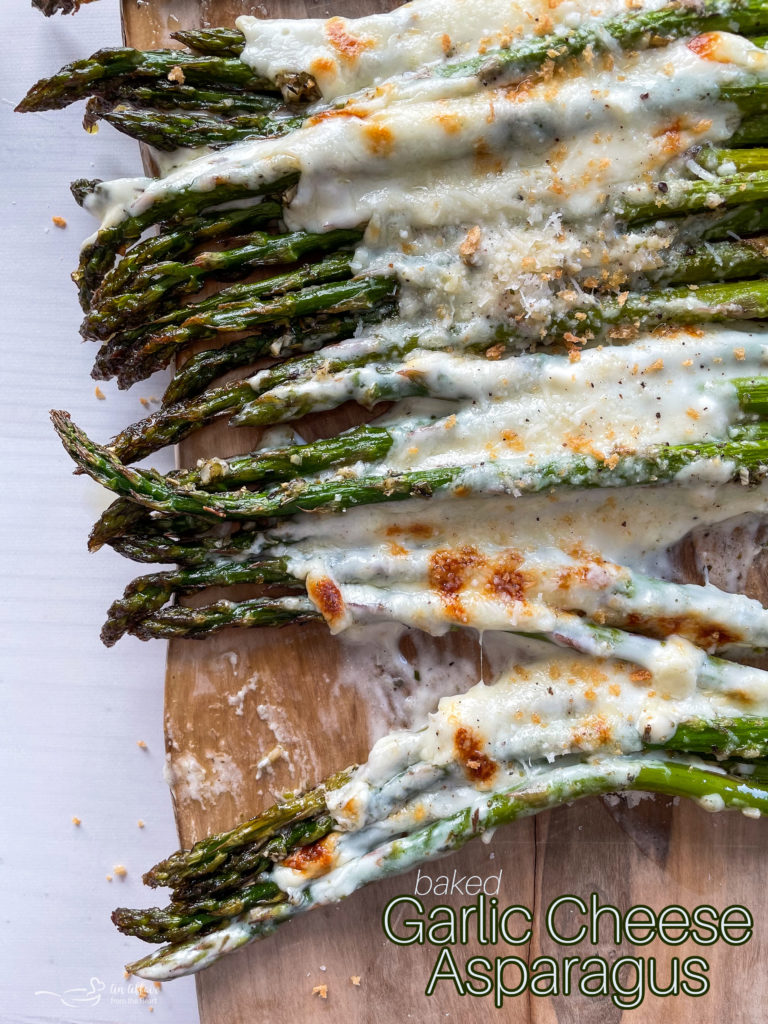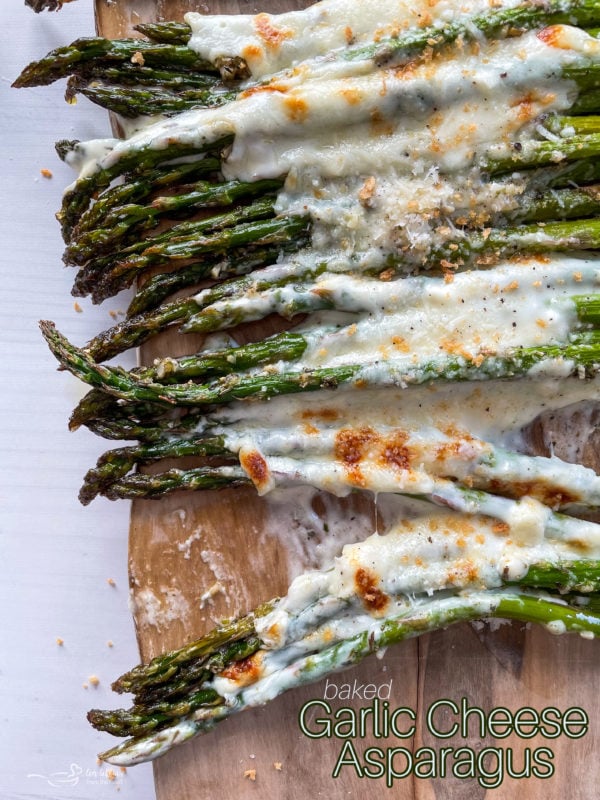 Let's make some Garlic Cheese Asparagus!

Ingredients
1 ½ - 2 pounds fresh asparagus, trimmed
3 ½ Tablespoons Olive oil
3 cloves garlic, minced
1 ½ teaspoons Italian seasoning
½ teaspoon salt
¼ teaspoon pepper
2 ounces aged white cheddar cheese, shredded
1 teaspoon flour
1/3 cup milk
2 ounces cream cheese
¼ cup fresh Parmesan cheese, finely shredded
Instructions
Preheat oven to 400 degrees. Spray a (15'x10") sheet pan with non-stick cooking spray.
Combine olive oil, garlic, Italian seasoning, salt and pepper. Toss asparagus in the mixture, and spread onto the prepared sheet pan. ( tops all facing the same direction)
Roast for 10 minutes, or until the asparagus is "crisp-tender" – remove from oven and set aside.
Set broiler to high.
In a pan on the stovetop bring milk to a simmer.
Combine cheddar cheese and flour.
To the milk whisk in cream cheese until smooth. Mix in the cheddar cheese mixture. Reduce heat to low and cook until the mixture thickens.
Spoon the cheese down the center of the asparagus, sprinkle parmesan cheese over the top.
Broil 4-5 minutes or until cheese becomes golden brown.
Garnish with bread crumbs if desired.

If you make this recipe, I'd love to know! Snap a picture, share the photo on social media with the hashtag #AnAffairFromTheHeart – I'd love to see what you made! – Michaela