Just a "Peep's Eye View" of our Easter dinner table this year….
As an Amazon Associate and member of other affiliate programs, I earn from qualifying purchases.
one of the centerpieces, accompanied by my favorite deviled egg platter
Happy Easter, and Happy Spring!!
This year for Easter a friend shared an idea for a centerpiece with me, that I immediately fell in love with. Those who know me, know all about my love of PEEPS(tm)! I actually have a "stuffie version" of them in my home office year 'round, they just make me smile. So, when I saw this idea for a centerpiece, I knew it would be the most fitting arrangement for our table this Easter.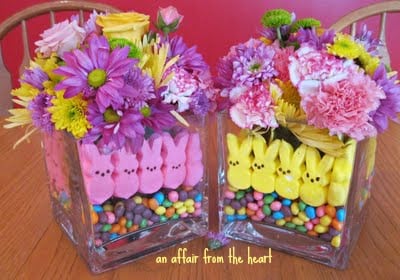 side by side, my two main table attractions
I used a 6″ square glass vase. Start by inserting a smaller glass, or vase into the center. The version I saw had marbles in the bottom, I chose to go with jelly beans. I hunted and hunted for the perfect hue to match the PEEP(tm) colors that I had chosen. I settled on these, that were made by Sweetart ™. Pour the jelly beans around the glass vases edges. Then it's time to insert the PEEPS(tm)! Four of them fit perfectly on each side. Looking back, I wish that I would have had just one more bag of jelly beans to hoist the bunnies up a little higher. (I'm sort of a perfectionist, and it really bothered me that you could see that little bit of 'space' above their ears.) Then it's time to insert the blooms!
Link to a step by step instructional post HERE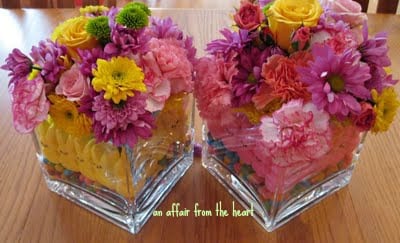 an assortment of pastel blooms worked perfectly
It took more flowers than I had anticipated. I actually went back for more, because I wanted them to be really full. A variation of daisies, roses, carnations and mums were what I chose. Watering them is the trick! I used my turkey baster! 😉
What a FUN addition to our Easter table!
I have been contacted by Robyn from Mix Mingle Glow. She informed me that this was her original idea. Upon researching ALL of the like centerpieces on the internet, I have found so many links that it's hard to tell where it came from first. But I will give her credit if she made it first!
Sorry for any confusion. But in the day and age of Pinterest, it's just so darn hard to tell.