Smoked Turkey Recipe
As an Amazon Associate and member of other affiliate programs, I earn from qualifying purchases.
Smoking a turkey on the Traeger is perfect for any time of the year, but it can save much needed space in your oven at the holidays. This recipe turns out perfectly each and every time. No brine, just a buttery herbed rub that yields a juicy flavorful turkey in about 3-4 hours.

Traeger smoked turkey
Using a Traeger grill to prepare meats makes controlling the temperature so simple. And that is really the secret to its success. Low and slow with the pellets of your choice. Yes, you can use any type of grill you have handy. As long as you can keep a good low temp, and keep the smoke consistent, it will be just as good.
Electric pellet smokers like Traeger are very convenient and easy to maintain. They offer plenty of advantages over traditional old school wood smokers.
This Smoked Turkey Recipe is delicious any time of the year, of course, but at the holidays it can save much needed oven space for those other side dishes. We all know how jam-packed that oven can get, especially when you are baking a turkey in it!
SOME OF THE ITEMS BELOW CONTAIN AFFILIATE LINKS; I AM A PARTICIPANT IN THE AMAZON SERVICES LLC ASSOCIATES PROGRAM, AN AFFILIATE ADVERTISING PROGRAM DESIGNED TO PROVIDE A MEANS FOR US TO EARN FEES BY LINKING TO AMAZON.COM AND AFFILIATED SITES. I AM ALSO AN AFFILIATE FOR OTHER BRANDS. HOWEVER, I ONLY PROMOTE THINGS THAT I LOVE AND THINK YOU WILL LOVE, TOO. FOR MY ENTIRE DISCLOSURE POLICY PLEASE

CLICK HERE

.
How long does it take to smoke a turkey?
As always, the size of the turkey determines how long you need to smoke it. The smoking process is cooking the meat, even at that lower temperature. You still will need an internal temperature of at least 165-175 degrees Fahrenheit. If you are smoking the turkey at the lowest setting, you can plan on about 30 minutes per pound.
For my recipe, today, a 15 pound turkey smoked at 225 degrees for 2 hours, then the bird is covered and the grill is turned up to 325 for the 90 minutes remaining. We were eating it in about 4 hours!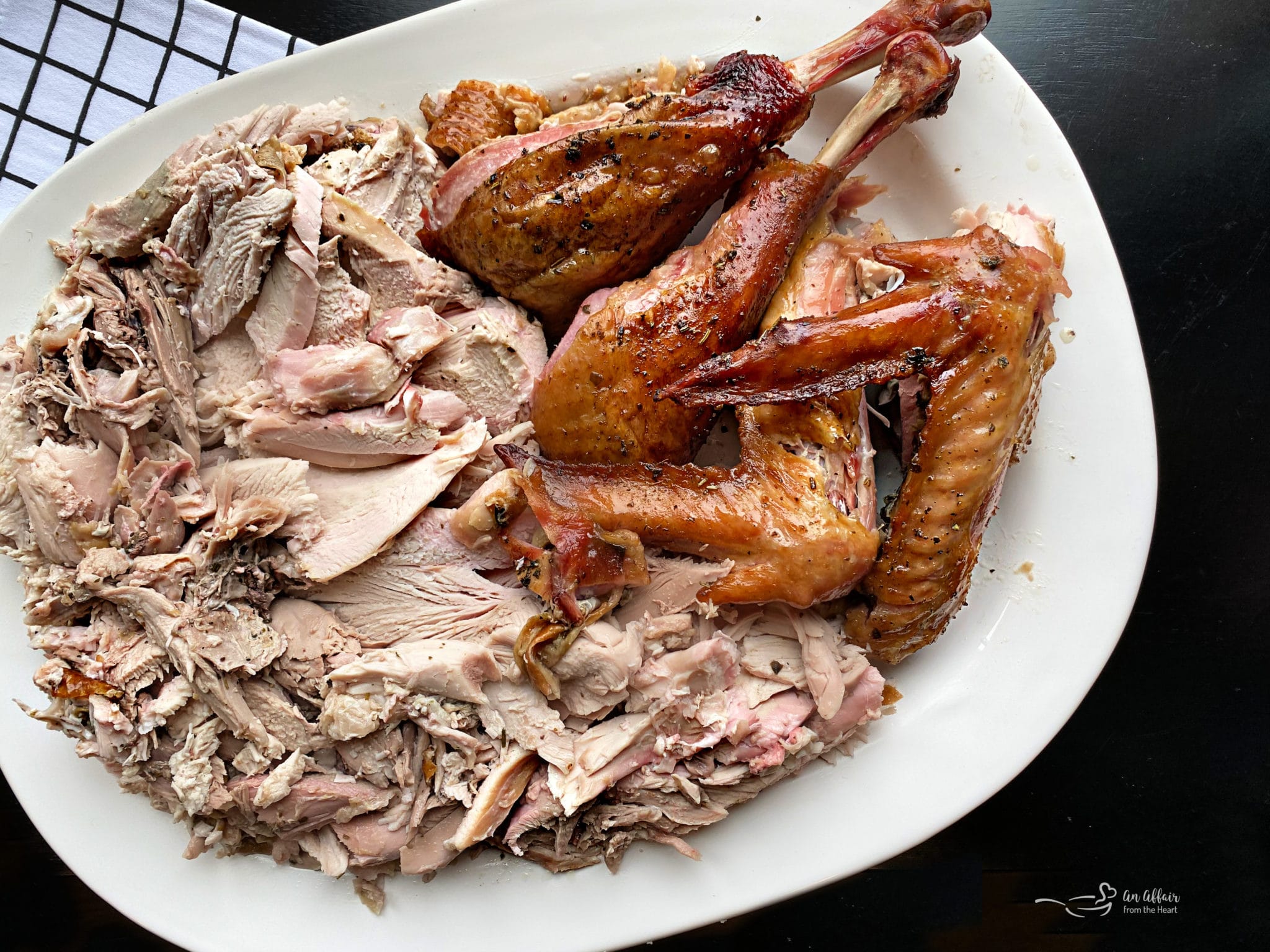 Is the smoked turkey really cooked if the meat is still pink?
If you have the temp at between 225-250 degrees F for cooking, then eventually your turkey will cook completely. The smoke will give the meat a slight pinkish color and that is completely normal. That is called a "smoke ring." The pink color does not mean it is undercooked. Think of smoked brisket and how it gets that ring of pink underneath the "bark". Same thing.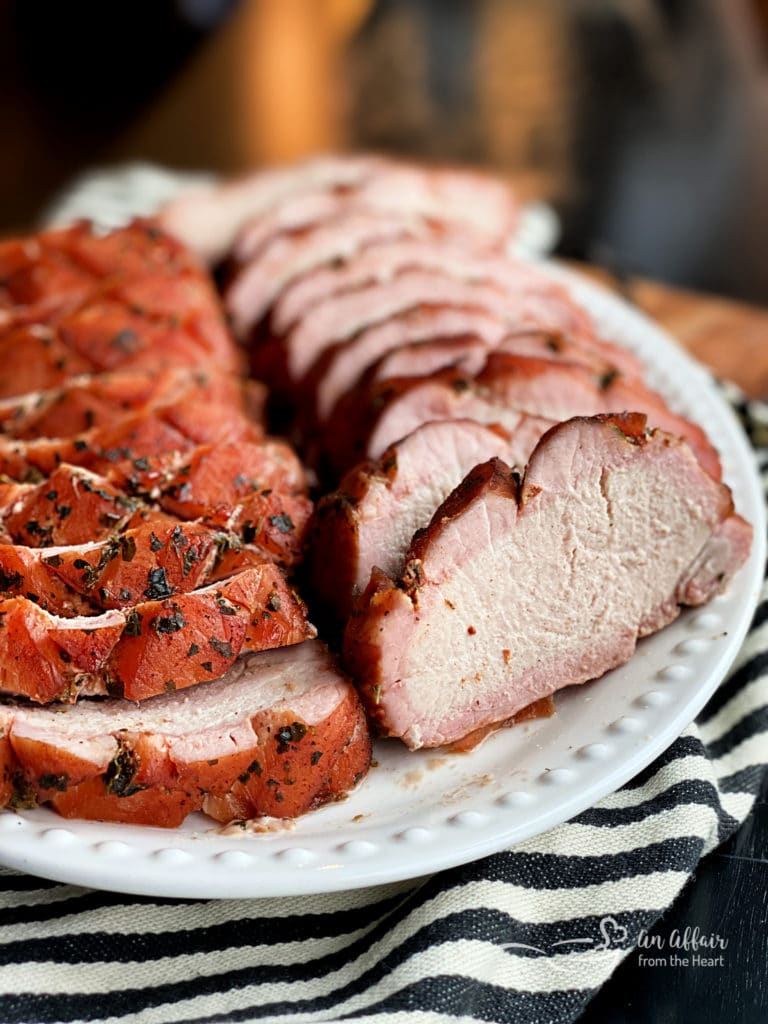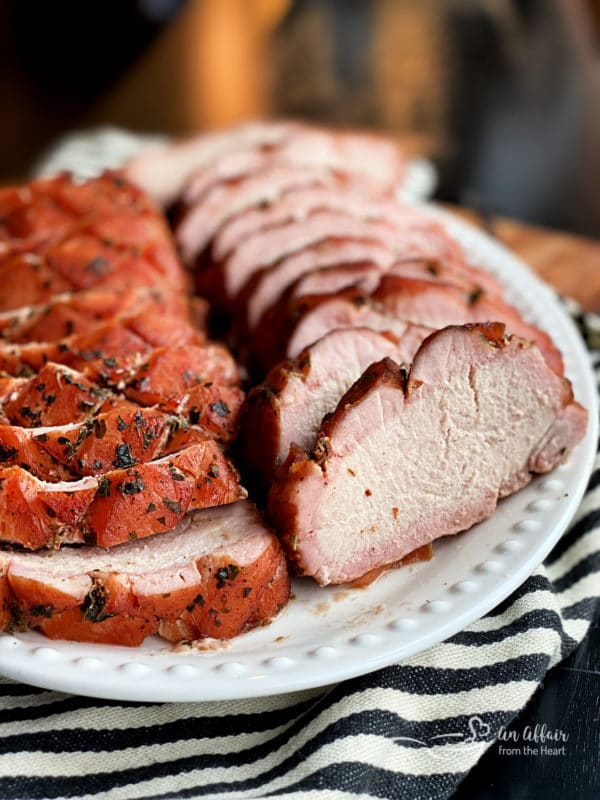 Check out my smoked pork loin recipe too, because smoked pork is similar. It can have a pink color yet still be fully cooked.
The smoke causes that pink, not the meat being undercooked.
Does smoked turkey have to brine first?
Brining is optional. I don't use brine in this recipe but I will explain why. Some people swear by brining and I get the reasoning. Brining helps bring up the juiciness of the bird. Nothing is worse than an overcooked and dry meat turkey. The meat becomes coarse and stringy. You feel like you are eating wood pulp or something along those lines.
So, a lot of times the brining is great. But guess what?
With a smoked turkey, you don't have to brine the turkey first, which is awesome. That is because, with a smoked turkey, the long slow and low heat actually doesn't dry the bird out too quickly. The low heat draws the moisture into the bird, not evaporate it out.

An Affair from the Heart's Smoked Turkey Recipe
As mentioned, there is no wait time when it comes to my recipe, because there is no brining. The ingredients you need are a turkey, mine was 15 pounds, 2 sticks of butter, and these spices: basil, oregano, rosemary, celery seed, Italian seasoning, nutmeg, pepper, salt and Traeger chicken rub.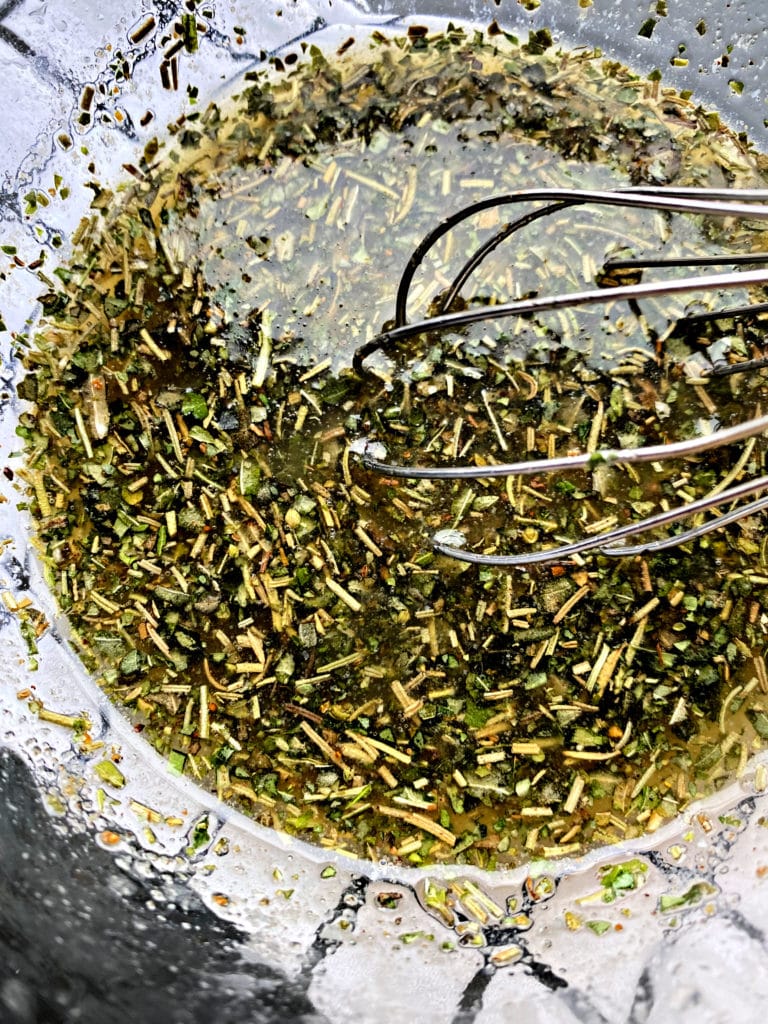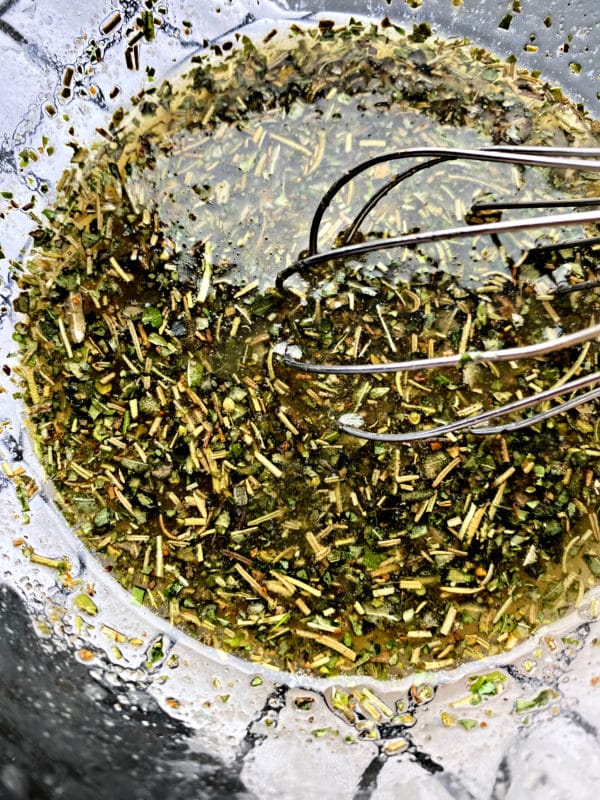 Mix one stick of melted butter with all of the herbs and spices.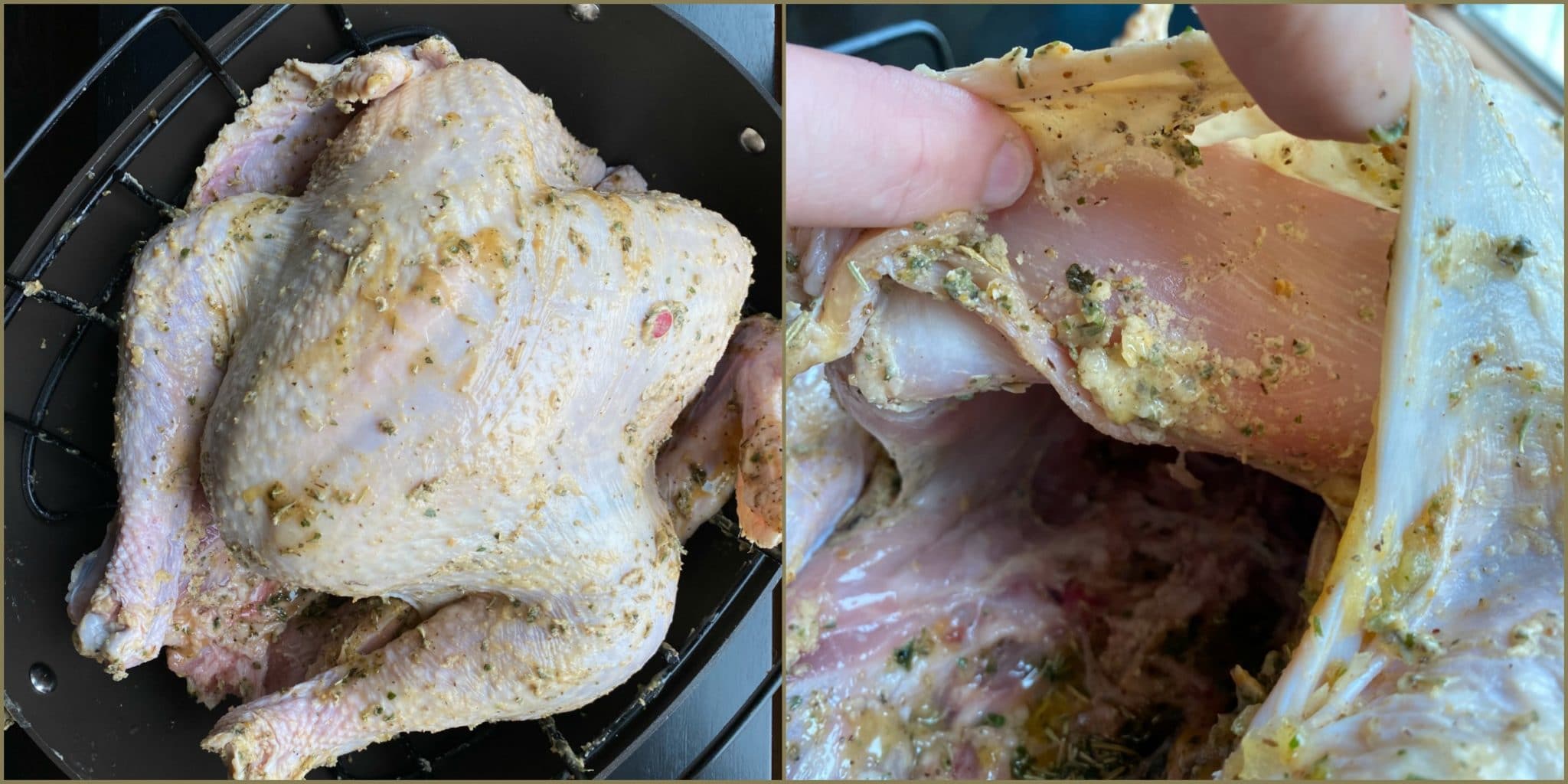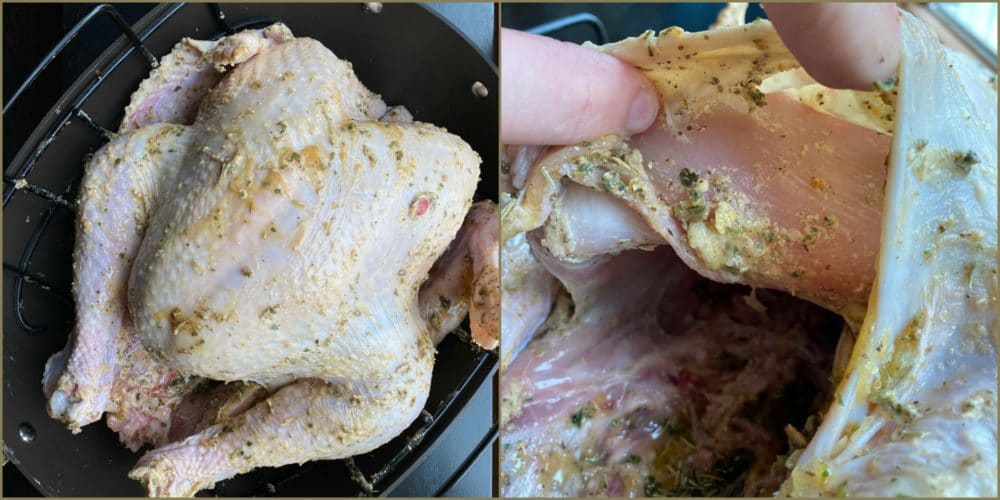 Place the bird on a rack in a roasting pan. Rub the herb butter all over the turkey, inside and out – and make sure to get some underneath the skin, too. It helps to keep the moisture in and gives that herby flavor throughout the bird.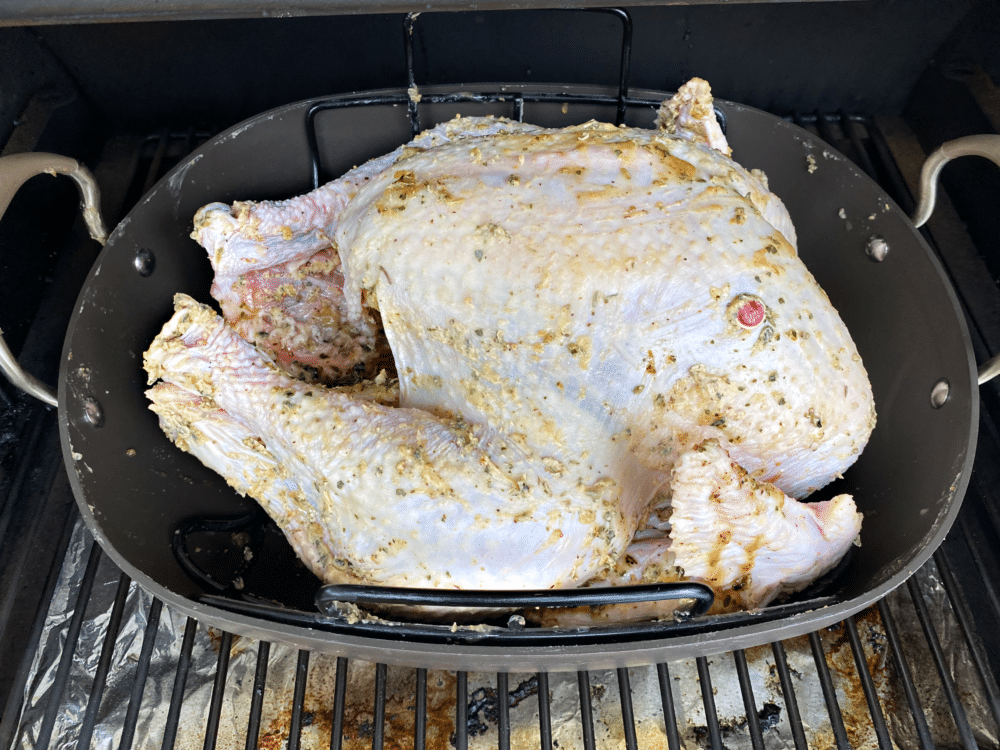 We used Hickory pellets for this recipe. Set the turkey on a preheated grill uncovered and close the lid for 2 hours. No Peeking!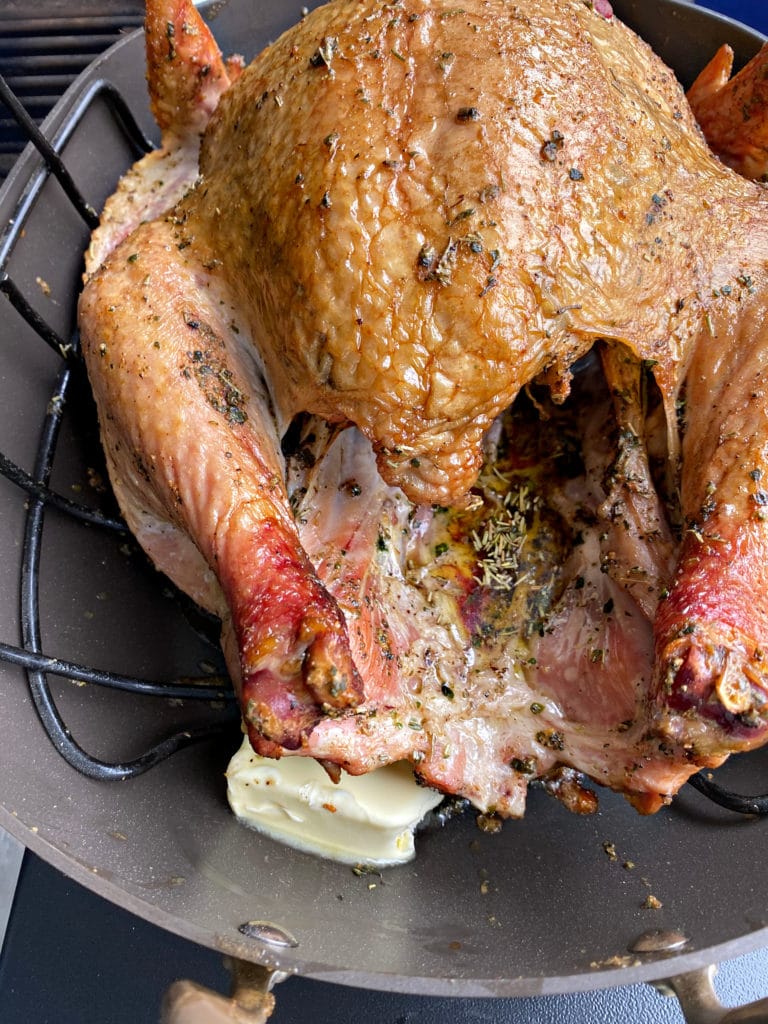 Open the lid, drop the second stick of butter into the bottom of the pan, cover the pan with foil and increase the heat on the smoker. Cook for another 90 minutes, before checking the internal temperature. The internal temperature of the thickest part of the breast needs to reach 165 degrees Farenheight.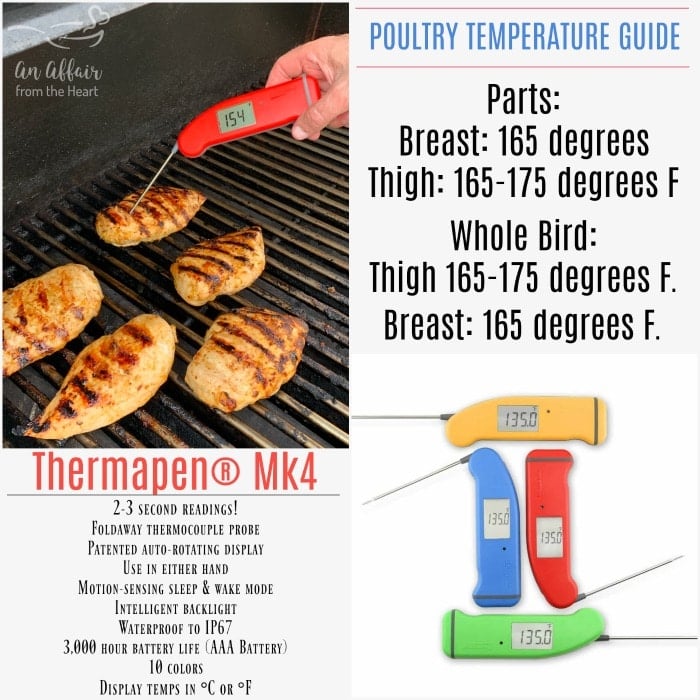 If you have never tried the Thermapen Mk4 meat thermometer, you need to! It's the BEST I have ever used. Makes the perfect holiday gift, pick one of 10 colors!

Love it? Pin it!
Don't forget where you found this simple and delicious Traeger Smoked Turkey Recipe! Pin it to your favorite Pinterest recipe board before you go!
How to store smoked turkey?
Naturally, smoking your turkey for Thanksgiving or other holiday meals is great. But even better? The leftovers of course! With smoked turkey meat, as long as you store it correctly, then it lasts a while.
In the fridge, the smoked turkey will last about four or five days. But go ahead and freeze some if you can't use it all that quickly. It keeps in the freezer for up to 3 months as long as you store it in airtight bags. I also recommend wrapping it in foil as well.
Handy tip…
Wrap up slices and separate them into a few small sandwich-sized zip bags. Then, you can take out easy to use portion sizes when you need some for a sandwich or salad later.

What to do with leftover turkey
Leftover smoked turkey can be reheated, or eaten cold. Remember, it is already cooked. So if you do intend to reheat it, then just make sure to warm it to the right temp. Don't recook it and dry it out.
Leftover smoked turkey just gets better and better. You can substitute smoked turkey for the turkey in any of these recipes: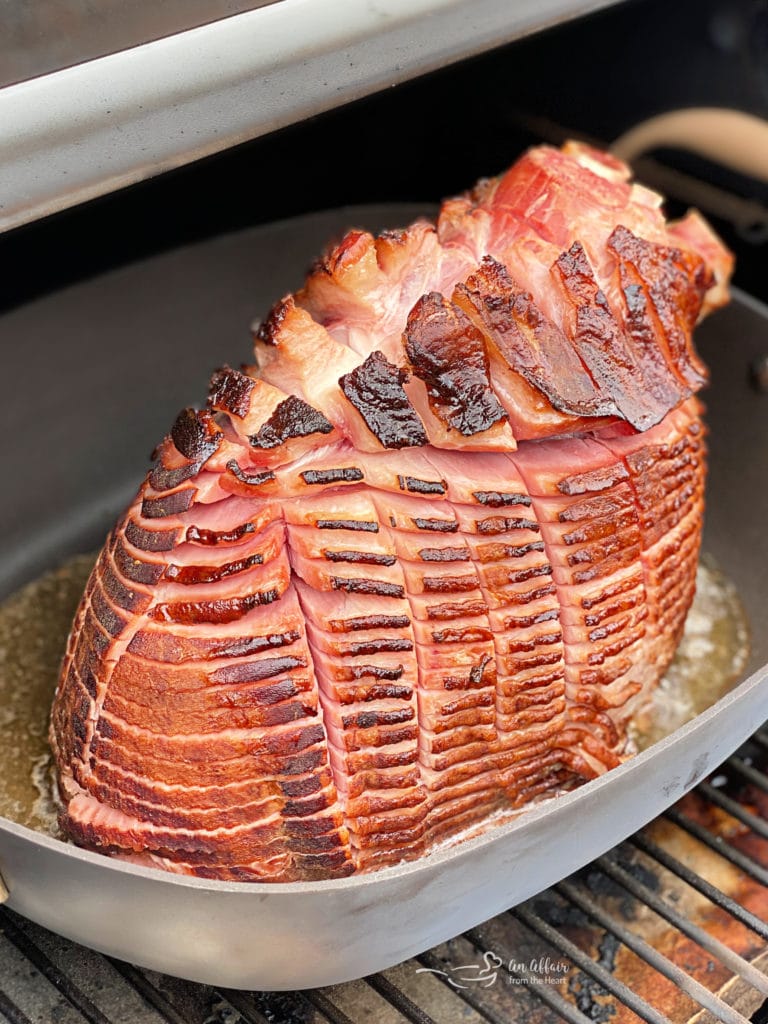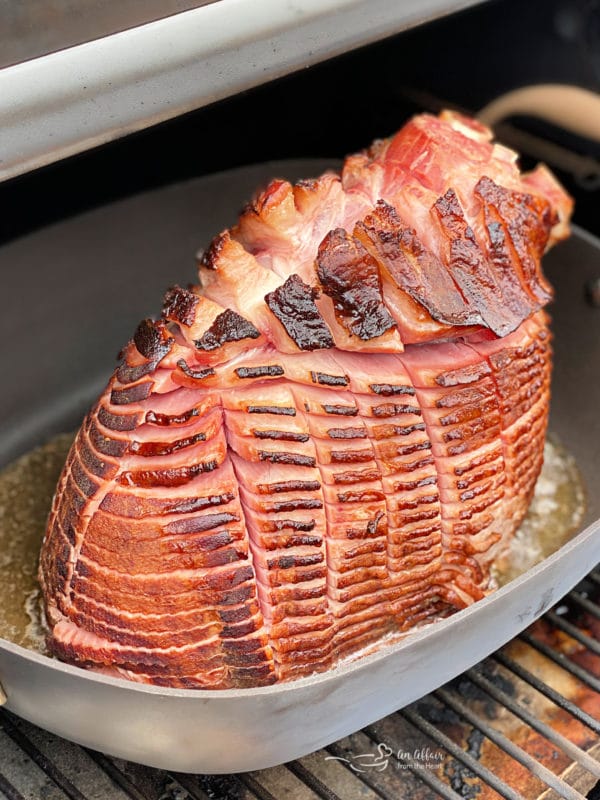 An Affair from the Heart Traeger Recipes
Maybe you didn't just come here for the turkey today? Maybe you came for #AllTheSmokerRecipes !?! Well, here are some of my favorites!
Other Traeger Smoker Recipes:

Right now — Let's grab the Smoked Turkey Recipe!

Yield: 12-15 pound turkey
Smoked Turkey Recipe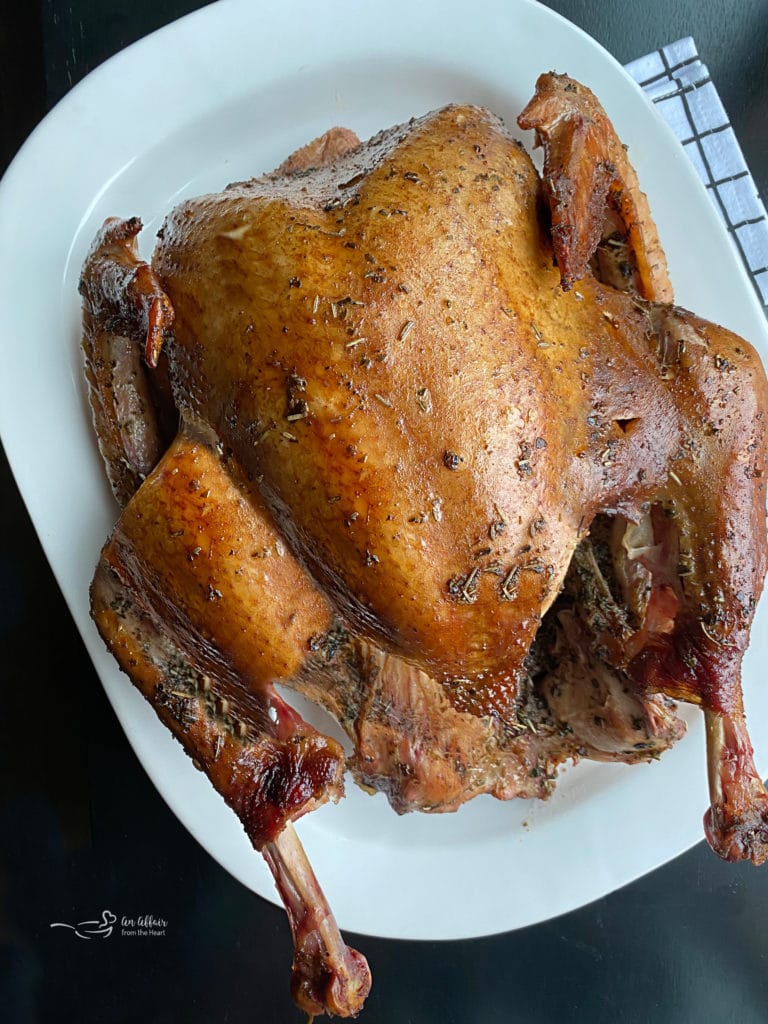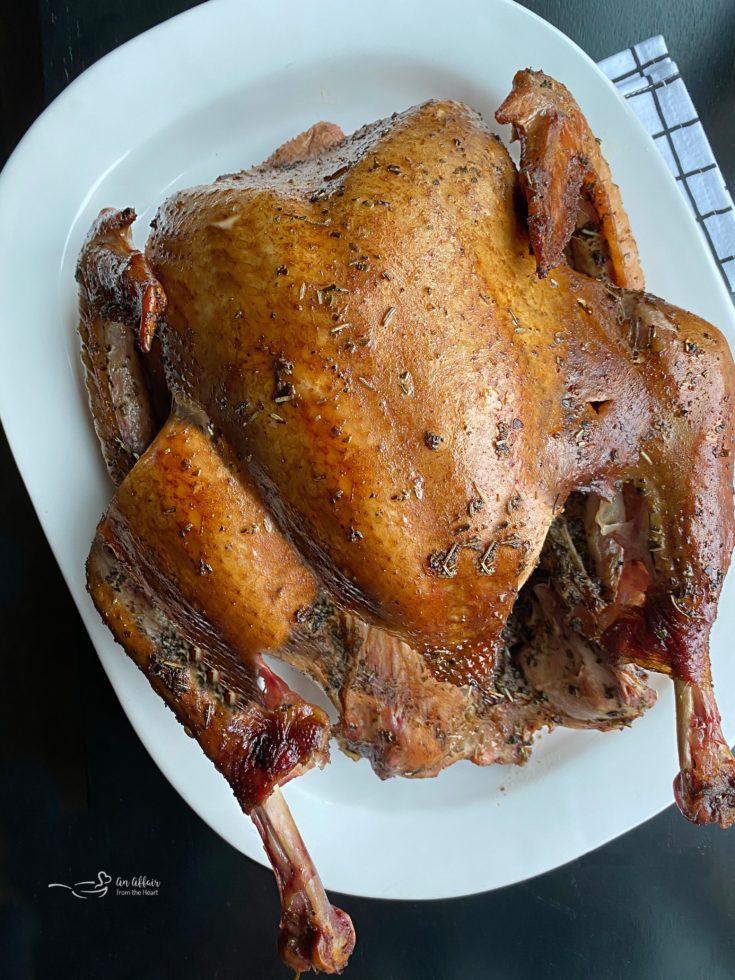 Smoking a turkey on the Traeger is perfect for any time of the year, but it can save much needed space in your oven at the holidays. This recipe turns out perfectly each and every time. No brine, and yields a juicy flavorful turkey in about 3-4 hours.
Cook Time
3 hours
30 minutes
Total Time
3 hours
35 minutes
Ingredients
1 - 12 to 15 pound turkey (ours was 15 pounds)
1 stick (1/2 cup) salted butter, melted
1 teaspoon basil
1 teaspoon oregano
1 teaspoon rosemary
1 teaspoon celery seed
1 1/2 teaspoons Italian seasoning
1/4 teaspoon nutmeg
1/2 teaspoon black pepper
1 1/2 teaspoon salt
3 teaspoon Traeger Chicken Rub
1 stick butter (1/2 cup)
Instructions
Preheat Traeger grill to 250 degrees.
Rinse turkey inside and out in cool water, pat dry.
Place turkey on a rack in a roasting pan.
Melt 1 stick of butter in a bowl, then add in all of the spices/seasonings, whisk together.
Rub the turkey all over with the butter mix, inside and out, and get it under the skin, too.
Place the turkey in the roaster, UNCOVERED on the grill and close the lid. Set a timer for 2 hours. Do NOT open the lid during this time.
When the timer goes off, add the second stick of butter to the bottom of the roaster, and cover the turkey.
Turn the temperature up to 325 degrees, and roast for another 90 minutes. Check the internal temperature in the thickest part of the breast, it will reach 165 degrees when it's done. If it hasn't reached that after 90 minutes, cover and continue roasting, checking every 20-30 minutes until it does.
Notes
We used Hickory Pellets when we smoked this turkey.
Your cook time can vary tremendously based on the size of the bird. Take that into account.
NOTE: Stuffing the turkey before cooking will make the cooking time vary tremendously.
Recommended Products
As an Amazon Associate and member of other affiliate programs, I earn from qualifying purchases.
Nutrition Information:
Yield:
15
Serving Size:
1
Amount Per Serving:
Calories:

921
Total Fat:

41g
Saturated Fat:

14g
Trans Fat:

1g
Unsaturated Fat:

24g
Cholesterol:

513mg
Sodium:

734mg
Carbohydrates:

1g
Fiber:

0g
Sugar:

0g
Protein:

130g
Nutrition isn't guaranteed accurate.