Bucatini with Italian sausage is made with mushrooms, a savory white wine sauce made with Parmesan cheese, grape tomatoes, and topped with fresh parsley for a satisfying meal that is great for dinner for any occasion. Loaded with fresh flavors, you're going to want to keep this recipe on rotation!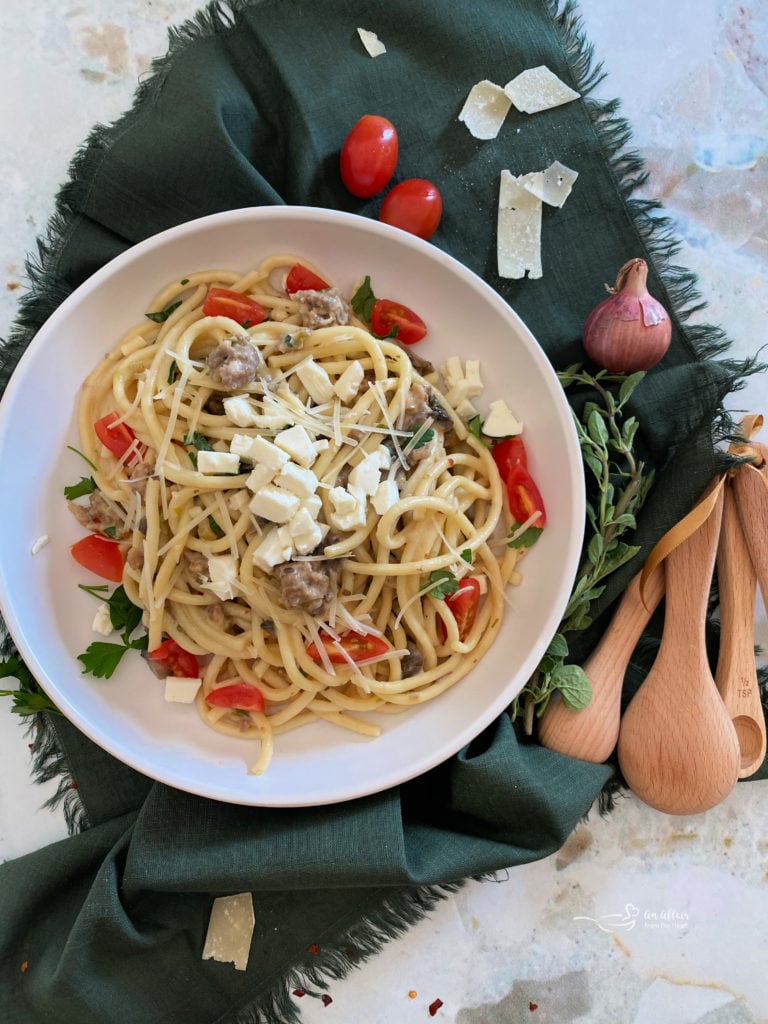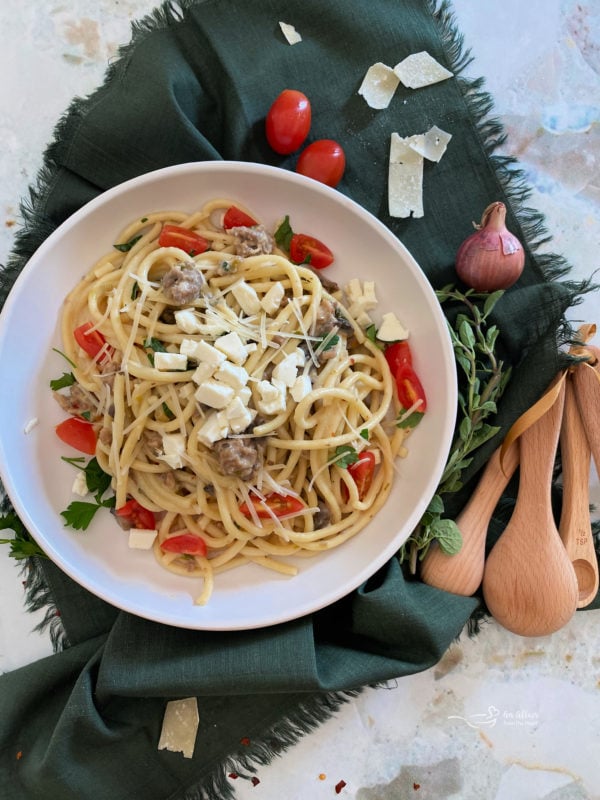 The giveaway in this post is sponsored by Fontanella Winery. My adoration of the Fontanella family and my love of their wines is all my own.
This sausage pasta made with bucatini is going to become your next favorite recipe because it's just so yummy and full of fresh flavors. Inspired by my visit out to California, this dinner recipe is so easy to make and perfect for anyone craving some comfort food that replicates sunshine in a bowl.
Savory Italian sausage is cooked to perfection with shallots, mushrooms, and red pepper flakes. All of these ingredients compliment each other so well you'll definitely be ready for leftovers.
Bucatini with Italian Sausage
There's nothing quite like a big bowl of pasta for dinner or even lunch. Tender mushrooms and tomatoes pair perfectly with the Italian sausage in this pasta recipe, and it's the perfect way to get a boost of additional protein. Above all, it's just so good.
I could go for pasta almost every day, and I like to revisit some of my favorite pasta recipes when I know I'm going to be making it. Not only is this pasta recipe a constant repeat in my house, but so are my Southwest Chicken Linguine, Skillet Lasagna , and BLT Pasta recipes.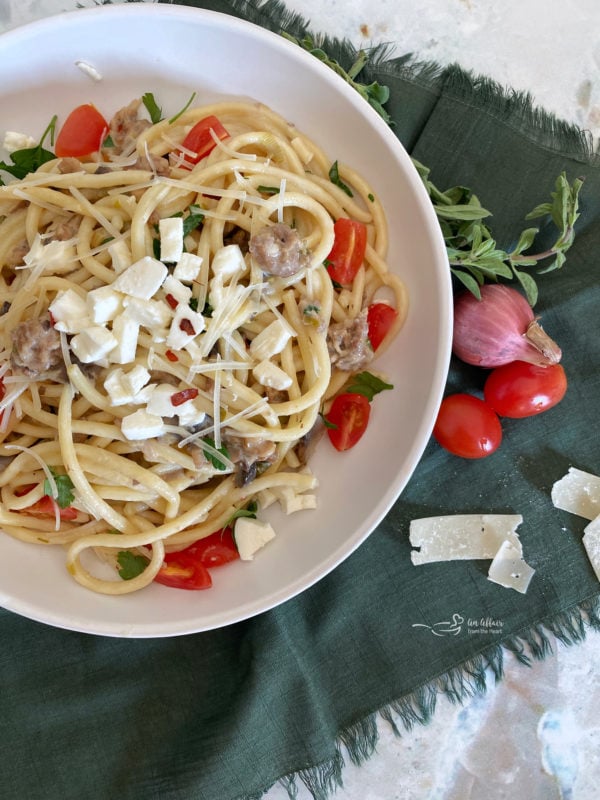 What is bucatini?
Bucatini pasta, also known as perciatelli, is very similar to spaghetti, but there are some differences, too! For starters, this pasta is thicker than spaghetti and has a hollow center throughout the noodle making it perfect for soaking up sauces. Additionally, bucatini really enriches a pasta dish with its incredible texture that is tender and super pleasant. Perciatelli pasta is very popular around Rome, specifically Lazio.
Ingredients for this Bucatini recipe
Bucatini pasta– This type of noodle is super great for absorbing all of the yummy white wine sauce. You'll want to cook until al dente which means still chewy and not overcooked.
Italian sausage– Italian sausage provides savory and Italian-inspired flavors that include thyme, rosemary, and so much more.
Green onion– For this recipe, the green onions provide additional flavor to the Italian sausage while enhancing the aroma, too.
Shallot– Used for seasoning this recipe, the shallot is a cross between an onion and garlic and provides an incredible flavor to any authentic recipe.
Red pepper flakes– Red pepper flakes are used for flavor and a little heat, but not too much heat. You can leave these out if you want to avoid the heat all together.
Mushrooms– Tender mushrooms are cooked with the meat to provide an amazing texture and additional protein. You can never go wrong with mushrooms!
Butter– Used as a base for the creamy white wine sauce, butter creates a silky sauce that is full of flavor.
Dry white wine– The main ingredient for the sauce, the dry white wine provides that rich flavor that can't be supplemented with anything else. You want to pick a wine that is higher in acidity like Sauvignon Blanc, Pinot Grigio, Pinot Blanc, or dry sparkling wines.
Heavy cream– Cream is responsible for the creamy texture in the cheesy sauce. Alternatively, you can substitute with milk or half and half here.
Parmesan cheese– The distinct flavors of Parmesan cheese are absorbed by the sauce and noodles making it a key component to this recipe.
Italian parsley– Fresh parsley is best.
Fresh mozzarella– If you don't have mozzarella cheese on hand, you could serve with more Parmesan cheese.
Grape tomatoes– Cherry tomatoes are added at the very end as garnishment and extra flavor. You don't want to skip this part!
How to Make Bucatini with Italian Sausage
In a medium to a large saucepan, cook bucatini pasta according to the package's direction. Set aside.
Meanwhile, with a large skillet, brown Italian sausage with green onion, shallots, and red pepper flakes.
When the meat is about halfway cooked, add in the mushrooms. Continue cooking until the meat is no longer pink. Next, add in the stick of butter and let it melt.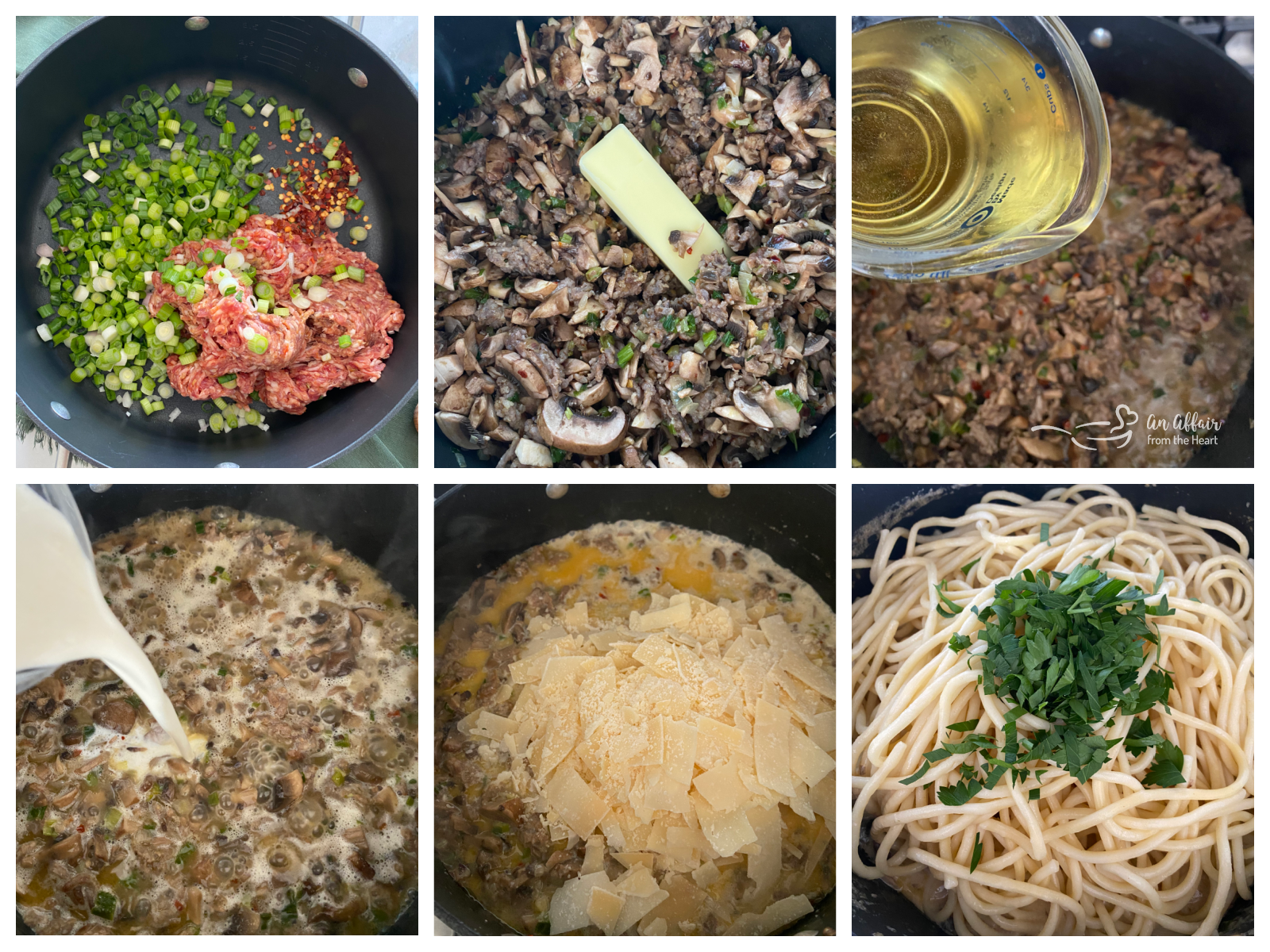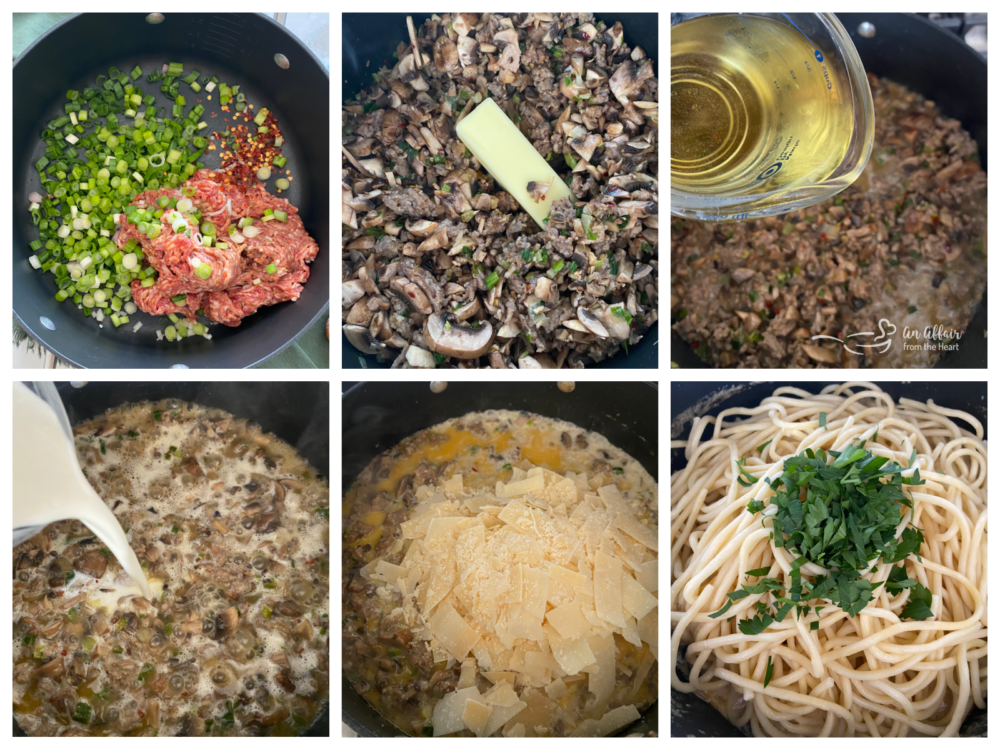 After that, add in the dry white wine and cook for about five minutes. Next, stir in the cream until combined.
Stir in Parmesan cheese, reduce heat to a simmer, then let it cook for five to ten minutes. The sauce will thicken as it cooks, but be sure to stir it because it will stick if you don't.
Next, add in the cooked bucatini pasta and fresh Italian parsley. Afterward, stir the ingredients together and serve when it is heated through. Finally, to make it even more delicious, serve this with fresh mozzarella and cherry tomatoes.
Tips for this Pasta Recipe
Make sure to not overcook the pasta as it can get a little mushy, and that part isn't fun!
Store the leftovers in an airtight container in the refrigerator for 3-4 day, but if you want to freeze them, then store in the freezer in an airtight container for up to six months. When ready to eat, reheat in the oven in an oven-safe container.
This pasta is great with your favorite wine, garlic bread, rolls: you name it!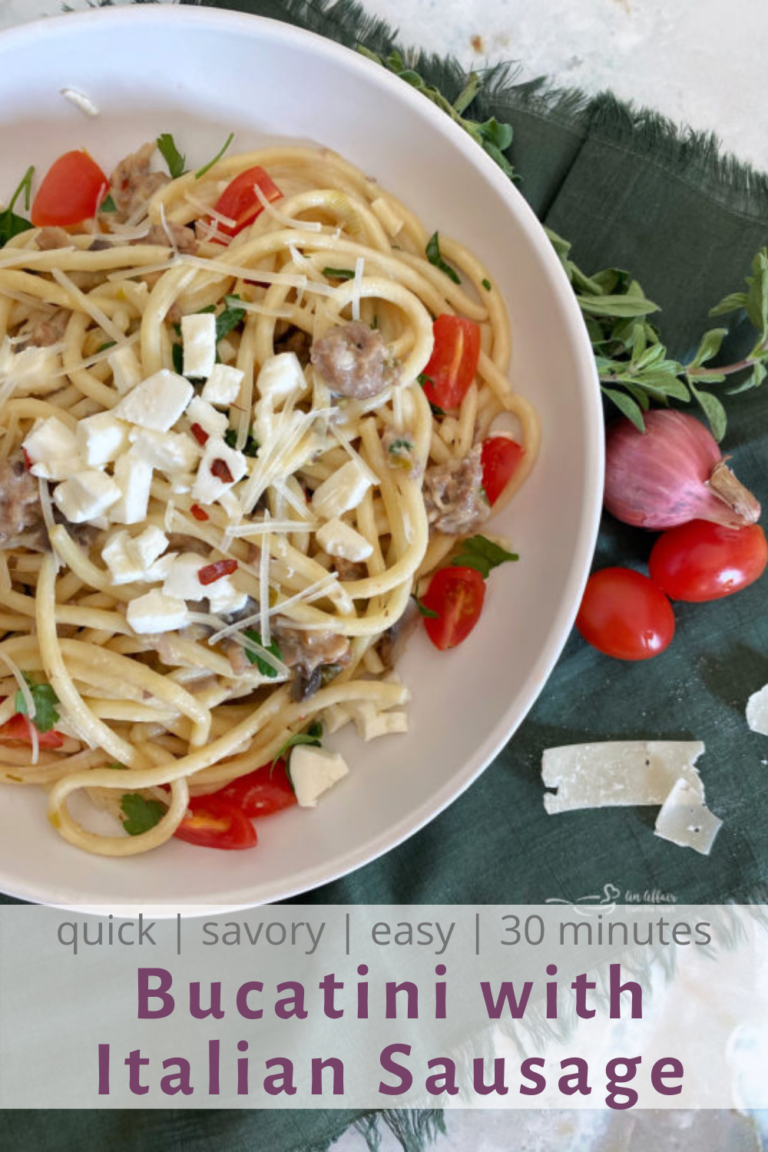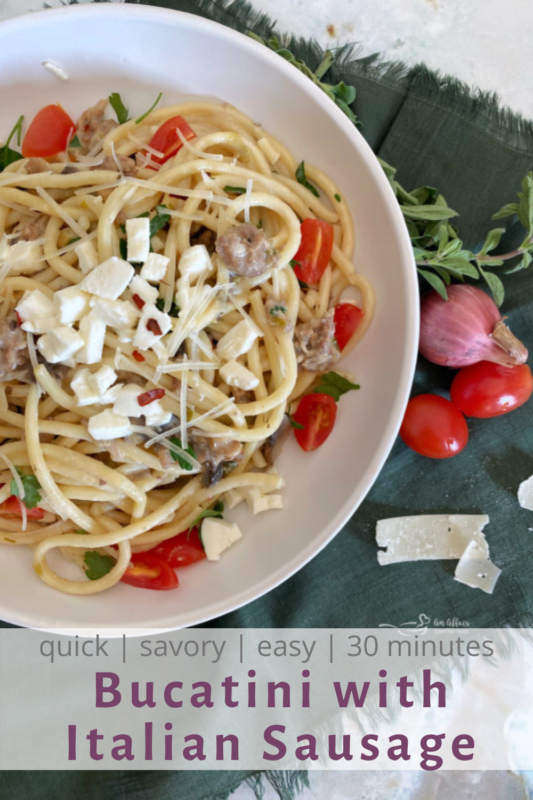 Love it? Pin it!
Don't forget where you found this amazing Bucatini recipe! Pin it to your favorite Pinterest recipe board before you go!
Today's Giveaway is sponsored by Fontanella Family Winery located on top of Mt. Veeder in Napa Valley, CA. Jeff and Karen Fontanella live, grow grapes and make the wine right on site. We had the pleasure of visiting and meeting them in October of 2018, and we immediately fell in love with their story and their wine. Ever since, we have been wine club members, for which we are grateful because their wines are not available in stores. You can purchase them at their winery, on their website, and through their wine club.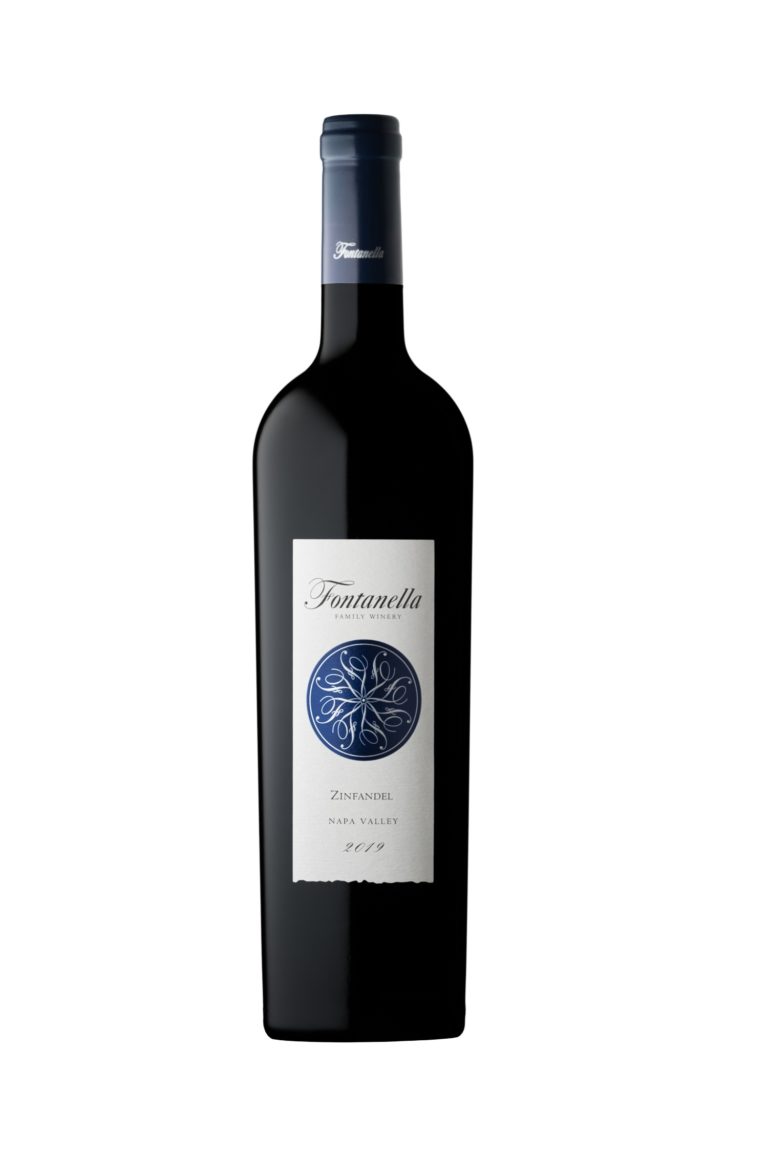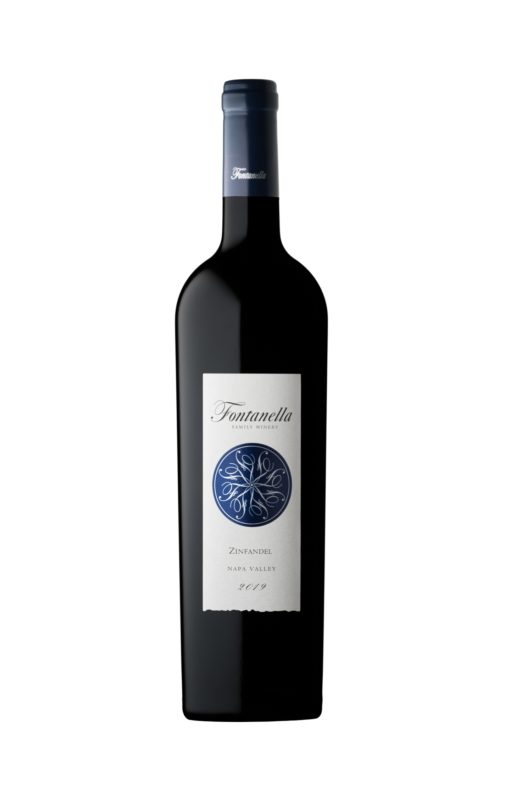 Fontanella is giving the lucky winner two bottles of the 2019 Zinfandel, the wine will be shipped to the winner's doorstep. (open to US residents only, cannot ship to Mississippi or Utah) These two bottles of wine are valued at $116. If you would like to purchase wine from them, they have done something amazing for me this month! They have given me a promo code that saves my readers 15% off of their purchase. Use AFFAIRHEART15 at checkout to save — but don't delay, the code is only good from March 1 -31, 2021.
2019 Fontanella Zinfandel Tasting Notes: Perfectly structured and elegantly balanced, Jeff's 2019 Napa Valley Zinfandel packs a plush mouthful of fruit: caramelized raspberries, dried cranberries and cherries pop from the glass and are framed by sweet barrel notes of vanilla, baking spices and coffee. The slightly cooler 2019 harvest season has yielded incredible balance, body, and a concentrated fruit finish.
This wine was perfect with this spicy Bucatini Pasta!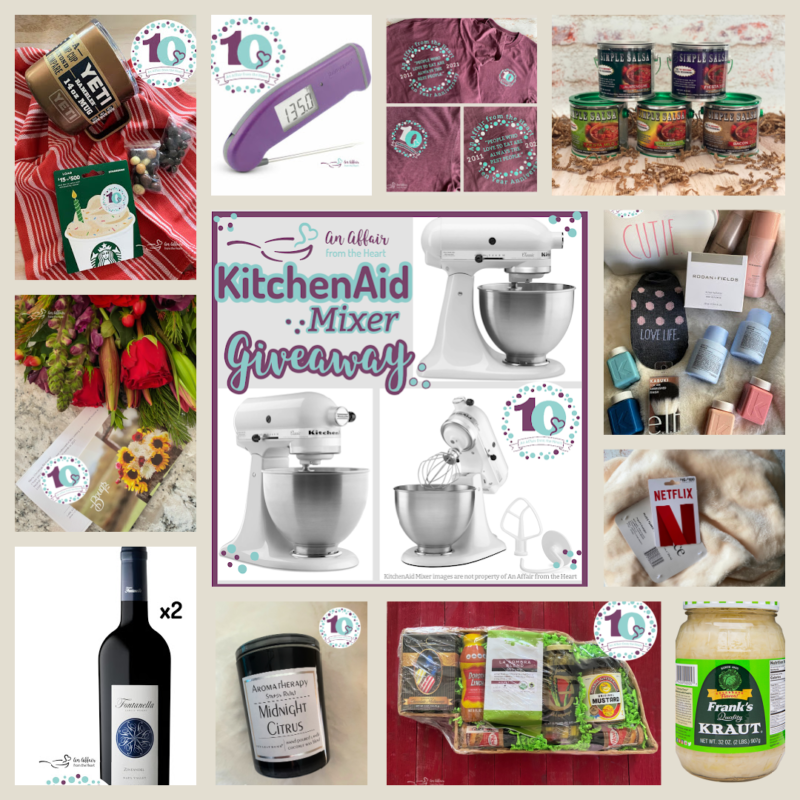 It's my 10th Anniversary and I am giving out all sorts of amazing gifts! In addition to the two bottles of Fontanella wine I told you about, there are ten other gifts, including a KitchenAid mixer! You can read all about the giveaway items in this blog post, and you can enter into the contest to win there, or you can
ENTER TO WIN RIGHT HERE!

Other Italian Sausage Recipes
Italian Meatballs (pictured above)
Tortellini Soup with Spinach and Sausage
Peppers and Onions with Sweet Italian Sausage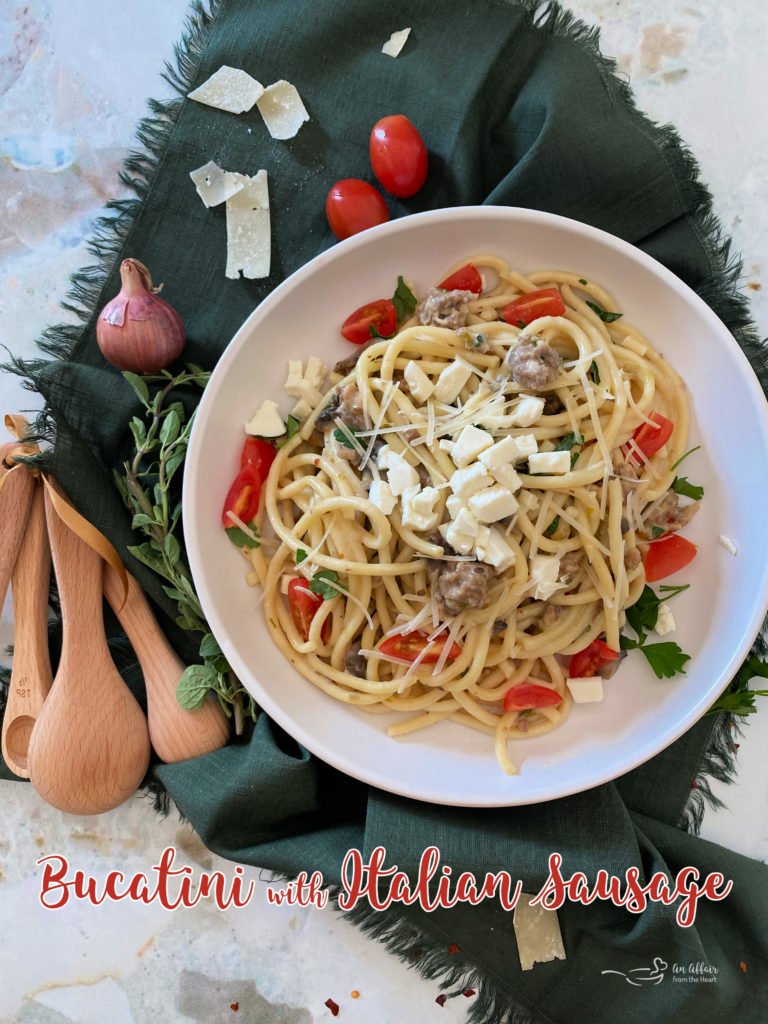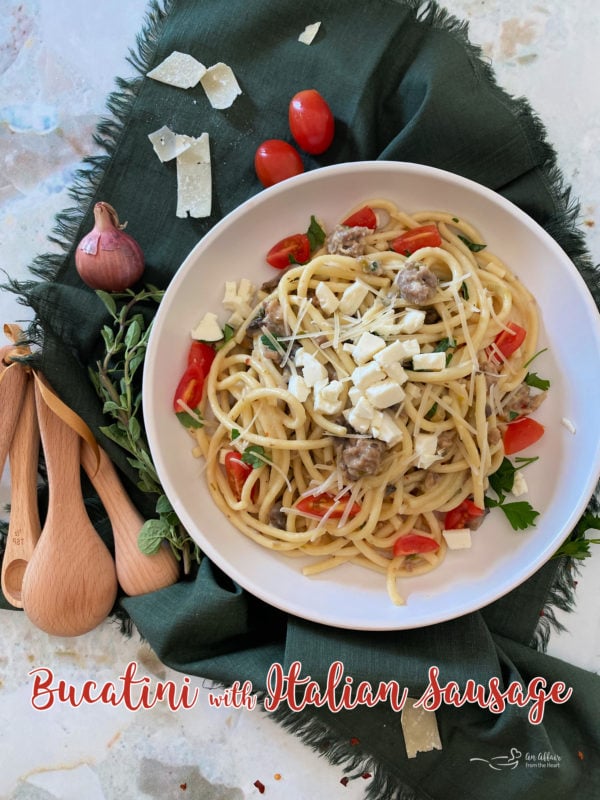 Let's make some bucatini with Italian sausage and uncork a bottle of Zinfandel, shall we?

Yield: 8 servings
Bucatini with Italian Sausage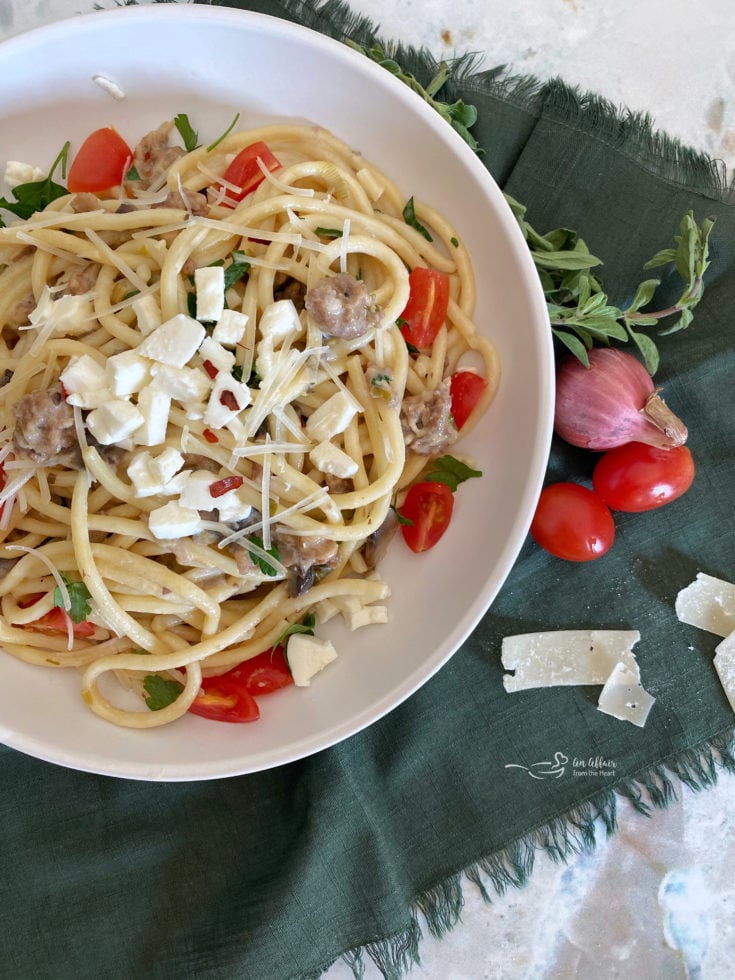 Bucatini pasta with Italian sausage made in a creamy white wine cheese sauce, served with fresh herbs, tomatoes and mozzarella cheese. A serious flavor overload for your taste buds.
Ingredients
1 pound Bucatini pasta, cooked al dente
1 pound ground Italian sausage
1 bunch (8 pieces) green onion, sliced
1 small shallot, minced (about 2 Tablespoons)
1 teaspoon red pepper flakes
16 ounces baby Bella mushrooms
1 stick of butter (1/2 cup)
1 cup dry white wine (I used Chardonnay)
1 cup heavy cream
8 ounces Parmesan cheese, grated + more for serving if desired
1/4 cup fresh Italian parsley
Fresh mozzarella cheese and halved cherry or grape tomatoes for serving
Instructions
In a large skillet, brown Italian sausage with green onion, shallots and red pepper flakes.
When the meat is about halfway cooked, add in mushrooms. Continue cooking until meat is no longer pink.
Add in the stick of butter and let it melt.
Add in the wine and cook for about 5 minutes. Pour in cream.
Stir in Parmesan cheese, reduce heat to simmer and let cook for about 5-10 minutes, sauce will thicken, be sure to stir it so it doesn't stick.
Add in cooked Bucatini and fresh Italian parsley, stir together and serve when it's heated through, topped with chopped fresh mozzarella cheese and cherry tomatoes.
Recommended Products
As an Amazon Associate and member of other affiliate programs, I earn from qualifying purchases.
Nutrition Information:
Yield:
8
Serving Size:
1
Amount Per Serving:
Calories:

688
Total Fat:

47g
Saturated Fat:

25g
Trans Fat:

1g
Unsaturated Fat:

21g
Cholesterol:

123mg
Sodium:

1061mg
Carbohydrates:

35g
Fiber:

3g
Sugar:

5g
Protein:

26g
Please note that nutrition is not guaranteed accurate.

If you make this recipe, I'd love to know! Snap a picture, share the photo on social media with the hashtag #AnAffairFromTheHeart – I'd love to see what you made! – Michaela