An Affair from the Heart Celebrates 10th Anniversary
As an Amazon Associate and member of other affiliate programs, I earn from qualifying purchases.
On March 2, 2021, my blog will turn 10 years old! Whether you call it a birthday, an anniversary, or a blogiversary — I call it, let's PARTY! I am celebrating the ENTIRE month of March with all sorts of giveaways, prizes, and of course recipes! Read on to hear about my journey over the last ten years.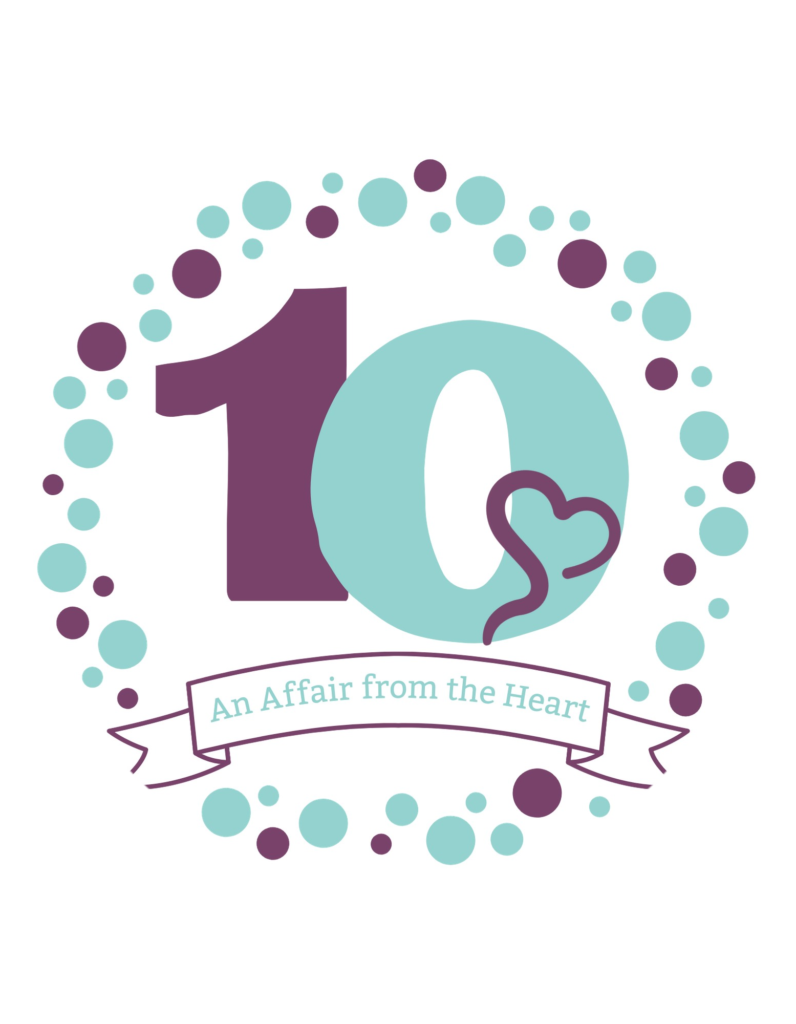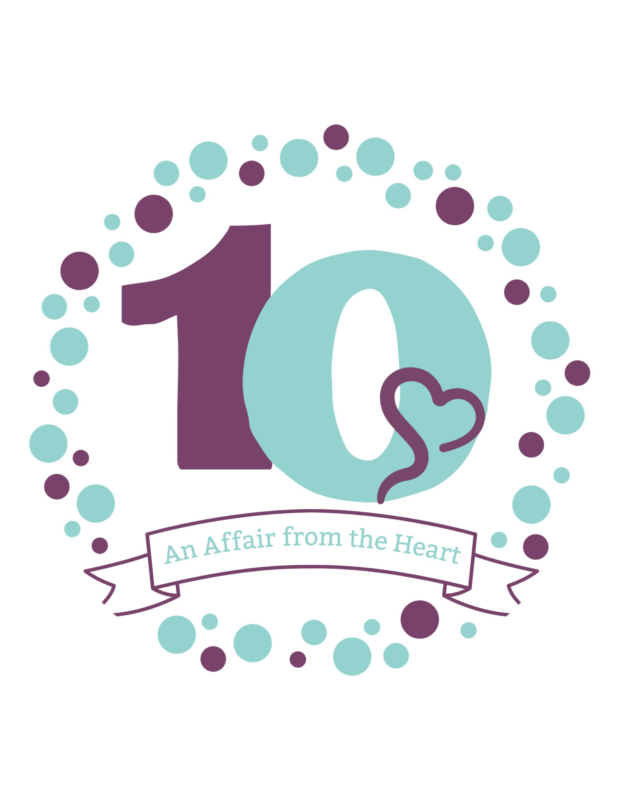 From the Beginning to Now
When I first posted to my then blog hosted by Blogspot – a free website hosted by Google, I pretty much had no idea what I was doing. I had the help of what I knew designing my MySpace page (LOL!) and that was about it. My friend told me she had started a recipe blog and mentioned that I should start one to share photos of some parties I had been hosting, I thought, why not!?
I posted about a Valentine party I had given for my girlfriends, and then over the course of a few months photos and what I had served for food at a few more. But a girl can only throw so many parties, and when a few people asked for the recipe for some of the menu items from the parties, I began adding those in, too.
The recipes did way better than the party photos, and eventually the "entertaining blog with a few recipes sprinkled in" became a food blog with some fun entertaining ideas that I share from time to time.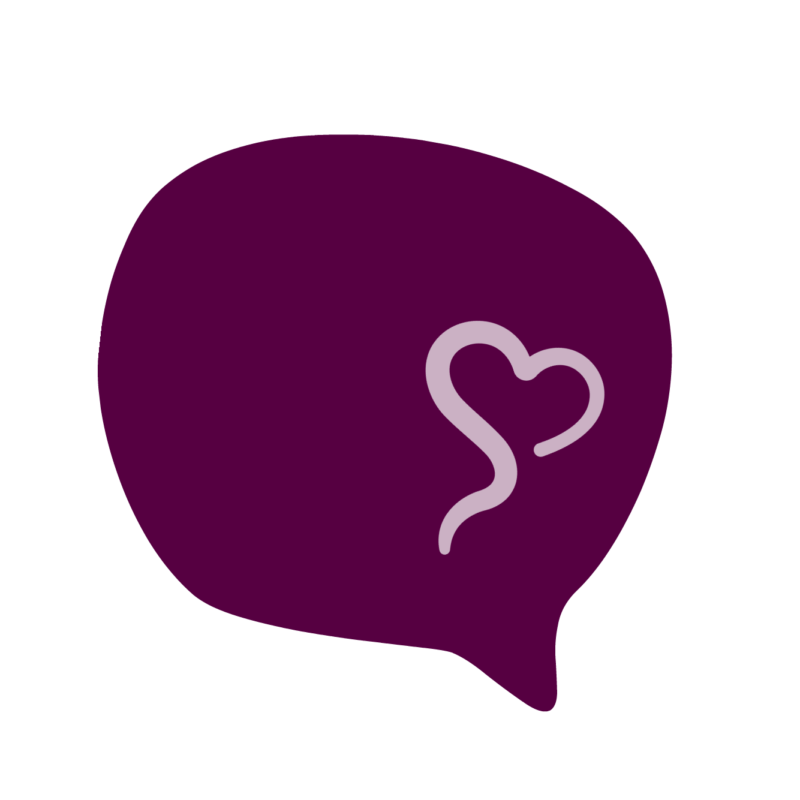 Family, Friends & Followers
I am absolutely humbled when I take a minute to think about the number of people that my content reaches each day. Back in the beginning when the only people that ever followed along was my Mom and a couple of friends, to reaching millions of people all over the world each month, it's mind-boggling to think that I started this as a fun little hobby when I was a stay at home mom to our 4 children.
I have met so many amazing people over the course of the last ten years, some of whom are now my closest friends. (they know who they are!) From online groups to big huge conferences, the people I have met are some of the greatest people ever.
I am surrounded by a group of women that truly wish nothing but the best for me, and I for them. We don't compete, we are not petty or jealous, we just want each other to succeed and to be happy. Who could ask for better friends than that?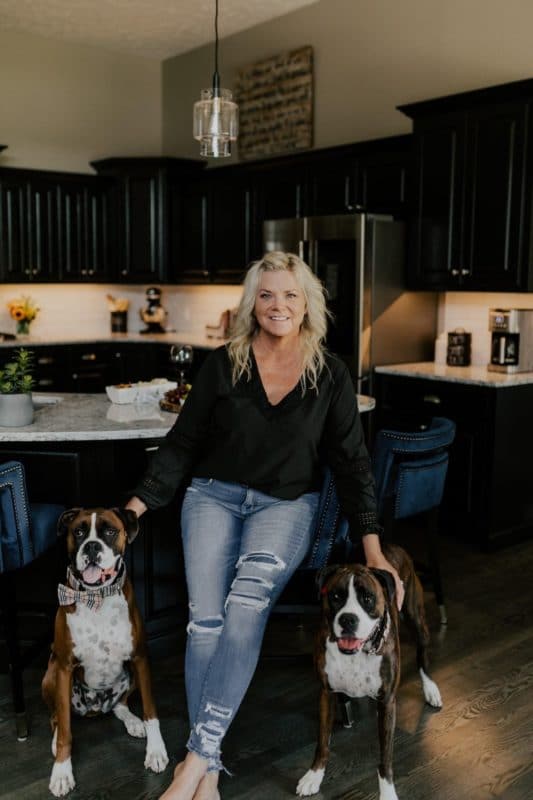 A few of my favorite things
I racked my brain, and I reached out to those supportive and brilliant friends of mine when I set out to make my anniversary month one that would be fun for everyone. I decided that I would be a little bit like Oprah when she used to give out "her favorite things" at her Christmas show. No, although I wish that I could, I can't give you all a car. But I have done my very best to come up with some prizes that I hope that you will think are fun, and reflect who I am.
I am giving away 11 things in the month of March. Why 11 instead of 10? Well, that starts my favorite things — 11 is my favorite number. So I will give out 10 prizes to represent my ten years, one for each of my 10 favorite things. The eleventh prize is one that I am asking for your help with. So here goes —
The 11th Item I am giving away is a Kitchenaid mixer! Or, a visa gift card for $250 if you already own one.
How to win a Kitchenaid Mixer
To get entered to win the mixer (or the gift card) you simply have to make my recipes! Yep. That's it. Bake, make dinner for your family, try a new appetizer or drink recipe, then take a photo of it and email it to me at info@anaffairfromtheheart.com – Subject: Here's My Recipe!
I will take entries from March 1 until 11:59 PM CST on March 31st. You can make as many recipes as you want, just send a photo of it to me in an email, tell me what you made and what you thought of the recipe and you get entered to win. Pretty easy right?
Bonus Entry
You can get a bonus entry for each recipe photo you share and tag me on social media. (please don't share the complete recipe, just the photo and the recipe title with a tag to my Facebook page or to my Instagram page and include this hashtag: #AnAffairFromTheHeart Due to many people's social media accounts being set to private, I may not be able to see them, so I am asking that you send a screenshot of the share to my email as well.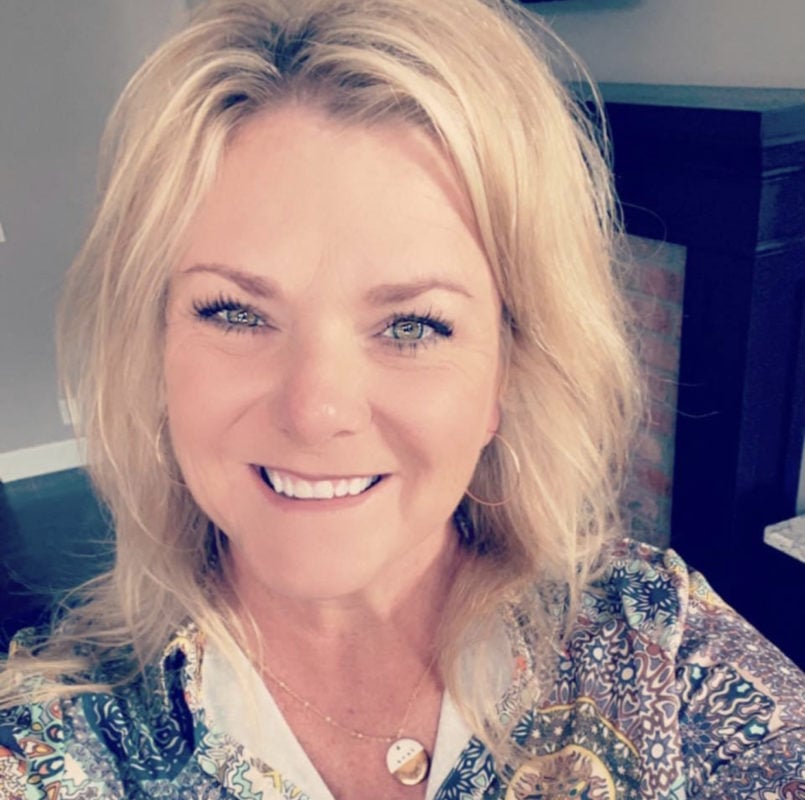 About Me
Here are some facts about me. They may sound random, but most of them will reflect why I chose the prizes that I did. Here are some things about me, in no particular order.
I listen to music all day, every day. I listen to pretty much everything you can imagine, and you would be surprised at the sheer randomness of my playlists. But I am an 80's rock girl down to my core.
I can't have the tv on during the day and find daytime tv to be mind-numbing. I hate watching the news, even more so over the last year as I find it is a major factor when it comes to contributing to depression. I have political views like everyone, but you won't hear me talk about them on my blog or my social media channels. I want those places to be happy for you, not confrontational.
I am what one would call a sun-worshipper. The sun is such a source of happiness for me, whether it's a sunset, a sunrise or it's high in the sky, it's a mood lifter for me for sure. Back in the 70's and early 80's, I was one of those who liked to lay in it slathered in baby oil. I know now that this wasn't the best idea, but man, it was sure fun at the time!
Growing up I hated the color of my eyes. I always wanted blue eyes. These days they are one of my favorite things about me, as I have never seen anyone with my eye color in my life. (since having to wear a mask, I have had so many people mention them, it's funny!)
I am a master over-thinker. I internalize things way too much and don't do well when I don't get closure. As much of an overthinker as I am, I tend to make decisions quickly – which is odd, but true – this and …
… I am my own worst critic. I am terrible at taking compliments. I am doing my best to overcome these traits as I find them to be some of my worst. Learning how to be nice to myself is almost as difficult as learning a foreign language, but I will overcome that, and I have learned that sometimes what people do to you, no matter how hurtful and confusing, you may not ever know the reason why. I have to tell myself that that hurtfulness is on them, and not on me. Because one other thing I do? I give people A LOT of chances. Probably too many.
I dreamed of being a stay-at-home mom when I was little, just like my mom was, and I was able to do that. Who knew that I would find a full-time career that I love when we were almost empty nesters? (another cool thing about my job? I can do it from anywhere — and boy do I plan to do that!!)
I love traveling, my family, and my two boxers are the smiles in the middle of my chaotic days.
I love Mexican food, I hate clutter, and about the only thing I "collect" or "display are photos, candles, and pottery. Oh, and cookbooks. (I will have my own someday — just wait and see.)
I love fresh flowers and clean sheets and if I won the lottery I would for sure do 3 things (besides the obvious things taking care of those I love) I would have a huge bouquet of fresh flowers in my house at all times, I would sleep in freshly washed sheets every night and I would donate to the 3 charities I love. One is for animals, one for veterans, and one is for suicide prevention.
I love coffee and wine, I love to cook, and (now) love to bake, even though I never used to. Now I bake when I am nervous or upset. It brings me peace. I am kind of a girly girl, the afternoons spent at my daughter's salon getting pampered are the best. I would not call myself high maintenance though – I am just as content in a ball cap and a Husker sweatshirt. I LOVE Nebraska.
I love giving gifts. I love seeing someone happy when they open a beautifully wrapped gift that I got them, even more so if it's something that surprised them, touched them, or didn't even know they needed/wanted.
That is why even though it's MY 10th (anniversary) BIRTHDAY — I AM the one giving the presents!!
Giving gifts is one of my MOST FAVORITE THINGS to do!


These prizes will all accompany recipes throughout the month, but here is what YOU can win in addition to the KitchenAid mixer. The giveaway is valued at over $1400! This main post will be updated with photos and recipes for each as the month goes along.
In addition to each prize, the winner will also receive one of my custom-made 10th Anniversary T-Shirts with one of my favorite Julia Child Quotes, "People who love to eat are always the best people." The graphic for these t-shirts was made by JAK Designs and printed by a longtime friend of mine at his print shop in my hometown, Midwest Impressions. (t-shirt sizes are limited to what I have on hand)

Netflix & Cuddle
gift value: $65
Win a $25 Netflix gift card and a Berkshire brand snuggly blanket to cuddle up in while you binge-watch your favorite series or movies. As much as I love dressing up and going out, an evening spent on the couch in your PJs under a blanket with a bowl of popcorn can't be beat!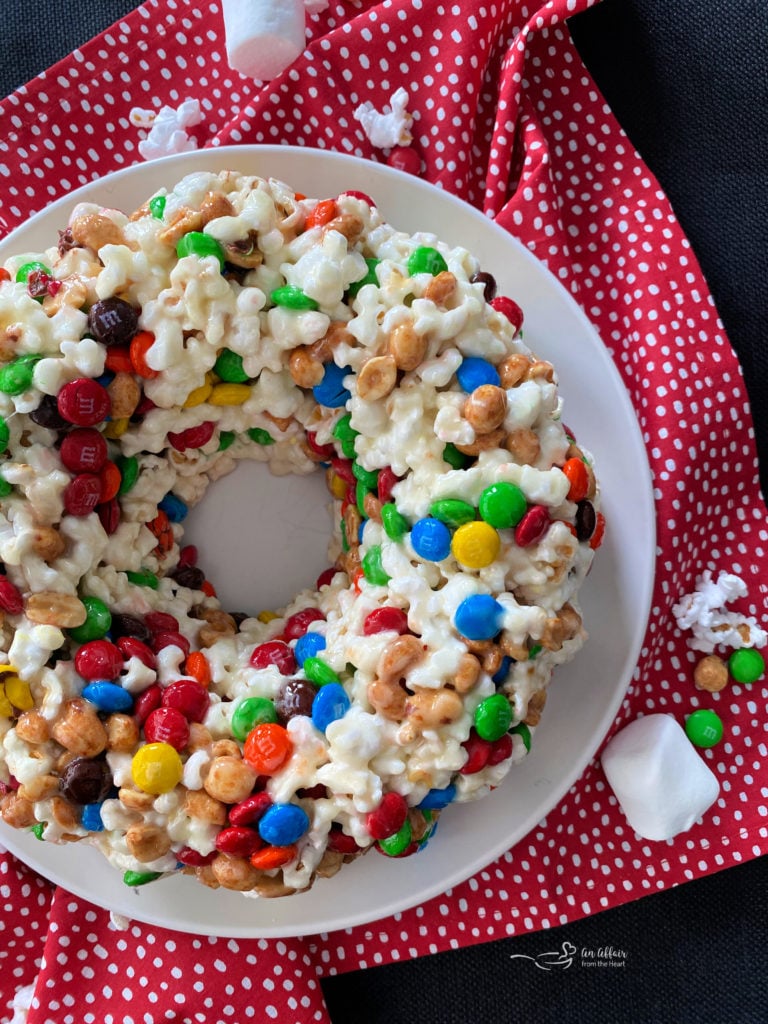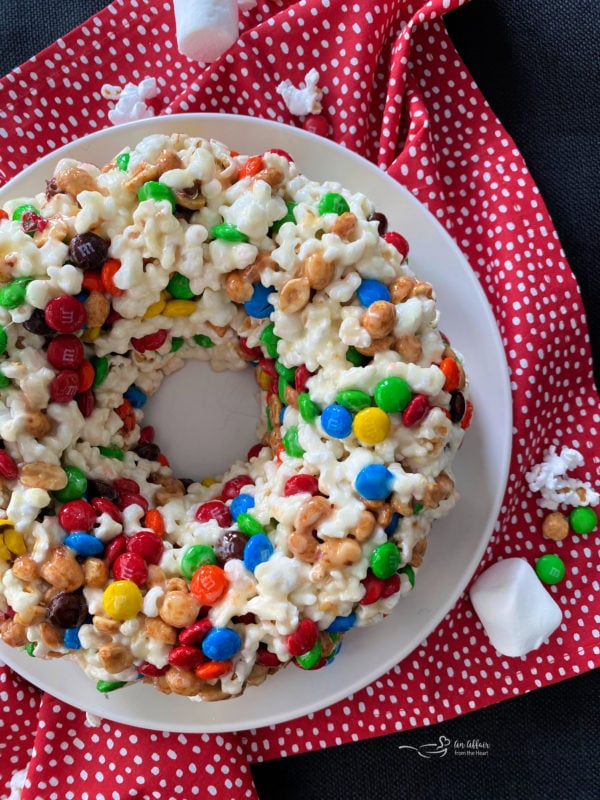 What is better than a movie and popcorn? Well … maybe a popcorn cake?? This POPCORN CAKE recipe was perfect for the Netflix giveaway!

Fontanella Wine
gift value: $136
I have been a wine club member since I first stepped foot on Jeff & Karen Fontanella's family winery on Mt. Veeder in Napa Valley in 2018. It is hands down my favorite wine, and when that box arrives on my porch, only my favorite FedEx guy gets to witness my happy dance! (HA!) They grow all of the grapes, make the wine and sell it onsite and on their website. Their wine is not sold in stores.
During the month of March 2021, you can purchase wine and have it shipped right to your front door for a discounted price! Simply visit their website and enter this discount code to receive 15% off of your order! Discount Code: AFFAIRHEART15
The winner of the Fontanella gift will receive 2 bottles of their 2019 Mt. Veeder Zinfandel. (cannot ship to Mississippi or Utah)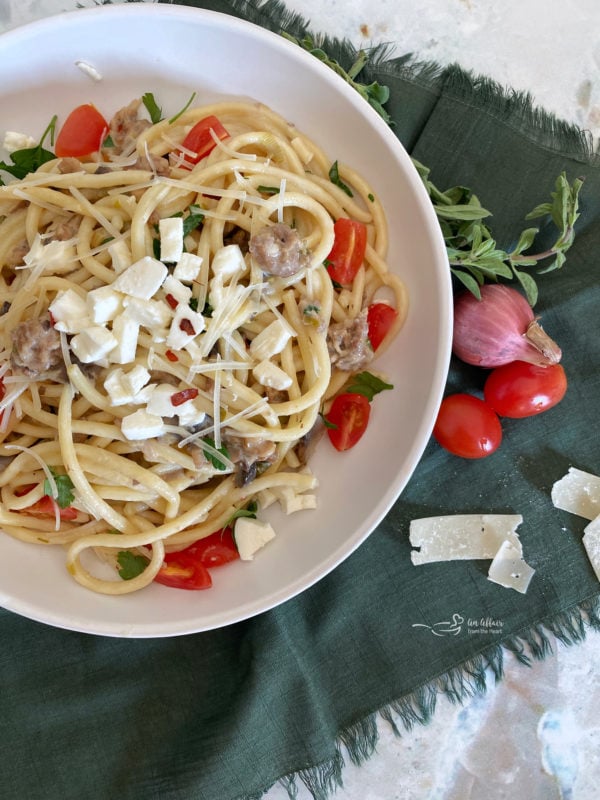 Bucatini with Italian Sausage is made in a creamy white wine sauce, and pairs perfectly with a bottle of Fontanella Zinfandel!

Frank's Kraut
gift value: $48
Frank's Kraut and I have had a working relationship since 2005. I grew up eating Frank's and it's the only sauerkraut I buy. I have a ton of sauerkraut recipes and Reuben recipes on my blog, I encourage you to check them out!
March is National Reuben Month, and I always create a recipe in honor of it. Frank's Kraut was kind enough to be a part of my Anniversary giveaway, too! They will send the winner 1 Frank's Kraut Celebrate Flavor t-shirt, 1 jar of Frank's Kraut, 1 can of Bavarian kraut, 1 can of regular kraut.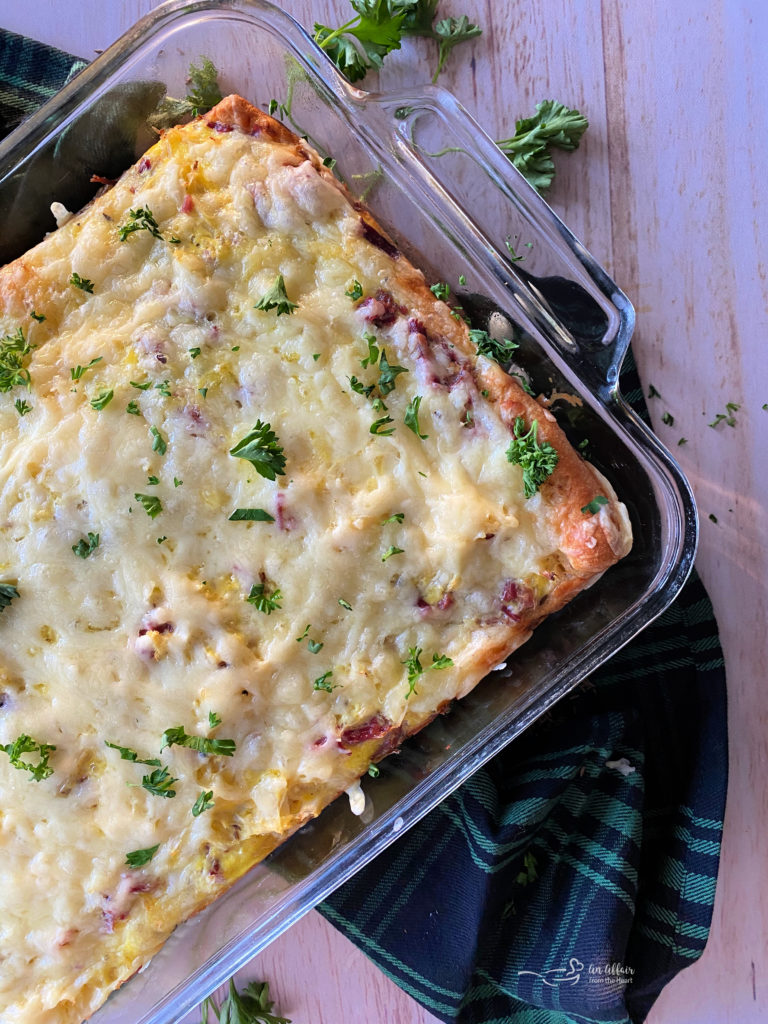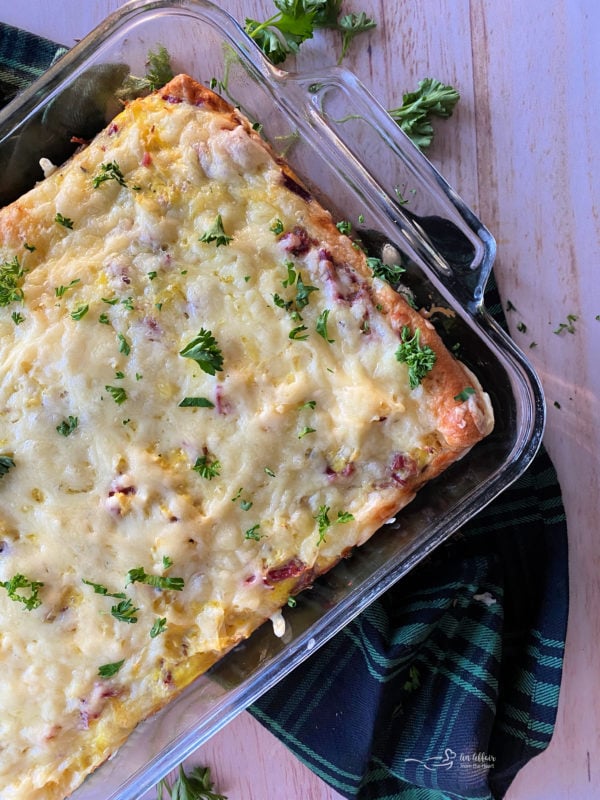 Reuben Breakfast Casserole made with crescent rolls is the perfect way to kick off the day and celebrate National Reuben Month with Frank's Kraut!

JR Simple Salsa
gift value: $124
Tortilla chips and salsa are my kryptonite. No willpower whatsoever! This giveaway wouldn't be complete without getting to enjoy my favorite snack!
Julie & Rich Kemp are the owners and creators of J&R Simple Salsa mixes and seasonings. I was lucky enough to have been gifted a jar of their salsa mix for Christmas and immediately ordered from them. I am hooked.
Each one of their unique "pails" of salsa seasoning makes 18 servings. All you do is mix it with a can of diced tomatoes and you are ready to get dipping! Their Award-Winning Chili Seasoning and dip seasonings take the guesswork out of great meals and appetizers. Rich is a bit of a foodie himself and has a whole bunch of recipes on their website. I encourage you to check them out!
JR Simple Salsa was so generous! The lucky winner will receive 1 can of each of these salsa flavors: Mild Green Hatch Chili, Fiesta Medium, Jalapeño Lime, Bacon and Fiest Mild. The winner will receive a packet of Award-Winning Chili Seasoning, a Guacamole Seasoning, and one of each of these dip mixes: Monterey, Onion & Garlic, Smokehouse, Jalapeño Ranch and Chipotle Ranch.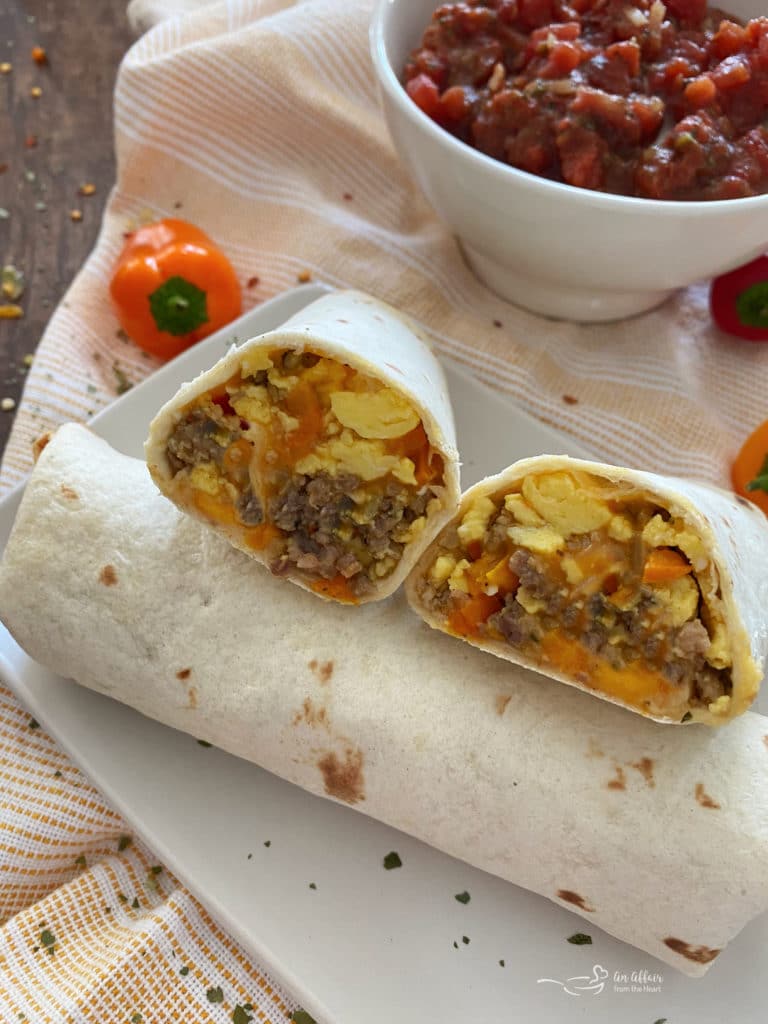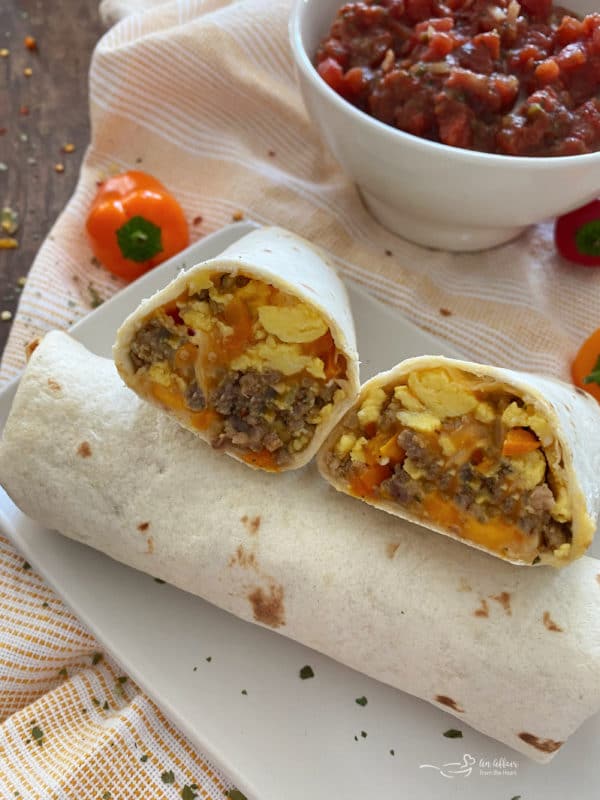 Breakfast Burritos are a protein-rich way to start the day. So delicious, and even more so when you have some J&R Simple Salsa to eat them with!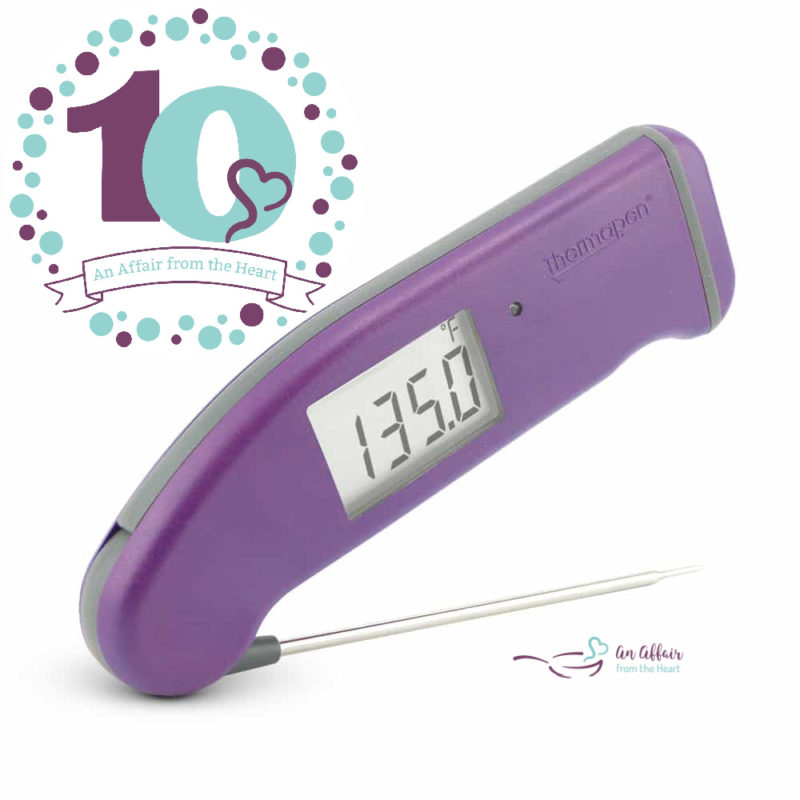 Thermaworks
gift value: $119
Thermaworks is giving away one of their Mk4 Instant Read Thermometers. Hands down the best food thermometer I have ever owned. I not only use it for meat, but it works awesome for making candy, too.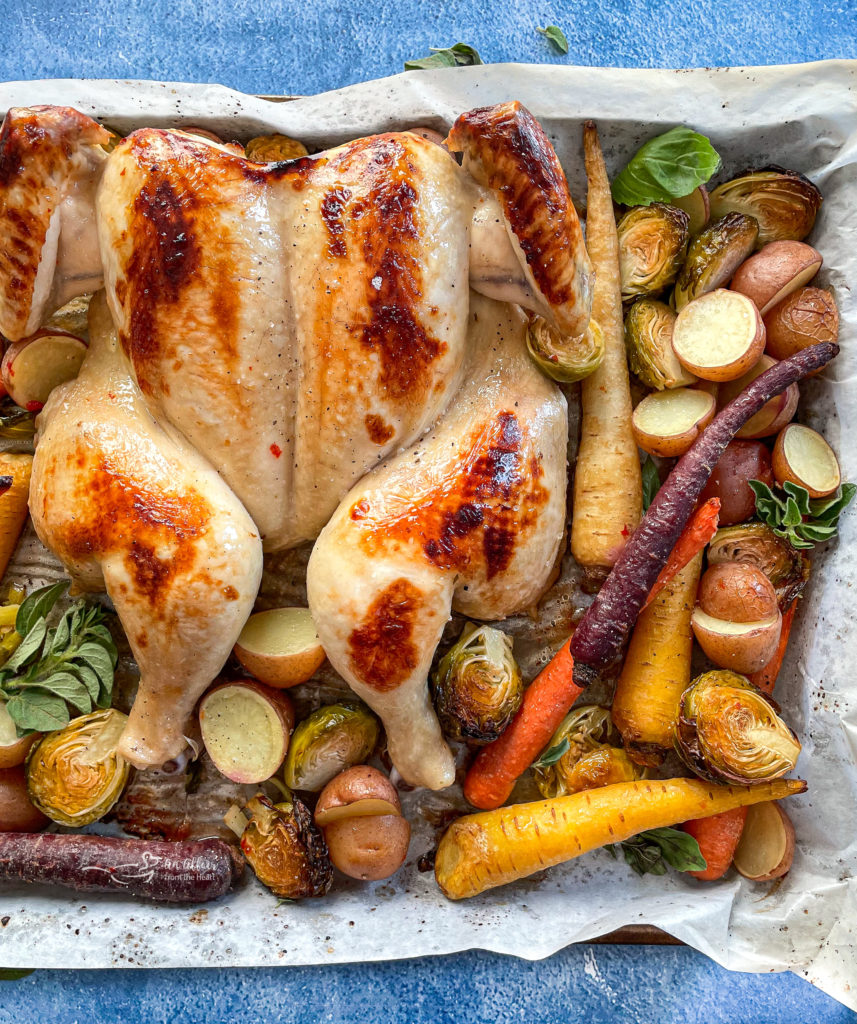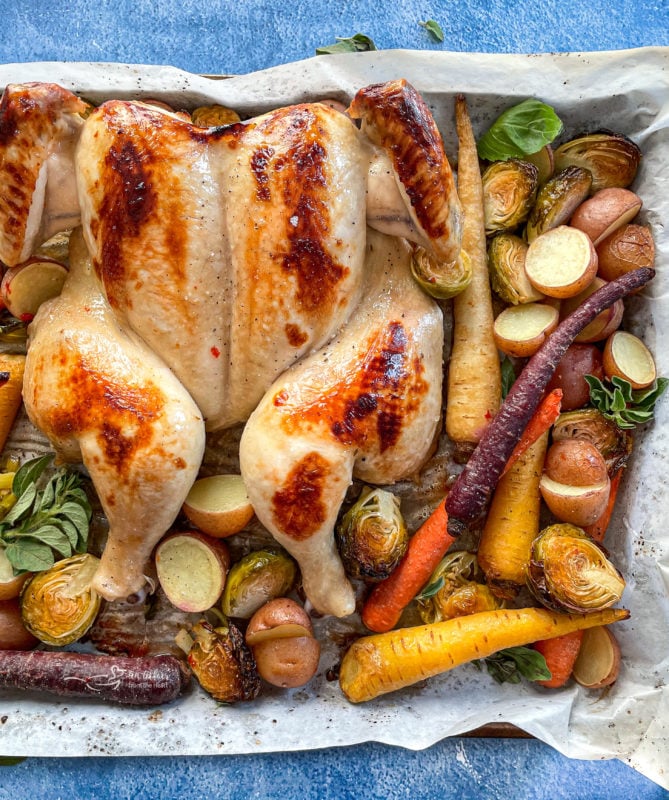 Spatchcock Chicken & Vegetable Sheet Pan Dinner – with a Thermaworks Mk4, you will never have to wonder if that chicken is cooked correctly.

My Favorite Candle Scent
gift value: $30
My favorite candle scent is Midnight Citrus. I used to love one called Volcano, but I could never find it anymore. Now I found this one and I am so grateful!
My Lemon Sweet Roll Recipe was the perfect recipe to share, thinking about the citrus scent of my favorite candle.

Grow Nebraska Basket
gift value: $105
It's no secret that I am a true Nebraska girl through and through. As much as I love to travel, for me, Nebraska will always and forever remain my home.
I am privileged to be a member of Grow Nebraska, a statewide marketing program for Nebraska products, arts and businesses, that was launched as the brainchild of Janell Anderson Ehrke in 1998. Grown Nebraska creates opportunities for small business owners and entrepreneurs to live in "Anywhere, Nebraska" and make a sustainable living.
Grow Nebraska has donated a basket full of some of those products, many of which you have seen me use right here on my website. Included in the basket: Bakers Chocolates, Dorothy Lynch Dressing, Ely Farms Pickled Asparagus, Herbal Gatherings Mustard, Gary's QuickSteak WOW Seasoning, and Arbor Day Coffee.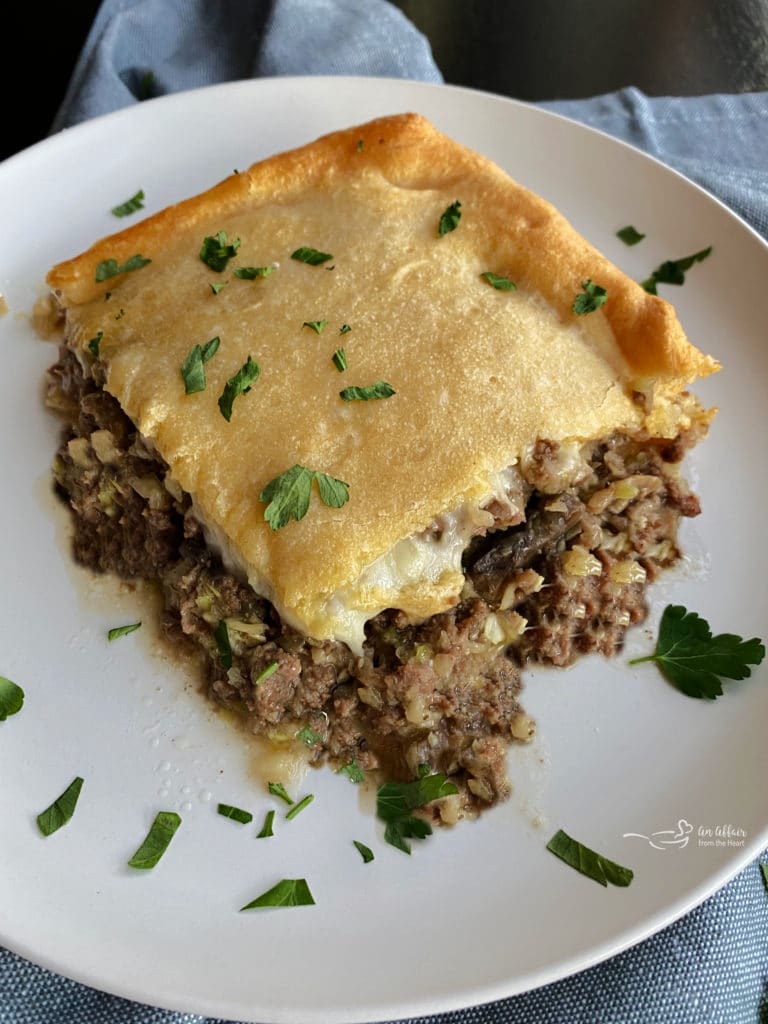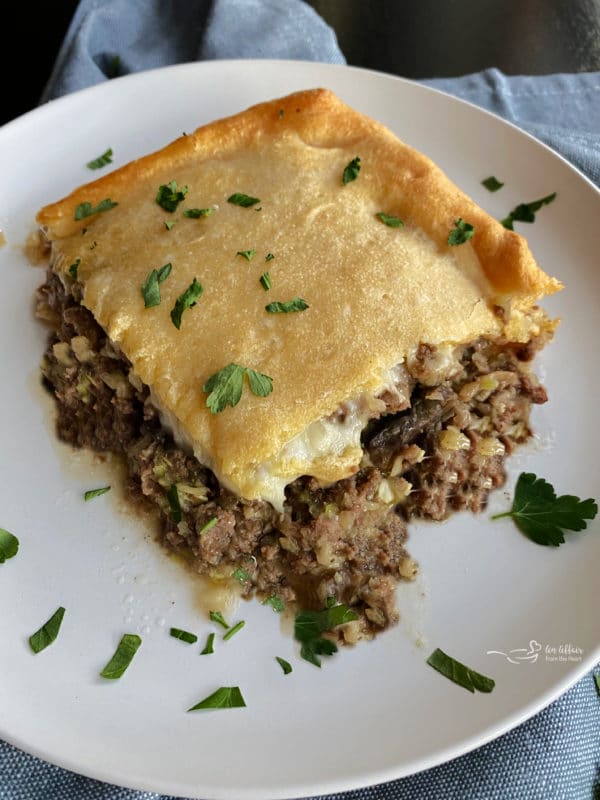 I combined two of my favorites at Runza, a Nebraska favorite, into this Swiss Cheese Mushroom Runza Casserole!

Flower Delivery from Bouqs
gift value: $70
I absolutely love fresh flowers in my home. Last year, during quarantine, each trip I would make to the grocery (every 7-10 days or so) I would pick myself up a little grocery store bouquet and they sat on my kitchen counter or on my desk in my office. The presence of something so simple brightened some very dark days for me, and I have continued that.
I always have fresh flowers to enjoy. Even if it's just a $5 grocery bouquet. I think that everyone should enjoy simple pleasures like this.
The winner of this giveaway will receive a bouquet of flowers from my favorite place to order them from, Bouqs.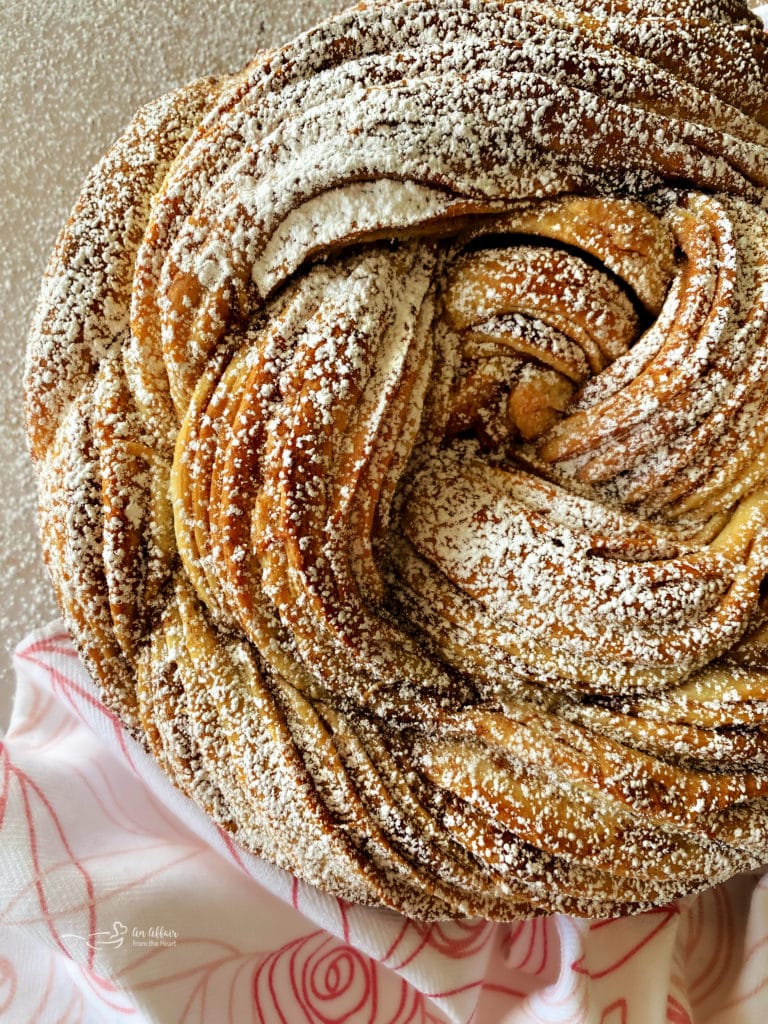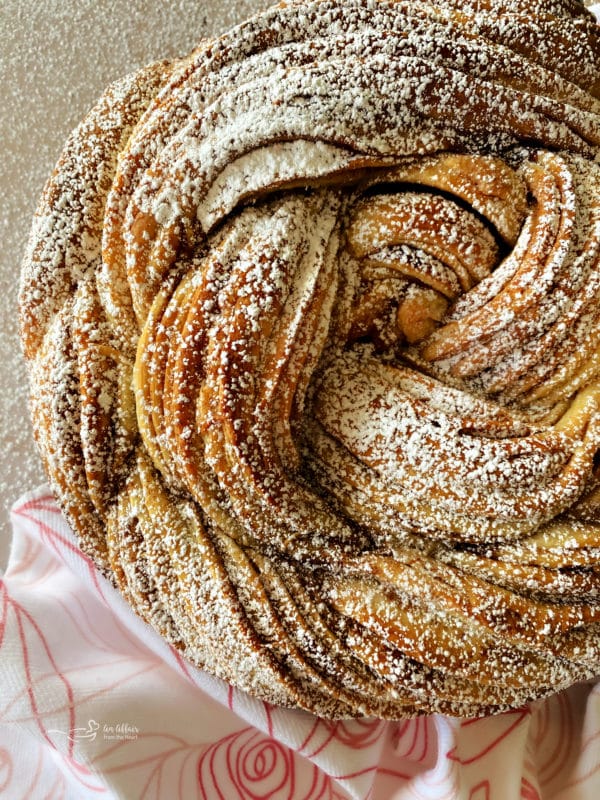 This beautiful Russian Rose Bread was perfec to share on "Flower Day!" Easier to make than it looks, this cinnamon wreath bread is a showstopper!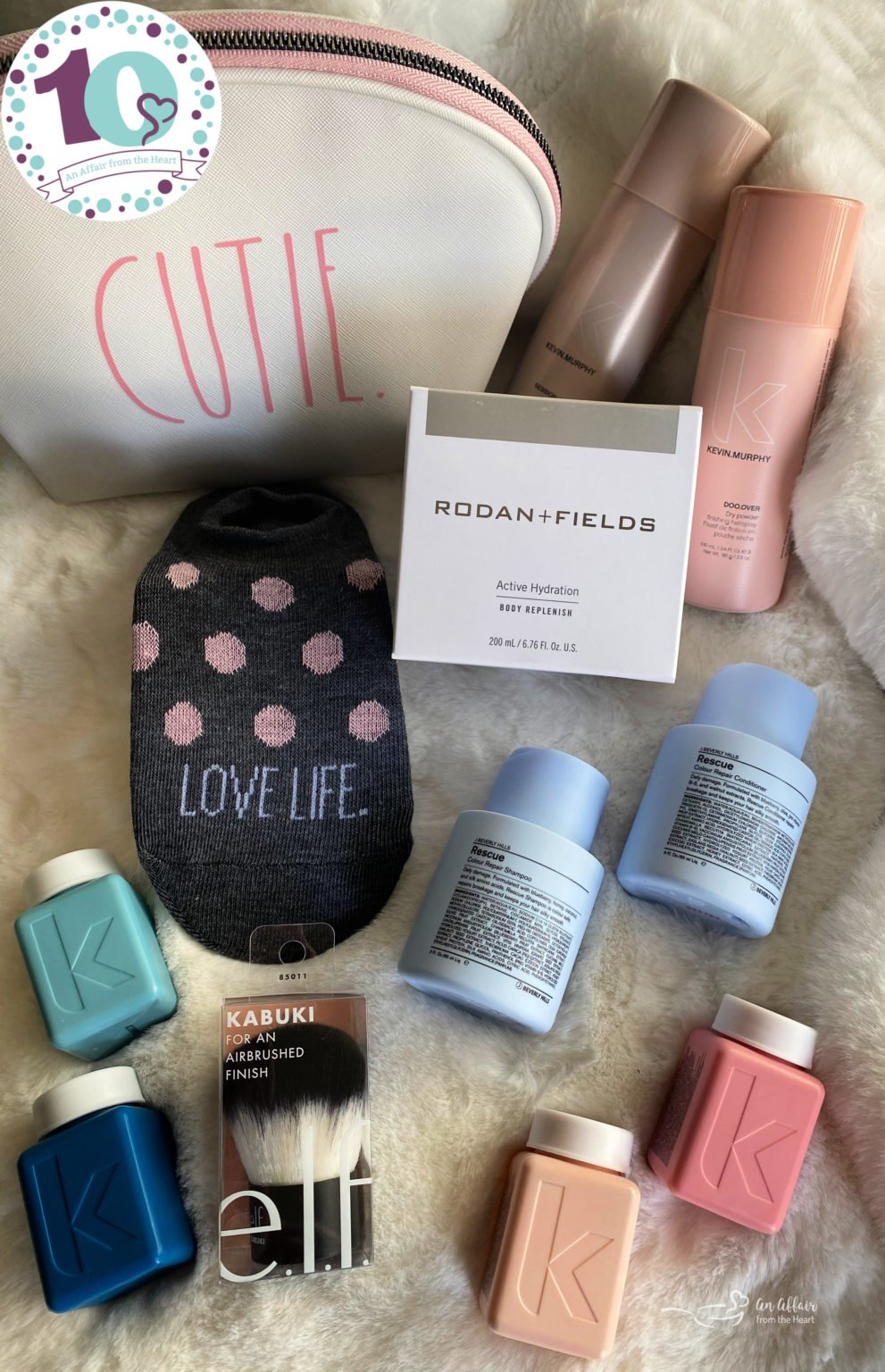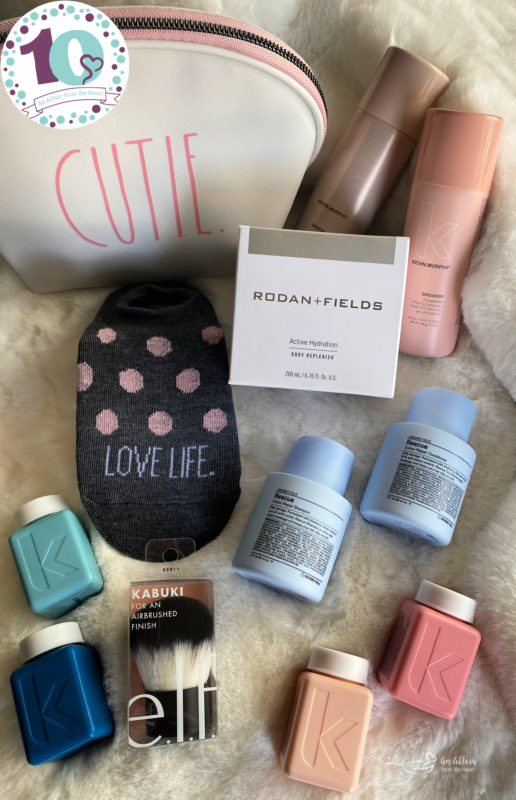 Bag of Beauty Supplies
gift value: $180
This giveaway is beautylicious!! Today I am giving away a Rae Dunn cosmetic bag full of some of my most favorite beauty products. I am all for self-love and self-care.
This gift includes: 1 Rae Dunn cosmetic bag and "Love Life" socks (I ADORE all things Rae Dunn!) travel-sized Kevin Murphy Plumping Wash and Rinse and Repair Me Wash and Rinse, Kevin Murphy Doo Over Spray and Session Spray, J Beverly Hills Rescue Me shampoo and conditioner, an Elf Kabuki brush and a jar of Rodan + Fields Body Hydration.
Thank you to Oak Salon Studio in Omaha, Kenzie Sabaliauskas, stylist for donating my favorite hair care products, and to Marci Lundquist, Rodan + Fields Consultant for donating the active hydration lotion.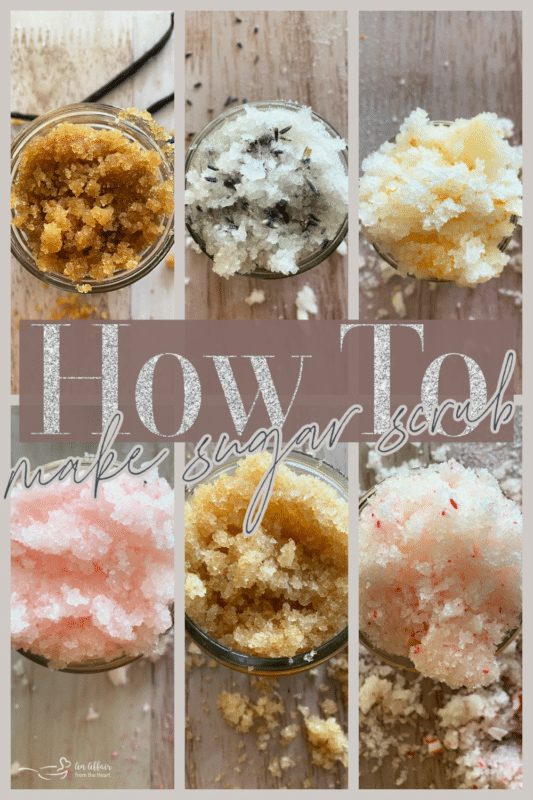 Homemade Sugar Scrubs are wonderful handmade gifts and are also amazing for just using for dry skin at home. (The lemon one is great by your kitchen sink! )There are so many ways to adapt this Basic Sugar Scrub Recipe – it was a great recipe to share in conjunction with my cosmetic bag of beauty supplies!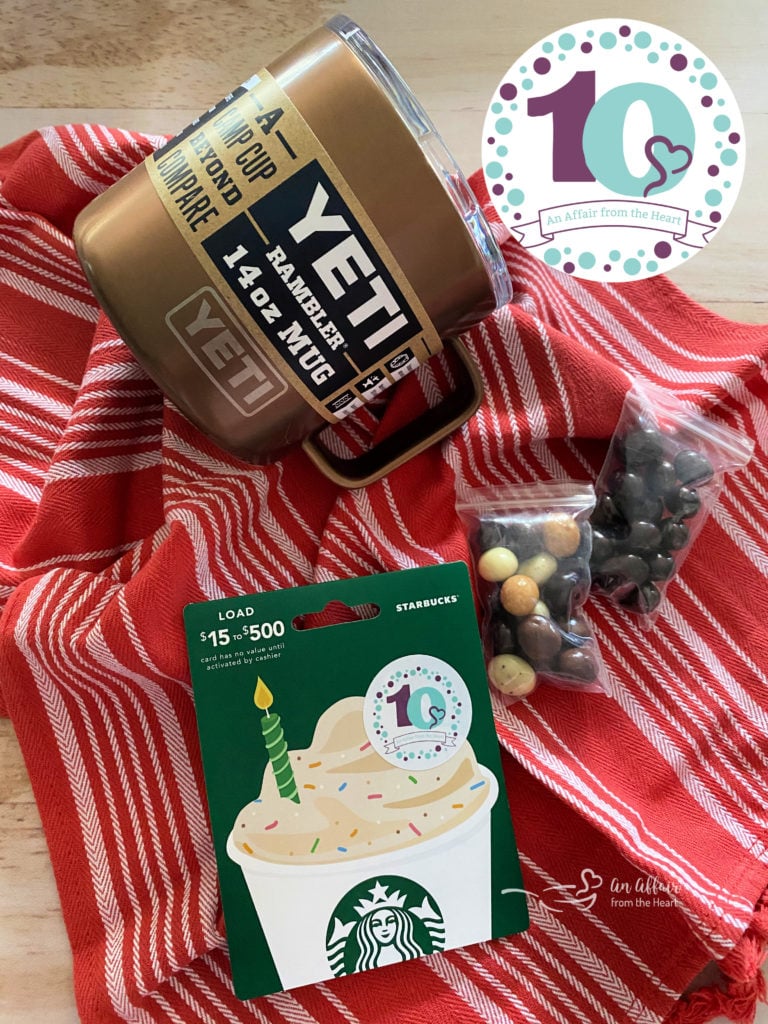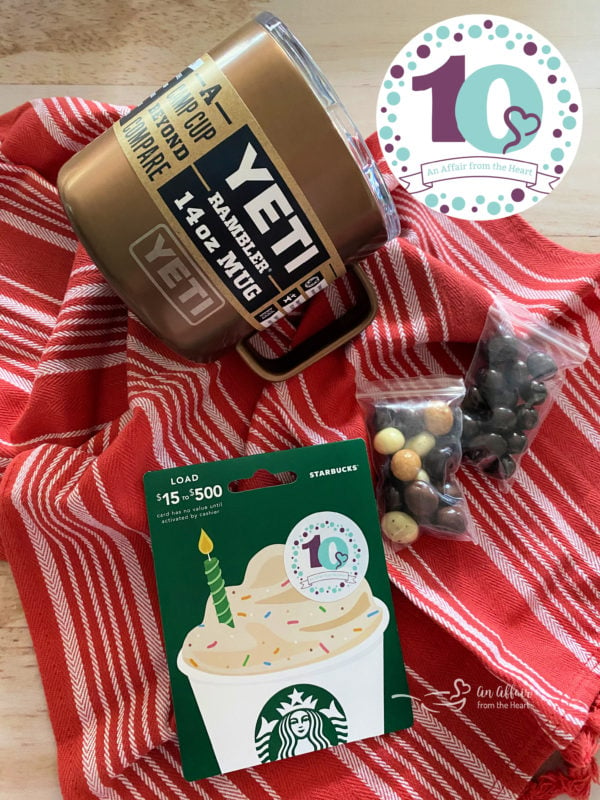 Coffee Lover
gift value: $75
Coffee. The way to begin each and every day.
The winner will receive a $25 gift certificate to Starbucks, a Yeti coffee cup, and 2 packages of Omaha Bakery chocolate-covered espresso beans.
So there you have it! All eleven prizes in one spot! Come back often throughout the month to see the recipes they coincide with, and to enter daily! Don't forget to get your name entered to win the KitchenAid Mixer — you need to make my recipes! There is no limit to how many you can make and submit! Which one will you make first??
This Old Fashioned Sour Cream Coffee Cake was grandmother's favorite to make, and always brought smiles to everyone who was able to enjoy it.
ENTER TO WIN!!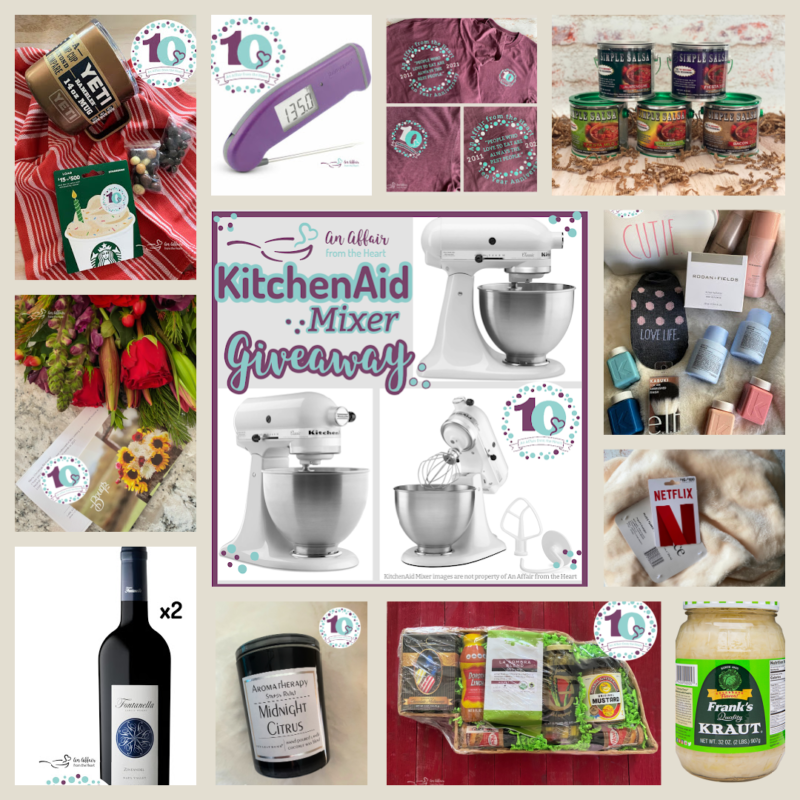 Good luck to each and every one of you!!
I thank you all from the very bottom of my heart for being here with me! You truly are the reason that I do what I do!!
xoxo