Butter Brickle Cookies
As an Amazon Associate and member of other affiliate programs, I earn from qualifying purchases.
Fashioned after that delectable Butter Brickle Ice Cream that originated right here in Nebraska, BUTTER BRICKLE COOKIES are buttery cookies full of toffee bits, chewy on the inside and light and a little crisp on the outside. They are sure to be an instant family favorite!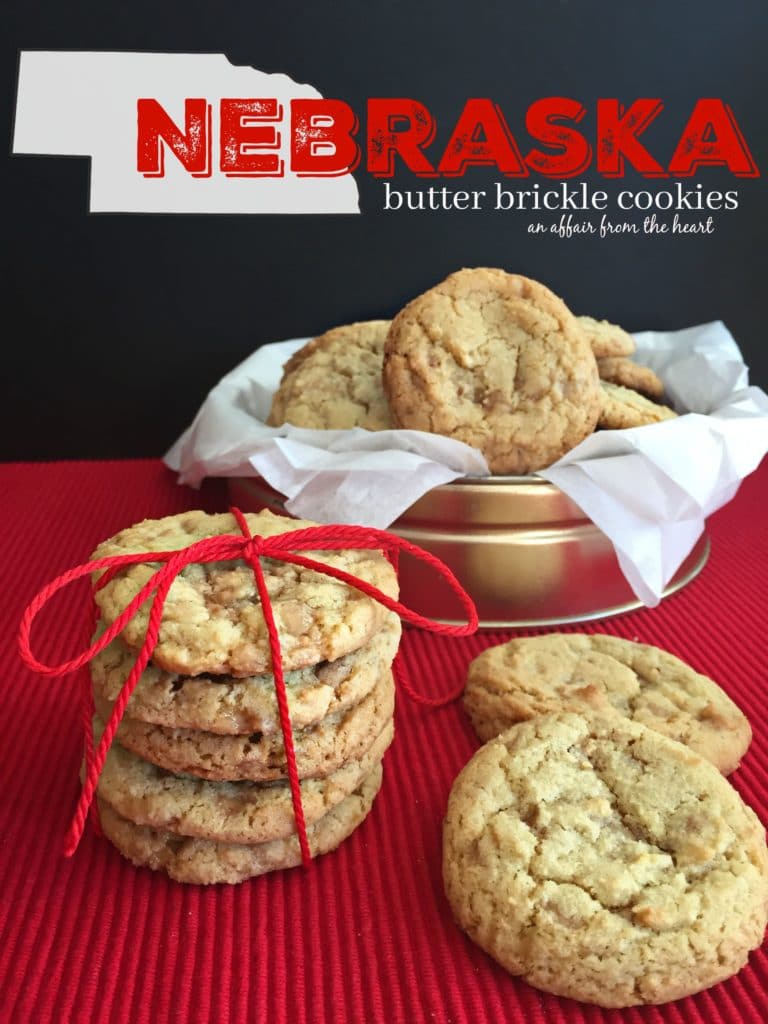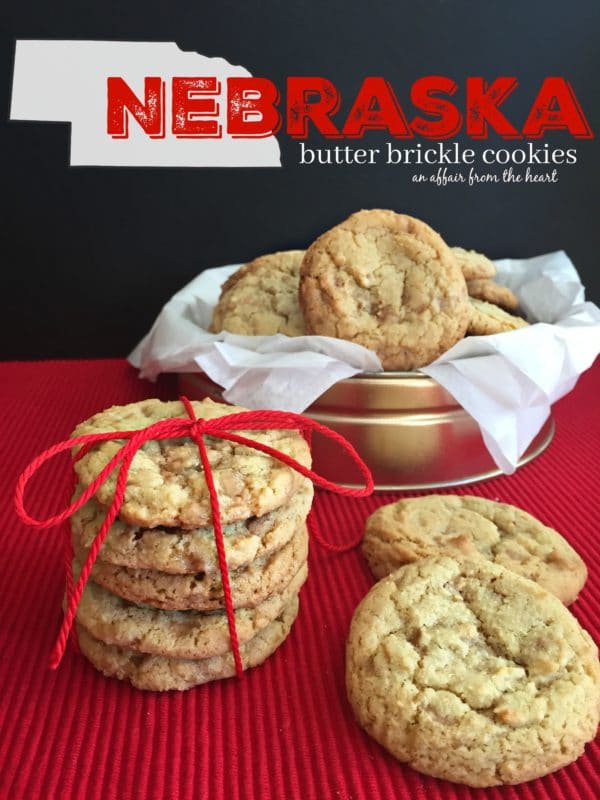 Butter Brickle Cookies? What? you've never heard of them? Well, pull up a chair and let me get you acquainted.
First off, what's your stance on Butter Brickle Ice Cream? Well, here we give it two thumbs up. Not only because it's delicious, but did you know it's actually one of the many yummy foods that originated in my home state of Nebraska?
It's true! Nebraska can lay a claim to fame on many wonderful food items, but Butter Brickle Ice Cream is by far at the top of my list!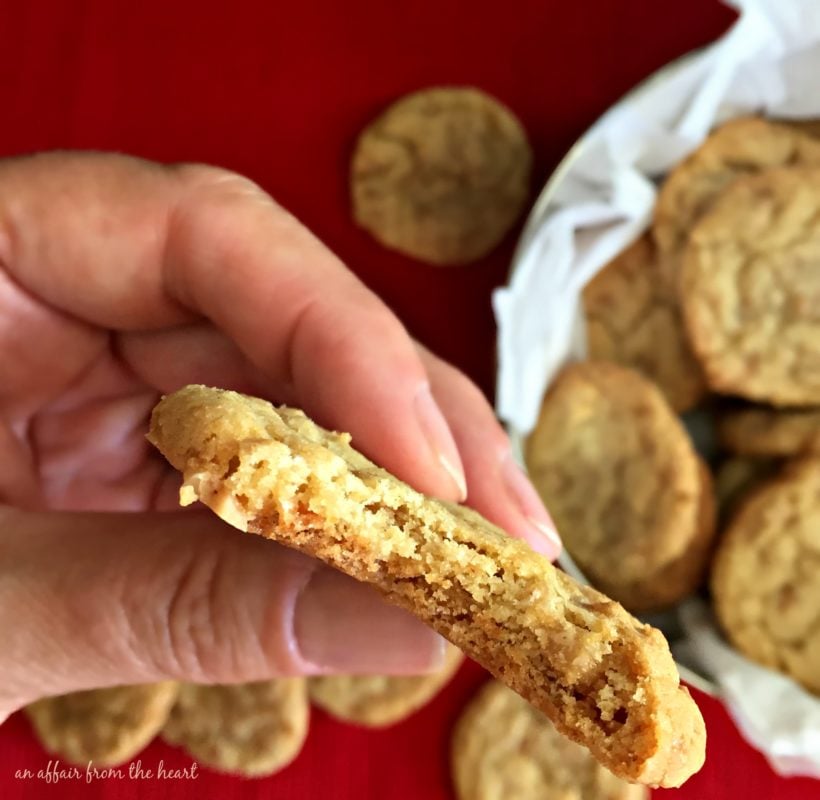 Bob's Red Mill Flour 50 States of Cookies
I was so excited when Bob's Red Mill Flour invited me to participate in their 50 States of Cookies 2016 campaign. That's right! 50 states, 50 bloggers, 50 cookies, with one mission — to bring our country together for a sweet treat that celebrates our wonderful nation.
Every state has something that truly makes it special and Bob's Red Mill Flour is celebrating that diversity in cookie form!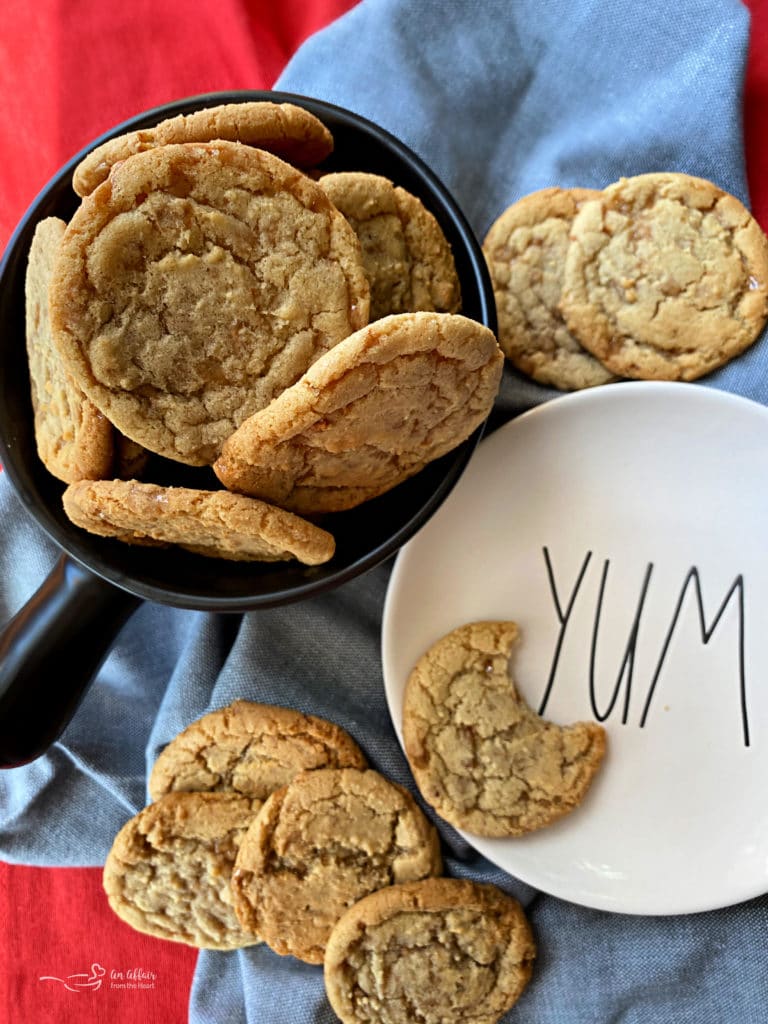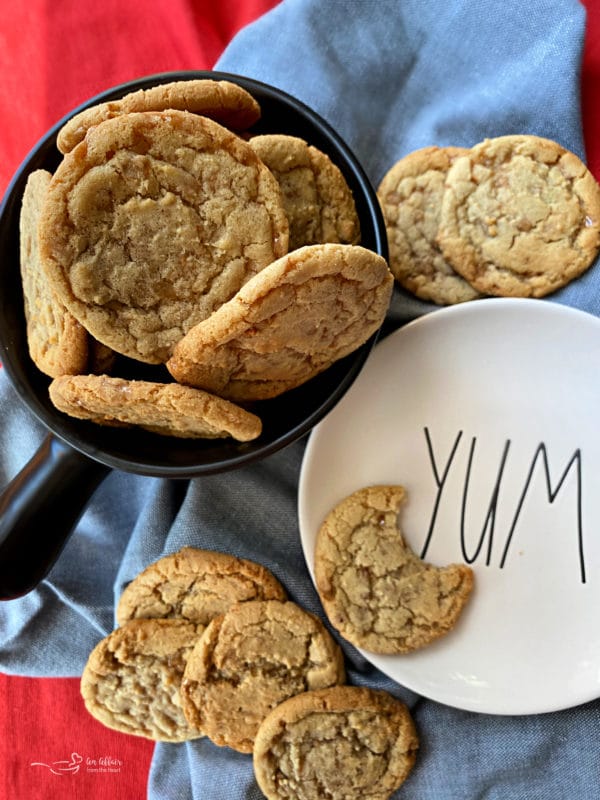 Nebraska's Butter Brickle Cookie
I began thinking about some of the different foods that Nebraska is known for, and popular foods that originated here. I decided that where cookies were concerned, Butter Brickle was the way to go!
Even though the Nebraska made food item is butter brickle ice cream, the cookie idea is a no-brainer. Toffee bits and cookies just go hand in hand. We will save the other Nebraska food posts like Kool-Aid and Homemade Runzas for another time!
The History of Butter Brickle Ice Cream
Here's a little history. 'Butter Brickle Ice Cream was developed by the Blackstone Hotel in Omaha, Nebraska in the 1920s.(the same place the Reuben sandwich was created!)
The flavoring and the candy bar were produced by the Sioux Falls, South Dakota company, Fenn Bros. Ice Cream and Candy Co. until the company was liquidated in the 1970s when the trademark and formula were sold to the makers of the "Heath" bar. A remnant of the name remains in "Heath Bits 'o Brickle Toffee Bits," sold by The Hershey Company, which acquired the Heath assets in 1996.' -Wikipedia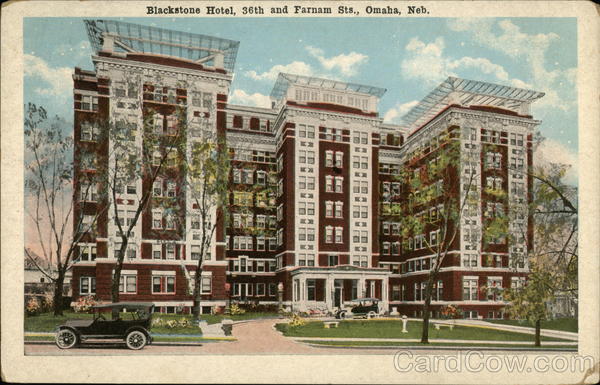 "The Blackstone Hotel, currently known as the Blackstone Center, is located at 302 South 36th Street in the Blackstone neighborhood of the Midtown area in Omaha, Nebraska. It was built in 1915, it was declared an Omaha Landmark in 1983 and listed on the National Register of Historic Places in 1985." – Wikipedia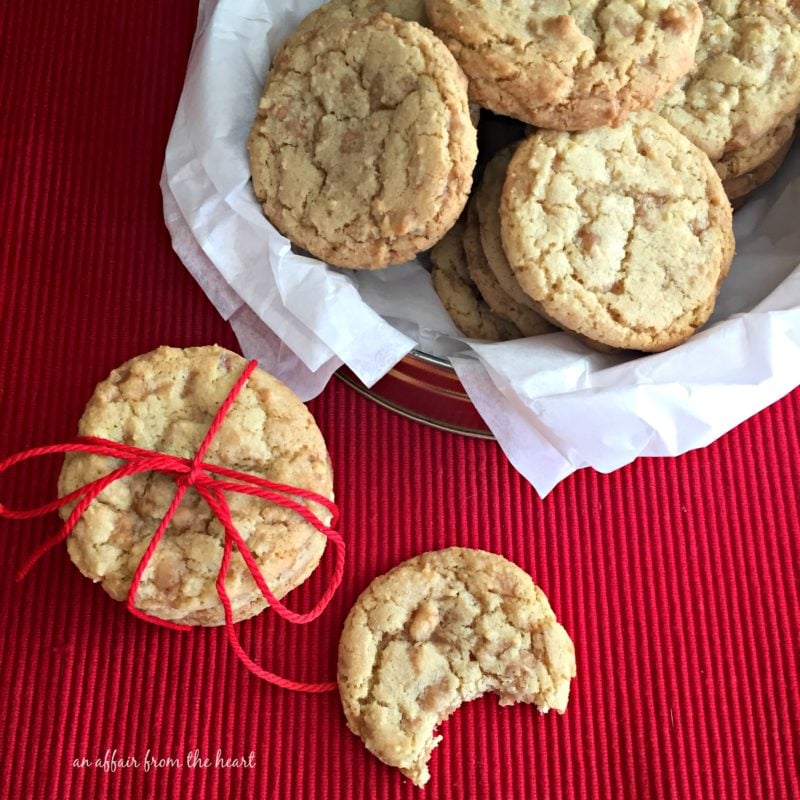 What is Butter Brickle Made of?
Butter brickle is made of golden brown toffee, broken into tiny bits. Those tiny bits of toffee are what you find in toffee flavored ice cream, known to all as Butter Brickle Ice Cream.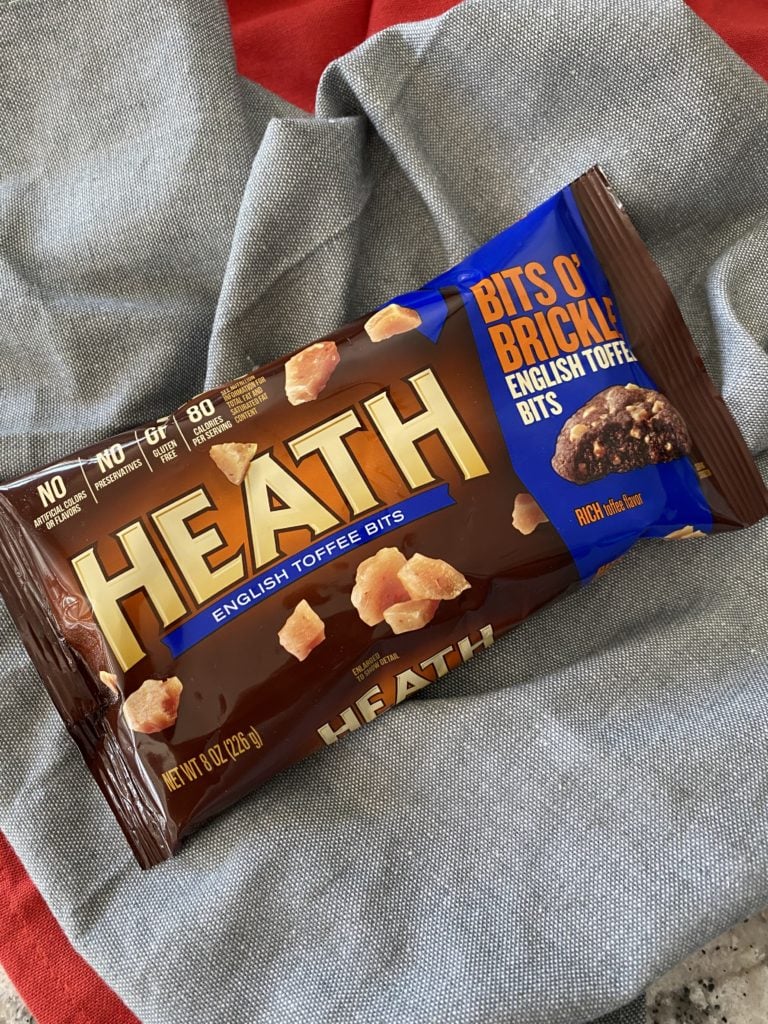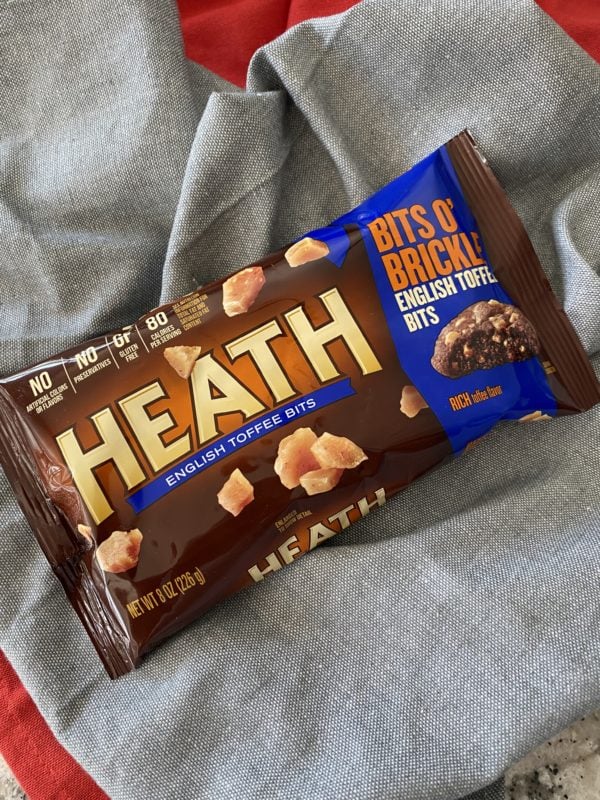 Heath makes two varieties of toffee bits, these English Toffee Bits, known as "Bits 'o Brickle," that I use for my Butter Brickle Cookies and a Milk Chocolate Variety, where the toffee is coated in, you guessed it, milk chocolate!

Ingredients in my Butter Brickle Cookie Recipe
These buttery cookies are super easy to make and another bonus? They freeze really well, too! So perfect if you want to get a jump on your holiday cookie making and stash these away in the freezer.
For this cookie recipe you will need:
unsalted butter
brown sugar
sugar
salt
vanilla
eggs
Flour
baking soda
Heath Bits 'O Brickle Toffee Bits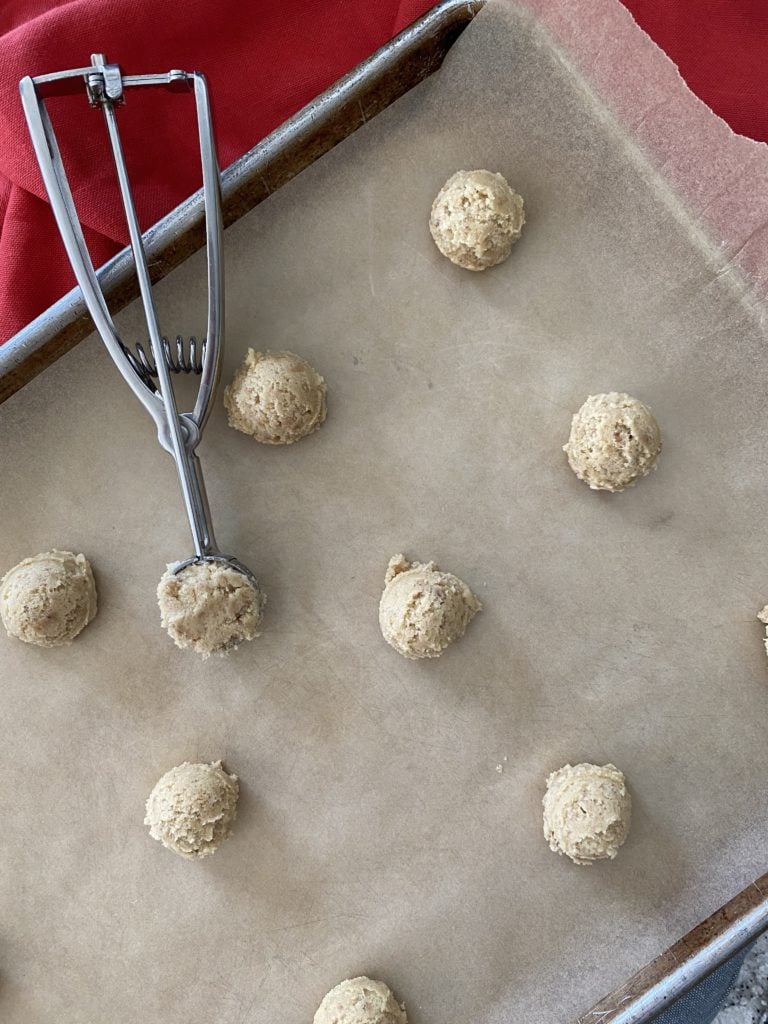 Mix up the cookie dough, then fold in the toffee bits. Use a cookie scoop to make sure they are all the same size.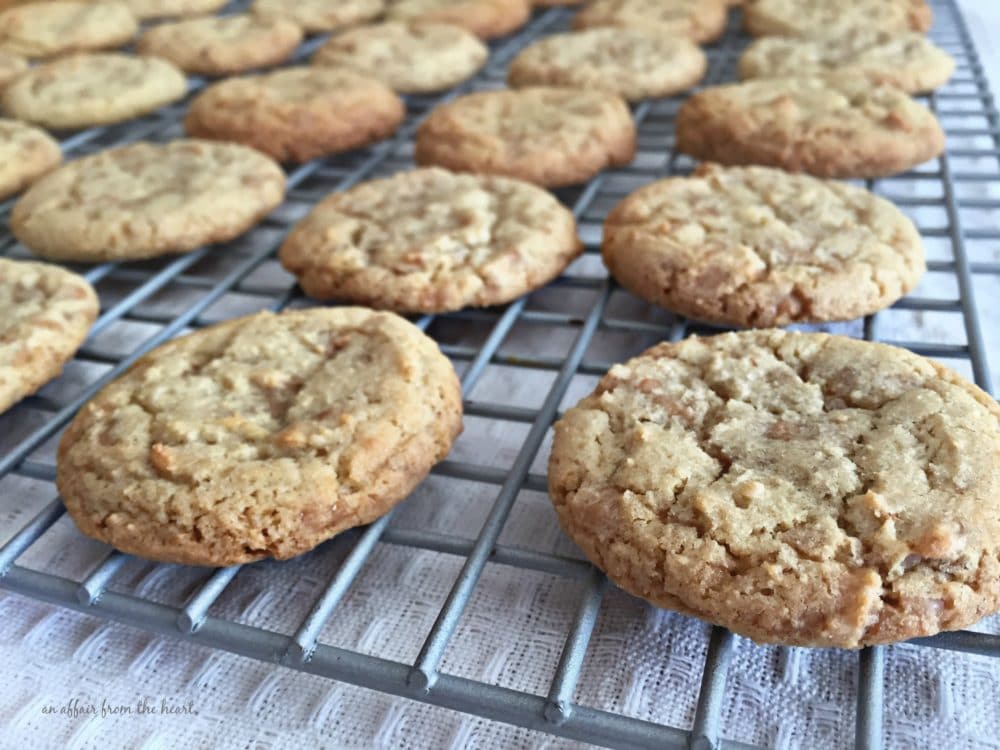 Don't overbake these cookies, or you'll lose that chewiness that I love. I actually pull them when they are just becoming golden around the edges, then let them sit on the cookie sheet for a bit before transfering them to a cooling rack.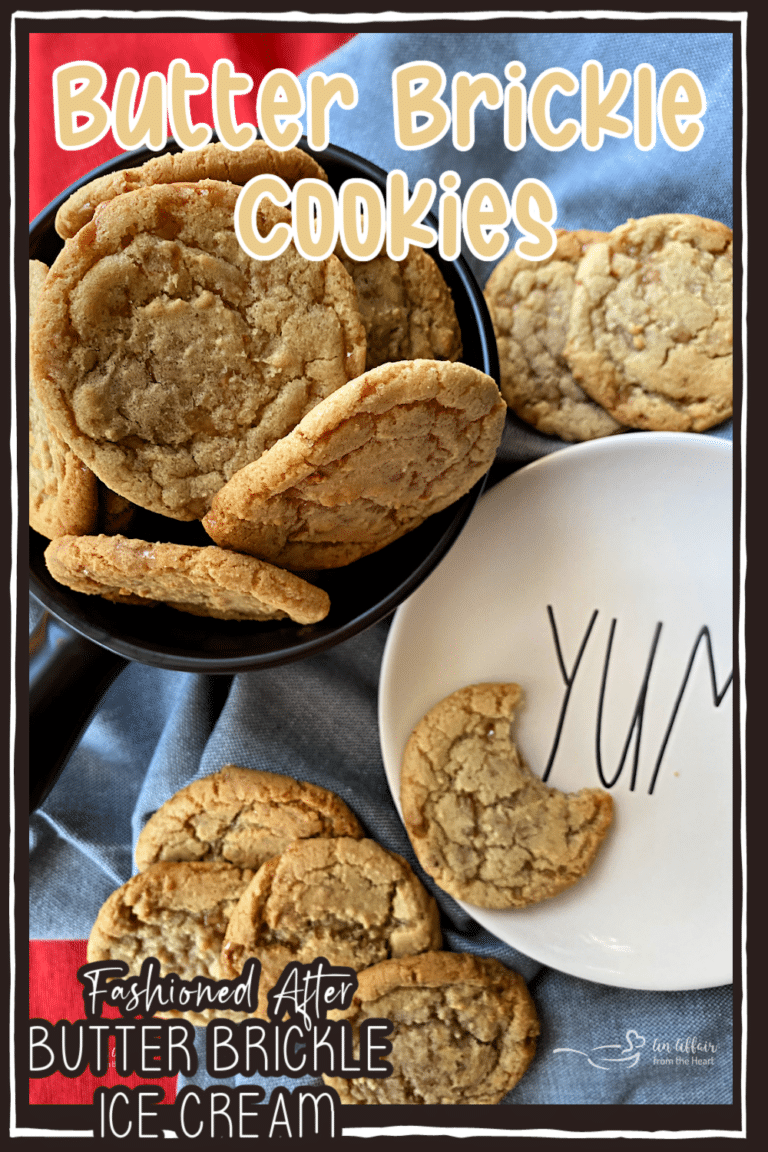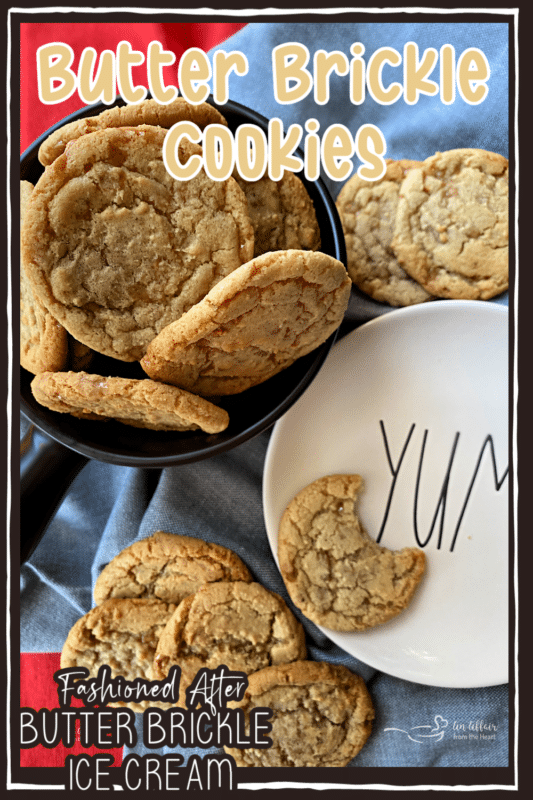 Love them? Pin them!
Don't forget where you found this cookie recipe! Pin it to your favorite Pinterest recipe board so you can find it easily!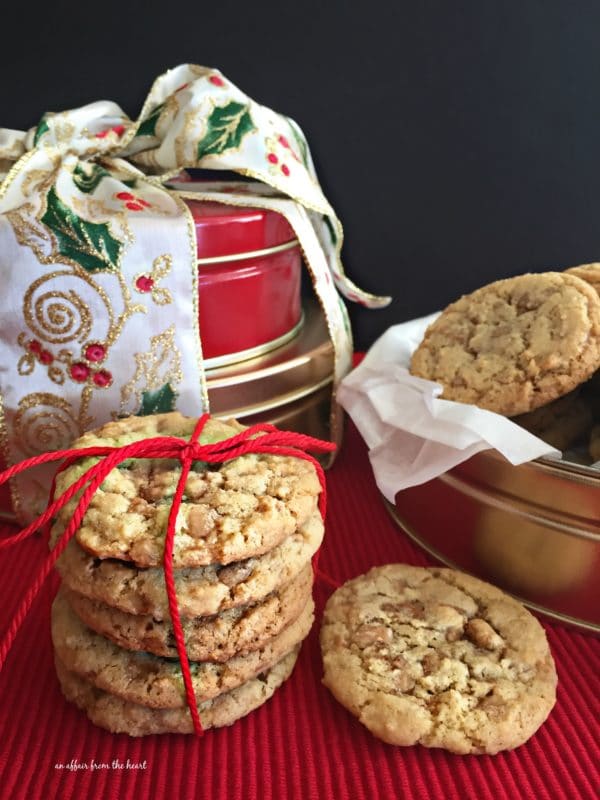 Another thing I love about these butter brickle cookies? They travel really well! Package them up in an airtight container and they will ship nicely, too. So grateful to my friend who gave me this recipe so many years ago, just for this specific reason!
Whether you are sendng them across the country or maybe even to one of our amazing servicemen or women across the globe. These work great!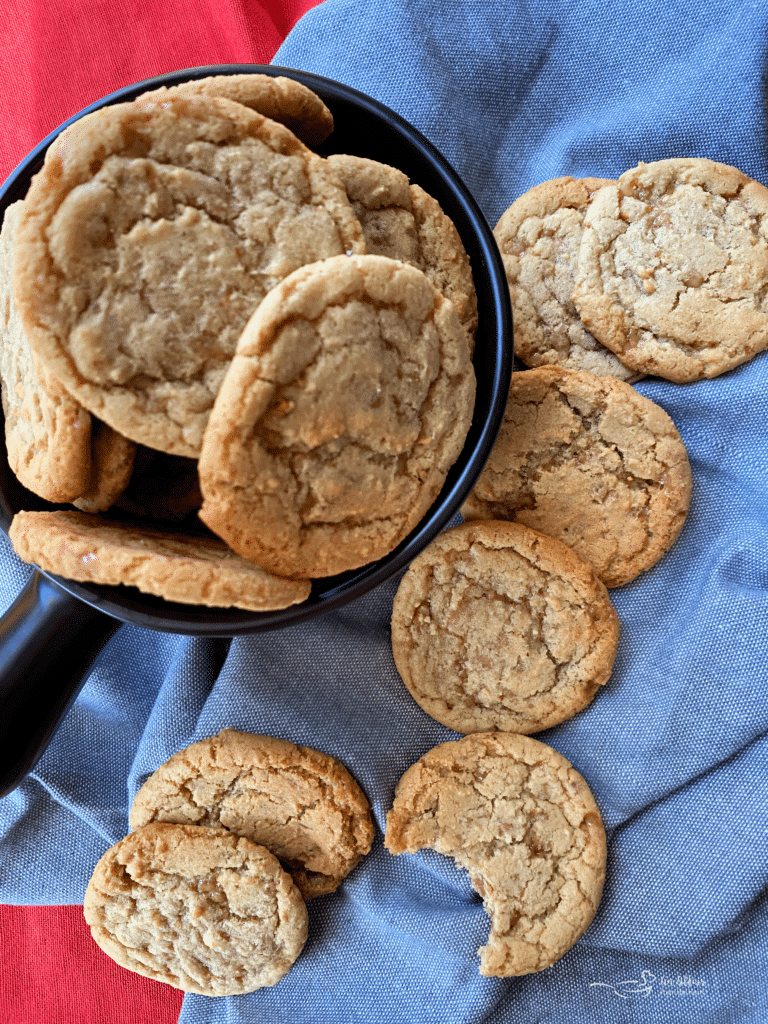 United Sweets of America
A couple of years after I originally posted this recipe I was contacted by a woman from the United States government asking if they could use the cookie recipe in their annual planner for the federal employees.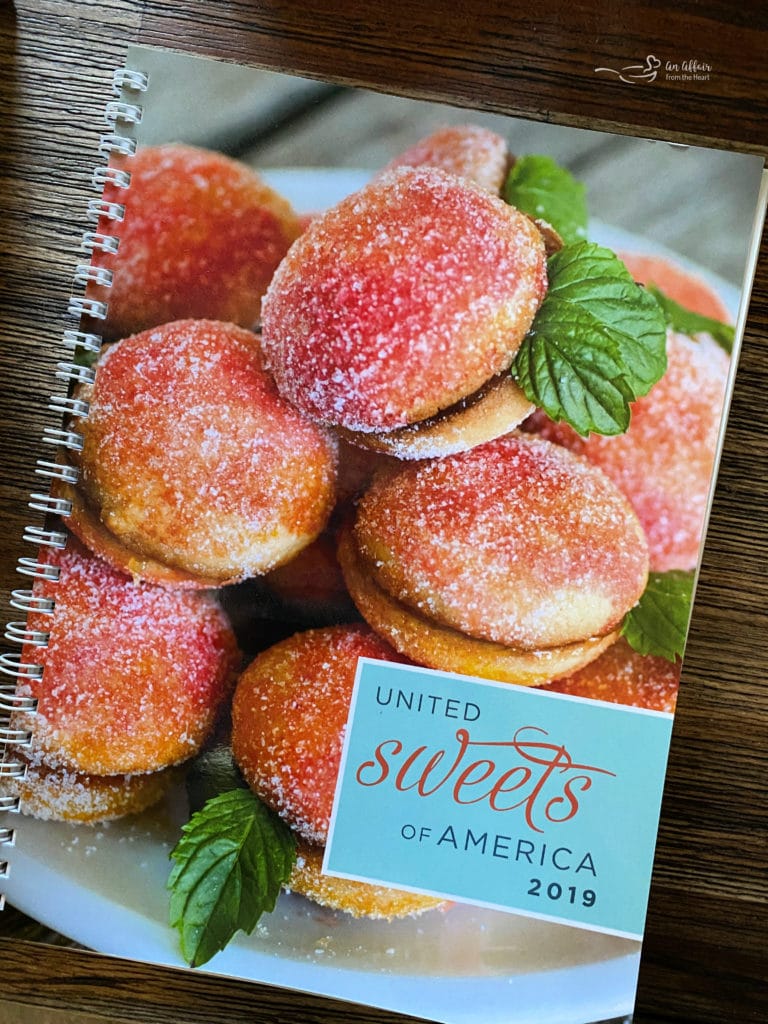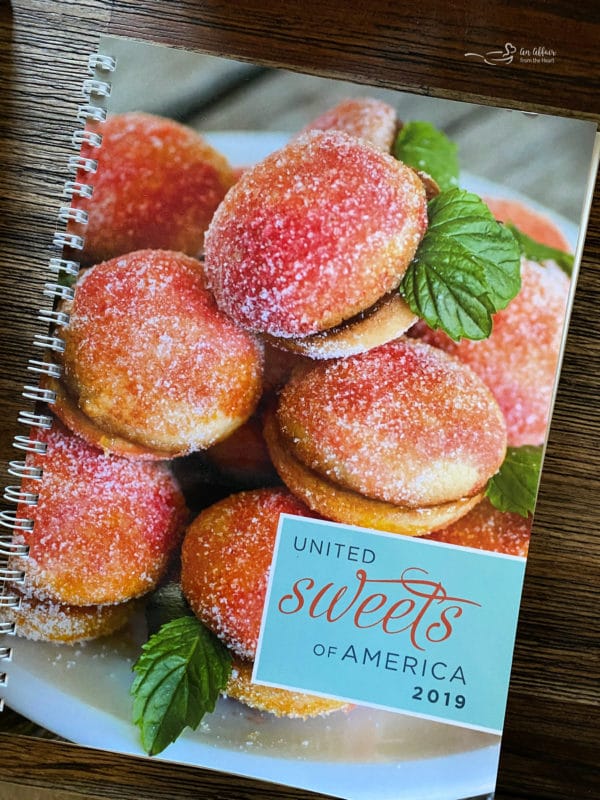 Each year, they do a themed planner and 2019 was based on sweets from each state.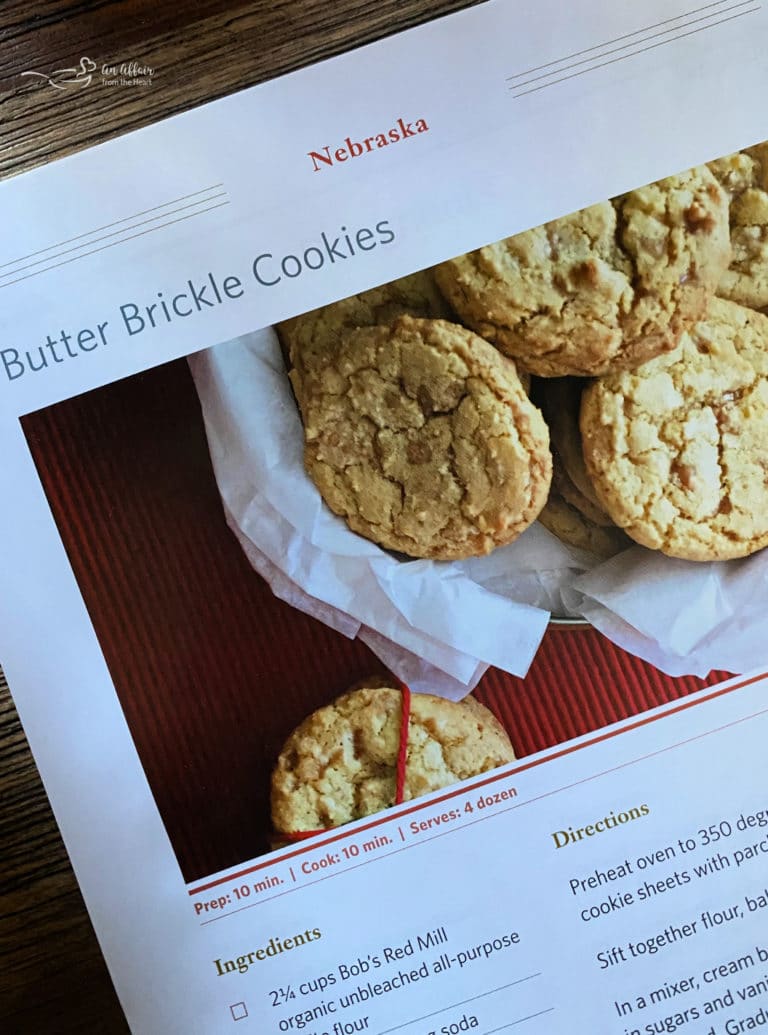 My Butter Brickle Cookie Recipe was the sweet for Nebraska and was the recipe for the week of July 1st, 2019.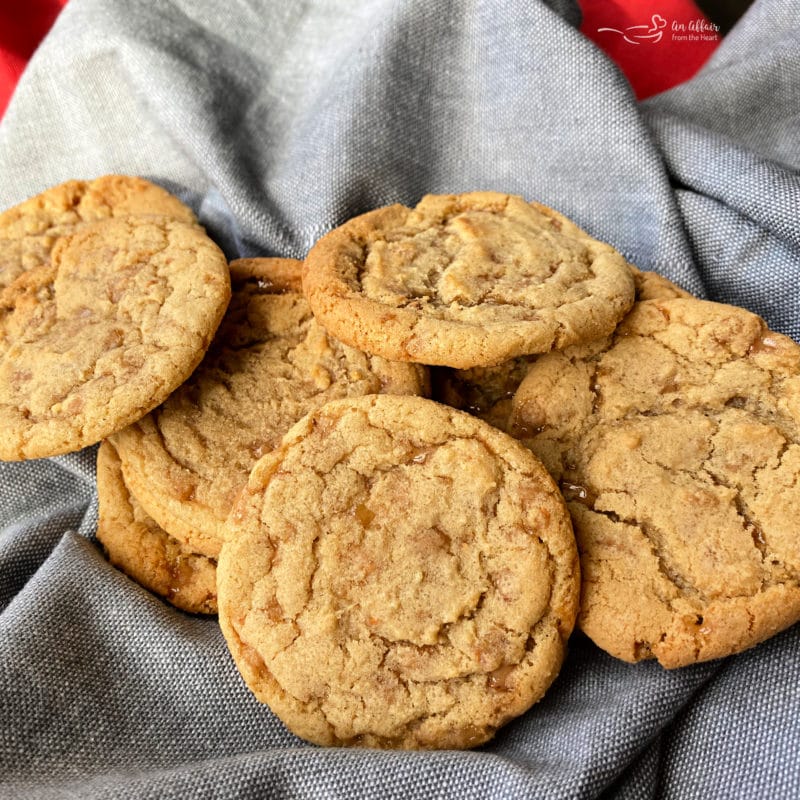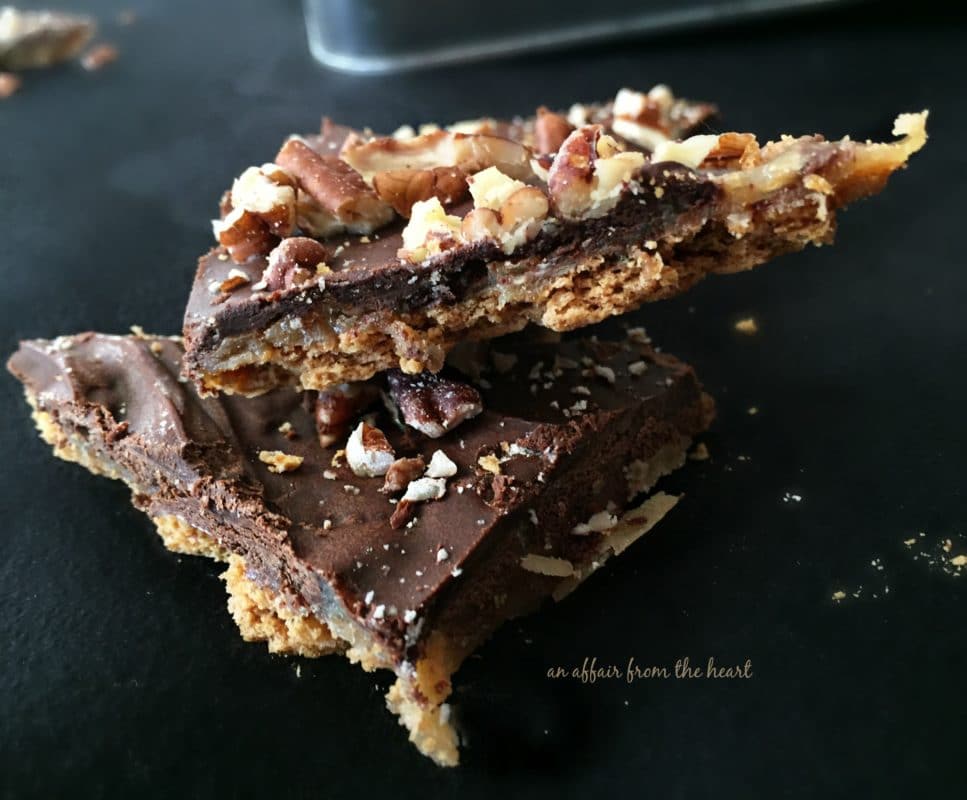 Delicous Toffee Recipes
Can't get enough of that toffee flavor? Us either! Here are more great toffee recipes to try!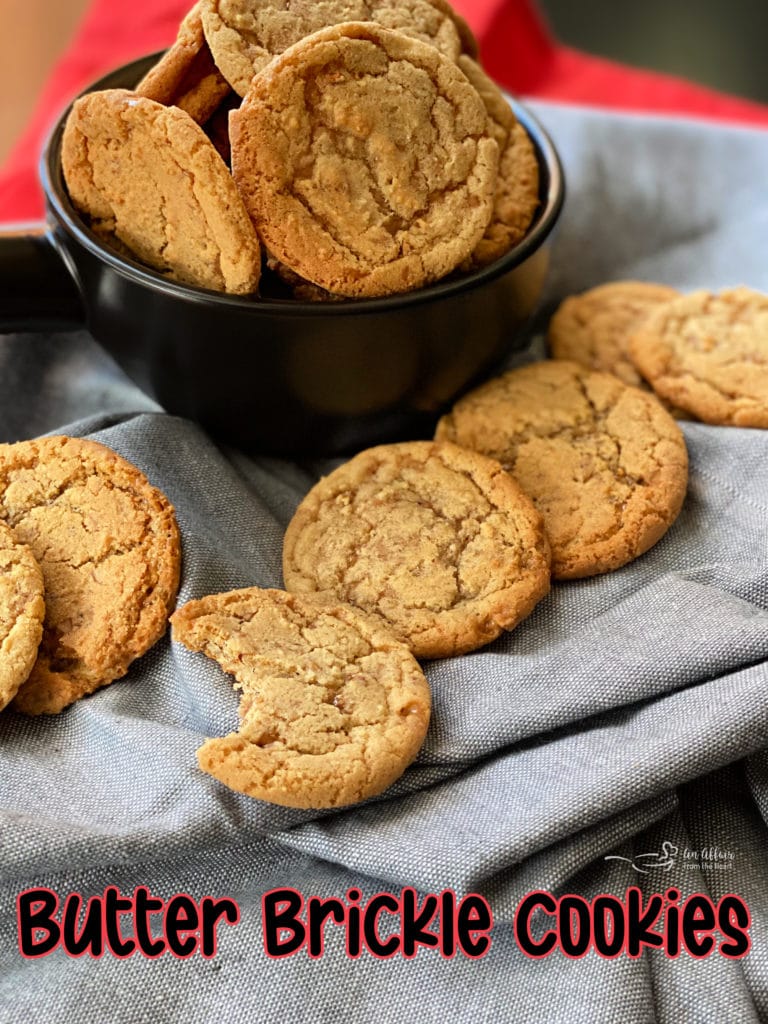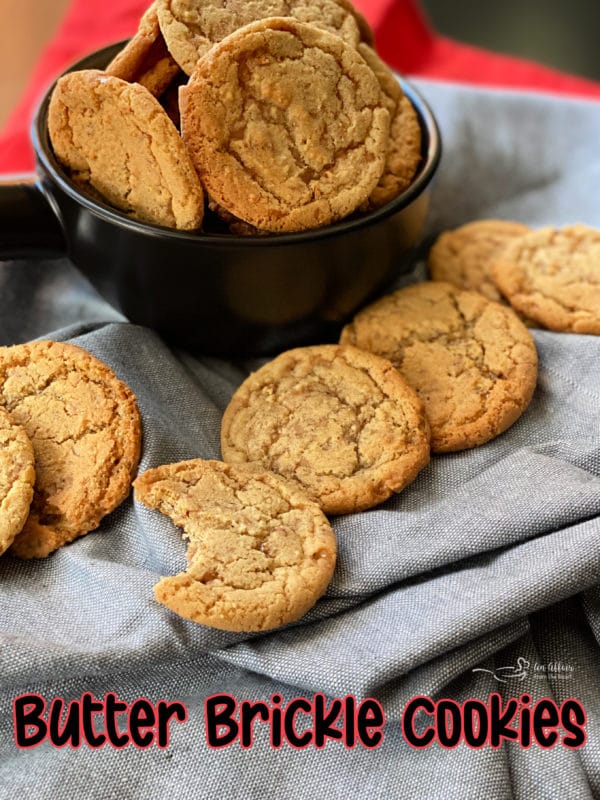 If you love Butter Brickle Ice Cream, you would be foolish not to give these a try this Christmas – or heck, any 'ol time!
Let's get to the Butter Brickle Cookie recipe!

Yield: 4 dozen
Butter Brickle Cookies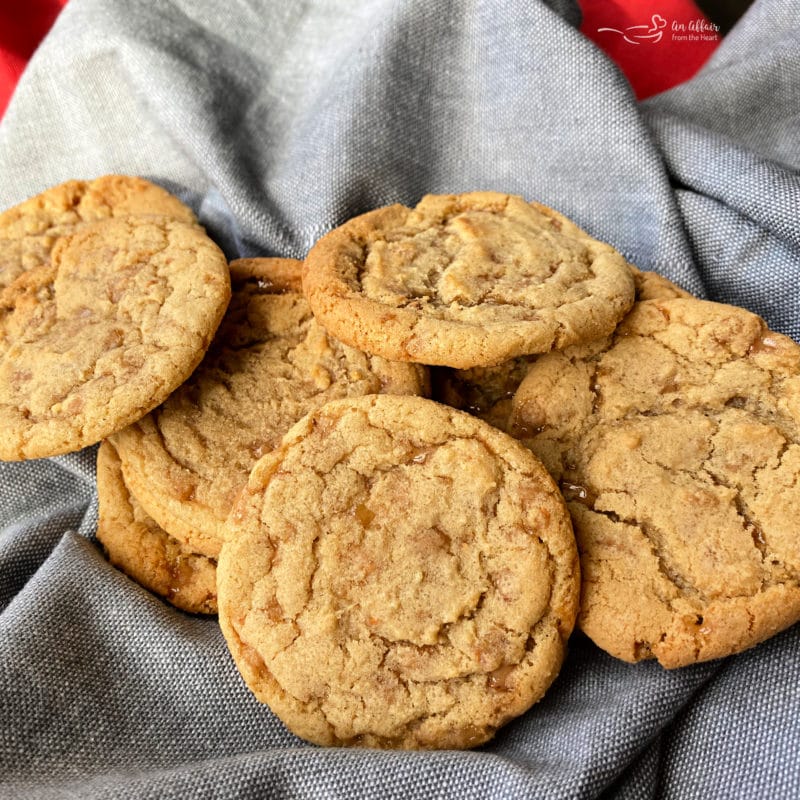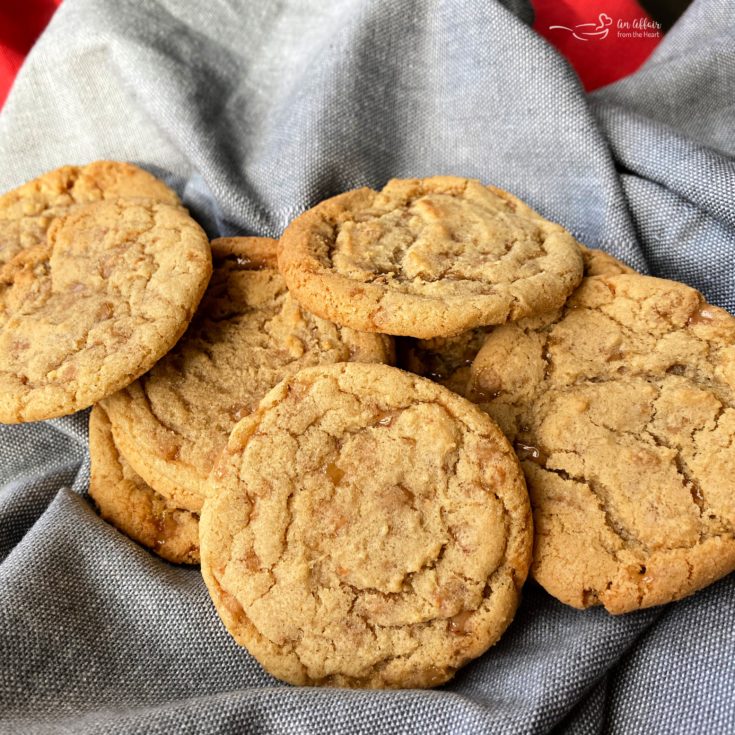 Fashioned after that delectable Butter Brickle Ice Cream - BUTTER BRICKLE COOKIES are buttery cookies full of toffee bits, chewy on the inside and light and a little crisp on the outside. They are sure to be an instant family favorite!
Ingredients
1 stick unsalted butter, softened
3/4 cup brown sugar
1 cup sugar
1/2 teaspoon salt
1 1/2 teaspoons vanilla
2 eggs
2 1/4 cup Bob's Red Mill Organic Unbleached All Purpose White Flour
1 teaspoon baking soda
1 (8 ounce) package Heath Bits 'O Brickle Toffee Bits
Instructions
Preheat oven to 350 degrees. Line cookie sheets with parchment paper.
Sift together flour, baking soda and salt, set aside.
In your mixer cream butter until fluffy, about 2 minutes. Add in sugars and vanilla, mix well. Add in eggs, mix until combined. Gradually add in flour mixture, mixing until incorporated. Fold in toffee bits.
Drop by rounded teaspoon full onto parchment lined cookie sheets. Bake 9-11 minutes or until slightly brown. Cool on wire racks.
Recommended Products
As an Amazon Associate and member of other affiliate programs, I earn from qualifying purchases.
Nutrition Information:
Yield:
48
Serving Size:
1
Amount Per Serving:
Calories:

58
Total Fat:

2g
Saturated Fat:

1g
Trans Fat:

0g
Unsaturated Fat:

1g
Cholesterol:

13mg
Sodium:

53mg
Carbohydrates:

9g
Fiber:

0g
Sugar:

7g
Protein:

1g
Nutrition isn't always accurate.
---
This recipe was originally posted on November 17, 2016. It was updated to improve user experience, and re-shared on November 3, 2020.
I encourage you to check out the United States of Cookies, and see what all of the 50 bloggers made from their state.
Happy baking!
Thank you Bob's Red Mill for sponsoring this post! Visit BobsRedMill.com to view the United States of Cookies, featuring a unique recipe from each state across the nation!
Bob's Red Mill Flour – I have been hooked on this flour for years. Once you try it, you will be, too.
Organic Unbleached All Purpose White Flour – This is the same high protein flour used by professional bakers and produces high, well-textured loaves of bread equally as well as it produces light, airy baked goods. This kitchen staple is incredibly versatile and perfect for all of your baking needs.
Also available is their Gluten Free 1-to-1 Baking Flour This flour combines finely ground brown rice flour, sweet white rice flour, whole grain sorghum flour, potato starch, and tapioca flour with a touch of xanthan gum—just enough xanthan gum to create chewy cookies and springy muffins.
The protein in the sorghum flour helps give baked goods an almost wheat-like texture and aids in browning, for those times you need a perfectly golden brown chocolate chip cookie. Use this blend for cookies, cakes, and brownies.