Peach Basil Chicken Salad
As an Amazon Associate and member of other affiliate programs, I earn from qualifying purchases.
This Peach Basil Chicken Salad is sweet, colorful, and such a joy to eat! Serve this peach salad as a sandwich with a croissant or on a bib of lettuce. This recipe is really simple and perfect if you love savory and sweet–as I do! Summer in a bowl, you are going to love this refreshing chicken salad!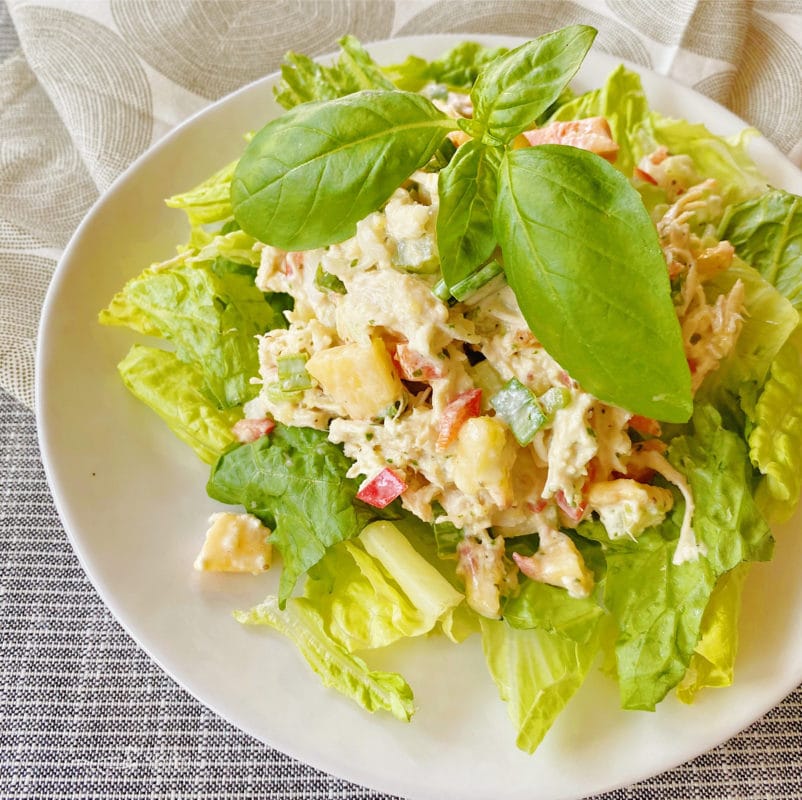 Ready to fall in love with your new favorite chicken salad? Made with fresh peaches that are satisfyingly sweet, aromatic basil, and tender and juicy chicken breasts that are cooked to perfection, this salad is definitely a keeper.
Did I mention the dressing? Silky smooth and made with bold citrus, the light vinaigrette is tangy, sweet, and perfectly seasoned to dress this salad up. We love to make this salad for special occasions such as holidays, celebrations, and much more. My family loves this classic recipe!

Peach & Basil Chicken Salad
Peach and basil … two of my favorites, but I would never imagine that they would make chicken salad out of this world! Seriously, this was by far, the BEST chicken salad I have ever eaten. Not to mention, look at how pretty it is! I have mentioned it before, but colorful food just always seems to taste better!
Peaches, celery, sweet red bell pepper, green onion, and shredded chicken, mixed with a dressing made of peaches and basil that is to die for! The flavors marry overnight in the fridge, making them all the more scrumptious!
This recipe would be perfect for a shower or get-together, but I can tell you we will eat it on just your average Tuesday!
Fresh or Frozen Peaches?
If you have an abundance of fresh peaches to use up, try out this salad made with fresh veggies and fruit. Summer is the perfect time to whip up a bunch of peach recipes because that is when they are in season and perfectly ripe. Whether I am making my delicious spiced peach crumble or peach tea, we always find ways to enjoy freshly picked peaches.
Want to make this salad when it isn't peach season? No worries! You can use frozen peach slices for this recipe, but make sure they are thawed before adding to the salad! No matter what time of the year it is, I always have a bag of frozen peaches in the freezer because I just never know when the family will request a peach recipe. Everything about peaches are wonderful: the aromas, textures, and sweet flavors.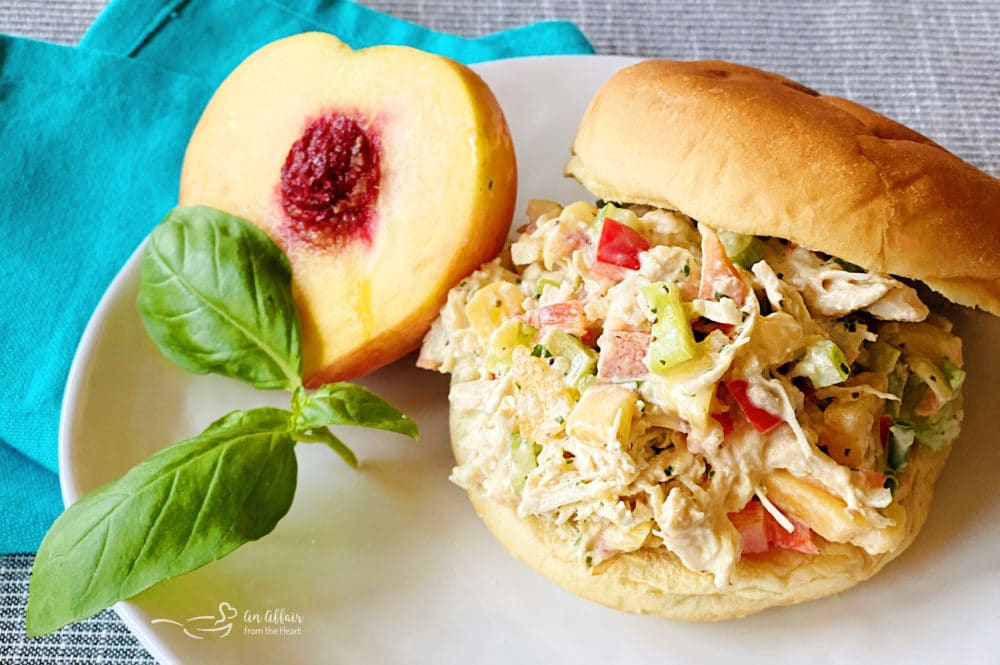 What are some ways to serve Chicken Salad?
Serve this tasty salad by itself, with seeded crackers, rolls, couscous or pasta, greens such as arugula or spinach, or on toasted bread. You can really do so much with this salad because it is so versatile! Great use of leftover chicken, this is the best recipe for it because it's quick and easy. Full of protein, healthy, and family-friendly, you're going to become a huge fan of this peach basil chicken salad!
How Long Does Homemade Chicken Salad Last?
Homemade chicken salad will last in the refrigerator anywhere between three and four days. Make sure you store the chicken salad in an airtight container!

Ingredients for This Tasty Peach and Chicken Salad
You'll find the exact measurements in the recipe card at the bottom of this post.
For the Salad:
Chicken: I cooked large chicken breasts and shredded them for this recipe. If you have a rotisserie chicken or leftover whole chicken, then you can shred it for the chicken salad as well.
Peaches: Any kind of variety of sweet peaches will be perfect for this recipe. Peaches are used for both the oil-based dressing and salad mixture.
Celery: Chopped ribs of celery to add some crunchiness and prominent flavors to this salad.
Onion: Green onions are used for extra flavor!
Bell Pepper: I like to use red bell peppers because they are the sweetest.
For the Dressing:
Lemon Juice: I like to use freshly squeezed lemon juice, but in a pinch, bottled lemon juice will also work.
Oil: I use extra-virgin olive oil for this recipe because of its robust flavors, but you can use any kind of vegetable oil.
Basil: Fresh basil is used to heighten the flavors of this yummy peach salad. Basil and peaches are perfect together!
Vinegar: I used Tarragon, but you can substitute with white wine vinegar.
Seasoning: You will need salt, celery seed, and black pepper. Adjust to your preference.
Sugar: White granulated sugar is what I use for this salad, but feel free to experiment with different sweeteners.
Mayonnaise: The creamy base for this peach chicken salad, you can use your favorite brand of egg or egg-free mayonnaise.
How to Make This Summer Peach Chicken Salad
So easy to make by just combing a handful of ingredients, this is the easiest recipe for whenever you are short on time and want to keep things light and simple. You'll want to make this chicken salad over and over again!
Step One
First, shred the chicken and combine it with the sliced peaches, celery, onions, and red bell pepper. Set aside.
Step Two
Next, make the dressing. In a blender or hand blender, combine one peach, lemon juice, olive oil, basil, vinegar, seasoning, sugar, and mayonnaise. Blend until smooth and pour over the salad ingredients.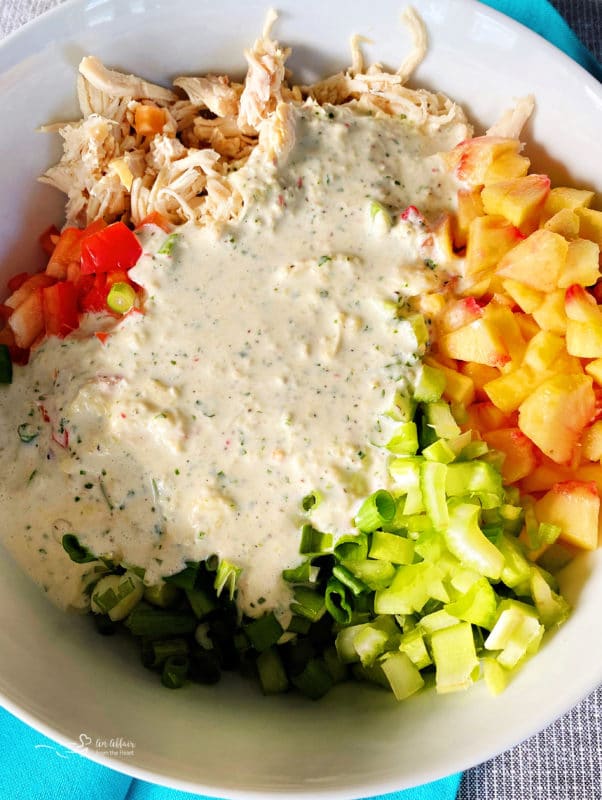 Step Three
Cover the chicken salad and place it in the refrigerator overnight. Serve and enjoy!
Love it? Pin it!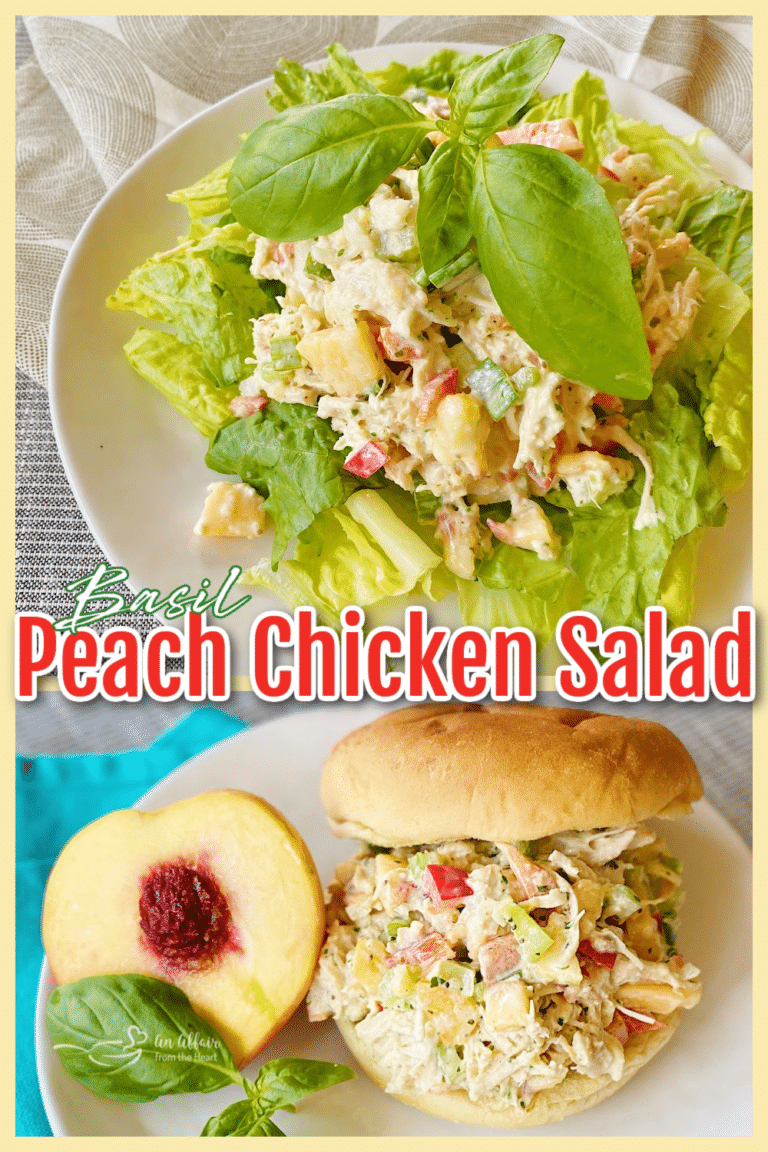 Save this chicken and peach salad for whenever you know you'll be cooking with peaches! This salad is perfect for serving to a crowd.
What Foods go with Chicken Salad?
You can serve a variety of things with chicken salad such as potato salad, homemade chips, vegetables, fruit, different cheeses, and much more.
What do you eat with Sandwiches?
We like to eat our sandwiches with baked beans, side salads, French fries, and baked sweet potato chips. Roasted vegetables are also great for sandwiches!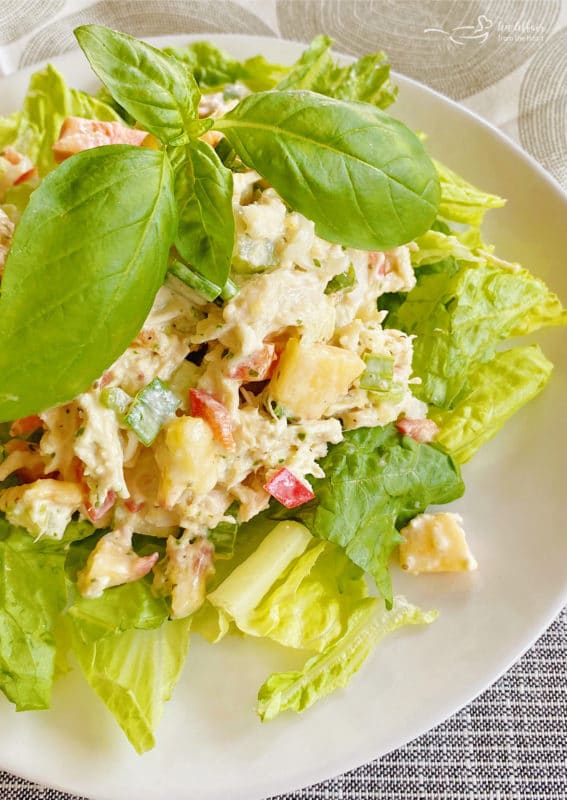 Other Chicken Salad and Peach Recipes You Will Enjoy
Let's get to the recipe for this Peach Basil Chicken Salad!

Yield: 3 cups
Peach Basil Chicken Salad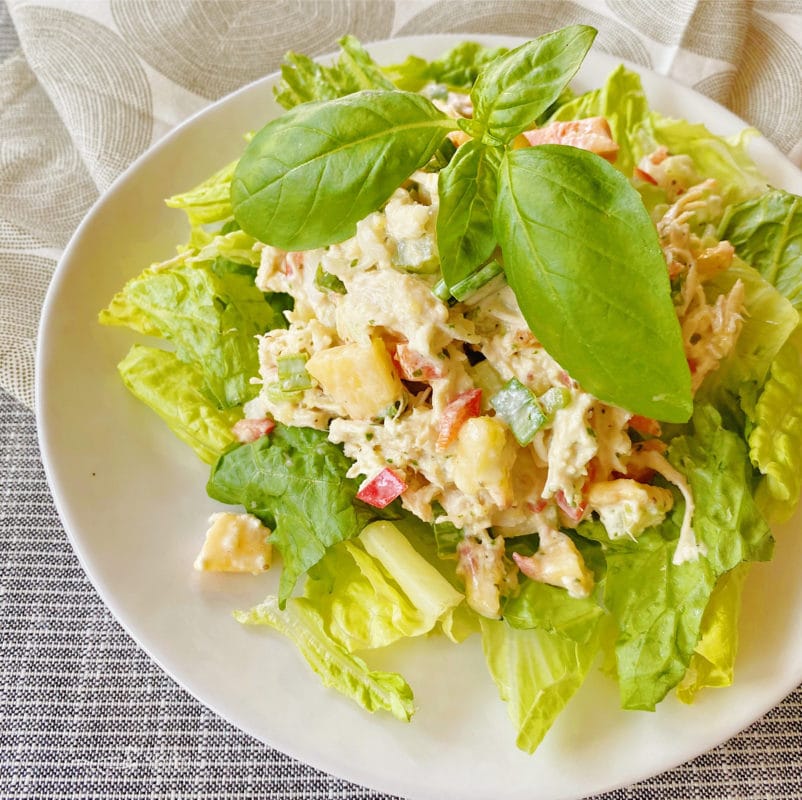 Peach and Basil make this Chicken Salad out of this world! The colors and flavors are so pretty and so delicious!
Total Time
8 hours
40 minutes
Ingredients
For the Dressing:
1 ripe peach, peeled and cut into quarters
2 Tablespoons lemon juice
1 Tablespoon extra virgin olive oil
1/2 Tablespoon fresh basil, chopped
2 1/2 Tablespoon vinegar (I used Tarragon)
1/2 teaspoon salt
1/2 teaspoon celery seed
2 t. sugar or to taste
1/8 teaspoon coarse ground pepper
1/3 cup mayonnaise
For the Salad:
2 ripe peaches peeled and cubed
2 large chicken breasts, cooked and shredded (2 cups)
3 ribs of celery, chopped
1/2 cup green onion, chopped
1/2 cup sweet red bell pepper, chopped
Instructions
Shred chicken, and combine with peaches, celery, onion and red pepper. Set aside.
In either a blender or using your hand blender, combine dressing ingredients,. blending until smooth. Pour over chicken mixture, stir to combine.
Cover and place in the refrigerator overnight.
Serve on rolls or a bed of lettuce.
Nutrition Information:
Yield:
6
Serving Size:
1
Amount Per Serving:
Calories:

281
Total Fat:

18g
Saturated Fat:

4g
Trans Fat:

0g
Unsaturated Fat:

13g
Cholesterol:

57mg
Sodium:

308mg
Carbohydrates:

12g
Fiber:

2g
Sugar:

10g
Protein:

17g
Please note that nutrition is not guaranteed accurate.
This recipe was originally posted on June 7, 2015. It was updated to improve user experience and re-shared on September 11, 2021.