Peaches & Cream Spice Cake
As an Amazon Associate and member of other affiliate programs, I earn from qualifying purchases.
This spice cake has a fresh peach filling and is topped with whipped cream cheese frosting and garnished with more fresh peaches.
One thing I hate is having insomnia.
It doesn't happen to me very often. Usually when my head hits the pillow at night I am DONE.
But sometimes, my mind is going 100 mph and I can't shut it off.
Typically that happens when I am planning a party.
So I start baking in my mind.
I was planning my Mother-in-law's birthday dinner, and the one thing I knew would be involved…
PEACHES!
My dear friend, Betsy, has peach trees in her yard.
I have never in all my days had a peach from the grocery store that even compared to these!!
My Mother-in-law, Marie, LOVES peach pie.
If i ask her what kind of pie I should bring, she always says peach!
So that wasn't hard to decide.
Peach pie…peach pie…AND…?????
When we all get together there are usually like 20+ of us.
I needed a cake, too.
Last year I canned ginger peaches.
(so mad I never blogged those…)
I love spiced peaches.
So, I wondered… hummmm? Spice Cake?
What else goes with peaches?
I knew that if I asked my son, Spencer he would reminisce about having peaches and cream at his great grandma's house.
(My Mother-in-law's Mother-in-law…)
So, cream it was!!
I made a Spice Cake and filled it with a peach filling, topped it off with whipped cream frosting.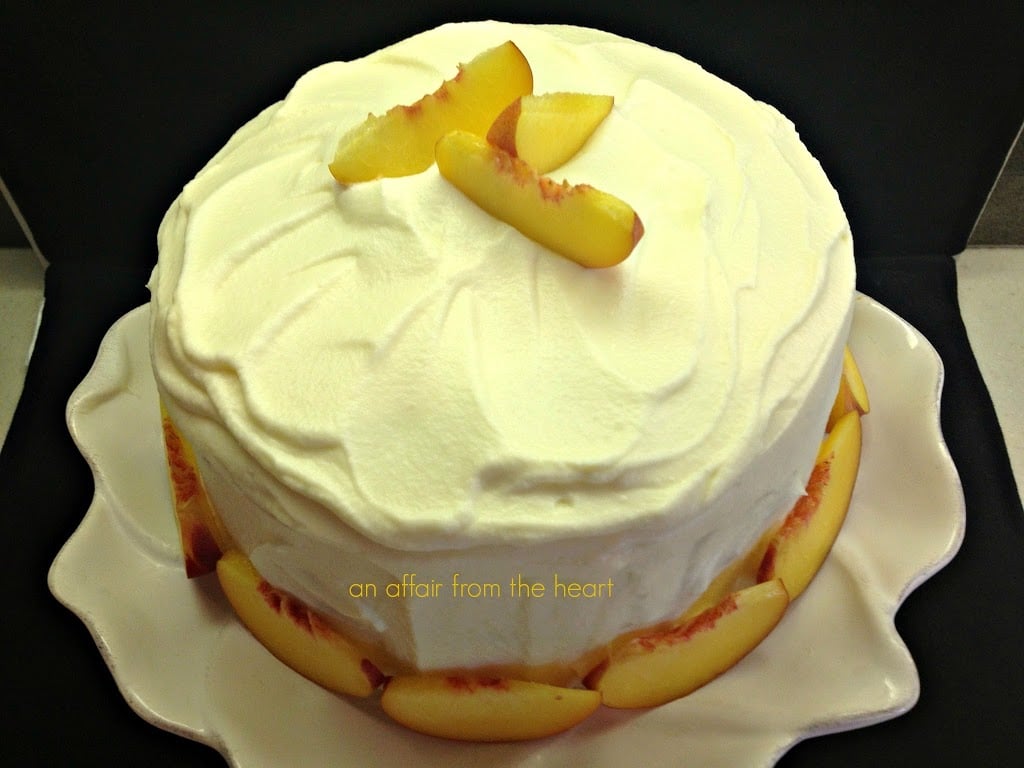 Top it off with freshly sliced peaches…to make it pretty!
So, now I will share with you what I did… It was really quite easy!!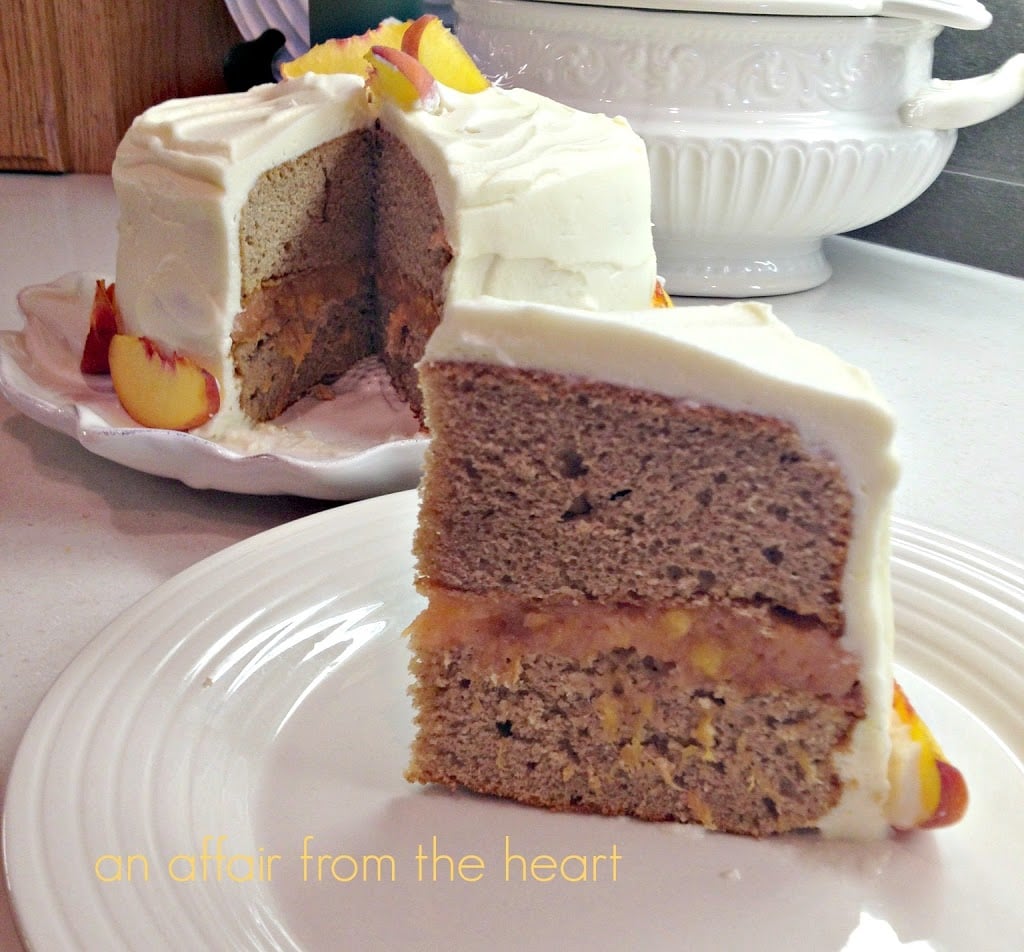 —
Yield: 1 cake
Peaches & Cream Spice Cake
This spice cake has a fresh peach filling and is topped with whipped cream cheese frosting and garnished with more fresh peaches.
Ingredients
For the Cake:
1 box spice cake, baked according to box instructions for a layer cake.
For the Peach Filling:
3 T cornstarch
1/2 cup sugar
3 T lemon juice
1 1/2 cup peaches, mashed
1 c boiling water
1 T butter
2 t lemon zest
a couple of drops of pink food coloring (optional)
For the Whipped Cream Frosting:
1 - 8 oz package of cream cheese, softened
1/2 c granulated sugar
1 t vanilla extract
1/2 t almond extract
2 c heavy whipping cream
Instructions
Prepare layer cake according to box instructions, cool.
Prepare the filling: In a double boiler over water, add sugar, salt and cornstarch. Top off with boiling water and stir until thick and there are no lumps. Add butter, lemon zest and juice. Mix thoroughly. Add peaches add optional food coloring. Stir. Place in refrigerator to cool.
To Prepare the Frosting: In your standing mixer with whisk attachment whip together cream cheese and sugar until smooth. Add extracts and slowly add cream. Whip continually, occasionally stopping beater to scrape the sides and bottom of the bowl, until frosting forms peaks. Place in refrigerator while you assemble the cake.
To assemble the cake: When cake is cool, place bottom layer on your plate. Top with peach filling, saving a little bit to fill in sides. Top off with second layer. Fill in the gaps in the sides of the filling. (It looks like a giant hamburger!! 😉 ) Spread frosting over top and sides of cake. Garnish with fresh peaches. Store in the refrigerator.
Nutrition Information:
Yield:
1
Serving Size:
1
Amount Per Serving:
Calories:

4027
Total Fat:

287g
Saturated Fat:

167g
Trans Fat:

6g
Unsaturated Fat:

97g
Cholesterol:

900mg
Sodium:

1318mg
Carbohydrates:

349g
Fiber:

5g
Sugar:

300g
Protein:

34g
Nutrition isn't always accurate.
—
Top with candles! (optional)
Serve to your favorite birthday girl (or boy…)
Optional…but so nice!!
Happy Birthday, Marie!!