Someday this winter when we are freezing our cabooses off, we will miss this, but today?
Well, today, I could use a little cold front!
It's hard to heat up the kitchen, when it's 100+ outside to cook,
and grilling?
I don't want to stand out there for very long!
Heck, grill your chicken on the patio table! 😉
Speaking of which, did you hear about the lady that baked cookies in her car!!??
CRAZY!!
We eat a lot of salad anyway, but in the summer… we really eat a lot of salad!!
So glad my kiddos eat EVERYTHING!!
One of my other favorite things in the summer, are BLT's.
My kids were getting to the point where they were saying, "BLT's again??"
So, like a good mother, I tricked them!!
B.L.A.T. Chicken Chop Salad
BLT's in a bowl! 😉
Not only is it super yummy, it's very pretty!
Don't you think?
You can pretty much add anything you want, once you get the basics of the BLT part in there, it's just going to be an amped up BLT!!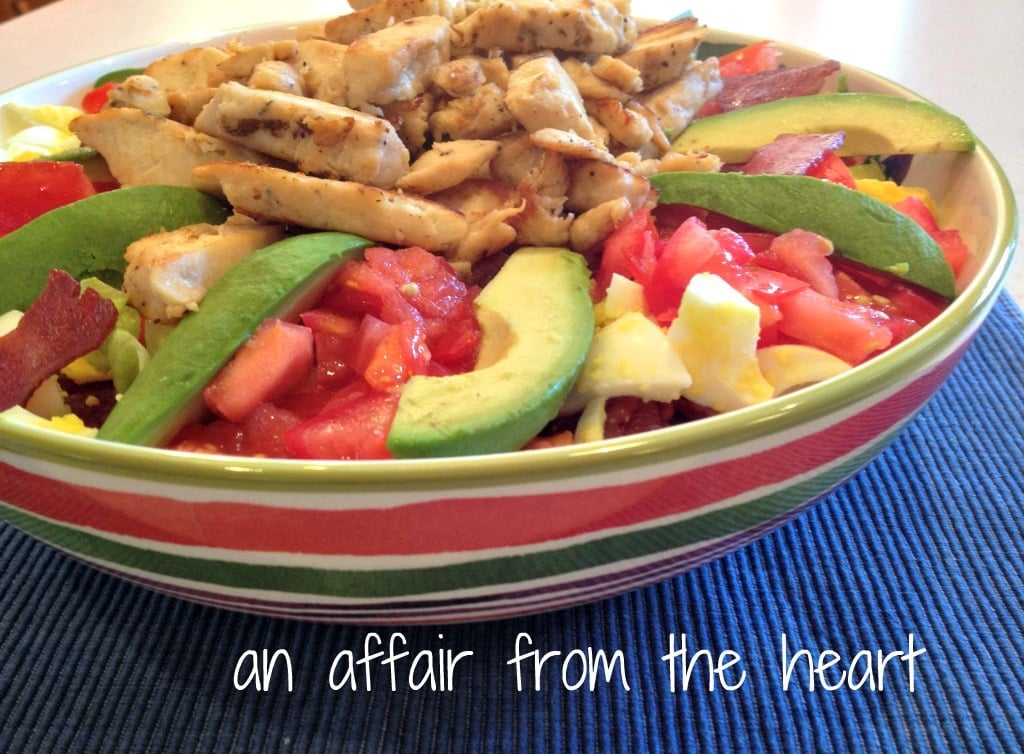 B.L.A.T. Chicken Chop Salad
1 1/2 heads romaine lettuce, chopped
1 head iceberg lettuce, chopped
1 pound of bacon, cooked (we use turkey bacon) sliced or crumbled
5 hard boiled eggs, chopped
2-3 medium tomatoes, (or to taste) chopped
1 avocado, sliced
1 1/2-2 pounds grilled chicken breast, sliced
Note: I cheated on the chicken and didn't even grill my own, too hot!! I used the frozen grilled strips, heated them in my skillet and put them on the salad last, when we were ready to eat. They were still a little warm.
Prepare ingredients as directed above. Layer Like this:
chicken
avocado
egg
tomatoes
bacon
lettuce
___________(bowl)___________
Serve with your dressing of choice. We used ranch.
Enjoy!!

If you make this recipe, I'd love to know! Snap a picture, share the photo on social media with the hashtag #AnAffairFromTheHeart – I'd love to see what you made! – Michaela