Grilled Chicken Waldorf Salad
As an Amazon Associate and member of other affiliate programs, I earn from qualifying purchases.
This easy Grilled Chicken Waldorf Salad recipe is fruity, sweet, savory, and delicious! Serve this easy Waldorf salad with a homemade vinaigrette dressing made from scratch to give it the perfect amount of zest. Serve this recipe with or without chicken for the perfect main course for two or side salad.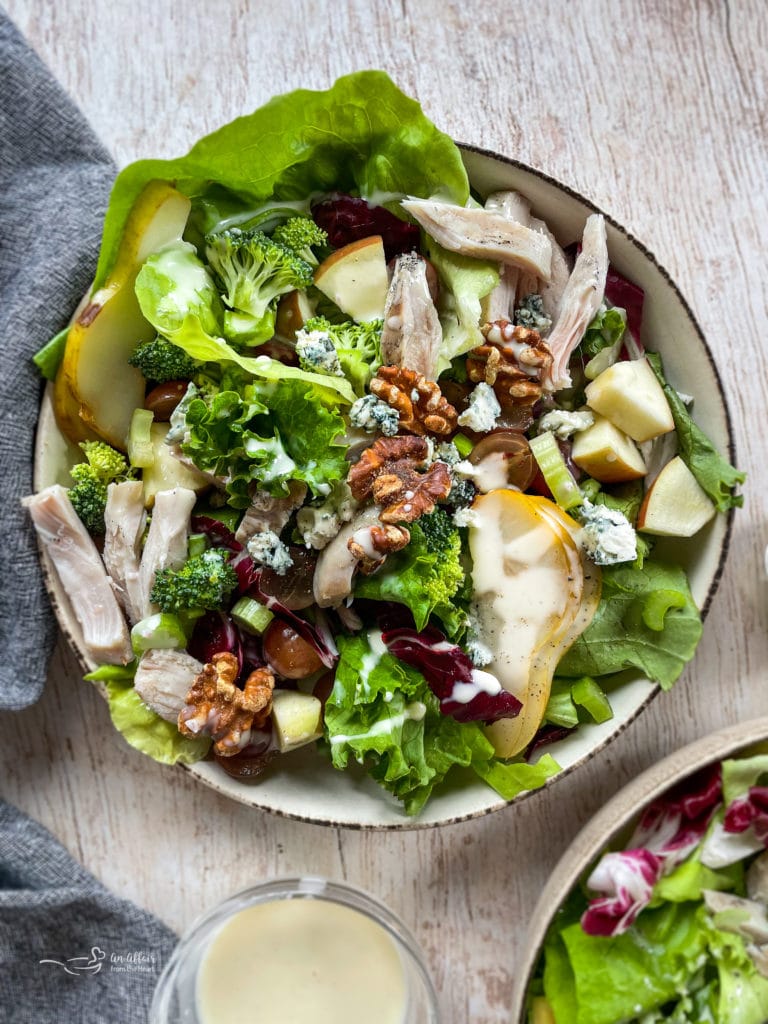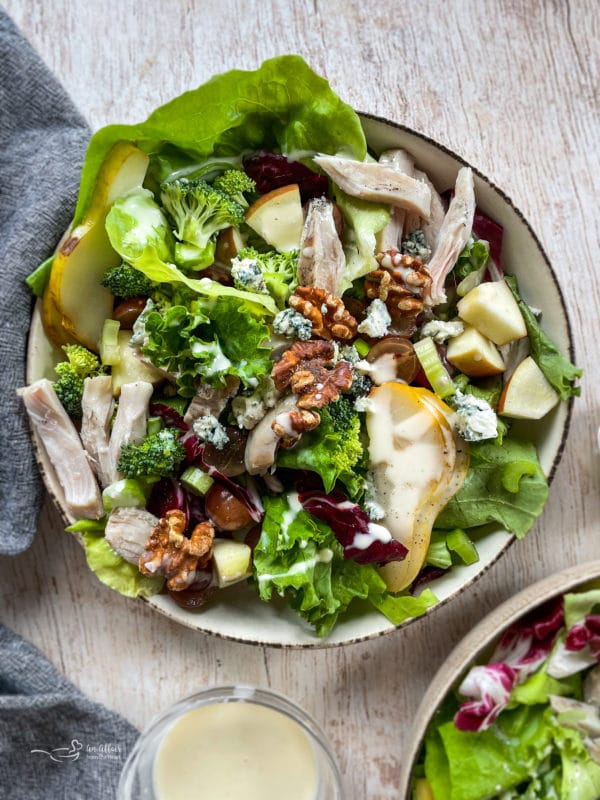 There is nothing like a gourmet salad. Not only are they beautiful, but full of all sorts of sweet and savory fixings and a homemade dressing that literally leaves you looking forward to the next bite. This Grilled Chicken Waldorf Salad is just that sort of salad.
This is a bit of a twist on a classic Waldorf Salad, though. It does contain grapes, celery, apples and walnuts like you are accustomed to, but it also has pears, prosciutto, grilled chicken, and blue cheese. Made with 3 types of lettuce and also has some crunchy broccoli florets. It isn't slathered in that mayo/sugar dressing either. This one is topped with a light white balsamic vinaigrette. I got this recipe from my friend, Haley, who has some mad skills in the kitchen, and a talent for putting ingredients together in a manner that makes them just plain awesome.
Dinner for Two?
My husband and I became "empty nesters" this past fall when our two youngest went away to college. Sure, they aren't far away, only about an hour, and they come back to visit, but during the week I feel like I am having to learn how to cook all over again. Cooking for two people is hard. (Let's just say we eat out more than ever, and eat a lot of tomato soup and grilled cheese or grilled turkey Havarti sandwiches!)
I love that this salad is full of wholesome ingredients, and it's hearty enough that the hubby isn't like "salad for dinner?!" This recipe makes two nice big salads – or great smaller side salads for when everyone is home, and I get to cook for 8 people like I am used to!
Why this Waldorf Salad with Vinaigrette is the best
Filled with Protein: Since this Waldorf salad is made with tender grilled chicken that has marinated in a classic brine, this salad is ideal for whenever you need some protein! In addition to the chicken, there are some crispy prosciutto and nutty walnuts which makes this salad even more filling.
Versatile: Feel free to make this recipe without the chicken and prosciutto to keep it meatless! This salad is so versatile and works with or without the meats. We eat it both ways!
Perfect for Two: Needing to prepare a lunch or dinner for just the two of you? This salad is perfectly well-rounded and filled with fresh ingredients which makes it ideal for serving as the main course.
Great Side Dish: Not only is this salad perfect as a main course, but it makes a great colorful side dish to your pasta, casseroles, fish, chicken, and more. The homemade vinaigrette from scratch makes this salad even better.
Easy: Salads are simple to prepare, and I love how easy this Waldorf salad is. Once the chicken has brined, it seriously comes together in minutes! Just chop all of the fresh produce and assemble!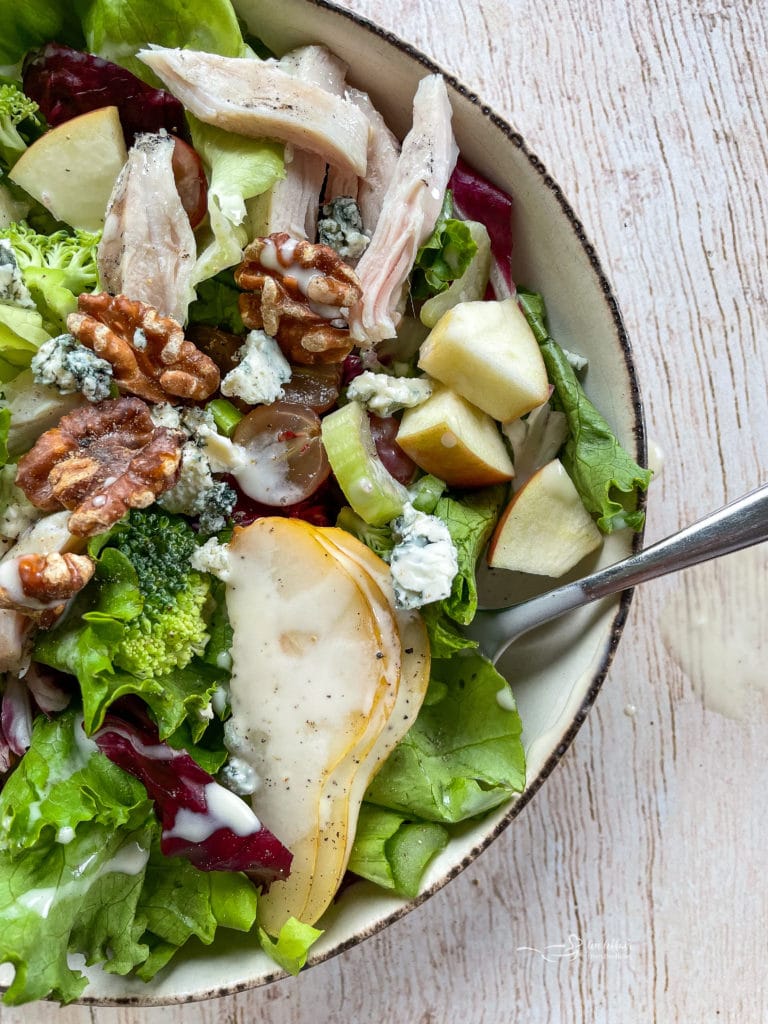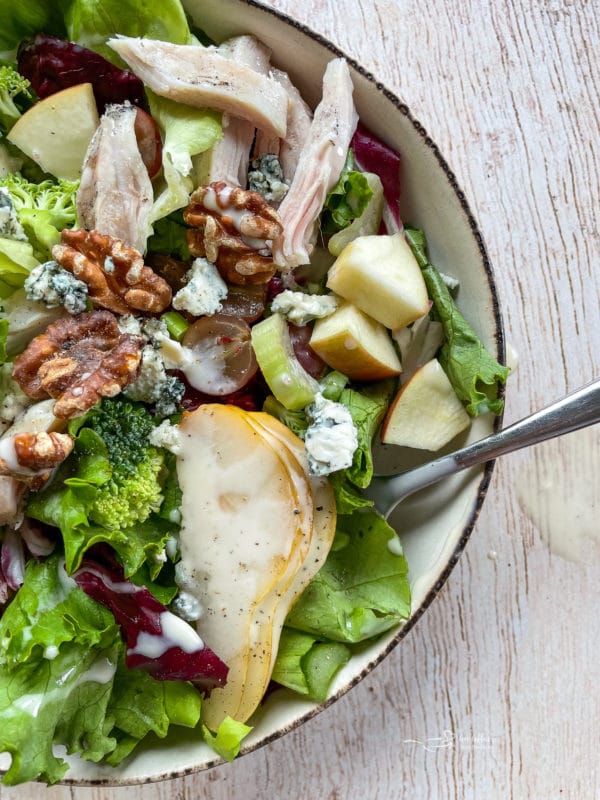 What is Waldorf Salad?
Traditionally, Waldorf salad is a salad made with an array of colorful ingredients such as grapes, crunchy nuts, apples, celery, and lettuce that are drizzled with a sweetened dressing usually made with sugar and mayonnaise or yogurt.
My version of the Waldorf salad differs from the traditional salad because it has additional ingredients that make it both savory and sweet. Think of this salad as a classic Waldorf salad but with an additional fruity and flavorful twist. I promise you will just LOVE this version!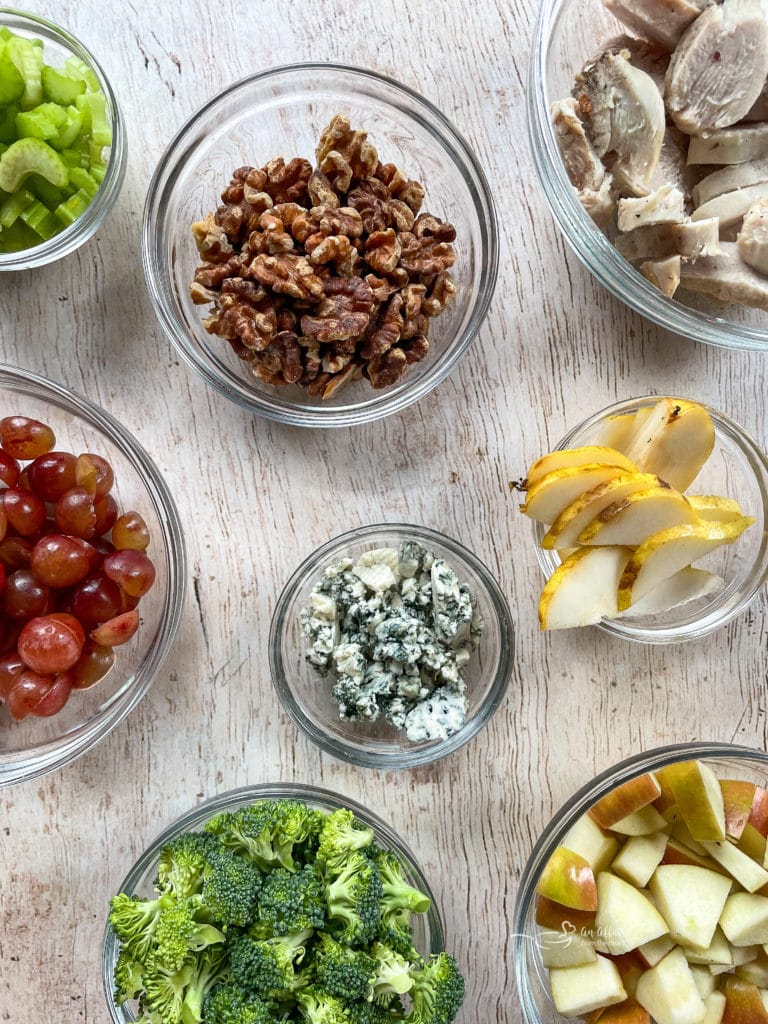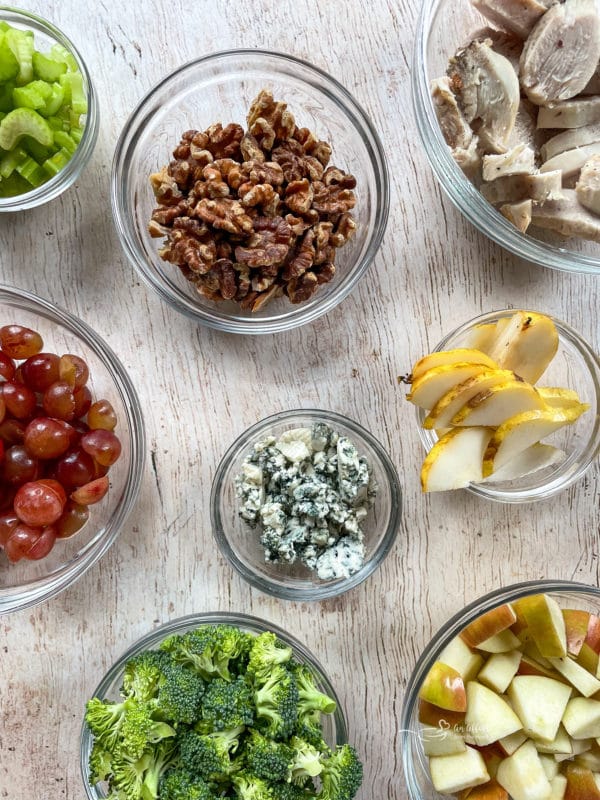 SALAD INGREDIENTS
Salt: This is for the brine. Keep in mind that different kosher salts vary in salt levels. Salt is a key ingredient for the brine and is what makes the chicken so moist.
Water: You will need five cups of water for the brine to keep an even ratio of salt and water!
Apple: Use any kind of apple for this salad such as Gala, Honeycrisp, Granny Smith, etc.
Grapes: Halved red grapes give this salad a sweet fruitiness that makes salad the perfect amount of sweetness!
Pear: Fresh and tender pears add an extra level of fresh fruity flavors. I like to use Anjou or Bartlett pears. Make sure your pears are nice and ripe with a yellow color.
Celery: Fresh celery provides a nice crispy crunch to the salad!
Broccoli: Chopped broccoli is a great way to get some extra greens and crunch in this salad. Be sure to chop the broccoli into small florets!
Lettuce: For this recipe, I like to use a combination of bib and romaine lettuce to keep things fresh and exciting. The two different types of lettuce have distinct flavors that are delicious and so yummy!
Radicchio: Crunchy and similar to cabbage, this red leafy vegetable has somewhat bitter and spicy flavors that give this salad the extra boldness it needs. Radicchio is commonly used in Italian cuisines and can be grilled or roasted.
TOPPINGS
Walnuts: Toast the walnuts ahead of time to make sure they are nice and toasty! Pecans or almonds can be used in place of walnuts.
Blue Cheese: Crumbled blue cheese is nice and tangy and balances out the fresh flavors so well. Goat cheese can also work!
Chicken: You will need two chicken breasts to soak in brine and grill to top on the salad. I like to use both breasts and thighs!
Prosciutto: Cook the prosciutto until it is crispy to make this salad extra savory and delicious! Savory and sweet is the perfect combination.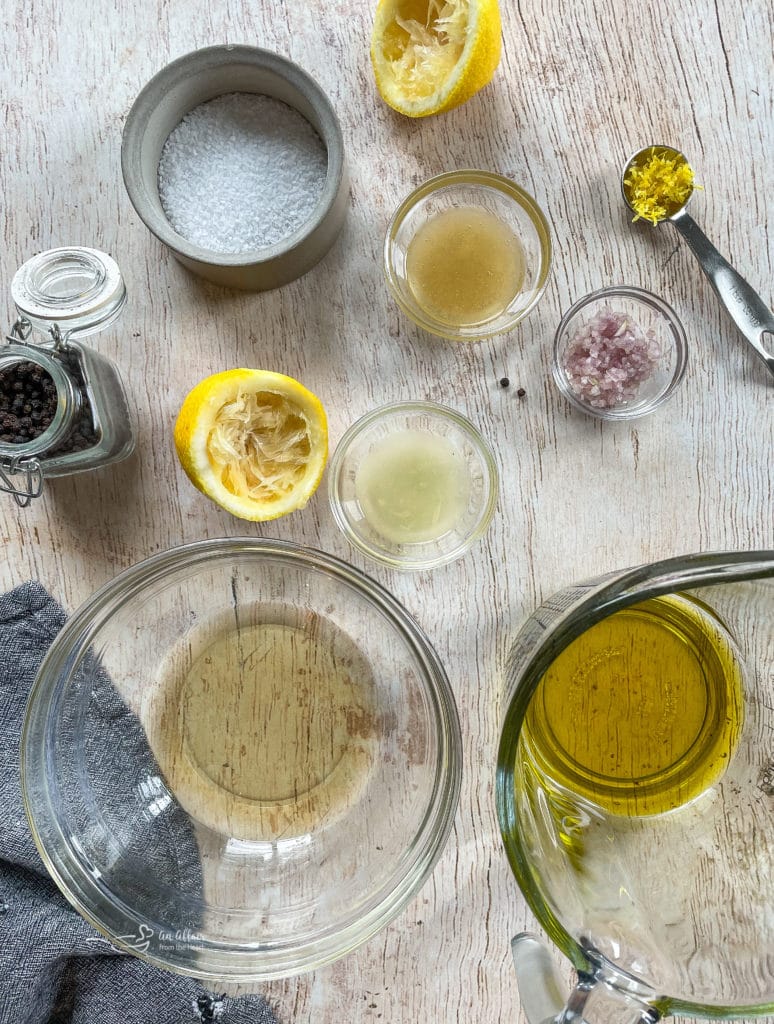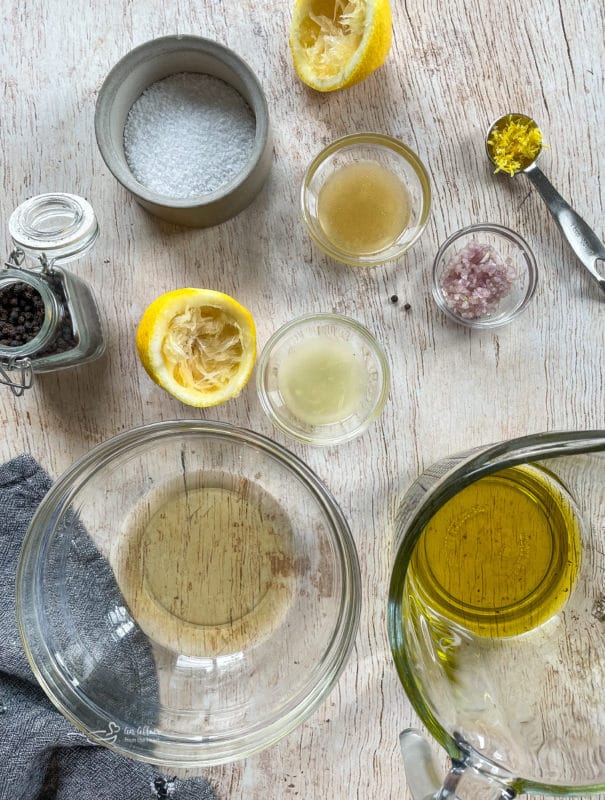 VINAIGRETTE DRESSING
Oil: Olive oil is robust and silky in its flavor and a great ingredient for the vinaigrette. Use your favorite quality brand!
Vinegar: White balsamic and regular white kinds of vinegar are used to give the dressing from scratch a nice tangy flavor that makes this vinaigrette bright.
Honey: Just a little bit of honey rounds this dressing out and allows it to be not too sweet or acidic.
Shallots: Fresh shallots are fragrant and filled with the best flavors that are similar to garlic but a little different!
Mayonnaise: Just a little bit of mayonnaise makes the dressing creamy enough to coat the salad.
Lemon: Fresh lemon juice and zest allow the dressing to shine to perfection.
Salt and Pepper: The perfect blend of seasoning! Adjust as you need to!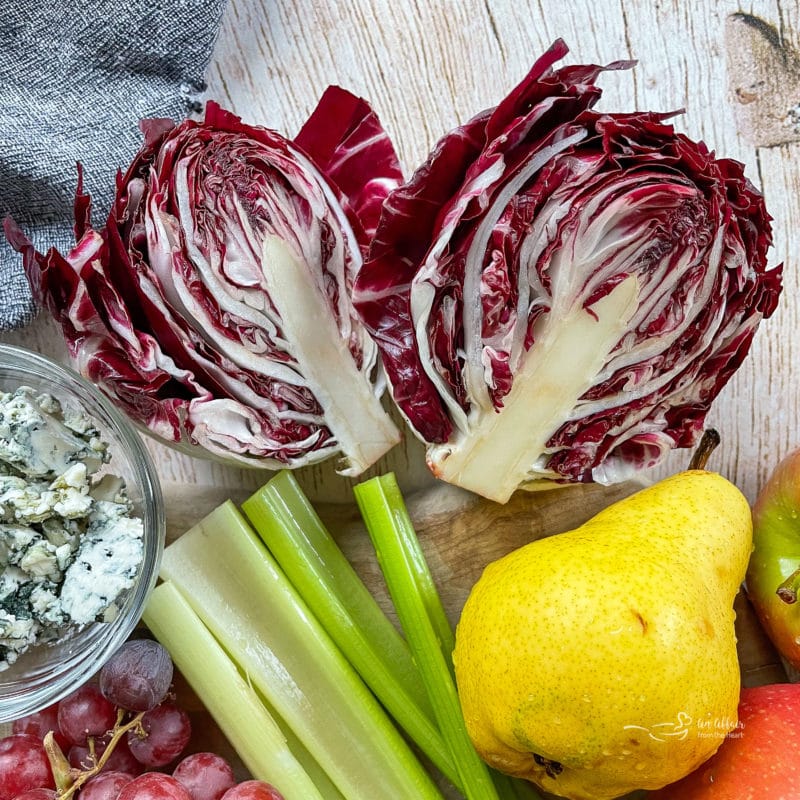 How to make this salad recipe
The instructions for this Waldorf salad with the chicken recipe are so easy! Be sure to scroll down to the recipe card for the full measurements.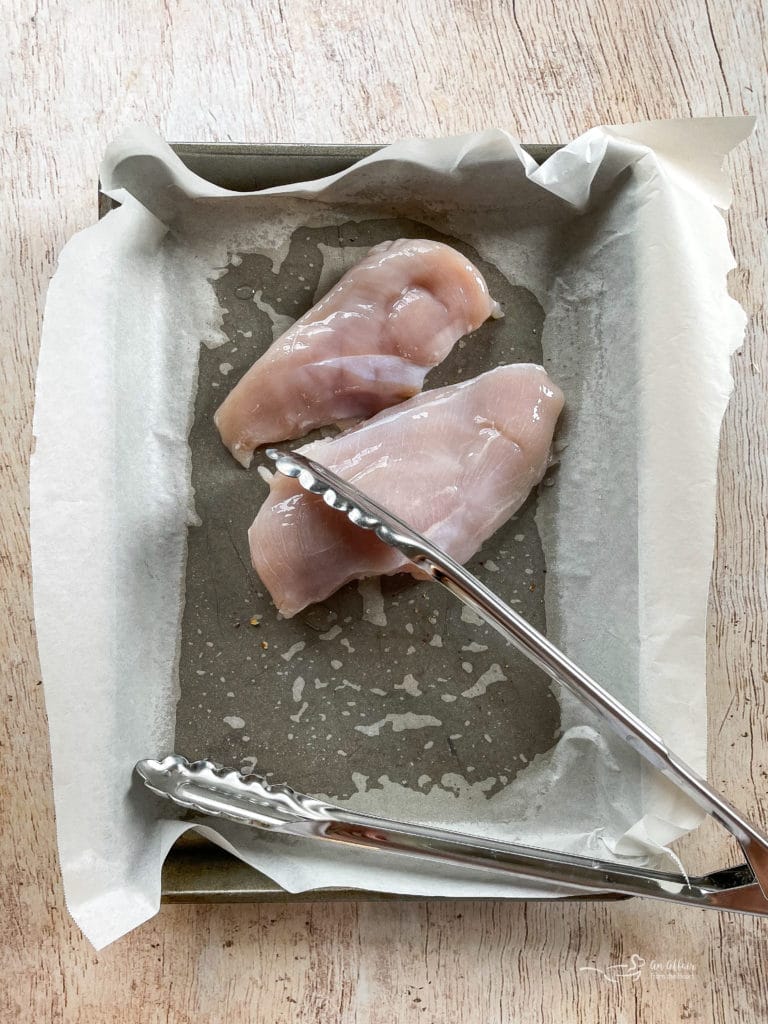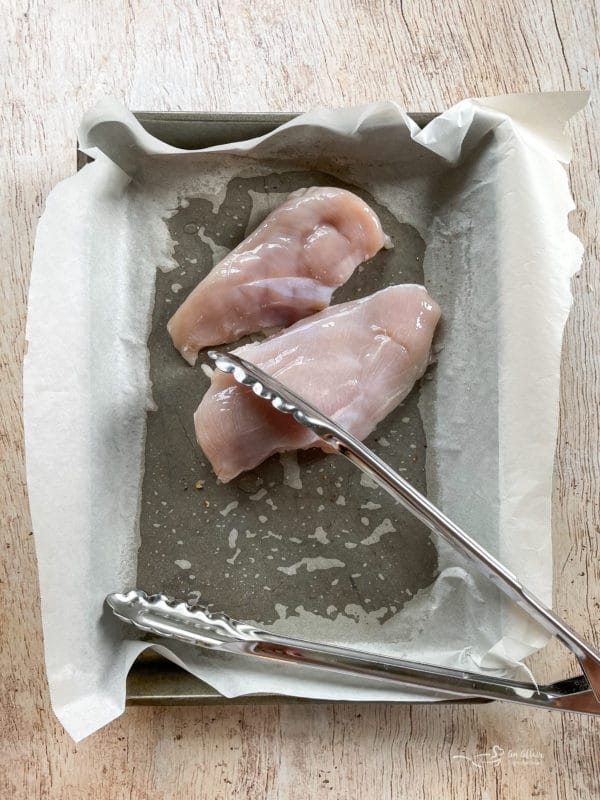 BRINE THE CHICKEN
First, place the raw chicken breasts into the salt and water brine in a bag or large container. Place in the refrigerator and store covered overnight.
MAKE THE DRESSING
Next, in a medium bowl, whisk the white balsamic vinegar, honey, shallots, mayonnaise, white vinegar, lemon zest, lemon juice, salt, and pepper. Make sure to whisk constantly, and slowly, add the olive oil to the mixture. Store in the refrigerator until ready to use.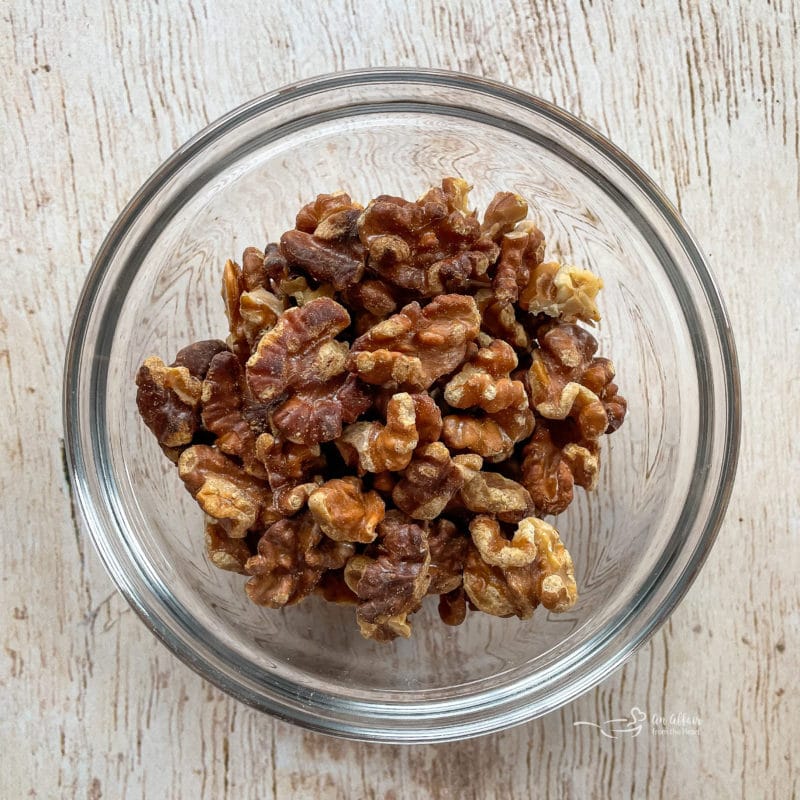 TOAST WALNUTS
After that, toast the walnuts and crisp the prosciutto in a skillet until fragrant and perfectly toasted. Remove the pan from the heat and set it aside.
GRILL CHICKEN
Next, remove the chicken breasts from the brine and grill it until the internal temperature reaches 165 degrees Fahrenheit. Check with a meat thermometer. Slice the chicken.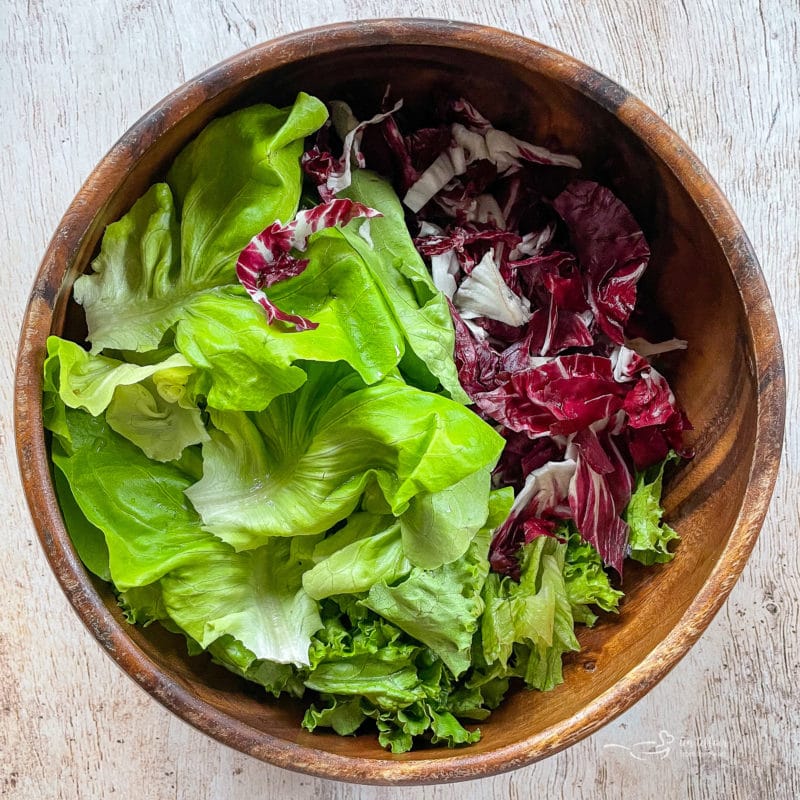 MIX THE GREENS
Next, toss the lettuces (including the radicchio) together in a large bowl. Add in the cubed apples, halved grapes, pear slices, chopped celery, and broccoli.
Toss the salad again until mixed.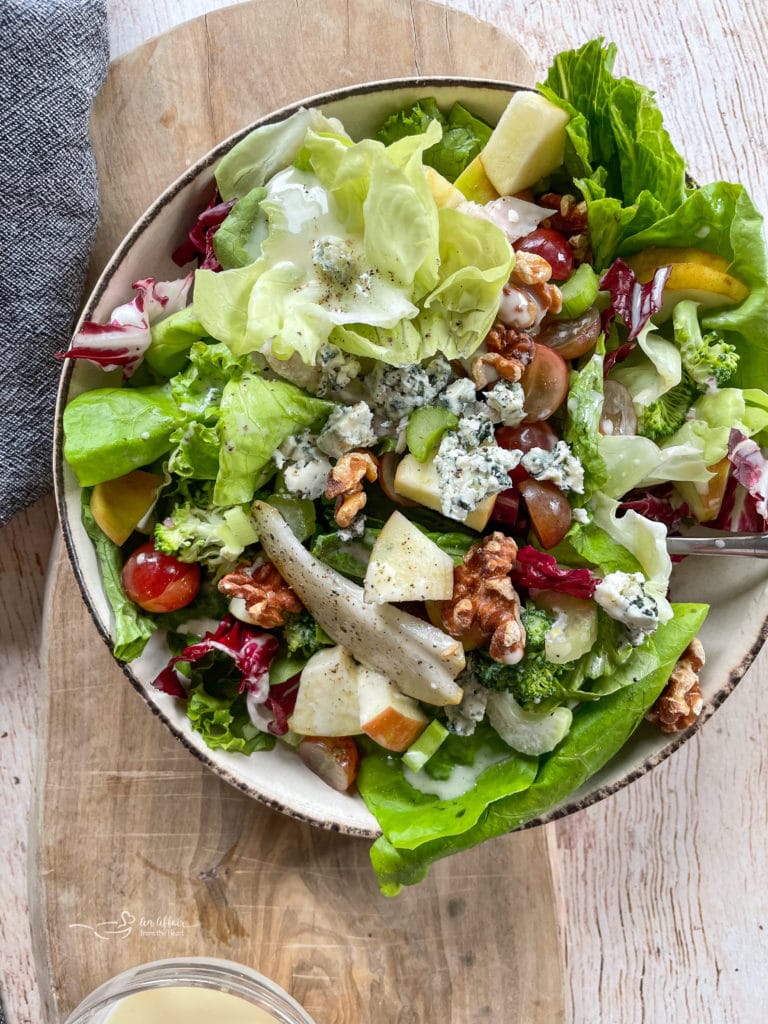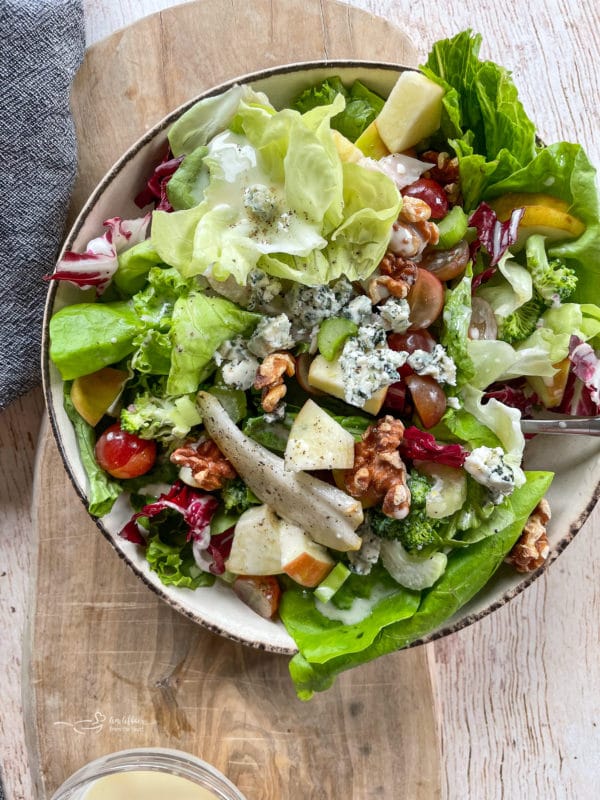 DRESS THE SALAD AND SERVE
Next, add the vinaigrette to the salad and mix until combined.
Then, place the mixed salad on plates and top with toasted walnuts, blue cheese, crispy prosciutto, and grilled chicken.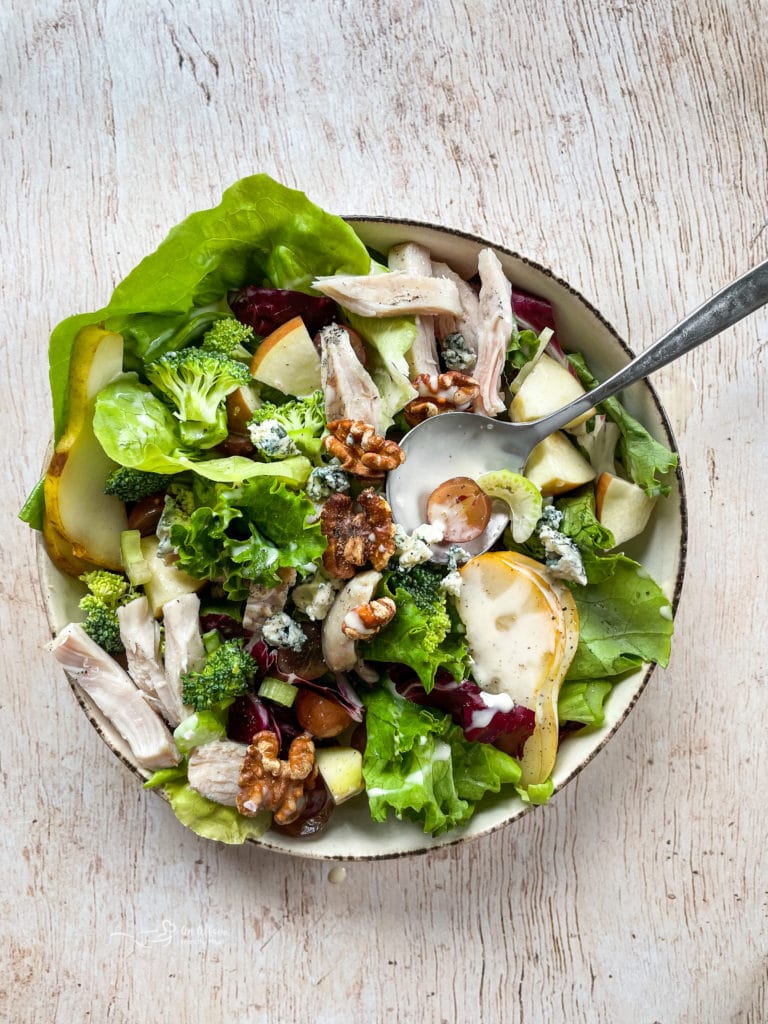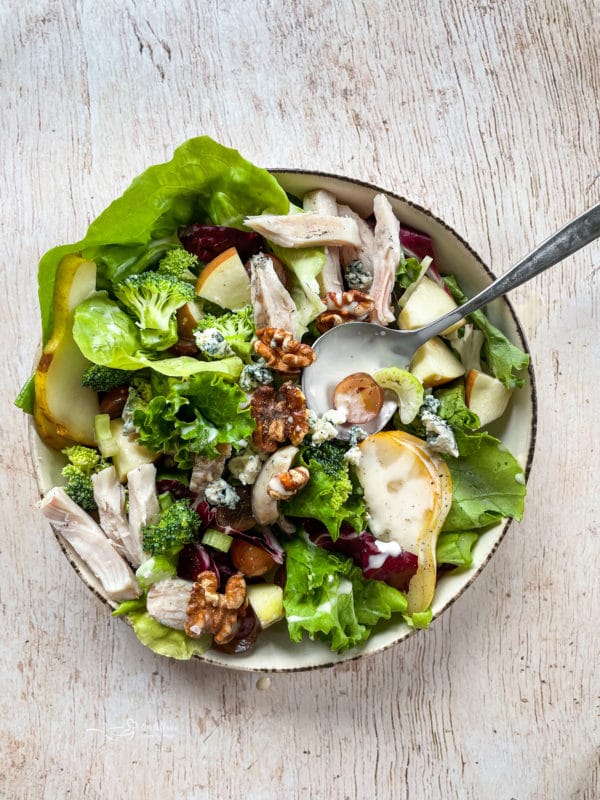 Serve immediately and enjoy!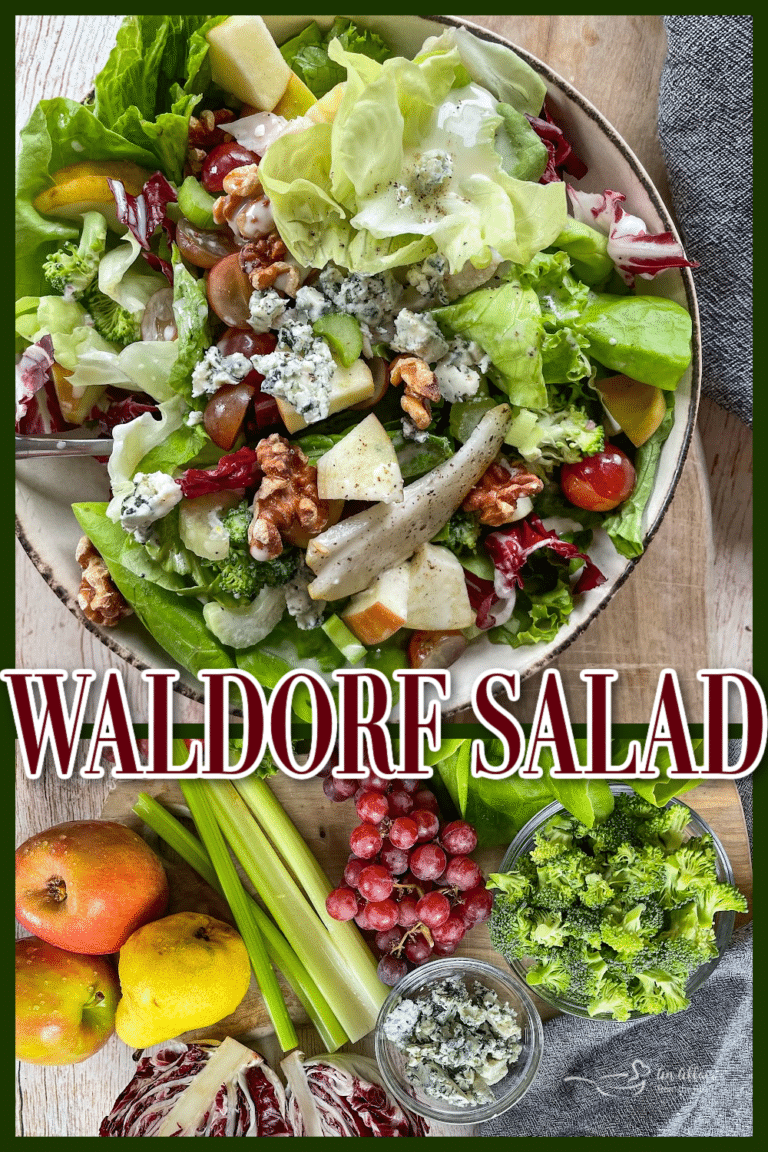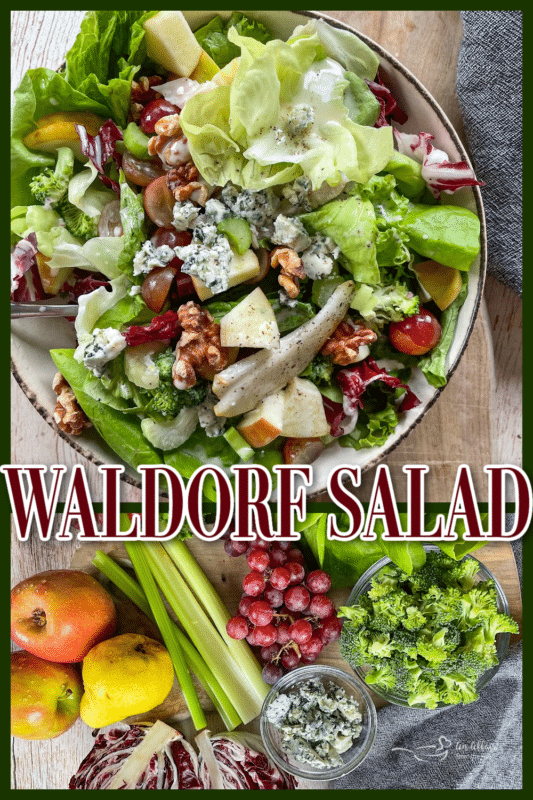 LOVE THIS RECIPE? BE SURE TO PIN IT!
Save this recipe the next time you need to prepare a salad for yourself or your loved ones! This salad is perfect to serve with brunch, lunch, or dinner occasions, too!
WHERE DID WALDORF SALAD ORIGINATE?
The Waldorf salad is named after a salad that was prepared in a hotel in Waldorf-Astoria in New York City. The salad was prepared with grapes, celery, and mayonnaise in honor of a charity ball for St. Mary's Hospital.
This classic salad has been circulating around many kitchens ever since!

Tips & Tricks for Making Chicken Waldorf Salad
Store the leftovers in an airtight container

in the refrigerator for up to four days. Additionally, you may want to store the dressing separately from the salad so it doesn't make the greens too soft!

Instead of grilling chicken, then you can bake it in the oven or cook it in the skillet, air fryer, Instant Pot, etc. Perfect use for leftover chicken or Thanksgiving Turkey, too! This Smoked Turkey is fantastic!
Rather than using red grapes, then feel free to use white grapes.
Finally, be sure not to overcook the chicken!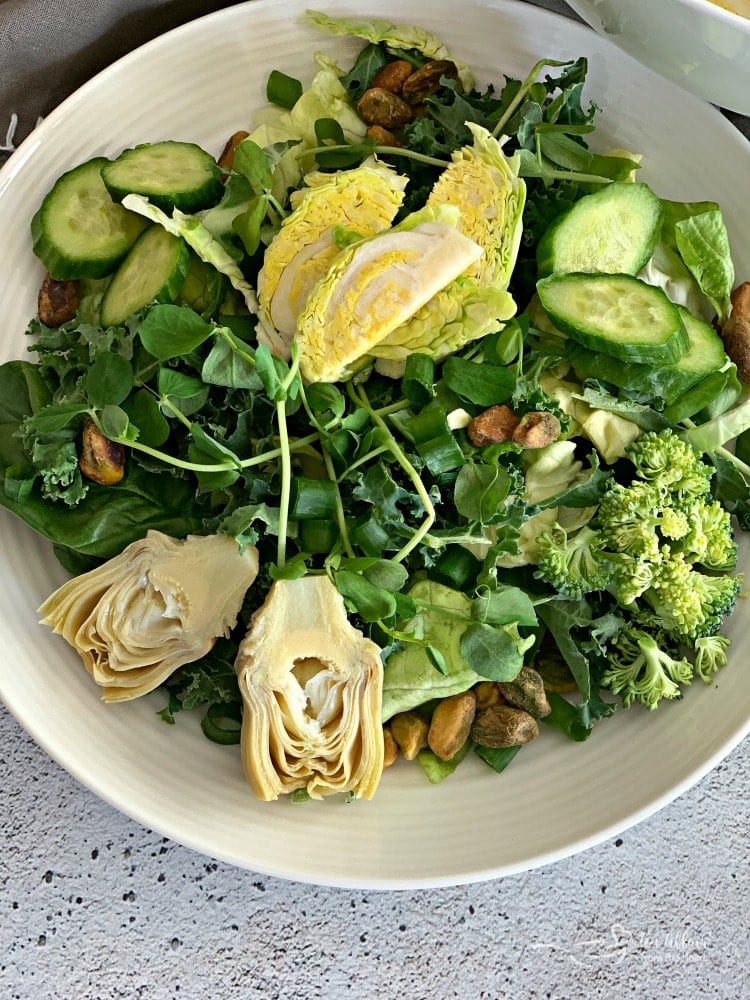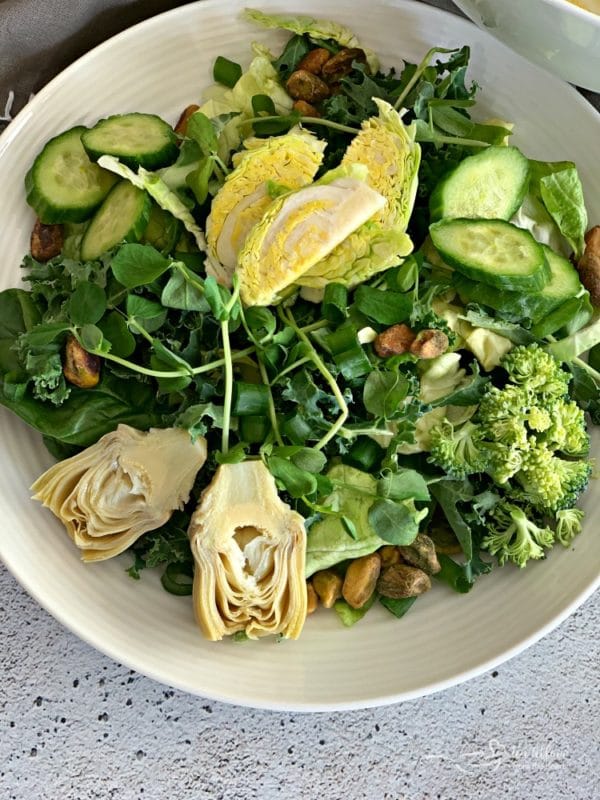 More Salad Recipes to Love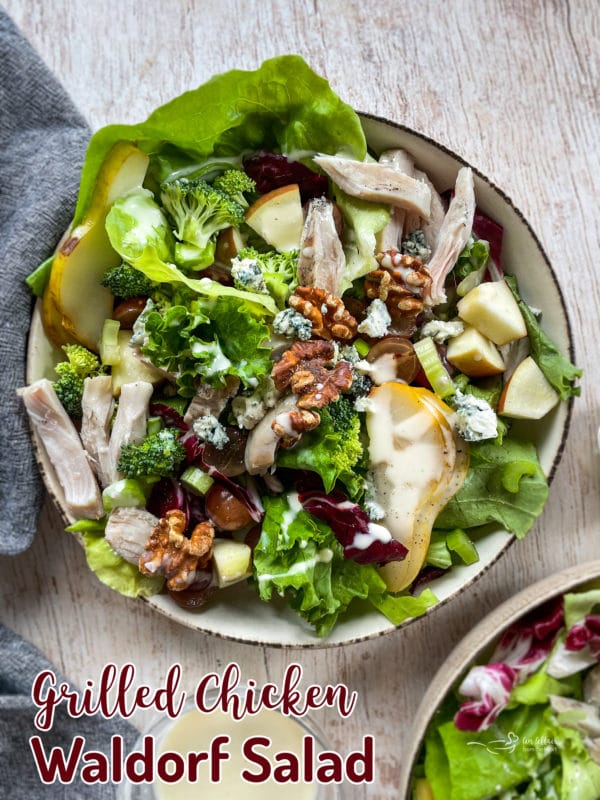 Let's mix up this gorgeous salad!

Yield: 2
Grilled Chicken Waldorf Salad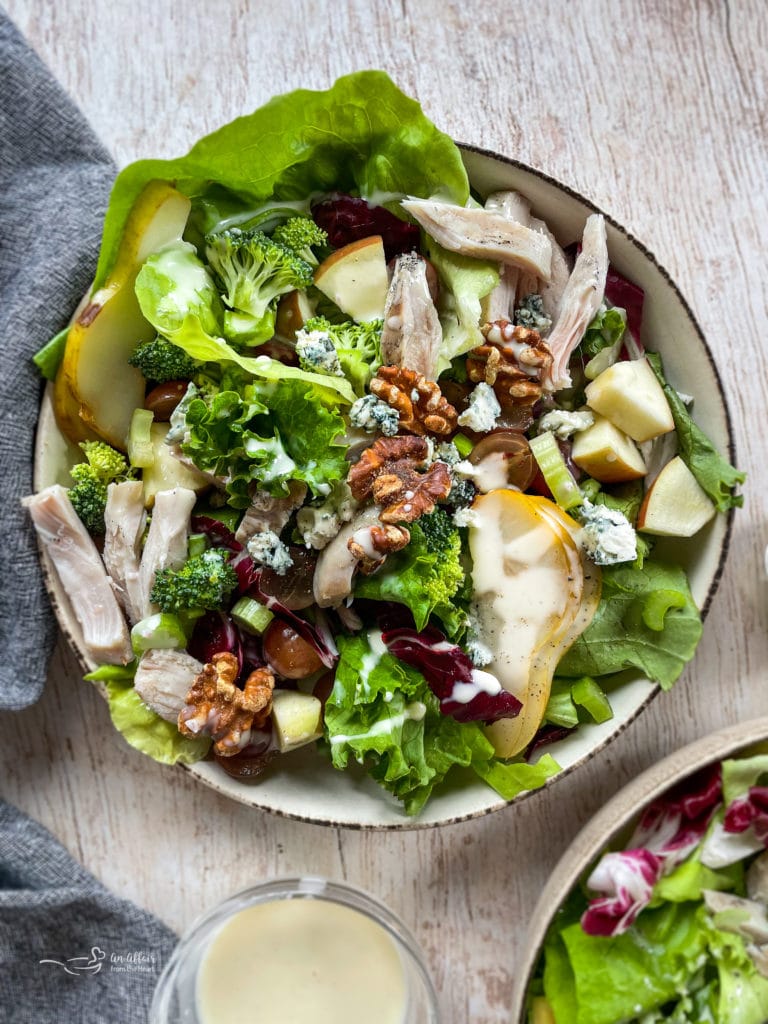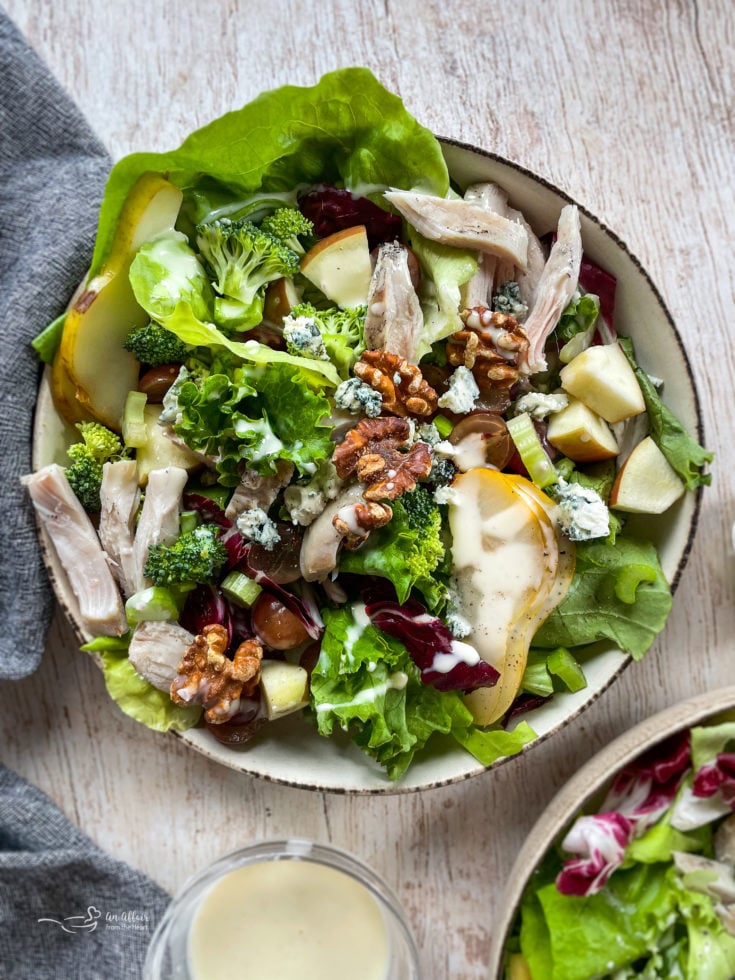 Total Time
8 hours
30 minutes
Ingredients
For the Chicken Brine:
1/4 cup salt
5 cups water
For the White Balsamic Vinaigrette Dressing:
1/4 cup olive oil
1/4 cup white balsamic vinegar
1 Tablespoon honey
1 Tablespoon shallots, minced
1/2 cup mayonnaise
1/2 teaspoon white vinegar
1/2 teaspoon lemon zest
1 Tablespoon fresh lemon juice
Salt & Pepper, to taste
For the Salad:
1 apple, cubed
1 cup red grapes, halved
1 pear, sliced
1/2 cup walnuts, toasted
1/4 cup blue cheese, crumbled
3 stalks celery, chopped
1/2 cup chopped broccoli
1 small head bib lettuce
2 cups radicchio, chopped
2 cups romaine lettuce, chopped
4-5 slices prosciutto, cooked crispy
Instructions
Place chicken in the brine, cover, and place in the refrigerator overnight.
Mix up all of the vinaigrette ingredients except the olive oil with a whisk in a bowl. Slowly add in the olive oil, whisking constantly. Cover and store in the refrigerator.
Toast the walnuts and crisp up the prosciutto in a skillet. Set aside.
Remove chicken from the brine and grill it until the internal temperature reaches 165 degrees with a meat thermometer. Slice.
Toss the lettuces together in a large bowl. Add in fruits and veggies and toss once again.
Add vinaigrette and toss again.
Place dressed salad onto plates, top with cheese, toasted walnuts, crispy prosciutto, and grilled chicken.
Serve immediately.
Recommended Products
As an Amazon Associate and member of other affiliate programs, I earn from qualifying purchases.
Nutrition Information:
Yield:
2
Serving Size:
1
Amount Per Serving:
Calories:

1444
Total Fat:

101g
Saturated Fat:

18g
Trans Fat:

0g
Unsaturated Fat:

79g
Cholesterol:

187mg
Sodium:

16956mg
Carbohydrates:

70g
Fiber:

12g
Sugar:

48g
Protein:

70g
Please note that nutrition is not guaranteed accurate.