Frito Corn Salad
As an Amazon Associate and member of other affiliate programs, I earn from qualifying purchases.
This Frito Corn Salad is the ultimate combination of flavors and textures and makes the perfect side dish, appetizer, or dip. Ideal for potlucks, backyard barbeques, game days, or just a fun change-of-pace weeknight meal.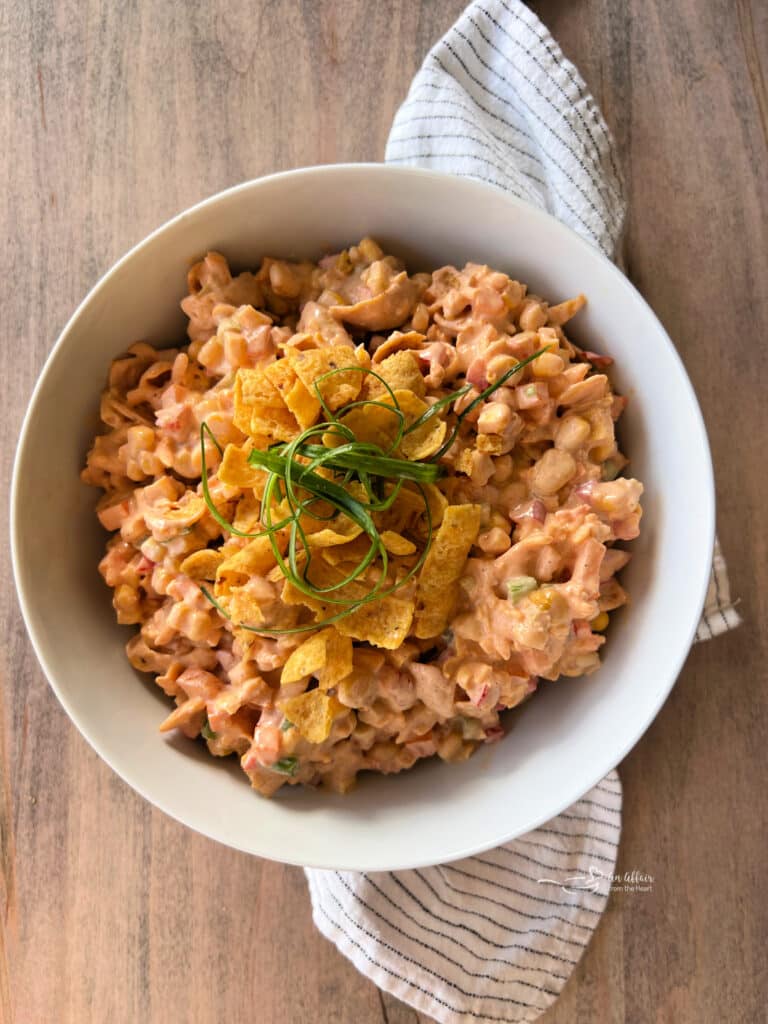 Crunchy corn and peppers come together with a creamy dressing and taco seasoning all topped with salty Frito corn chips for a dish that's as fun to make as it is to eat. You can make this easy salad ahead of time and store it in the fridge for a day or two and then top it with the corn chips just before serving.
I'll prep this delicious salad on a weekend morning so it's ready to go when the whole family comes over for our traditional backyard barbeques. It makes the perfect summer side dish. and a fun way to change things up a bit from macaroni salad or potato salad. It's great with whatever is coming off of the grill, but we especially loved it with hot dogs.
Everyone loves a good cookout salad, right? Here are more salad recipes that are perfect for your next cookout: Marinated Vegetables, Tomato Cracker Salad, or my recipe for KFC Cole Slaw!
Frito Corn Dip
For as wonderful as this recipe is as a salad, it makes an amazing dip, too! Instead of stirring the corn chips into the salad, buy the bigger scoop Fritos and serve them alongside for a hearty dip that everyone will love!
Frito Corn Salad Recipe Ingredients
Find the exact recipe measurements and instructions in the printable recipe card at the bottom of this post.
Yellow Kernel Sweet Corn – I used canned corn, drained, but cooked fresh whole kernel corn or drained frozen will also work.
Bell Peppers – I used a red bell pepper and an orange bell pepper but a green bell pepper or any color pepper will work.
Green Onion – I used sliced green onions or scallions but red onions will also work in this Frito salad.
Mayonnaise – Any kind of mayonnaise works to give this dish a creamy texture. I used regular mayonnaise but olive oil based also works.
Sour cream – I used full-fat sour cream but low-fat will work. If you don't have sour cream you can also use Greek yogurt.
Cheddar cheese – I used grated cheddar but Monterey Jack or Colby Jack cheese would be good options.
Taco seasoning – You can use store-bought taco seasoning or make your own using this homemade recipe.
Frito Corn Chips – These chips add a nice crunch. I used regular Fritos but the seasoned Chili Cheese Fritos will also work.

How to Make This Frito Salad Recipe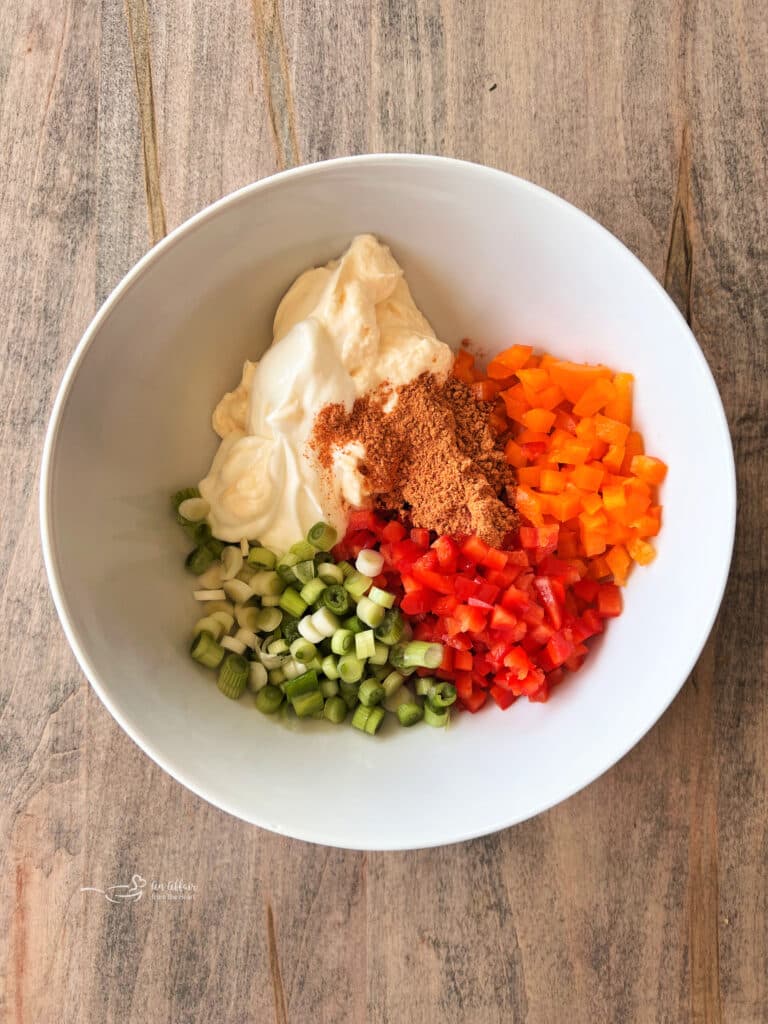 First: In a medium-sized or large bowl, combine mayonnaise, sour cream, taco seasoning, bell peppers, and green onion with a spoon.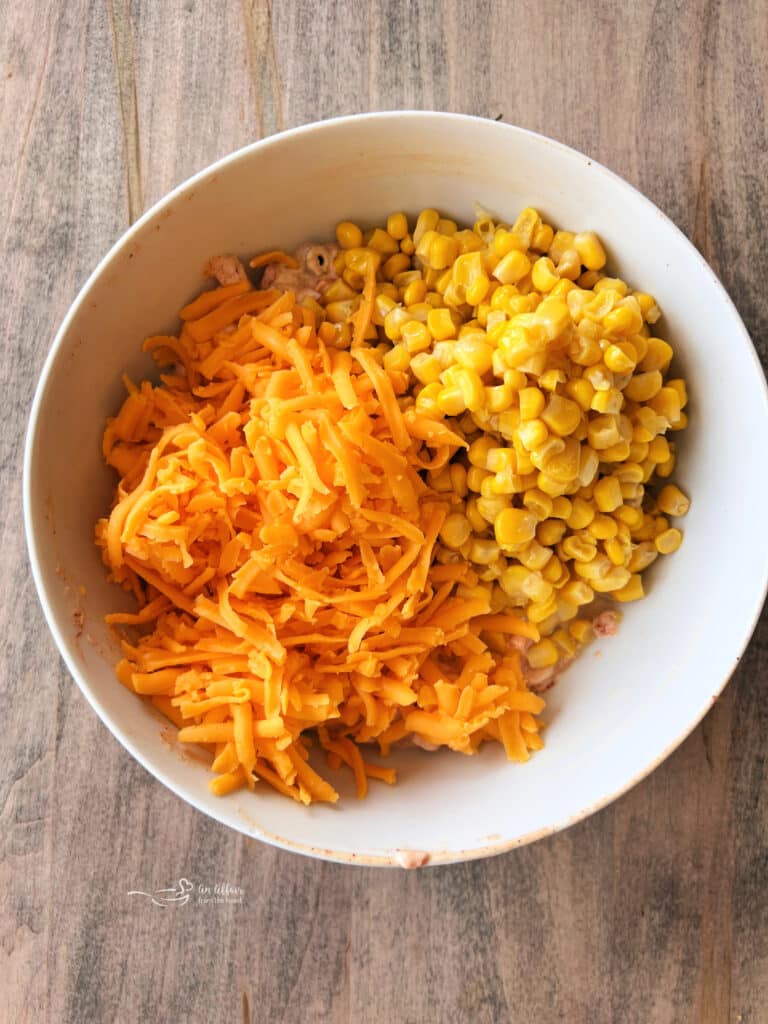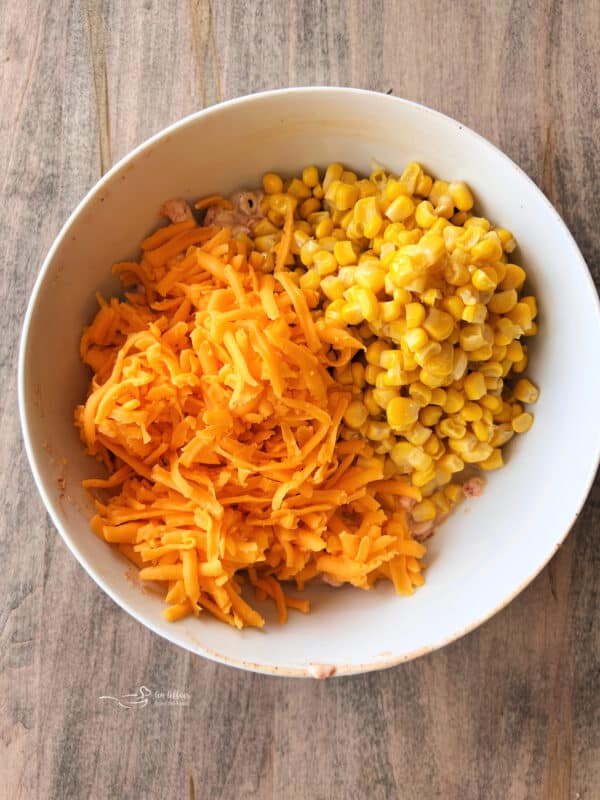 Second: Fold in corn and shredded cheese.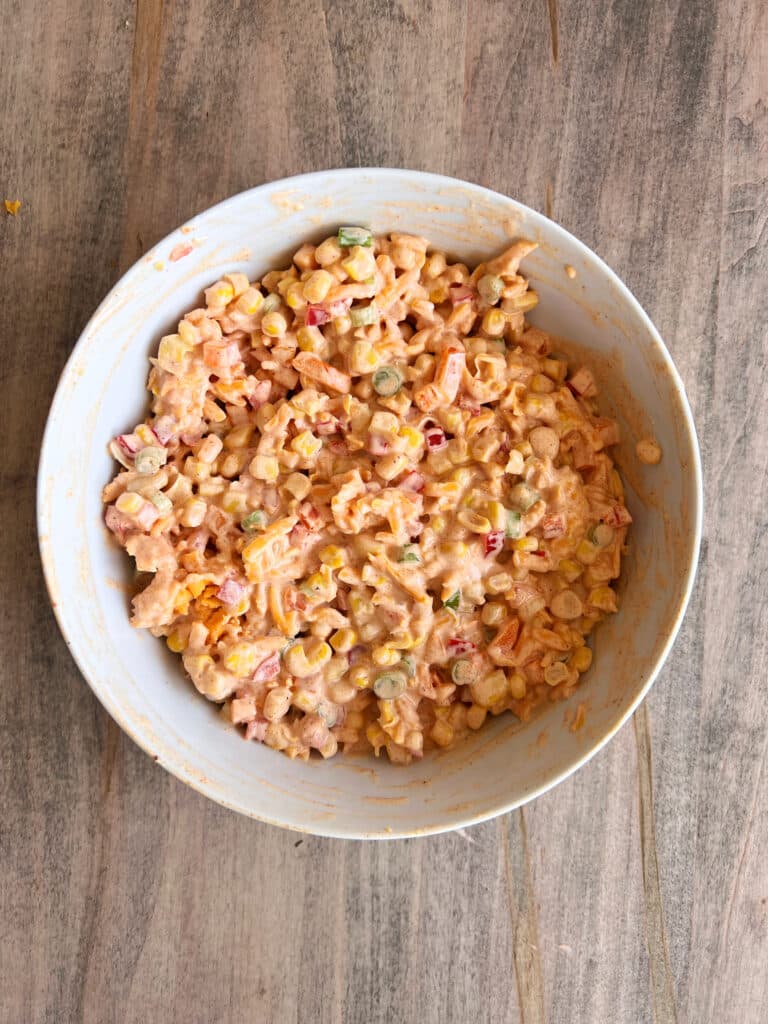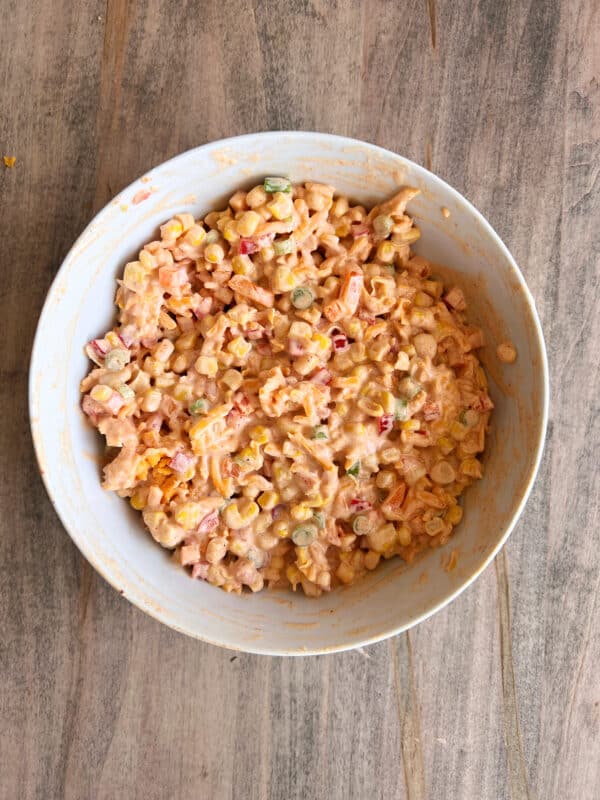 Third: Cover the bowl with plastic wrap and place the salad in the refrigerator until you are ready to serve it.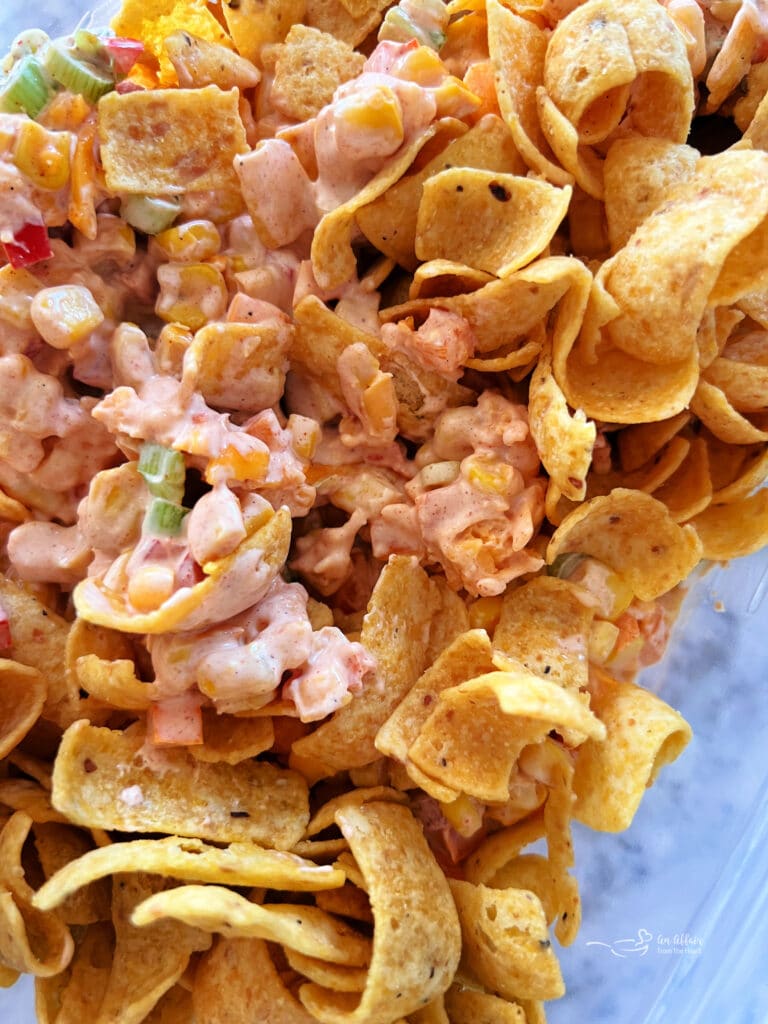 Fourth: Before serving, stir in the crunchy Fritos. I kind of broke mine in half as I stirred them in. I like to decorate the top with a few full-sized Fritos.
Fifth: Garnish with some sliced green onion if you'd like.
This Frito Corn Salad is best eaten right away but keeps for 3-4 days in an airtight container in the fridge. I don't recommend freezing it.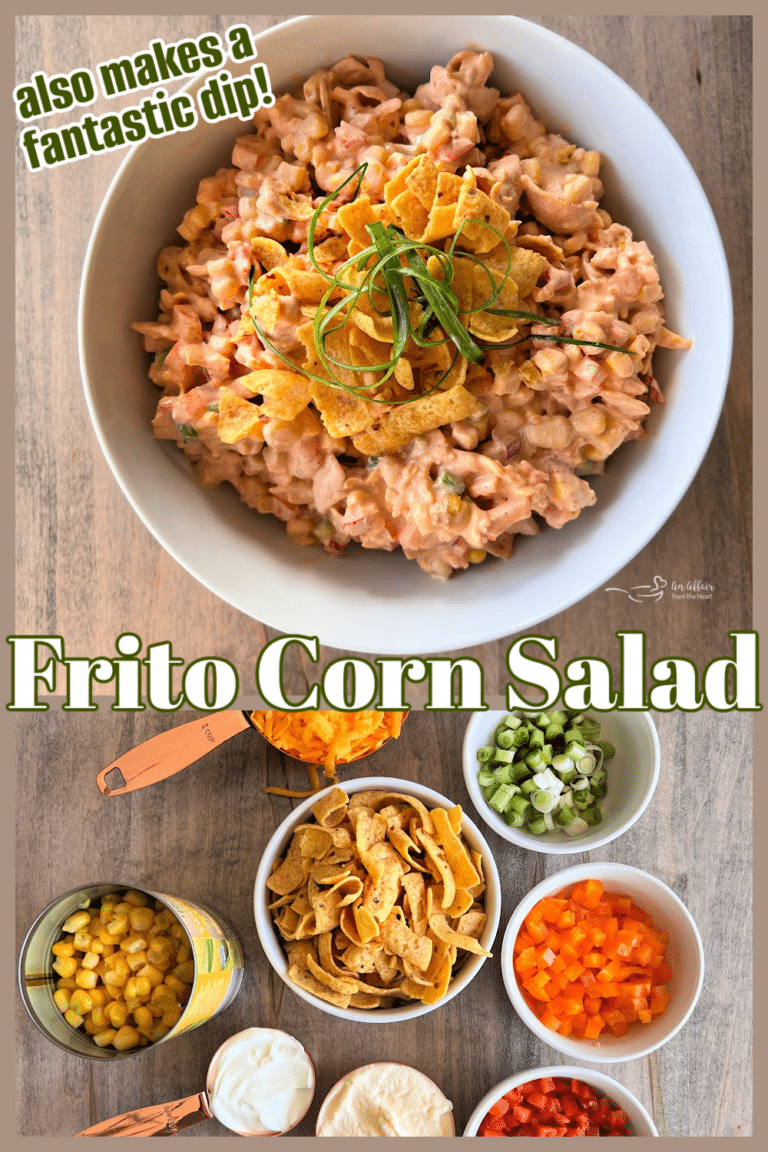 Love it? Pin it!
If you love this Fritos and corn salad make sure that you don't lose it! Pin it to your favorite Pinterest recipe board before you go!

Freaky Friday Recipes
I can't take all of the credit for this Frito Salad recipe. Sure I have brought it to you here today, but I actually got the recipe from my friend, Rebecca, from Devour Dinner. She was my assignment for this round of Freaky Friday!
What is Freaky Friday? Well, it's a good old-fashioned blog hop where we all cook/bake secretly from one another's sites and reveal our recipes on the same day. That day is today!
Devour Dinner
My assigned blog for this round was Devour Dinner. Rebecca lives in Idaho and is an amazing person. I have so enjoyed getting to know her via some groups we are in together online. She actually has two blogs, her other is called Best Cookie Recipes.
I have never had the pleasure of cooking from Rebecca's site and was tickled to get the chance. I made a list of ten recipes, and then circled back and shortened it down to five. Ultimately, I decided on this Frito Corn Salad, but the others on my "short list" were her Frito Pie, her Watermelon Salsa, or her No Bake Key Lime Cheesecake or Cookie Dough Ice Cream recipes.
More About Rebecca
Rebecca is a mom to all boys, even her Golden Retriever! She's a busy mom, who is a superhero in the kitchen! Check out her live broadcasts every Sunday at 3 PM MST where you learn something new and cook a recipe with her each week!
More Freaky Friday Recipes to Enjoy
In this round, I participated with five other bloggers. This Spring round of recipes has some pretty drool-worthy content. Three appetizers that will make you in the mood for entertaining, Fire Cracker Meatballs from The Culinary Compass, Mississippi Sin Dip from Take Two Tapas, and a Shishito Peppers recipe from Feast + West that is here to spice up your life!
Devour Dinner has a Mango Pineapple Smoothie perfect to start your mornings and Home Cooked Harvest, who was assigned my blog, made a Pink Squirrel Drink to finish off your day. Please check out all of the participating bloggers' websites to find even more recipes!
FAQs
Can I use frozen or fresh corn in this Frito corn salad recipe? You can use both frozen and fresh corn in a Frito corn salad. Make sure to cook the fresh corn before adding it to the salad and drain the frozen corn.
What kind of Fritos to use for the Frito dip? I used to use original Fritos but Chili Cheese Fritos also work well and make a Chili Cheese Frito Corn Salad, yum!

Substitutions and Variations
Change up the green onion for a red onion or chives.
Add fresh chopped cilantro or if you aren't a cilantro fan, use parsley.
Instead of Original Fritos use Chili Cheese Fritos.
Top the salad with a chopped jalapeño to add some spice.
Serve as a dip with the larger-sized scoop Fritos on the side instead of mixing them in.
Throw in a can of black beans or add shredded chicken for a heartier dish that eats more like a meal.
Try an enchilada seasoning instead of taco seasoning.
If you can't find chili cheese Fritos you can mix in some chili powder for that extra kick and use regular Fritos.
Tips & Tricks
Allow the salad some time to sit so the flavors can blend.
Make sure to drain the corn well or you will get soggy Fritos.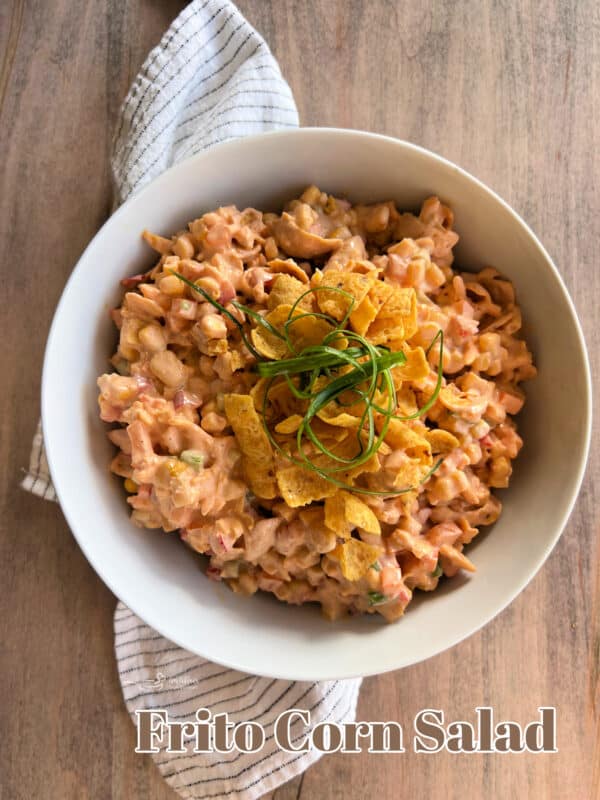 This no-cook, easy recipe for Frito Corn Salad is my go-to salad for the summer. Once fresh corn is in season you won't believe how incredible this salad tastes. Try it out at your next potluck or bring it to those summer cookouts. I guarantee it will disappear within minutes.

Yield: 6
Frito Corn Salad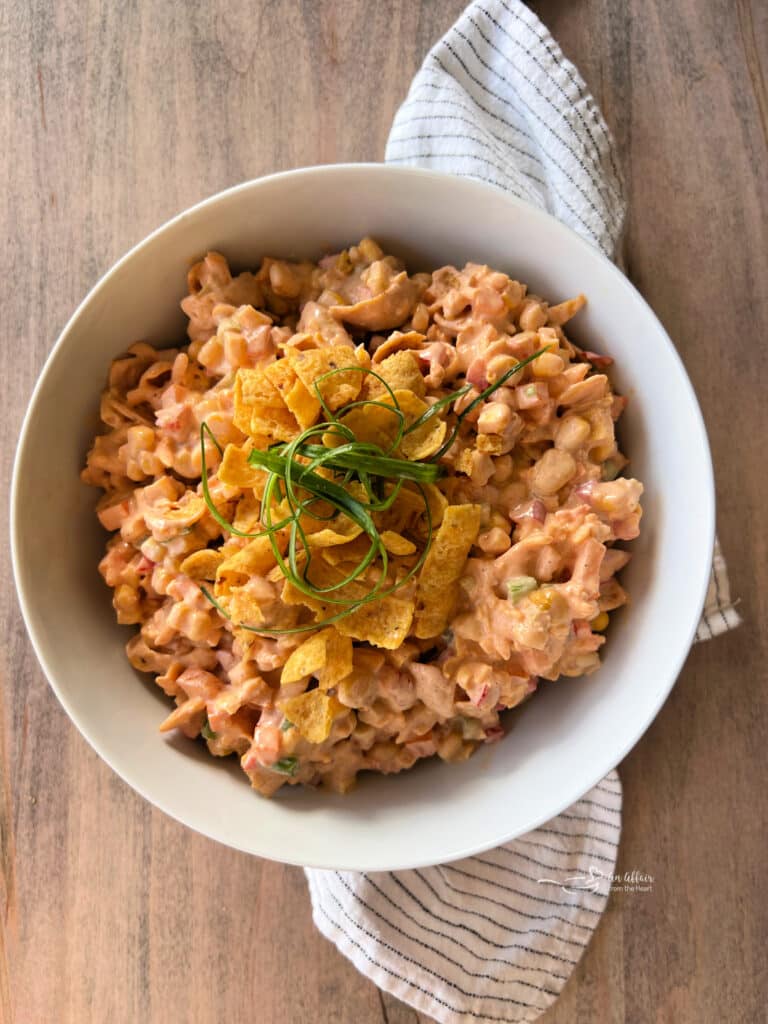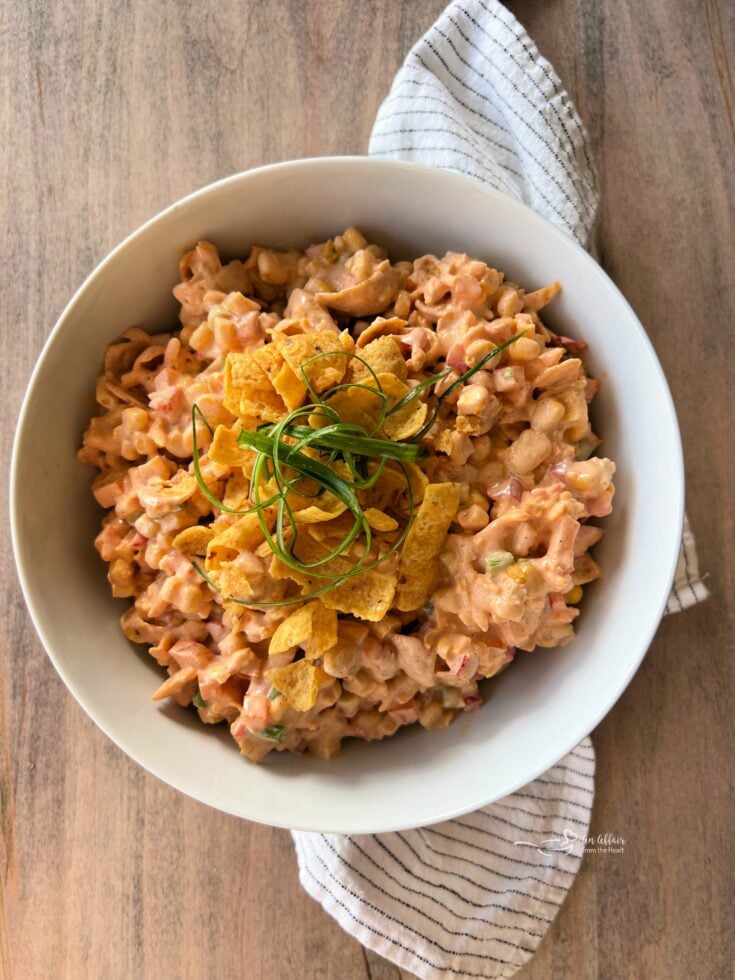 Frito Corn Salad takes sweet corn, and bell peppers and mixes them with salty Fritos and a taco-seasoned dressing for an epic salad!
Ingredients
1 (15.25 ounce) can of Yellow Kernel Sweet Corn, drained
1/2 cup red bell pepper, diced
1/2 cup orange bell pepper, diced
1/3 cup green onion, sliced
1/2 cup mayonnaise
1/4 cup sour cream
1 cup shredded cheddar cheese
1 Tablespoon taco seasoning
2 cups Frito Corn Chips
Instructions
In a medium-sized bowl, combine mayonnaise, sour cream, taco seasoning, bell peppers, and green onion with a spoon.
Fold in corn and shredded cheese.
Place the salad in the refrigerator until you are ready to serve it.
Before serving, stir in the Fritos. I kind of broke mine in half as I stirred them in.
Garnish with some sliced green onion if you'd like.
Recommended Products
As an Amazon Associate and member of other affiliate programs, I earn from qualifying purchases.
Nutrition Information:
Yield:
6
Serving Size:
1
Amount Per Serving:
Calories:

648
Total Fat:

47g
Saturated Fat:

10g
Trans Fat:

0g
Unsaturated Fat:

33g
Cholesterol:

32mg
Sodium:

730mg
Carbohydrates:

49g
Fiber:

4g
Sugar:

3g
Protein:

10g
Please note that nutrition is not guaranteed accurate.