Salted Nut Roll Bars
As an Amazon Associate and member of other affiliate programs, I earn from qualifying purchases.
Salted Nut Roll Bars are a copycat recipe for the famous Salted Nut Roll candy bar. Buttery bottom, marshmallow center, topped with a peanut buttery, caramelly, sweet & salty peanut-filled top layer that will make you swoon!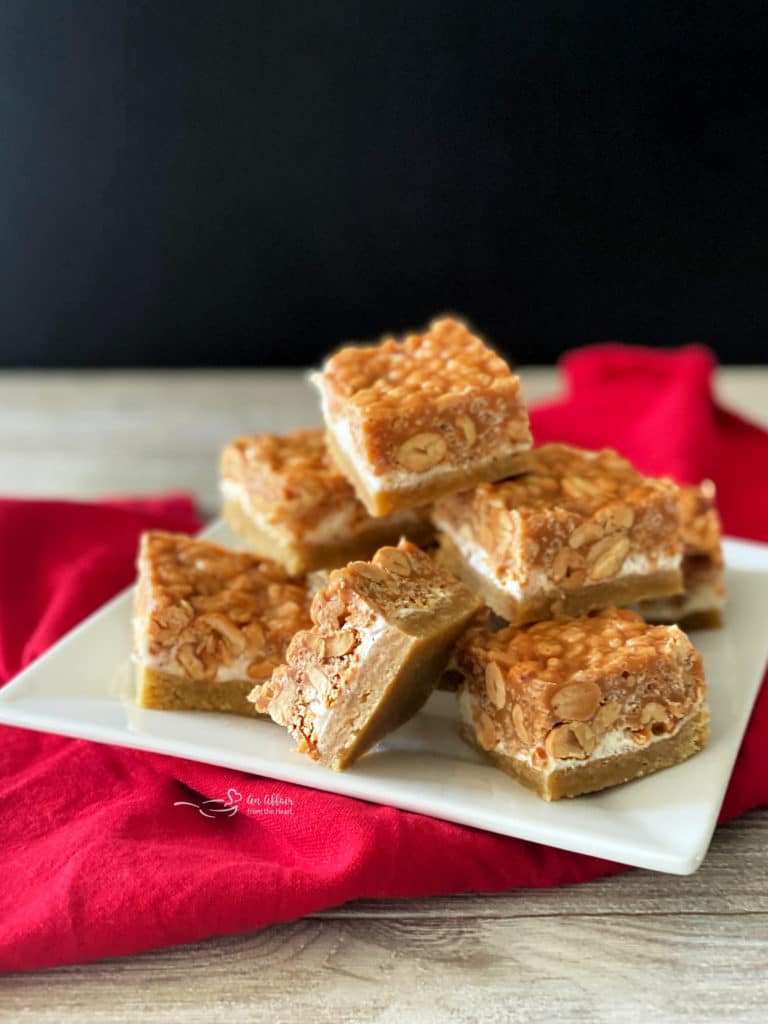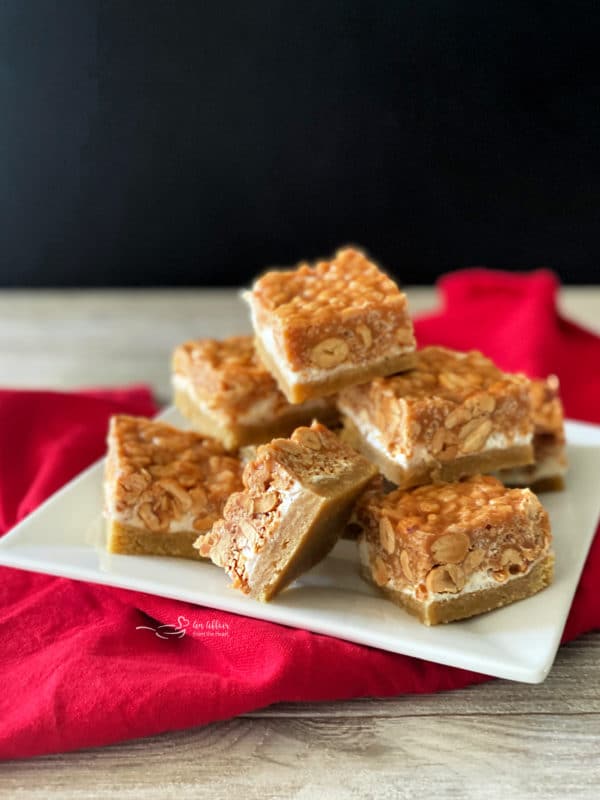 What is YOUR favorite candy bar? Mine has always and forever been a Salted Nut Roll, making this recipe for Salted Nut Roll Bars one of my favorites! For the longest time, I assumed you could buy a Salted Nut Roll Candy Bar anywhere – but that just isn't true I guess?
Sometimes I even have a hard time getting them here. I play a little game with myself at the supermarket. As I walk toward the checkout, I tell myself, "if they have a Salted Nut Roll, you can treat yourself to a candy bar – if not you're outta luck!" It always makes finding one even more fun! (even better when it's a King Size!)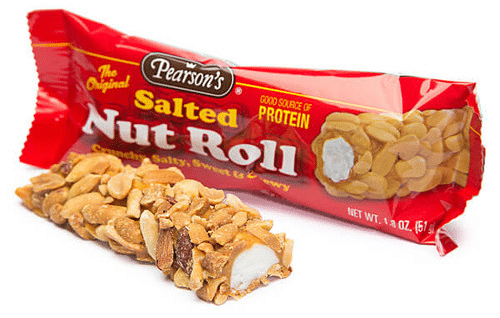 THE SALTED NUT ROLL CANDY BAR
Salted Nut Rolls have been around for a long time! Since 1933, in fact. They are made by Pearson's Candy in the Twin Cities of Minnesota.
Pearson's Salted Nut Roll was released during the time of the Great Depression. It's always been reasonably priced, in those days, they were only 5 cents!
A way to give even the tightly clutched purse strings a way to indulge a bit.
ISN'T A SALTED NUT ROLL AND A PAYDAY CANDY BAR THE SAME?
It's a common misconception that these two candy bars are "the same." My daughter's boyfriend would have told you that a Payday was his favorite candy bar — until of course, I introduced him to the Salted Nut Roll.
A Payday candy bar has the same sweet & salty thing going on with the salty peanuts and peanut butter with the golden caramel, but what it lacks is the nougat in the center that the Salted Nut Roll has.
"Is that what that white stuff is in the middle of a Salted Nut Roll?" Yep! Nougat. That fluffy nougat center is a game-changer! It makes the Salted Nut Roll not only a little bit sweeter, but also makes it softer and chewier.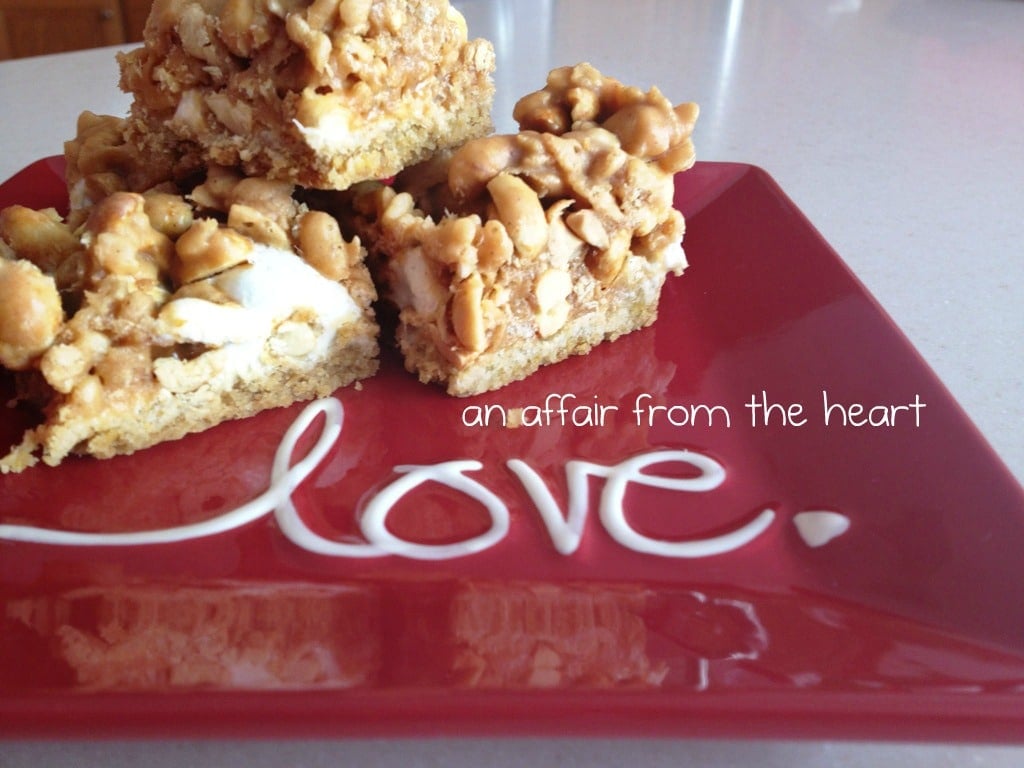 a little sweet and salty love from my kitchen
THE BEST SALTED NUT ROLL RECIPE
I have been making this easy recipe for homemade salted nut rolls for years and years. Pre-Kids even — which totally dates me, but that's okay. I got this recipe from a girl I worked with back in 1993.
She brought them to an office pot-luck and I was hooked!
I have tried recipes from others and this is the one that I always go back to. It turned out perfectly every time, and these sweet and salty treats are always one of the first things to disappear from my cookie platters at Christmastime.

HOW DO HOMEMADE SALTED NUT ROLL BARS DIFFER FROM THE ACTUAL CANDY BAR?
The flavor is really similar. Pearson's Candy will tell you that nobody has ever gotten it exactly right, though, no matter how many have tried.
These homemade candy bars are made with a marshmallow center. The actual candy bar, as I mentioned earlier, has a creamy nougat center.
Both have a caramel and peanut butter sweet chewiness to them, and the salty, crunchy roasted nuts give them that perfect saltiness.
INGREDIENTS NEEDED FOR SALTED NUT ROLL BAR RECIPE
CRUST
Flour – All-purpose flour is best.
Brown sugar – You can use light or dark brown sugar.
Baking powder
Vanilla – 100% pure vanilla extract is what I recommend.
Salt
Baking soda
Butter – I stick with butter or butter substitute, but unless you are allergic to dairy I do not recommend substituting the butter.
Eggs – You will only need the yolks for this recipe.
TOPPING
Miniature marshmallows – I have seen recipes for these nut rolls that use marshmallow creme instead, but I haven't tried it.
Corn syrup – Light is recommended for this recipe but you can use dark in a pinch. My preferred brand of corn syrup is Karo.
Butter – Yes, more butter. It truly gives the nut roll that extra something.
Vanilla – always grab pure vanilla extract.
Peanut butter chips – There is really no substitute for peanut butter chips to maintain the true flavor of a salted nut roll.
Rice Krispies
Peanuts – You need salted peanuts for these salted nut rolls.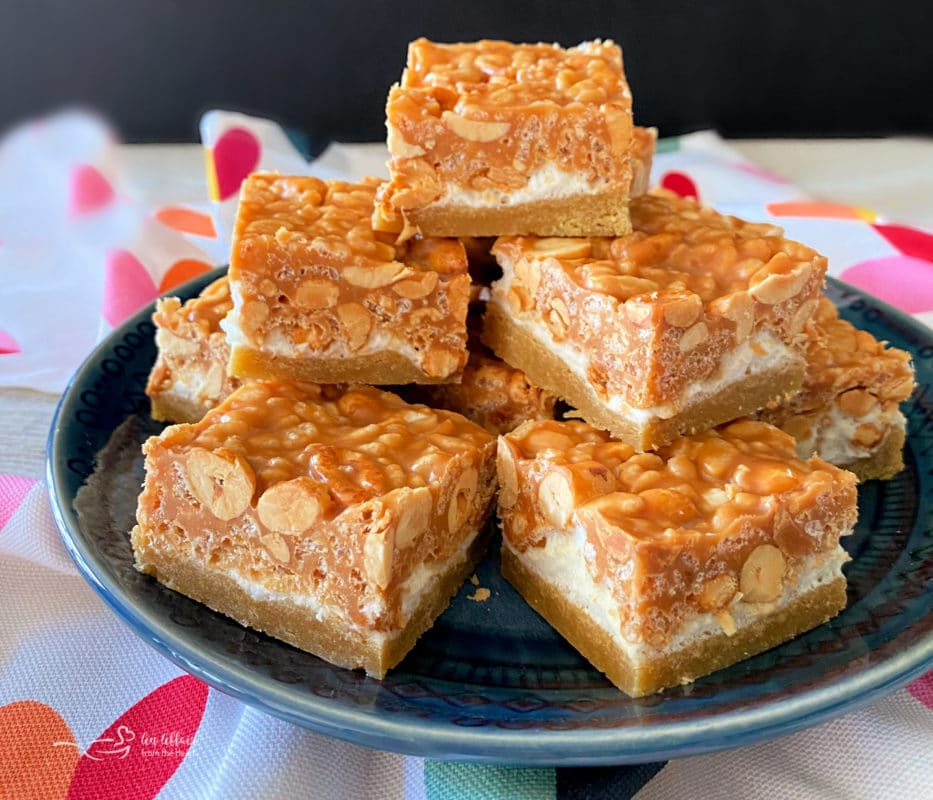 HOW TO MAKE SALTED NUT ROLL BARS
There are three layers to these nutty, marshmallow bars. The bottom is a mixture of butter, brown sugar, vanilla, eggs, flour, baking soda, baking powder, and salt. Mixing these ingredients together makes your buttery crust layer.
Once the crust is baked, it's topped with miniature marshmallows and those are melted for the center.
The top consists of butter, peanut butter chips, vanilla, corn syrup, Rice Krispies, and salted peanuts.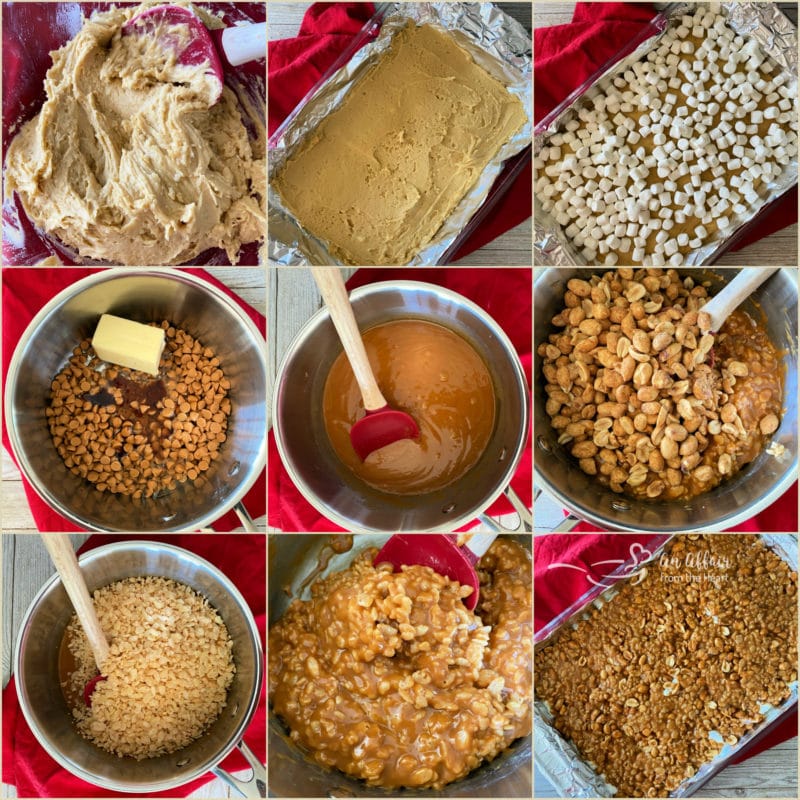 First, In a large bowl mix the crust ingredients together, press into a foil-lined 9×13 baking dish and bake.
Next, Top with mini marshmallows and bake.
In a saucepan over low heat, melt together butter, vanilla, peanut butter chips, and corn syrup until smooth. Add in peanuts and stir in Rice Krispies. Press this peanut butter mixture evenly over the top of the gooey marshmallows.
Finally, Cut into squares when cooled to room temperature.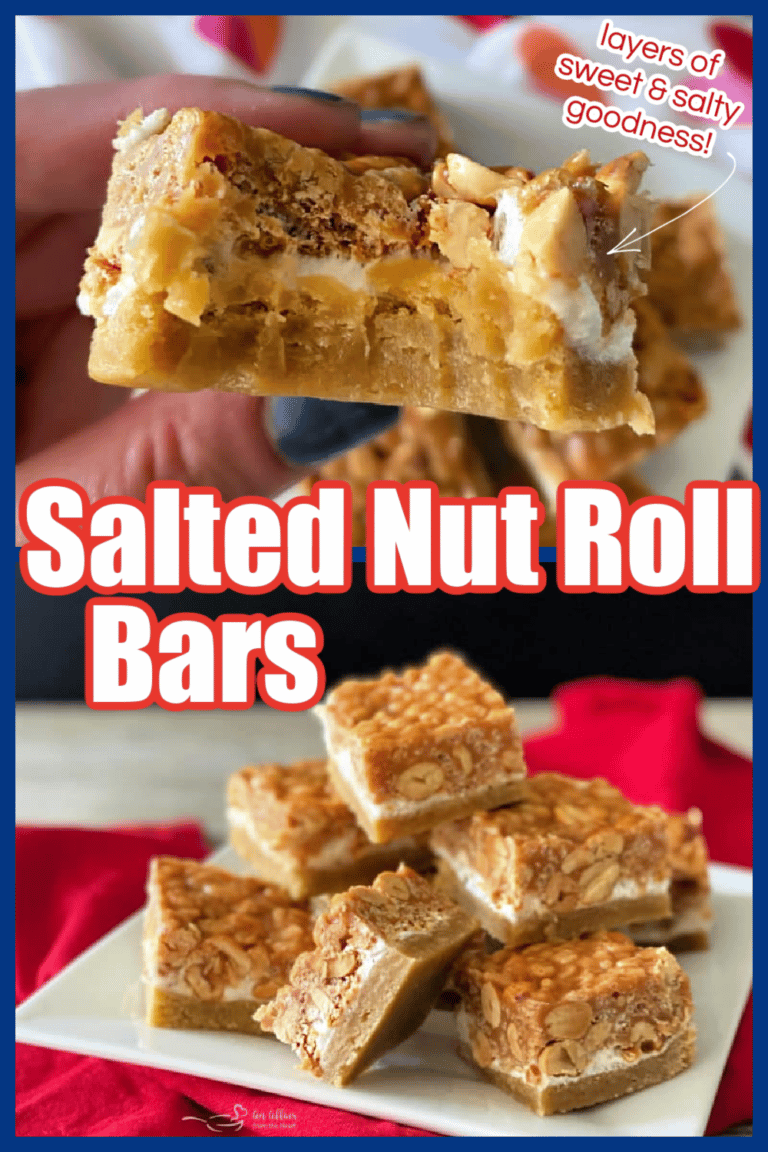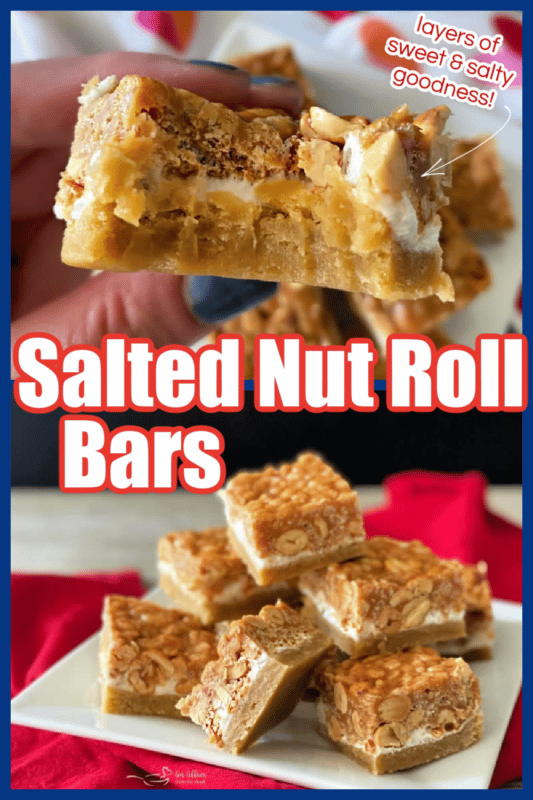 LOVE THEM?? PIN THEM!!
You'll be so sad if you can't find the recipe for these Salted Nut Roll Bars when you want to make them! Make sure to save them to your favorite Pinterest board before you go!
TIPS AND TRICKS
If you happen to have any salted nut roll bars left you can store them in an airtight container for 2-3 days. They can be stored in the fridge, but don't have to be.
These bars also freeze well. Simply wrap them in plastic wrap and place them in a freezer bag. They will last for 2-3 months.
Here are a couple of other copy candy bar recipes of mine: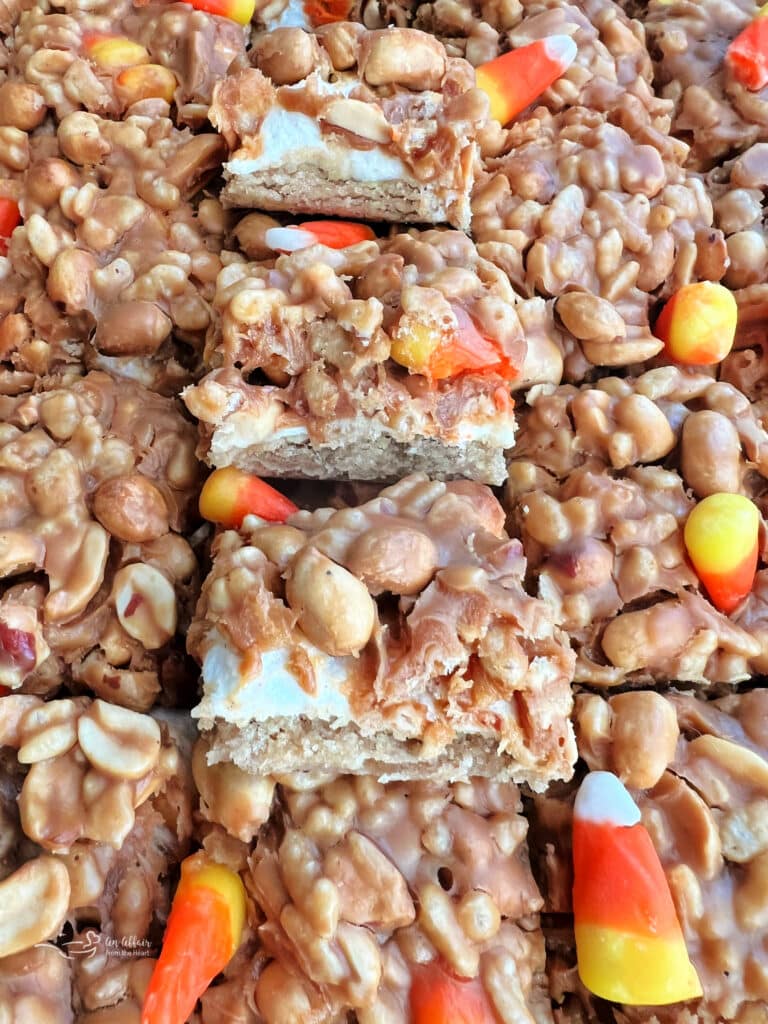 These Salted Nut Roll Bars can be super fun around Halloween Time, too. Add in some candy corn and Make
Candy Corn Salted Nut Roll Bars
. They are really cute and festive.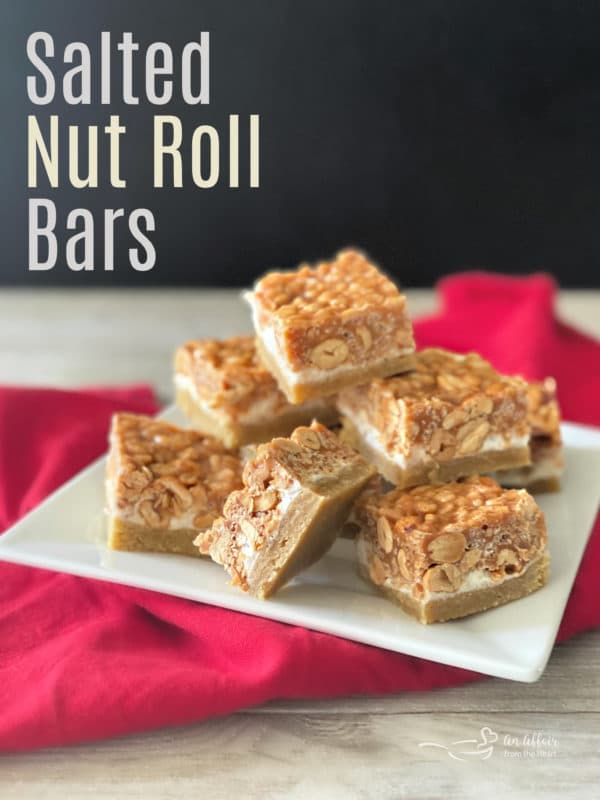 Let's get to this delicious Salted Nut Roll Bar recipe!!

Yield: 9x13
Salted Nutroll Bars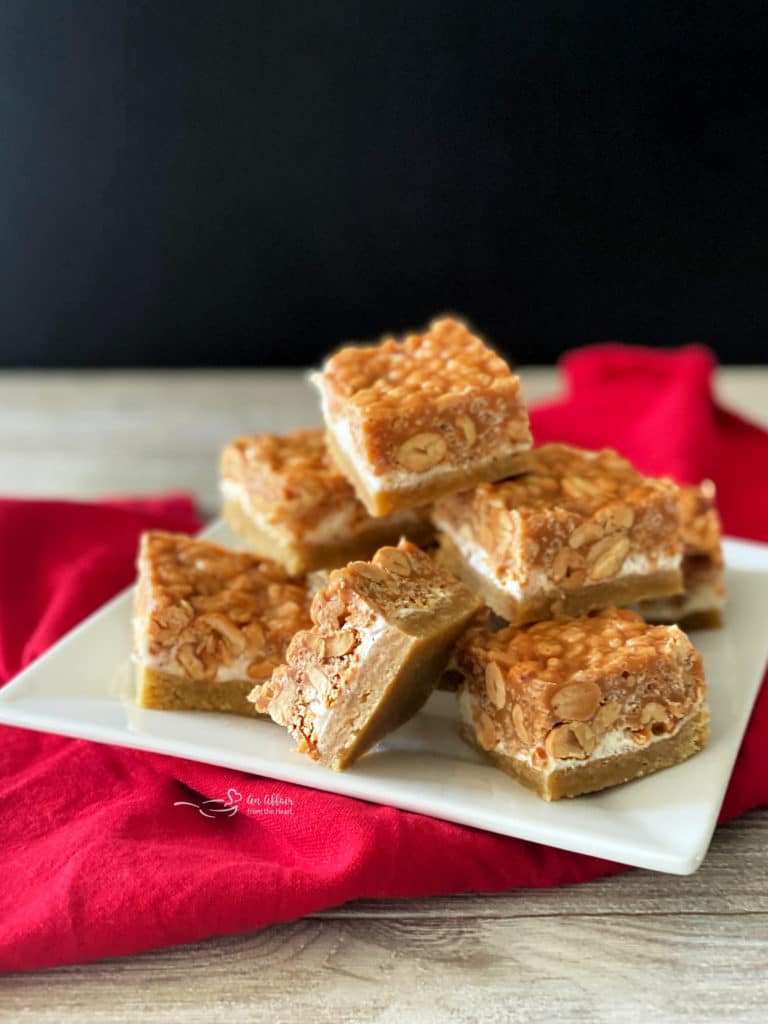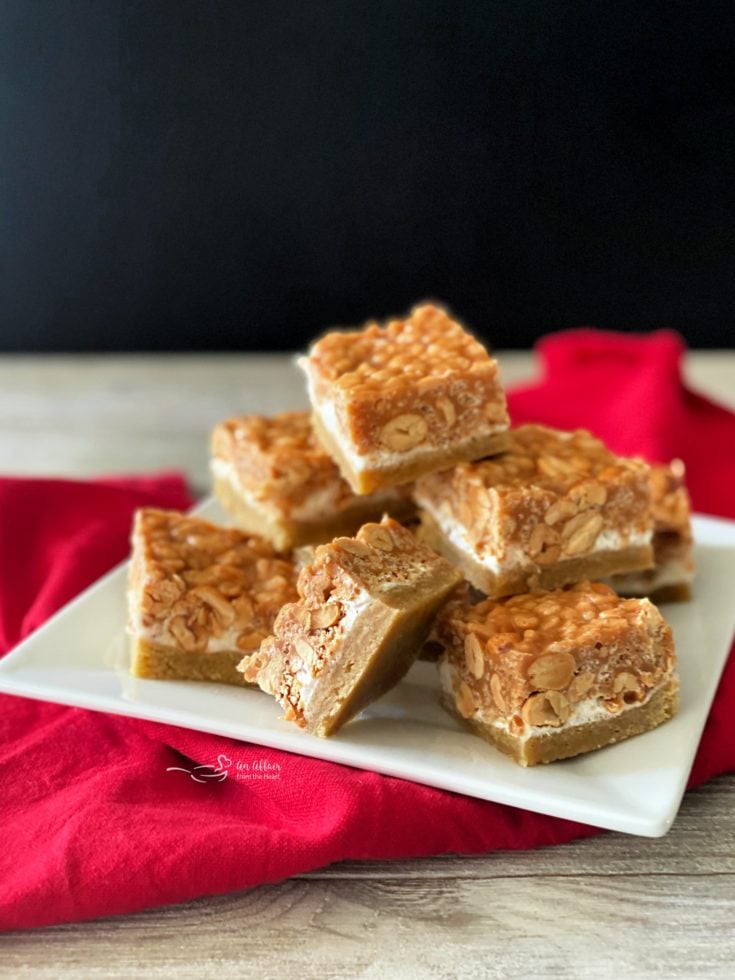 Salted Nut Roll Bars are a copy cat recipe for the famous Salted Nut Roll candy bar. Buttery bottom, marshmallow center, topped with a peanut buttery, caramelly, sweet & salty peanut filled top layer that will make you swoon!
Ingredients
Crust
1 1/2 cups flour
2/3 cup brown sugar
1/2 teaspoon baking powder
1 teaspoon vanilla
1/2 teaspoon salt
1/2 teaspoon baking soda
1 stick of salted butter (1/2 cup)
2 egg yolks
Topping
3 cups miniature marshmallows
2/3 cup light corn syrup
1/4 cup butter (half of a stick)
2 teaspoons vanilla
1 - 10 oz bag of peanut butter chips
2 cups of Rice Krispies
2 cups salted and roasted peanuts
Instructions
Preheat oven to 350 degrees. Line a 9x13 baking dish with foil, and spray it with non-stick cooking spray. Set aside.
Prepare the crust: Cream together butter, brown sugar and vanilla. Add in egg yolks. Fold in flour, baking powder, baking soda and salt.
Press crust into the bottom of the pan. Bake for 12-15 minutes.
Top with 3 cups miniature marshmallows and bake for 3 minutes more. Cool.
Place corn syrup, butter, vanilla and peanut butter chips in a saucepan over low heat stir until melted and smooth. Stir in Rice Krispies and peanuts.
Spread over the top of the marshmallows.
Cool. Cut into squares.
Recommended Products
As an Amazon Associate and member of other affiliate programs, I earn from qualifying purchases.
Nutrition Information:
Yield:
20
Serving Size:
1
Amount Per Serving:
Calories:

267
Total Fat:

12g
Saturated Fat:

6g
Trans Fat:

1g
Unsaturated Fat:

5g
Cholesterol:

37mg
Sodium:

223mg
Carbohydrates:

37g
Fiber:

1g
Sugar:

25g
Protein:

4g
Nutrition isn't guaranteed accurate.
This recipe was originally posted on February 9, 2012. It was updated to improve user experience and reposted on May 26, 2020.