Mexican Bean Dip | Restaurant Style Bean Dip
As an Amazon Associate and member of other affiliate programs, I earn from qualifying purchases.
Mexican restaurant style bean dip turns a simple can of refried beans into something so savory and perfect for dipping tortilla chips.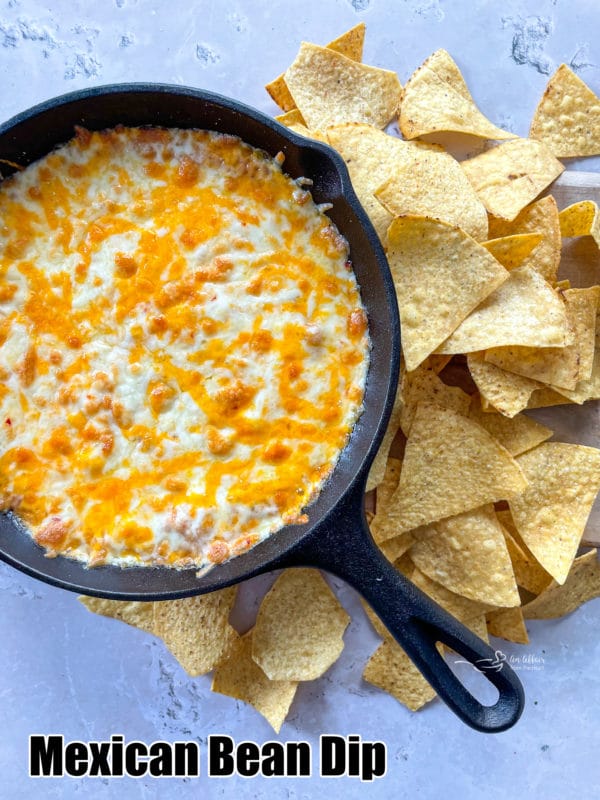 I don't know what it is about bean dip, but I just can't get enough of it! It's one of those things that I can't have just one chip. And when the dip and chips are gone, manners are out the window, and you might catch me using my finger to scrape off the edge of that pan. I. Just. Can't. Stop.
This particular recipe comes from my super popular recipe post on How To Make Canned Refried Beans Taste Like the Restaurants. With just a couple of easy add-ins, you can get restaurant-style refried beans from a can!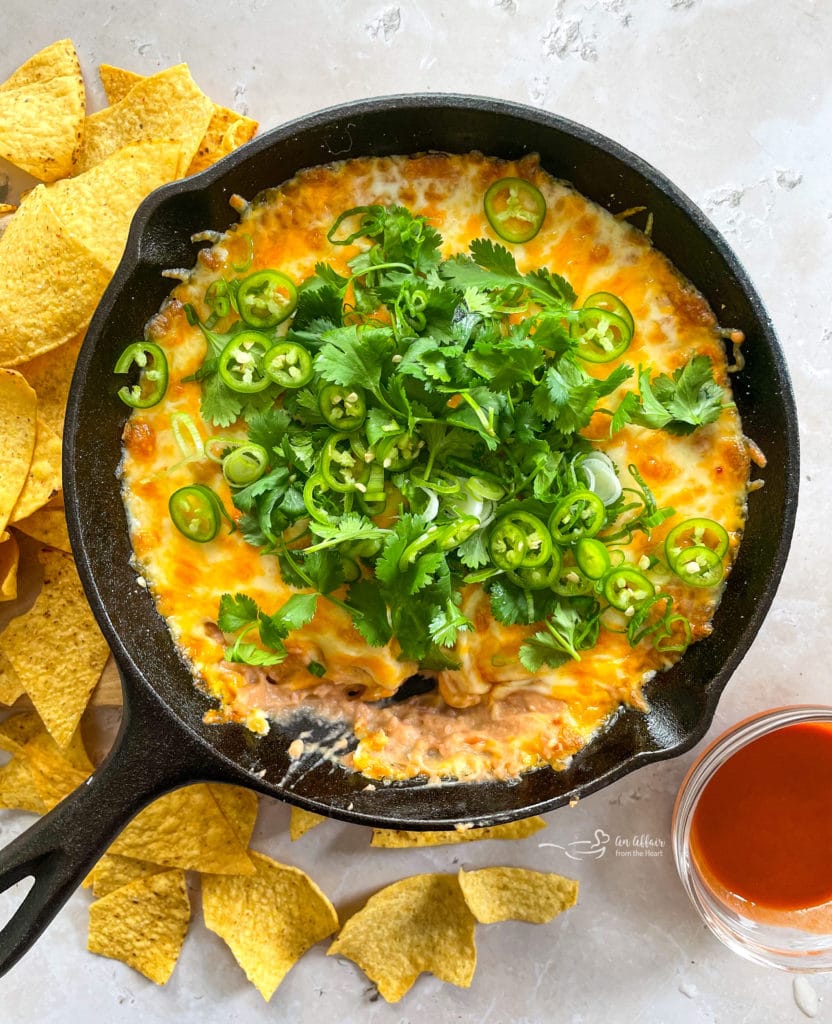 Is bean dip just refried beans?
Sometimes plain old refried beans are used as a bean dip, but where is the fun in that? By adding ingredients like sour cream or even cream cheese, and hot sauce, then stirring in melted Mexican cheeses, homemade bean dip is much tastier! Cheesy bean dip is definitely more than just refried beans.
Serve it as is, with tortilla chips or Frito's, or garnish it up if you'd like!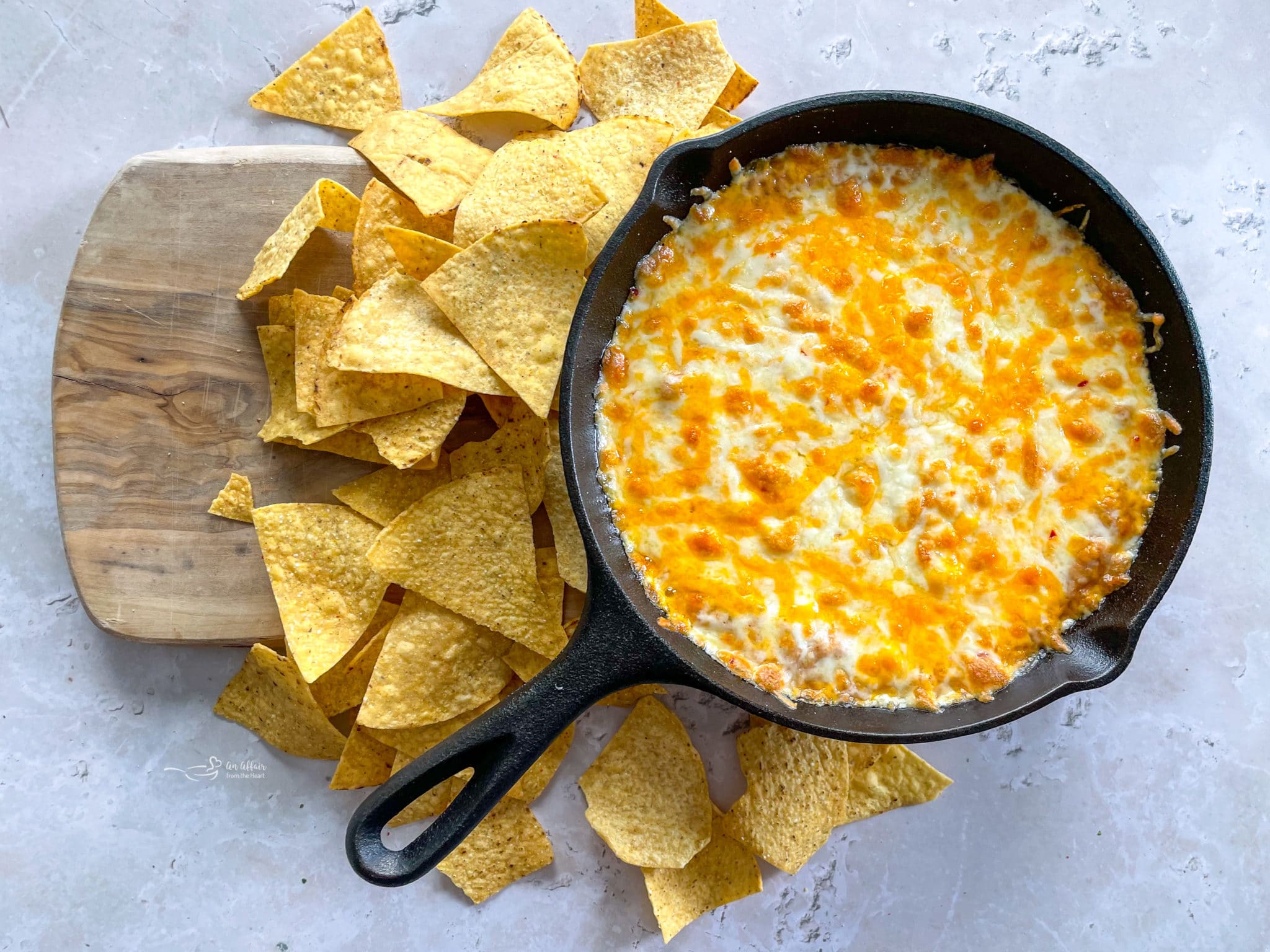 What is the difference between beans and refried beans?
Refried beans are beans typically cooked in a bit of lard and seasonings. So, that breaks the beans down even more and creates a mashed bean mix. Regular beans are simply beans by themselves, usually just boiled until cooked. Using canned refried beans is easy and makes this homemade bean dip within minutes. No need to boil beans for hours then refry and mash them.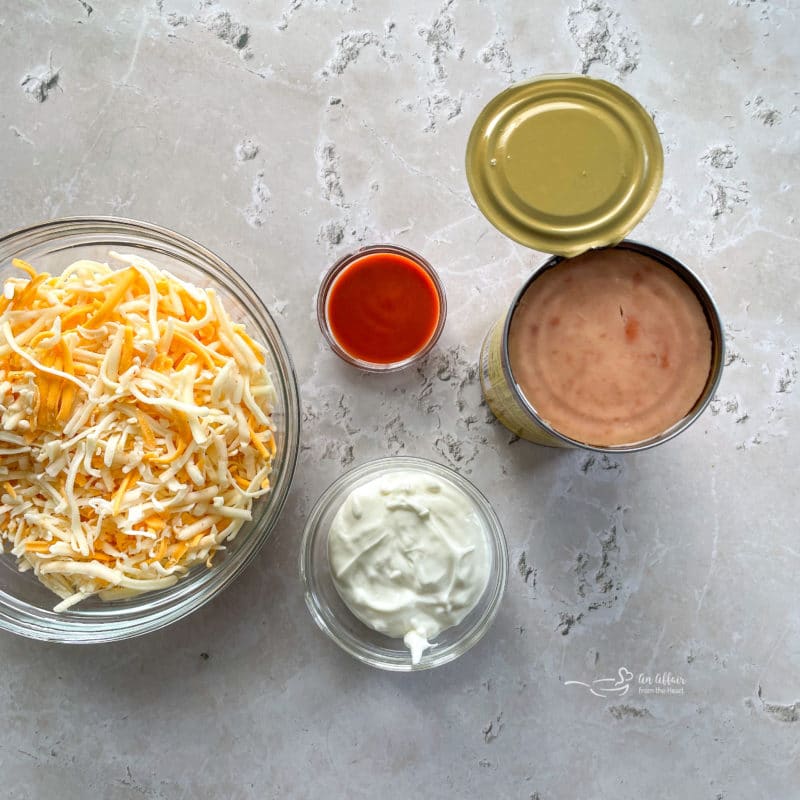 What is bean dip made of?
The ingredients in this Mexican bean dip are super simple:
Refried Beans – canned refried beans can be found in the ethnic food aisle at the grocery store.
Sour Cream – adds flavor and creaminess to the dip
Hot Sauce – spice it up or tone it down, your choice for your taste.
Mexican Cheese Blend – buy prepackaged, or, even better to grate your own.
How do you make refried bean dip?
Mix your refried beans, hot sauce, and sour cream together in a bowl.
Spread the bean mixture into a cast-iron skillet or shallow baking dish. Top with the shredded Mexican cheeses over the top.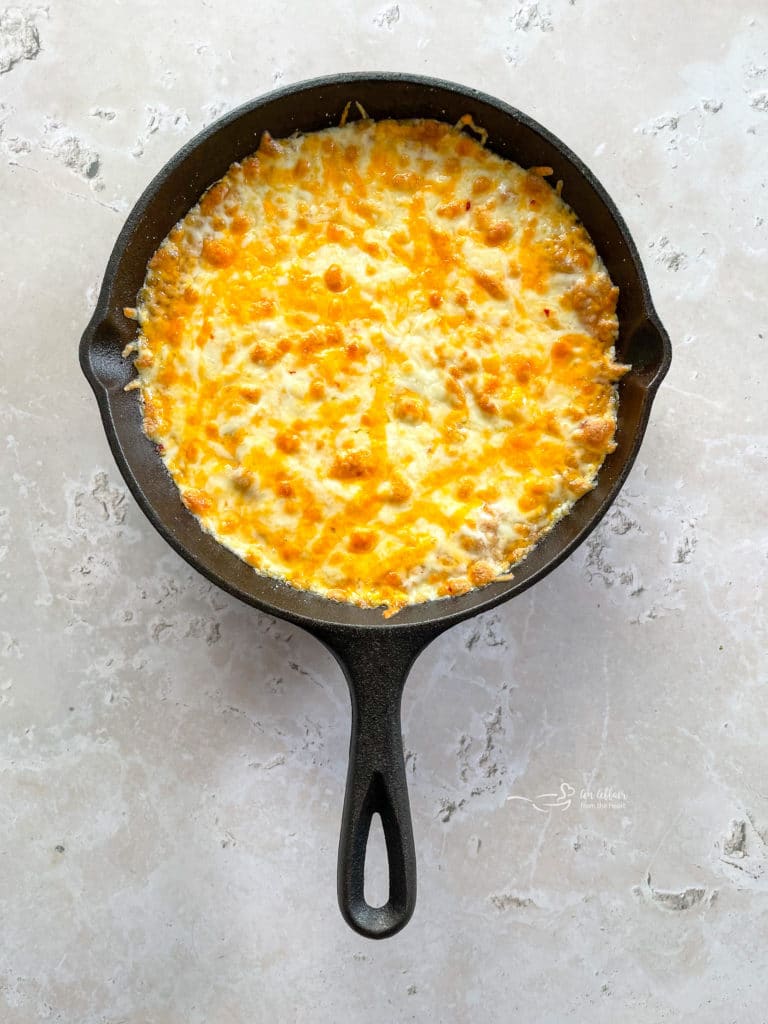 Now it is ready to bake which takes about 6-8 minutes.

Plain or garnished?
Truth be told, the four ingredient version with just cheese melted on top is great as is. Nothing beats melted cheese when you get right down to it. But don't feel like you can't dress it up a bit too with some colorful garnishes.

How to garnish refried bean dip
But if you are looking for a way to make refried bean dip taste even better you can also garnish it with all sorts of things.
Onions – green onions/shallots, white, yellow red onion – you pick!
Cilantro – I know love for cilantro is debatable, but if you are a fan like me, sprinkle some on top!
Pico de Gallo – fresh tomato, onion, and peppers are always a great bet!
Salsa – serve alongside for added dipping.
Jalapeños – spice it up with fresh or pickled peppers!
Get those tortilla chips ready and get to dippin'!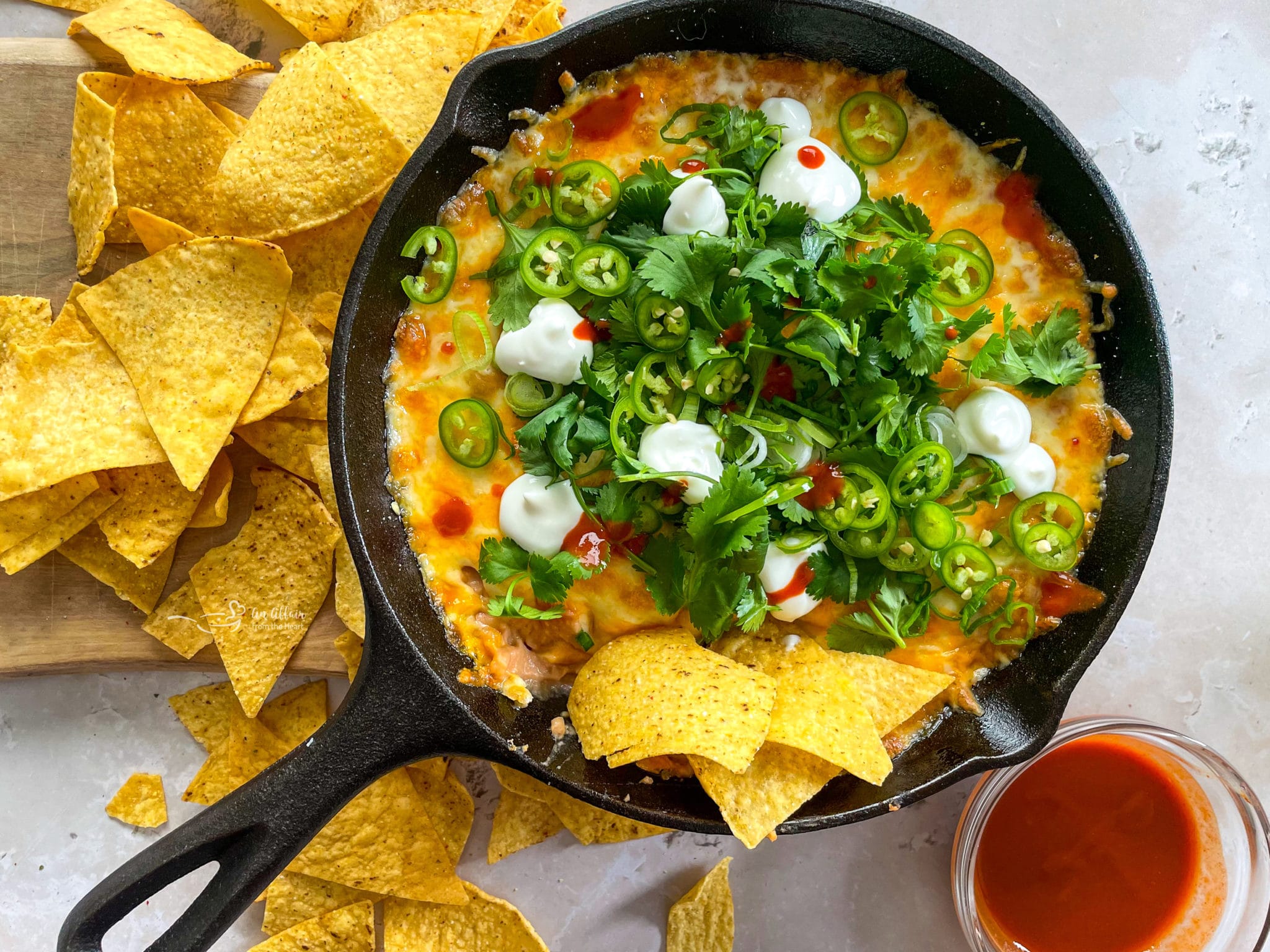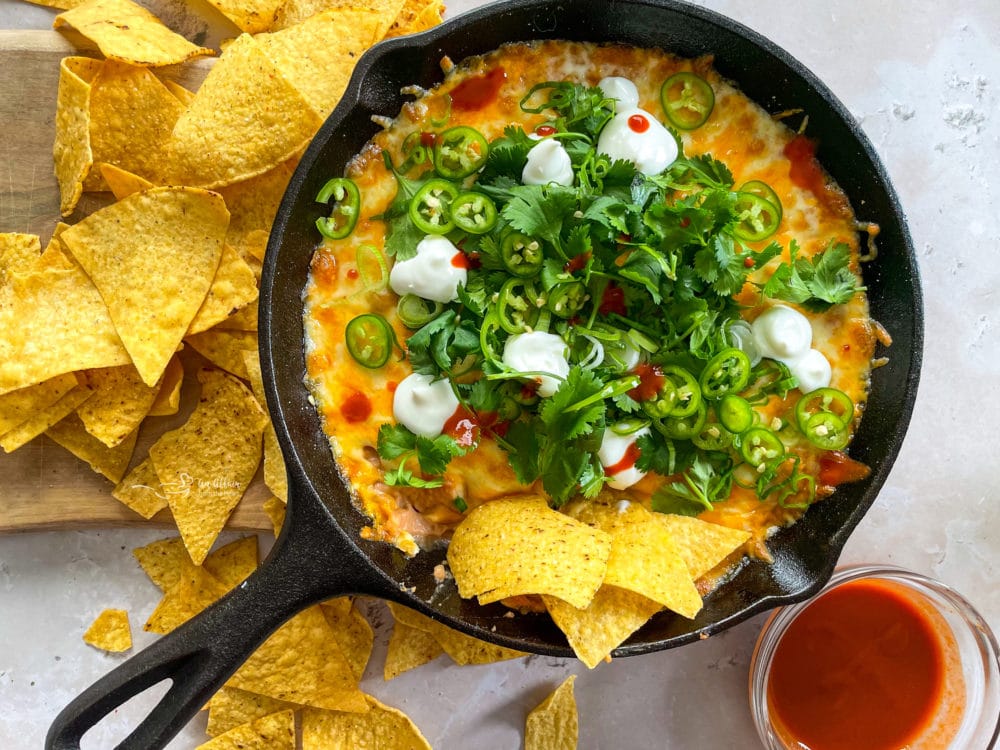 How long does bean dip last?
Bean dip is best used when you make it, but if you do need to store it, then use an airtight container and keep it in the fridge. It will last up to three days, but I don't recommend keeping it longer than that. Beans tend to be extremely susceptible to getting moldy. If you want to freeze it, then that is an option. Try and use it within 30 days.
As far as how long you can leave it out when serving it, then a couple of hours is not a problem. You just have to watch out for those double dippers!
Love it? Pin it!
Don't forget where you found this simple and delicious restaurant-style bean dip recipe! Pin it to your favorite Pinterest appetizer recipe board before you go!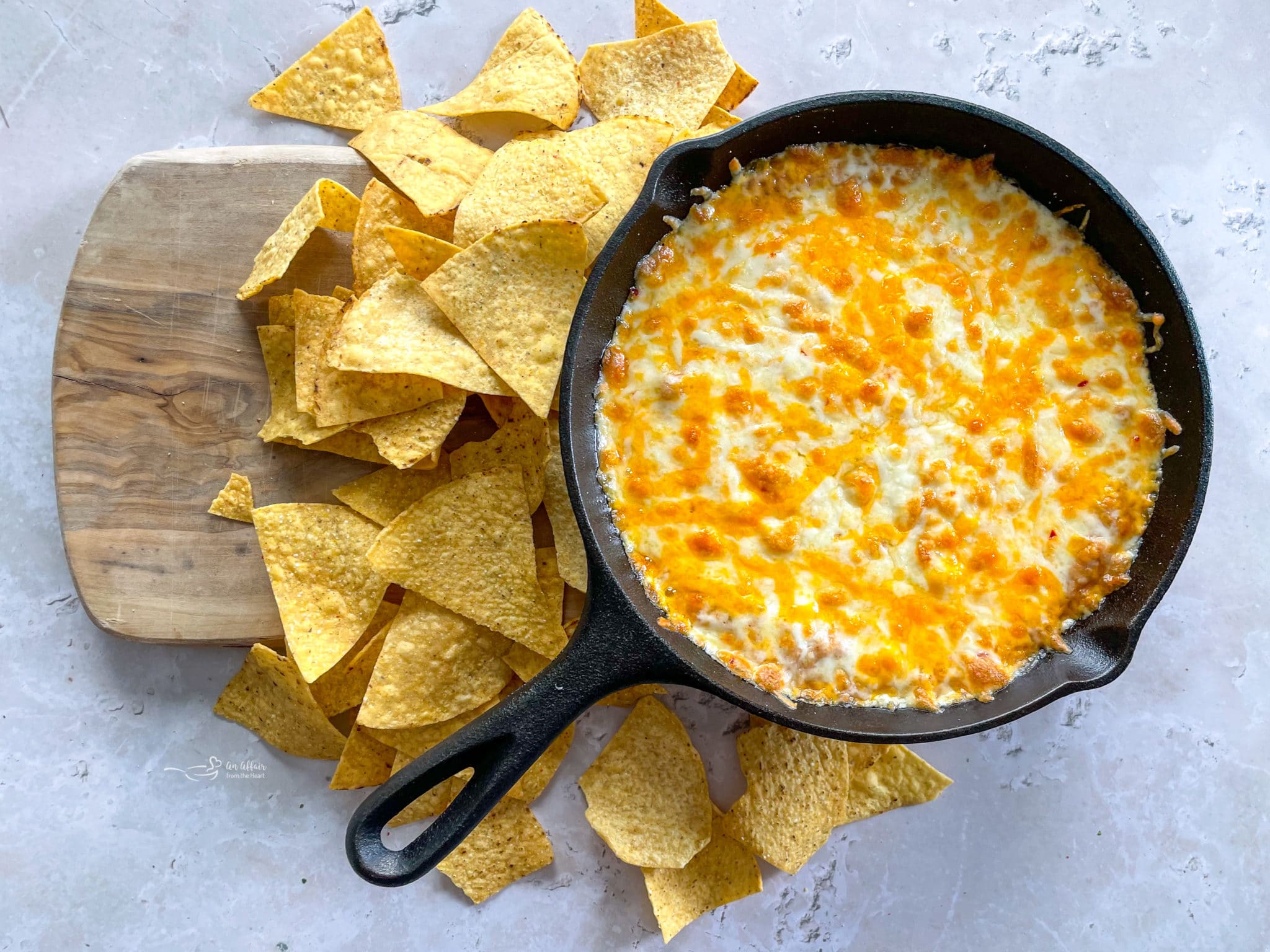 Is bean dip served hot or cold?
While you can serve this bean dip cold, warm to hot is much better. That is the way they do it in your favorite Mexican restaurants, right? It helps make the bean dip even creamier and the melted cheese stays melted and mixed into the beans.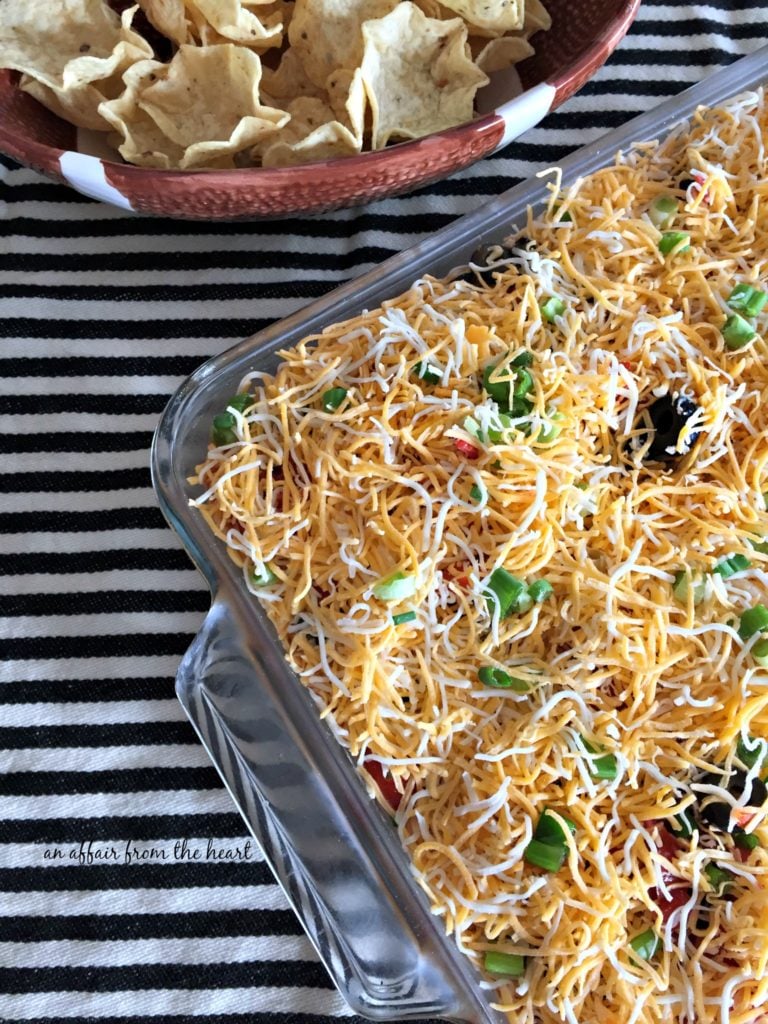 If you intend to use this bean dip recipe for a
cold layered bean dip
, it works just fine! I recommend checking out
my layered bean dip recipe
, too.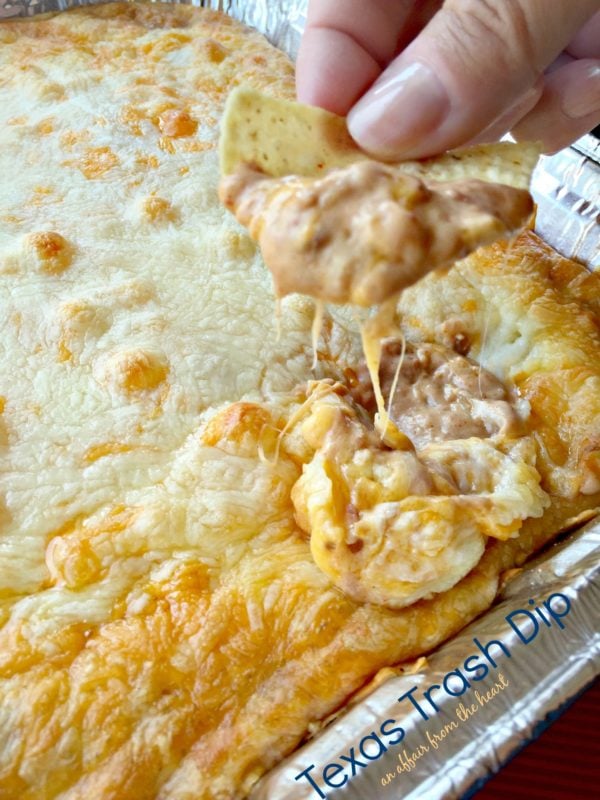 Can I use cream cheese for Mexican restaurant-style bean dip instead of sour cream?
If you want, using cream cheese instead of sour cream is also an option. I call that my
Texas Trash Warm Bean Dip
– it's one of my most popular recipes!
No matter how you make it and serve it, I hope that you give this one a try. I mean – look at that cheese….
More bean dip recipes to love
Looking for other ways to enjoy bean dip? I have several: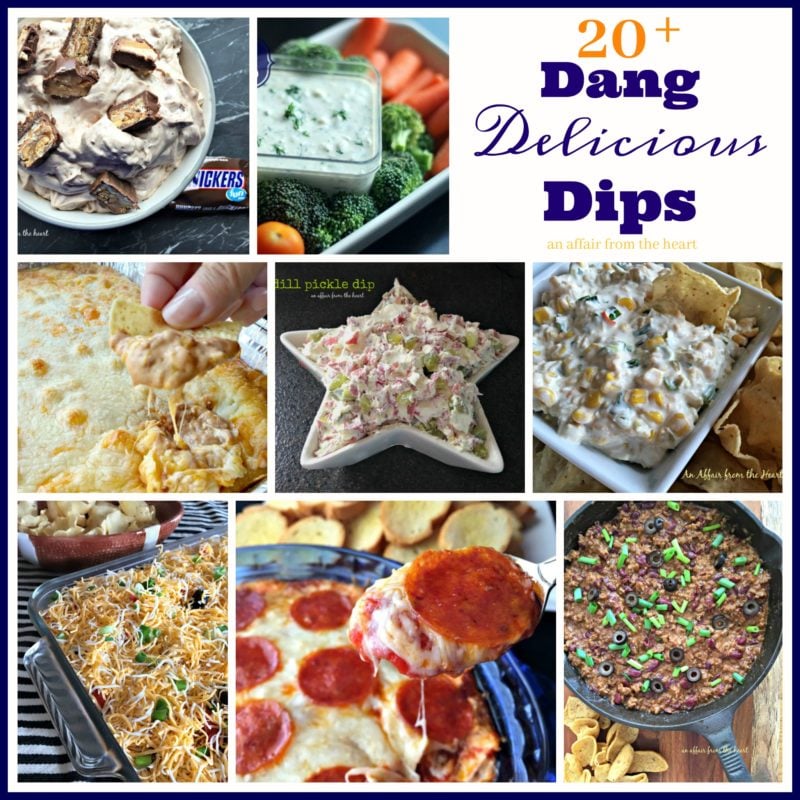 So many DANG DELICIOUS DIPS to enjoy!!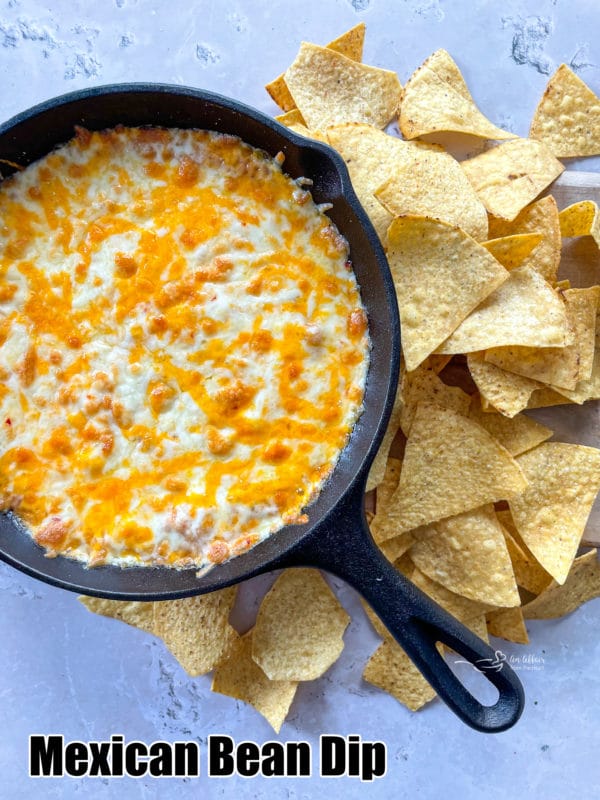 Let's whip up some Restaurant Style Bean Dip!

Yield: 8
Restaurant Style Bean Dip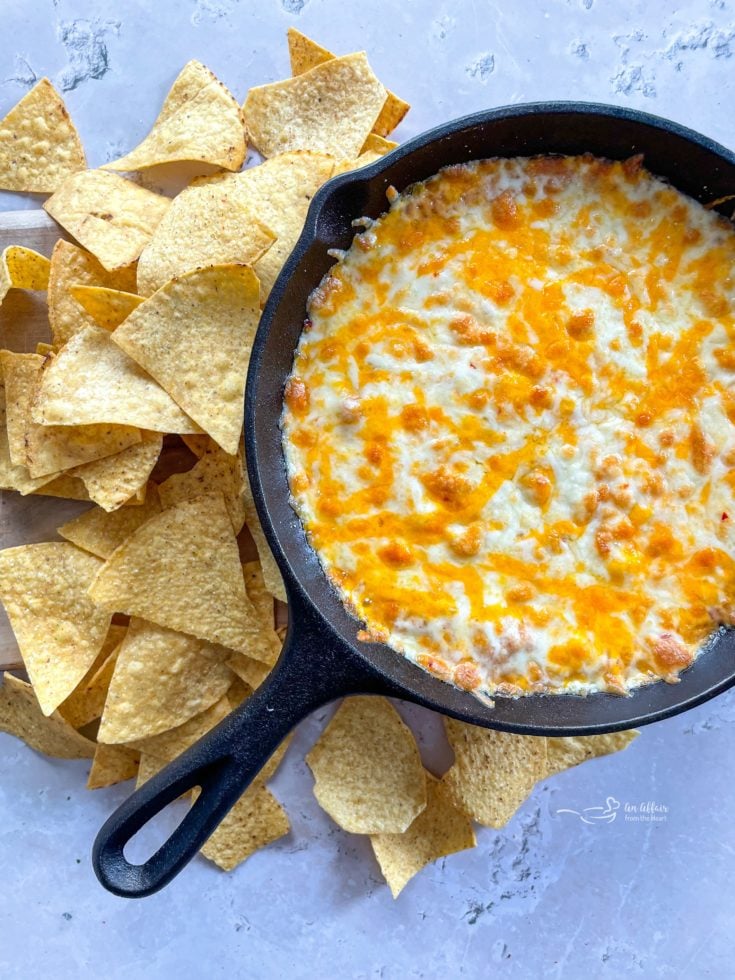 Mexican restaurant style bean dip turns a simple can of refried beans into something so savory and perfect for dipping tortilla chips.
Ingredients
16 ounce can Refried Beans
⅓ cup sour cream
1-3 teaspoons of hot sauce (depending on the heat you want)
8 ounce package of Mexican Blend Cheese
Instructions
Preheat oven to 375 degrees F.
Combine refried beans, sour cream and hot sauce, in a bowl.
Spread into an 8x8 baking dish or small cast-iron skillet.
Sprinkle with shredded cheese.
Bake until cheese is melted and beans are hot and bubbly around the edges. (About 6-8 minutes or so.)
Serve with chips.
Optional Garnishes: jalapeño, onions, cilantro, pico, salsa.
Notes
Store in an airtight container in the fridge for up to 3 days. Freeze for up to one month.
Recommended Products
As an Amazon Associate and member of other affiliate programs, I earn from qualifying purchases.
Nutrition Information:
Yield:
8
Serving Size:
1
Amount Per Serving:
Calories:

172
Total Fat:

11g
Saturated Fat:

6g
Trans Fat:

0g
Unsaturated Fat:

4g
Cholesterol:

33mg
Sodium:

309mg
Carbohydrates:

9g
Fiber:

2g
Sugar:

1g
Protein:

10g
Nutrition isn't always accurate.
This recipe was originally posted on January 20, 2015. It has been updated to improve user experience and re-shared on May 2, 2022.