Arancini – Three Cheese Fried Risotto Balls
As an Amazon Associate and member of other affiliate programs, I earn from qualifying purchases.
These Italian three cheese fried risotto balls, Arancini, make the prettiest appetizer, or even a meatless meal. Arborio rice, cheese, garlic and herbs, breaded and fried until golden brown, served up with marinara and a dusting of grated cheese.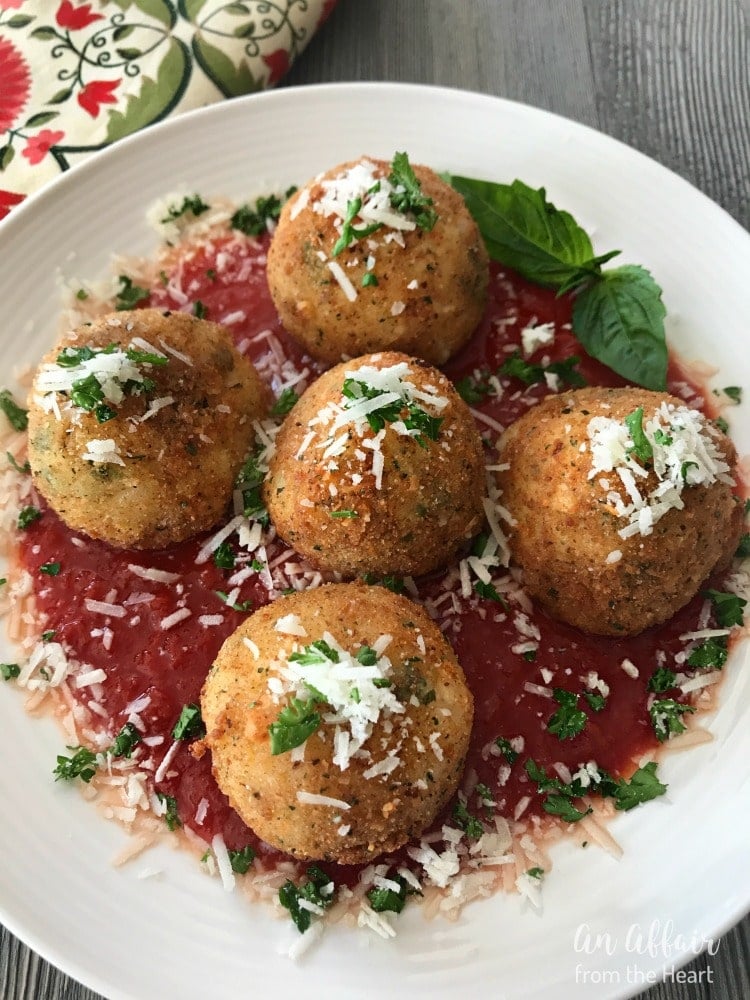 Our favorite little hometown restaurant, Bella Vita, has these Arancini on their menu. They are my favorite appetizer they offer. They serve them on a small plate of marinara, dusted with cheese and sprinkled with fresh Italian Parsley. The presentation is one of my favorite parts, well that's until you cut into one. Then it's time to scoop up all of that yumminess and clean the plate, prettiness goes out the window!
Today is Freaky Friday!! What is Freaky Friday you ask? It's a little group I started a couple of years back, where we are secretly assigned pages and get to cook/bake from our assigned page, then on one chosen Friday we reveal all of our recipes, and get to see what a fellow blogger has chosen to make from our site. It's always a lot of fun, and to call it delicious would be an understatement.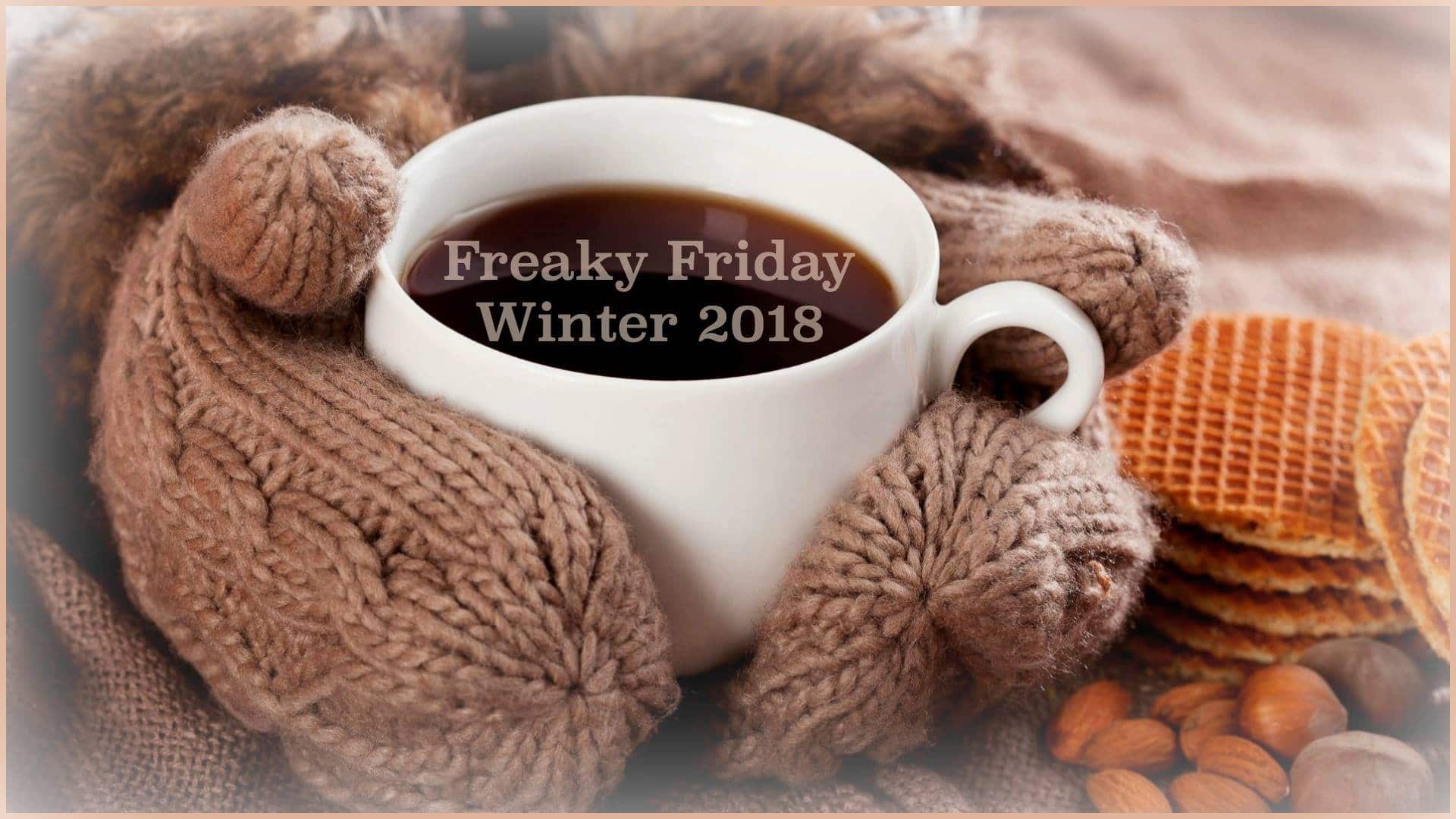 For this round I was assigned LeMoine Family Kitchen. This scrumptious recipe blog is run by Angela LeMoine, wife to her High School sweetheart, Steve, and mom to two adorable boys, Jack & Ryan. Angela is Italian and grew up in New Jersey. When she's not making something magical in the kitchen, she's doing yoga, teaching Zumba or decorating her home with furniture pieces she paints into masterpieces! She's super duper talented, and to top that off, one of the sweetest people I have ever had the pleasure to "meet." (hoping someday that will be in person!!)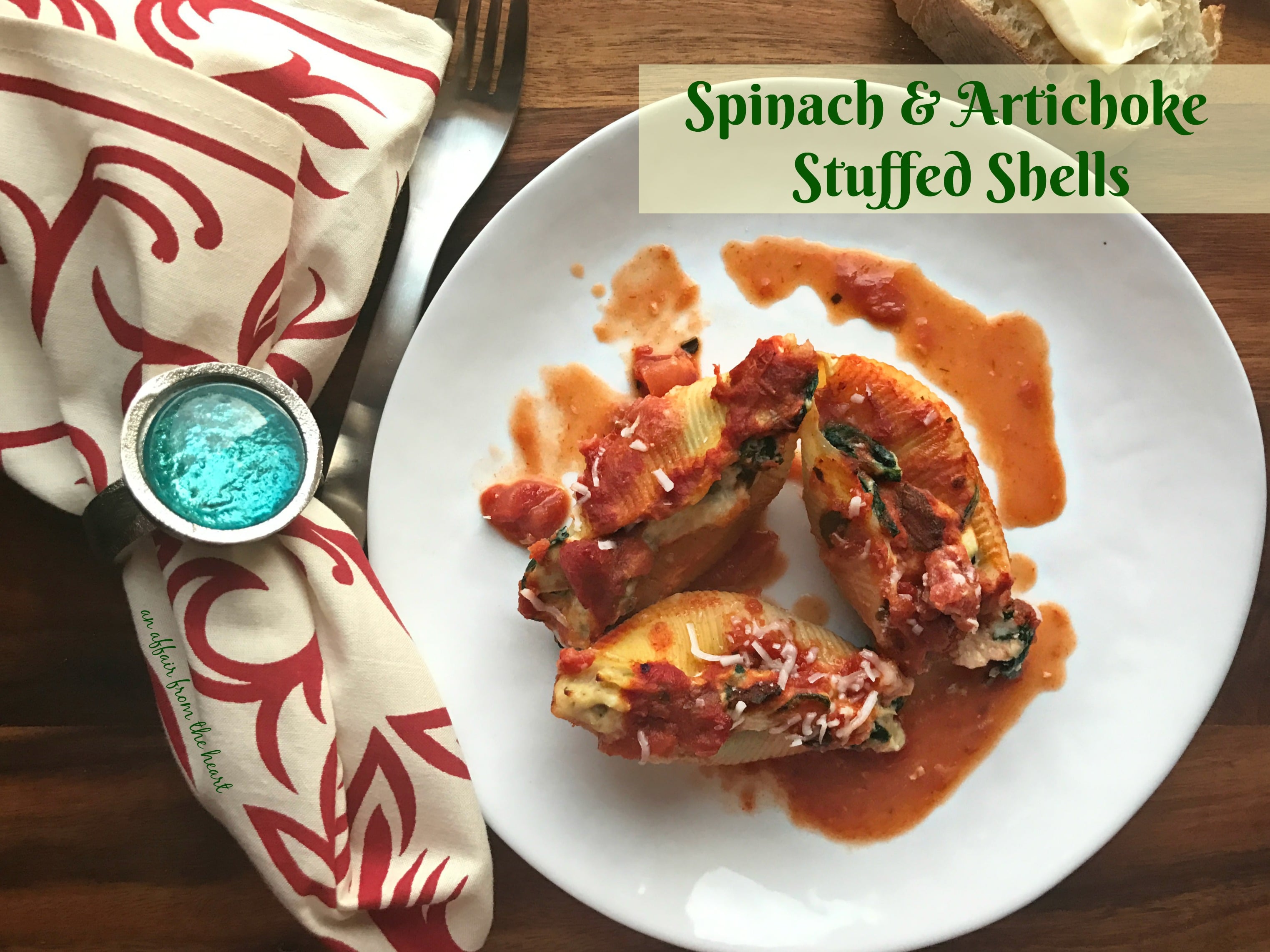 I have been assigned Angela's blog one other time, and made her Spinach & Artichoke Stuffed Shells. I feel like making something that isn't Italian, when given the chance, from Angela's blog, seems sinful. There are SO MANY CHOICES. Although, funny story – another blogger friend, Brandi did make Angela's Black Bean Soup, and loved it. Then another blogger friend, Candi, saw she made it, and made it herself, and loved it. I had to see what all the rage was, so I made it, too, and we loved it also! So, I guess what I am saying is that, she doesn't have only Italian recipes. In fact, she is the queen of the scone. Check out these Chocolate Chip Scones she made last fall. Or these muffins!! When she posted them, she said her hubby told her they were the best muffins ever. How can you not want to make The Best Mixed Berry Muffins ever?!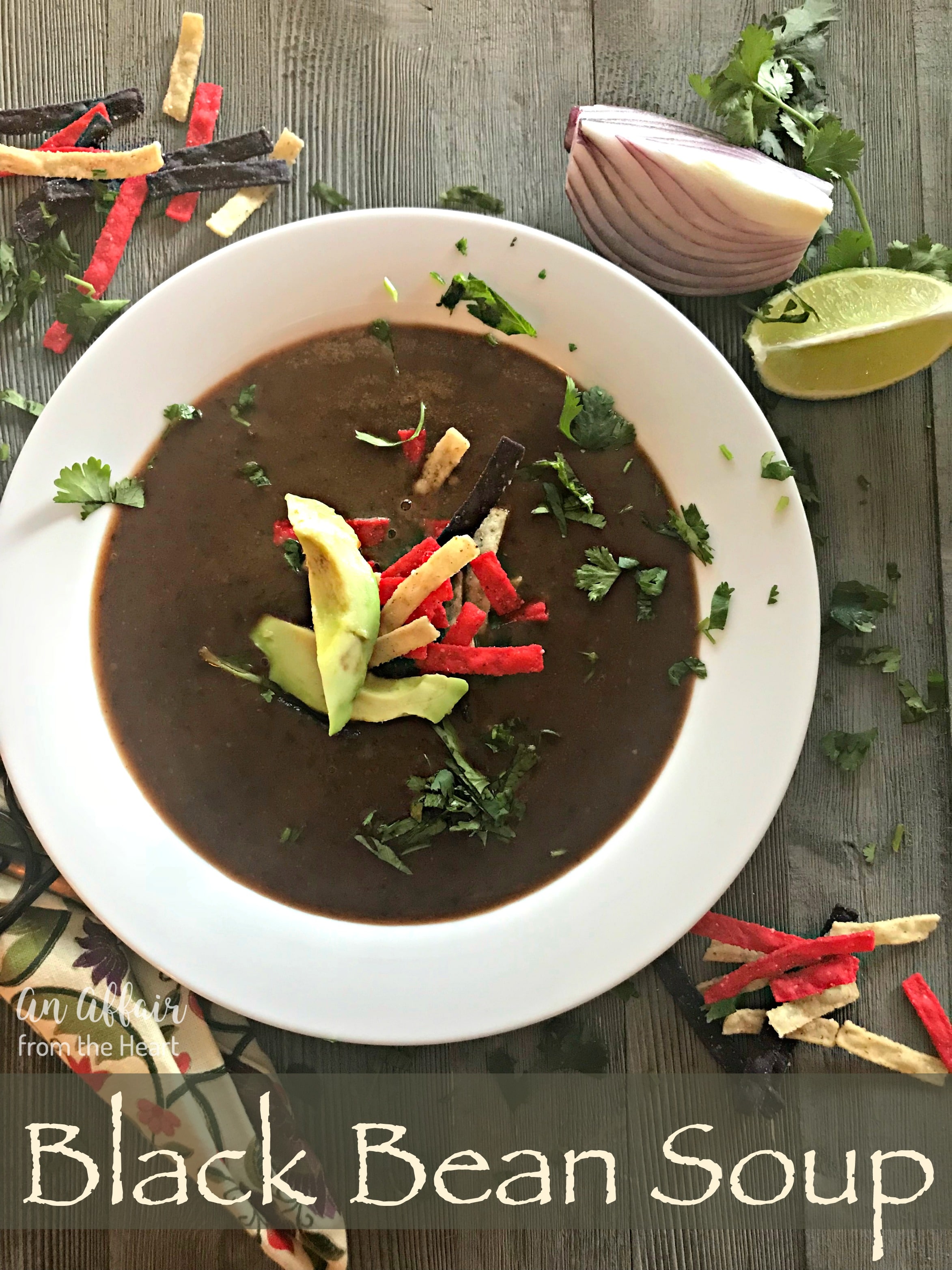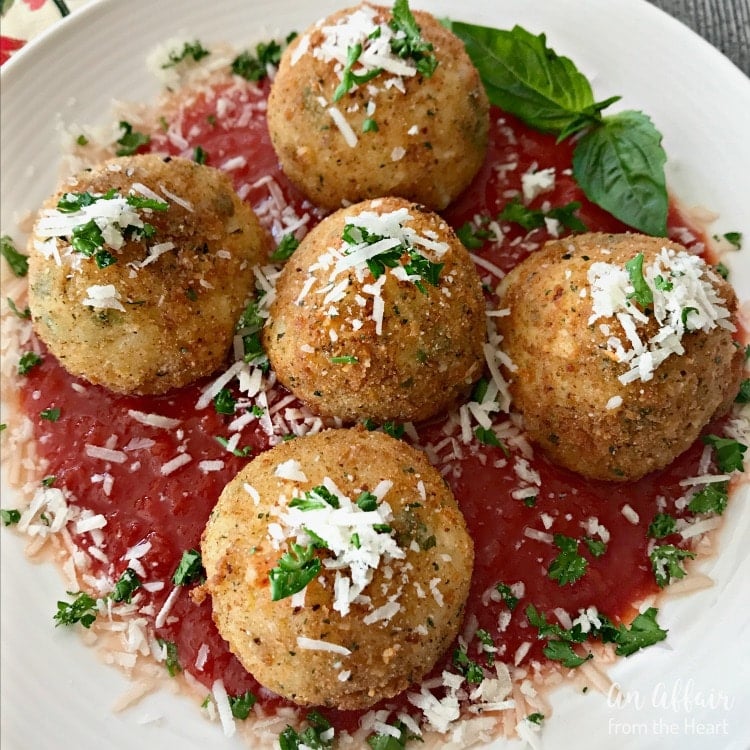 I digress. Back to these Three Cheese Arancini. A while back I saw that Angela had shared them, and was like "Hey!! Those are the things I love at Bella Vita …. must. make. them." So, when I drew her name this round, I already knew what I was making. I made them a few weeks ago, keeping them a secret from you all has been the hardest part. I made them on a Friday afternoon, and prepared enough to sample and take photos of. The rest of them, I froze and took them out for Super Bowl Sunday. When I made the first small batch I fried them in my cast iron skillet. When I made the rest of them, I dug out my little Fry Daddy fryer to make the process go faster. I have been thinking about getting an air fryer – and wondered how these would turn out in one of those? hummmm? There are a few steps to these, but in the end, you will be so glad you made them! Plus, like I mentioned before, you can freeze them and bring them out as needed.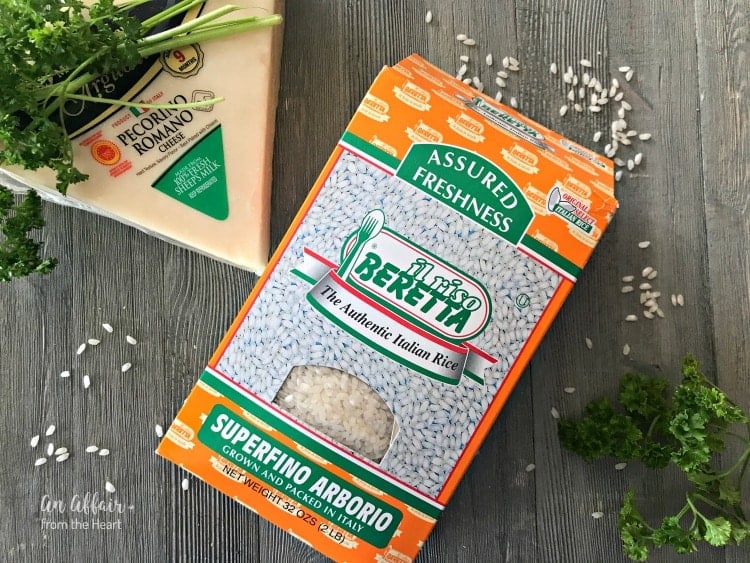 Our recipe starts with Arborio rice. I found mine at World Market. Another must, Pecorino Romano cheese.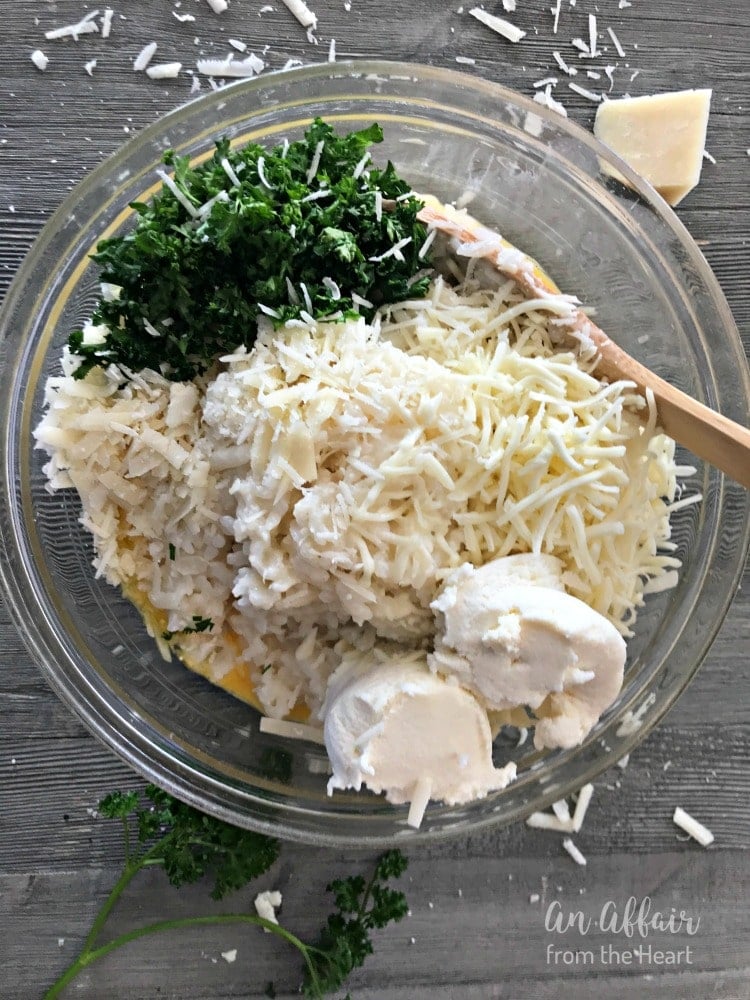 Mix prepared rice, tempered eggs, 3 cheeses, parsley and salt together in a bowl.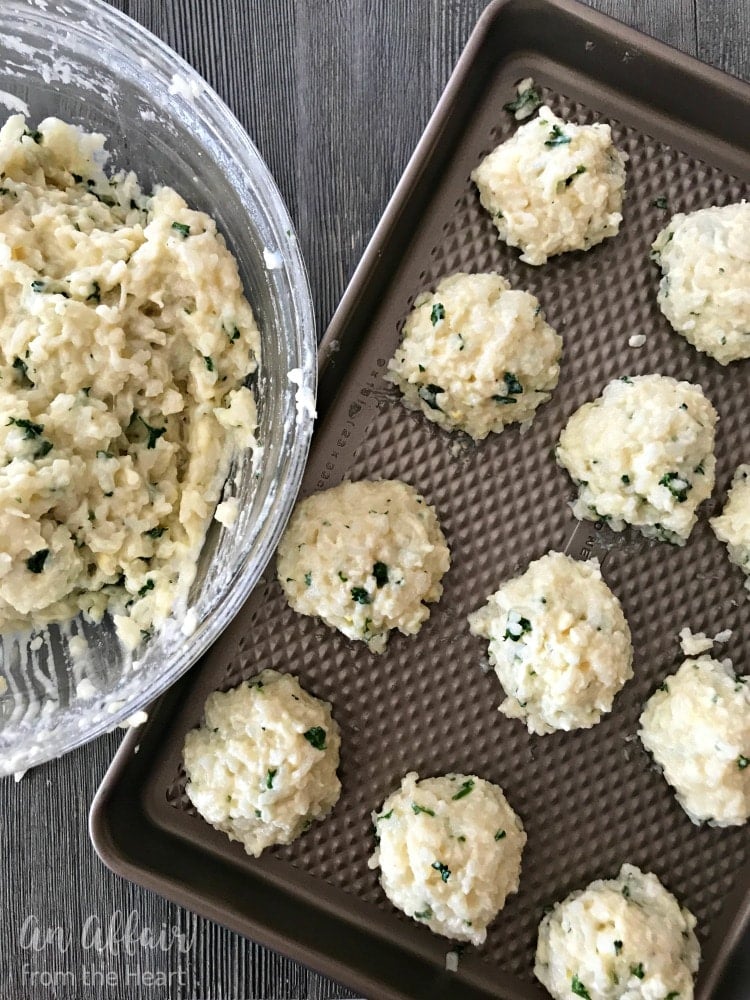 Form into balls using 1/4 cup mixture for each. Place on a cookie sheet and refrigerate for 15+ minutes, or until they are completely cool and are easy to work with.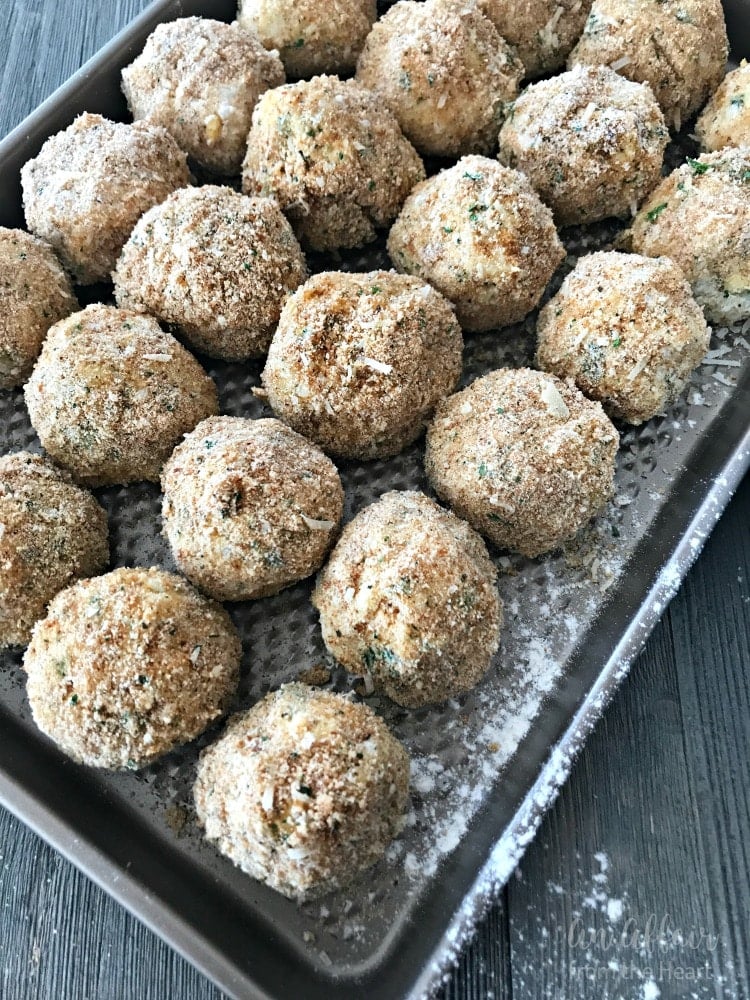 Roll each ball in flour, then egg, then breadcrumbs. Now they are ready to cook or to freeze. Frying them takes only a couple of minutes. Place them on a paper towel to drain any excess grease.
Plate them by pouring a small amount of warm marinara sauce in the middle of the plate and place the Arancini on top. Finish with a sprinkling of Romano cheese and fresh parsley. They make a gorgeous appetizer or would make a wonderful meatless meal with a salad along side.
Check out the other recipes made for this Winter Round of Freaky Friday:
A Dish of Daily Life – Cucumber Salsa
An Affair from the Heart – Arancini (Three Cheese Fried Risotto Balls)
A Kitchen Hoor's Adventures – Healthier Buffalo Chicken Dip
Bacon Fatte – Spiced Bakery Style Ginger Pear Muffins
Bowl Me Over – Beef Tips and Gravy
The Devilish Dish – Chocolate Covered Snickers Strawberries
Full Belly Sisters – Easy Crockpot Cesar Chicken
LeMoine Family Kitchen – Frittata Ranchera Black Bean Salad
Life Currents – Garlic Sesame Noodles
Lisa's Dinnertime Dish – Low Carb Cheeseburger Meatloaf
Mildly Meandering – Slow Cooker Zuppa Toscana Soup
Plattertalk – Whole Wheat Irish Soda Bread
Seduction in the Kitchen – Reuben Meatball Casserole
Take Two Tapas – BLT Bacon Cups with Avocado
The Foodie Affair – Pineapple Bread Pudding
West Via Midwest – Spicy Smoke Sauced Shrimp
Who Needs a Cape? – Cheez-It Fiesta Baked Chicken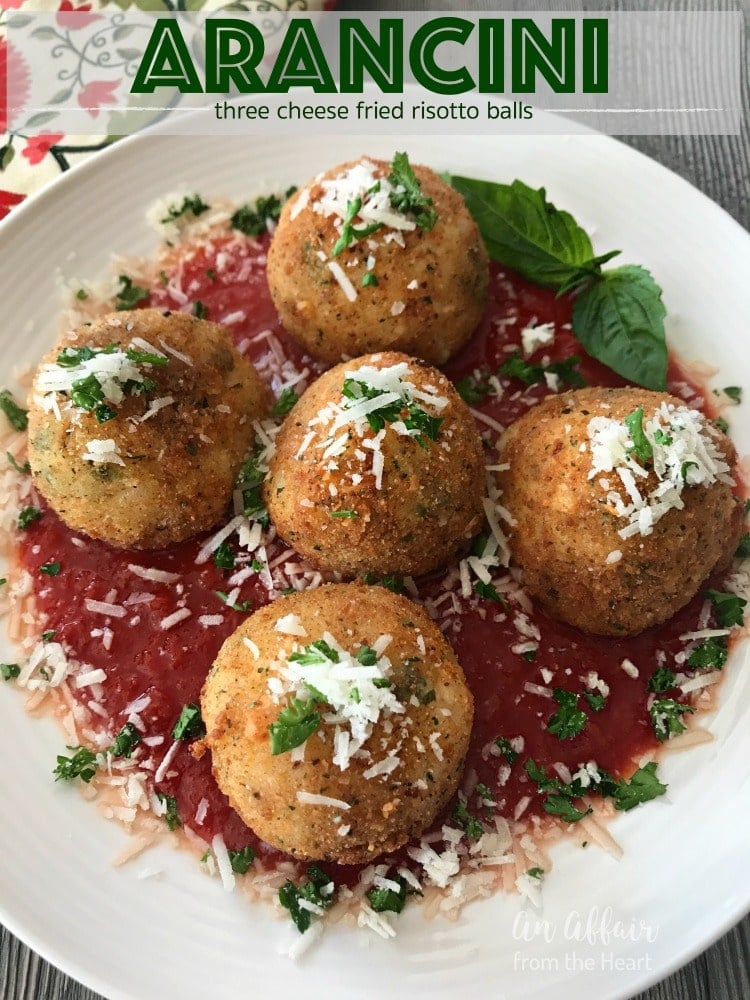 Time to get on to the recipe!

Yield: About 2 dozen
Arancini - Three Cheese Fried Risotto Balls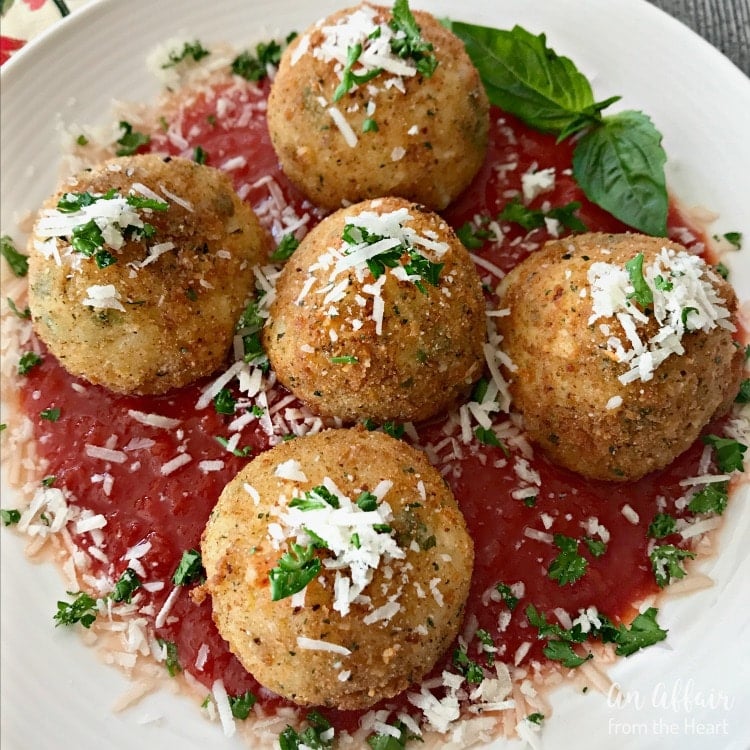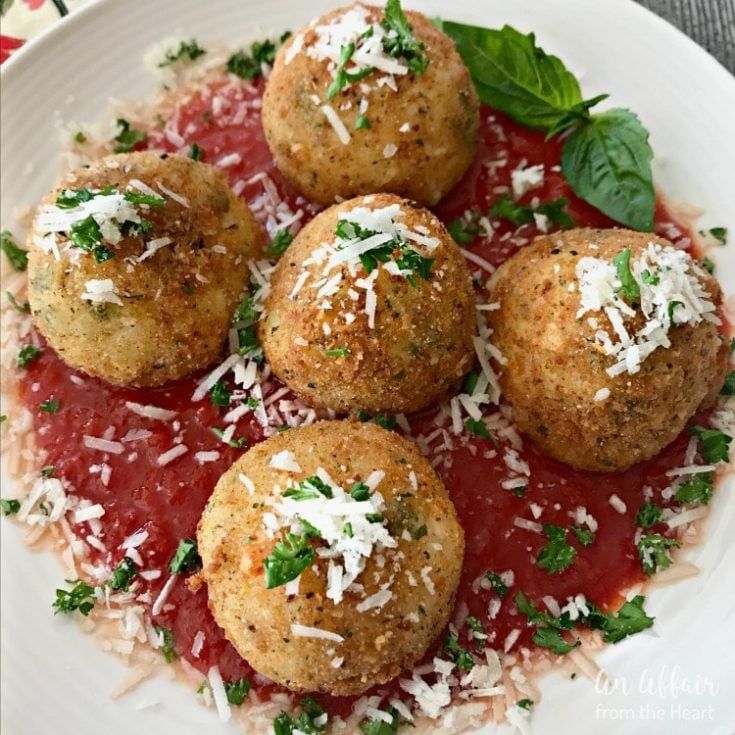 These Italian three cheese fried risotto balls, Arancini, make the prettiest appetizer, or even a meatless meal. Arborio rice, cheese, garlic and herbs, breaded and fried until golden brown, served up with marinara and a dusting of grated cheese.
Ingredients
4 cups water
1¾ cup Arborio rice
2 teaspoons garlic powder
4 Tablespoons unsalted butter
2 eggs, *tempered
¼ cup grated Pecorino Romano cheese
½ cup ricotta cheese
1 cup shredded mozzarella
1 handful of fresh chopped parsley
1 teaspoon salt
For the coating:
½ cup flour
2 eggs, beaten
½ cup Italian seasoned breadcrumbs, add in a bit of chopped parsley and shredded Romano cheese
vegetable oil for frying
Marinara sauce, chopped parsley and shredded Romano for serving
Instructions
Place the water, Arborio rice, garlic powder and butter into a pot. Bring to a boil, stirring occasionally.
Cook and continue to stir until the water is all absorbed and the rice is tender.
Whisk the eggs in a small bowl.
*To temper the eggs, Add a small amount of the hot rice to whisked eggs and stir. You want to slowly warm the eggs so they don't scramble.
Stir together the tempered eggs, grated Pecorino, ricotta, shredded mozzarella, salt and parsley.
Scoop the mixture, using a 1/4 cup measuring cup, onto a lined baking sheet. Pop into the refrigerator for about 15 minutes until completely cool and easy to handle.
Place your breading ingredients into separate bowls. Roll mixture into a ball then coat in flour, then in egg and finally into the breadcrumbs.
Place back onto the baking sheet and continue coating all the rice balls.
At this point you can either fry them or freeze them.
To Freeze: Place breaded rice balls on a baking sheet and double wrap with plastic wrap.
To Fry: You can fry the rice balls in a deep fat fryer or in a cast iron skillet. Heat vegetable oil over medium high heat, you will know it's hot enough when you carefully drop a pinch of breadcrumbs into the oil and bubbles immediately form around them and they rise to the top.
Carefully add a few rice balls to the pot and cook until golden. It will take a couple of minute for them to brown and heat through. Repeat with the remaining rice balls.
Serve hot.
Nutrition Information:
Yield:
12
Serving Size:
1
Amount Per Serving:
Calories:

211
Total Fat:

11g
Saturated Fat:

6g
Trans Fat:

0g
Unsaturated Fat:

5g
Cholesterol:

87mg
Sodium:

473mg
Carbohydrates:

18g
Fiber:

1g
Sugar:

1g
Protein:

9g
Nutrition isn't always accurate.