Chicken & Doritos Casserole
As an Amazon Associate and member of other affiliate programs, I earn from qualifying purchases.
What's not to love about this Chicken & Doritos Casserole? Layers of refried beans, saucy shredded chicken, cheese, and crushed Doritos. This easy Mexican casserole is easy to make and is sure to be an instant family favorite!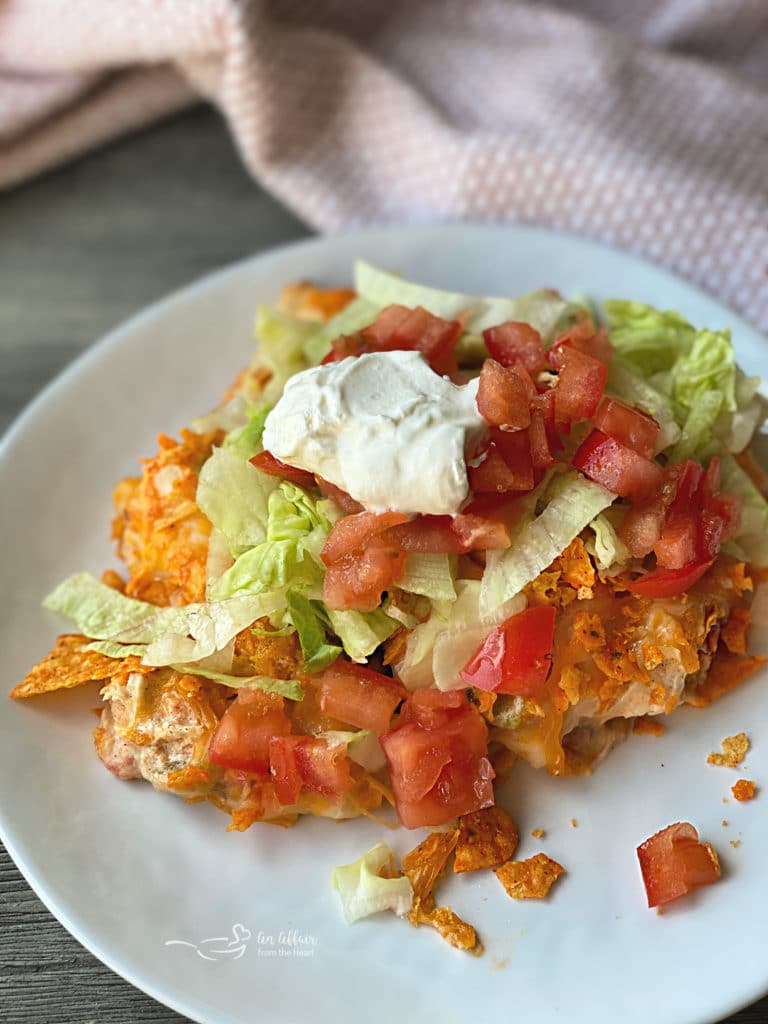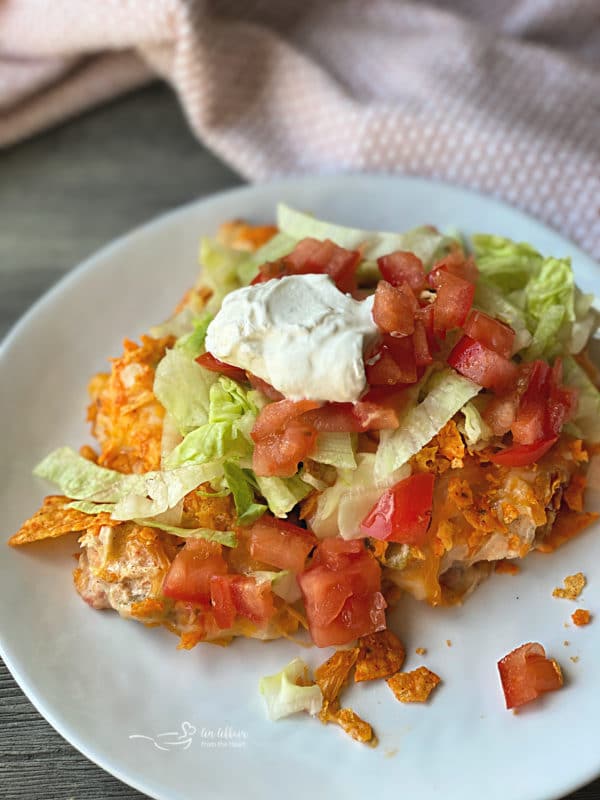 Your family is sure to give you a double-take when you say Doritos are for dinner! I know that my kids did the first time I ever made this Chicken & Doritos Casserole!
The first time I ever made this casserole was back in 2013. For all of those 7 years in between this casserole has been a favorite of ours. I mean what's not to love about chicken, refried beans, Doritos, and lots of CHEESE?!
Unbelievable Chicken & Doritos Casserole
Seven years ago, when I made it for the first time, I went to pick my kids up at school. One of the first things my kids would say when they would get in the car was "what's for dinner?"
I am known to be a bit of a smart alec once in a while (ok…so a lot of times) so on that day, I said "DORITOS!!"
They said "sure, Mom…what's really for dinner?" I said…"okay, DORITOS Casserole."
But they still didn't believe me.
When we got home they saw the bag of Doritos on the counter and it was like …Wow! …She really meant it!"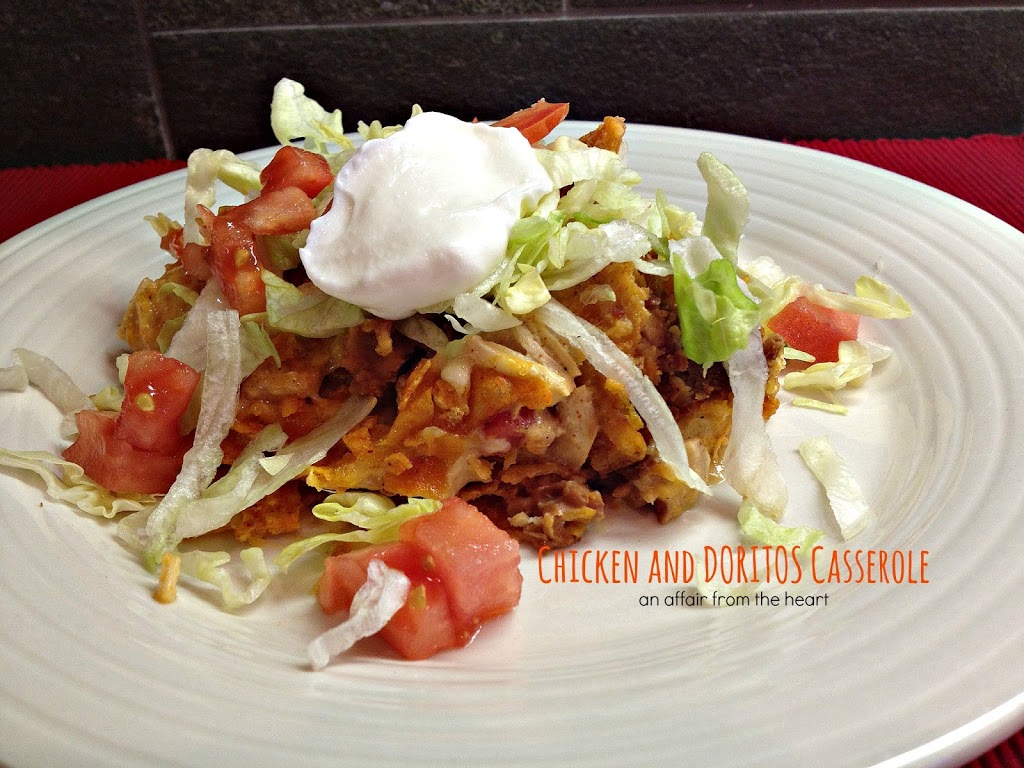 Now I am going to tell you, this is REALLY good, and it's REALLY easy, but most certainly not one of those "health conscience" foods.
You can, however, use as much "fat-free" stuff as possible to lighten it up some if you want to. But I say that life is all about balance and why wouldn't you want to enjoy some Dorito's casserole once in a while? Life is short!
What ingredients go into this Chicken & Doritos Casserole?
This Mexican casserole recipe doesn't require anything fancy. In fact, you might have the majority of the items you need, right in your pantry.
Cooked chicken, shredded or cubed, (makes a great use for leftover chicken, or use a Rotisserie one to save time) refried beans, sour cream, cream of chicken soup, Rotel, a taco seasoning packet, shredded Mexican cheese and of course, a bag of Nacho Cheese Doritos!
After it's baked and the cheese is all melty, we like to top it with shredded lettuce, tomatoes, and sour cream. It's also delicious with Jalapeños or sliced avocado, too!
You will find the full recipe at the bottom of this post in a printable recipe card.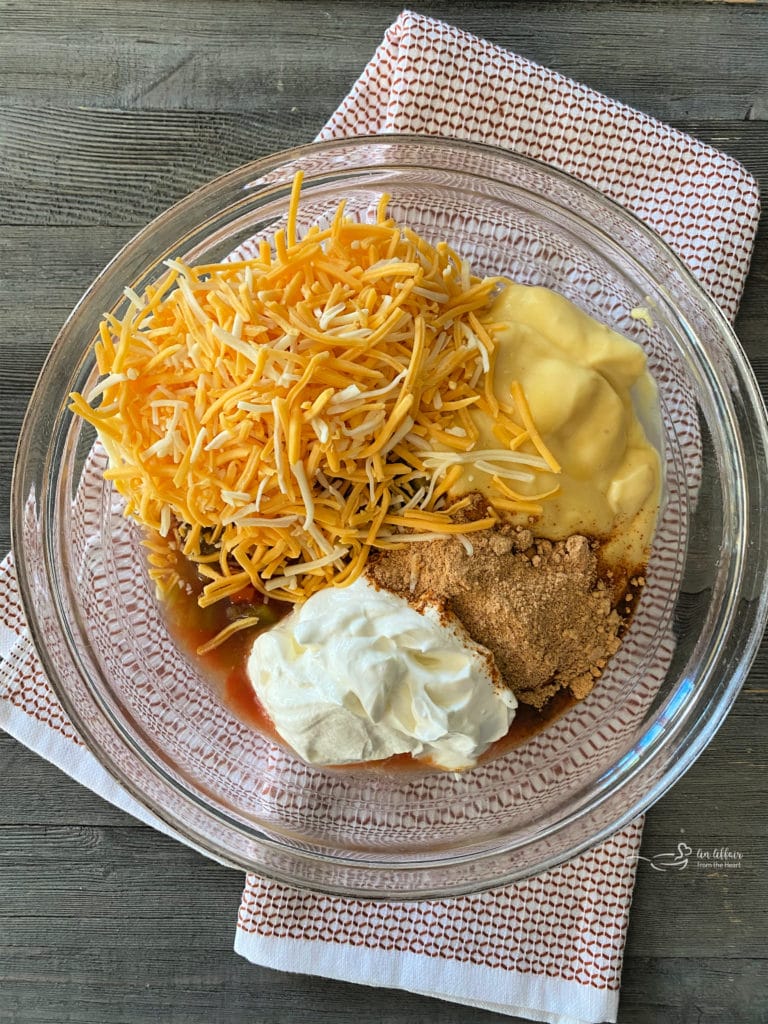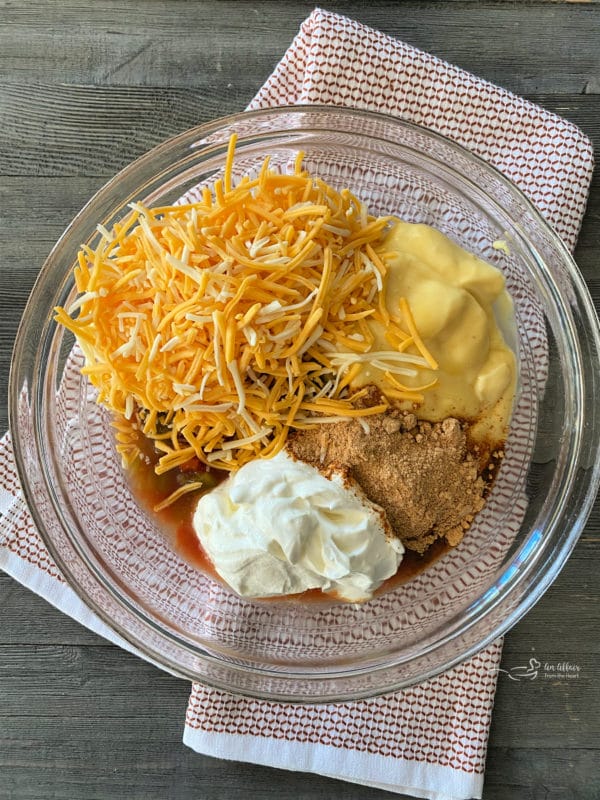 Mix together the Rotel, sour cream, taco seasoning, cream of chicken soup, and part of the cheese.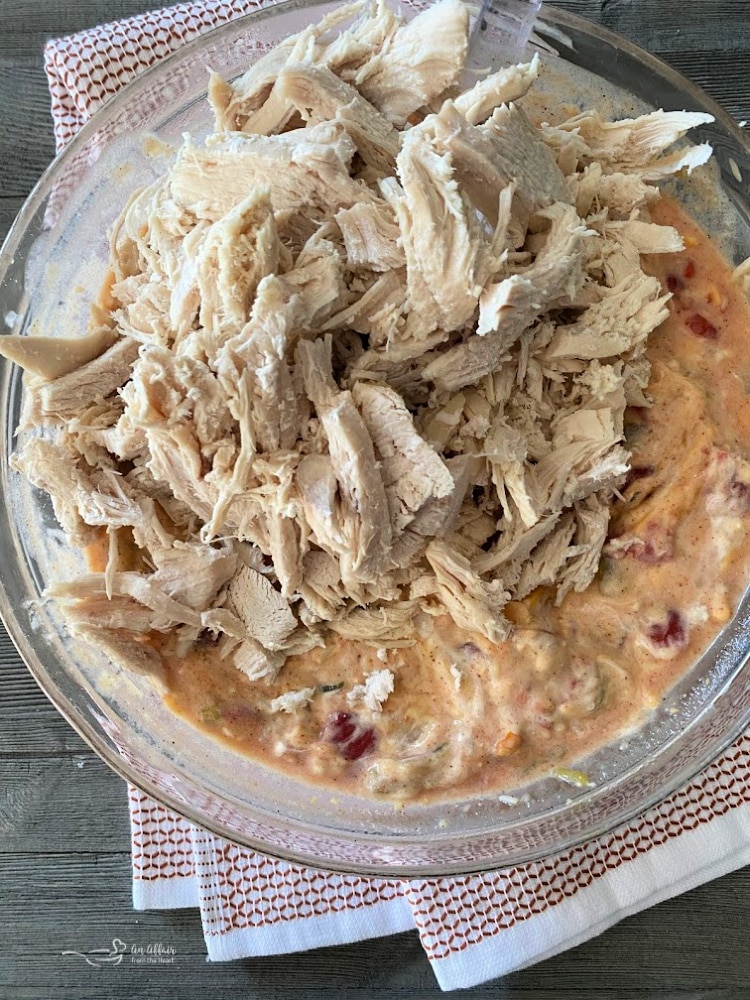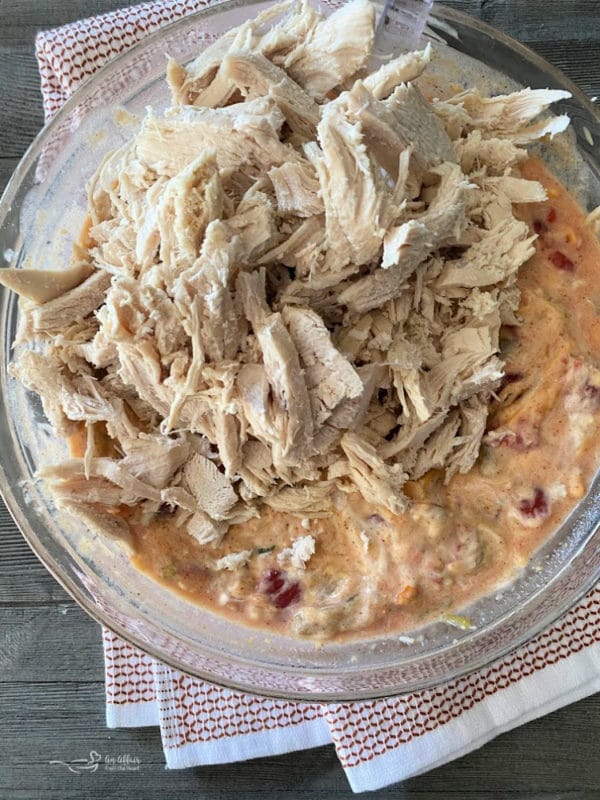 Fold in the chicken.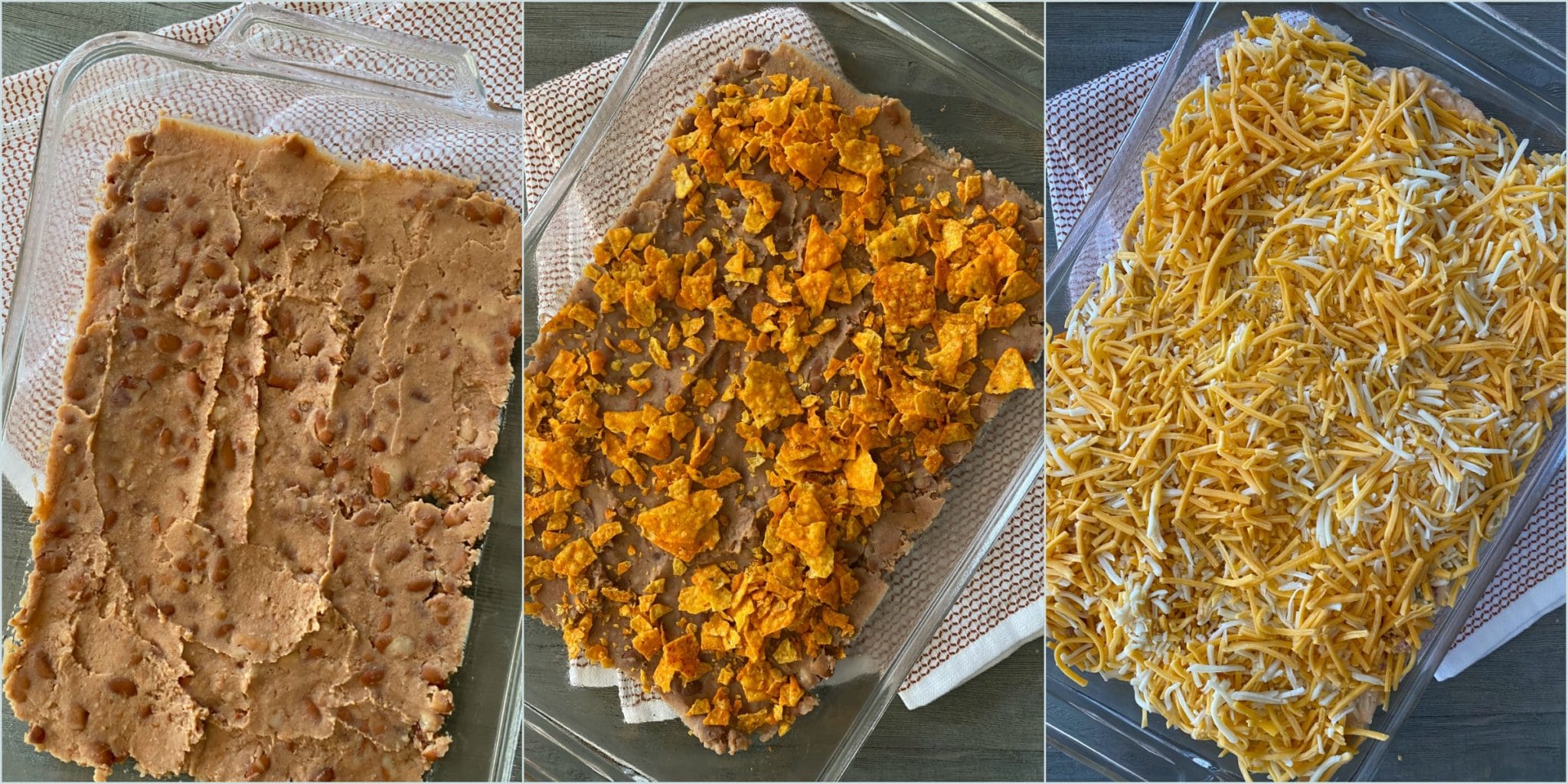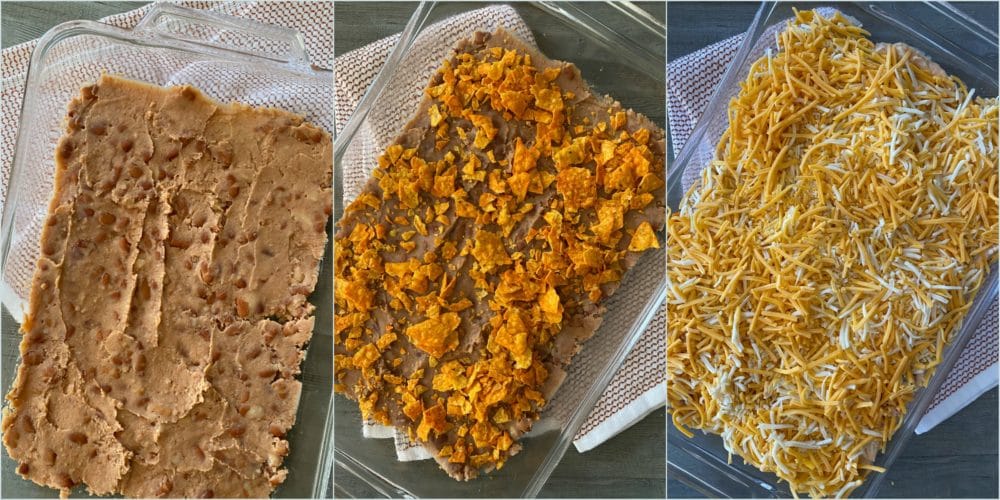 Begin by spreading the refried beans into the bottom of the casserole dish. Top with some crushed Doritos, then some of the chicken mixture and some cheese.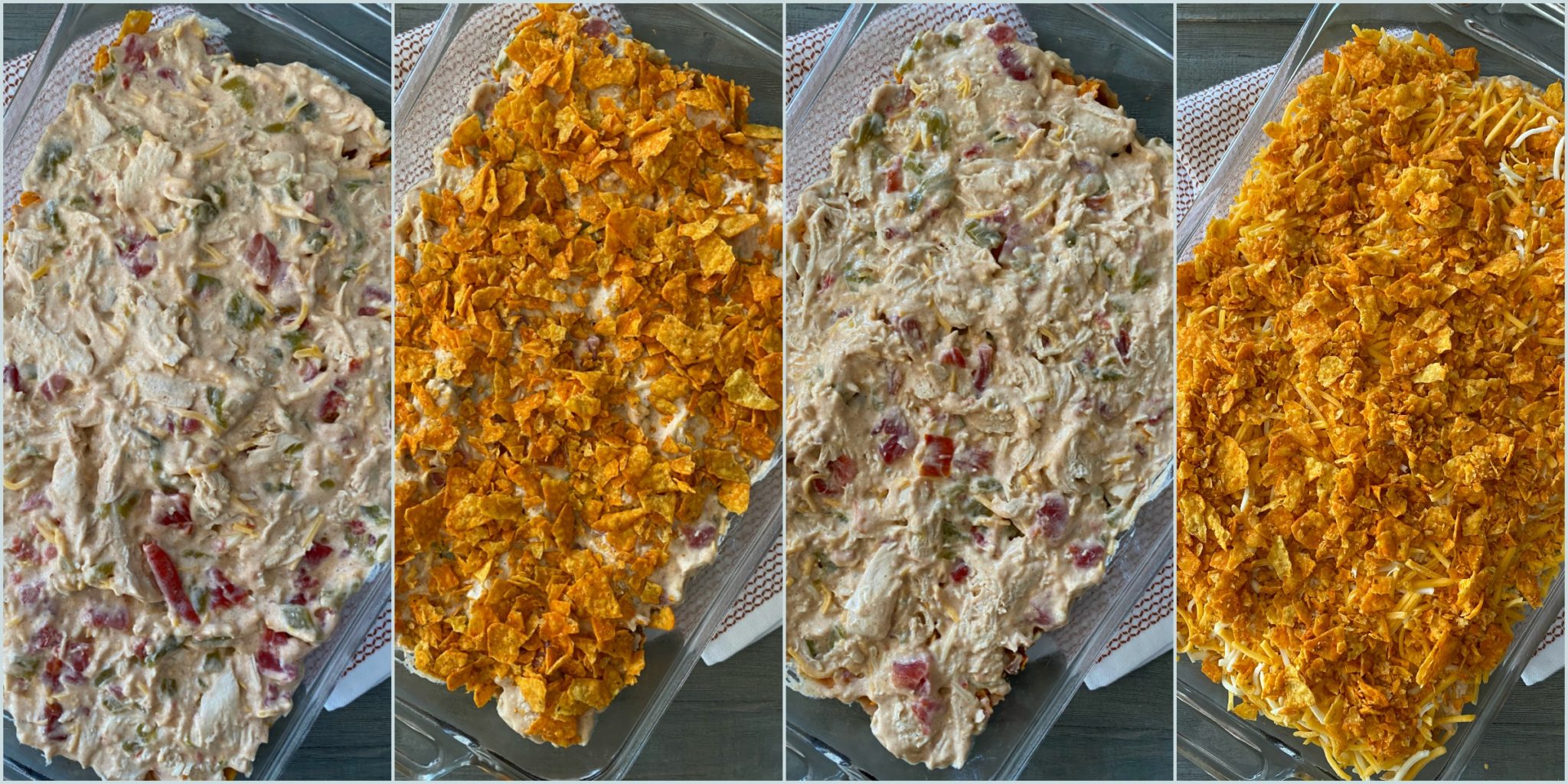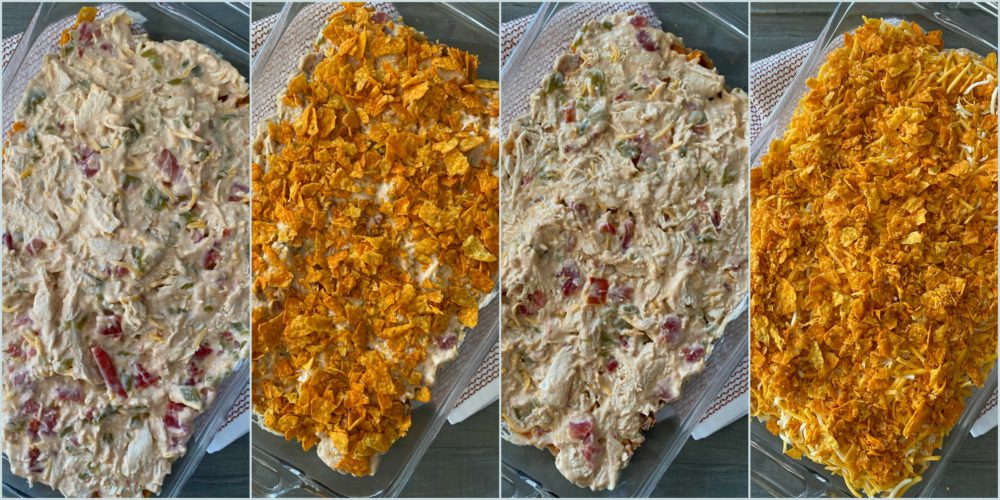 Top with more of the chicken mixture, then a layer of Doritos, the remaining chicken mixture, and remaining cheese and Doritos.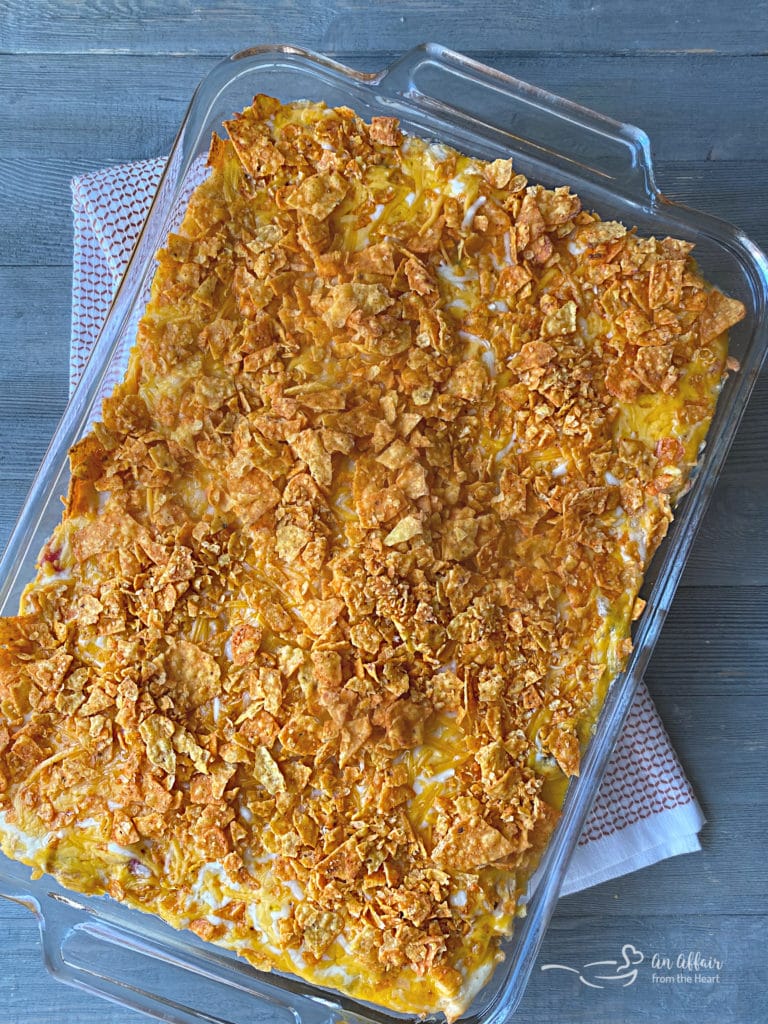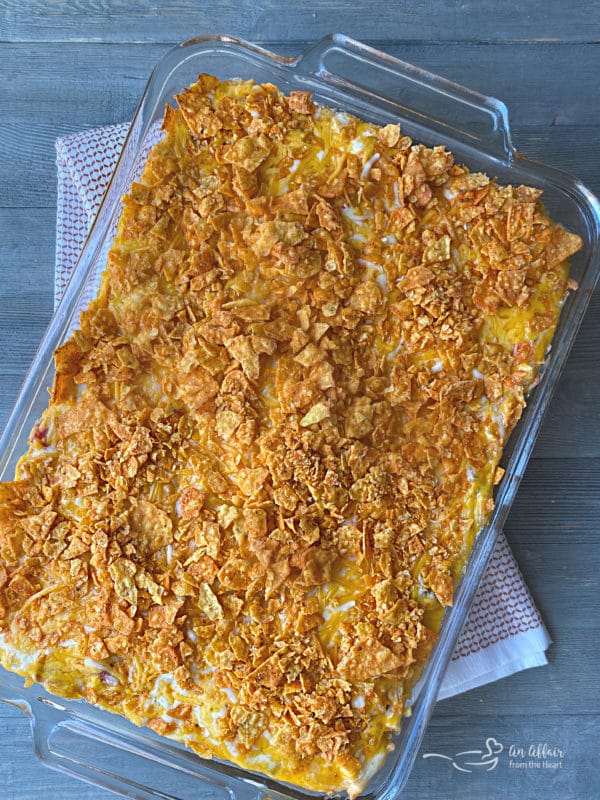 Bake until cheese is melted and it's bubbly around the edges.

Top with your favorite toppings and serve!
Lot's Of Doritos To Choose From
Nowadays, you almost have a hard time finding classic nacho cheese-flavored Doritos. There are so many new styles of Doritos to choose from. So what works best for use in the chicken casserole?
Certainly, the original nacho cheese flavor is completely awesome. But let's face it, you can't go wrong with cool ranch, taco seasoned, flamin' hot, or jalapeno.
I didn't even realize there were that many flavors!
But wait… That's not all. I wouldn't be surprised if by the time you finish reading this then probably a few new flavors have been added. I personally love the tried and true classic nacho cheese flavor though.
Classics endure. But I think if you can find the taco seasoned ones then they would be awesome too. I just don't see them as often. I sometimes think they are like the unicorn of Dorito flavors.

What If I Can't Find Mexican Shredded Cheese?
Mexican shredded cheese is typically a mix of Monterey Jack, Asadero, and Mild Cheddar. So coming up with your own blend is not a big deal. You can easily find shredded Monterey Jack and mild cheddar. Asadero is very similar to mozzarella too.
So, in a pinch, you can just get some smaller packs of the individual cheeses and make your own mix. If you do that, then consider getting some jalapeno Monterey jack to add a bit of kick to the cheese.

What Is A Ro-Tel Tomato?
If you are unfamiliar with Rotel (ro-tel) tomatoes, then let me turn you on to them! They are so great for all kinds of recipes that call for whole peeled tomatoes. Basically, a Rotel tomato is a type of canned tomato that has a bit of heat added through minced jalapenos.
Don't worry! They aren't too hot. They are just spicy enough to tickle your tongue but you won't be dialing 911 for the fire department to come to hose your mouth down.
Obviously, if you are really sensitive to spicy foods, then don't worry, use any type of canned peeled tomatoes and not miss out.
You will find the Ro-tels where you find all the other canned tomato products. You probably stared at them dozens of times and never knew what they were.
If you have ever had queso fundido, the Mexican style cheese fondue you dip tortilla chips in, then you probably enjoyed Rotel tomatoes. It is that bit of spice that makes the melted cheese taste so delicious.
Canned Cream Of Chicken Soup Options
I often have two types of canned cream soups in the pantry. Cream of Chicken and Cream of Mushroom. Truth be told, I rarely ever actually use either of them as soups. They are just too handy to make quick sauces when in a pinch.
If you only have the mushroom creamed soup handy, then don't worry about making an extra trip to the store just to get a can of creamed chicken.
You are not going to lose out if you have to use cream of mushroom instead. It will still give you that wonderful creamy casserole sauce. The mushroom flavor is going to work too.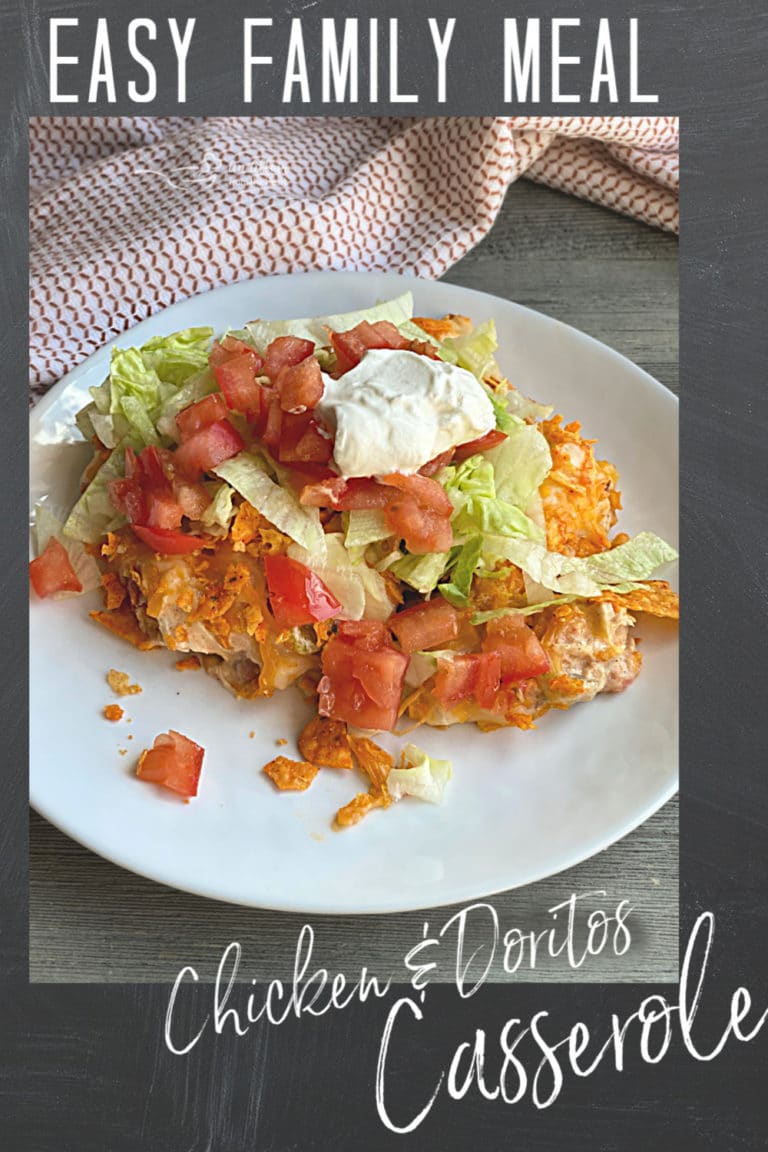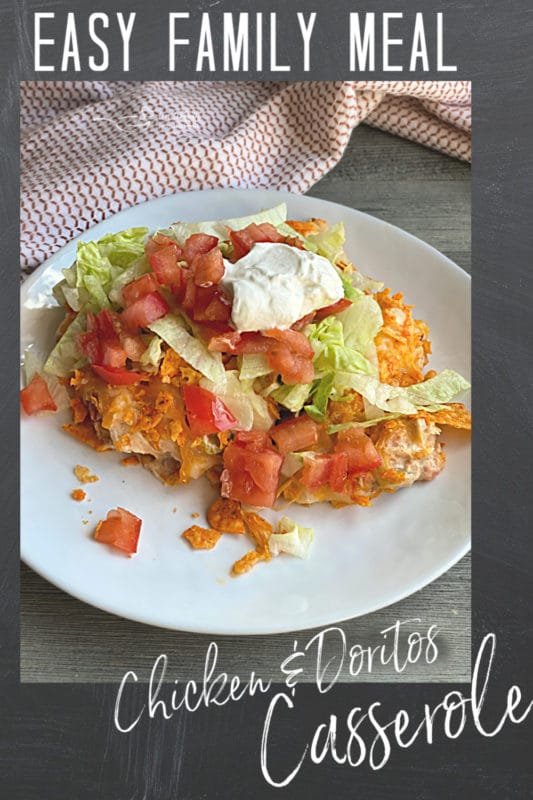 Love it? Pin it!!
Don't forget where you found this easy casserole. It's perfect for busy weeknights and hungry families. Plus, the leftovers are fabulous, too!
Pin this one to your favorite Pinterest board before you go!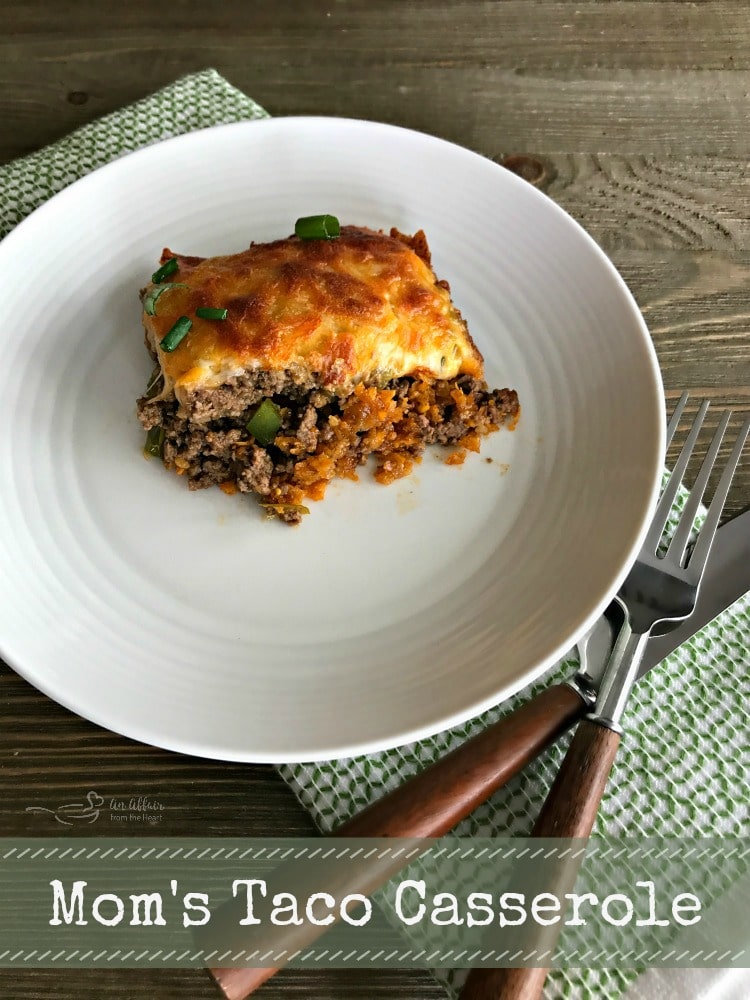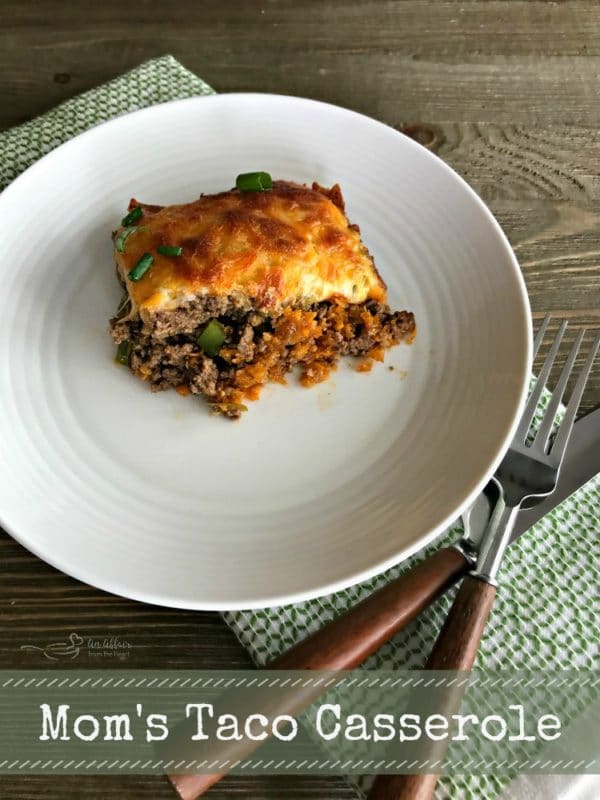 More Great Casseroles To Try
I am a big fan of casseroles. Yes, casseroles, or as the Minnesotans call it "a hot dish," are a bit old fashioned. But what is wrong with that? You can't beat a classic casserole dish. They just never get old.
Casseroles are easy to throw together and let the oven do the work. They cook quickly so hungry mouths don't go hungry long. The leftovers typically taste even better than when you first serve it. You can use a variety of ingredients that need to get used before they go to waste.
Some of my Most Popular Casserole Recipes:
As I said, the time tested classics never grow old! Check out ALL of my Casserole Recipes!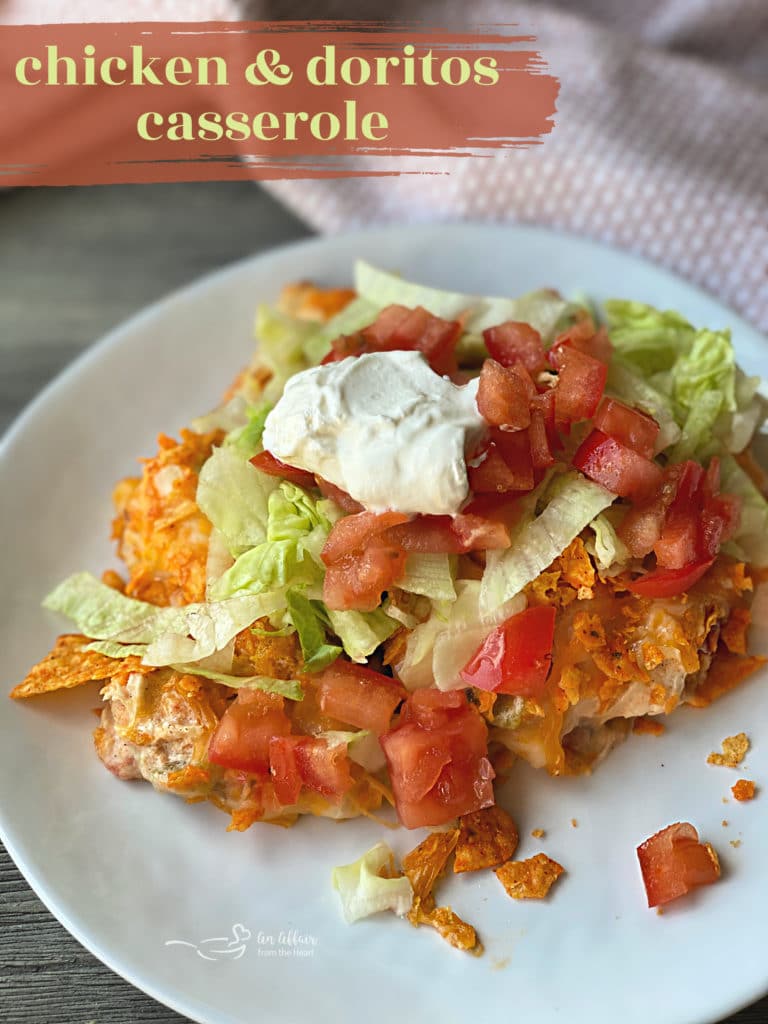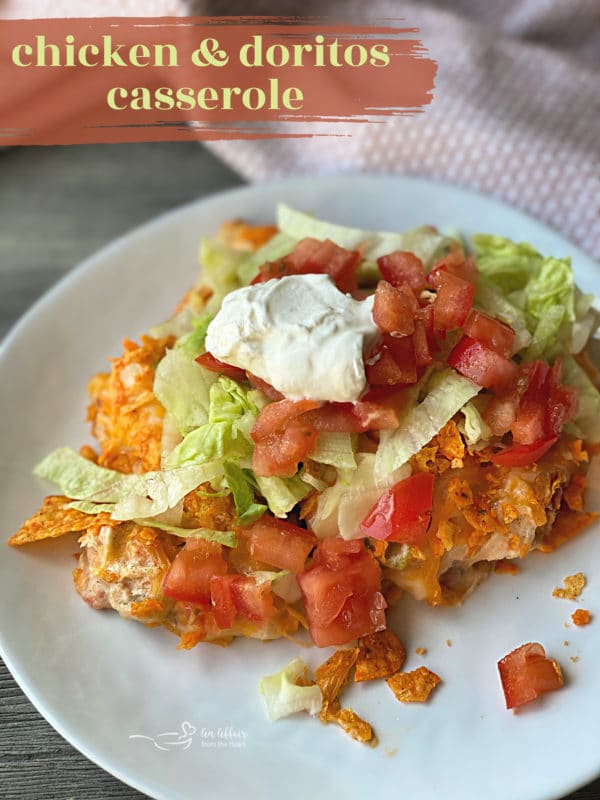 My mouth is watering, how about you? Let's get to the recipe!

Yield: 12 servings
Chicken & Doritos Casserole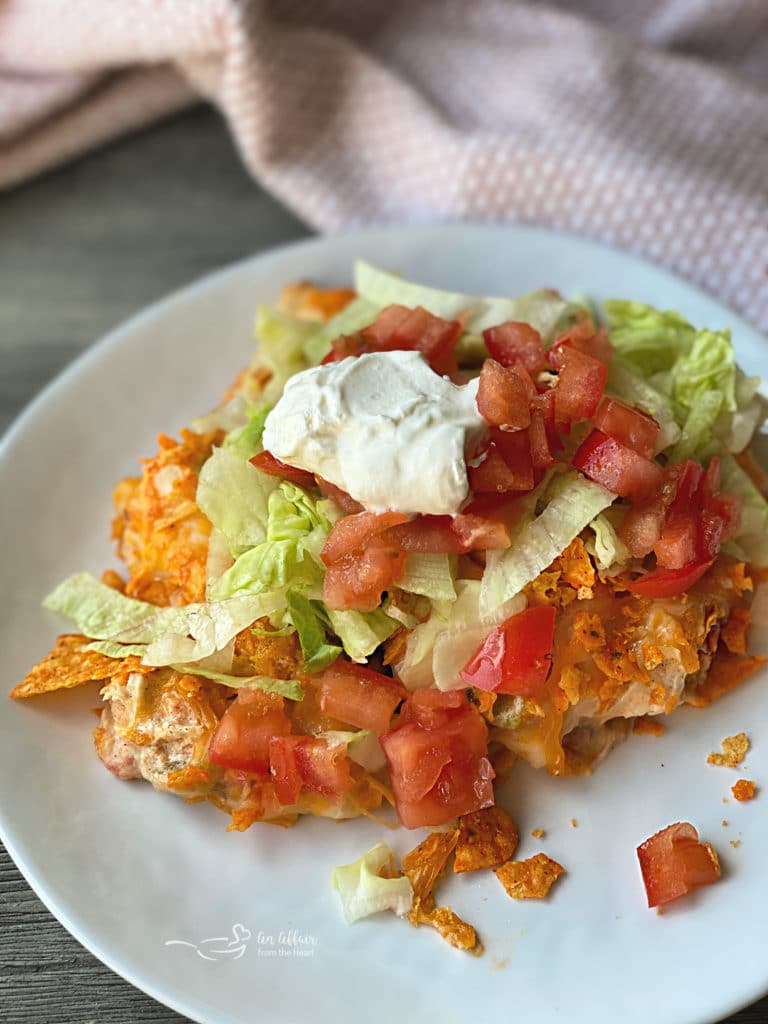 What's not to love about this Chicken & Doritos Casserole? Layers of refried beans, saucy shredded chicken, cheese, and crushed Doritos. This easy Mexican casserole is easy to make and is sure to be an instant family favorite!
Total Time
1 hour
5 minutes
Ingredients
4 chicken breasts, cooked, shredded or cubed (about 4 cups)
1 (16 ounce) can of refried beans
1 (10oz) can of cream of chicken soup
4 cups Mexican shredded cheese
1/2 cup milk
2/3 cup sour cream
1 can Rotel tomatoes, drained
1/2 packet of taco seasoning
1 large bag of Doritos crushed
Optional Toppings:
Tomatoes
Shredded Lettuce
Sour Cream
Olives
Jalapeños
Avocado
Instructions
Preheat oven to 350 degrees. Spray a 9×13 baking dish with non-stick cooking spray.
In a small pan, place chicken with a little bit of water and cover. Cook until chicken is done, and is able to be shredded or cubed.
Spread the refried beans into the bottom of the baking dish, set aside.
In a large bowl combine the soup, milk, sour cream, Rotel, 1 1/2 cup of cheese and taco seasoning. Add chicken, and combine.
Over the bean layer, sprinkle a layer of Doritos.
Top with half of chicken mixture.
Add another layer of Doritos.
Top with the remaining chicken mixture.
Top with remaining cheese and more Doritos.
Cover and bake for 30-35 minutes.
I did bake mine uncovered for the last 5 minutes.

Notes
Lighten up the recipe some by using fat free sour cream, Healthy Request soup, and fat free or low fat cheese.
Nutrition Information:
Yield:
12
Serving Size:
1
Amount Per Serving:
Calories:

293
Total Fat:

19g
Saturated Fat:

9g
Trans Fat:

0g
Unsaturated Fat:

8g
Cholesterol:

79mg
Sodium:

481mg
Carbohydrates:

8g
Fiber:

2g
Sugar:

2g
Protein:

23g
Nutrition isn't guaranteed accurate.
This post was originally published on March 5, 2013. It was updated to improve user experience and reshared on April 28, 2020.