Chicken, ham, and rice cordon bleu casserole is the best name for this delicious casserole. Take Chicken and rice and baked with a creamy sauce and top with melted Swiss cheese – perfect for using leftover chicken or ham, perfect weeknight meal.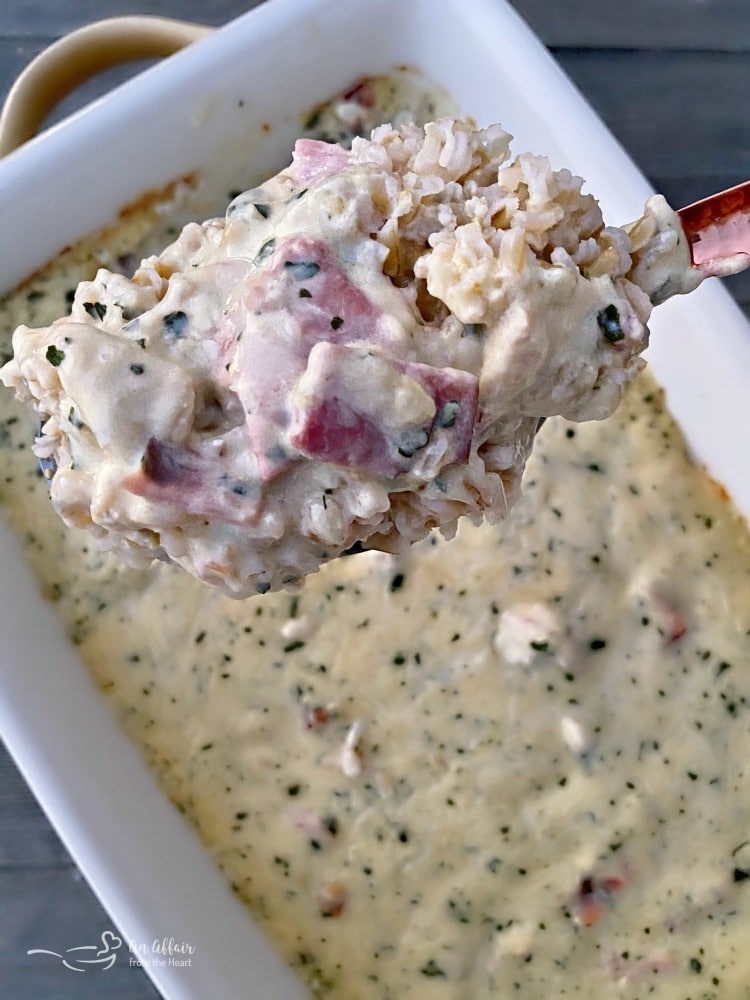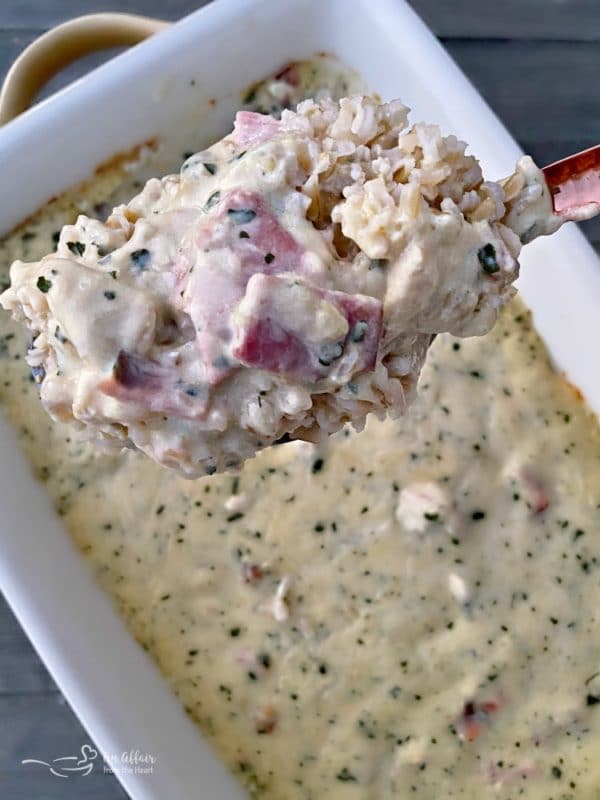 Perfect Timing For Chicken And Rice Cordon Bleu Casserole
The week after Easter, we had some leftover ham that was begging to be turned into something delicious. I initially planned to make my Chicken Cordon Bleu Casserole, the one that is my "go-to" for leftover ham, but I decided to switch it up a bit and add rice. My family LOVES rice, and we eat it 2-3 times per week. We especially love it when it's baked in a casserole, and many of us love that bit of crunchy rice around the edge of the pan the most.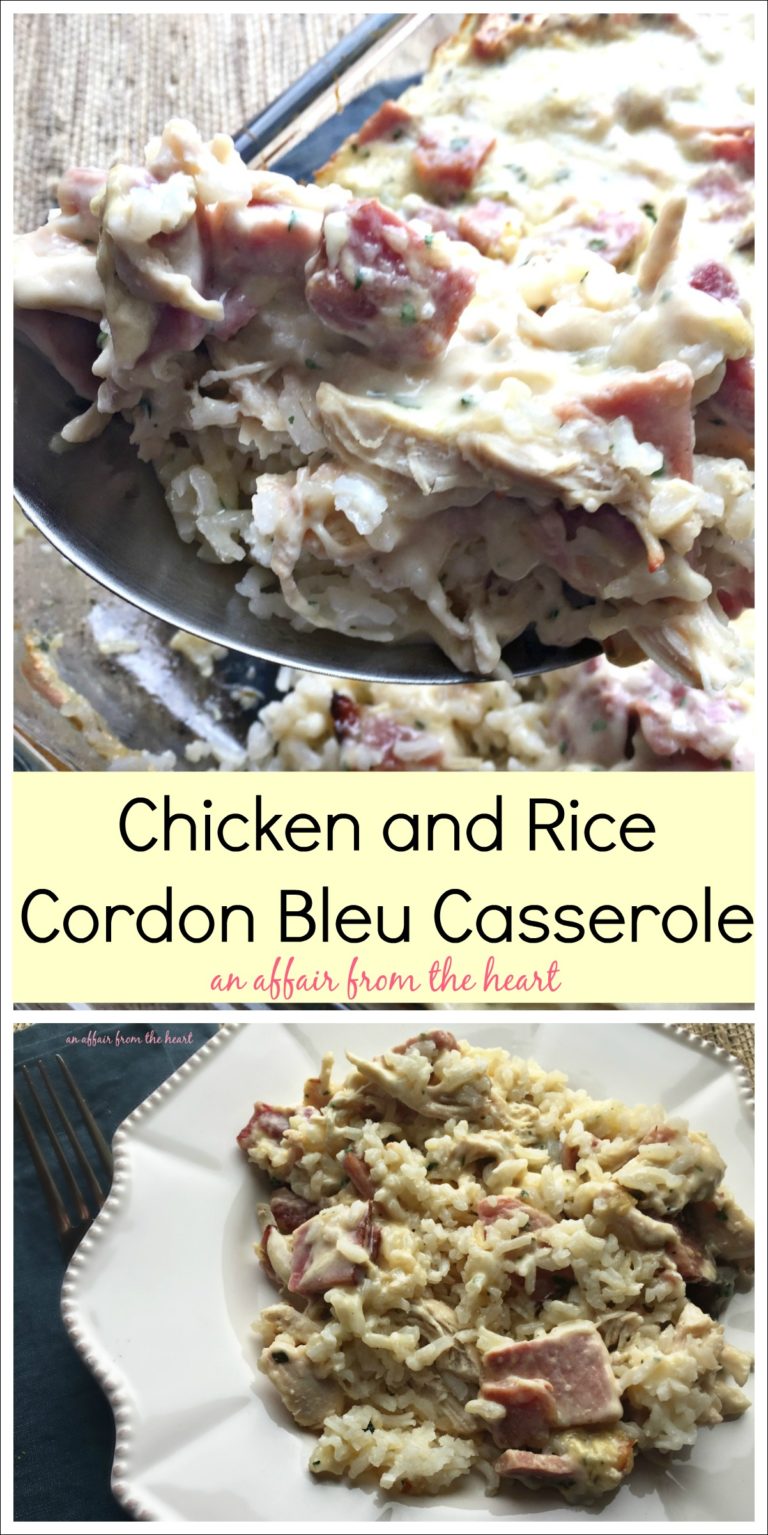 This casserole is super easy, and the prep took me about 10 minutes. It baked up in my 9×13 Pyrex baking dish in about 35 minutes. An ideal recipe for an easy one to make ahead for those nights when you need something to just pop in the oven quickly and the leftovers are GREAT the next day.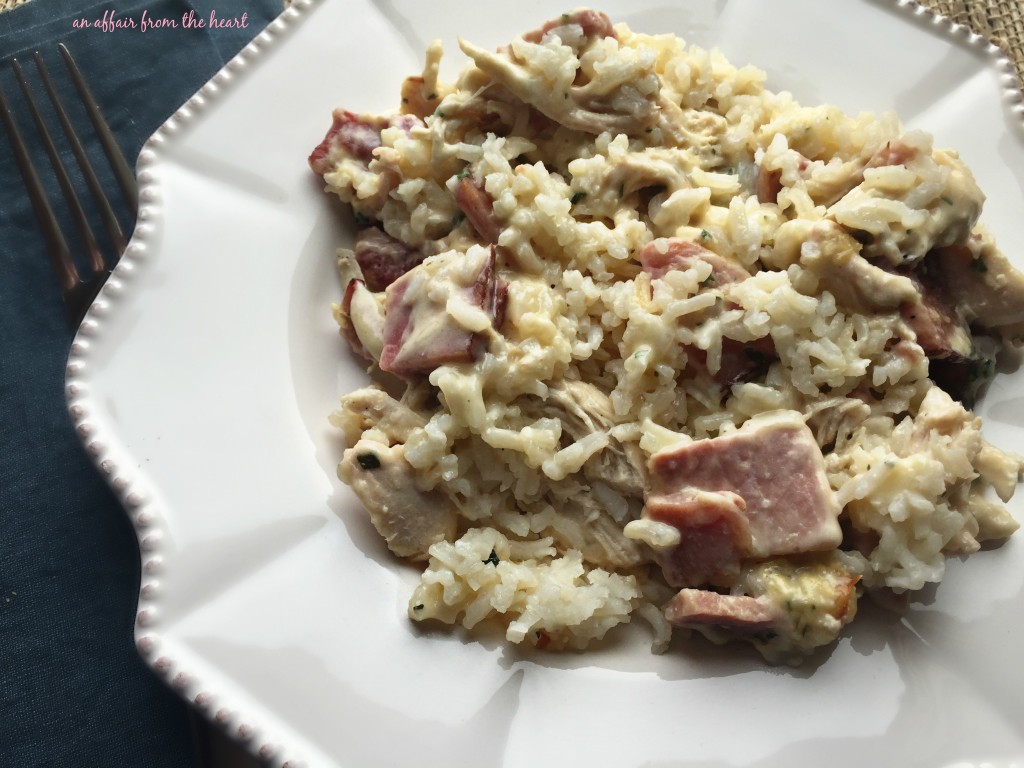 A rotisserie chicken works great for the cooked chicken, and if you don't have any leftover ham laying around — grab what you need from the deli, and you're on your way to a yummy, family-friendly meal!

Ingredients in Chicken & Rice Cordon Bleu Casserole:
chicken
ham
Minute Rice
sour cream
cream of chicken soup
chicken stock
Dijon mustard
Swiss cheese
parsley
Easy and simple ingredients. Find the full printable recipe at the bottom of this post.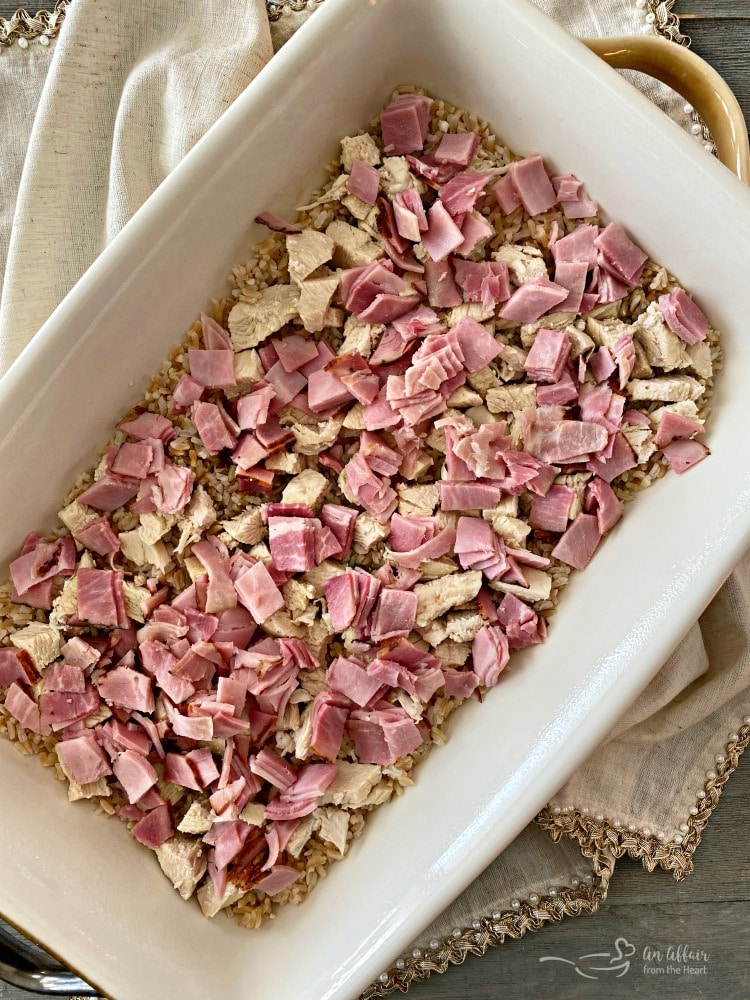 Spread prepared Minute rice into the bottom of a prepared 9×13 baking dish. Top with chopped ham and cooked chicken.
Mix the sauce together with the cheese.
Spread overt he top and bake until hot and bubbly.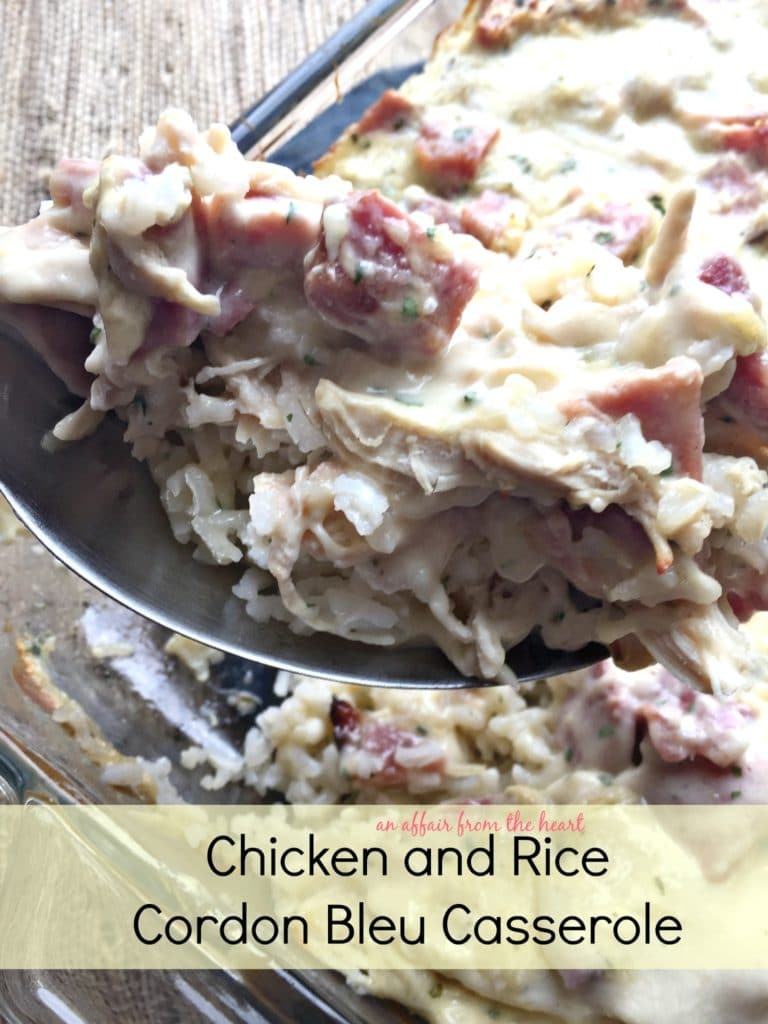 What Rice Works Best For Chicken and Rice Cordon Bleu Casserole?
For the rice, I use brown minute rice. My family loves this dish, so I don't have time to waste. The easiest answer to
When will it be ready?" In a minute!
However, you have quite a few options when it comes to the type of rice you use. This is another way of saying any rice will do just fine. So whatever kind of rice you have handy in the pantry is the kind that works best.
Keep in mind though, that different types of rice cook at various speeds. I recommend the shorter and thicker grains like "Arborio" for casseroles.
What Is The Difference Between "Minute Rice" And Other Rice?
The answer? About 30 minutes!
If you use minute rice, which is rice that has been partially cooked, then dried, so it cooks faster, then cook it first. In this case, you are simply heating all your ingredients together. As soon as it is hot, you are ready to eat!
Any rice besides minute rice then keep a few things in mind. You can use pre-cooked leftover rice. For that scenario, do it just like minute rice, heat and eat.
For uncooked rice, you just need to make sure to include the same amount of liquid used to cook rice normally. About two cups of water to one cup of rice for white rice. Two and a half cups, or maybe even three for brown.
What Variety Of Ham Do You recommend?
Just as there are so many types of rice, choosing a ham makes for plenty of options as well. Just like the rice too, any type of ham actually works great. So, if you are looking at that leftover ham and wondering what else you can do with it, then that is the best one.
In the event you are shopping for one for this recipe, then I recommend hams with big flavors. Generally, even though hams come in a variety of styles, like maple, black forest or peppered, there are two basic skills of curing ham. Hams are wet cured or dry. Smoking either style of cure is possible as well.
Wet And Dry Cured Hams
With a dry cure, the ham is salted and sometimes smoked. Those typically take a few months to cure, so they tend to be more expensive. A ham like a prosciutto is dry cured.
In a wet cure, the ham is injected with brine to cure it and this takes much less time. So, of course, that translates to cost less. The ham you find in the meat section tends to be the wet cured. The ham you find at the deli will feature dry cured hams. Always, the hams cured the longest cost the most. Someone had to pay rent on the places those hams aged!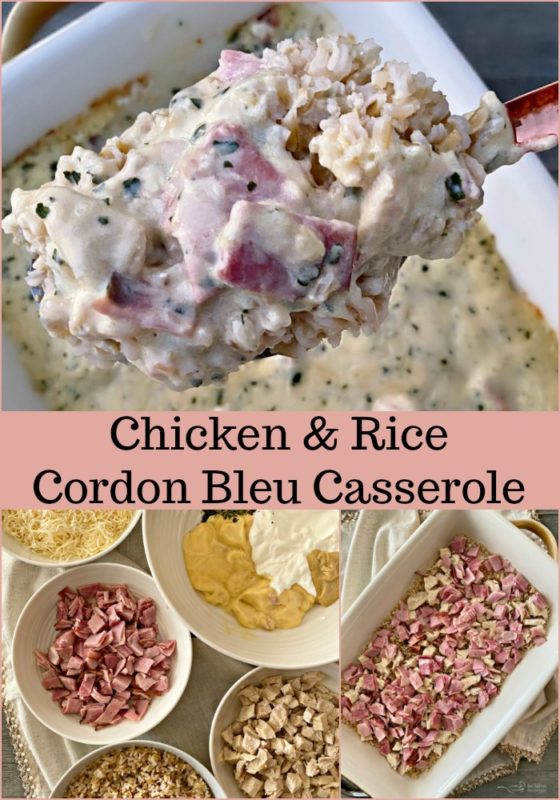 If you want to make sure that you can find this recipe when you want to make it, pin it to your favorite Pinterest board before you go!
Let's get to the recipe, shall we?

Yield: 6-8
Chicken and Rice Cordon Bleu Casserole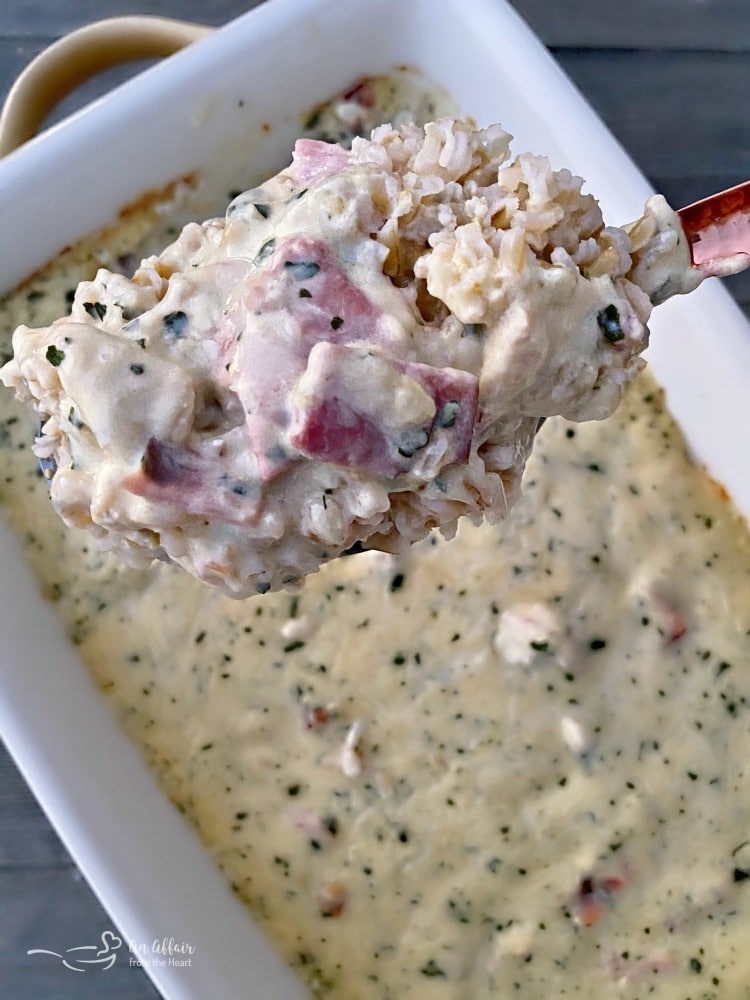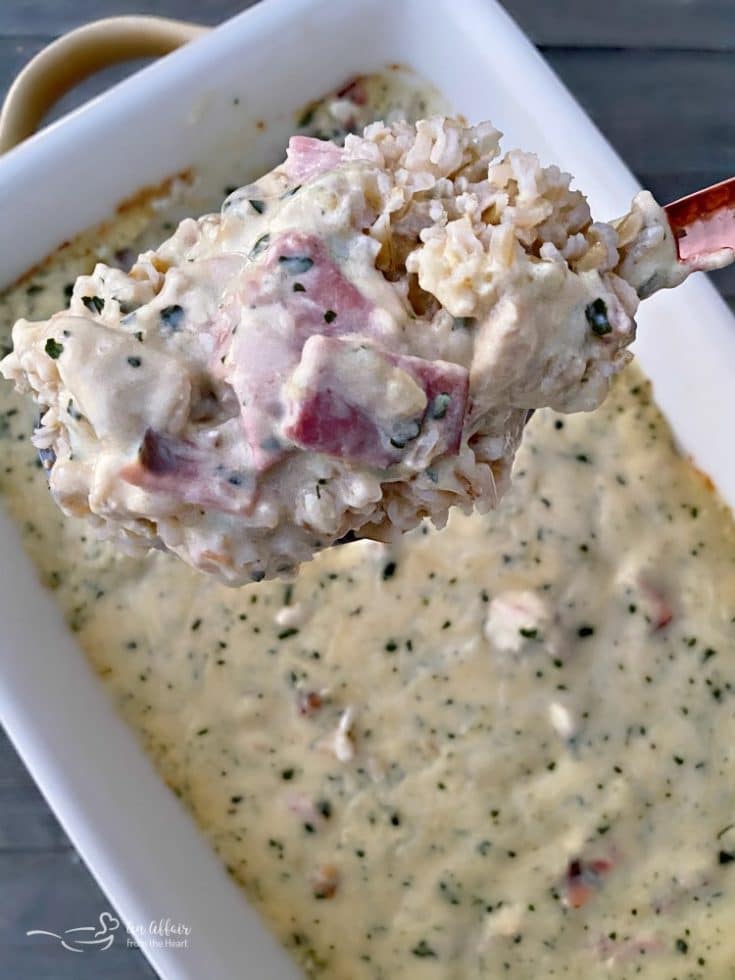 Ham, chicken and rice baked win a creamy sauce with melted Swiss cheese - perfect for using leftover chicken or ham, perfect weeknight meal.
Ingredients
2 cups shredded cooked chicken
2 cups chopped ham
2 cups prepared rice (I used Minute rice)
1/2 cup chicken stock
1 cup sour cream
1 can cream of chicken soup
1 Tablespoon Dijon mustard
1 Tablespoon parsley
1 1/2 cups Swiss cheese, shredded
Instructions
Preheat oven to 350 degrees. Spray a 9x13 pan with cooking spray.
Spread prepared rice into the bottom of the pan. Top with shredded chicken and chopped ham.
Stir together soup, sour cream, chicken stock, mustard, and parsley until combined. Fold in shredded cheese. Spread over the top of rice, ham, and chicken.
Cover and bake 25 minutes. Remove cover and bake 10 minutes more.
Notes
Great for leftover chicken or leftover ham. But also comes together quickly with deli ham and rotisserie chicken.
Recommended Products
As an Amazon Associate and member of other affiliate programs, I earn from qualifying purchases.
Nutrition Information:
Yield:
6
Serving Size:
1
Amount Per Serving:
Calories:

474
Total Fat:

28g
Saturated Fat:

13g
Trans Fat:

0g
Unsaturated Fat:

12g
Cholesterol:

120mg
Sodium:

1027mg
Carbohydrates:

24g
Fiber:

1g
Sugar:

2g
Protein:

30g
Nutrition isn't always accurate.

If you make this recipe, I'd love to know! Snap a picture, share the photo on social media with the hashtag #AnAffairFromTheHeart – I'd love to see what you made! – Michaela