Pumpkin Cheesecake Swirl Brownies
As an Amazon Associate and member of other affiliate programs, I earn from qualifying purchases.
Creamy pumpkin cheesecake swirled between fudgy layers of chocolate pumpkin brownies.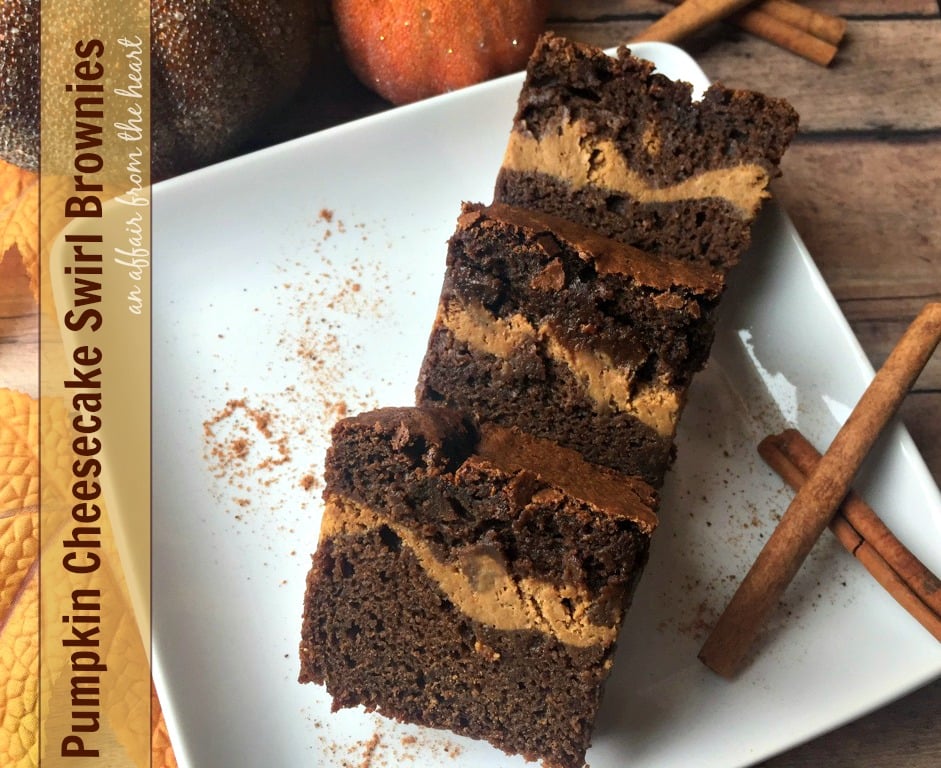 It's time once again for FREAKY FRIDAY! This is our third round, as we decided to go seasonal with our posts. Since this was our fall round, I decided that I wanted a fall-ish recipe, so when I got my blog assignment, I searched two things: apples and pumpkin.

What's Freaky Friday, you might ask? It's when a group of us food bloggers get assigned a secret blog and we get to choose any recipe we want from it, cook/bake it, and blog about it. Then all of the recipes are revealed at exactly the same time, and we get to see who had our page and what they selected. It's a great way to find new blogs to follow — check out the link at the bottom of this post to see who made what! The blog I was assigned this time was A Kitchen Hoor's Adventures. Christie has TONS of great recipes, and I narrowed it down to three — Pumpkin Cheesecake Swirl Brownies, Chicken Apple Brat Burgers, and Pumpkin Spice Latte Granola with Candy Corn.
Christie has always loved cooking and baking and was taught right in her parent's kitchen. She, like me, wishes the baking came as easily as the cooking does, but like Christie said, we can't all go to culinary school, right? We are a work in progress. She finds herself happy and engaged to the love of her life, and proud of her fur baby. Her life is content. You will find *healthier* recipes, as Christie is a Weight Watchers success story. Pop over and say hello and browse all of her wonderful recipes at, A Kitchen Hoor's Adventures.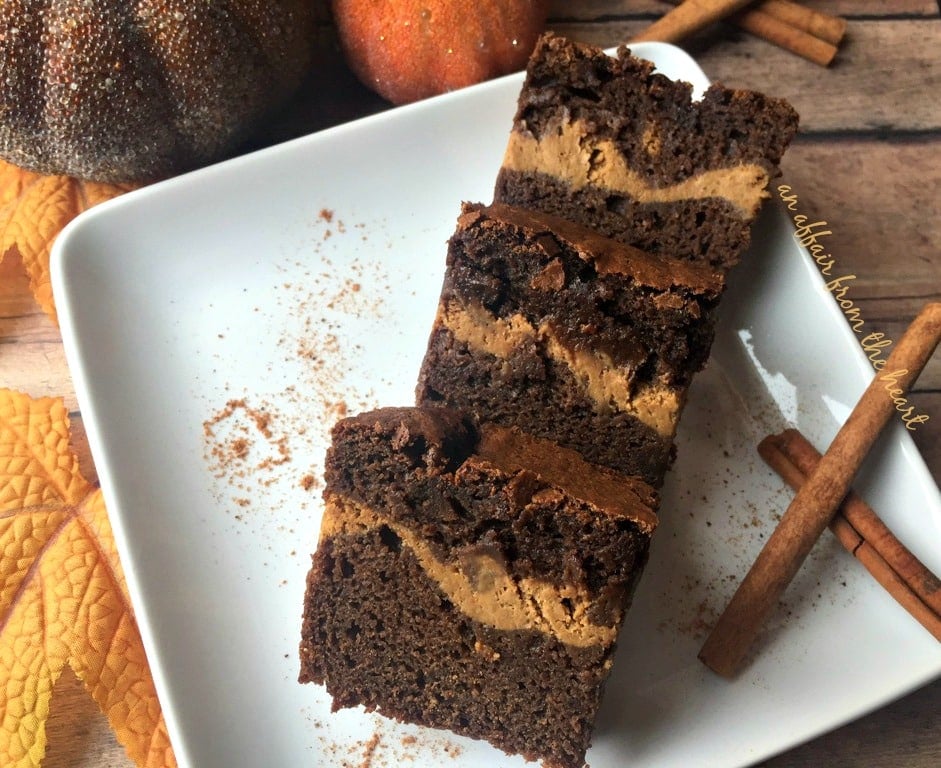 Back to these little beauties. I have a confession to make. I have never in my life had pumpkin and chocolate together. To me, pumpkin belongs with cinnamon, cloves, nutmeg … you get the drift. I like to think outside my normal ways when I am doing a recipe challenge. I decided that if I chose a pumpkin recipe … it had to have chocolate … this one qualifies quite nicely, don't you think? I am here to tell you, it made me a believer, too. Whodathunkit?
Chocolate + Pumpkin = Scrumptious!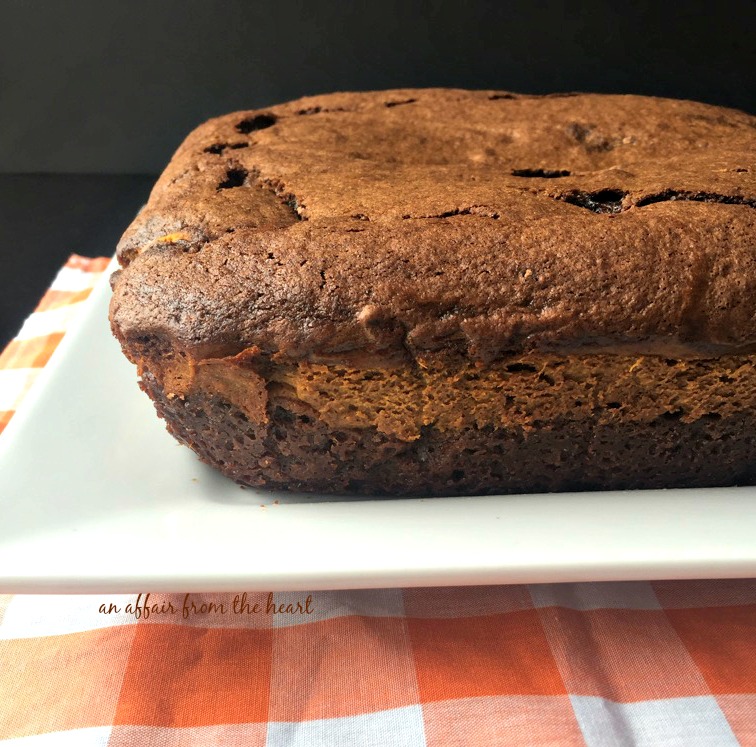 I made these brownies, and I thought whoa … they are going to be THICK! I was right. They were really thick. That is why I sliced them the way that I did. I think that you would be fine to make these in a 9×13 for a more traditional brownie. If you like your brownies thicker — then you will want to make them like the directions suggest.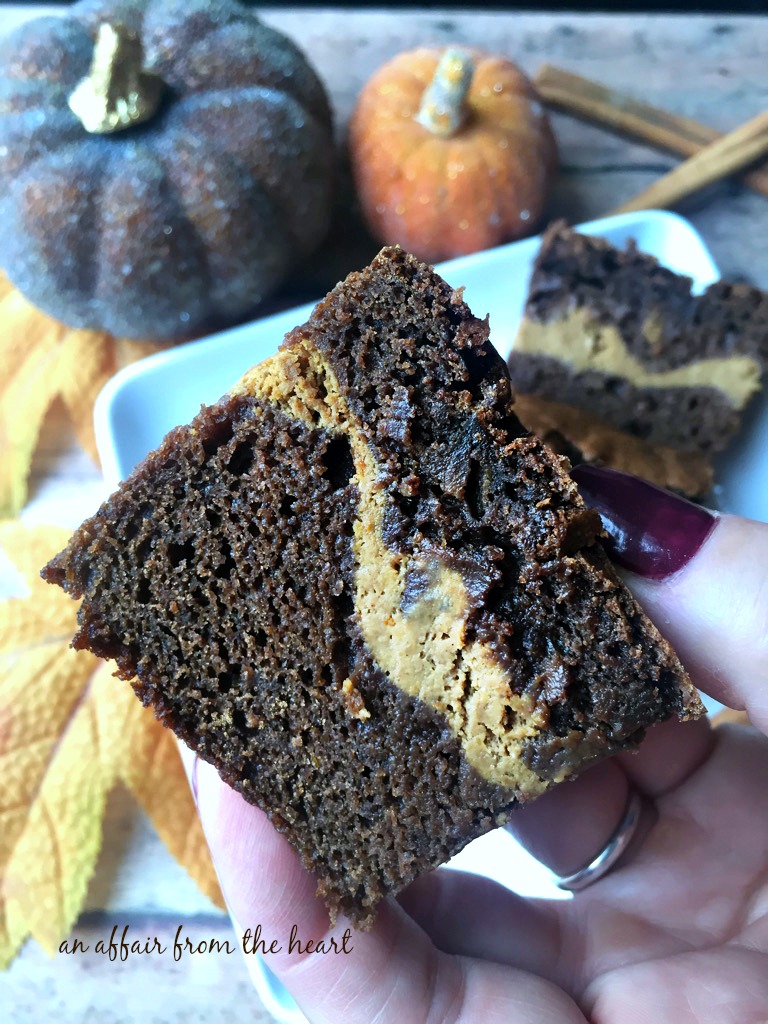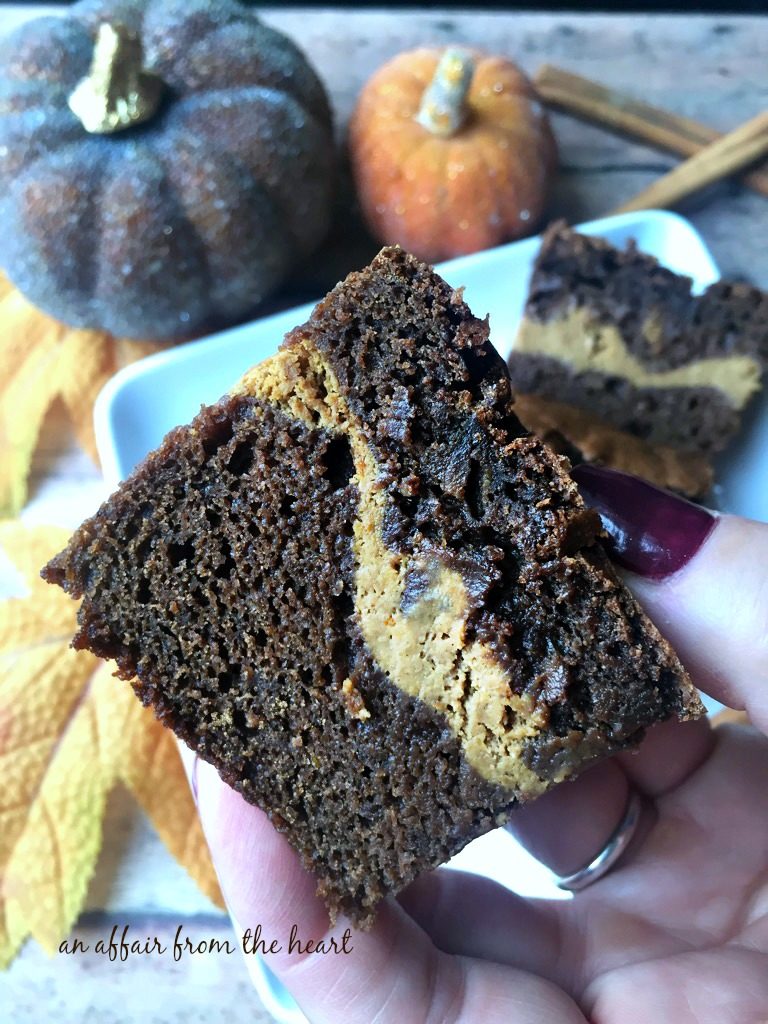 Aren't they gorgeous though? Love that pumpkin color! It's perfect with that chocolate fudge brownie!
Hooray for Autumn!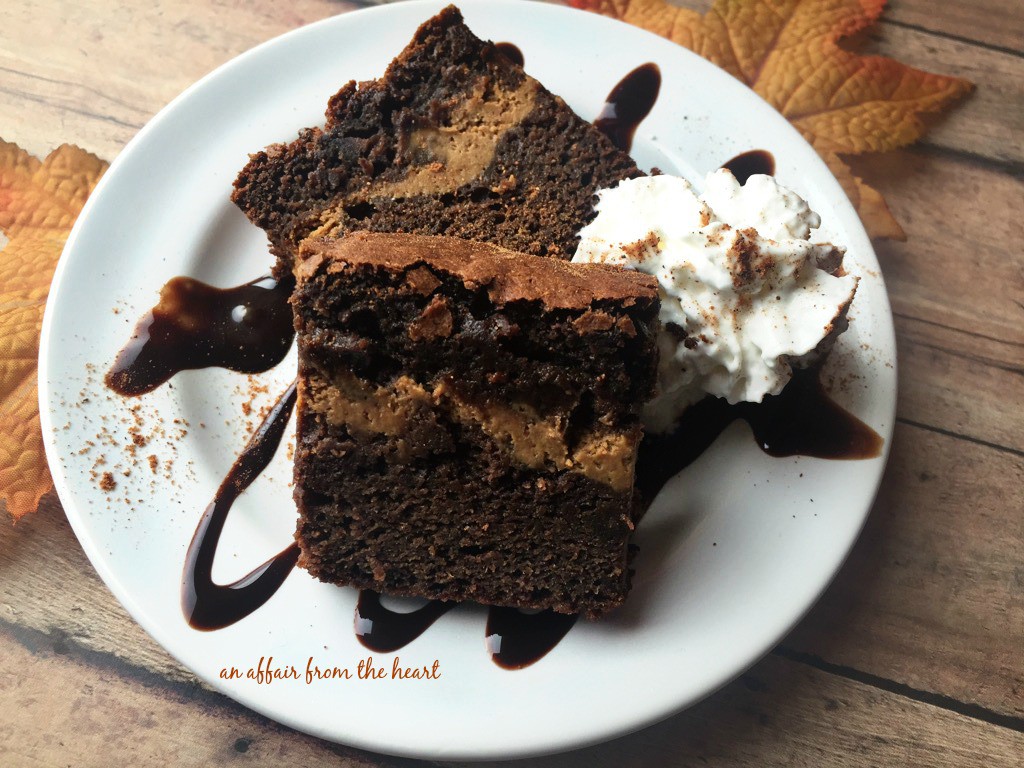 Want to wow your guests? Serve them up dessert style! Drizzle the plate with some chocolate syrup, a dollop of whipped cream and a sprinkling of nutmeg. Don't you think these would make a great Thanksgiving dessert? I sure do!
—
Yield: 15
Pumpkin Cheesecake Swirl Brownies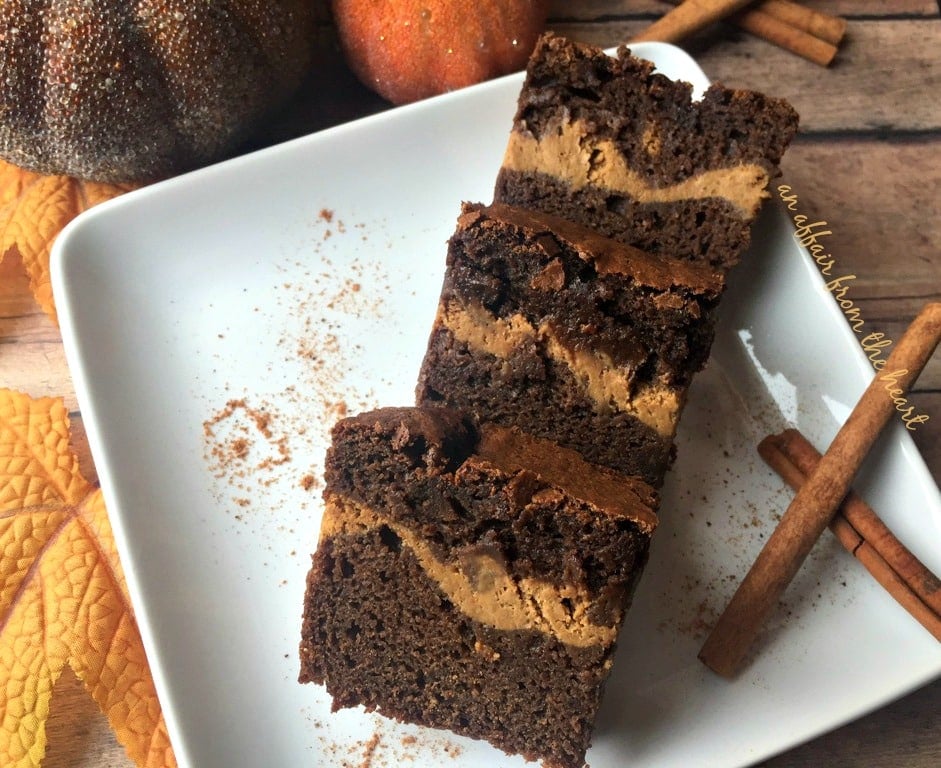 Creamy pumpkin cheesecake swirled between fudgy layers of chocolate pumpkin brownies.
Total Time
1 hour
55 minutes
Ingredients
For the Brownies:
1 cup flour
2/3 cup unsweetened dark cocoa powder
1/2 teaspoon salt
2 teaspoons baking powder
2 cup sugar
4 eggs
1 cup pumpkin puree
2 Tablespoons oil
2 teaspoons vanilla
For the Swirl:
1/2 cup pumpkin puree
4 ounces cream cheese, softened (I used low fat)
1 egg
2 Tablespoons brown sugar
1 teaspoon ground cinnamon
1/2 teaspoon ground ginger
1/2 teaspoon ground cloves
1/4 teaspoon cardamom
Instructions
Preheat oven to 350. Spray an 9x9 baking dish with non-stick cooking spray.
Prepare the brownies: Whisk together: flour, cocoa powder, salt and baking powder.
Combine the sugar with the eggs in your mixer, add in pumpkin, oil and vanilla, mix to combine.
Gradually add the dry mixture into the wet mixture, until combined.
Prepare the cheesecake swirl: Beat the cream cheese in your mixer. Add brown sugar and beat until light and fluffy. Add the pumpkin puree, egg and spices. Stir until combined.
Spread 2/3 of the brownie batter into the baking pan.
Spoon the swirl over the brownie batter. Drop the remaining brownie batter onto the pumpkin mixture. Using a knife or wooden skewer, swirl the pumpkin into the brownie batter.
Bake at 350 for 45-55 minutes or until a toothpick inserted in the center comes out clean. Allow to cool completely before slicing and serving.
Nutrition Information:
Yield:
15
Serving Size:
1
Amount Per Serving:
Calories:

232
Total Fat:

7g
Saturated Fat:

2g
Trans Fat:

0g
Unsaturated Fat:

3g
Cholesterol:

70mg
Sodium:

185mg
Carbohydrates:

40g
Fiber:

2g
Sugar:

29g
Protein:

4g
Nutrition isn't always accurate.
—
If you love Brownies, I have so many more for you to enjoy. Check out these Epic Brownie Recipes.

Here are the participating bloggers in this round of Freaky Friday – visit them for more great recipes! A Dish Of Daily Life || A Kitchen Hoor's Adventures || An Affair from the Heart || Aunt Bee's Recipes || Belle of the Kitchen || Cooking on a Budget || Full Belly Sisters || Honey and Birch || LeMoine Family Kitchen || Pic-Nic || The Flavor Bender || The Foodie Affair || The Magical Slow Cooker || Who Needs A Cape || Wildflour's Cottage Kitchen
');