Pink Lemonade Cupcakes
As an Amazon Associate and member of other affiliate programs, I earn from qualifying purchases.
Girls Night with Make your Own Pizza and Pink Lemonade Cupcakes
My In-Laws live on a farm in Iowa and every summer they let the grand kids come and stay with them. One week all of the grandsons spend the weekend riding 4-wheelers and go carts, and fishing at a local farm pond. The girls week, they also love to ride the 4-wheelers, play with all of the kitties, and Grandma sometimes will take them golfing or to the local pool. The boys left this morning and will be gone for three days. So the girls are here, and decided to make their own fun! So, they declared the next two days "No Boys Allowed." They spent the day shopping and tonight they came to my house for dinner and a sleepover. My kid love when we have make your own pizza night! So, that's what we did.
I made up the dough, rolled out every one's own personal crust, and filled bowls with yummy pizza toppings. They decorated their own, and waited by the oven! We had pizza and a good salad with lettuces from my sister-in-law's garden.
homemade pizza and fresh green salad
For dessert I jumped at the chance to try a recipe that I read about on a blog that I LOVE!!
Visit Erica's Sweet Tooth for some fabulous recipes!!
I saw this recipe and couldn't wait to try it!! I LOVE LOVE LOVE anything lemon!!
So this morning, I made
Erica's Pink Lemonade Cupcakes with Lemonade Butter Cream Frosting.
From the first taste of batter, to the way the cupcakes baked so perfectly light and springy, then…then…. I tasted the frosting. I was in LOVE!!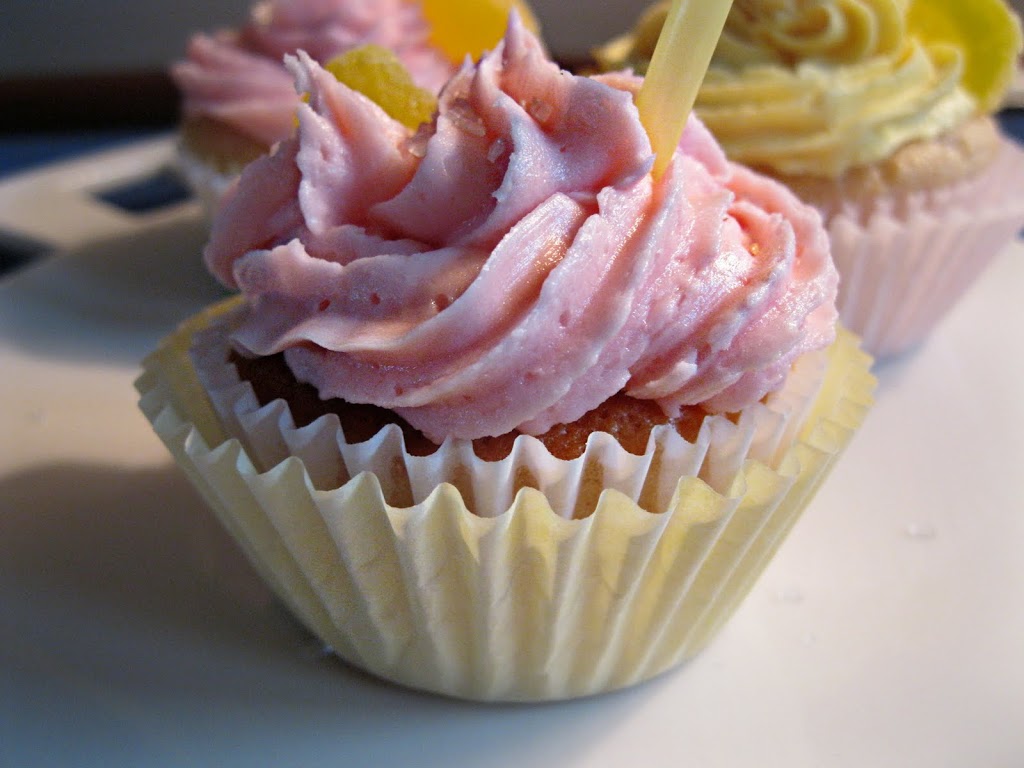 I made some of the cupcakes with pink frosting and some of them with yellow frosting. I found large gum drops and sliced them to add that sugar coated lemon slice to the side. Topped it with sugar crystals and a neon "bendy straw," and Viola! Treats perfect for a No Boys Allowed kind of night!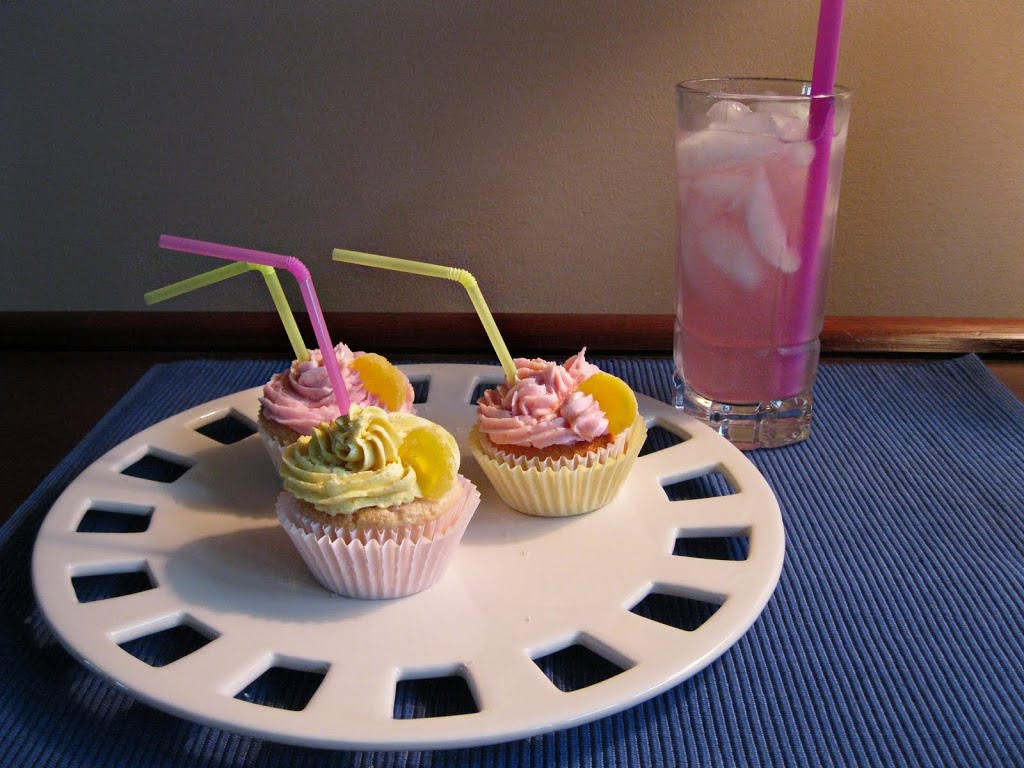 served with a cold glass of pink lemonade… tastes like summer
Pink Lemonade Cupcakes
Starting with a cake mix and frozen lemonade, these Pink Lemonade Cupcakes are easy to make and taste of pure lemony goodness!
Ingredients
For Pink Lemonade Cake:
1 box white cake mix
3/4 cup frozen pink lemonade concentrate
1/2 cup water
1/3 cup vegetable oil
4 egg whites
For Pink Lemonade Buttercream:
3 cups confectioners sugar
1 stick unsalted butter (room temperature)
2 tbsp frozen pink lemonade concentrate
Pinch of salt
food coloring
Instructions
Preheat oven to 350 degrees and line 24 muffins tins with liners
Combine all of the cake ingredients in your mixer and begin by mixing low for 30 seconds, then increase the speed to medium for 2 minutes.
Divide the batter evenly, filling the liners about 2/3 full
Bake cupcakes for about 20-25 minutes, or until cake tester comes out clean
Cool cupcakes before frosting.
For the frosting: Combine all ingredients in mixer fit with a paddle attachment and mix on low until combined.
Increase speed to medium-high and beat until frosting is light and to your desired consistency
Separate frosting in 2 bowls and color as you desire
(I doubled the buttercream recipe to pipe on lots of this delicious frosting!)
Now that dinner and dessert are done, we are off to watch 'Chick Flicks' and do facials!
Girls just know how to make Wednesday night FUN!