Tortellini with Pesto Salad….Looks Fancy…. but Shhhhh! Only 3 Ingredients!! ;)
As an Amazon Associate and member of other affiliate programs, I earn from qualifying purchases.
Need a quick and easy salad for a picnic this weekend? Want to look like you made something gourmet? This recipe looks fancy and yet… only two ingredients…three if you sprinkle cheese on top!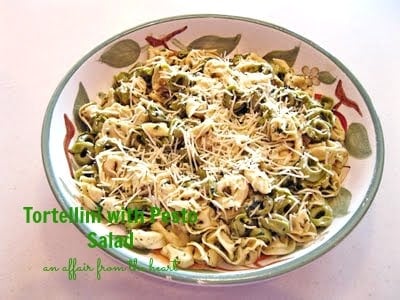 tortellini with pesto
All you need are two or three ingredients! I love to buy the pasta in the refrigerated section. It, to me, tastes so much fresher. I buy Buitoni Brand. I like the package that has the regular pasta noodles as well as the spinach ones. The three cheese are yummy! Then they have a ready made pesto. (This also ROCKS on homemade pizza!!)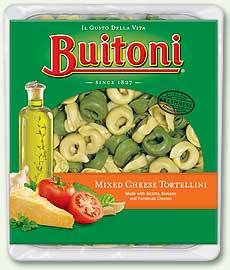 and
Cook the pasta like the package directions tell you, and then spoon on the pesto. It's really to your liking, use as much or as little as your taste buds demand! Sprinkle with some fresh Parmesan cheese and Viola! Tortellini Pesto Salad!
I also make this hot, and serve it as a quick easy side for dinner! Hint…left over salad? Add a little olive oil and zap it in the microwave… Instant side… add a little grilled chicken and it's dinner!
Enjoy!!