Broccoli Stuffed Mushrooms
As an Amazon Associate and member of other affiliate programs, I earn from qualifying purchases.
Mmm, this recipe for Broccoli Stuffed Mushrooms is not only delicious, but I'll go as far as saying it's the best! Fresh earthy mushroom caps are stuffed with chopped broccoli and savory Parmesan cheese, baked until perfect, and ready to be served for Christmas, New Year's Eve, and any other occasion!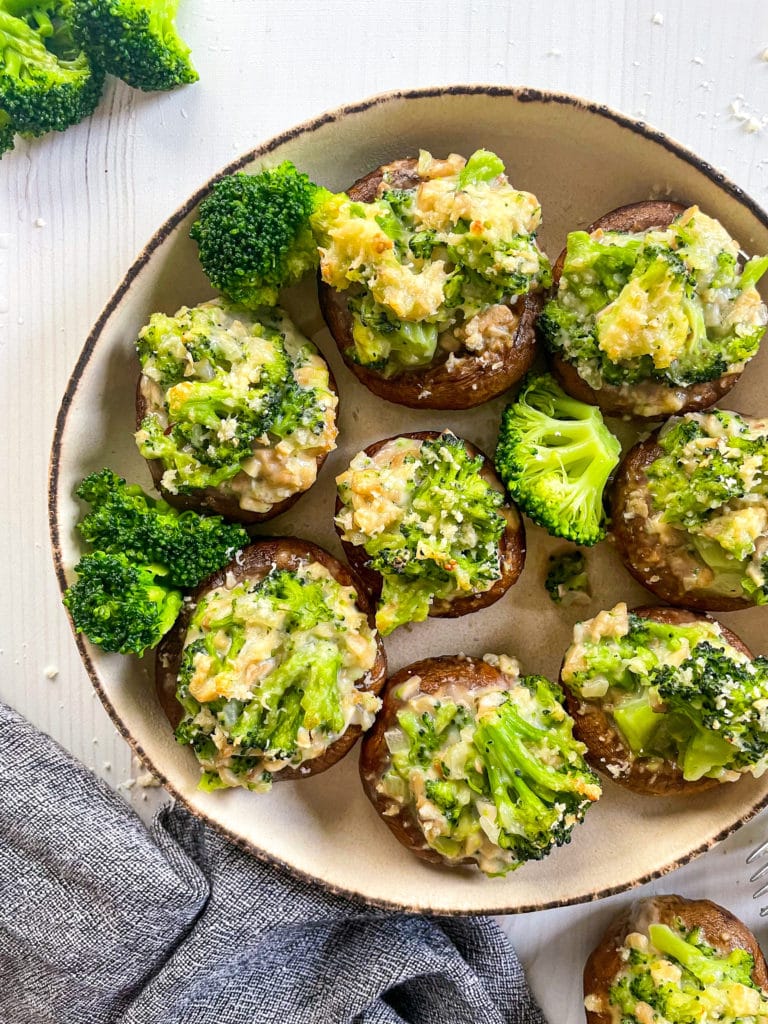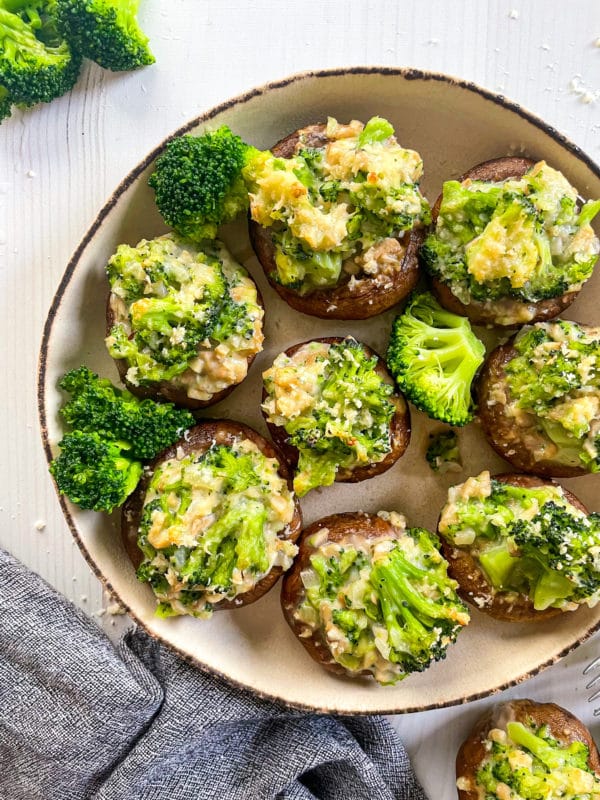 Every Christmas Eve, my Mom makes these Broccoli Stuffed Mushrooms appetizers. On the way to her house on Thanksgiving, one of my kids always asks "Is this the holiday that Grandma makes those mushrooms?!?!"
They are one of my most favorite parts of Christmas Eve dinner, and my Mom makes them only once a year. The first time that I posted this recipe, was back in 2011. Every photo I had of the mushrooms was on a cookie sheet right from the oven, taken on Christmas Eve at my mom's house.
You see, we are known to snatch them directly from the cookie sheet before the oven door is even closed, doing that whole weird mouth breathing that one does when they pop something blistering hot into their mouth? So taking pretty photos of them when she made them risked not getting your share of mushrooms when they were ready.
So this year, these mushrooms got photos that did them justice. They were picture-perfect and ready for their close-up. And yes — still incredibly delicious even when we had to wait to eat them.
EASY RECIPE FOR VEGETARIAN STUFFED MUSHROOMS
What are your favorite appetizers to enjoy in front of the tv with good company, tasty flavors, and fun in the air? For me, I just LOVE these broccoli stuffed mushrooms. The tender mushroom caps are the perfect vessels to hold a cheesy buttery filling with onion, and this appetizer recipe is so good, everyone will be asking for more so make sure you bake plenty!
Easy-baked stuffed mushrooms are quick, stress-free, and a great recipe for whenever you want to indulge in tasty finger foods without a lot of work. I love to prep this stuffed mushroom recipe ahead of time and just pop it in the oven whenever the moment comes to enjoy them.
As these mushroom caps bake, you and the family will fall in love with the yummy cheesy aromas! The broccoli and cheese are baked until piping hot which gives these mushrooms even more flavor and delicious notes that everyone will love.
Speaking of tasty appetizers, I have some favorites that I love to prepare with these mushrooms. Cook a bunch of different appetizers and finger foods like pickled beet hummus, jalapeño popper dip, and slow cooker crab dip for any time want to relax with your favorite crackers and comforting flavors.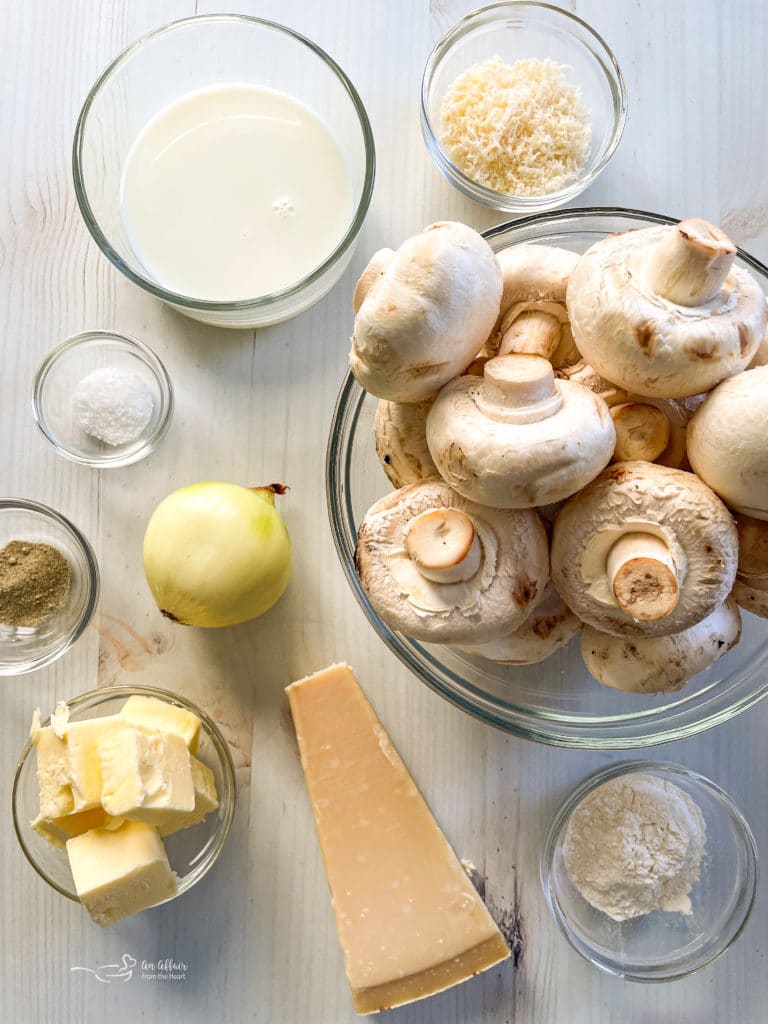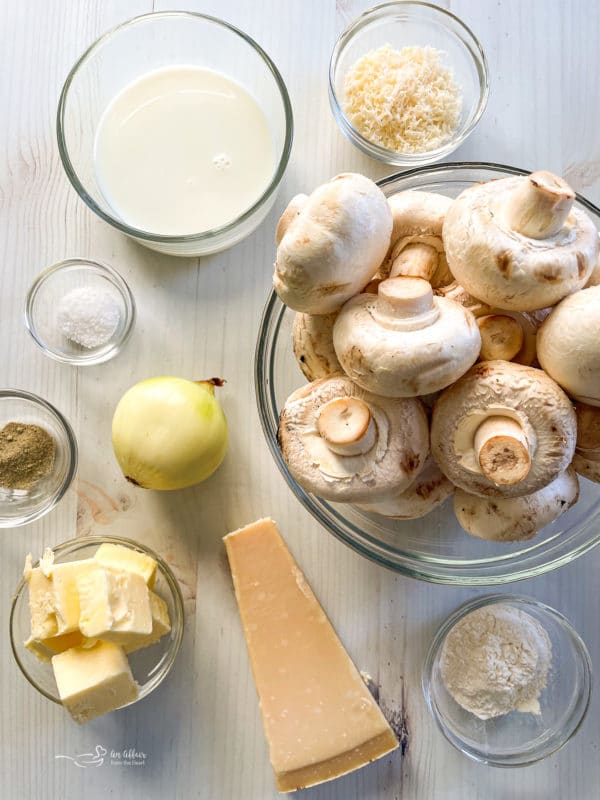 INGREDIENTS FOR MUSHROOM CAPS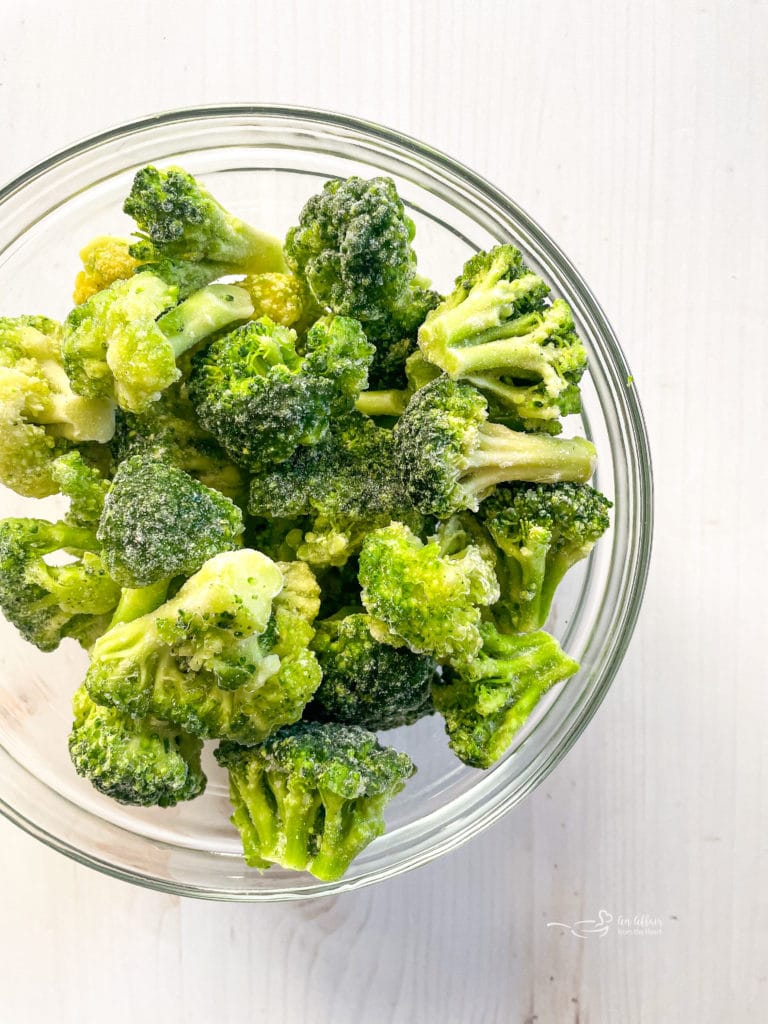 Mushrooms: We use white mushrooms for this recipe, but feel free to use any kind of small mushrooms like portobello or button.
Onion: One white onion is diced and adds enough savoriness to the filling which makes these stuffed mushrooms even more delicious.
Butter: You can use either butter or margarine for this recipe. Both work!
Flour: All-purpose flour is used to thicken the filling a bit and can be substituted with corn starch if needed.
Seasoning: Just a simple blend of salt and black pepper. That's it! The flavors from the foods shine in this recipe.
Milk: A little bit of milk makes the filling a perfect consistency and mixes everything together.
Broccoli: Freshly chopped broccoli is delicious with these mushrooms. Make sure you chop the broccoli small enough! You can use frozen broccoli for these mushrooms, but be sure the broccoli has defrosted prior to using it.
Cheese: Shredded Parmesan cheese is sprinkled over these mushrooms and gives them nice cheesy flavors. You can use either grated or shredded cheese.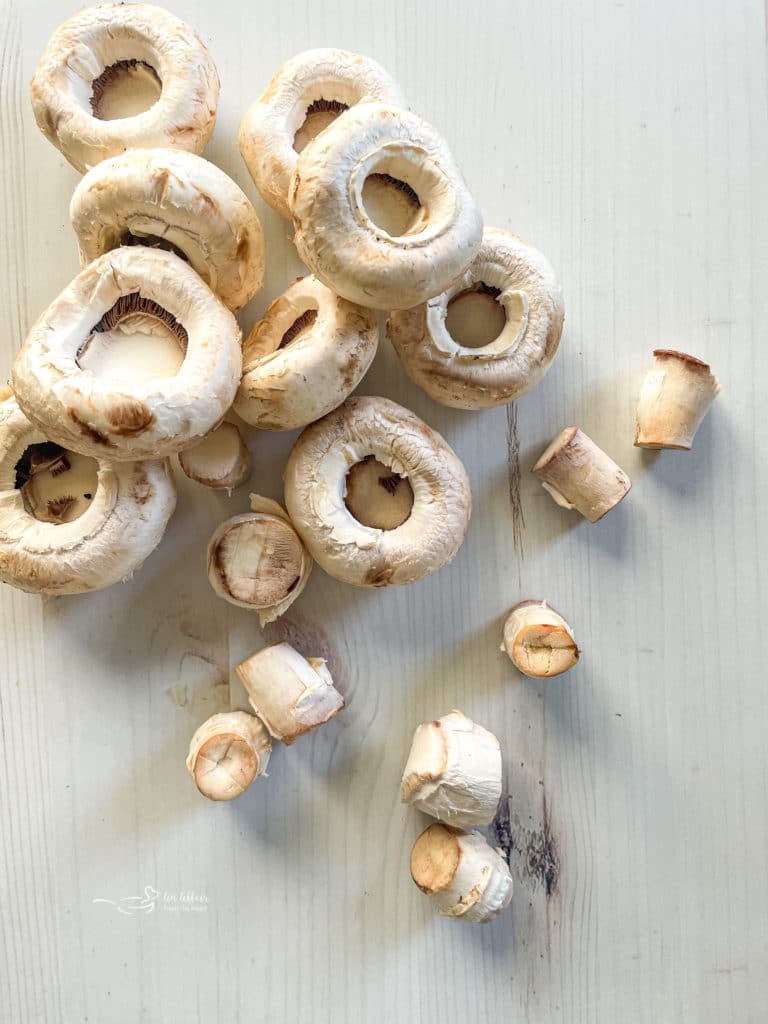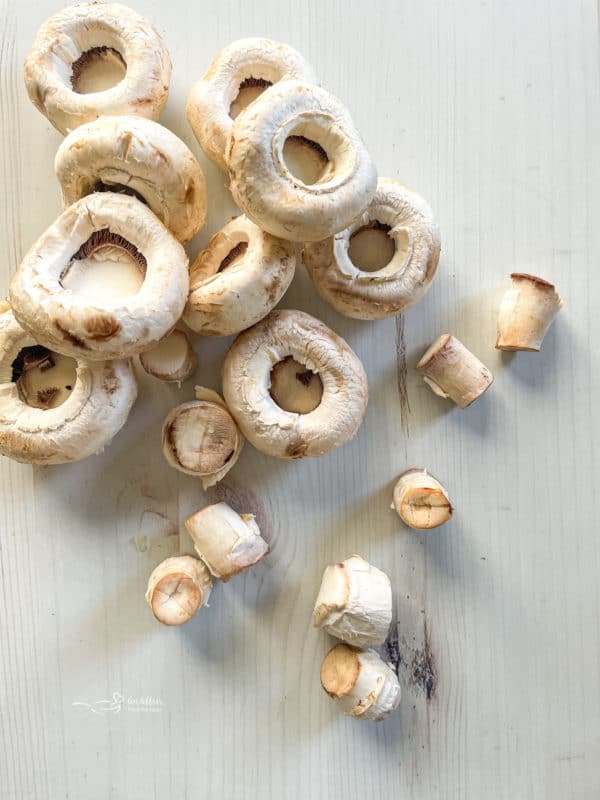 HOW DO YOU CLEAN MUSHROOMS FOR STUFFING?
There are many options for cleaning fresh mushrooms! First, make sure all of the dirt is removed from the mushrooms by either spraying them underneath water in the kitchen sink or gently rubbing the dirt off the mushrooms with a towel. Be sure to dry the mushrooms after rinsing with water.
Next, you will want to make sure to carefully twist off the stems of each mushroom cap. In this case, you will save the stems for the filling in this recipe.
After the stems have been removed, gently scrape the gills off the insides of the mushrooms with a spoon until there are no more gills left. The mushrooms are ready to be stuffed!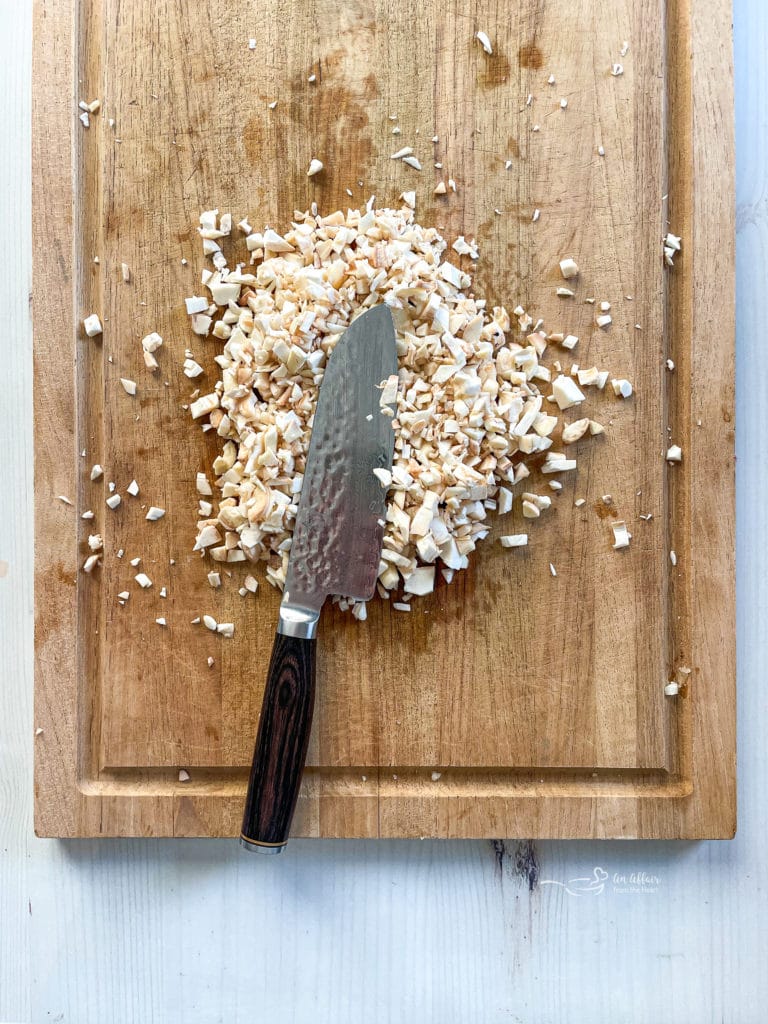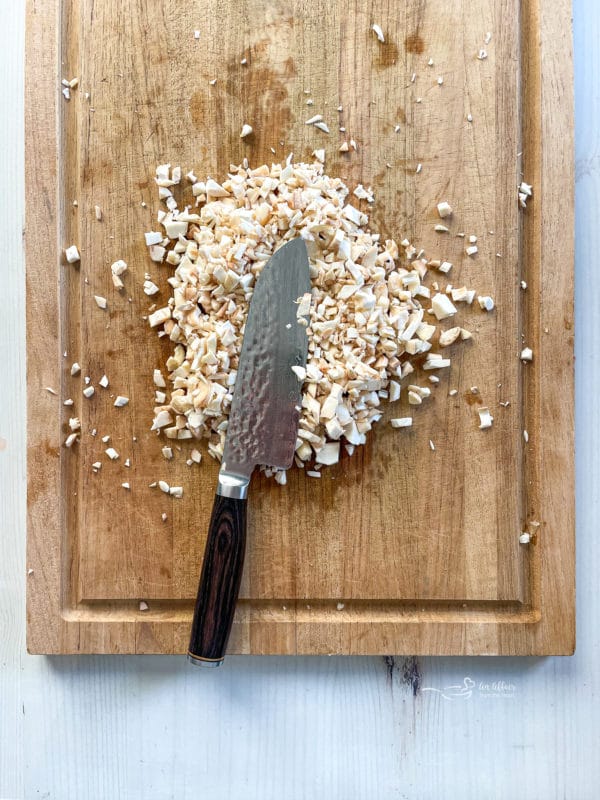 HOW TO MAKE AND COOK STUFFED MUSHROOMS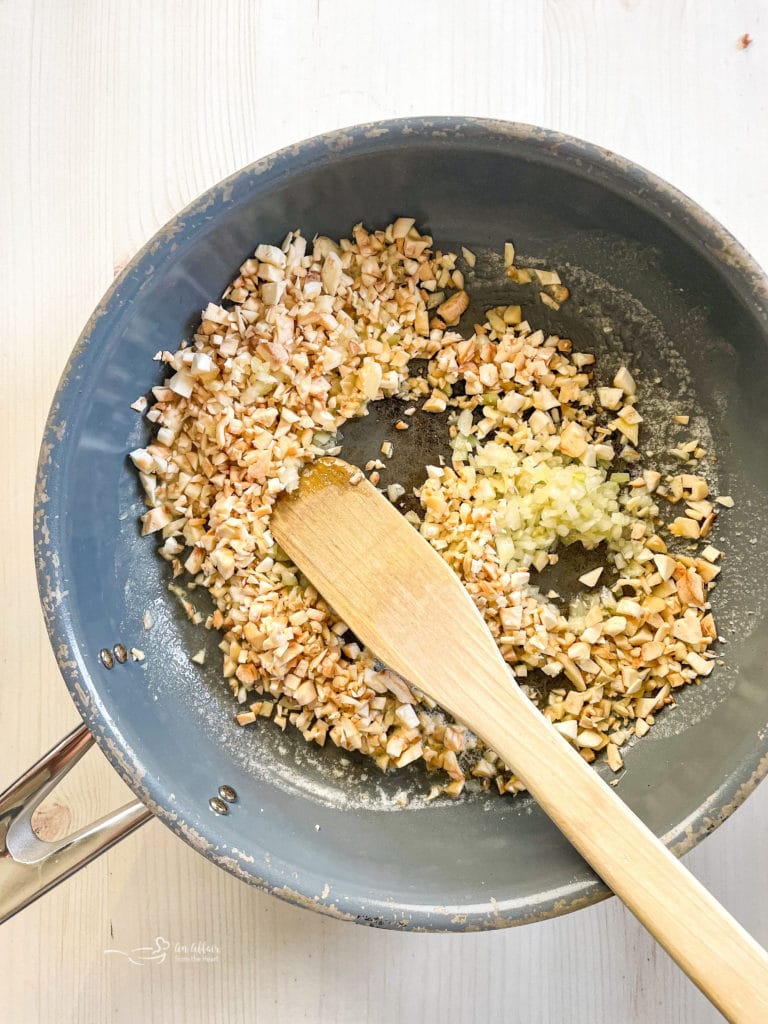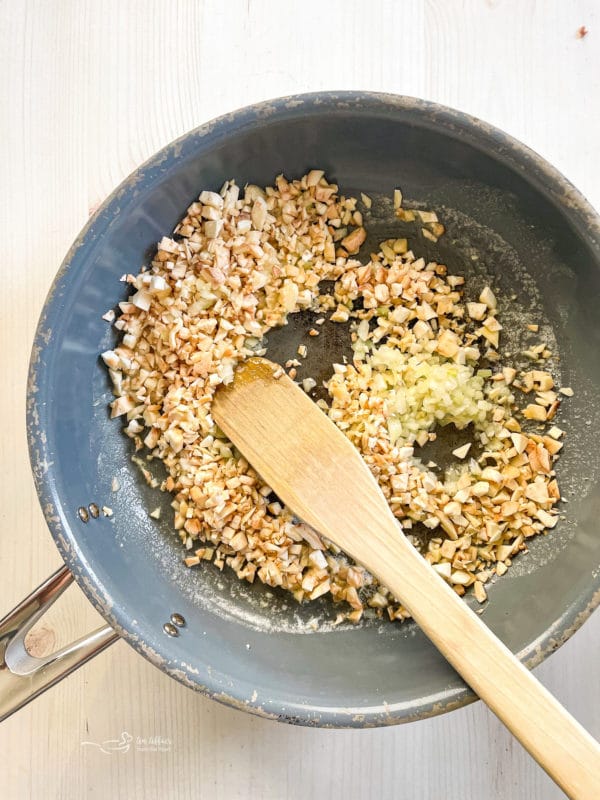 SAUTÉ MUSHROOM STEMS
First, clean the mushrooms and remove the stems. I have found that using a strawberry huller makes this step super easy!
Next, sauté the mushroom stems in a frying pan or skillet with three tablespoons of butter and diced onion for about three minutes. Reduce the heat and add flour, salt, and pepper.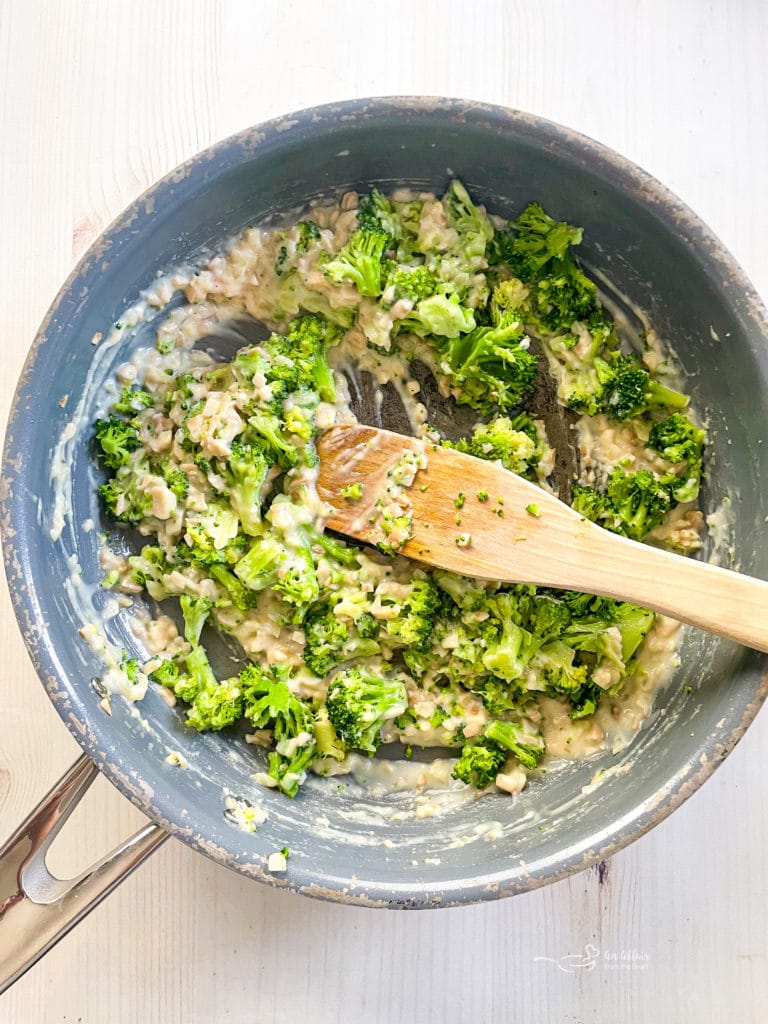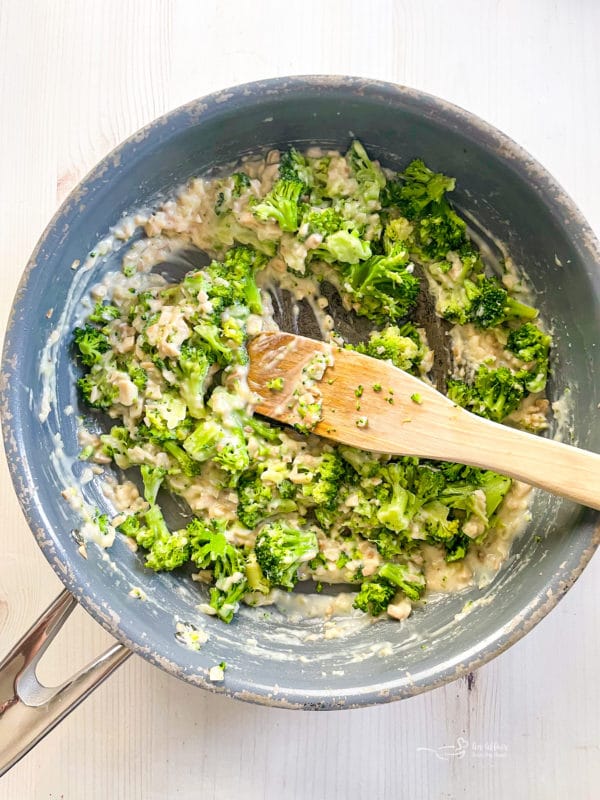 ADD BROCCOLI
Slowly, add the milk to the pan, mix, and simmer until thickened. Add the chopped broccoli and cook until heated.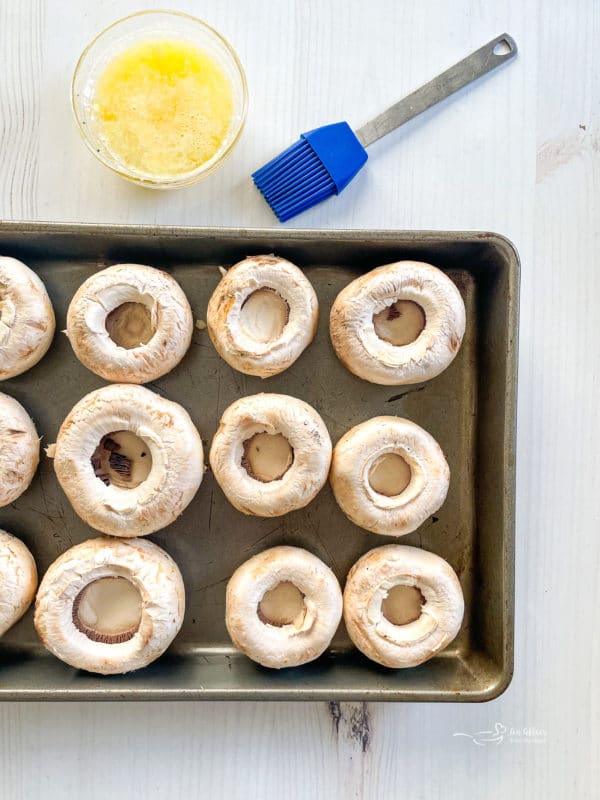 STUFF THE MUSHROOMS AND BAKE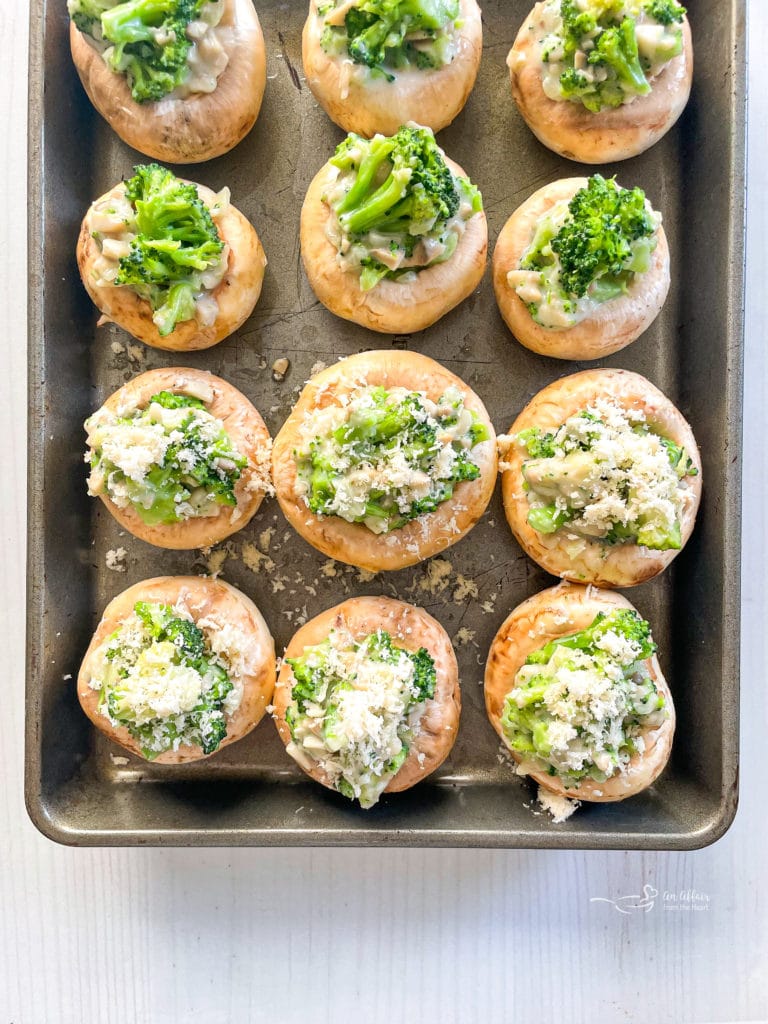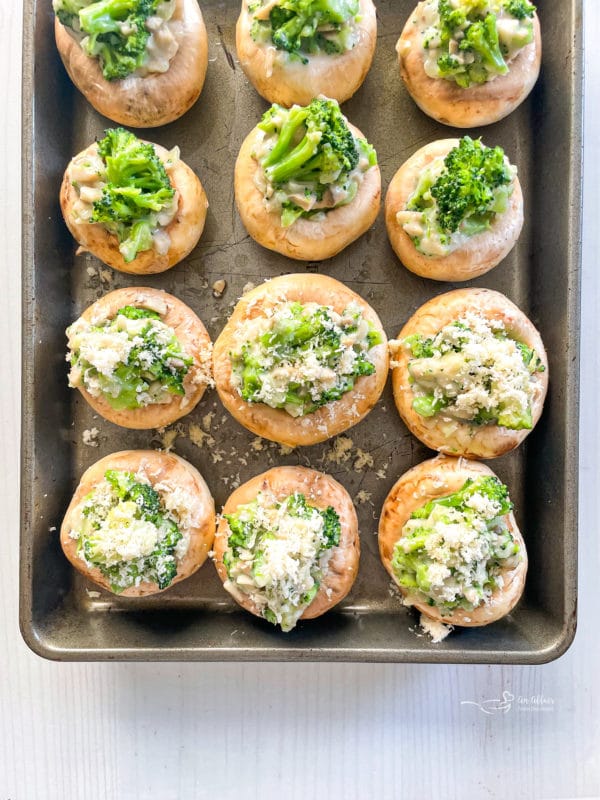 Brush the insides and outsides of the mushrooms with the remaining melted butter. Evenly fill the mushrooms with the vegetable mixture, then sprinkle each stuffed mushroom with cheese.
Place the mushrooms on a baking pan and bake in a preheated oven at 375 degrees Fahrenheit or until they are hot and soft.
Enjoy these broccoli stuffed mushrooms whenever you need something healthier than most comfort recipes!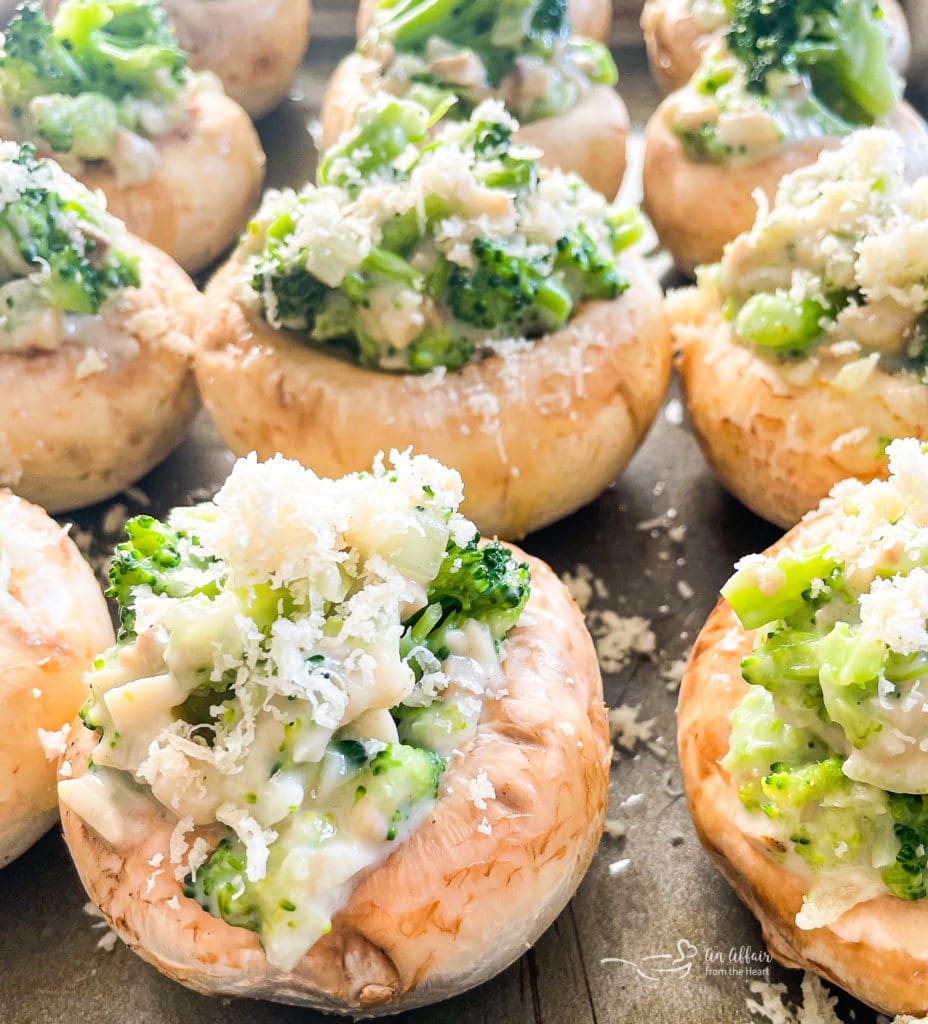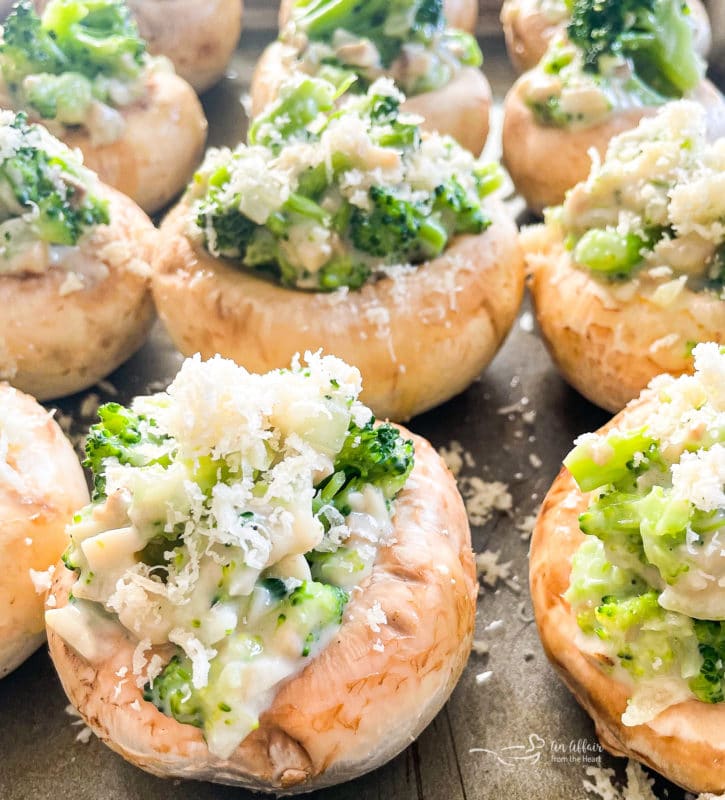 WHY ARE MY STUFFED MUSHROOMS WATERY?
If the mushrooms get watery while they cook, then that means they contain a lot of moisture! Be sure to fully dry them after rinsing with water.
HOW DO YOU KEEP STUFFED MUSHROOMS FROM GETTING SOGGY?
Be sure to avoid rinsing or soaking the mushrooms with too much water and be sure to bake them in the oven at a high enough temperature.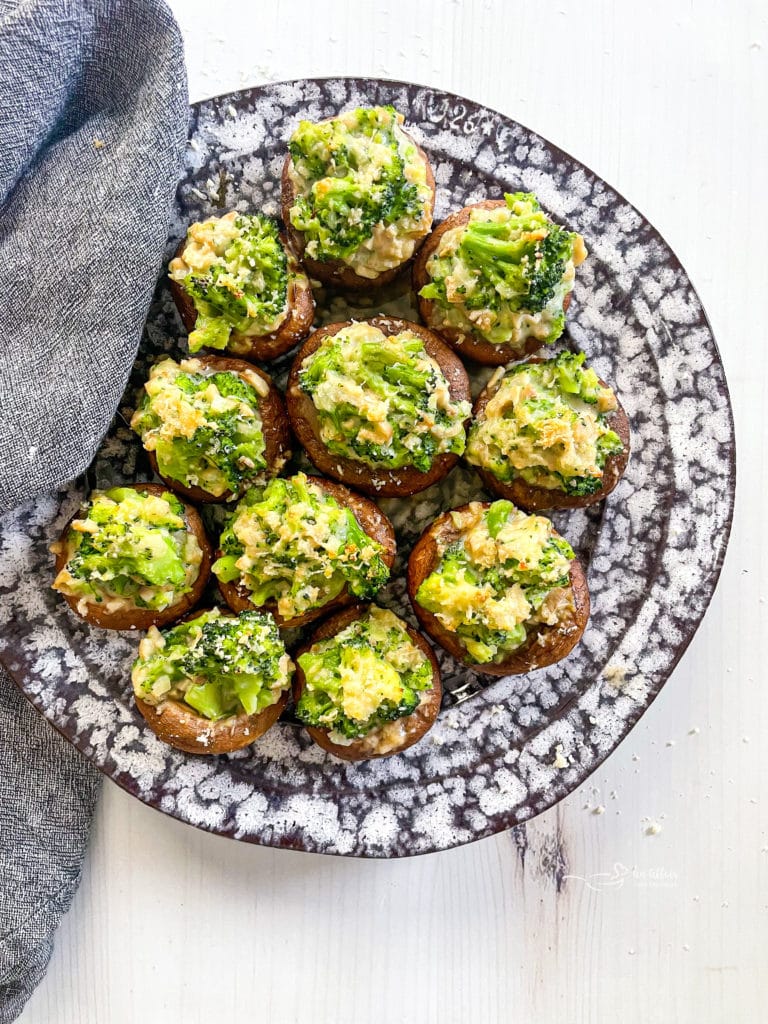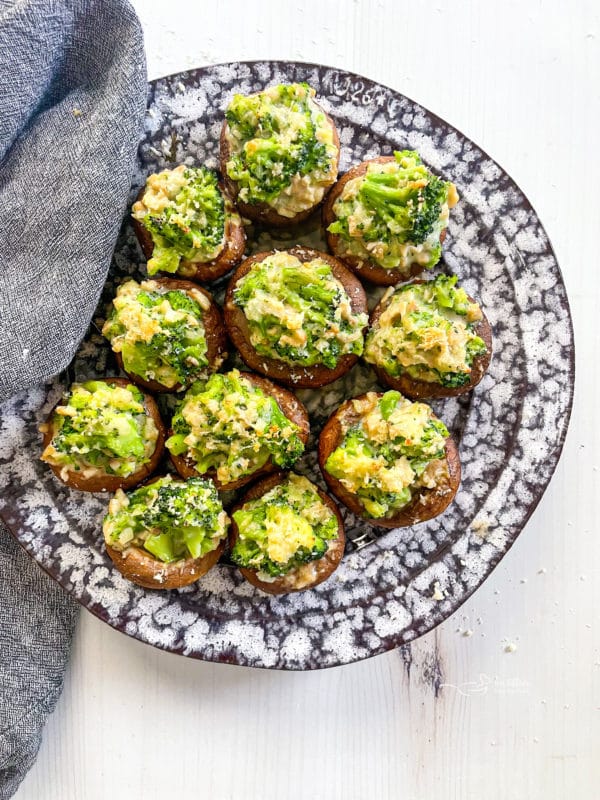 VARIATIONS
There are so many lovely ways to enjoy these stuffed mushroom caps. Here are some ideas:
Shrimp stuffed mushrooms: Cook some shrimp up with butter and seasoning and dice it into small pieces. Stuff the mushrooms with the cooked shrimp and bake!
Spinach stuffed mushrooms: Use some chopped spinach to put in the filling of the mushrooms and top with cheese. Spinach and cheese are delicious together!
Add meat: Add some cooked chicken, beef, crab, or sausage to these stuffed mushrooms! Mmm, a great way to make these mushrooms extra filling, too.
Vegetarian mushrooms: For more veggie options, you can use any kind of vegetable such as squash, potatoes, kale, peppers, carrots, etc.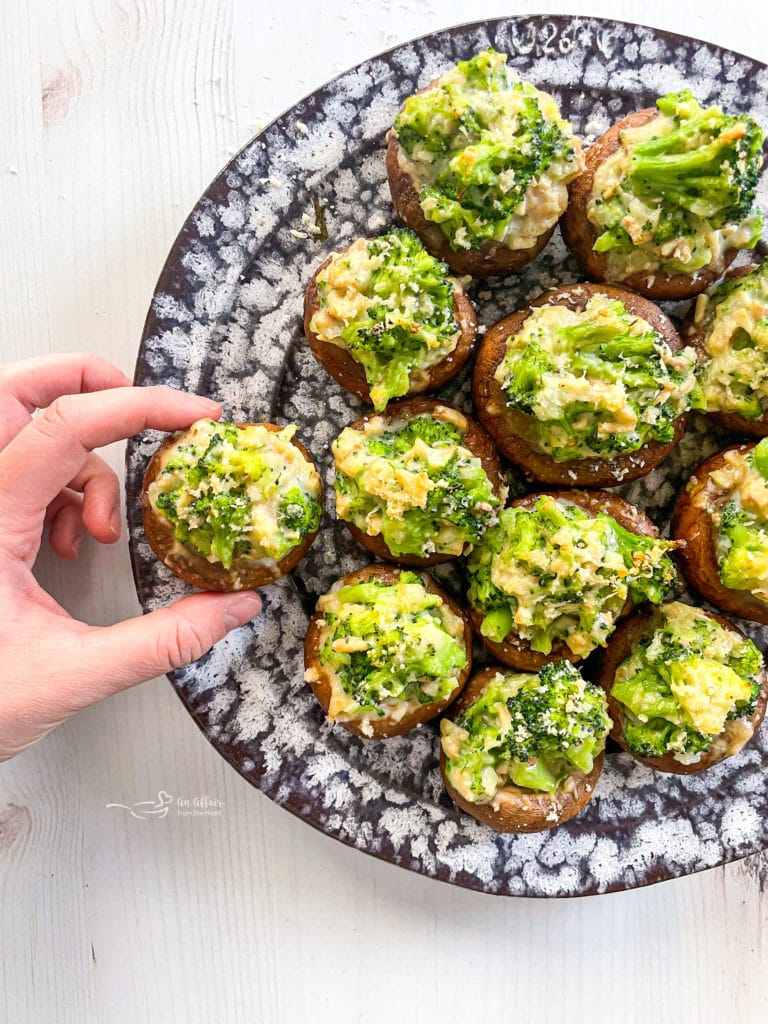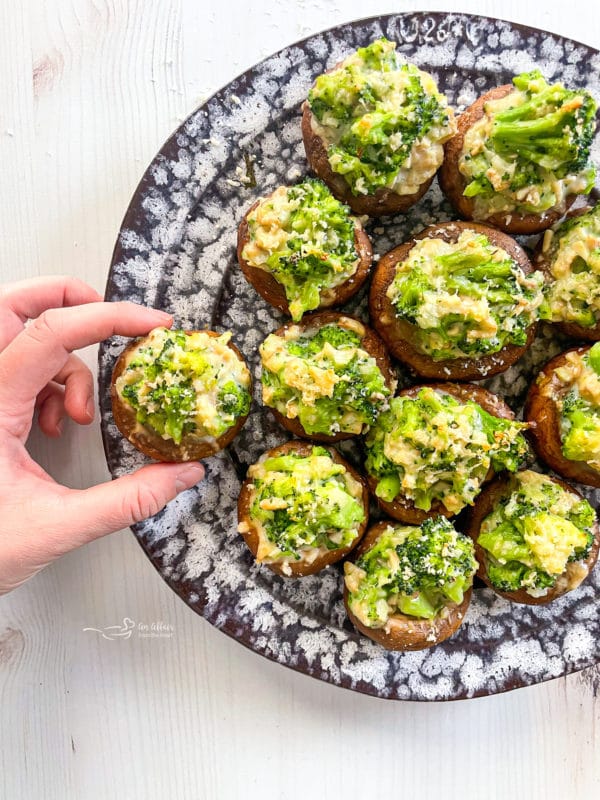 TIPS
Store the leftover mushrooms in an airtight container in the refrigerator for up to two days. I suggest eating these mushrooms right away for the best flavors!
You can use bigger mushroom caps if you would like. You will just need more ingredients for the fillings and you'll want to serve them with a fork and knife.
For vegan mushrooms, omit the cheese or use dairy-free cheese.
Any kind of cheese will work. Instead of Parmesan, you can use any kind of cheddar or even pepper jack.
Keep the mushrooms warm while serving in a chafing dish. The longer the mushrooms sit, the watery they will get.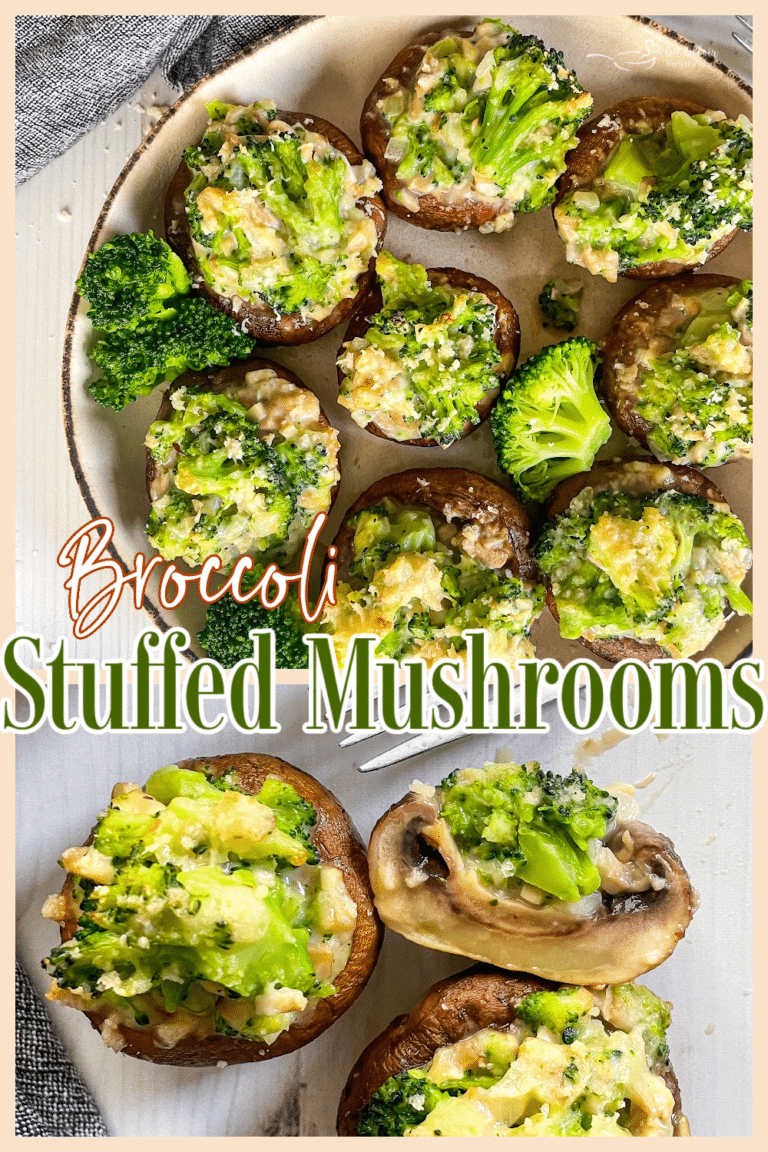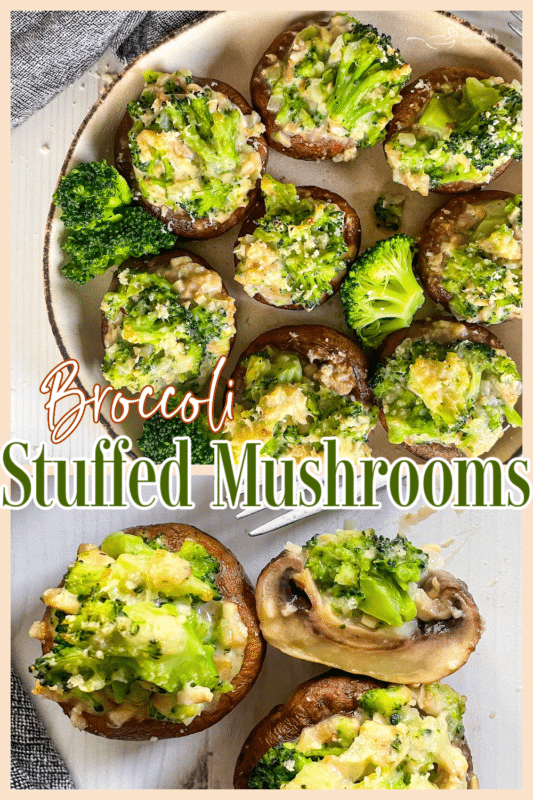 LOVE IT? PIN THIS RECIPE FOR BAKED STUFFED MUSHROOMS!
Save this easy appetizer or snack recipe for the next holiday or party! Be sure to save these mushroom caps to your favorite food boards on Pinterest to have for later!
ENJOY THIS RECIPE? YOU WILL LOVE THESE OTHER RECIPES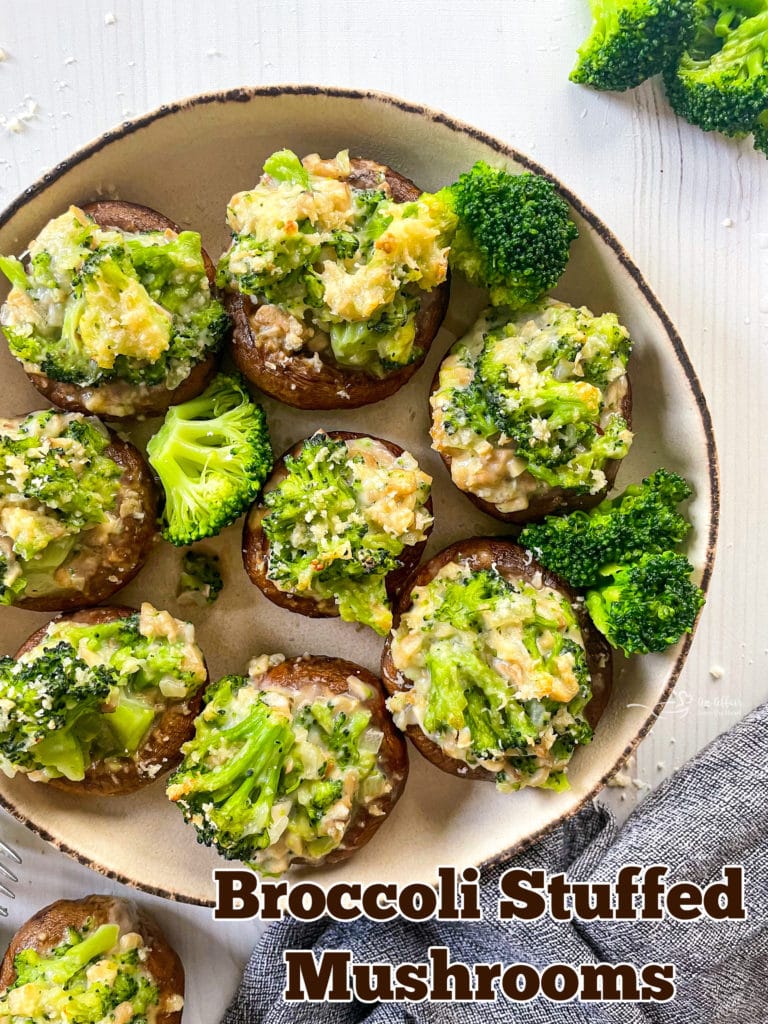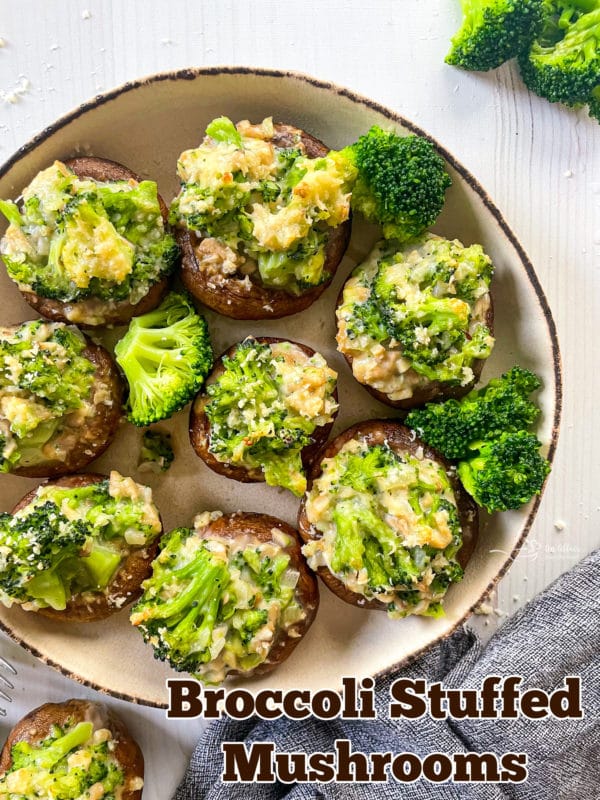 Let's bake up some broccoli stuffed mushrooms!!

Yield: 12 mushrooms
Broccoli Stuffed Mushrooms - One of my MOST FAVORITE appetizers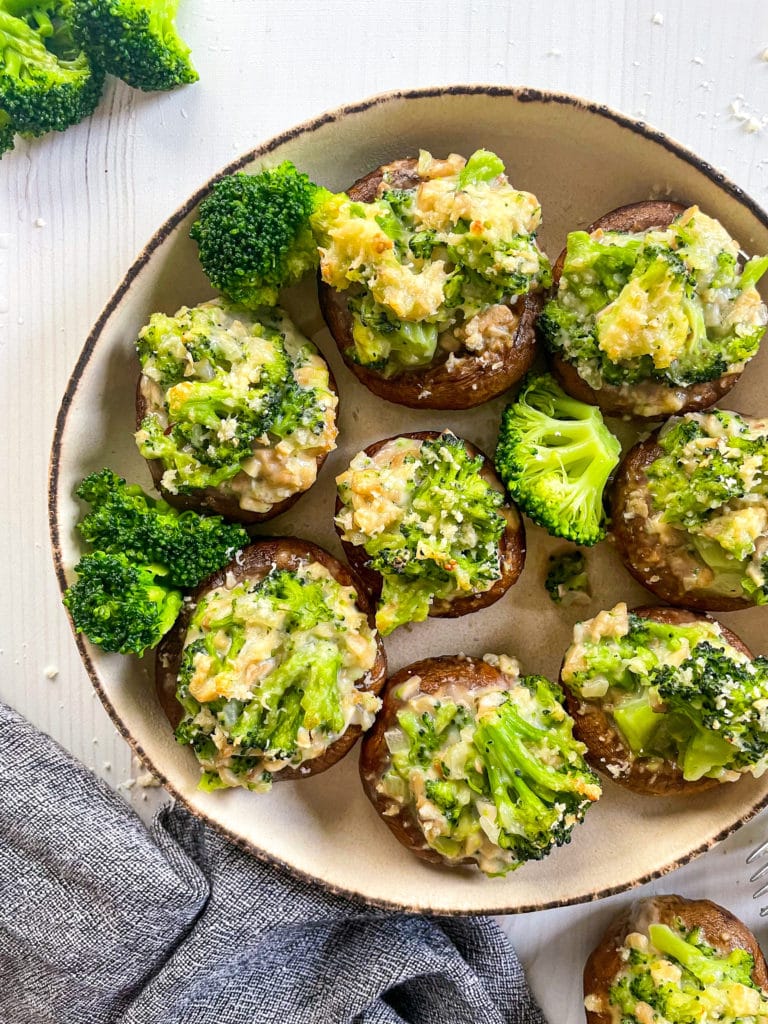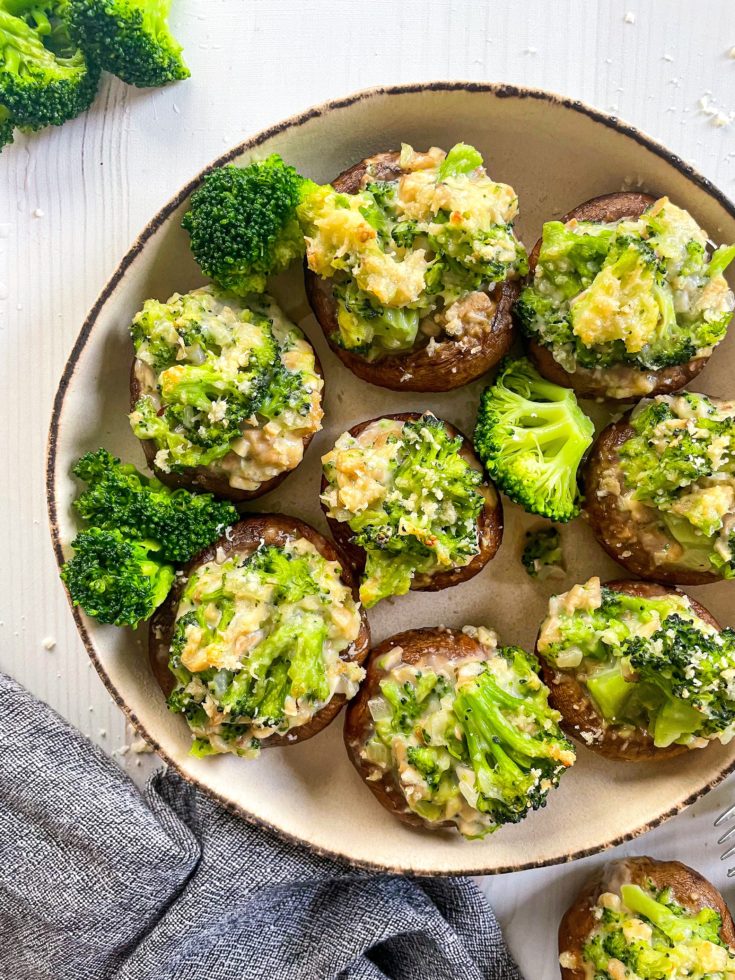 Mmm, this recipe for Broccoli Stuffed Mushrooms is not only delicious, but I'll go as far as saying it's the best! Fresh earthy mushroom caps are stuffed with chopped broccoli and savory Parmesan cheese, baked until perfect, and ready to be served for Christmas, New Year's Eve, and any other occasion!
Ingredients
12 large mushrooms, we use white
1 very small onion, minced
6 Tablespoons butter or margarine
2 Tablespoons Flour
3/4 teaspoons salt
dash of white pepper
2/3 cup milk
1 pkg (10 oz size) chopped frozen broccoli, blanched and drained
2 Tablespoons finely shredded Parmesan cheese
Instructions
Remove stems from mushrooms and chop. (I have found that a strawberry huller works GREAT for this step!)
Quickly saute chopped mushroom stems with onion in 3 T of butter in a frying pan. About 2-3 minutes. Reduce heat and stir in flour, salt and pepper. Gradually add in milk and continue to cook, stirring constantly until thickened. Add broccoli and heat thoroughly.
Melt remaining butter and brush the inside and outside of mushrooms caps. Fill each mushroom with an equal amount of vegetable mixture and sprinkle with Parmesan cheese.
Bake stuffed mushrooms on a cookie sheet at 375 degrees for 15 minutes, or until hot.
Serve immediately.
Notes
I love to prepare them the day before and bake them when I am ready to serve them. I have put them in a chafing dish to keep them warm, but they tend to get a little watery. It's really just best to bake them in the oven and serve them immediately.
Store any leftovers in the fridge for up to 2 days.
Recommended Products
As an Amazon Associate and member of other affiliate programs, I earn from qualifying purchases.
Nutrition Information:
Yield:
12
Serving Size:
1
Amount Per Serving:
Calories:

76
Total Fat:

6g
Saturated Fat:

4g
Trans Fat:

0g
Unsaturated Fat:

2g
Cholesterol:

17mg
Sodium:

200mg
Carbohydrates:

4g
Fiber:

1g
Sugar:

1g
Protein:

2g
Nutrition isn't always accurate.
This recipe was originally posted on December 29, 2011. It has been updated to improve user experience and reshared on December 21, 2021.