Baby Bella Mushrooms stuffed with a mixture of Surimi seafood, vegetables and spices, baked up and served warm. These make a delicious and sophisticated appetizer.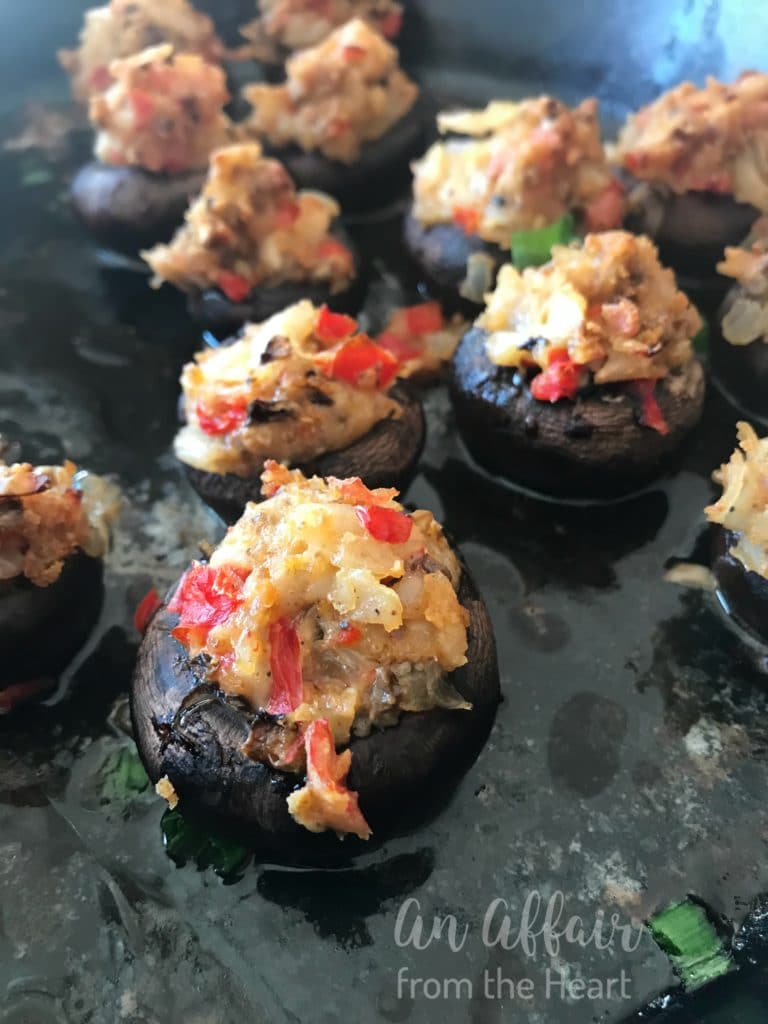 This is a sponsored conversation written by me on behalf of Simply Surimi Seafood, but the opinions are all my own. Thank you for supporting the companies and products that make An Affair from the Heart possible.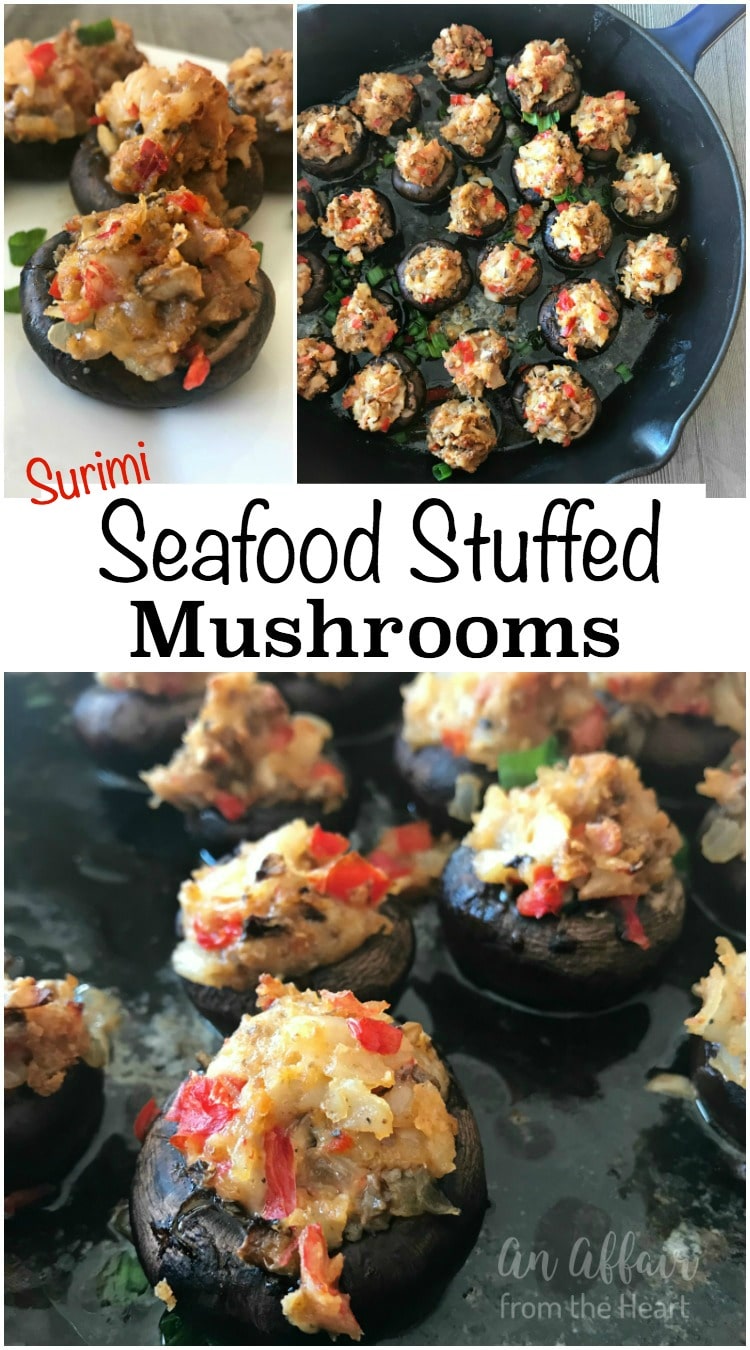 The season of entertaining is upon us. Time for family gatherings and parties with friends. It's the season of the hors d'oeuvre.
hors d'oeuvres
noun, plural hors d'oeuvre, hors d'oeuvres
[awr durvz; French awr dœ-vruh] (Show IPA)
1. a small bit of appetizing food, as spicy meat, fish, cheese, or a preparation of chopped or creamed foods, often served on crackers or small pieces of toast, for eating at cocktail parties or other
gatherings where drinks are served with no other food.
2. an appetizer, as a relish or more elaborate preparation, served before or as the first course of a meal.
Origin of hors d'oeuvre 1705-1715< French: outside of the main course (dictionary.com)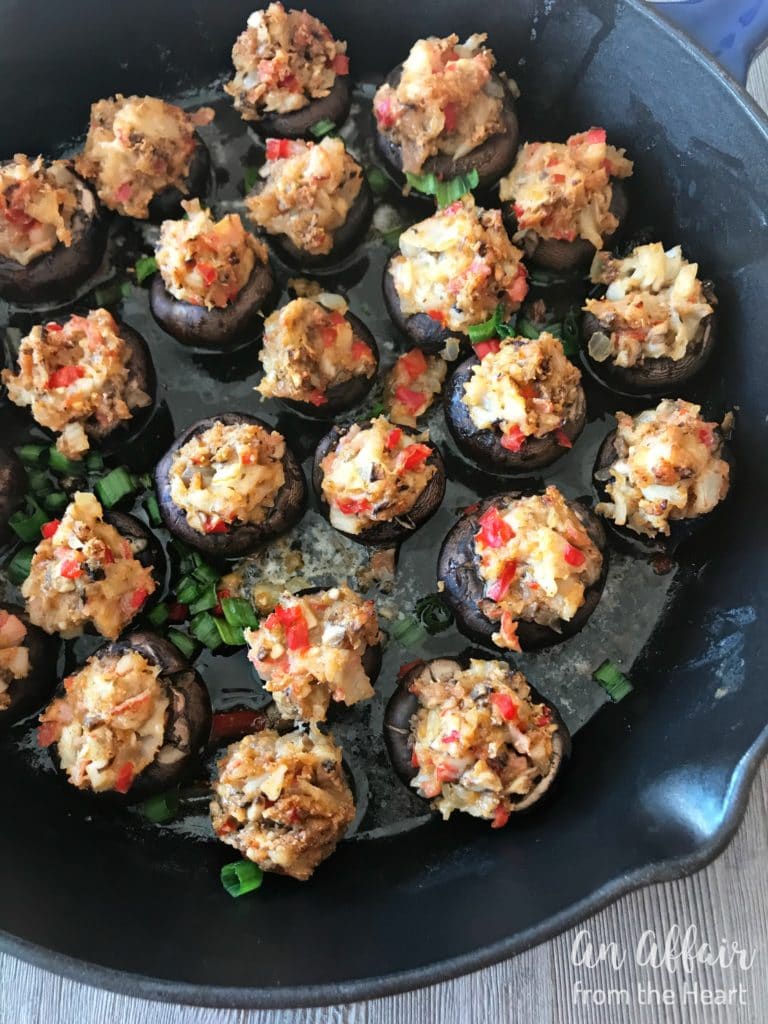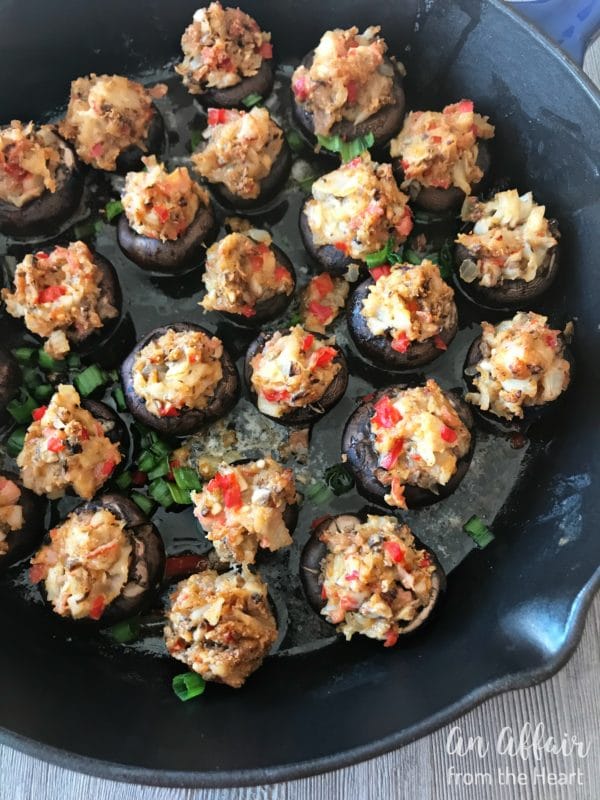 These Surimi Seafood Stuffed Mushrooms are a delight to the senses. Colorful, full of flavor and aromatic. I made them last weekend, and when my Mom walked into my house, taking a big deep breath in she asked
"WHAT are you making? It smells so good!"
When I told her I had the opportunity to develop a recipe for
Simply Surimi
her ears perked up and she asked what I was making.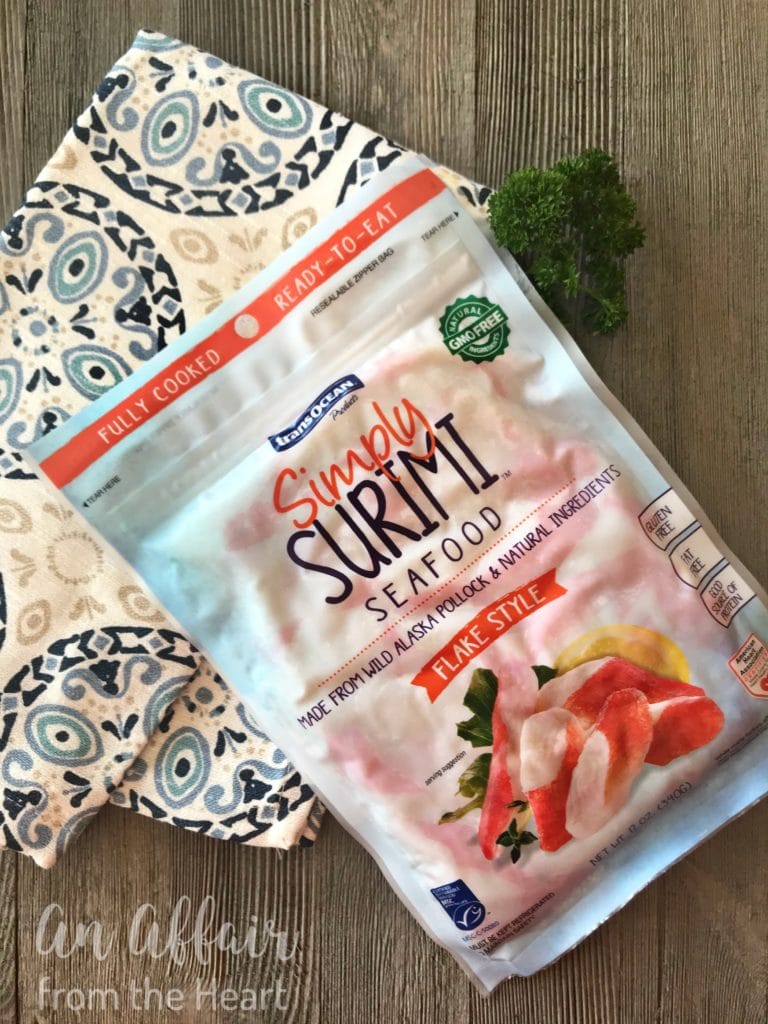 October is National Seafood Month
Simply Surimi
, a breakthrough new surimi seafood product made using no GMOs, added phosphates, artificial colors or flavors. This great-tasting seafood is certified gluten-free and certified sustainable by MSC and heart healthy by the American Heart Association. It's perfect when you are making naturally fresh and delicious seafood salads, snacks and hot dishes.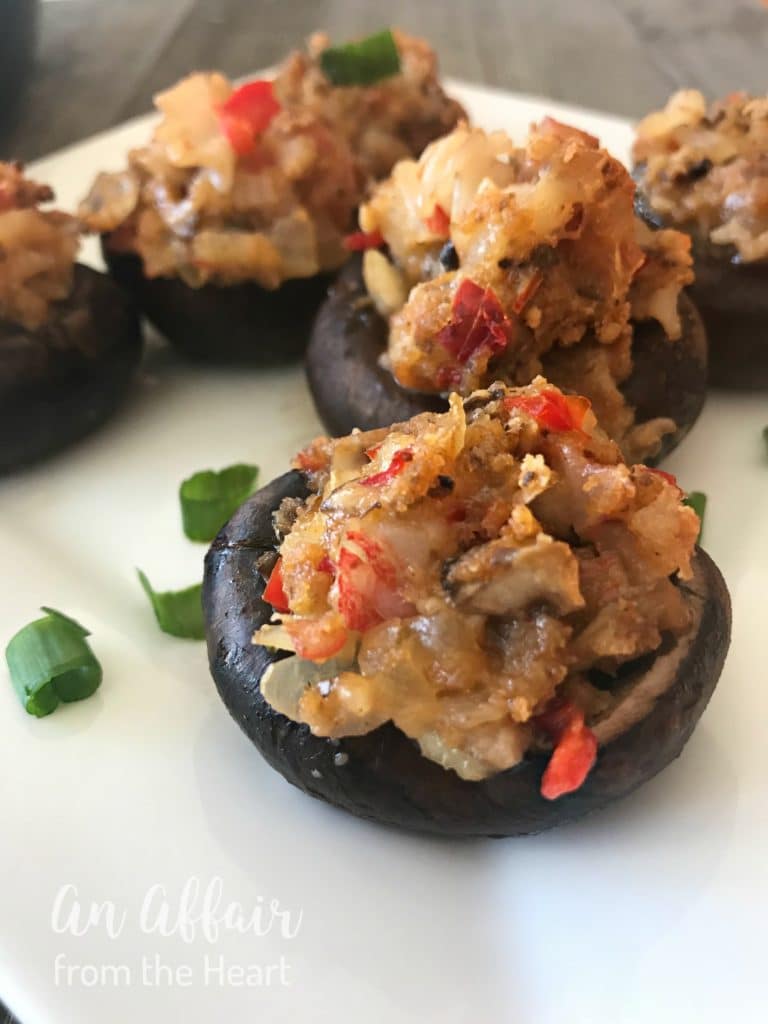 Initially I thought about a seafood bisque, but then my mind went toward appetizers, and it got stuck on mushrooms. Stuffed mushrooms. It's no secret how much I love to cook with
mushrooms
. Out of the six of us, I had one child that didn't particularly care for them, my oldest. He has skillfully picked them out of his food for his almost 23 years of life. Until a little while ago when he got the "try them you might like them" talk again … now I have another mushroom eater in the family. As we grow up, our tastes change, too. My mom makes these
broccoli stuffed mushrooms
every year on Christmas Eve, and it's like a race to the plate when they come out of the oven. I thought it would be fun to have another option. A seafood option.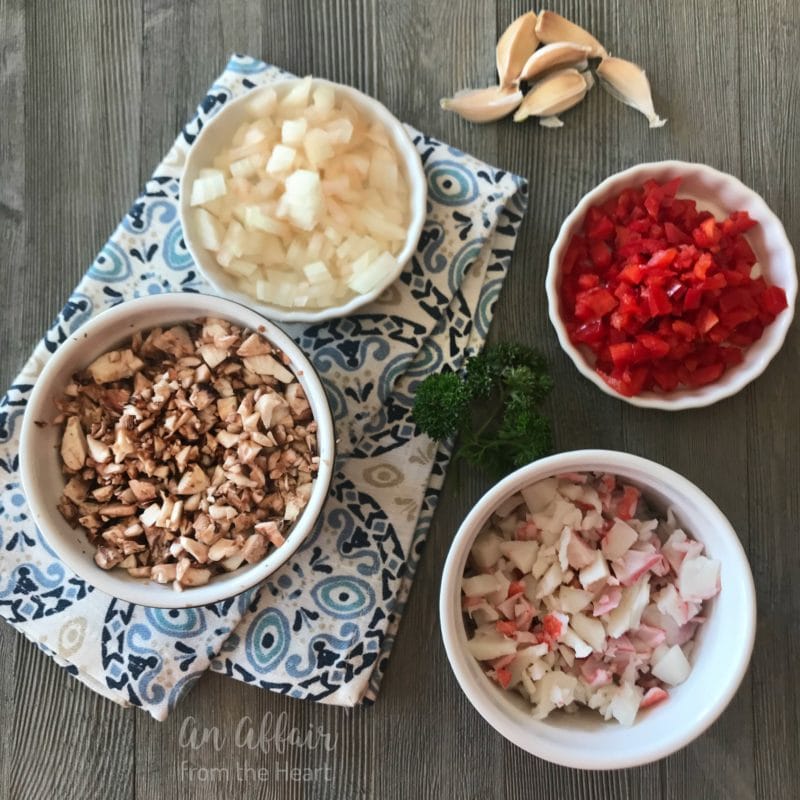 There is a little prep to these little beauties, but once they are prepped you can either bake them and eat them, or stash them in the fridge until you are ready for them. I used Baby Bella Mushrooms, but if you prefer, you could use white mushrooms, too. Cut the stems off and hollow out the mushroom. I used my strawberry huller. Chop up the stems and middles, set aside. Chop up the Surimi seafood some red or orange bell pepper, and a little sweet onion.
Add some butter to your cast iron skillet, and over medium heat, saute onion and pepper for about 5 minutes, add in garlic and mushrooms and continue to cook until onions are translucent. Add in your
Surimi Seafood
, sprinkle with Old Bay Seasoning and a little salt and pepper. Give it a good stir, and remove it from the heat. Stir in the bread crumbs and smoked gouda cheese.
Scoop the filling into a bowl and give the skillet a quick wipe with a paper towel, you will be using it again.
Scoop the filling into the mushrooms and fill the hollowed out part, leaving a little mound of stuffing on top. Place the stuffed 'shrooms back into the skillet. Divide bits of butter throughout the pan.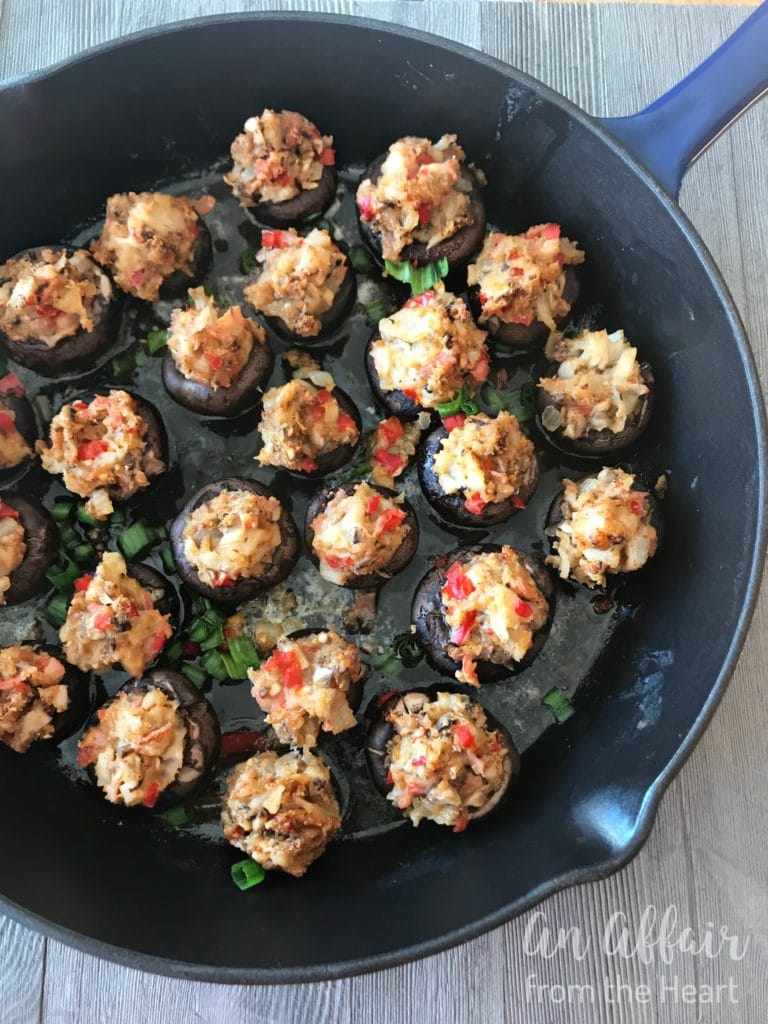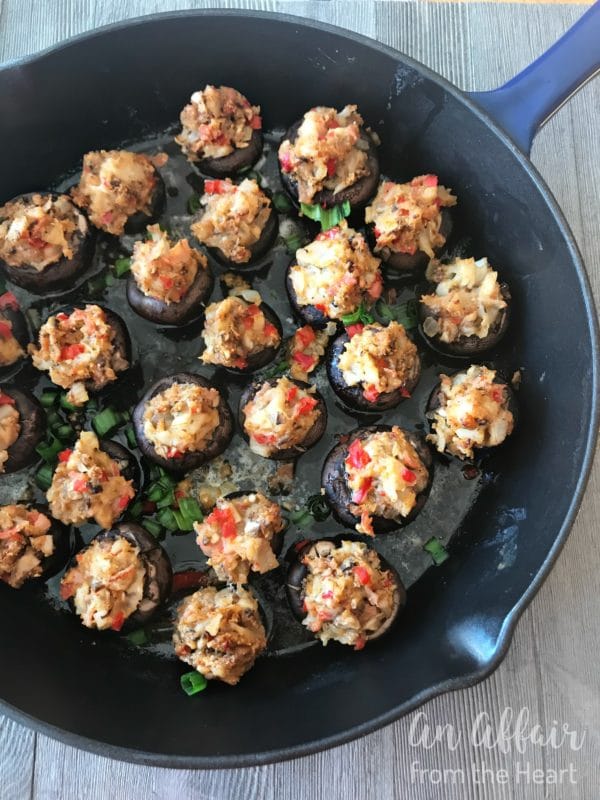 Place in the oven, and bake for about 20 minutes. Sprinkle with sliced green onions before serving hot.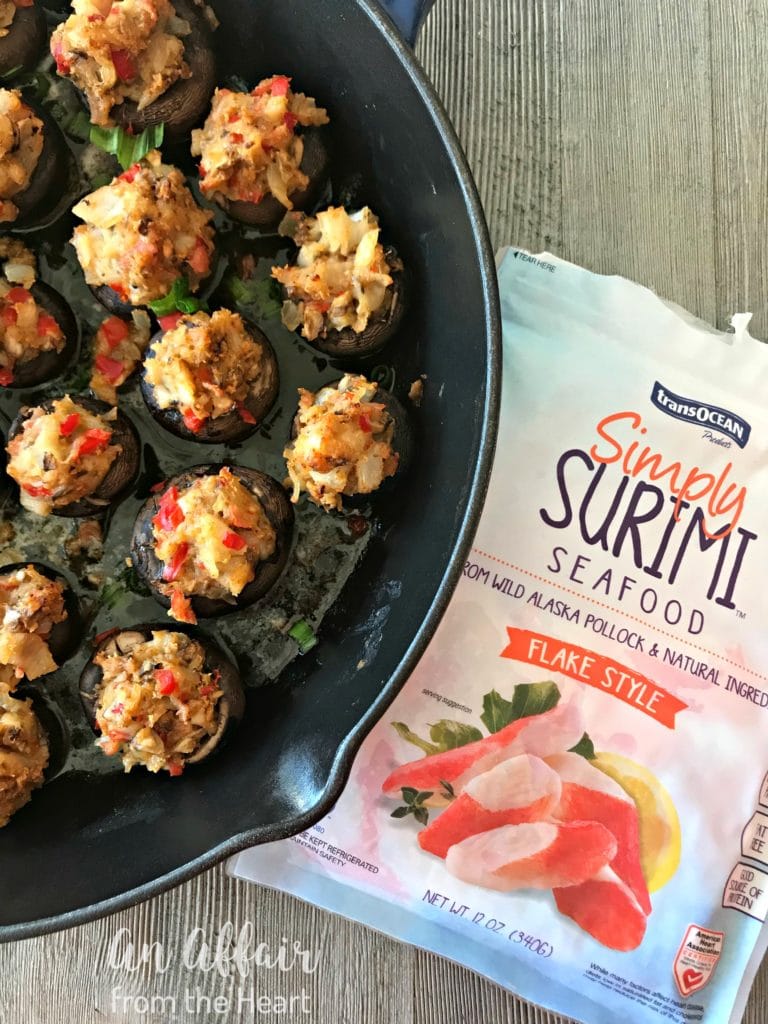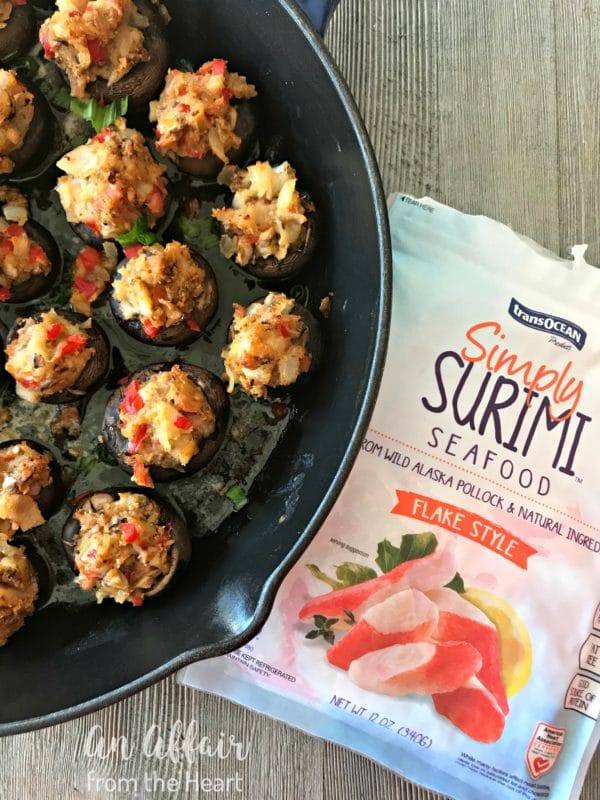 These turned out so much better than I could have ever imagined. My next package of
Simply Surimi
will grace one of our favorite pasta dishes.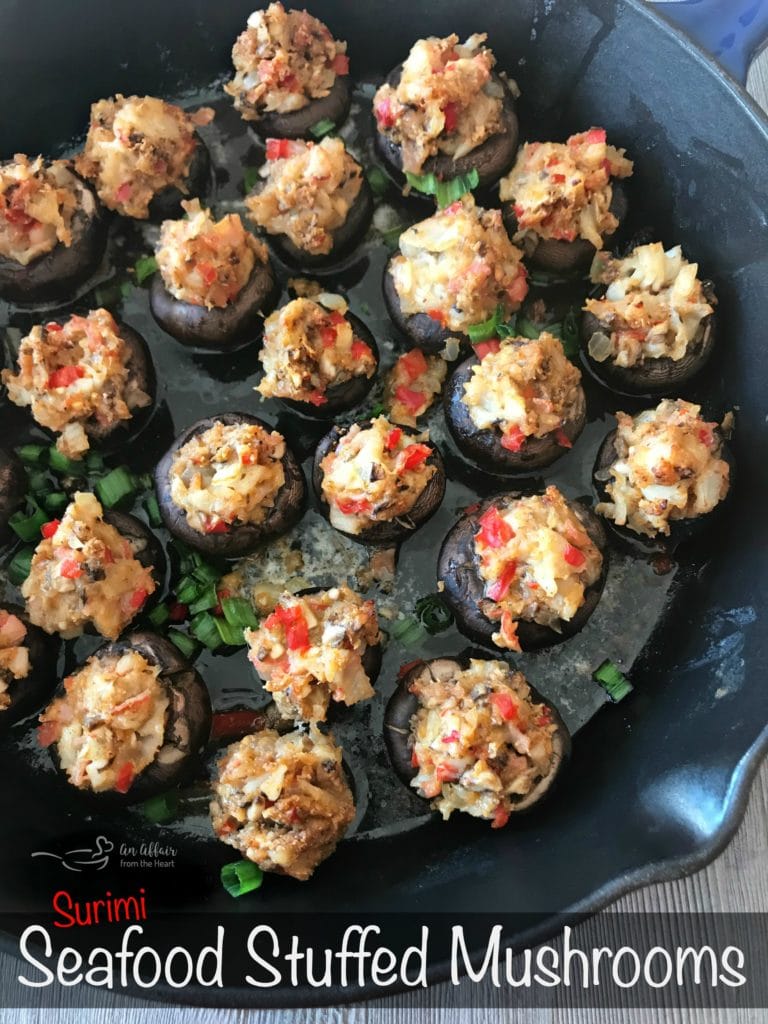 Let's Get Cookin'!

Yield: about 30
Surimi Seafood Stuffed Mushrooms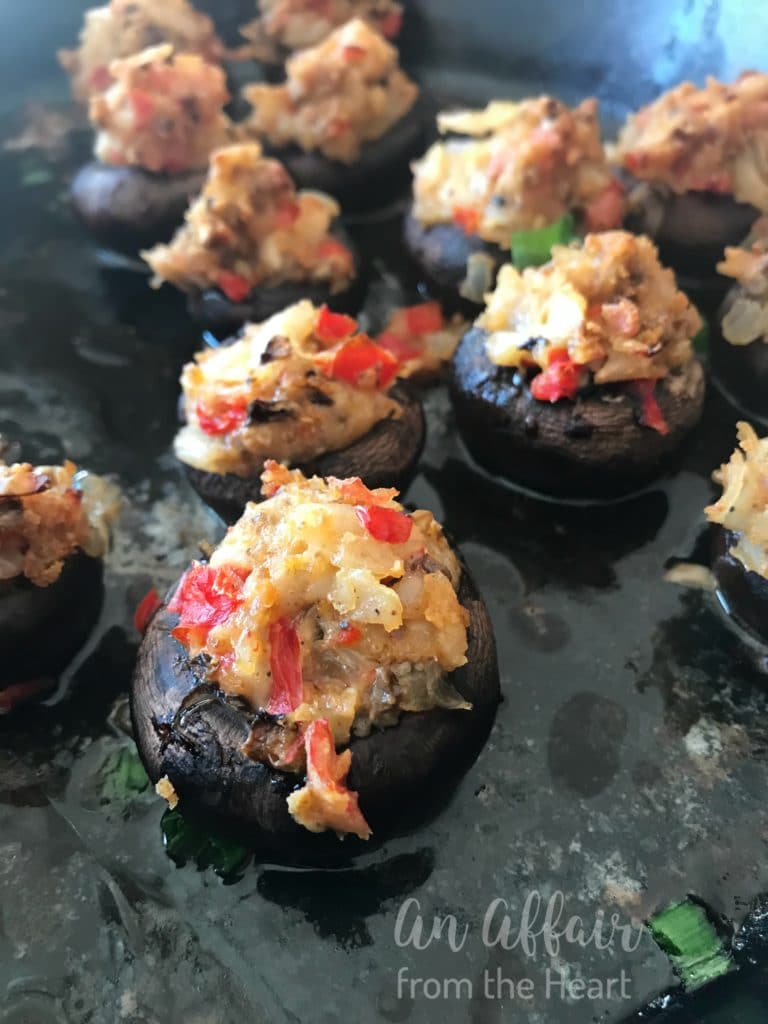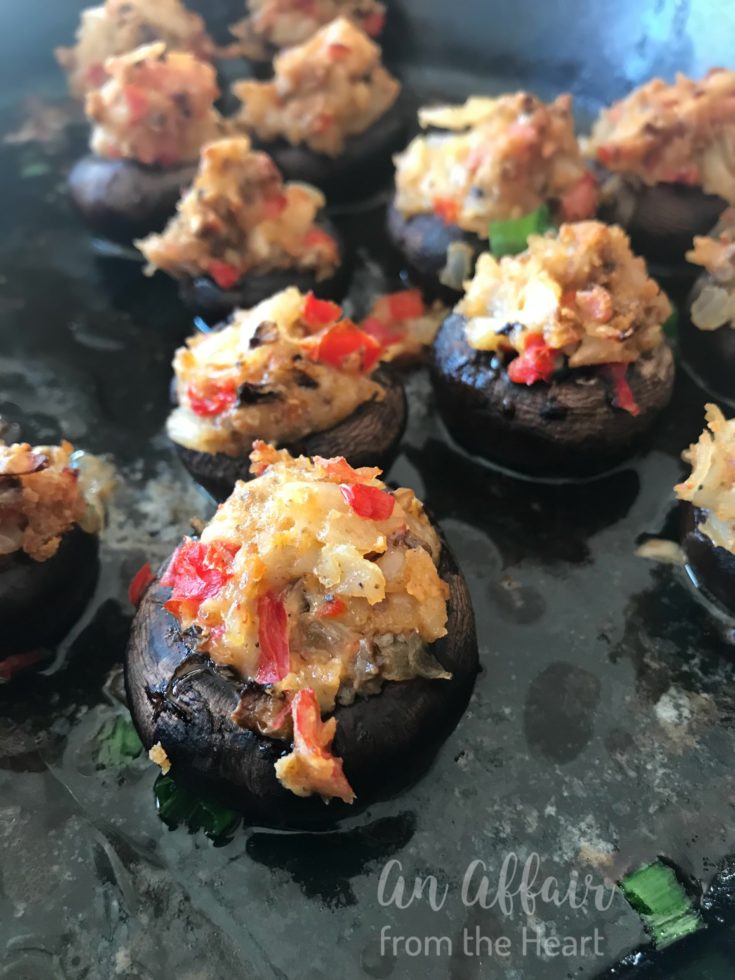 Baby Bella Mushrooms stuffed with a mixture of Surimi Seafood, vegetables and spices, baked up and served warm. These make a delicious and sophisticated appetizer.
Ingredients
One Pound Baby Bella Mushrooms, washed well, stems removed and centers hollowed (about 30)
1/3 cup sweet onion, chopped
1/3 cup red or orange bell pepper, chopped
4 cloves garlic, minced
1/3 cup seasoned breadcrumbs
1/3 heaping cup Smoked Gouda cheese, shredded
4 Tablespoons butter, divided
2 teaspoons Old Bay Seasoning
Salt and Pepper, to taste
Sliced green onions for serving.
Instructions
Preheat oven to 350 degrees.
Place about 1 Tablespoon of butter in a cast iron skillet over medium heat to melt. Add in peppers and onion and saute for about 5 minutes. Add in garlic and mushrooms and saute for about another 5 minutes more, or until onions are translucent. Add in Surimi Seafood, sprinkle with Old Bay Seasoning and salt and pepper to taste. Stir until heated through. Remove from heat.
Stir in breadcrumbs and smoked gouda cheese. Remove stuffing from pan, and wipe it down with a paper towel.
Place mushrooms in skillet and stuff each one with the stuffing, pushing it down inside, and leaving a mound on the top. Divide the remaining butter into little bits and scatter them around the pan.
Place in oven and bake for 20 minutes.
Sprinkle with green onions, serve right out of the skillet or plate them.
Eat hot.
Notes
Can be made ahead and baked. * May need to adjust baking time if they are coming from the fridge.
Nutrition Information:
Yield:
30
Serving Size:
1
Amount Per Serving:
Calories:

30
Total Fat:

2g
Saturated Fat:

1g
Trans Fat:

0g
Unsaturated Fat:

1g
Cholesterol:

6mg
Sodium:

96mg
Carbohydrates:

2g
Fiber:

0g
Sugar:

1g
Protein:

1g
Nutrition isn't always accurate.

If you make this recipe, I'd love to know! Snap a picture, share the photo on social media with the hashtag #AnAffairFromTheHeart – I'd love to see what you made! – Michaela