Ice Cream Cookie Cake (Shortbread Crust)
As an Amazon Associate and member of other affiliate programs, I earn from qualifying purchases.
Crunchy, buttery shortbread cookie crust layered with sweet milk chocolate and topped with creamy ice cream. My mouth is watering just thinking about it. This Ice Cream Cookie Cake is a delicious frozen treat and a must-try for summer!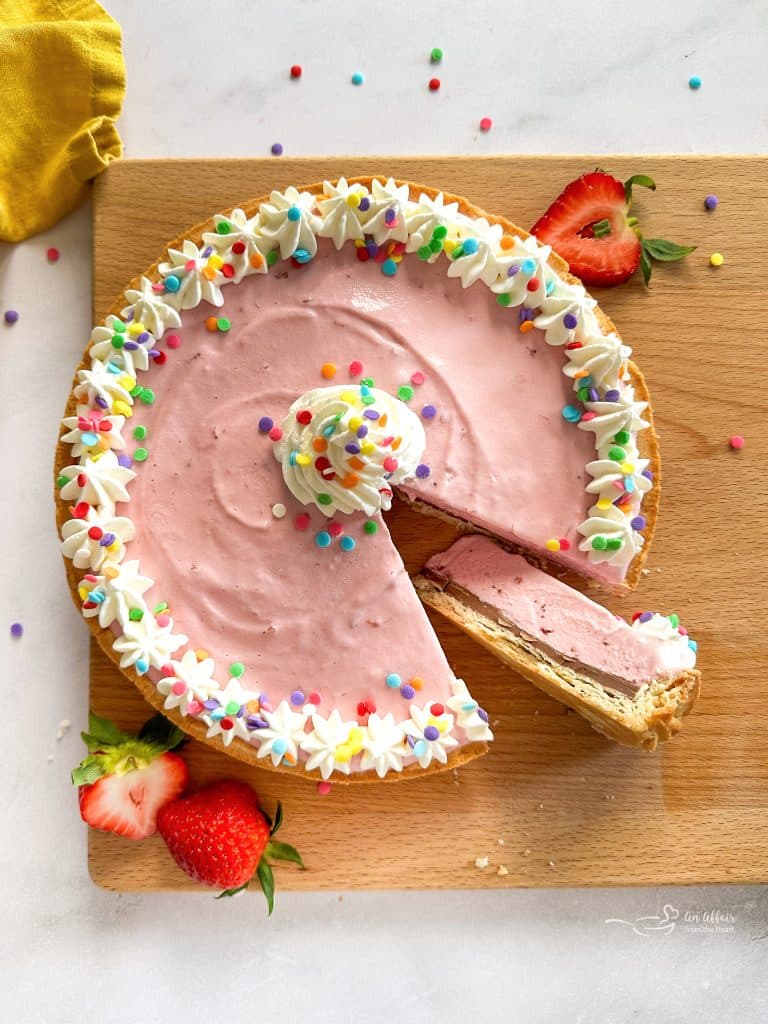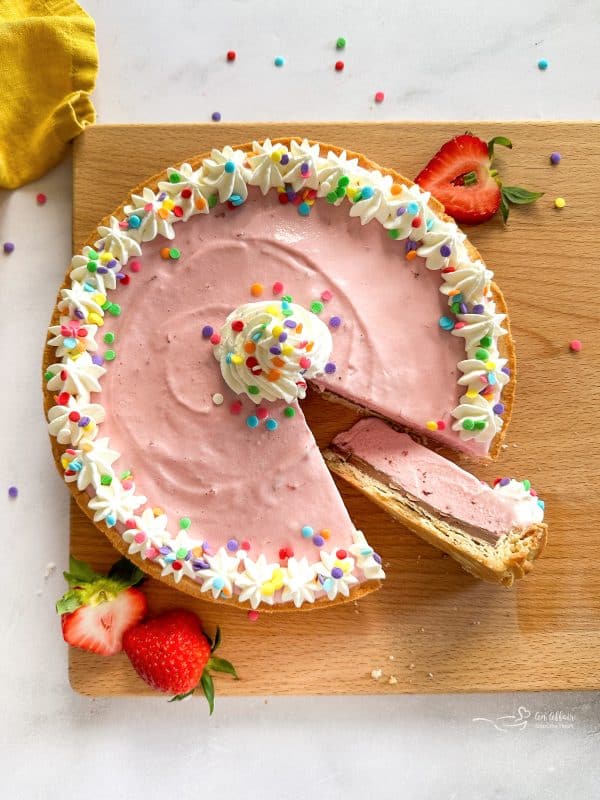 Ice cream cakes are great because when do you not eat ice cream with cake? This one in particular has all the classic flavors: vanilla, chocolate, and a sweet strawberry ice cream layer. It really is the dessert that has it all! Don't you think it would make the perfect birthday cake?

COOKIE ICE CREAM CAKE
Normally when you think of ice cream you think of hot days and summer but really this frozen dessert can be served all year round for any special occasion. It is a popular dessert and I love making ice cream birthday cakes for my kids! I mean who didn't beg their mom when they were young to go and buy them an ice cream cake for their birthday party? Why buy one when you can easily make one?
If you love this Creamy Ice Cream Cake you are sure to love these too: Ice Cream Cake Roll, Peanut Butter Cup Ice Cream Cake, and Strawberry Cheesecake Ice Cream Torte.

WHY YOU SHOULD MAKE THIS ICE CREAM CAKE RECIPE
This ice cream cookie cake has layers. First, I start with a traditional shortbread cookie layer. After that, I spread some delicious milk chocolate sauce. And then, I top it with any flavor of ice cream desired. Good 'ol vanilla ice cream is a favorite, but I love the flavor strawberry ice cream gives. Plus – it's pink!
Homemade ice cream cake can sound intimidating, but this one is super straightforward and does the same amount of work as baking a normal cake. Bonus points for this easy ice cream cake because it's so much more delicious than your typical cake!

Freaky Friday
I can't take all of the credit for this ice cream cookie cake. Today is Freaky Friday, and I have been blessed to have been able to choose a recipe from my dear friend, Sandra, from The Foodie Affair.
What is Freaky Friday? It's an event that I have been hosting since February 2015 where a group of my blogger buddies get together for an old-fashioned blog hop. Each of us is secretly assigned another blogger to cook/bake from and all of the recipes are revealed at the same time on a Friday. That Friday is today!

My Last Freaky Friday Event
Today is slightly bittersweet for me because this is our very last Freaky Friday event. The event has run its course, and it was time to let it go. I have a confession to make – this is the first time that I have hand-selected the blogger that I would cook from. For the last eight years, I have pulled the names from a hat when I assigned them. This round though, I looked back to my very first event from February 2015, and the only blogger that was in my very first and the very last Freaky Friday event was Sandra. I knew exactly who I would be cooking from this final round.
The Foodie Affair Blog
Sandra is an absolute delight to know. We came into the Blogosphere around the same time, and I have gotten to know her over the years on social media. (One of these days we will meet in person – I am sure of it!) She is happily married to the love of her life and lives in Northern California where she raised her children.
Like me, her love of cooking comes from her upbringing. Sandra's website is full of all sorts of recipes, from delicious cocktails to decadent desserts, from beautiful salads to scrumptious entrees. Unlike me, (haha) Sandra is a huge fitness enthusiast, and has a most excellent array of Keto recipes as well as Low Carb recipes, too.
Sandra's food blog is a must-see and has been a long-time favorite of mine. Please make sure to check it out!

INGREDIENTS FOR HOMEMADE ICE CREAM COOKIE CAKE
Scroll down to the printable recipe card at the end of this post for the exact measurements and instructions.
For the Cookie:
Butter: Unsalted butter lets you control how salty your cookie crust will be.

Sugar: For best results use white granulated sugar.

Vanilla Extract: I recommend always using pure vanilla extract.

Flour: You can use all-purpose flour or enriched bleached wheat flour.

Salt

Milk Chocolate: the sweetest kind of chocolate. For a richer, sharper taste you can use dark chocolate or semi-sweet is a great in-between!

Ice Cream: Vanilla or strawberry pair well with the chocolate. Frozen yogurt could also be used.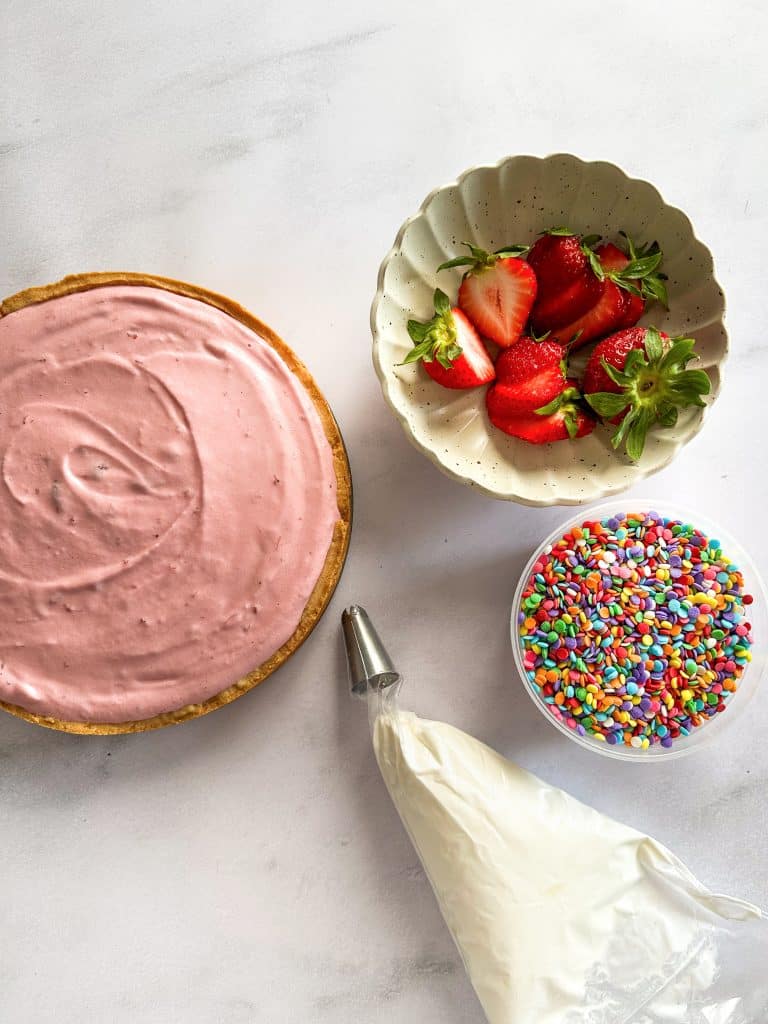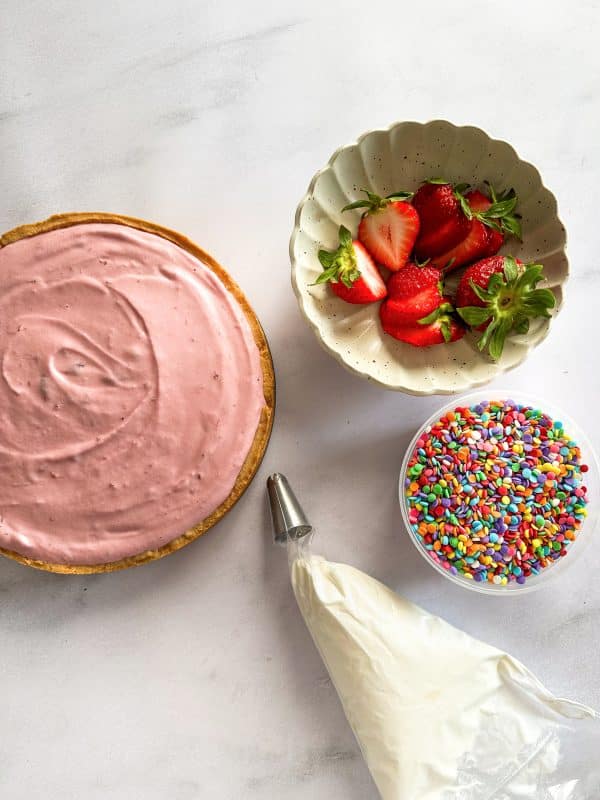 For the Decorations:
Whipped Cream: You can make your own by whipping some cream and sugar or using store-bought.

Sprinkles: Because they make everything cute!

Strawberries: sliced for the top, if desired.

HOW TO MAKE ICE CREAM COOKIE CAKE
FIRST: Preheat oven to 350 degrees Fahrenheit.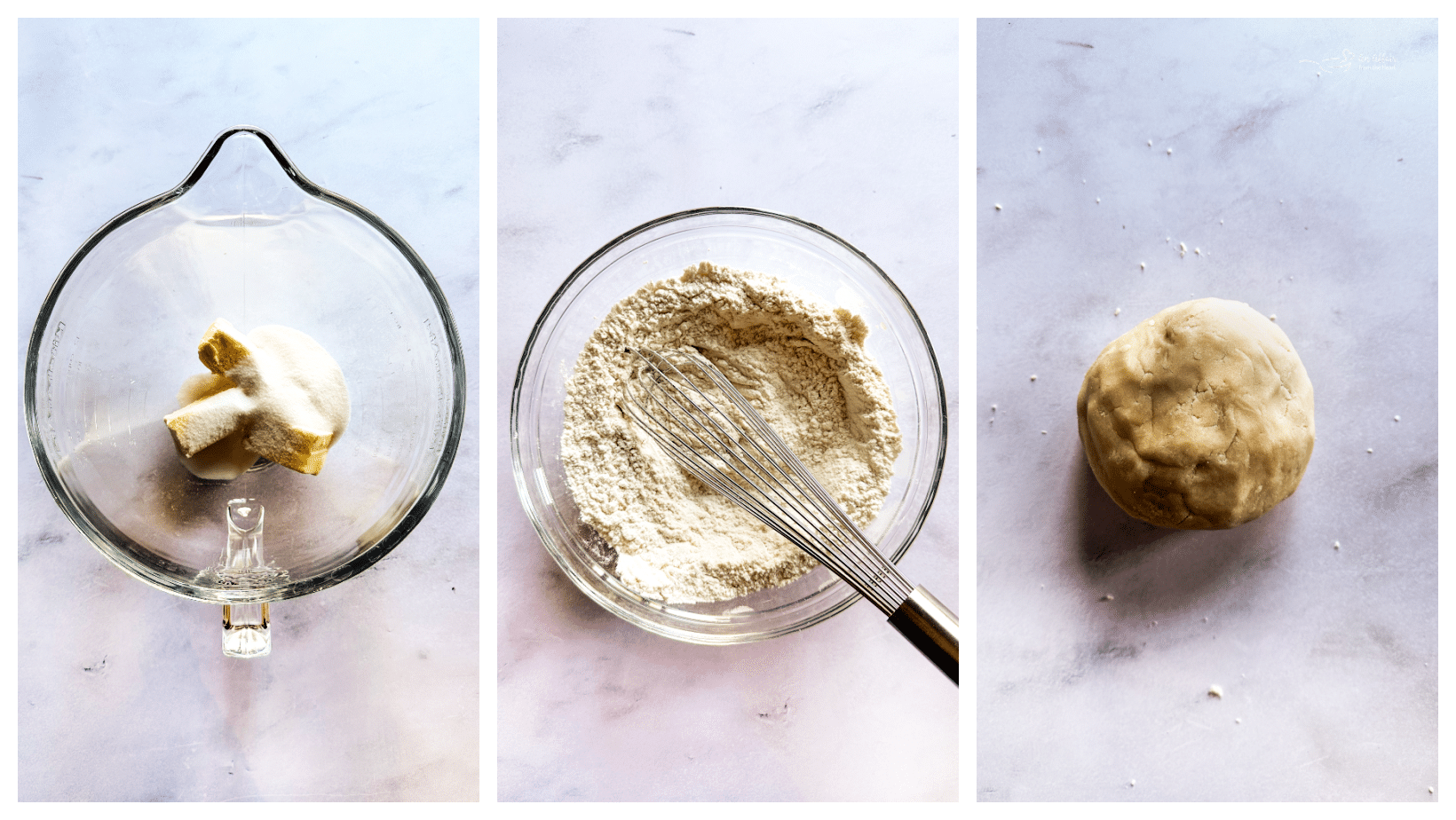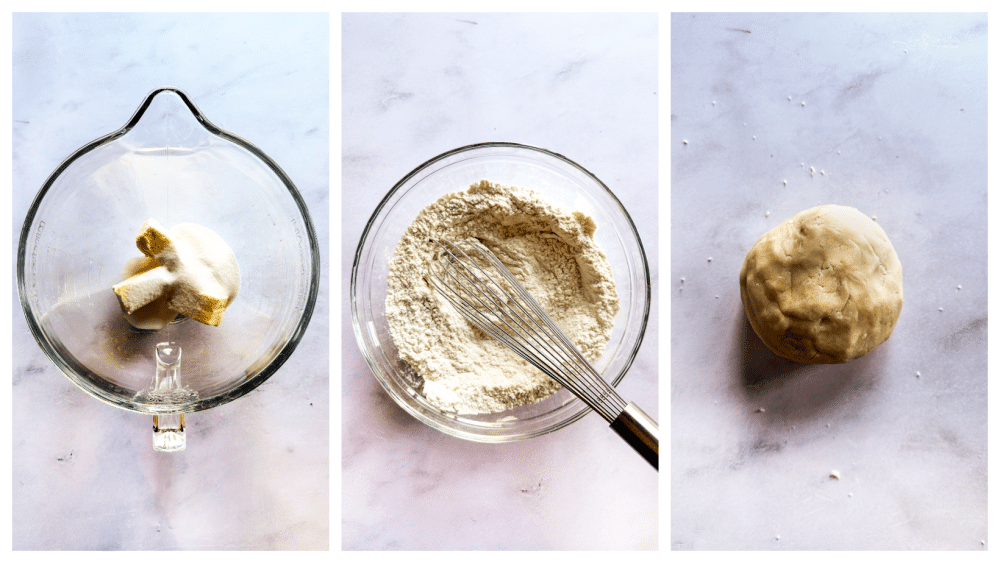 SECOND: In a large bowl beat together butter, sugar, and eggs. In a separate medium bowl combine your dry ingredients. Then add your dry mixture to your wet and mix until combined.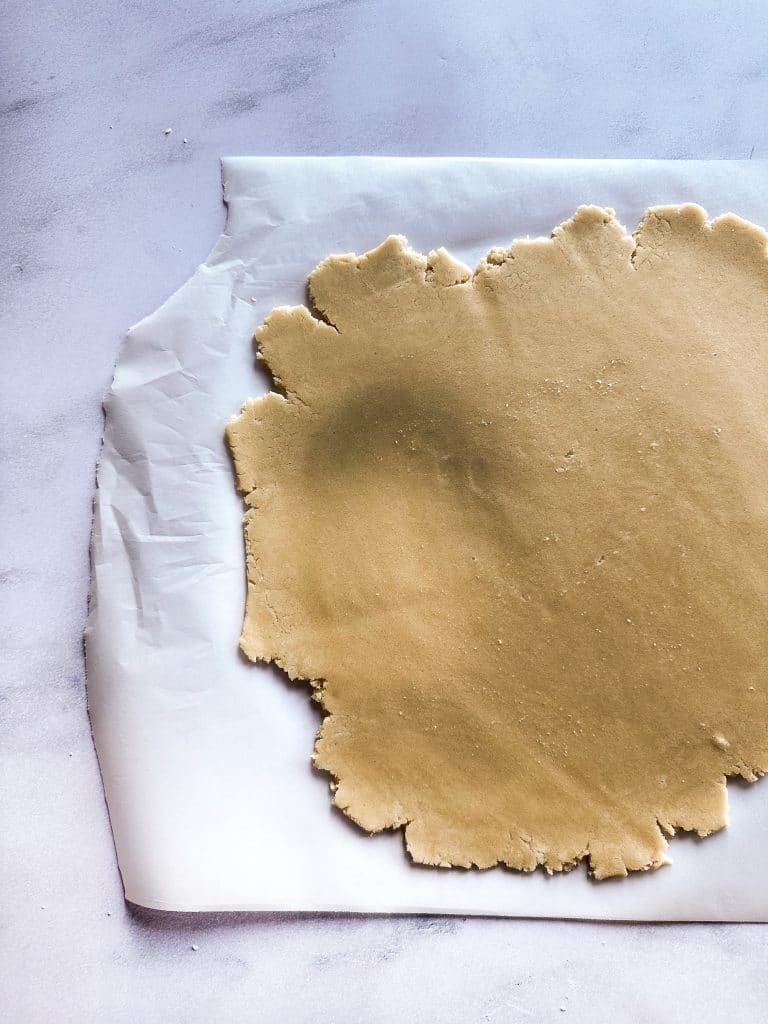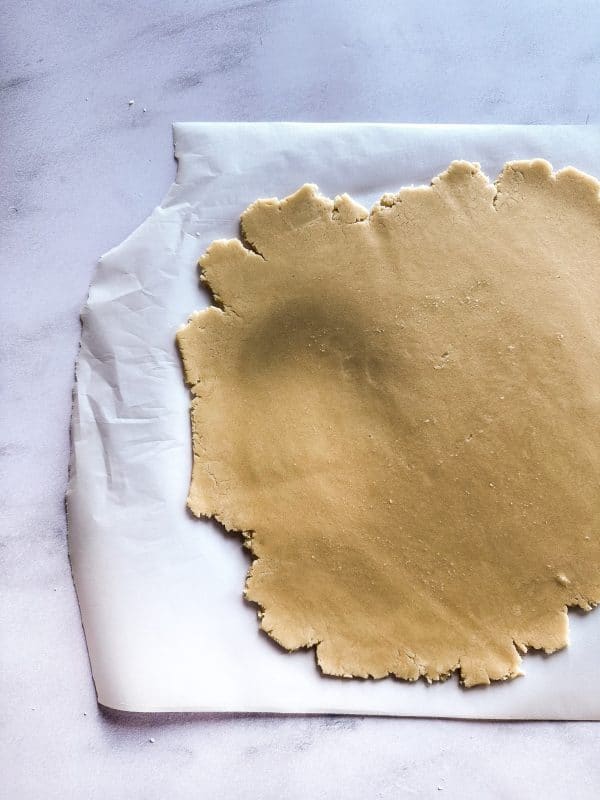 THIRD: Form your dough into a circle and wrap it in plastic wrap. Chill in the refrigerator for 30 minutes.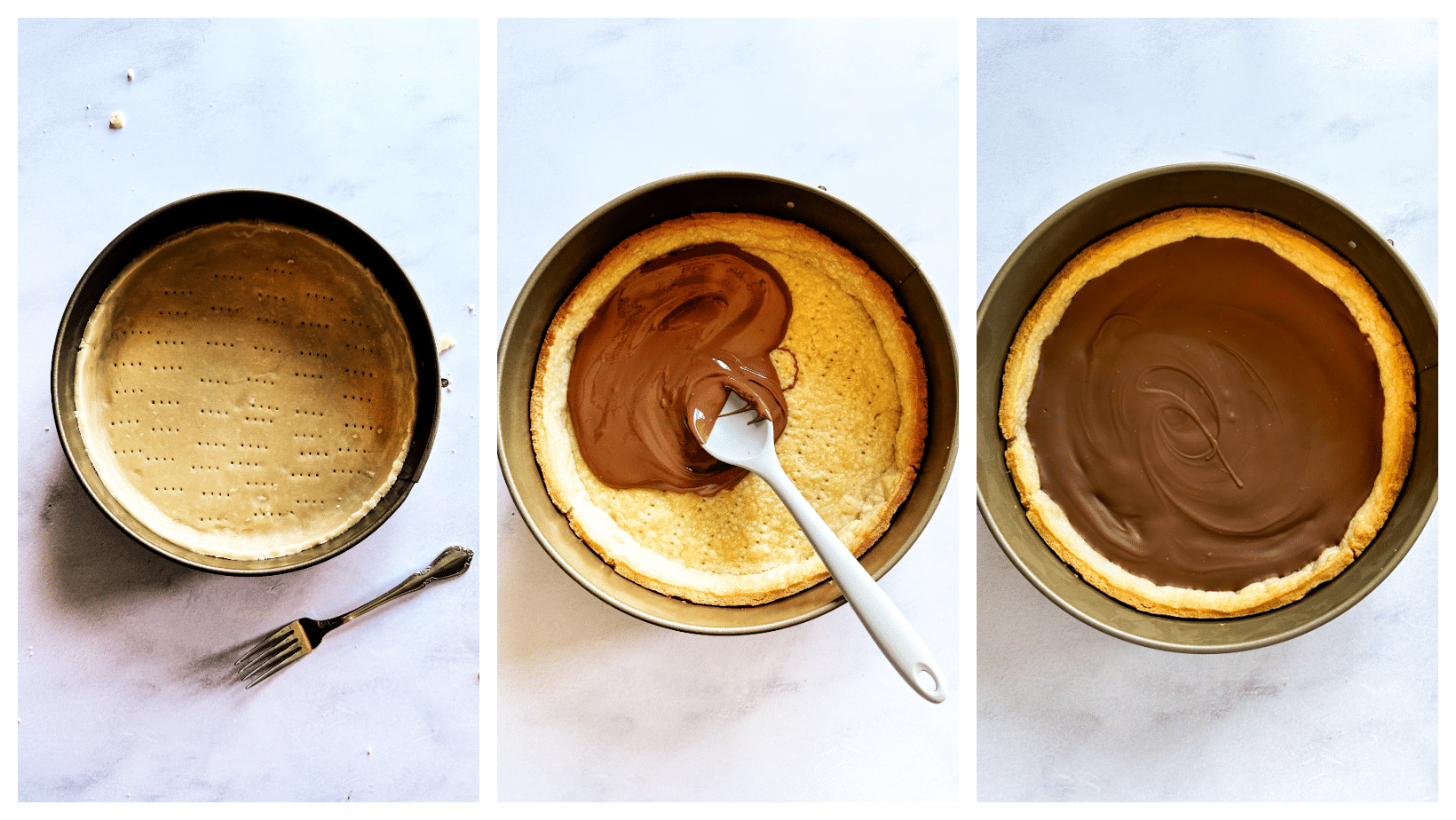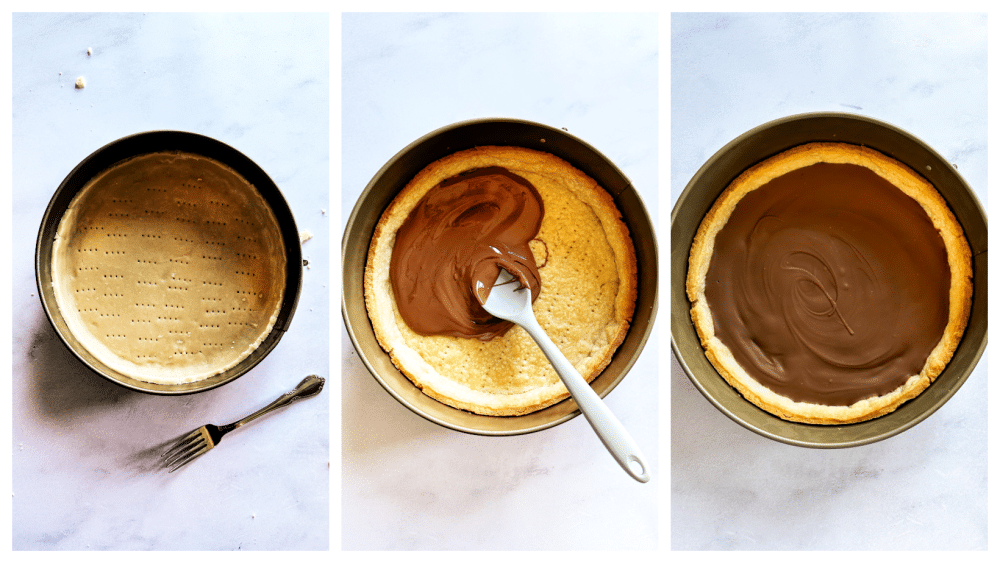 Then place the dough into a springform pan lined with parchment paper. Press dough to fill the bottom of the pan. Poke the dough with a fork and bake for 25 minutes until golden brown. Let cool.
FOURTH: Melt your chocolate and use a small offset spatula or spoon to spread chocolate over your baked cookie crust. Place in the fridge or freezer to harden.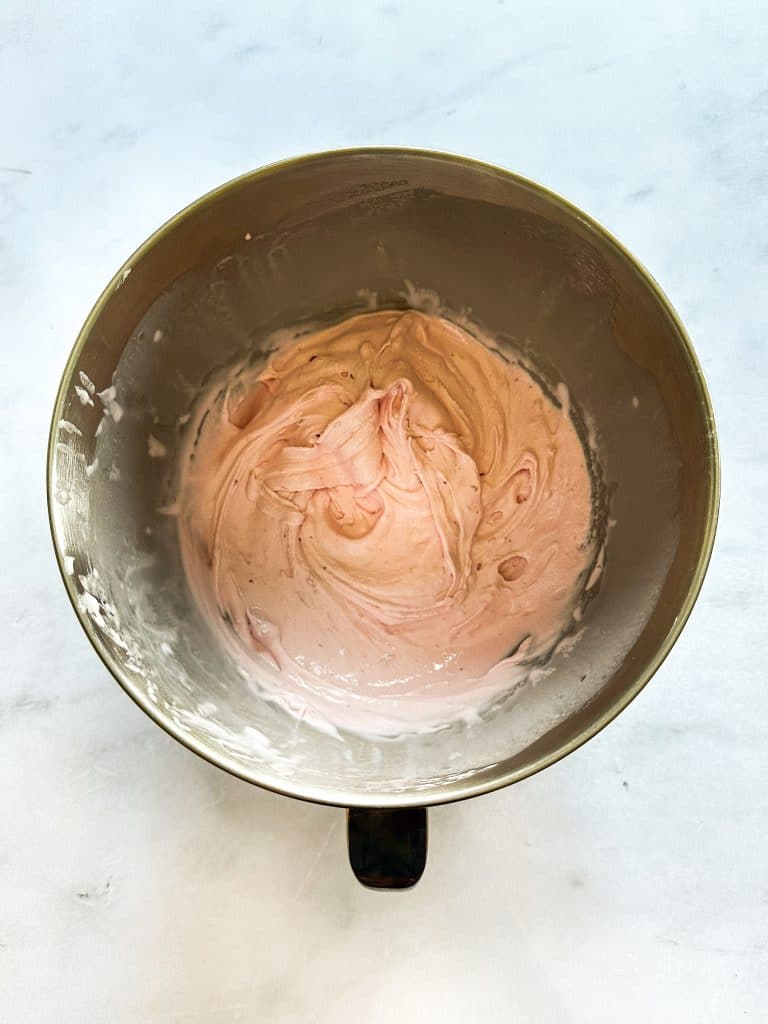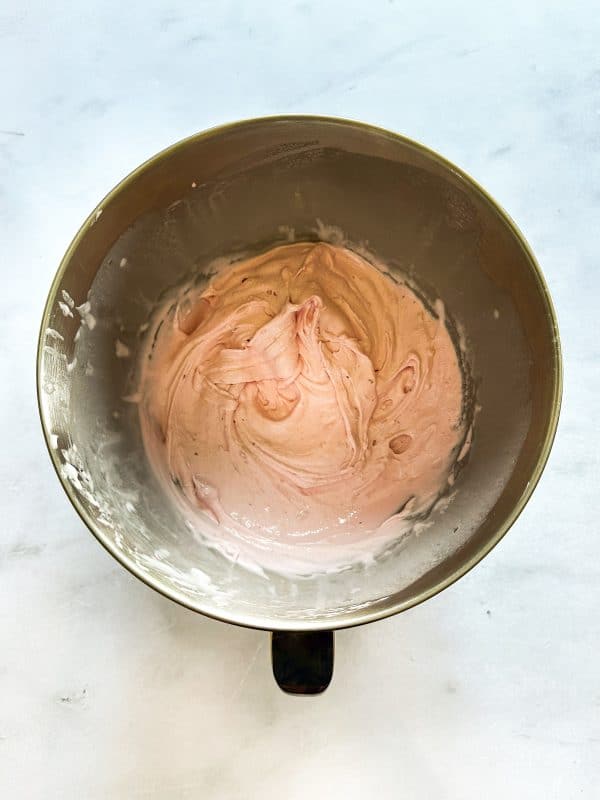 FIFTH: Meanwhile, let the ice cream soften until it is a soft-serve consistency. Spread over hardened chocolate and make an even layer. Place back in the freezer until completely solid.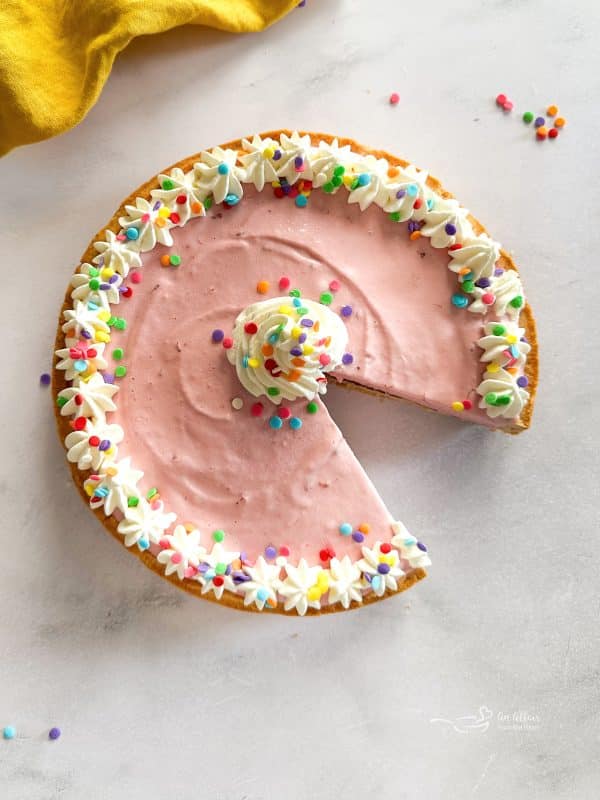 Decorate and serve.
PREP AND LEFTOVERS
To thaw your ice cream cake before serving, place it in the fridge for no longer than 30 minutes or at room temperature for no longer than eight to ten minutes.

PRO TIP: You can run your knife under hot water to make cutting the cake easier.

Ice cream cake cannot be left out or put in the fridge, you MUST store it in the freezer.

To avoid freezer burn, place the cake in airtight containers and cover it with plastic wrap for double protection. You can keep your ice cream cake frozen for up to three months. If your ice cream cake is leftover/half-eaten, try to eat it within a few weeks.

LOVE IT? PIN IT!
If you love this ICE CREAM COOKIE CAKE make sure that you don't lose it! Pin it to your favorite Pinterest recipe board before you go!

FAQs ABOUT THIS FROZEN DESSERT
What is in the middle of a Dairy Queen ice cream cake? Dairy Queen is known for their "fudge and crunchy" layer. In between the layers of their soft serve vanilla and chocolate ice cream, you can find a gooey, crunchy, and rich fudge layer. If you want to copy this, you can simply buy a can of chocolate ganache (or make it yourself!) and sprinkle in some chocolate cookie crumbs or your favorite candy bits.
What is cake and ice cream called? Cake and ice cream go so well together that bakers have merged the two and it is now called "ice cream cake." Some refer to ice cream cakes as "swiss rolls" where you bake a cake on a jelly pan and then spread a layer of ice cream and roll the cake up. That version, however, is much more labor-intensive than a simple layer of ice cream cake.
What is ice cream between two cookies called? Traditionally, ice cream between two cookies would be known as an "ice cream sandwich." The very popular giant chocolate chip cookies with vanilla ice cream in between is known as a "chipwich." This recipe could also be known as an ice cream sandwich cake!
Is ice cream cake still cake? Ice cream cake is still considered to be cake! There is a baked component as well as a frozen component making the dessert still in the cake category. You can also technically make "no bake" ice cream cakes by layering pre-made cookies or brownies with ice cream.

SUBSTITUTIONS
Remember that when it comes to making substitutions in recipes, you don't need to be afraid to get creative and use ingredients that suit your personal taste and dietary preferences. Make it your own!
Shortbread cookie crust: As an alternative to the shortbread cookie crust you could make a crust out of graham crackers, store-bought shortbread, chocolate chip cookies or m&m cookies. For an Oreo ice cream cake, use an Oreo cookie crust (crushed cookies and melted butter) and cookies & cream ice cream. Add a layer of cookies between the fudge and the ice cream. Yum!

Milk Chocolate: You can use any other type of chocolate: white, dark, semisweet chocolate chips. Or you can also use gooey hot fudge sauce or chocolate ganache. It would also be fun to add in some peanut butter, cookie butter, or Nutella.

Ice cream: Frozen yogurt could also work, but then I guess it would be called a "frozen yogurt cake"!
TIPS & TRICKS
To prepare this recipe you can make the shortbread dough ahead of time and keep in the fridge for up to a week or in the freezer for up to two months.

The best way to melt your chocolate is to use a double boiler or the microwave (30 seconds at a time until softly melted). You can add a teaspoon of coconut oil for a smooth, glossy consistency.

If you want to make the whole cake ahead of time, you can still serve it fresh for up to a week. When serving, just add your whipped cream and toppings.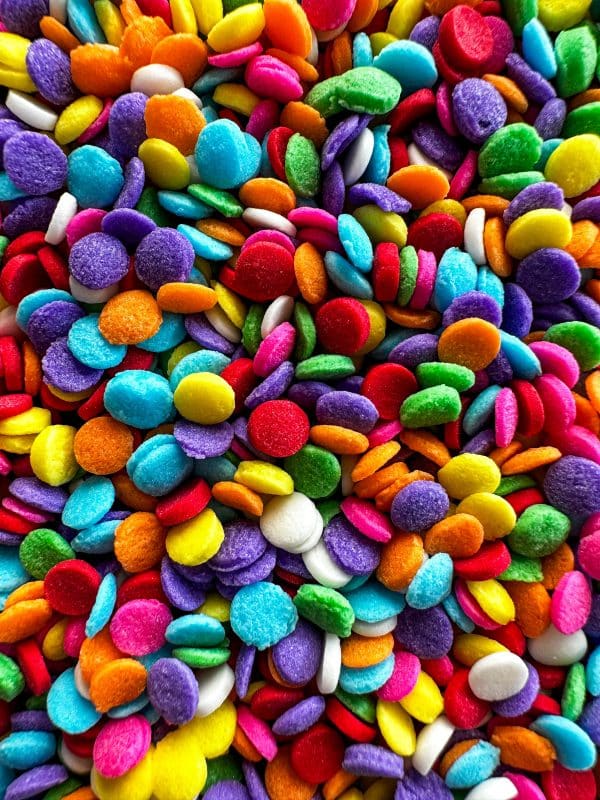 Freaky Friday Recipes
I had a blast digging into The Foodie Affair Blog for this summer round of Freaky Friday! I had my recipes narrowed down to four; Fruit Salsa, a Greek Salad, this Ice Cream Cookie Cake, and this Apple Pie Dessert Pizza, (which I already plan to make this weekend because I can't stop thinking about it!) But I decided that instead of being sad about this close-to-my-heart event coming to an end, I would celebrate what a joy it has been to put it on for over eight years. What says celebration more than sprinkles!?!? This Ice cream cookie cake was the perfect recipe! Thank you, Sandra!
More Recipes from this Event:
If your sweet tooth is looking for something new, The Culinary Compass made my Honey Bun Cake Recipe, it's a family favorite around here for sure! Home Cooked Harvest made a yummy Orange Poppyseed Cake, and The Speckled Palate has a recipe for No Bake Peanut Butter Bars to keep the heat out of your kitchen and your tummy smiling.
If a cocktail is more your speed, Feast + West has a White Tea Shot recipe and Hostess at Heart made this refreshingly tart Grapefruit Crush!
The Foodie Affair shared this Easy Poblanos Chiles Rellenos Casserole Recipe and The Wimpy Vegetarian has this great Mexican Street Corn Pasta Salad Recipe ready and waiting from that fresh sweet corn! Be sure to try these Honey Biscuits from Leftovers Then Breakfast, too!
See ALL of my Freaky Friday Recipes
MORE ICE CREAM CAKE RECIPES TO LOVE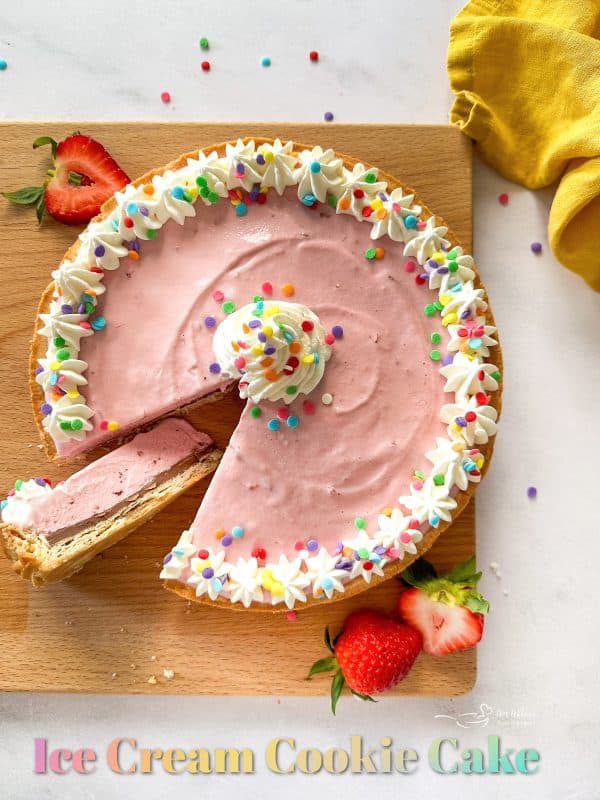 Make this yummy frozen dessert on a hot summer day for your next party. This Ice Cream Cookie Cake is the perfect treat and is sure to please all ages and every sweet tooth.

Yield: 8 servings
Ice Cream Cookie Cake (Shortbread Crust)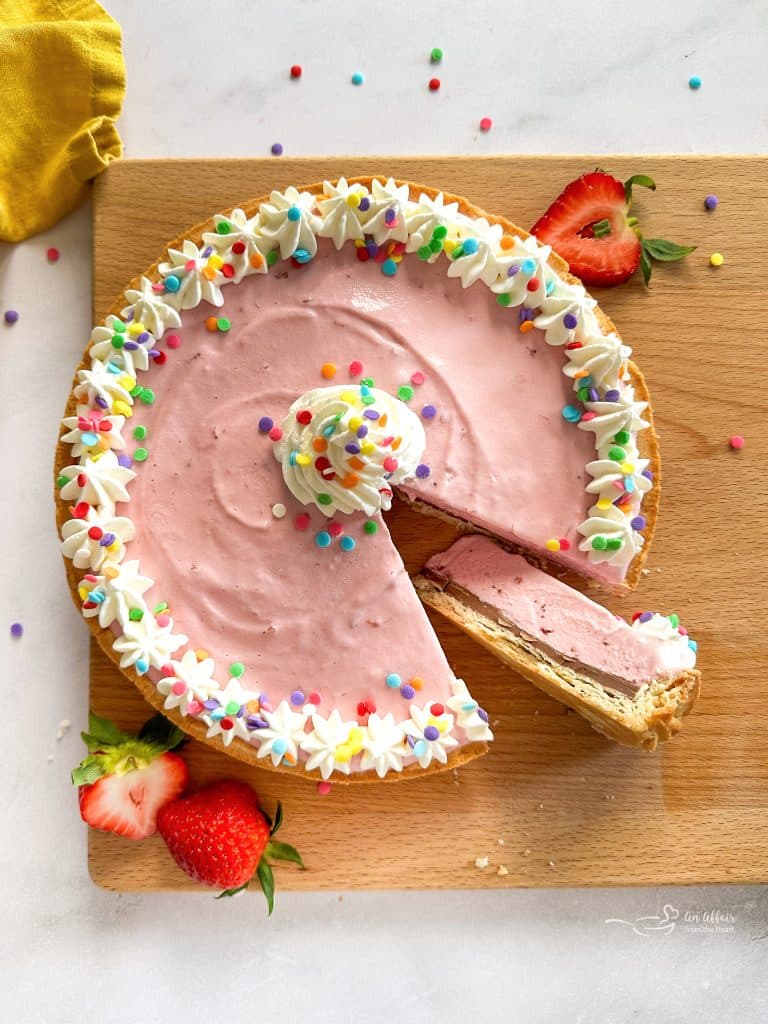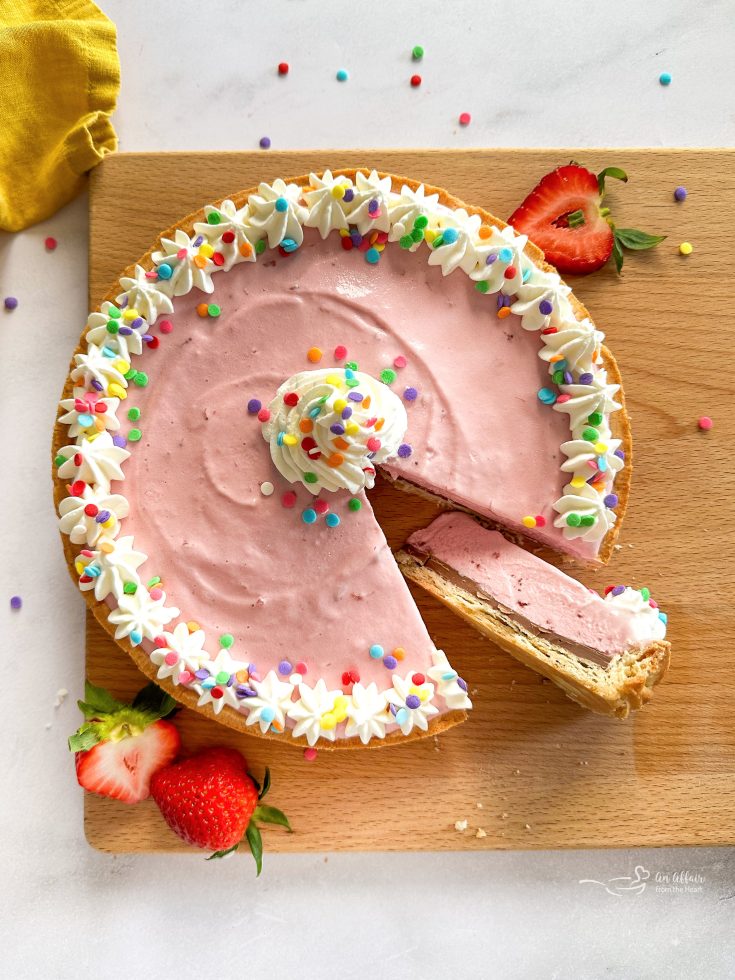 Crunchy, buttery shortbread cookie crust layered with sweet milk chocolate and topped with creamy ice cream. My mouth is watering just thinking about it. This Ice Cream Cookie Cake is a delicious frozen treat and a must-try!
Total Time
8 hours
45 minutes
Ingredients
FOR THE SHORTBREAD CRUST:
12 Tablespoons (3/4 cup) unsalted butter, softened
1/2 cup granulated sugar
3/4 teaspoon vanilla extract
1 3/4 cups all-purpose flour
1/8 teaspoon salt
FOR THE CHOCOLATE LAYER:
1 1/4 cups milk chocolate, melted
FOR THE ICE CREAM LAYER:
3 cups ice cream, softened (vanilla or strawberry are great options)
TO DECORATE:
whipped cream
sprinkles
sliced strawberries
Instructions
Preheat the oven to 350 degrees F. Grease the bottom of a springform pan. Set aside.
In a large bowl of your mixer beat together butter and sugar until creamy, then mix in the vanilla.
In a separate bowl whisk flour and salt together.
Add the flour mixture to the butter mixture and mix on low until the dough forms. Roll the dough into a ball.
Place the dough ball between two layers of parchment paper. Roll into a circular disk that is about 11 inches in diameter. Chill in the refrigerator for 30 minutes.
Remove the top layer of the parchment paper and gently flip the dough into the springform pan. Remove the second layer of parchment paper and gently press it into the pan forming the shortbread cookie crust.
Pierce the dough with a fork. Bake for 25 minutes or until very light golden brown. Cool.
Melt the chocolate in the microwave or in a double boiler until smooth.
Spread over cooled crust. Put in the refrigerator or freezer to harden.
While it is hardening, put the ice cream into a large bowl to soften it. Whip until it is soft serve ice cream consistency.
Spread the ice cream on top of the chocolate layer and smooth it out evenly.
Return it to the freezer until the ice cream hardens. Overnight works best.
Decorate with whipped cream and sprinkles before serving.
Recommended Products
As an Amazon Associate and member of other affiliate programs, I earn from qualifying purchases.
Nutrition Information:
Yield:
8
Serving Size:
1
Amount Per Serving:
Calories:

599
Total Fat:

34g
Saturated Fat:

21g
Trans Fat:

1g
Unsaturated Fat:

10g
Cholesterol:

82mg
Sodium:

249mg
Carbohydrates:

67g
Fiber:

2g
Sugar:

42g
Protein:

8g
Please note that nutrition is not guaranteed accurate.