White Chocolate Cherry Cookies
As an Amazon Associate and member of other affiliate programs, I earn from qualifying purchases.
These White Chocolate Cherry Cookies are chewy and light. Almond extract flavored pink dough, filled with chopped Maraschino cherries and white chocolate chips makes for an exquisite chewy cookie experience.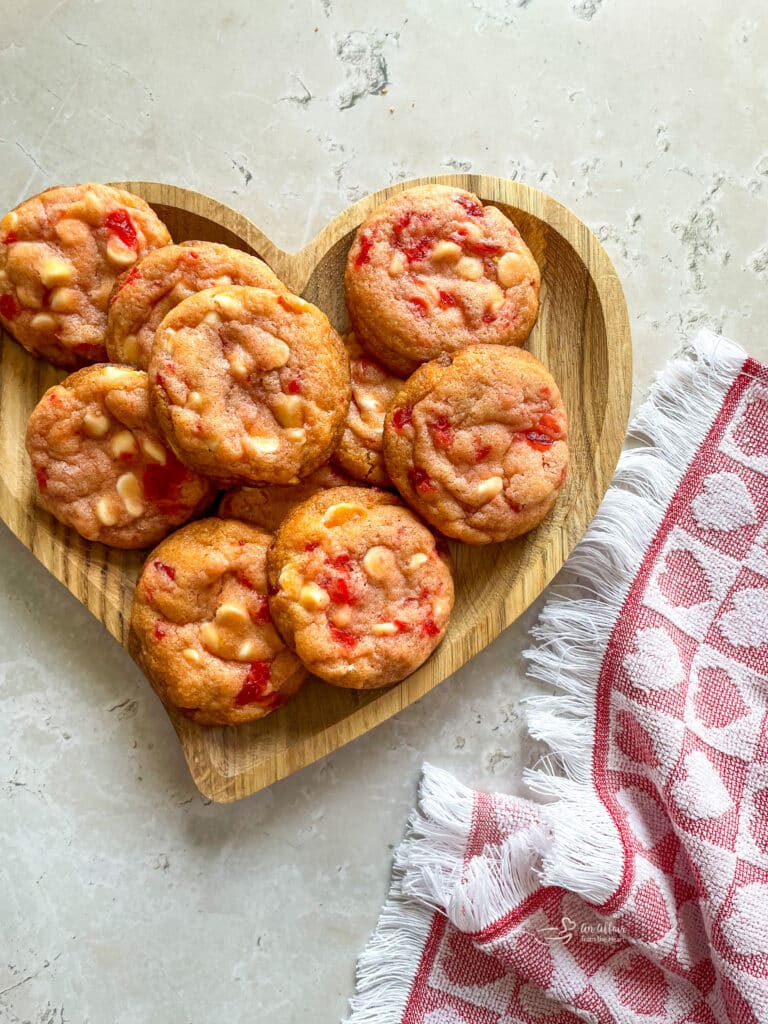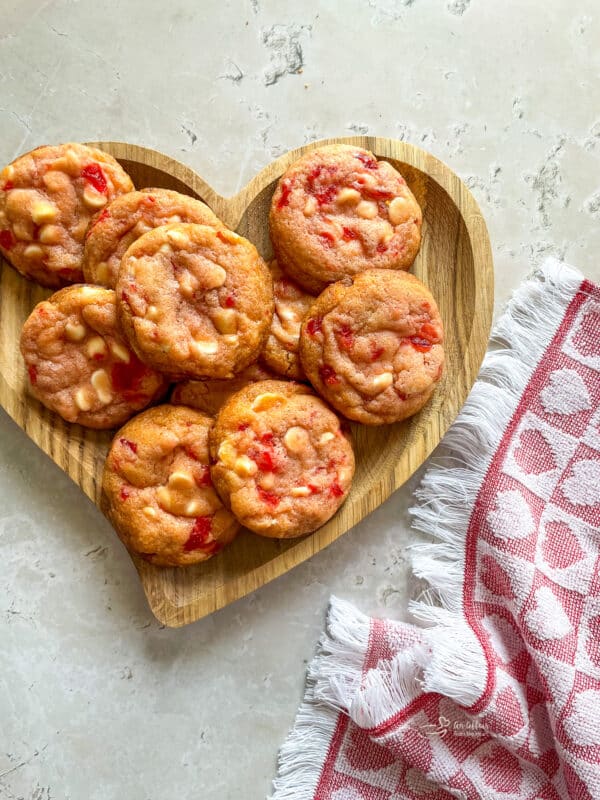 White Chocolate Cherry Cookies … Could there be a better way to jump into the season of baking?
Yes. It's the season of sweets. At this point in time, if you haven't lost weight, you are probably thinking, "As soon as the New Year starts" anyway — so we might as well embrace the season, right?? These festive little Maraschino cherry cookies will perfectly adorn your holiday trays this year. Just look at them! All dressed up in red & white for the holidays.
SOME OF THE ITEMS BELOW CONTAIN AFFILIATE LINKS; I AM A PARTICIPANT IN THE AMAZON SERVICES LLC ASSOCIATES PROGRAM, AN AFFILIATE ADVERTISING PROGRAM DESIGNED TO PROVIDE A MEANS FOR US TO EARN FEES BY LINKING TO AMAZON.COM AND AFFILIATED SITES. I AM ALSO AN AFFILIATE FOR OTHER BRANDS. HOWEVER, I ONLY PROMOTE THINGS THAT I LOVE AND THINK YOU WILL LOVE, TOO. FOR MY ENTIRE DISCLOSURE POLICY PLEASE

CLICK HERE

.

Guess what? Today is Freaky Friday!! Not sure what that means? Well, it's an event that I host five times a year, where some of my very favorite blogger friends secretly cook/bake from one another's blogs and we all reveal our recipes at the same time.
It's like a Christmas gift exchange in that you don't know who had you, and what they made, then at 8 AM on a Friday morning, we all see what we "got!" Bonus — we get a whole bunch of new recipes and so do YOU! And …. you may discover new blogs to follow for yummy recipes! I host the event once per season, and then our 5th event is always a Virtual Holiday Cookie Exchange, that event happens today!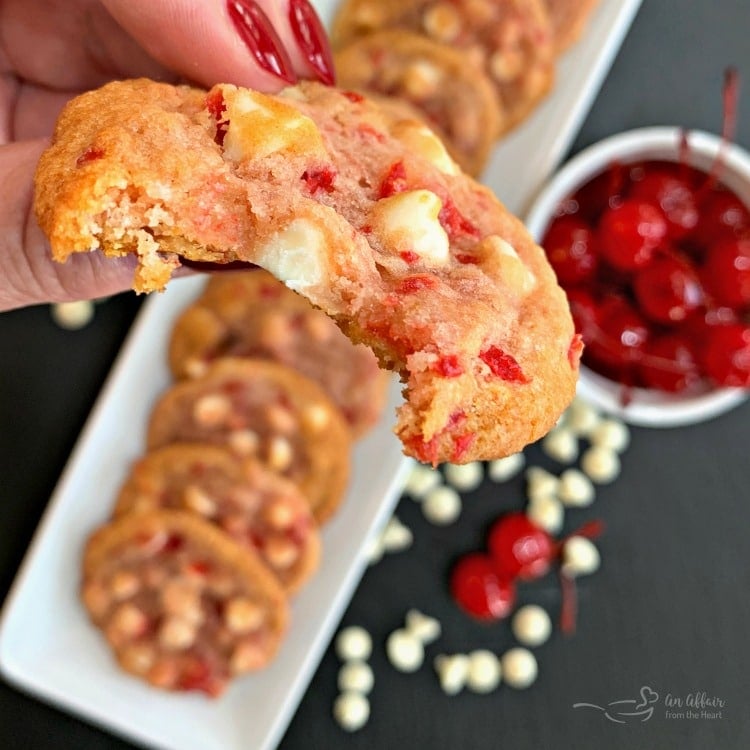 Choosing The Perfect Cookie Exchange Cookie
This delightful new white chocolate cherry cookie recipe comes from Lori, one of the masterminds behind the amazing blog, Who Needs a Cape? Lori and Heather met years ago online and started a blog. They have hundreds of amazing recipes. Awesome family dinners, TONS of baked goods, and oh…the cocktails!! Swoon!
While I was trying to decide what to make, I was just browsing around all of the yummy food on Who Needs a Cape, and I determined that it was sure helpful, that for this particular round, I had to stick to a theme of Virtual Holiday Cookie exchange. So hard to choose! I did, however, find some other wonderful holiday recipes I can't wait to partake in during December!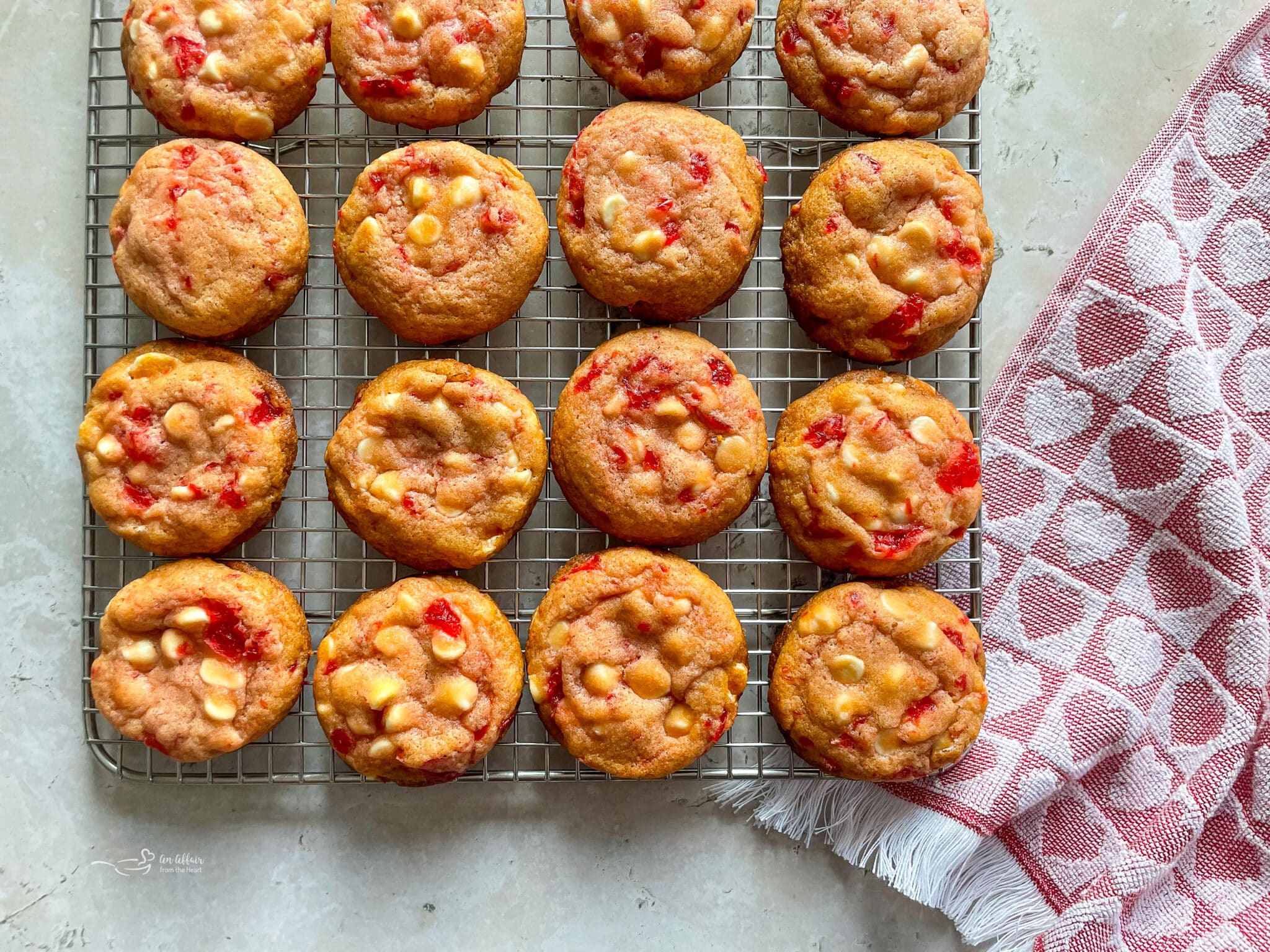 First off, This Holiday Sangria! Citrus Vodka, sparkling Rosé, limes, oranges, and cranberries make it so fun and delicious looking! Next up … dessert! This Layered Peppermint Holiday Dessert is perfect for Christmas dessert. Oreos, chocolate sauce, non-dairy whipped topping, and candy canes are all layered together into this delicious treat!
I narrowed my cookie down to two choices, These Cranberry White Chocolate Chocolate Chip Drop Cookies or these White Chocolate Cherry Cookies.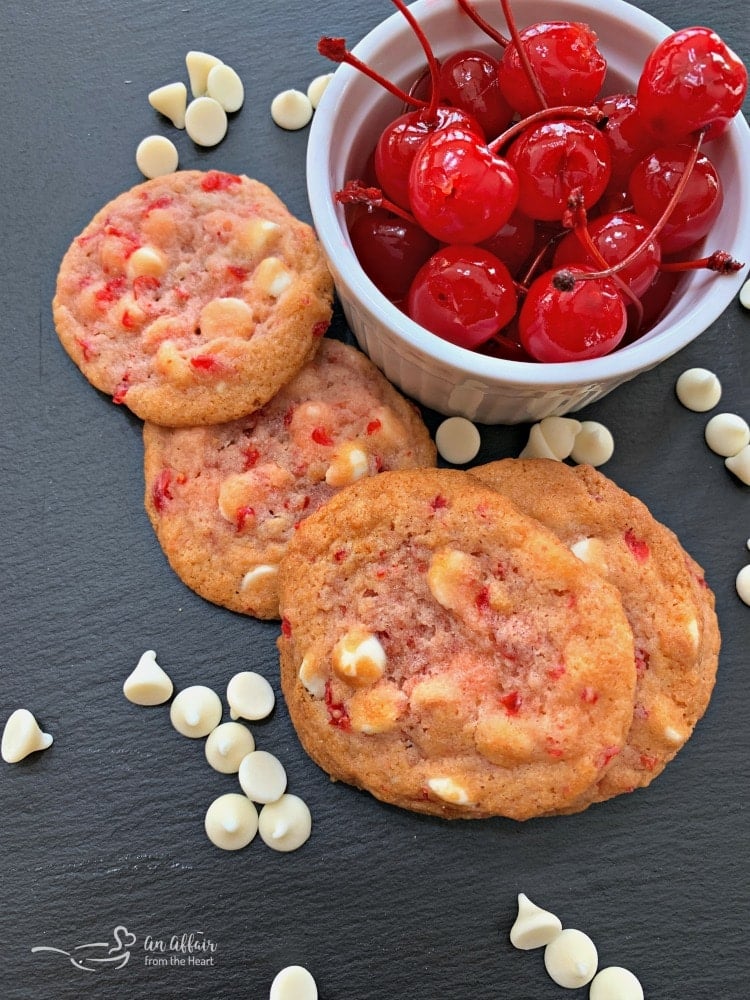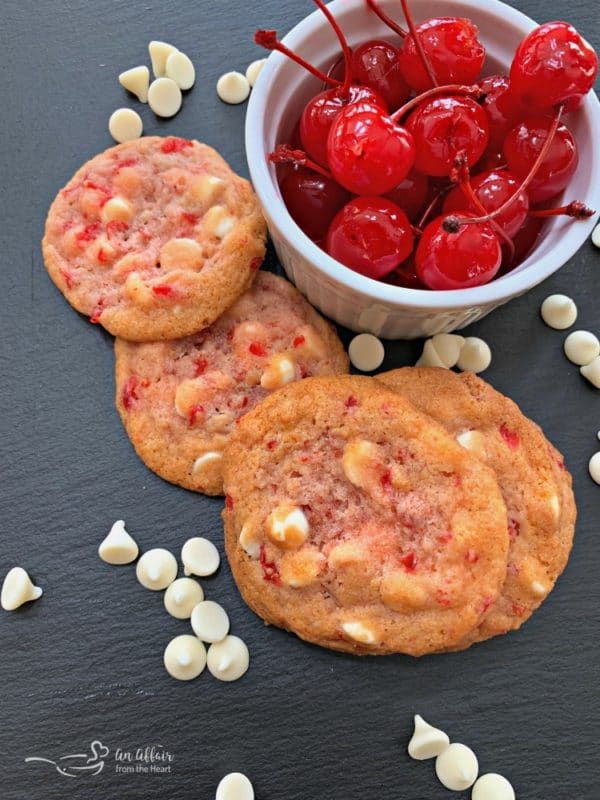 White Chocolate Chip Cherry Cookies
If you are visiting me for this recipe, it's no secret which recipe I chose. These White Chocolate Cherry Cookies were an amazing choice. They have become my new favorite cookie. If the white chocolate chips or the Maraschino cherries aren't enough to draw you in, the almond extract should be.
I don't know what it is about almond extract, especially good almond extract, that just makes baked goods so delicious! Every year at Christmastime, one of our favorite cookies is my Almond Raspberry Shortbread Thumbprints. I would be in big trouble if I didn't make them!
Hosting a Cookie Exchange
Have you ever been to or hosted a cookie exchange? I used to have one every year. I think it's been 3 years since I hosted the last one, but prior to that, I think we went strong for almost 20 years!
They really aren't hard to host, and the outcome is amazing. Everyone that is invited brings one dozen of their contributed cookie for each person. So if there are ten people invited, you are going to make 10 dozen of your cookie or candy, and box them up for each person.
In turn, you receive a dozen of each of theirs. Going home with 10 dozen different cookies and candies. Sweet, huh? It sure made arranging gorgeous holiday platters a lot easier! So much easier to celebrate the special occasion.

Ingredients Needed To Make White Chocolate Cherry Cookies
Butter and Egg – I like to bring these to room temperature before I start baking. Softened butter is easier to bake with.
White and Brown Sugar – I used a combination of white sugar and brown sugar. I typically prefer dark brown sugar, but for these cookies light brown is perfect.
Salt – I added a touch of salt to enhance the flavor.
Flour – I used all-purpose flour to make this type of cookie.
Baking Soda – Baking soda helps the cookies rise just a touch.
Good Quality Almond Extract – This is key to the unique flavor of this easy recipe.
Good Quality White Chocolate Chips – What's a cookie without chocolate chips? If you can't find white chocolate chips, you can chop a white chocolate bar into white chocolate chunks. Chopped white chocolate really sweetens up this moist cookie.

How To Make White Chocolate Cherry Cookies
Begin by preheating the oven to 375 degrees and line your cookie sheets with parchment paper.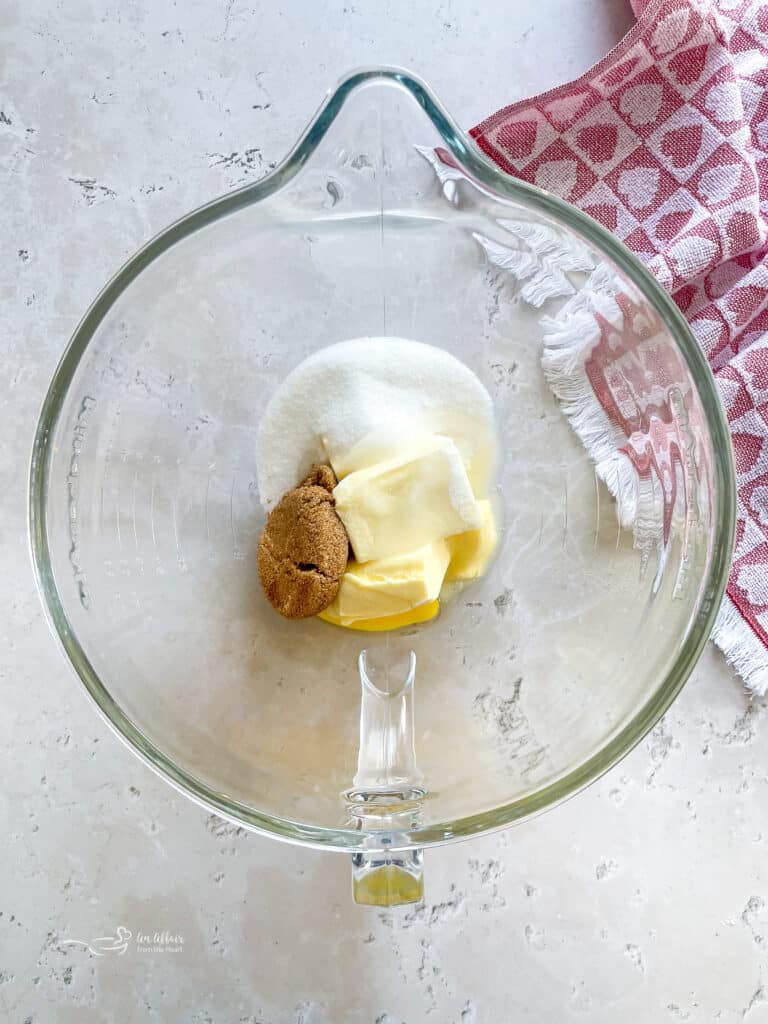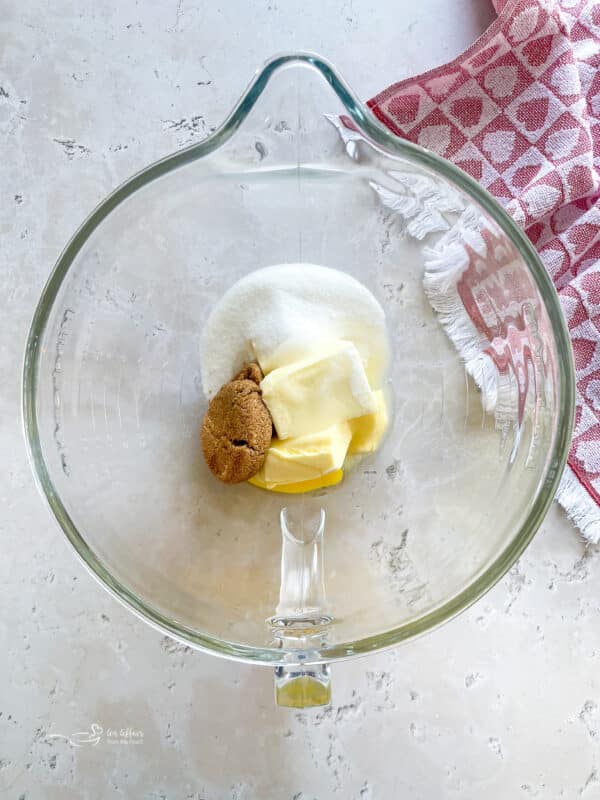 Next, In a large bowl, cream together butter, sugars, egg, and almond extract with an electric mixer or hand mixer on low speed until creamy.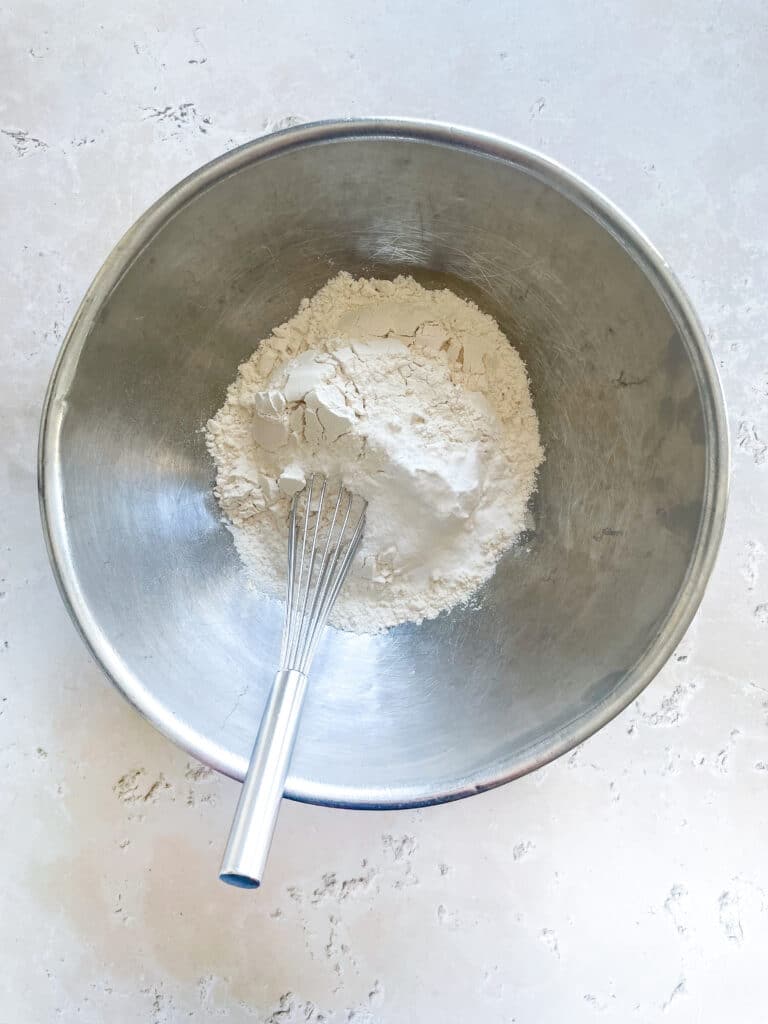 In a small bowl mix together the dry ingredients; baking soda, salt, and flour. Gradually mix the flour mixture into the wet ingredients until incorporated.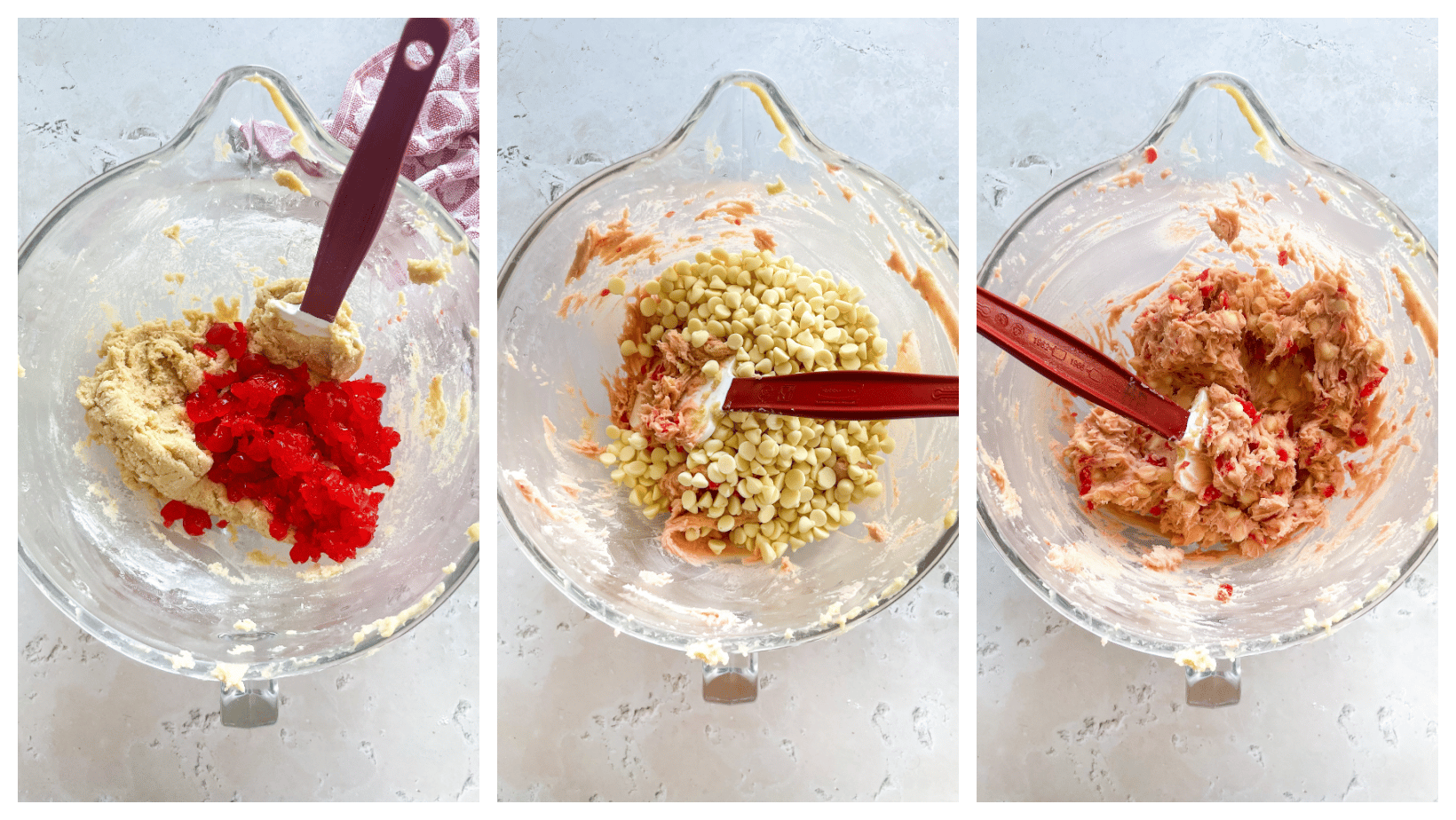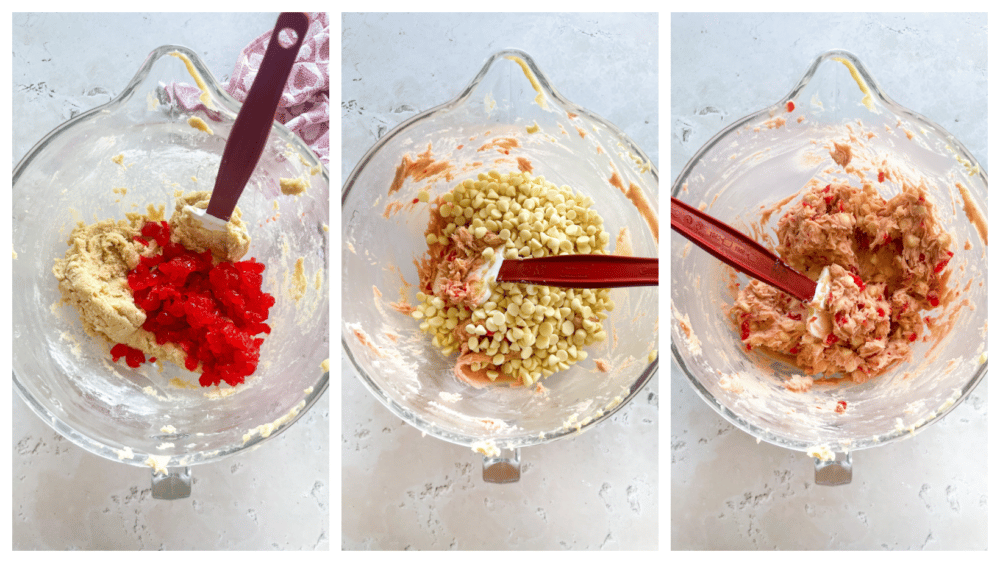 Finally, Mix in your chopped Maraschino cherries and fold in white chocolate chips.
Spoon onto the prepared large baking sheets.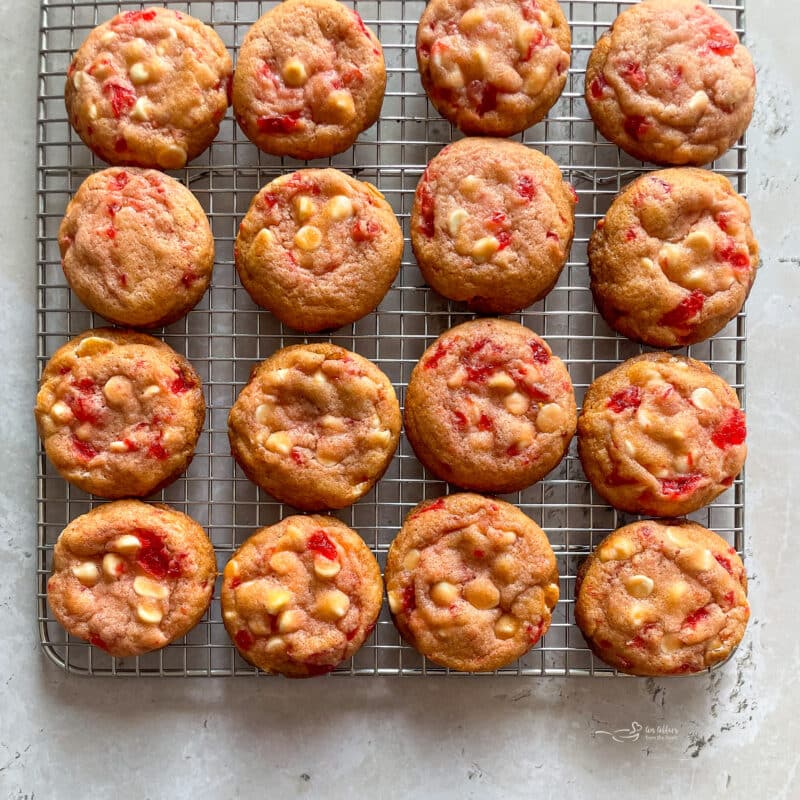 Bake for 8-10 minutes, cool for 3-4 minutes on the pan and then transfer to a wire rack to cool completely.
Store in an airtight container. These cookies freeze really well, too!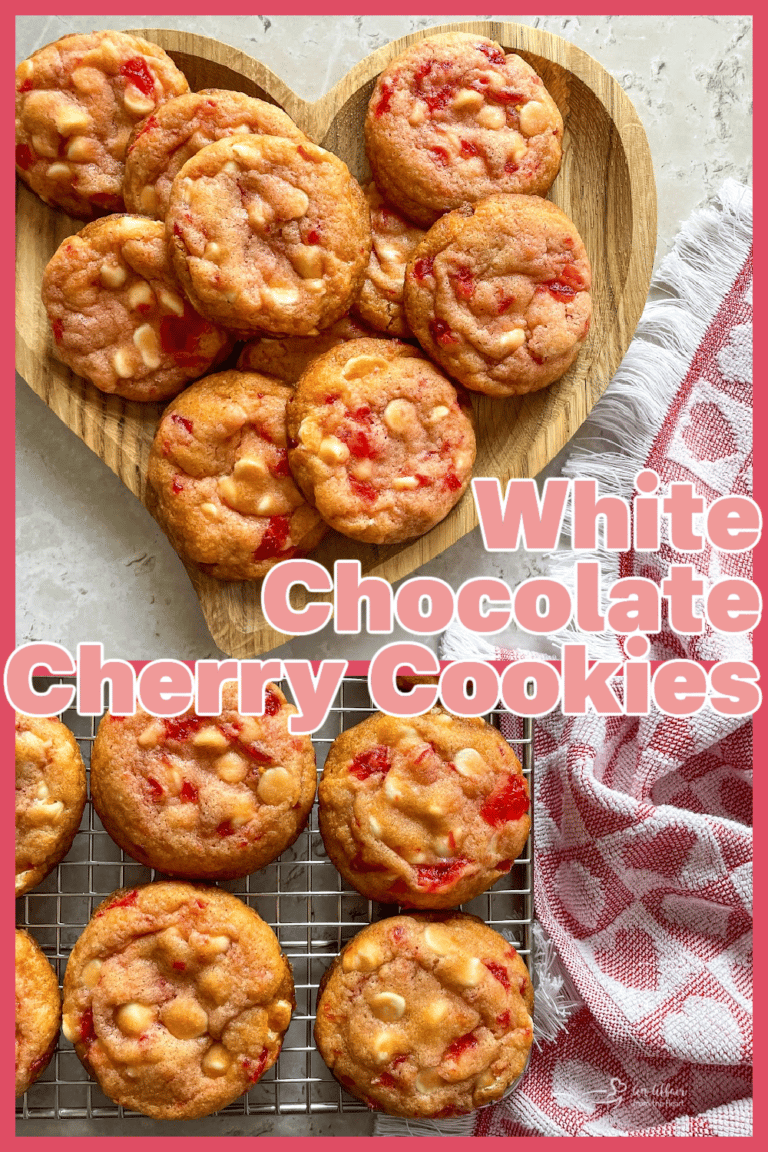 Love it? Pin it!
If you love these white chocolate chip cookies make sure that you don't lose this recipe! Pin it to your favorite Pinterest recipe board before you go!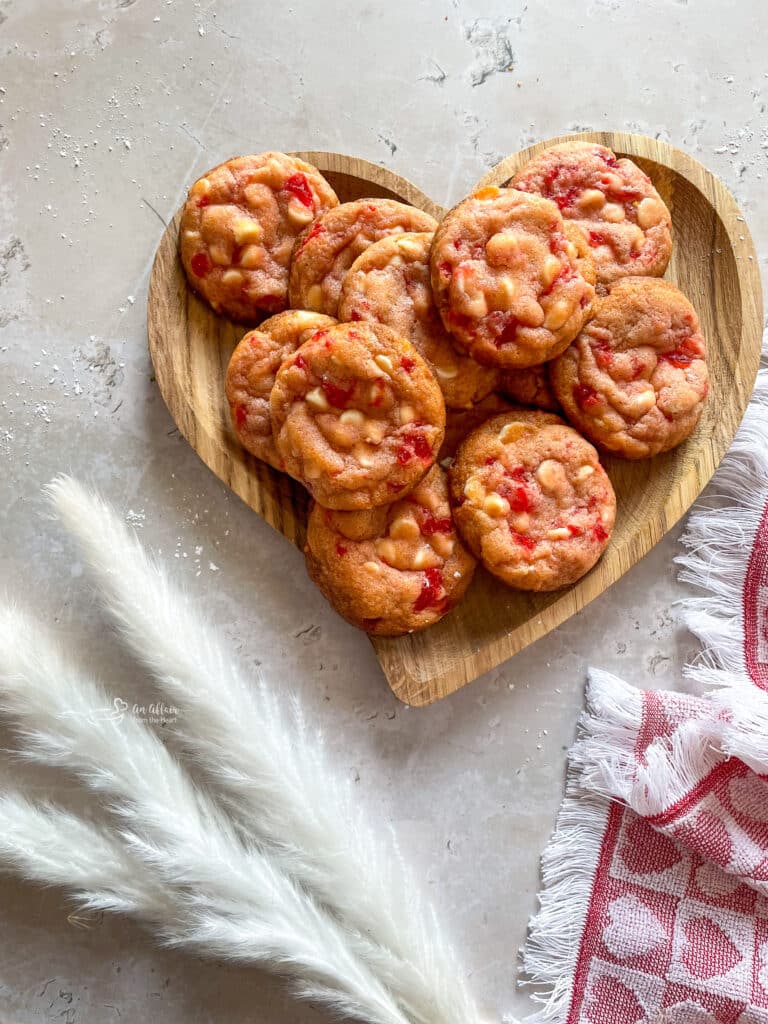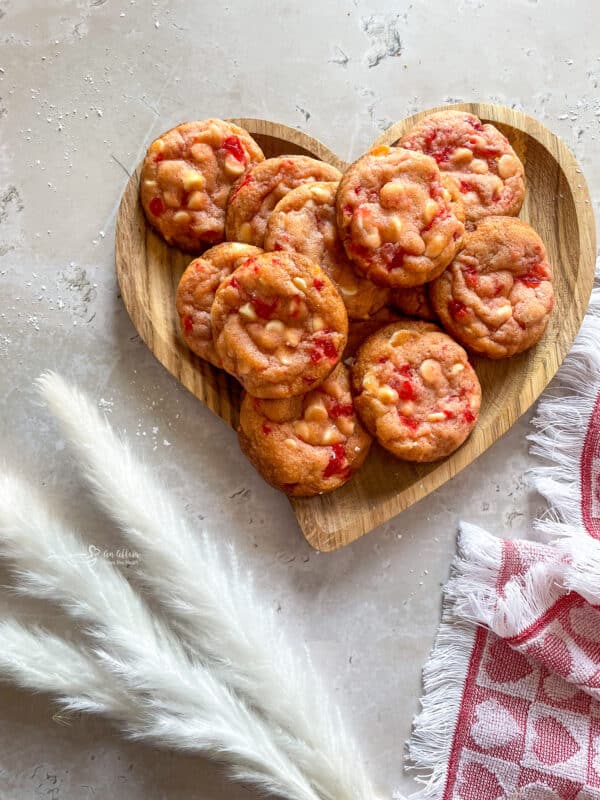 FAQs
What is the secret to chewy cookies? Using brown sugar in a cookie will help it become chewy due to its moisture content.
What makes a cookie soft and chewy or crispy? The degree to which a cookie is soft, chewy or crispy depends on the moisture and fat content and how long you bake them. Cookies made with brown sugar and butter will be soft and chewy. The longer you bake your cookies the crisper they will be.
What is the trick to making soft cookies? One of the tricks to making soft cookies is baking them in a hot oven, around 375 degrees Fahrenheit for a short period of time.
Which ingredient makes cookies moist and tender? If you are looking to make your cookies moist and tender you can try swapping the whole egg for two egg yolks. Another way to ensure you get moist and tender cookies is to make sure your oven is at the right temperature and to not overbake them.
Is it OK to use melted butter instead of softened? No, if your recipe calls for softened butter do not use melted butter or oil.
What makes a cookie fluffier? To make a cookie fluffier you can try using part shortening, and part butter.

Substitutions
If you can't find almond extract you can use a good-quality vanilla extract.
Not a fan of maraschino cherries? No problem, use dried cherries instead and add a touch of pink food coloring.
Bittersweet chocolate makes a good alternative if you aren't keen on white chocolate.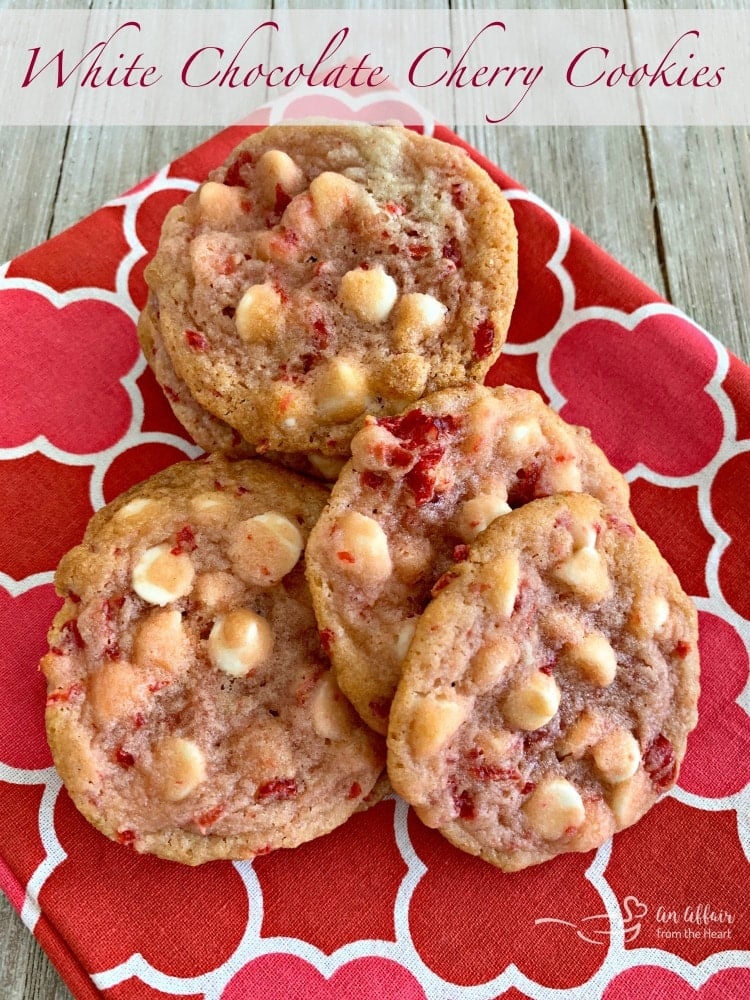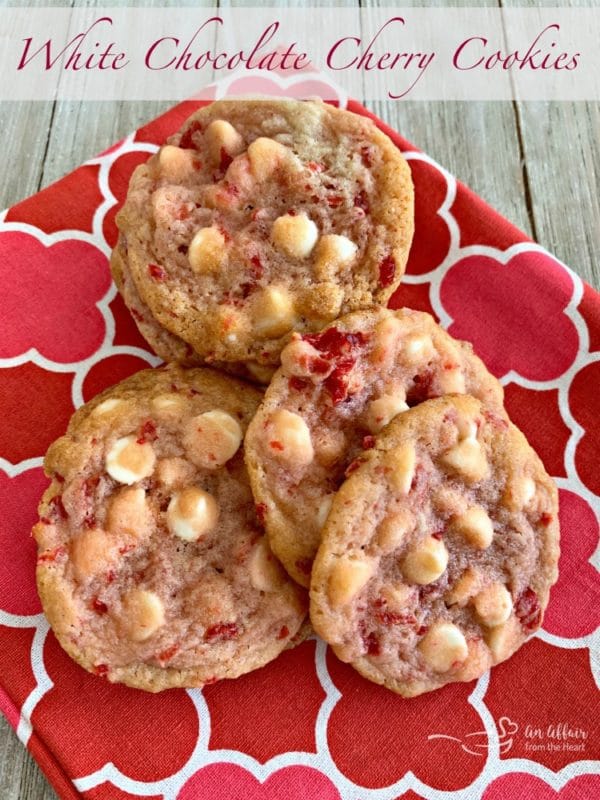 Tips and Tricks
Store any leftover cookies in an airtight container at room temperature for 3-4 days. Or freeze them for 3 months and serve them for Valentine's Day. When defrosting place the cookies on a paper towel to absorb any excess moisture.
I think chopped macadamia nuts would be a great addition to this perfect cookie.

More Cherry Recipes to Love
Whether you have cherry pie filling, fresh cherries, or a jar of Maraschino cherries I have all sorts of cherry recipes to tempt you:
Please make sure to visit all of the bloggers participating in this round of Freaky Friday. There are so many wonderful recipes being shared.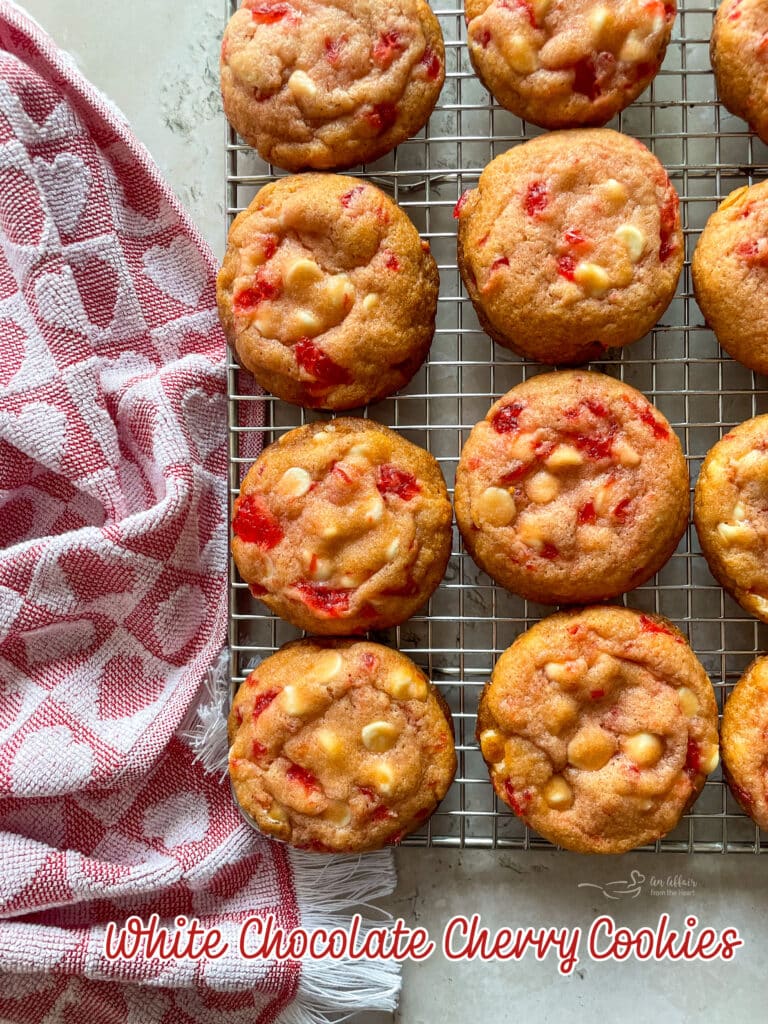 Save your oatmeal cookie recipes for the school bake sale and make these soft, chewy white chocolate cherry cookies for your next special occasion. What do you say we get to the White Chocolate Cherry Cookie Recipe?

Yield: About 4 dozen
White Chocolate Cherry Cookies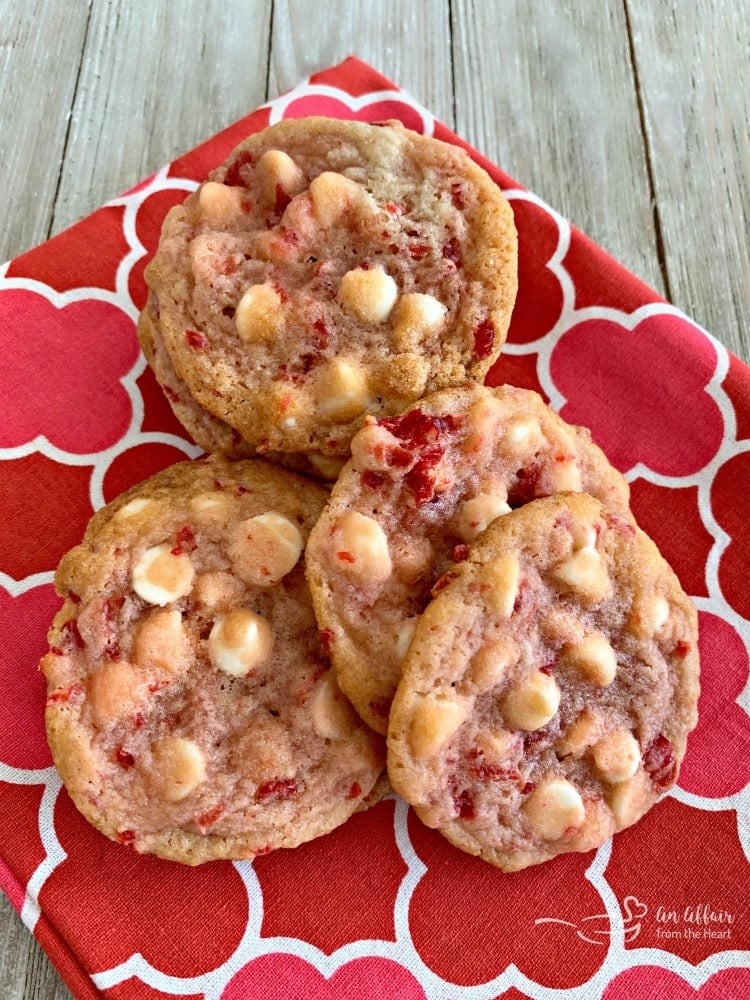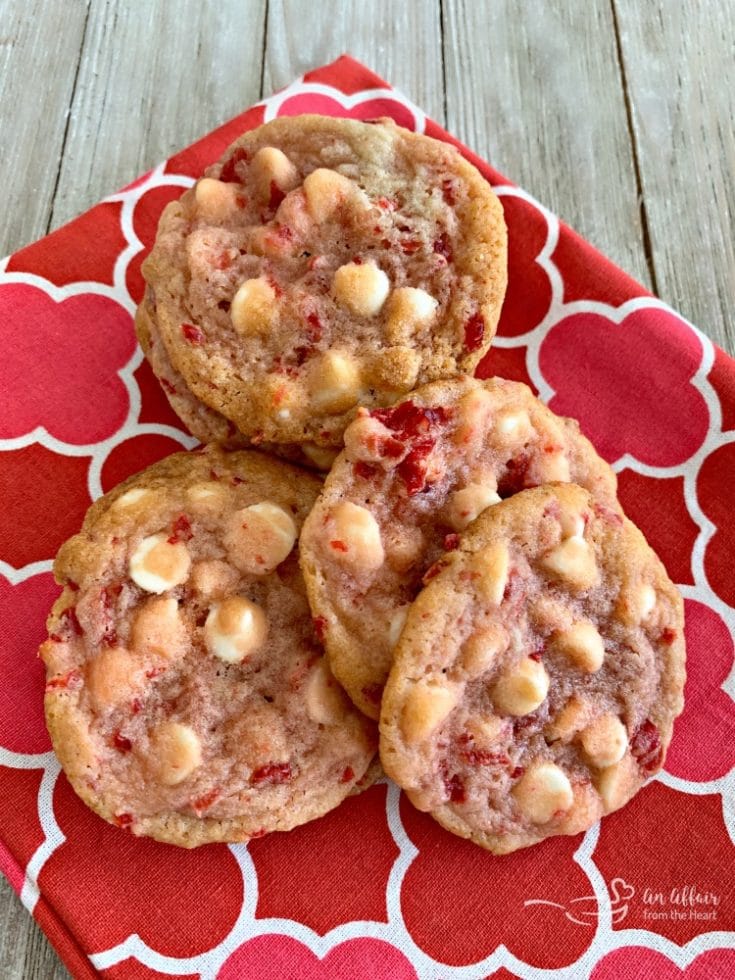 These White Chocolate Cherry Cookies are chewy and light. Almond extract flavored pink dough, filled with chopped Maraschino cherries and white chocolate chips.
Ingredients
1 cup unsalted butter, softened
1/2 cup granulated sugar
1/4 cup brown sugar
1 egg
1 1/2 teaspoon good quality almond extract
1 1/2 teaspoons baking soda
1/2 teaspoon salt
2 cups flour
1 (10 ounce jar Maraschino Cherries, drained and finely chopped
2 cups good quality white chocolate chips
Instructions
Preheat oven to 375 degrees and line your cookie sheet with parchment paper.
Cream together butter, sugars, egg and almond extract with your mixer until creamy.
In a small bowl mix together baking soda, salt, and flour. Gradually mix into the wet ingredients until incorporated.
Mix in your chopped Maraschino cherries.
Fold in white chocolate chips.
Spoon onto prepared cookie sheet.
Bake for 8-10 minutes, cool for 3-4 minutes on pan and then transfer to cooling rack to cool completely.
Nutrition Information:
Yield:
48
Serving Size:
1
Amount Per Serving:
Calories:

105
Total Fat:

6g
Saturated Fat:

4g
Trans Fat:

0g
Unsaturated Fat:

2g
Cholesterol:

16mg
Sodium:

70mg
Carbohydrates:

11g
Fiber:

0g
Sugar:

7g
Protein:

1g
Nutrition isn't always accurate.
This recipe was originally posted on November 30, 2018. It has been updated to improve user experience on January 23, 2023.