Oreo Bark
As an Amazon Associate and member of other affiliate programs, I earn from qualifying purchases.
With a little bit of crunch and the perfect amount of sweetness, this tasty Oreo Bark tastes divine with flavors of creamy cookies—you're gonna love it! Made with only three ingredients, this love-filled recipe is one of the best Valentine's Day bark recipes with milk chocolate, chopped Oreos, and sprinkles.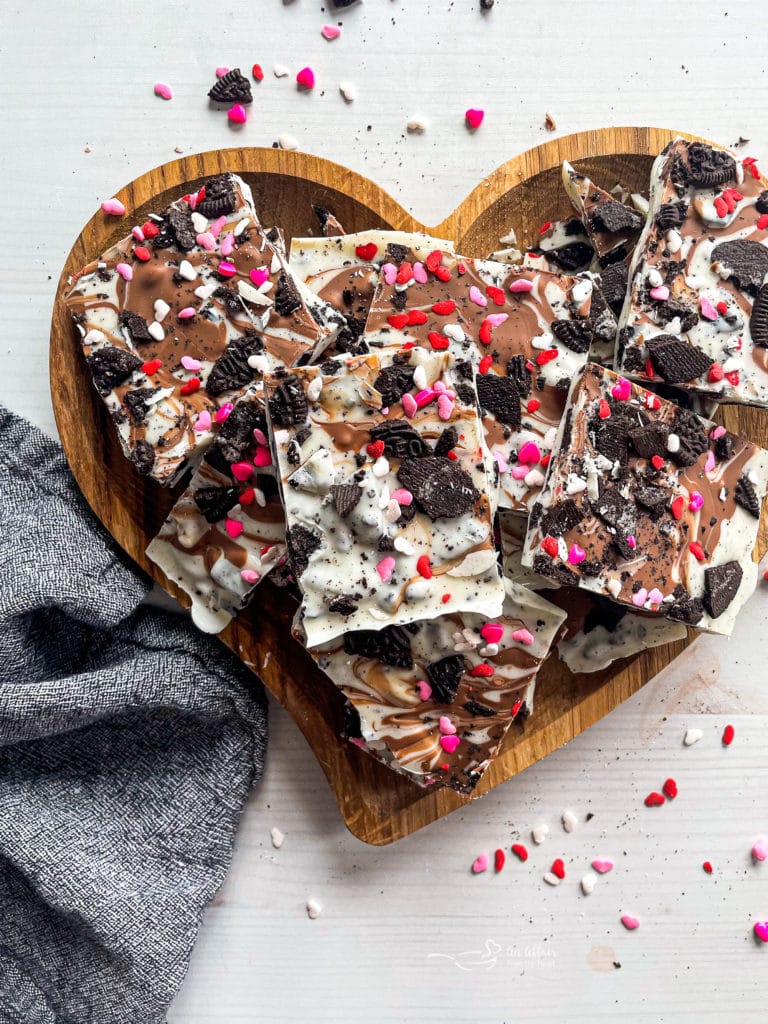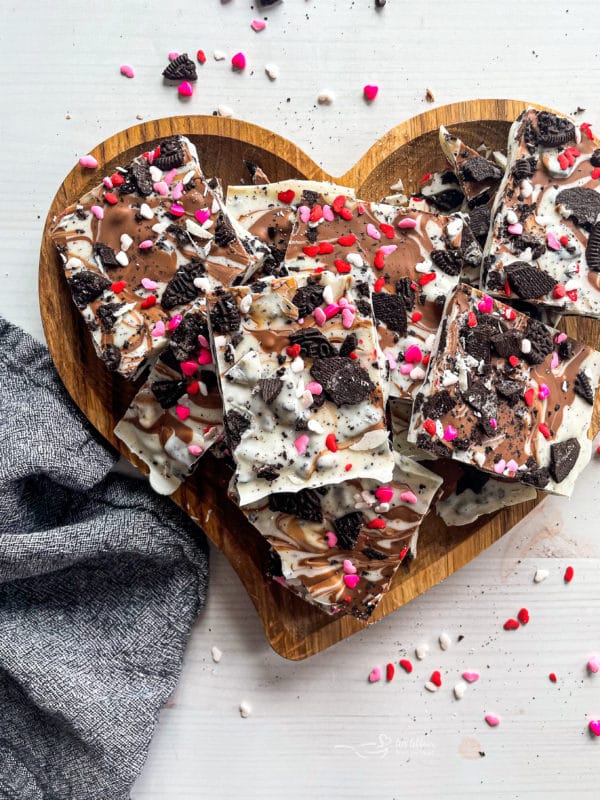 Oreo Bark candy with milk chocolate is truly something special; especially when it comes to Valentine's Day and other festive occasions filled with love, sweets, cookies! This recipe for Valentine's Day almond bark is not just tasty but it's oh so much fun to make in the kitchen, too!
Swirls of melted milk chocolate are drizzled over a layer of creamy, rich white chocolate to create one of the best looking and tastiest Valentine's Day bark recipes that you can gift your friends and family, make for classroom parties, potlucks, and more!
Cookies and cream Oreo Bark is super easy to make with the kids for a fun day of celebrations, crafts, and desserts. Looking to make this cookie bark for other holidays? Simply switch up the colors of the Oreos with different toppings and sprinkles to celebrate different events like Easter, Christmas, Halloween—you name it!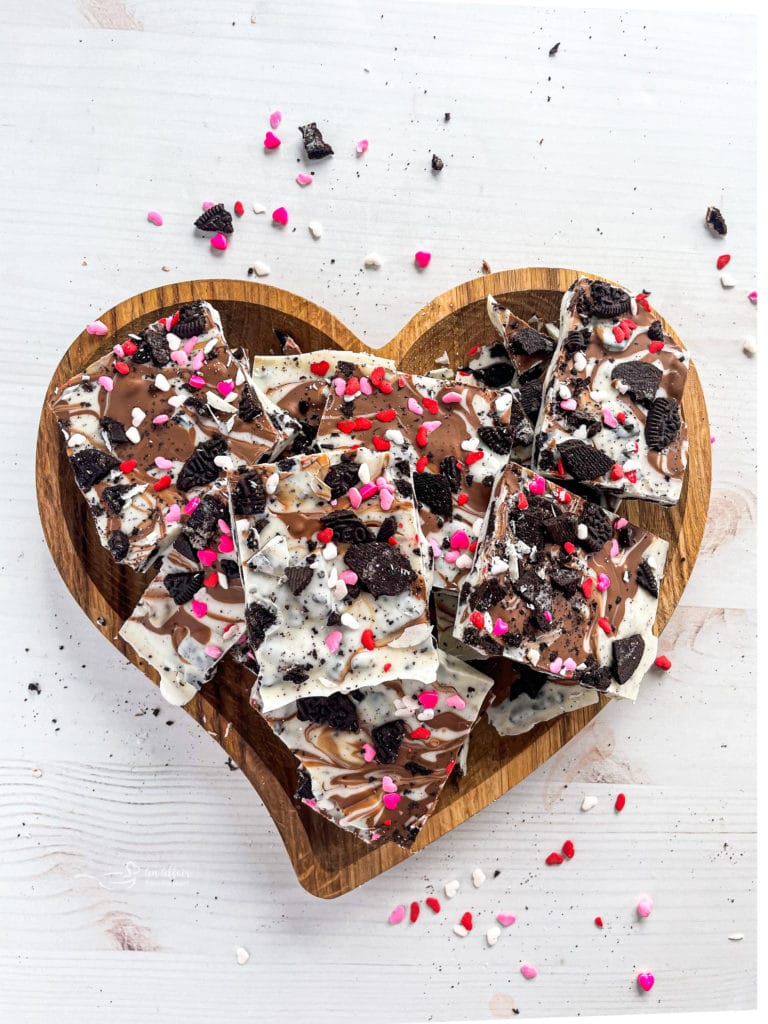 Valentine Sweets & Cocktails
Valentine's Day is my most favorite holiday of the whole year! I love everything about it and have since I was a little girl.
This year, I gathered a group of food blogger friends and decided to host a one-day event in honor of my favorite day! Today, I am sharing this Valentine Oreo Bark for a Valentine Sweets & Cocktails blog hop.
After grabbing the recipe for my Oreo Bark – you will find a wonderful collection of recipes that are perfect for your next Valentine or Galentine event – make sure to check them all out!
Why This Cookies and Cream Valentine's Day Bark is the Best
Pretty, Fun, and Delicious: Sweet and creamy flavors of white chocolate combined with the crunchy Oreos create the best flavors! The whimsical pink hearts sprinkled throughout the Oreo Bark create an astonishing dessert that is not only regular candy but eye candy, too!
Easy and Quick: This milk chocolate and almond bark is made in very simple steps! Once all the chocolate has melted, just place it in the fridge!
Perfect for Any Holiday: This chocolate bark is super easy to fix for any holiday with different colors. Use Easter-colored sprinkles and Oreos for Easter and Spring, red and green Oreos and sprinkles for Christmas, and orange Oreos for Halloween!
Versatile: You can add your own twist and extra glamour to this bark recipe by adding different colored M&Ms! Sound good, right? Chop up different nuts or melt peanut butter chips, butterscotch chips, or toffee candy!
Decorate Easily: Swap the colors up by using the milk chocolate as the base layer and creating a swirl out of the white chocolate on top of the darker layer. So many options!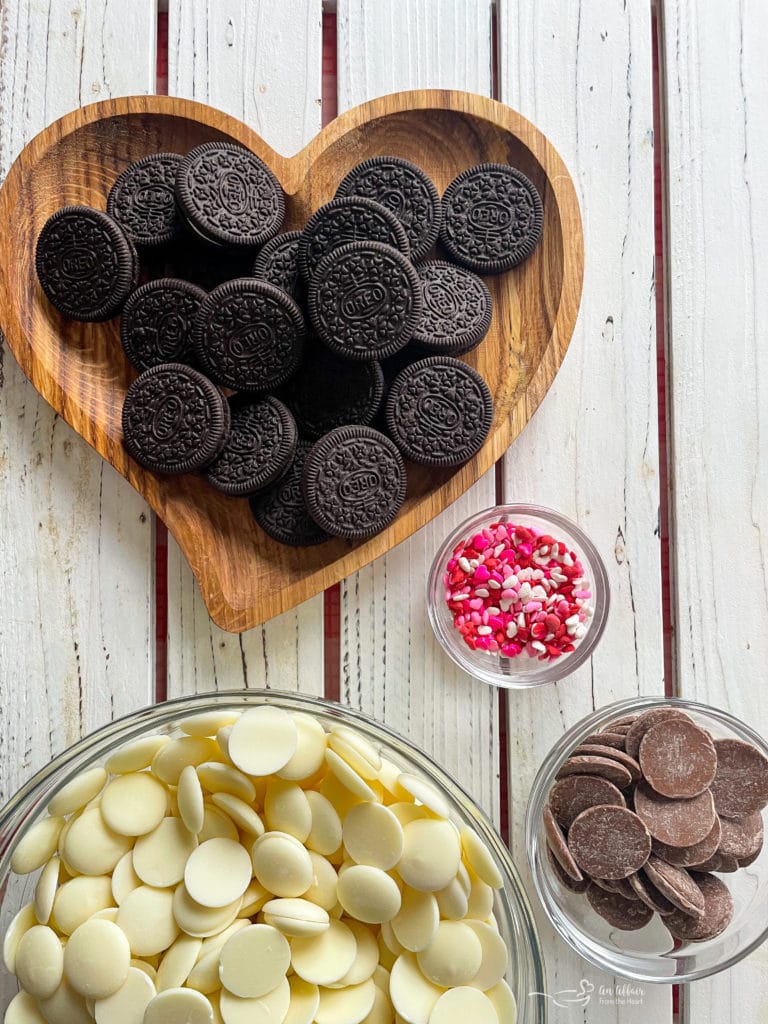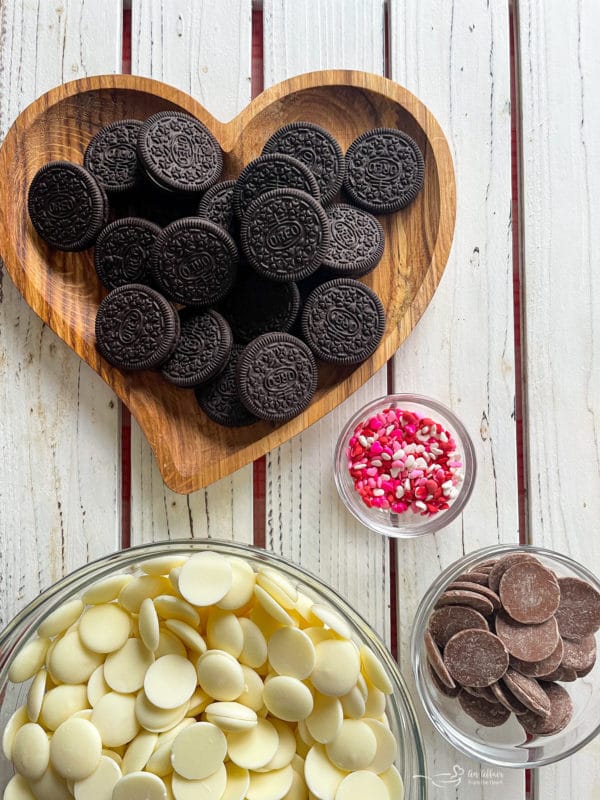 Ingredients for Tasty Almond Bark
White Candy Melts: Vanilla-flavored white candy melts are also known as almond bark and white chocolate melts. This makes sure the cookies and cream bark is super rich and sweet!
Milk Chocolate: Chocolate candies are melted into creamy milk chocolate to drizzle over the white chocolate to create the perfect shade of colors! Plus extra chocolate is delicious, right?
Heart Sprinkles: Totally worth it! Use an array of red or pink hearts or other types of sprinkles to make this Valentine's Day bark extra pretty.
Oreos: You will need twenty chopped Oreos for this bark recipe! Get a head start by chopping up the cookies ahead of time.
How to Make Oreo Cookie Bark
First, line a baking sheet with parchment paper for the chocolate bark. You will want to do this to make sure the bark doesn't stick to the pan.
Melt the Chocolate
Next, melt the white candy melts in a microwave-safe bowl in the microwave in thirty by second intervals. Stir with each interval until melted.
You can also use a double boiler to melt the candy, but be sure to follow the candy package's directions. Melt the milk chocolate in a separate bowl.
Add Oreos and Transfer to Pan
Next, sprinkle ¾ cup of chopped Oreos into the white chocolate and mix the ingredients with a wooden spoon or rubber spatula until combined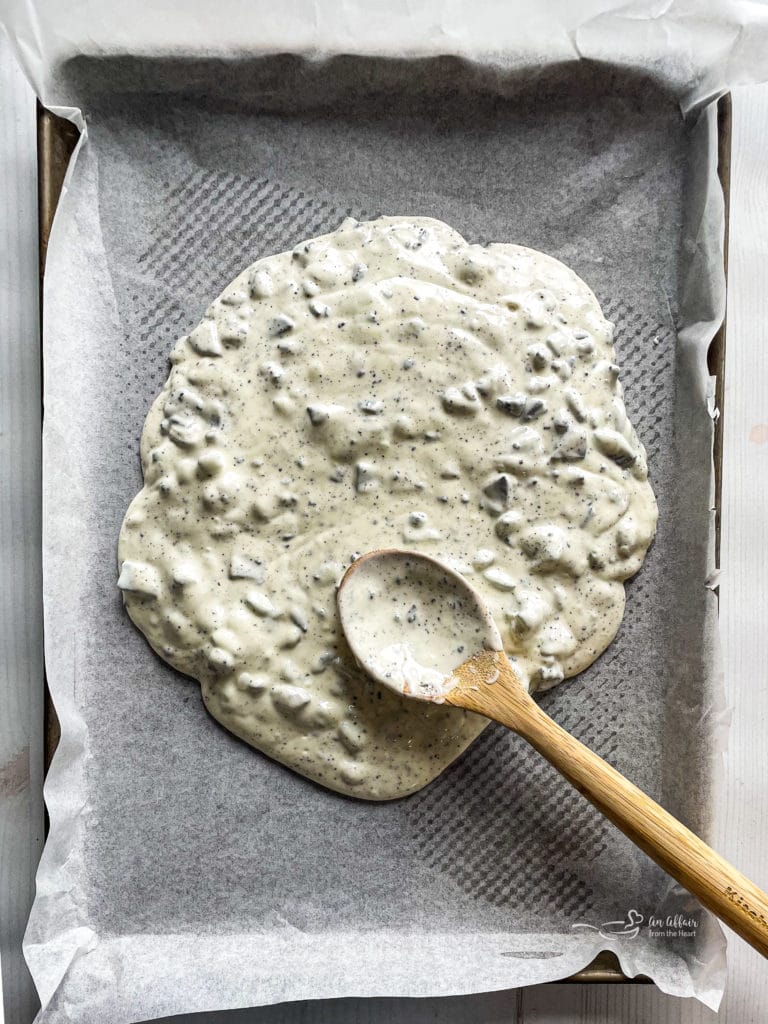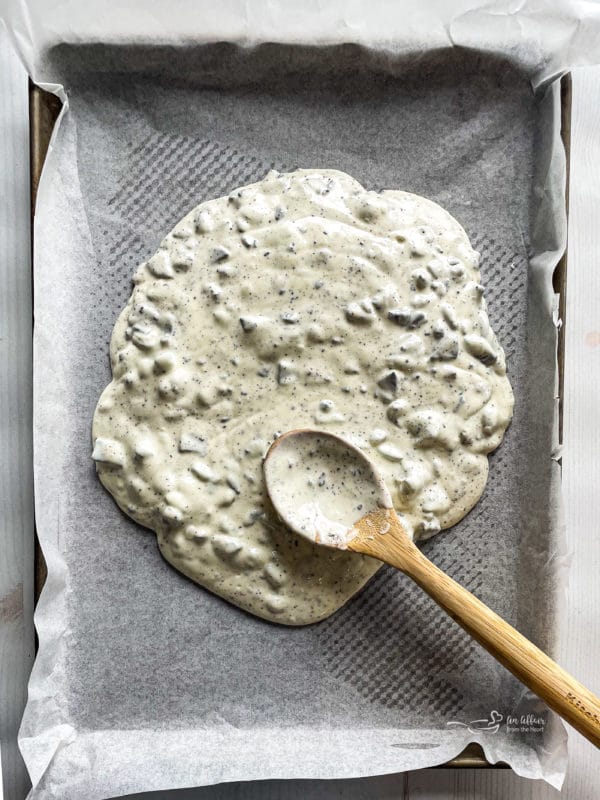 With a spoon, spread the white chocolate layer onto the lined baking sheet in an even ¼-inch layer.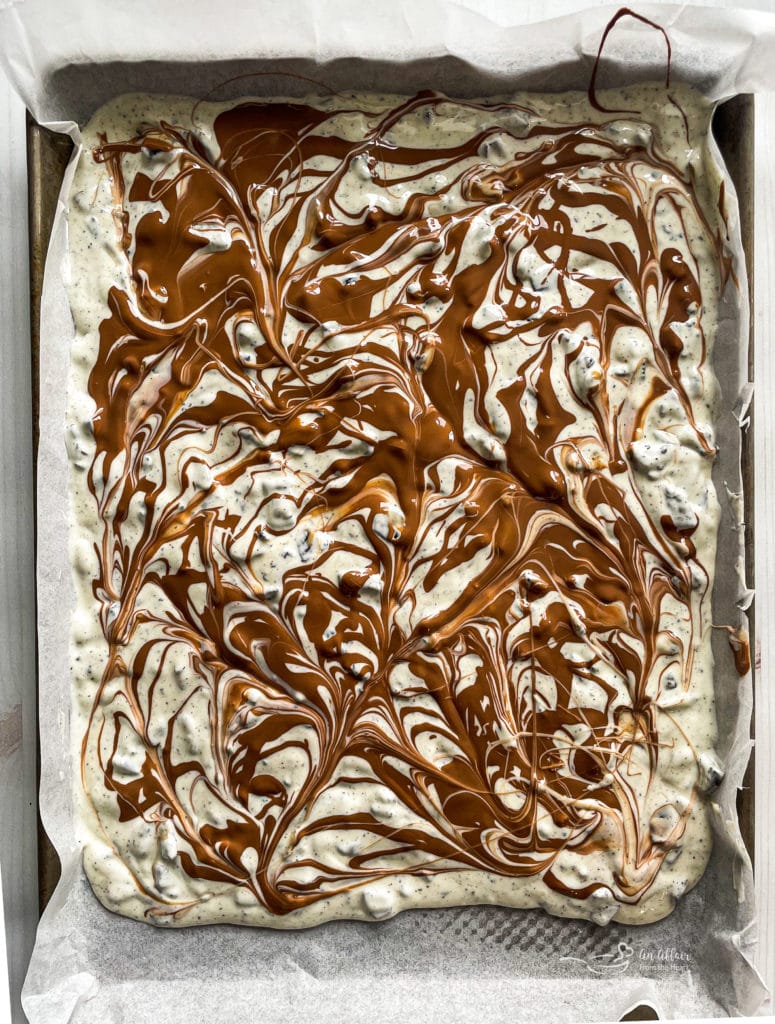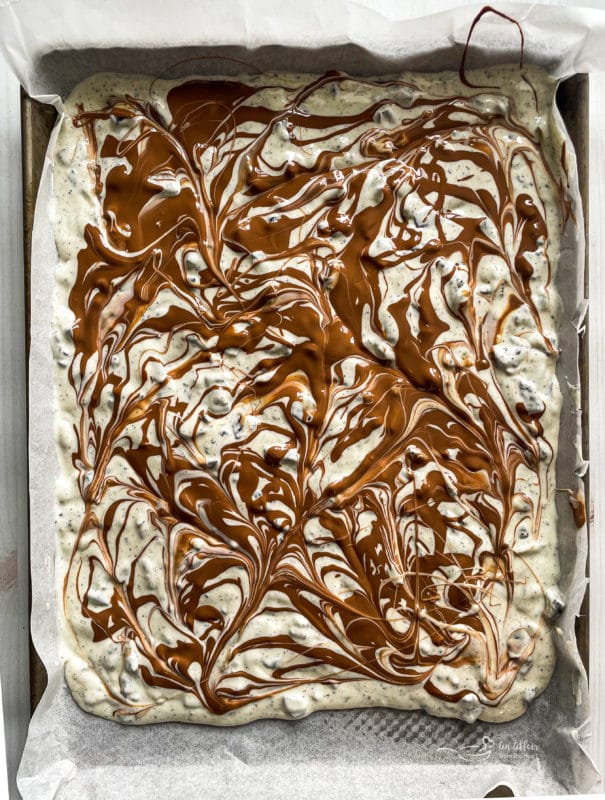 Drizzle the melted milk chocolate over the white chocolate layer. You can have a lot of fun with this part and create all sorts of fun designs!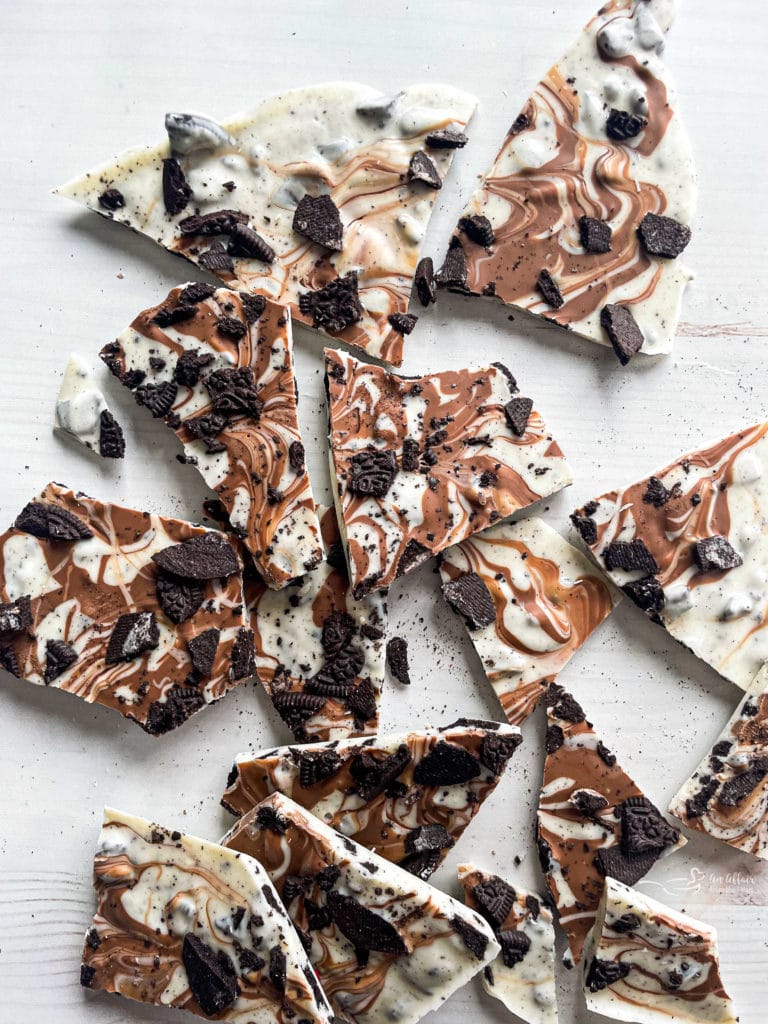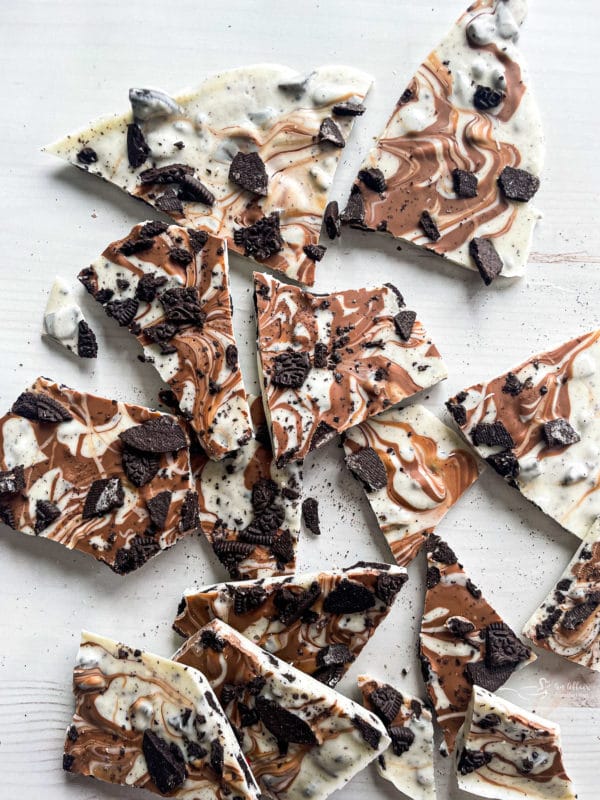 Top the melted chocolate with the remainder of the chopped Oreos to make the bark extra crunchy and rich with cookies and cream flavors.

CHILL
Finally, sprinkle the hearts or other types of sprinkles atop the Oreo bark. Place the sheet of chocolate into the refrigerator to chill for thirty minutes until the bark is hard and solid.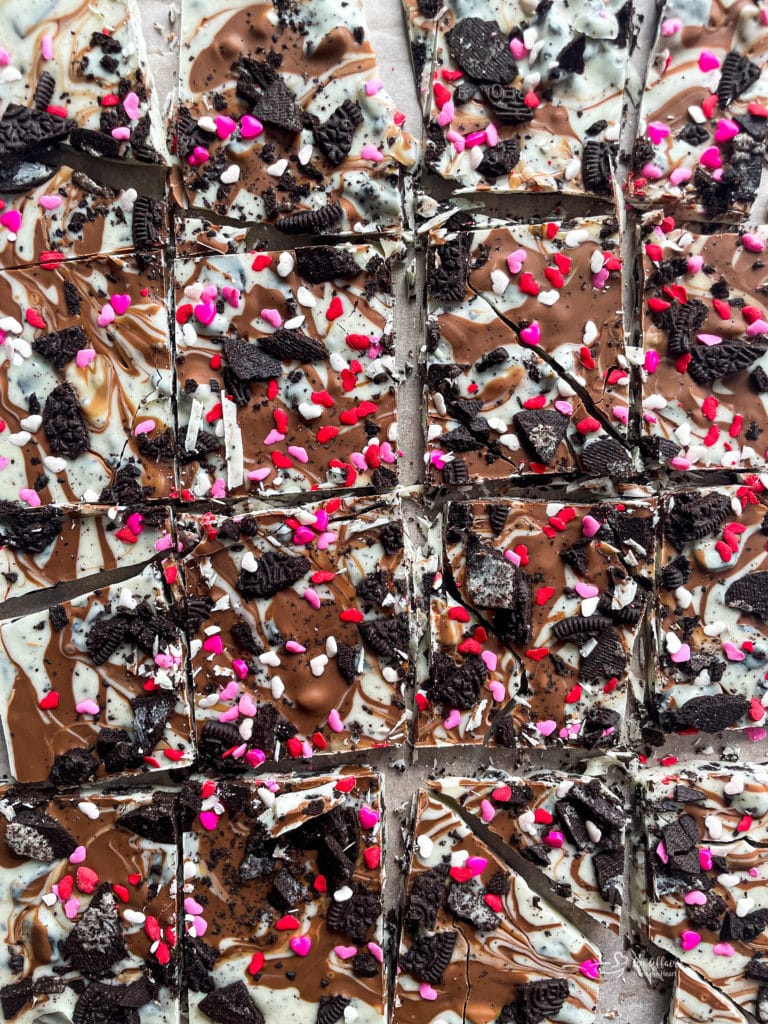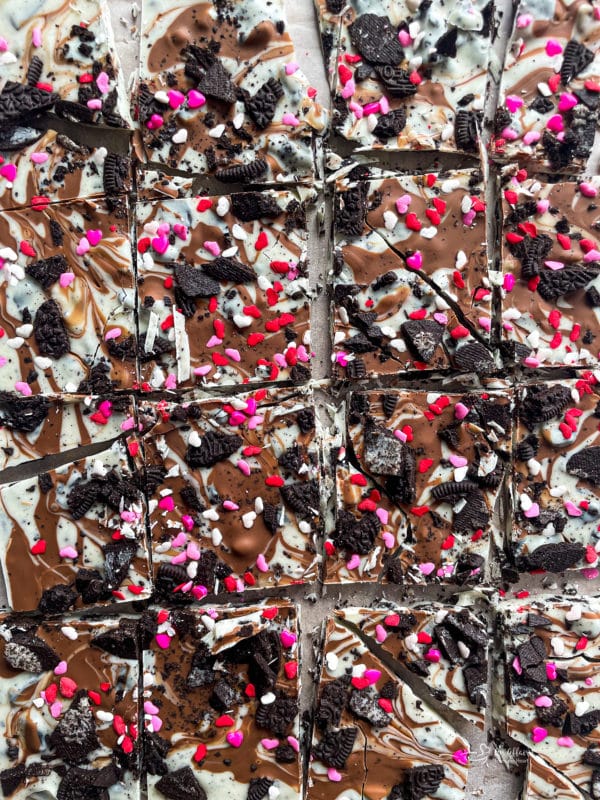 Once the bark candy has hardened, cut it into squares or triangles with a sharp knife. Enjoy with your loved ones for a fun treat!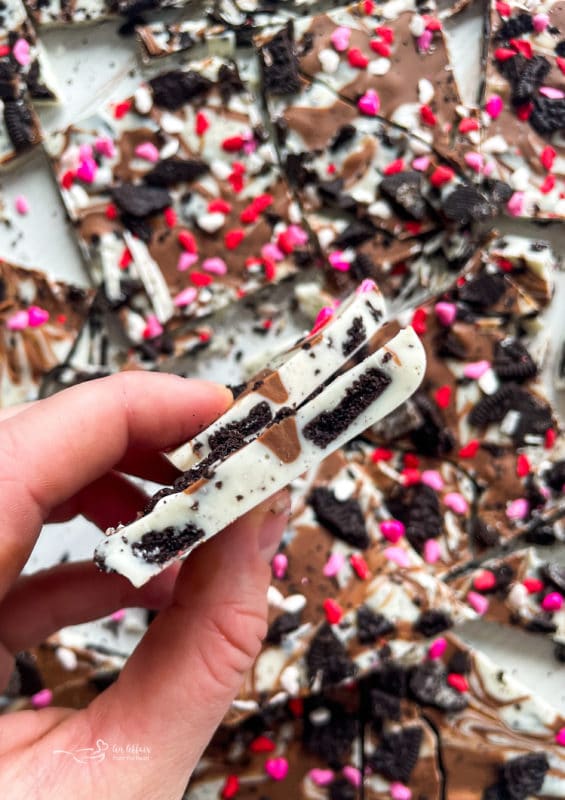 TIPS
Be sure to avoid overburning the chocolate or it will not taste good!
Use any flavor of Oreo to create different flavors and colors.
Store the leftover Oreo candy bark in an airtight container in the refrigerator for up to one week.
Freeze the bark by placing it in a freezer-safe airtight bag and placing it in the freezer for up to three months!
Drizzle caramel sauce over the bark to make it extra appetizing.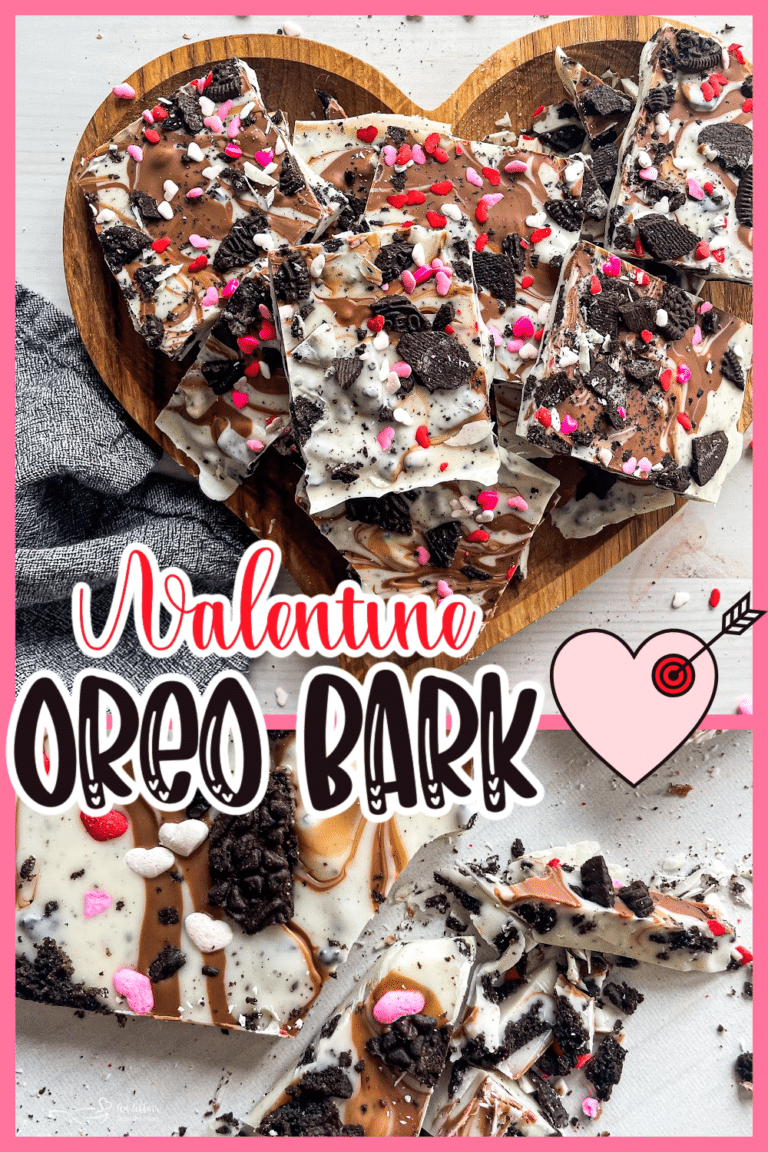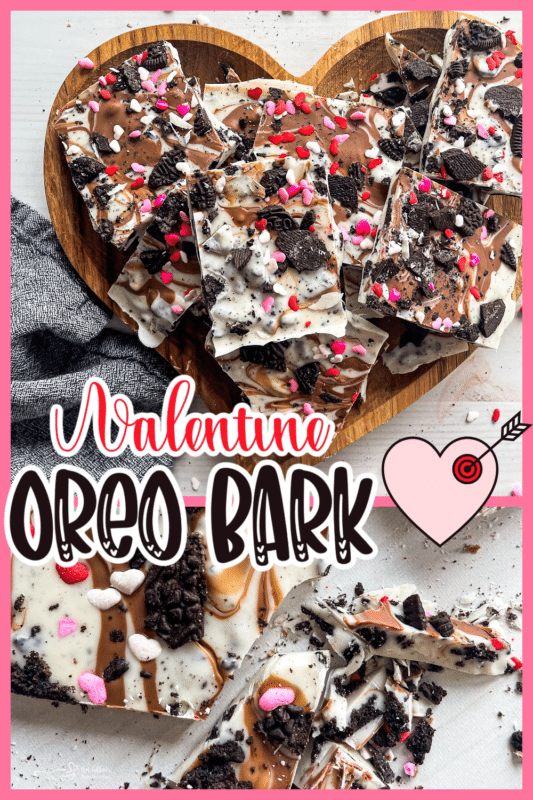 LOVE THIS COOKIE BARK RECIPE? PIN IT FOR LATER!
Be sure to save this candy recipe to your favorite chocolate, Valentine's Day, or dessert Pinterest board for later! You will love making this recipe!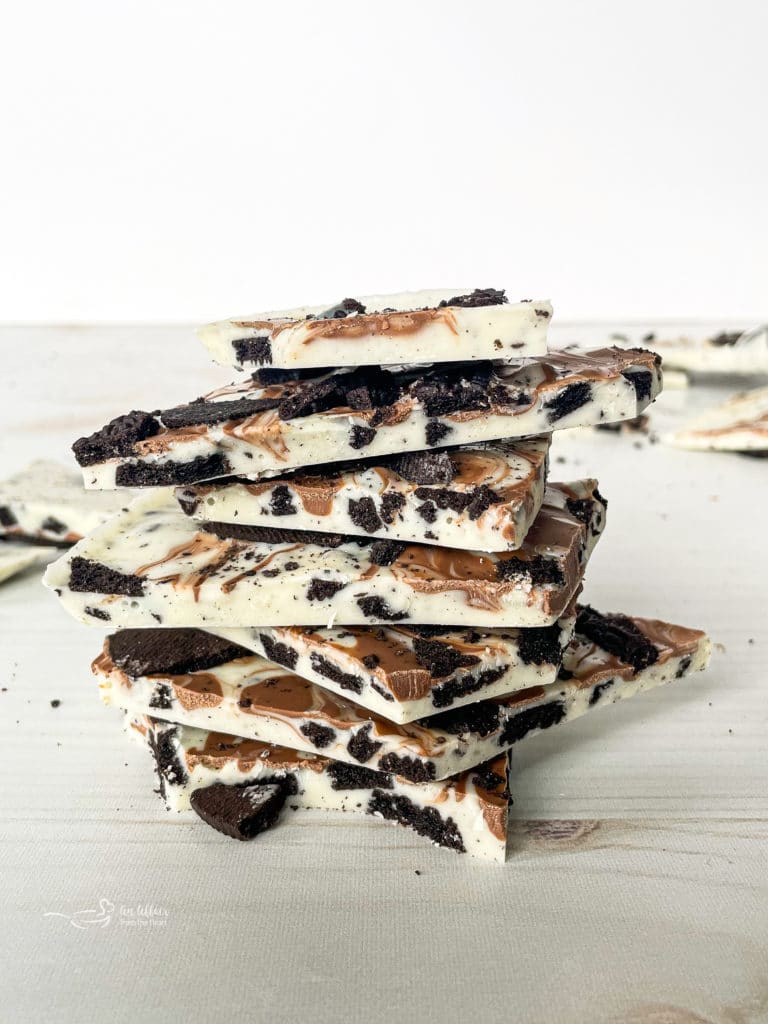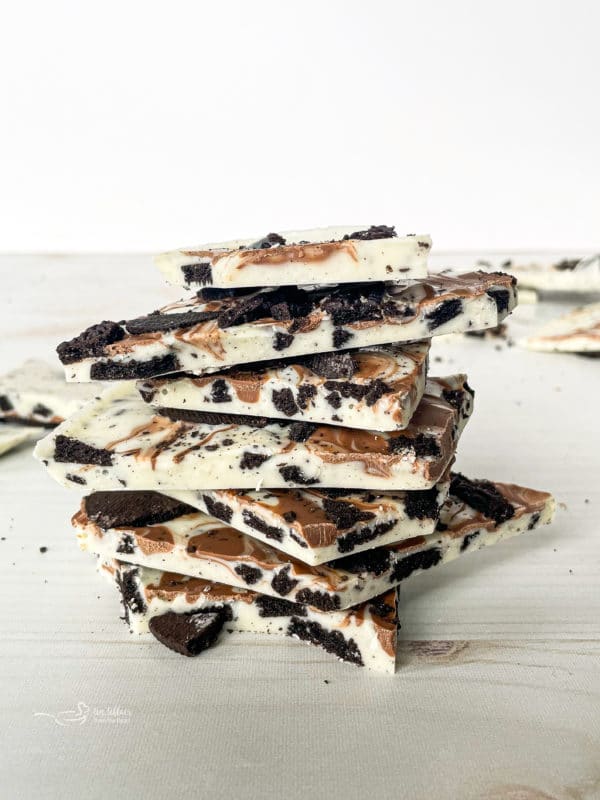 OTHER SWEET BARK RECIPES FOR HOLIDAYS
Pecan Caramel Bark (Turtle Bark)
Peppermint Bark Caramel Popcorn
White and Dark Chocolate Peppermint Bark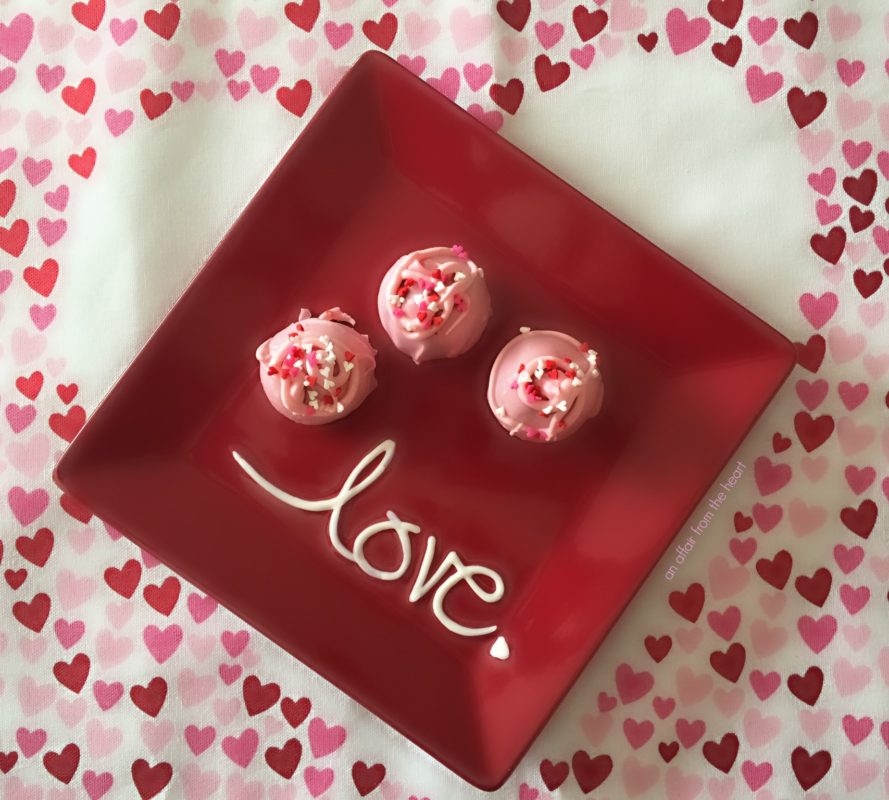 MORE SWEET VALENTINE'S DAY RECIPES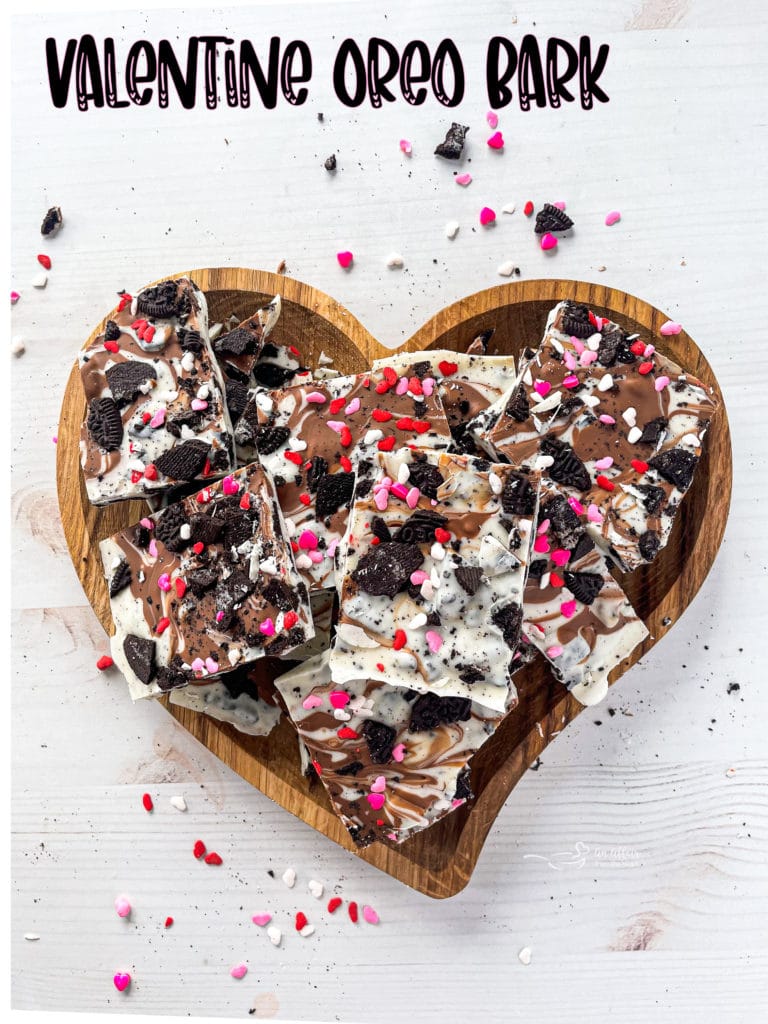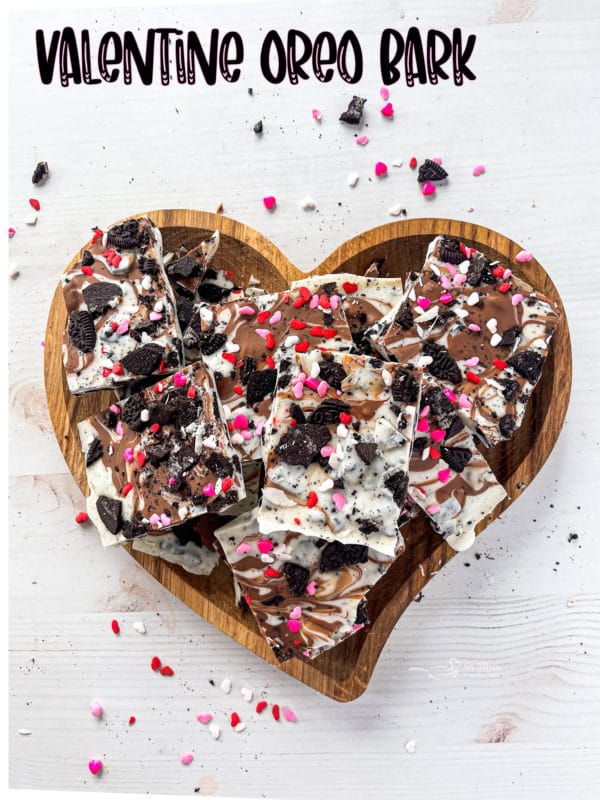 Let's whip up some of this delicious Oreo Bark so we can start eating!

Oreo Bark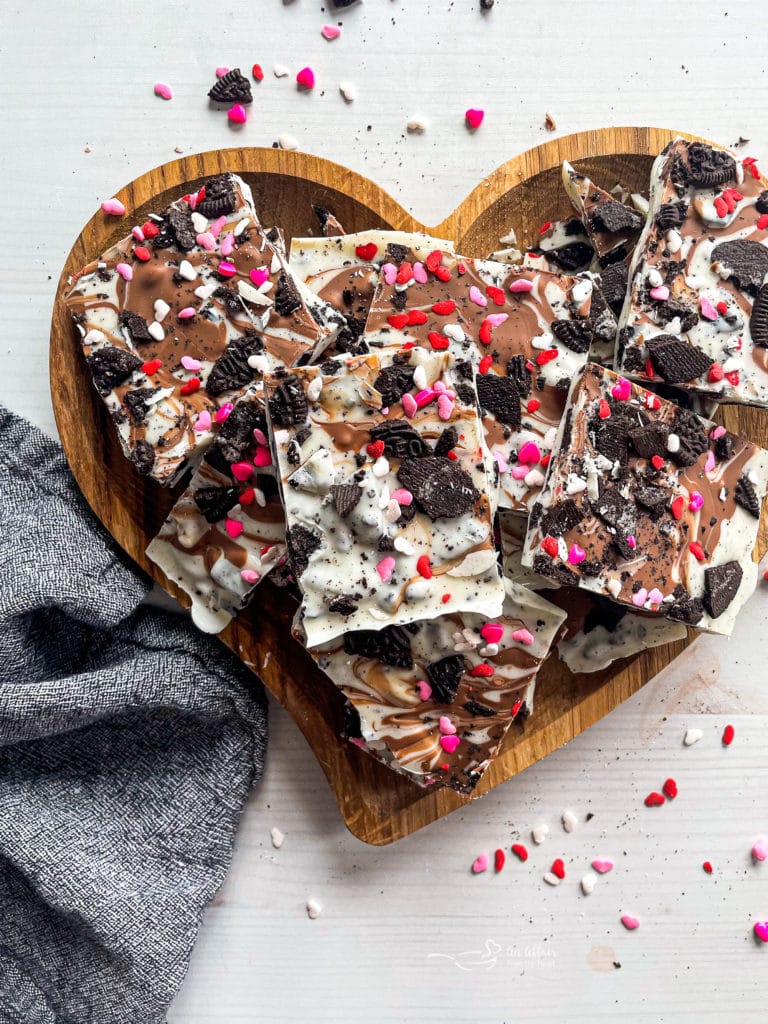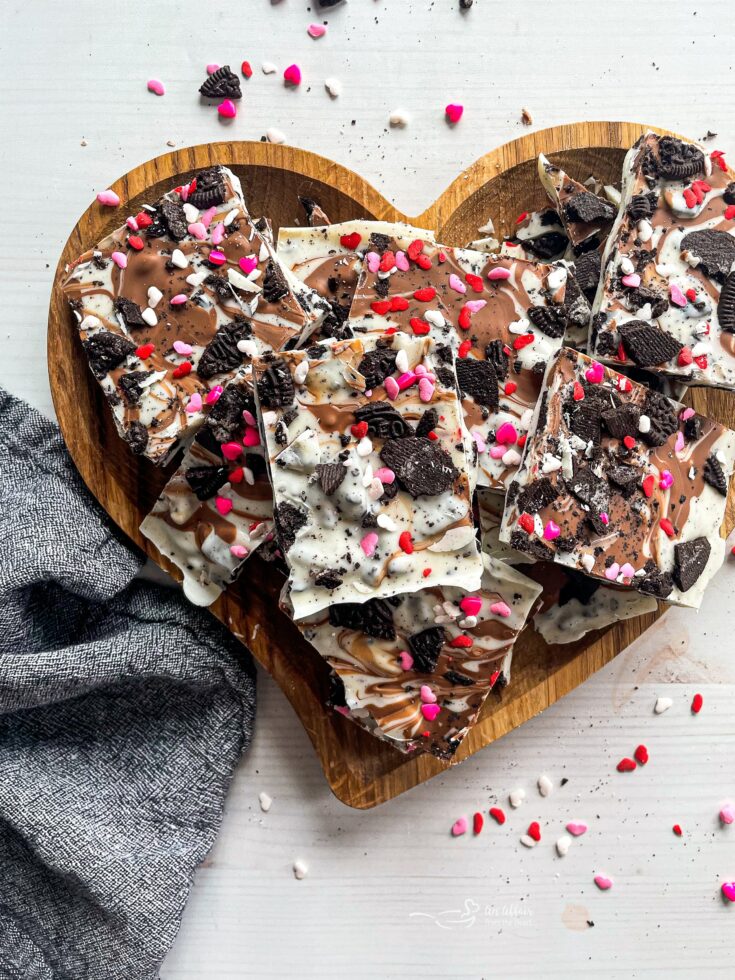 Ingredients
30 ounces white candy melts, vanilla flavored
½ cup chocolate candy melts
20 Oreo Cookies, chopped, divided
Heart shaped sprinkles, optional
Instructions
Line a baking sheet with parchment paper.
Melt white candy melts in the microwave, according to the package instructions. Stirring until smooth.
In another bowl, melt the chocolate candy melts in the same manner.
Stir ¾ cup of the crushed oreos into the melted white candy.
Spread onto the prepared cookie sheet in an even layer that is about ¼" thick.
Drizzle the milk chocolate and swirl over the top of the white chocolate.
Top with remaining crushed oreos.
Add sprinkles if desired.
Place in the fridge for about 30 minutes, until bark is hardened and set.
Cut into squares.
It's time to start planning our Valentine and Galentine events, you'll need some lovely recipes to serve! Check out these delightful Valentine Sweets and Cocktails, all part of the #ValentineSweets blogging event hosted by Michaela from An Affair from the Heart: