Blueberry Banana Bundt Cake
As an Amazon Associate and member of other affiliate programs, I earn from qualifying purchases.
Made from scratch, this Blueberry Banana Bundt Cake is a moist and flavorful cake, using ripe bananas and fresh blueberries. It's glistened with vanilla glaze and then decorated with blueberry buttercream frosting and more fresh blueberries.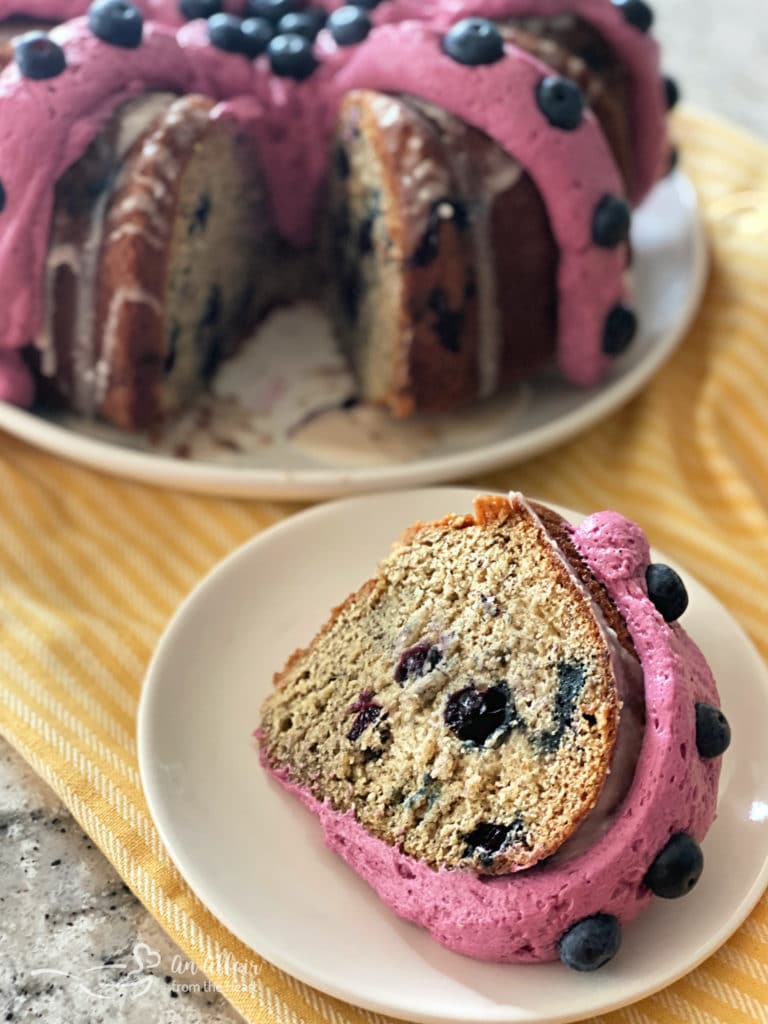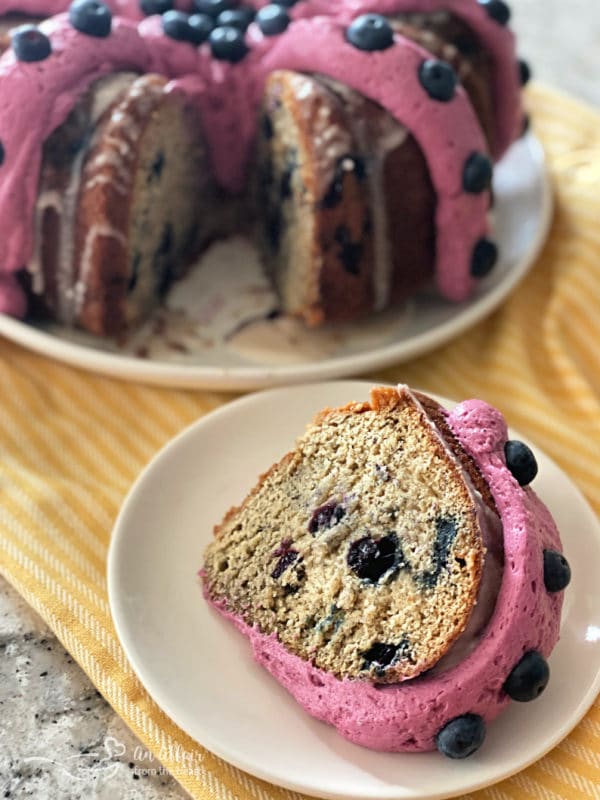 I have been a little obsessed with blueberry recipes this year, so what's one more, right? Plus, who couldn't use another idea for those ripe bananas on your counter? Well, this Blueberry Banana Bundt Cake fits both of those elements just right.
If that isn't enough, I glazed the whole thing with vanilla glaze, (think giant glazed donut) then decorated with this fluffy blueberry buttercream to take to over the top.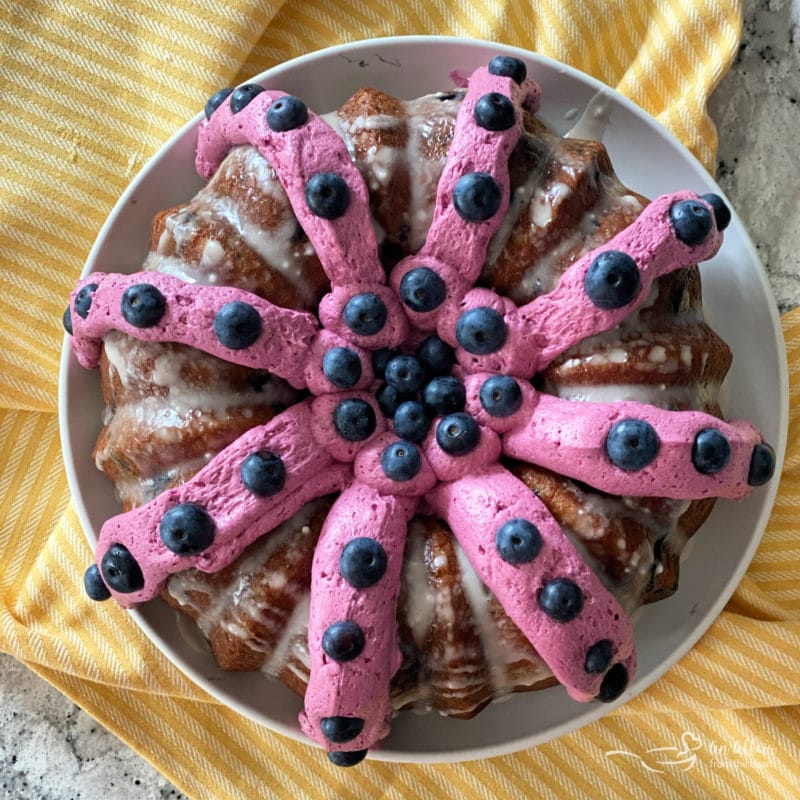 Blueberry Banana Bundt Cake
I am not sure why I haven't put these two flavors together before? Blueberry banana recipes just work so well.
It seems that I have gotten myself in a bit of a rut, thinking that bananas are always in need of a spice like cinnamon or nutmeg, or used as an addition to chocolate recipes. Or that blueberries are only used in recipes with other berries or citrus flavors like orange or lemon.
But today, my friends, I am digging myself out that baking rut, and telling you that my mind is changed forever because recipes with bananas and blueberries are a match made in culinary heaven.
But I have to admit, I can't take all of the credit for my newly discovered love of banana blueberry desserts.
Freaky Friday Recipes
Today is one of my favorite days of the season! It's Freaky Friday!!
What's that you ask? Well, it's a good old fashioned blog hop with a group of my food blogger buddies. We all get secret assigned one another's blogs to cook/bake from and all of the recipes are revealed on the same day. For our summer round, that day is today!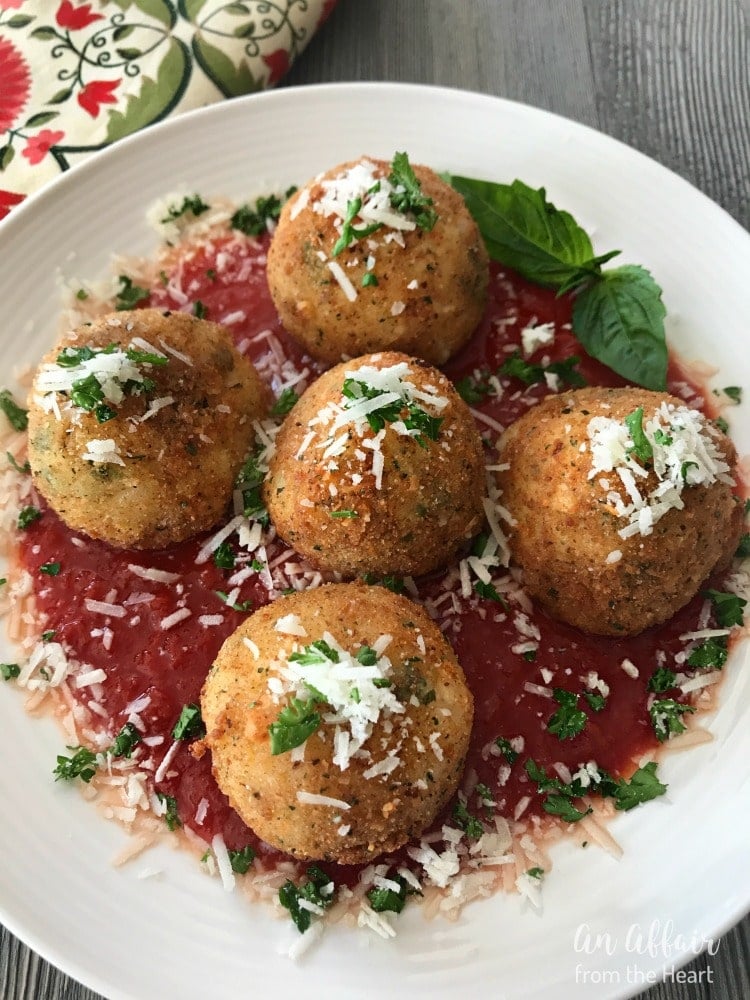 Lemoine Family Kitchen
The blog I was giving to cook from this round was LeMoine Family Kitchen, the mastermind of Angela LeMoine.
This isn't the first time I have been lucky enough to be assigned her blog. I have made two of her amazing Italian recipes in the past. The Arancini you see pictured above and also these Spinach & Artichoke Stuffed Shells.
Then there was the time that I indirectly made her Easy Black Bean Soup – because one of the other bloggers made it for a round a while back, and that inspired another blogger to try it – then I couldn't stand to be left out, so I made it too!
I told myself that as much as I wanted to dive back into her Italian recipes, I needed to look into the other fantastic recipes on Angela's blog. Which was hard for me to talk myself into because Angela is Italian and her tried and true family recipes are hands down some of the best I have tried.
About Angela
Angela lives in New Jersey and is married to her high school sweetheart and together they have two boys. Her grandparents migrated to the US from Italy, and like I said her Italian roots run deep.
Even though Angela attended Rutgers University and studied Environmental Policy, she always knew that where he really wanted to be was in the kitchen, where she grew up, surrounded by a loud and loving family, "stirring something fabulous!"
So even after being accepted into Culinary Arts school, she decided that her love of home and family drew her into her own kitchen, where she began her own family and a few years later she began her food blog, LeMoine Family Kitchen, where she shares all of her delicious recipes!
Before settling on her recipe for Blueberry Banana Cake, I had a couple of other top contenders in my "to bake" list. For one, she makes the most amazing scones, like these Raisin Scones. If you are a lover of scones, you'll want to check out all of her scone recipes! I had it narrowed down to her Lemon Strawberry Cheesecake Dip, her Rainbow Shortbread Cookies, and this cake – and in the end, her cake won out.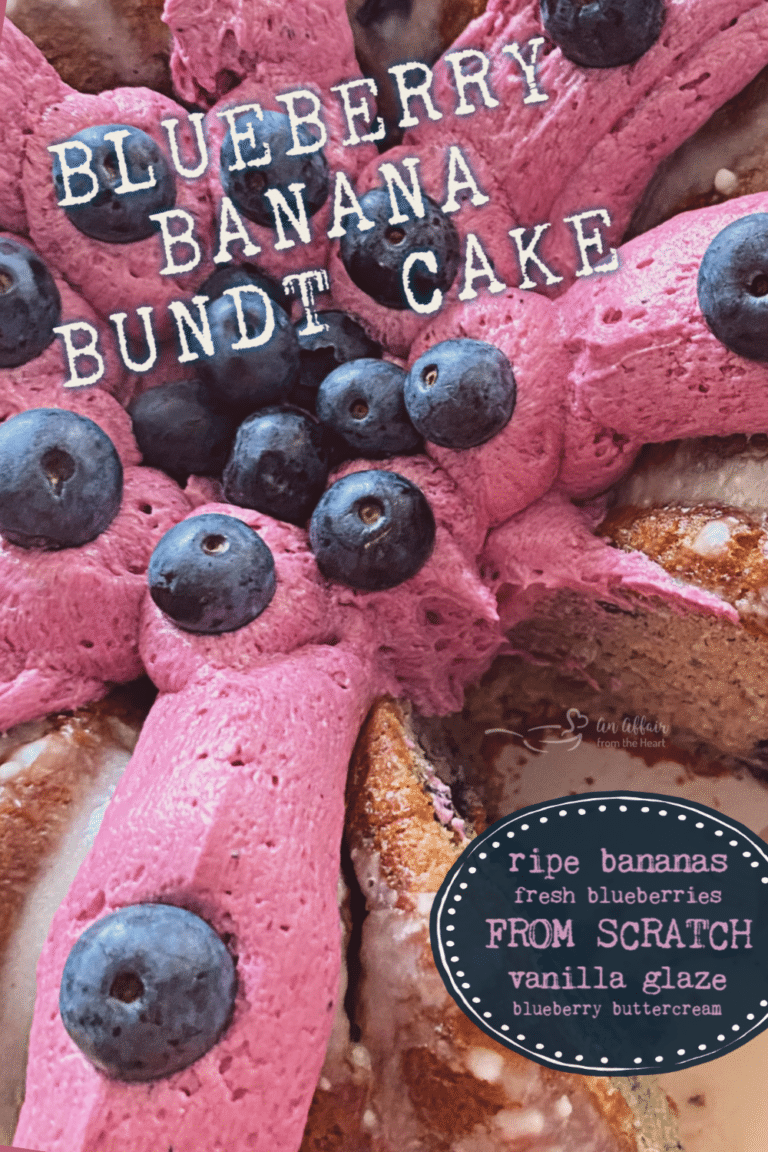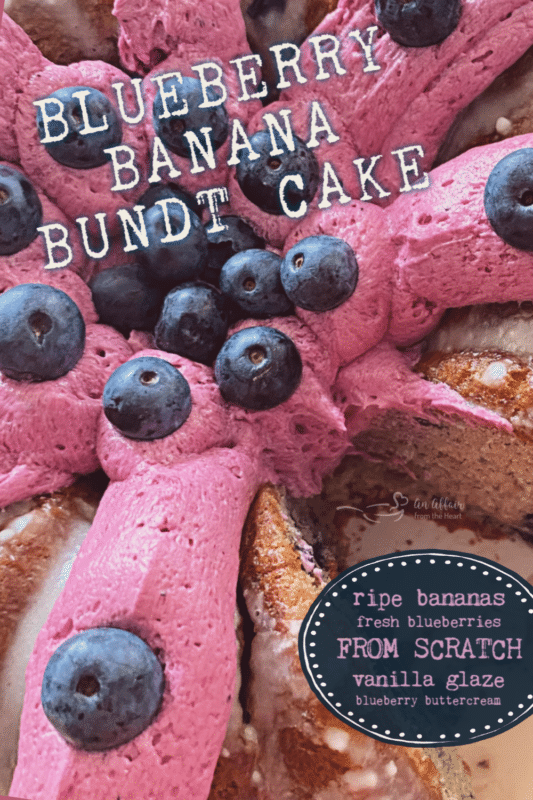 LOVE IT? PIN IT!
Don't forget where you found this awesome banana blueberry bundt cake recipe! Pin it to your favorite Pinterest recipe board before you go!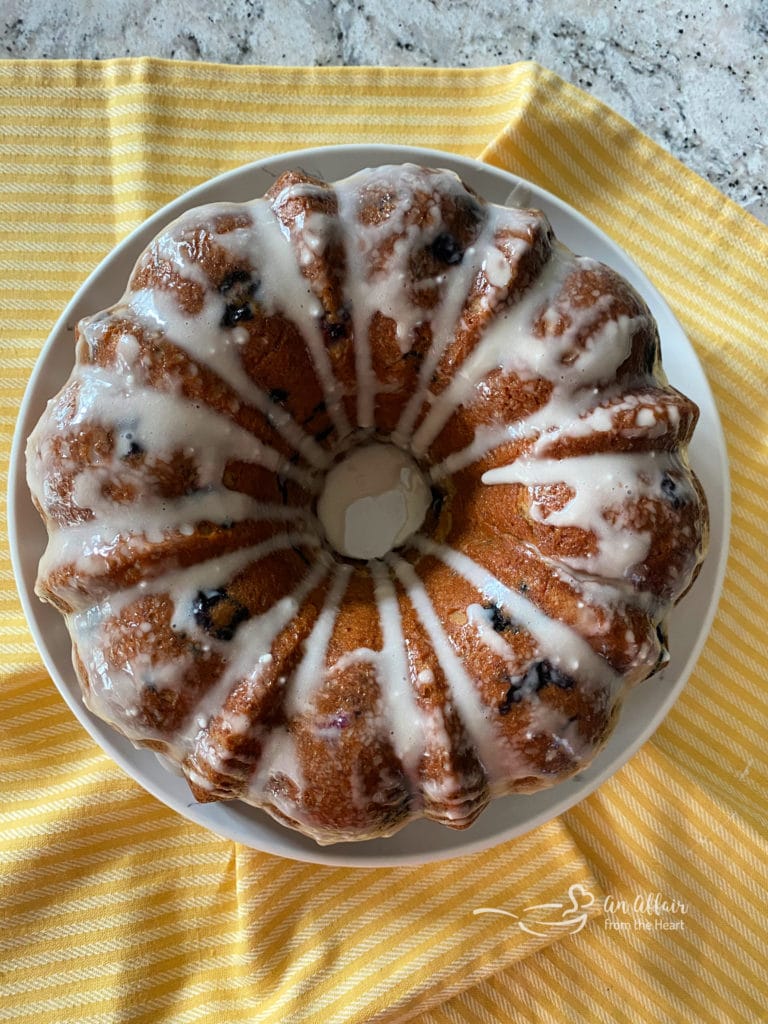 Blueberry Banana Bundt Cake with Blueberry Buttercream Frosting
I did make a couple of changes to Angela's recipe. She made her blueberry banana cake as a layer cake, and she frosted it with vanilla buttercream and drizzled it with a caramel sauce.
I left the cake recipe the same, other than switching up the vanilla yogurt with blueberry yogurt.
We are friends, so I can tell you guys a little secret. When it comes to layer cakes, I cannot for the life of me get them to stand up straight. They always look like they are falling over. So I went the easy route and used my bundt pan. This cake would also be perfect baked in a 9×13 baking dish.
The other change was I glazed it with a warm vanilla glaze, like a big 'ol donut, then I frosted it with blueberry icing.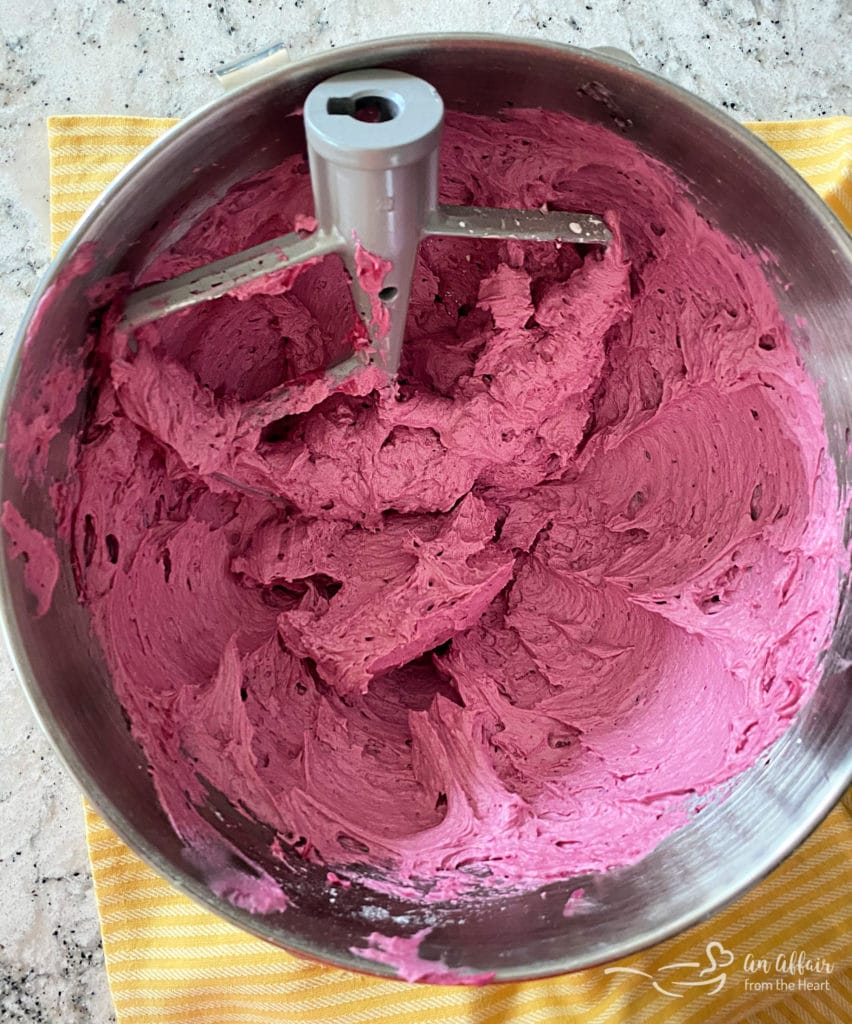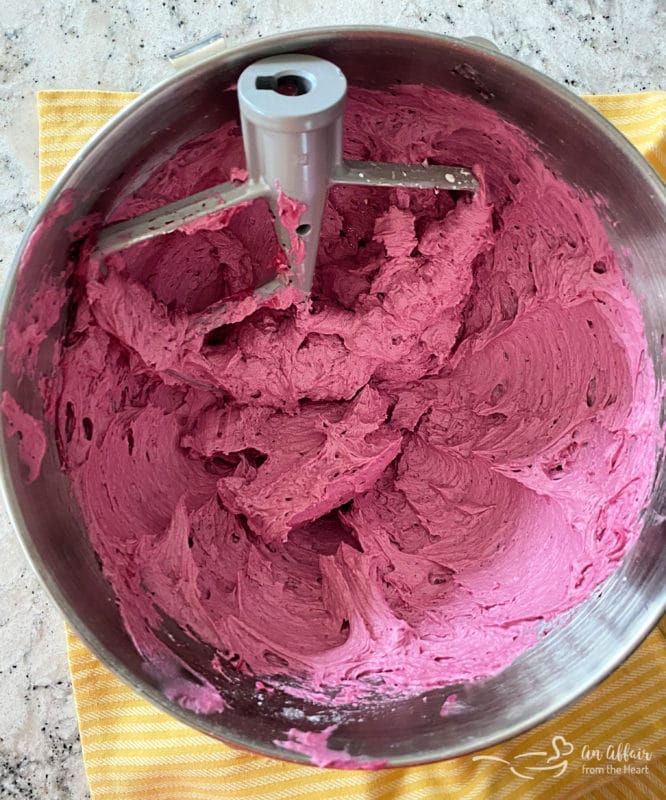 Fluffy Fresh Blueberry Buttercream Frosting Recipe
I decided to give it a little more blueberry kick — because I am on a serious blueberry kick, remember? I piped on some fresh blueberry buttercream, doing my best to mimic Nothing Bundt Cakes.
Let's just say that my decorating skills aren't going to put them out of business anytime soon, but the frosting tasted fantastic!
I found the recipe online and decided to go for it. It's made with a blueberry puree made from fresh blueberries. Look at the color! It's whipped with butter and powdered sugar until it's super fluffy.
If you have a cake decorator, you can pipe it on with that, or just put the frosting in a gallon sized ziplock bag, cut one of the corners off, and pipe it that way. That is what I did.
Then I topped it with more fresh blueberries.
Note: if fresh blueberries aren't available, you can use frozen ones for the frosting and the cake, please see notes in the printable recipe card for more instruction.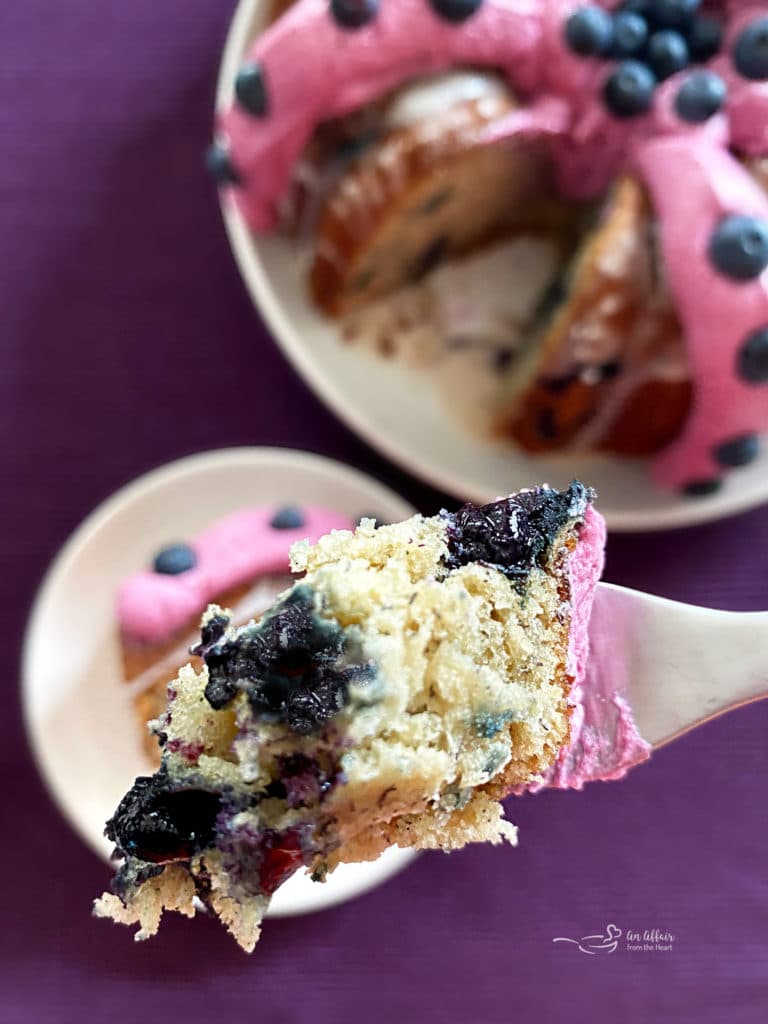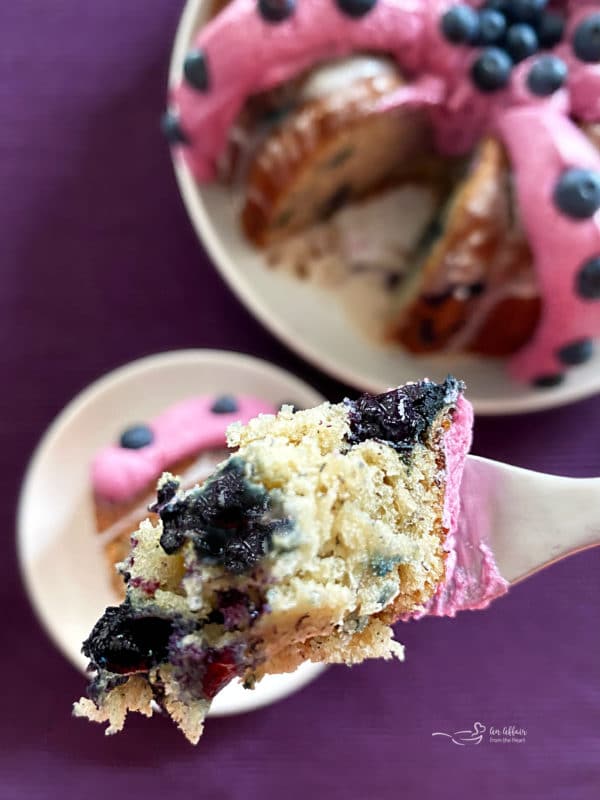 The result is a moist cake, a little more dense in texture, like banana bread, full of blueberries.
Take a look at all of our 2020 Freaky Friday Summer Edition Recipes: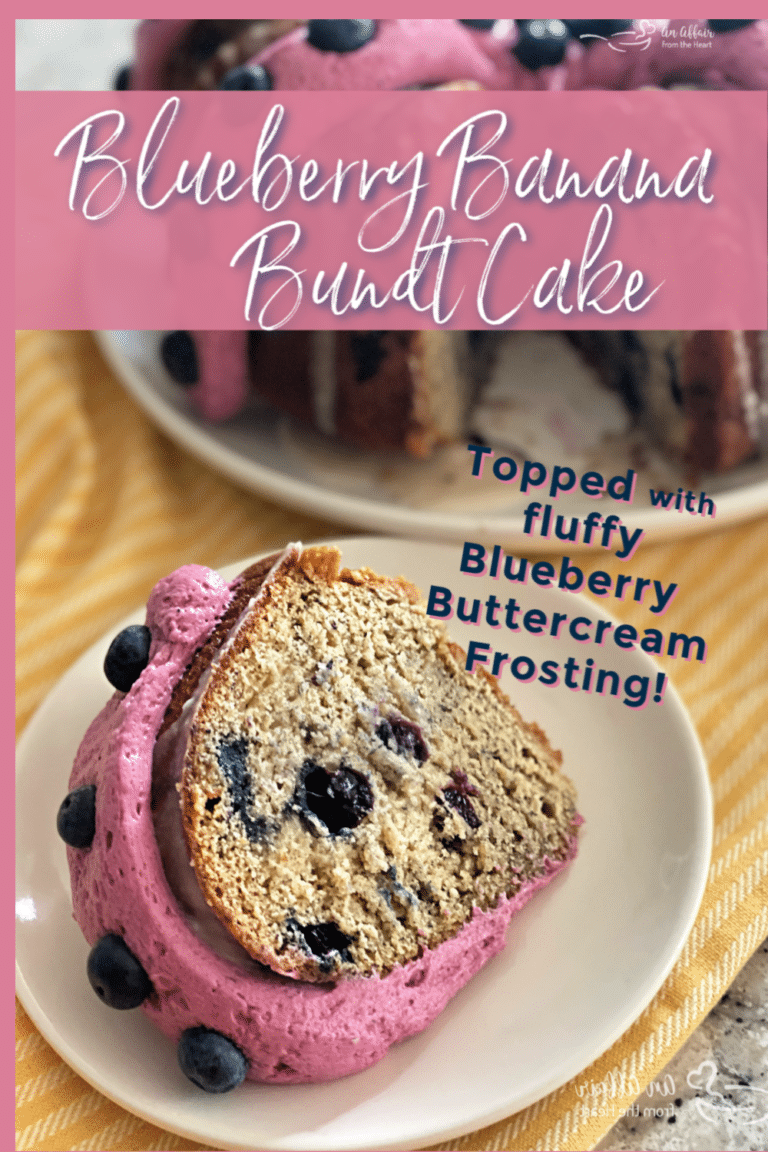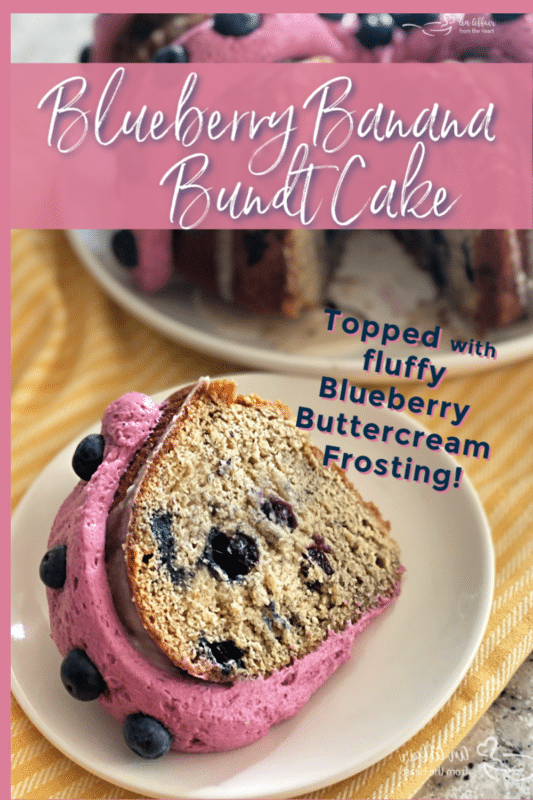 Those ripe bananas on your counter are begging to be made into this Blueberry Banana Bundt Cake! Let's show them some love and get to the recipe!

Yield: 1 Bundt Cake
Blueberry Banana Bundt Cake with Blueberry Buttercream Frosting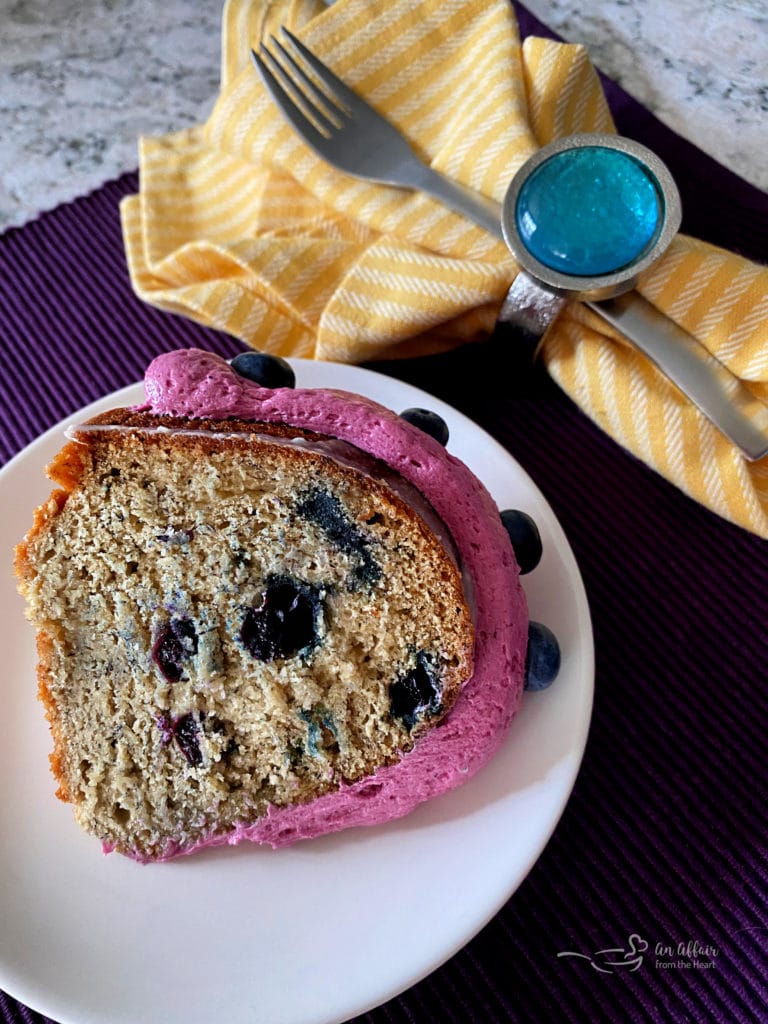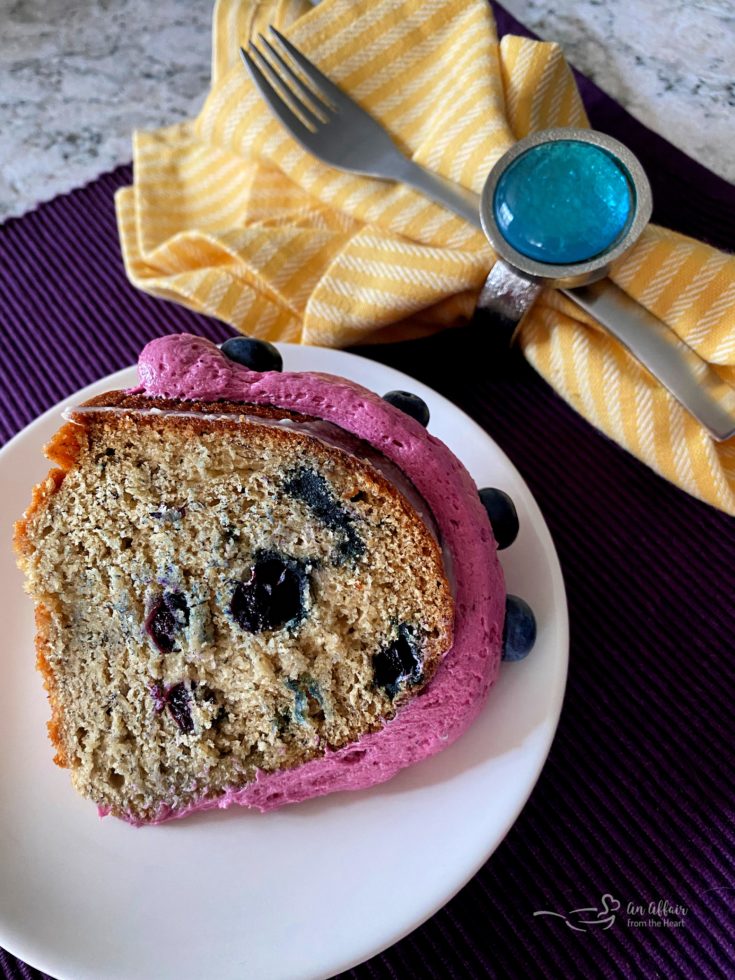 Made from scratch, this Blueberry Banana Bundt Cake is a moist and flavorful cake, using ripe bananas and fresh blueberries. It's glistened with vanilla glaze and then decorated with blueberry buttercream frosting and more fresh blueberries.
Total Time
1 hour
20 minutes
Ingredients
For the Cake
6 ripe bananas
2 eggs
2 teaspoons vanilla
1/2 cup blueberry yogurt
3/4 cup sugar
3/4 cup brown sugar
4 Tablespoons butter, softened
3 cups flour
2 teaspoons baking powder
1 teaspoon baking soda
dash of salt
1 1/2 cups fresh blueberries tossed in 1/4 cup flour
For the Vanilla Glaze
3/4 cup powdered sugar
1/2 teaspoon vanilla
1 Tablespoon milk
For the Blueberry Buttercream Frosting
1 1/2 cups fresh blueberries
2 Tablespoons lemon juice
2 sticks (1 cup) of butter, very soft
1/2 teaspoon salt
3 1/2 cups powdered sugar
1-2 Tablespoons cream
1/2 cup fresh blueberries for decorating
Instructions
PREPARE THE FROSTING: Combine blueberries and lemon juice in a saucepan over medium heat. Cook, stirring them constantly and smashing them as you stir. In about 10 minutes you will have a dark blueberry reduction.
Take the blueberry reduction and strain it through a fine mesh strainer. You will need to push it through, using a scraping motion to get all of it through. Discard the large chunks left in the strainer and cool the puree completely before moving on to the next step.
Place the softened butter in the bowl of your mixer. Beat the butter on medium high for 2 minutes to get it nice and smooth. Add in 1/4 cup blueberry puree and beat again for 1 minute.
Add in the powdered sugar one cup at a time on low speed. After the sugar is all mixed in, add in the cream and the salt and beat the frosting on high for 2 minutes more. The frosting will be nice and fluffy!
PREPARE THE CAKE: Preheat oven to 350 degrees, and spray your bundt pan with non-stick cooking spray. Set aside.
Add ripe bananas to a small bowl and "mash" them with your mixer. Add in eggs, vanilla and yogurt and mix to combine.
In another bowl, cream together softened butter with both the granulated sugar and the brown sugar. Add banana mixture to sugar mixture and mix well.
Toss blueberries with flour set aside.
Sift flour, baking powder, baking soda and salt into another bowl. Add flour mixture to wet mixture little by little mixing to combine.
Fold in floured blueberries by hand. Pour into the prepared bundt cake pan.
Bake for 50-60 minutes, or until a toothpick inserted in the center comes out clean. Cool slightly before inverting cake onto a plate.
PREPARE GLAZE: mix powdered sugar, vanilla and milk together. Drizzle over warm cake. Cool.
Pipe the frosting onto the cake using a cake decorator or a gallon sized ziplock bag with the corner cut off.
Garnish with fresh blueberries.
Keep any uneaten cake in the refrigerator.
Notes
Tip: I make my frosting first because it has a bit of a cooling period.
Frozen blueberries can be used for the cake and the frosting if fresh cannot be found. If using in the cake be sure to thaw and drain the liquid from them. You will want to increase the flour a bit that you toss them in, to 1/3 cup. Frozen blueberries in the frosting: do not thaw before making the blueberry puree.
Nutrition Information:
Yield:
16
Serving Size:
1
Amount Per Serving:
Calories:

396
Total Fat:

6g
Saturated Fat:

4g
Trans Fat:

0g
Unsaturated Fat:

2g
Cholesterol:

37mg
Sodium:

268mg
Carbohydrates:

83g
Fiber:

3g
Sugar:

56g
Protein:

5g
Nutrition isn't guaranteed accurate.