These soft Old-Fashioned Iced Molasses Cookies are the best and so easy to make! Chewy molasses crinkle cookies are made with ginger, butter, sugar, and aromatic spices like allspice and cloves. Make a small or large batch of these sweet cookies for the holidays and watch them disappear!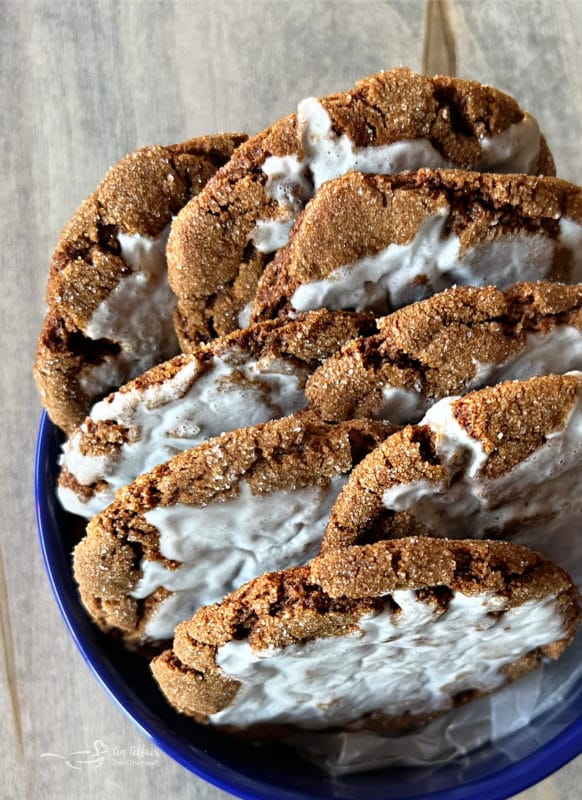 I have forever looked for a recipe for molasses cookies that made me as happy as the ones I used to get at the cookie company at the mall. They were big, chewy ginger molasses cookies that were drizzled with white icing. They were my favorite cookie to get.
I have several ginger cookies on my website, Karen's gingerbread cookies, chewy brown butter gingersnaps, Regency ginger crisps, and even a gingerdoodle cookie recipe that combines both a snickerdoodle and a ginger cookie. All of these cookies are yummy in their own right, but I was on a mission to get that cookie satisfaction that I used to get from those iced ginger cookies from the mall. My friends, I have found them.
Easy and super soft, as soon as I discovered this recipe, I immediately fell in love. The icing is the perfect addition to these cookies and them over the top. Tasty and delicate flavors of ginger and molasses shine through this crinkle cookie recipe.
Why This Recipe Is So Great
Easy: Soft iced molasses cookies are so easy to make! Simple ingredients are used to make sure these cookies are the best you've ever had.
Sweet: Using both molasses and sugar in these cookies allows them to be as sweet as can be!
Perfect for Christmas: Serve these delicate cookies for Christmas with all of your other favorite baked holiday treats!
Chewy: You won't be able to believe how chewy these molasses cookies are. Every bite will leave you begging for more!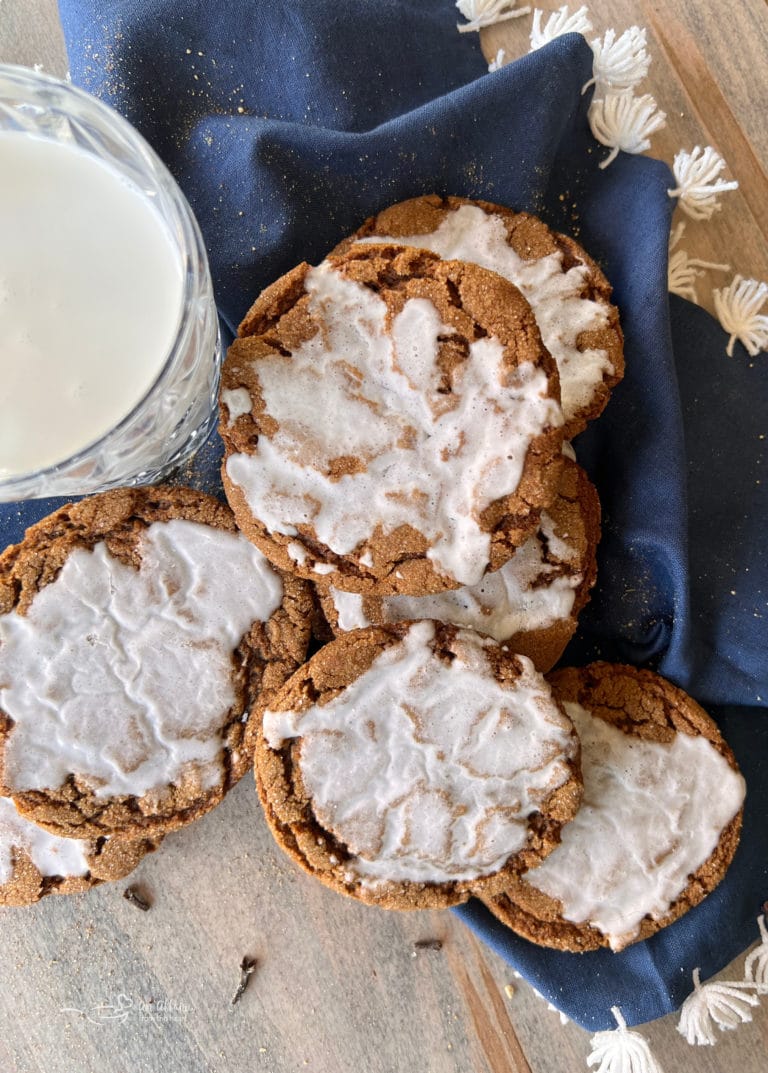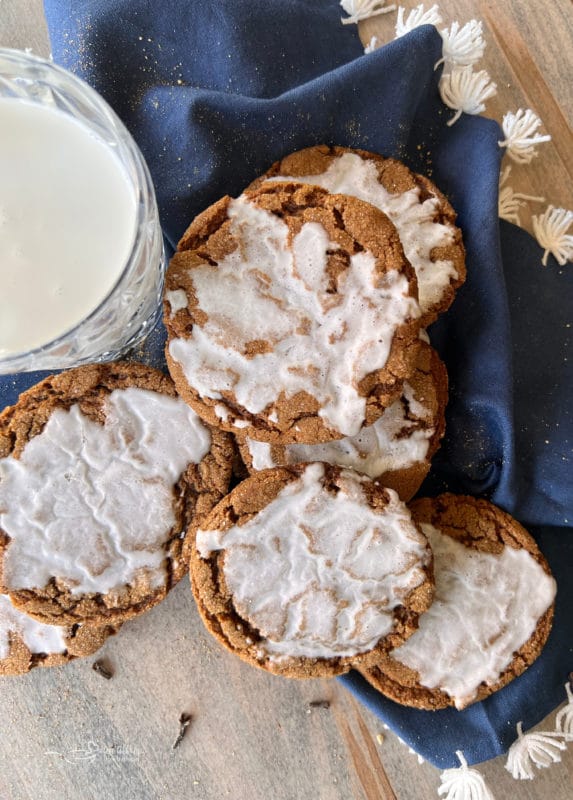 Origin of Molasses Cookies
Ginger molasses cookies originated in Massachusetts in a small town called Marblehead! Joe Froggers are what these classic cookies used to be known as and were inspired by a fisherman who lived near a large frog pond. Uncle Joe, the fisherman, made his secret recipe to share with all the other fishermen who begged for the delicious cookies. Eventually, the secret recipe got out and people started enjoying classic molasses cookies all across the country.
To this day, Joe Frogger cookies are still sold out of bakeries throughout the state of Massachusetts and are considered delicacies by so many! Most kitchens are familiar with these old-fashioned treats.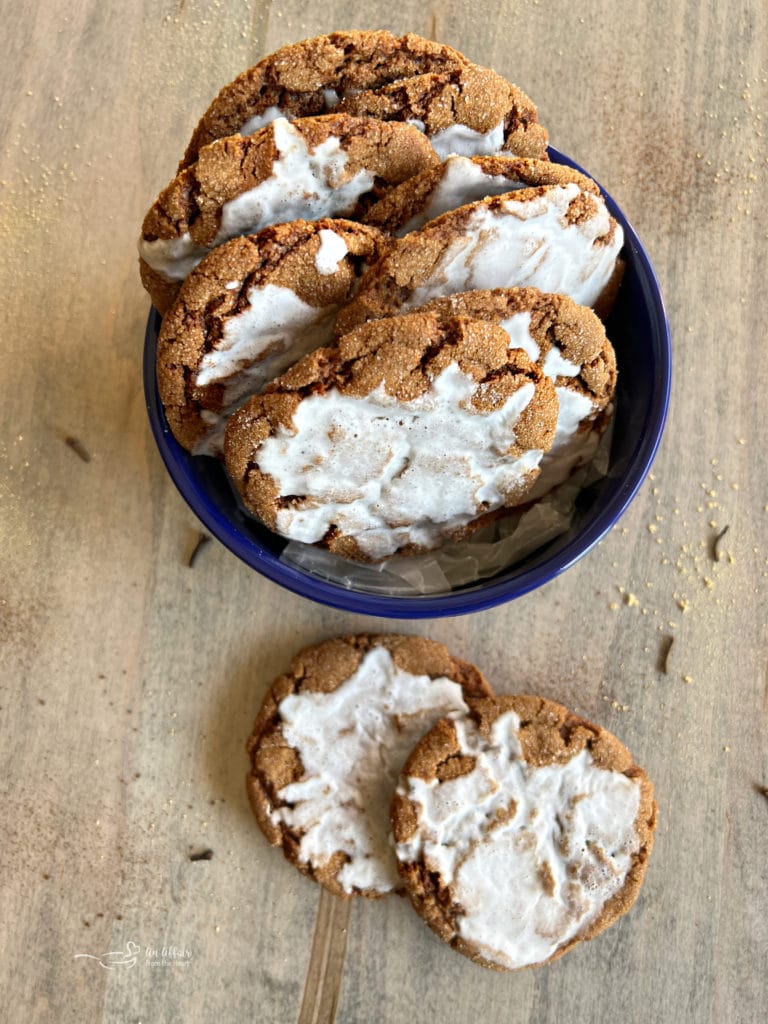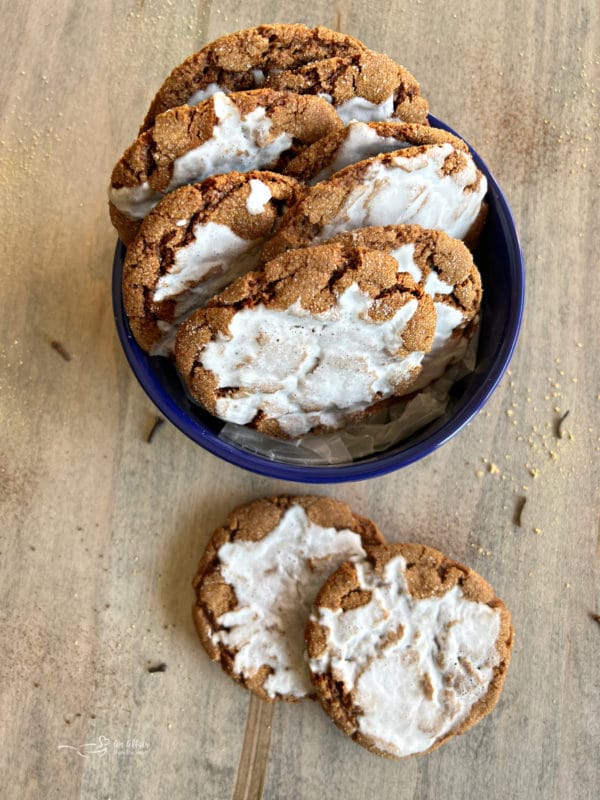 Ingredients for Molasses Crinkle Cookies
Dry Ingredients
Sugar: Both white granulated and powdered sugars are used in these cookies! You will need the confectioner's sugar, or icing sugar, for the icing.
Flour: All-purpose flour is used to create the perfect consistency!
Baking Soda: Make sure you have baking soda to make sure the cookies rise. Without baking soda, the cookies will be very flat!
Spices: You will need ground allspice, cloves, and ginger to make sure these cookies shine and are perfectly aromatic.
Wet Ingredients
Butter: Softened salted butter is used for these cookies to keep them chewy and soft! Make sure the butter is softened or else it will be difficult to mix with the sugar!
Egg White: One egg white is used to make sure these cookies are puffy and fluffy! That's what molasses cookies are known for, right?
Molasses: Molasses is a thick and dark syrup that is commonly derived from crushed sugar cane or beets. This recipe is typically used as a sweetener in all types of old-fashioned baking recipes!
Heavy Cream: A little bit of heavy cream is used to create the icing with powdered sugar. The icing turns out to be smooth and sweet.
How to Make Molasses Cookies
Follow the steps from left to right to make sure you end up with the best cookies! Be sure to read all the way down to the recipe card to make sure you get every detail and measurement.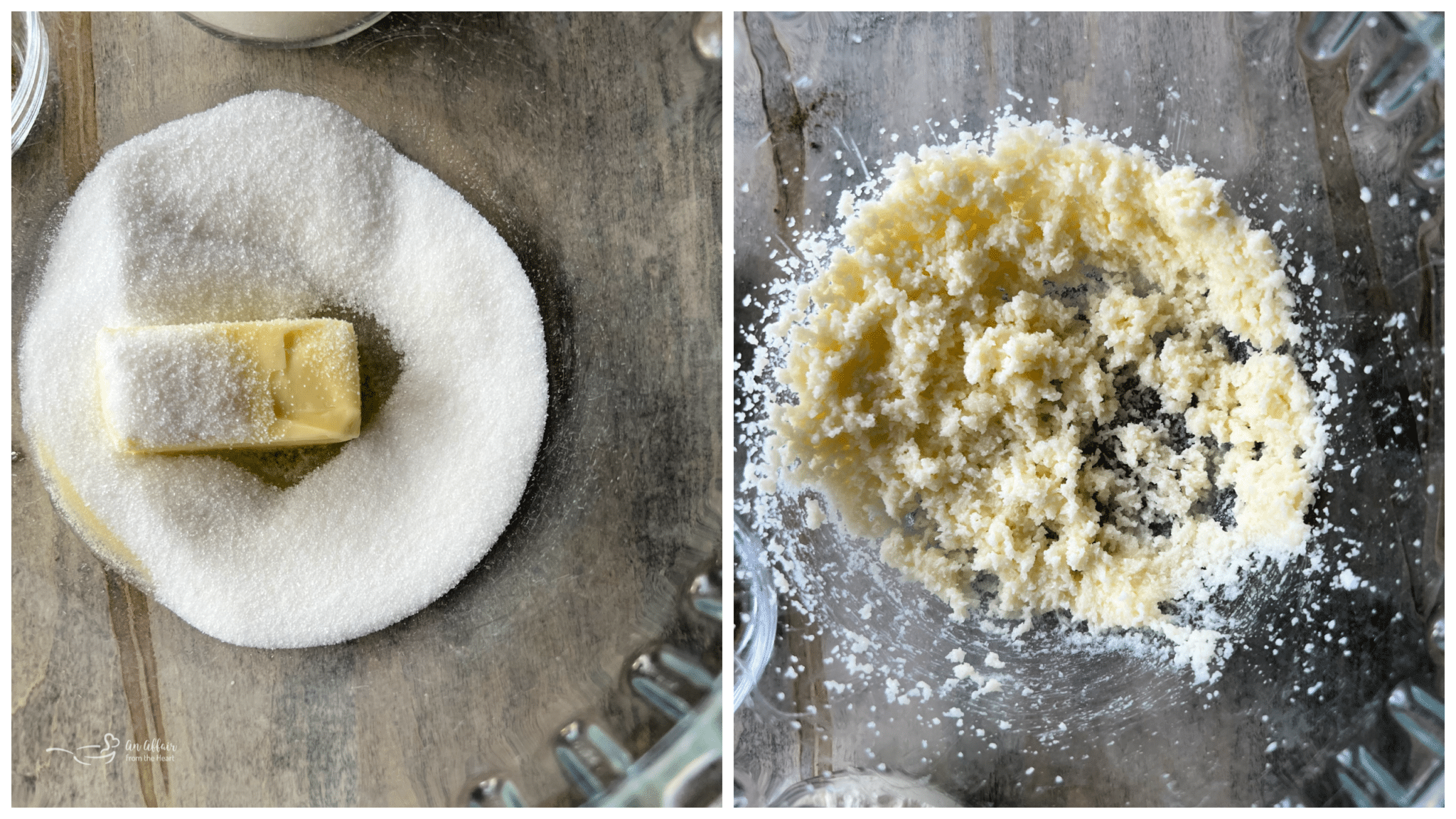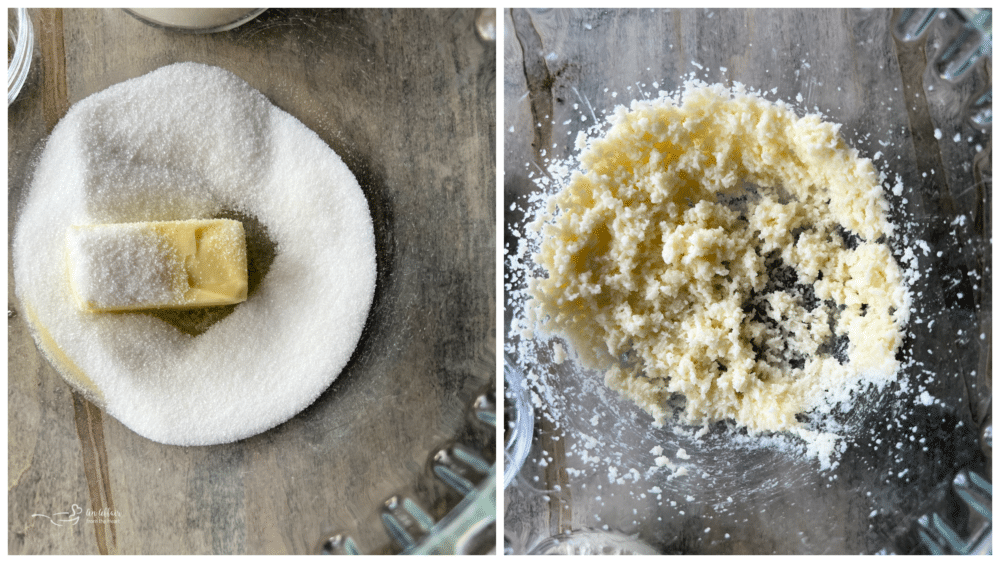 Cream the Sugar
First, preheat the oven to 350 degrees Fahrenheit and line a baking sheet with parchment paper.
Next, in a bowl with a stand or electric hand mixer, cream the softened butter with ½ cup of sugar until light and fluffy.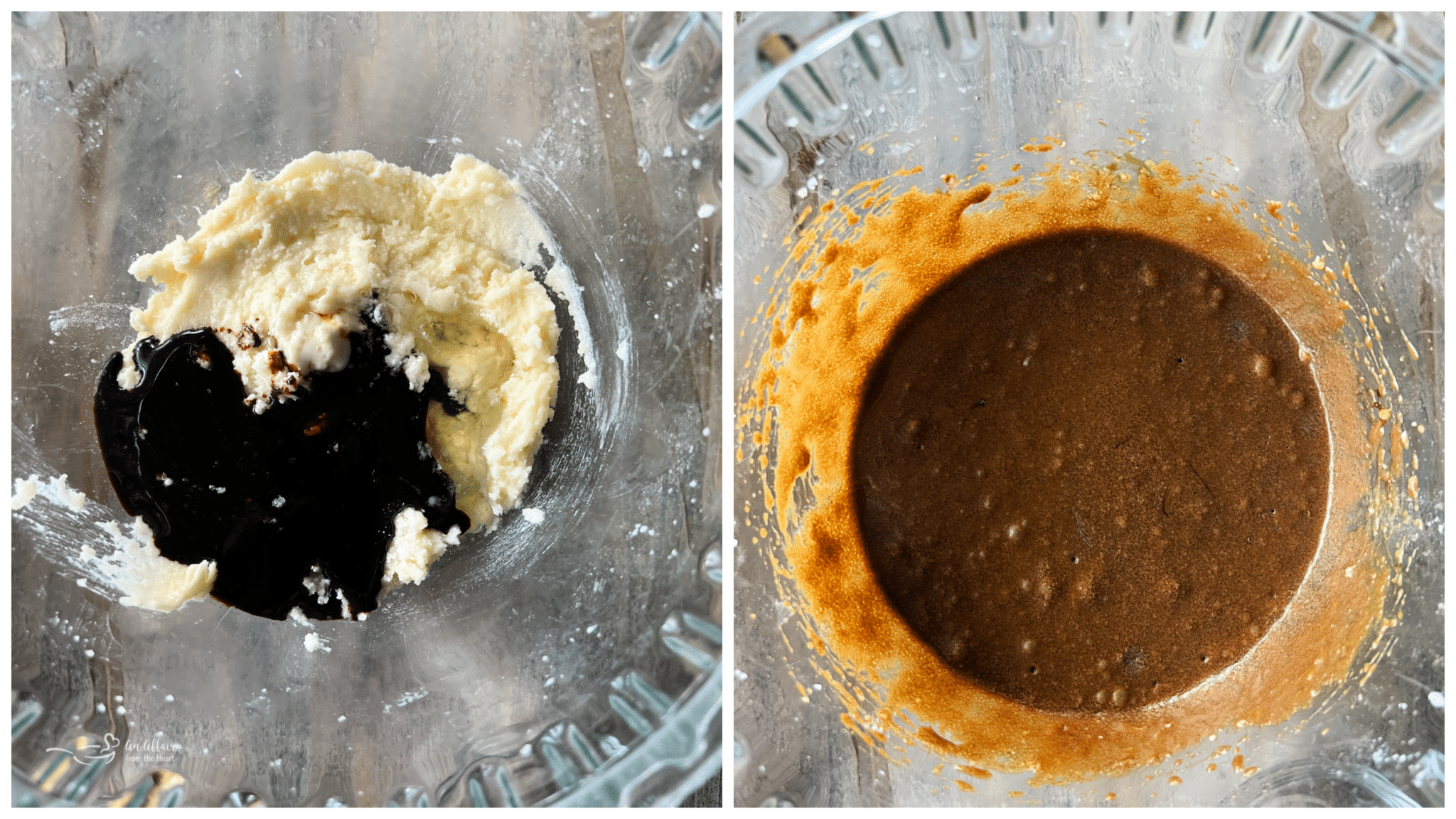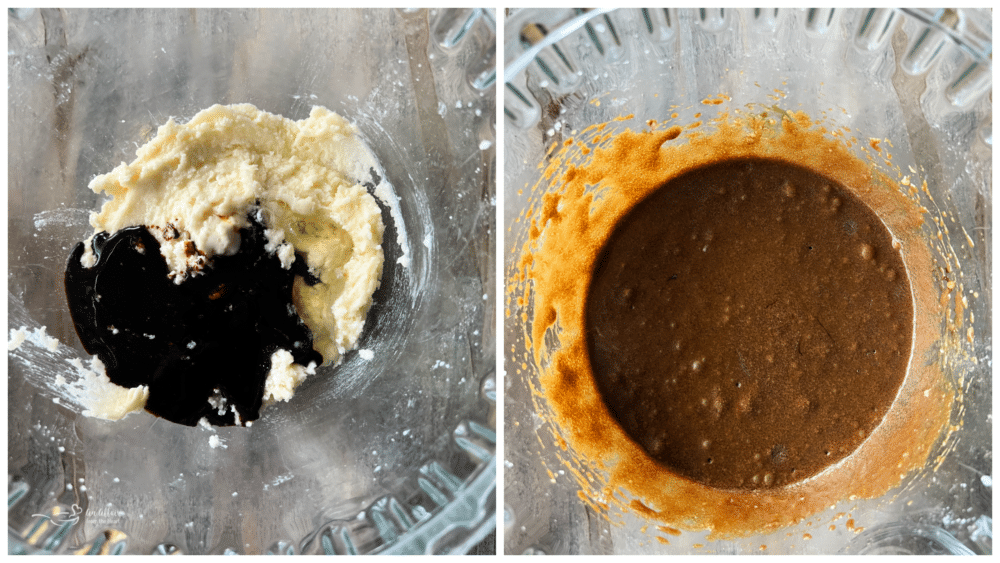 Add the Molasses
Then, add the egg white and molasses and beat the ingredients together until combined.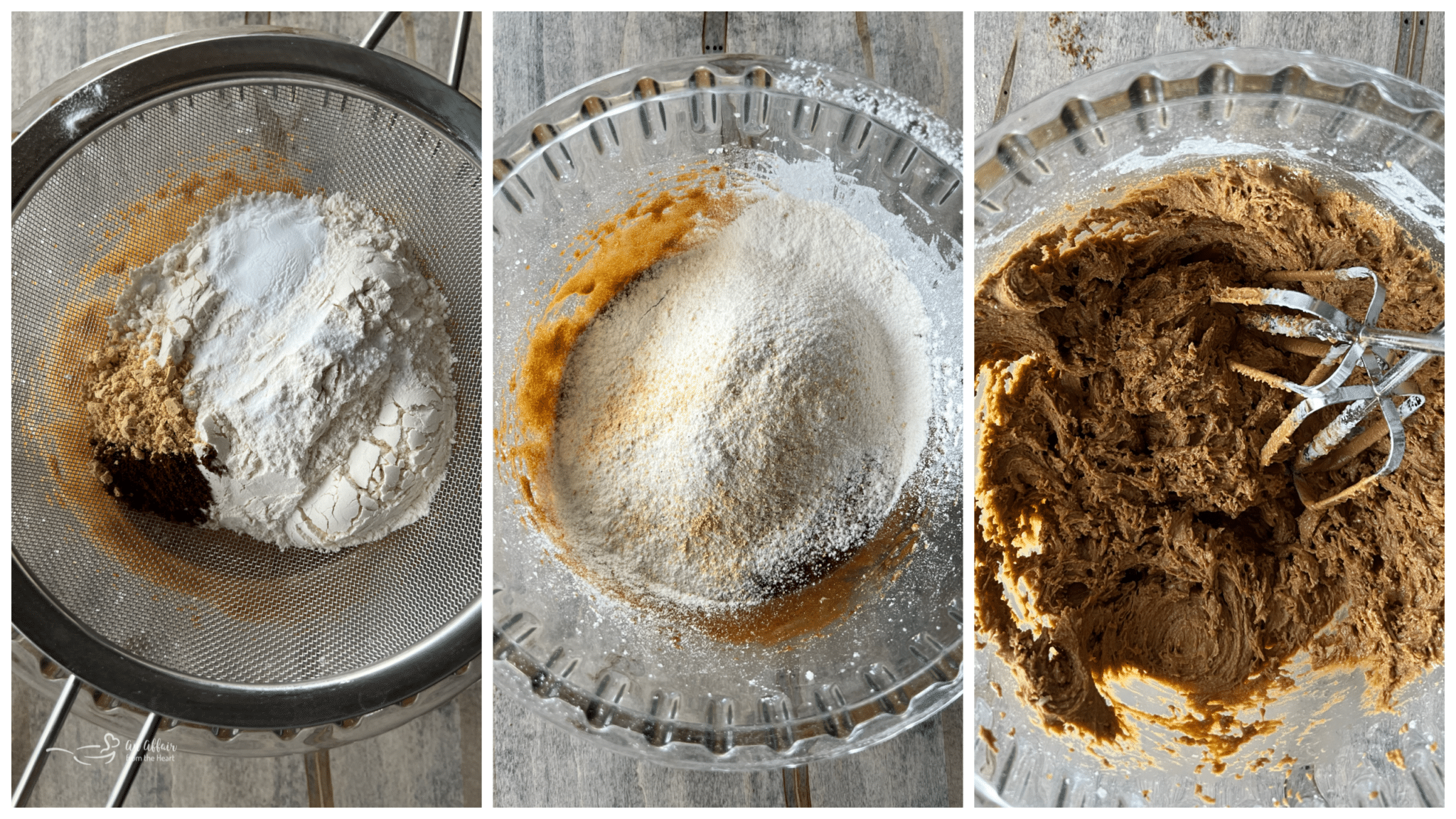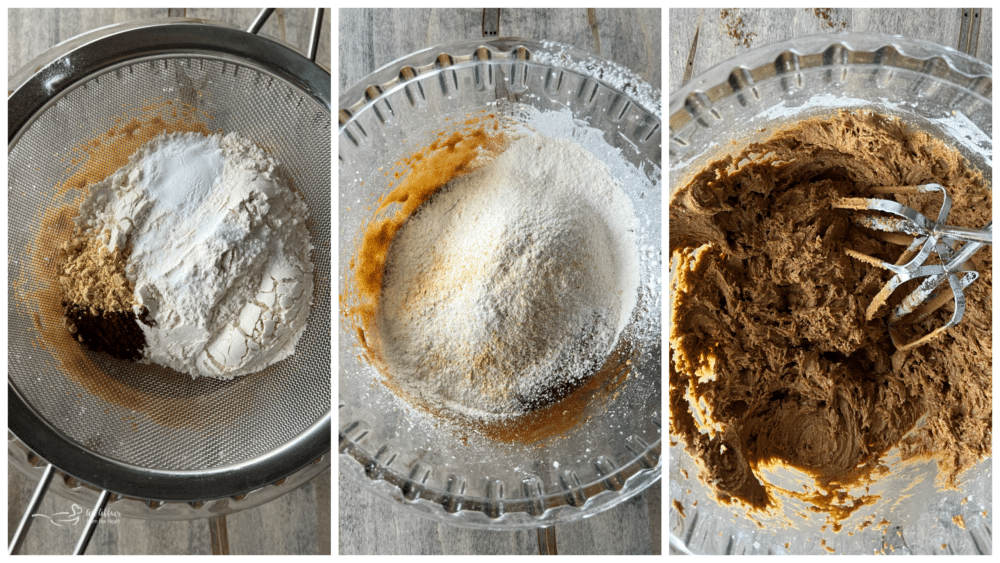 Sift the Flour
Next, sift the flour, baking soda, ginger, ground cloves, and allspice into the butter mixture. Then, mix in the flour mixture into the molasses mixture until thoroughly combined. Do not overmix!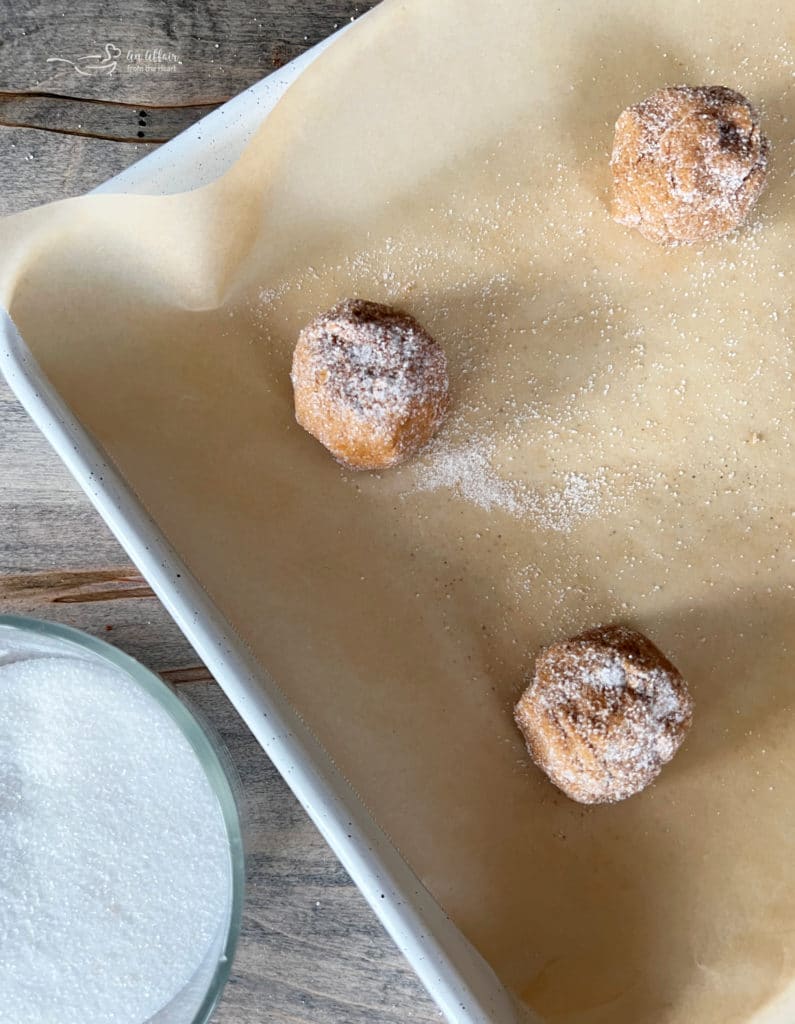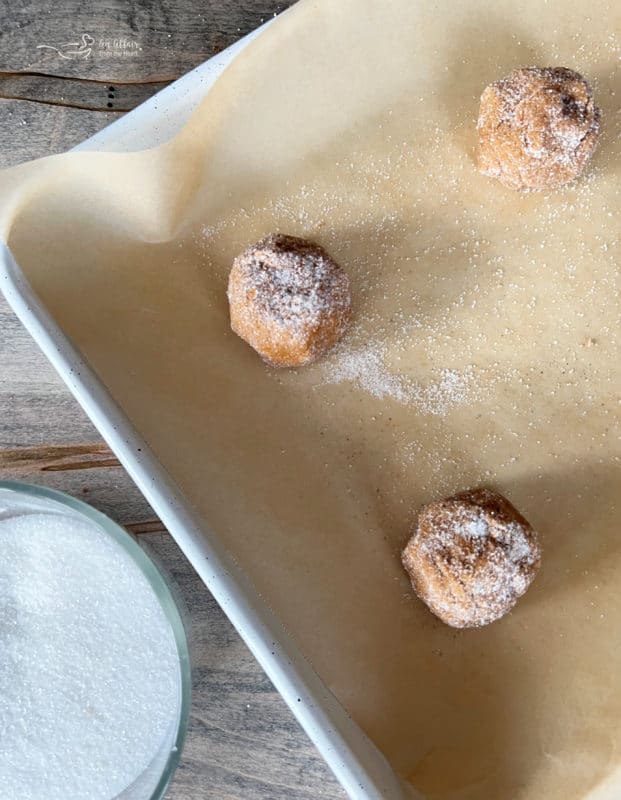 Roll the Dough
Roll the cookie dough into 12 even round balls and roll each ball into a bowl of granulated sugar. Finally, place each dough ball onto the prepared baking sheet.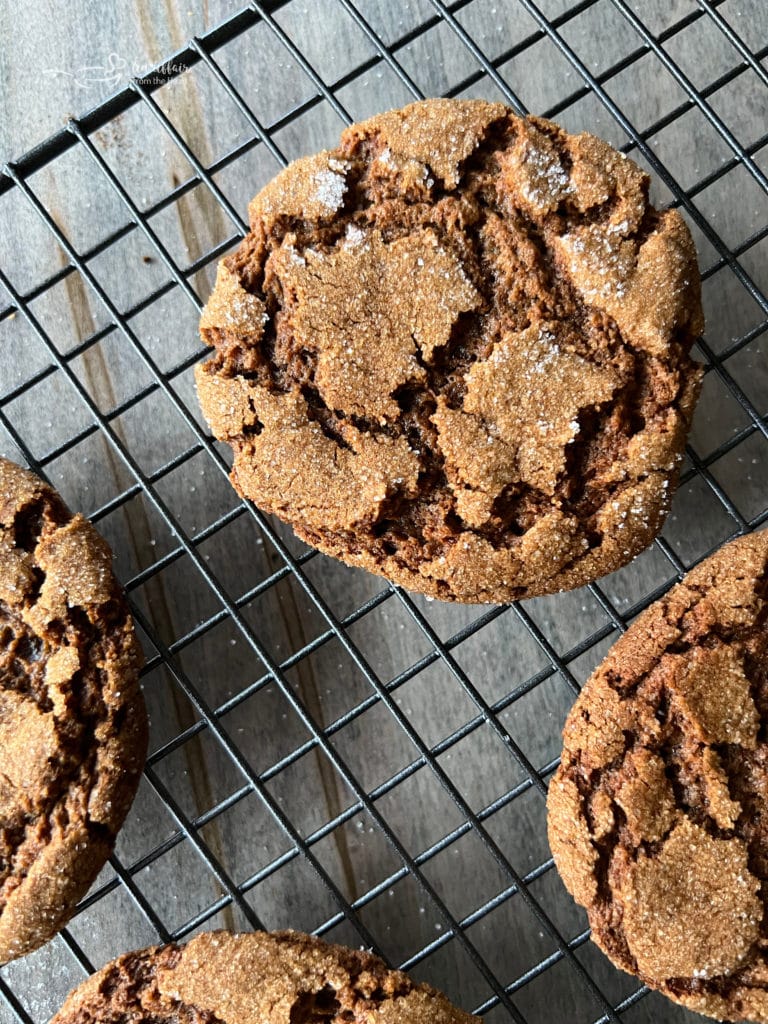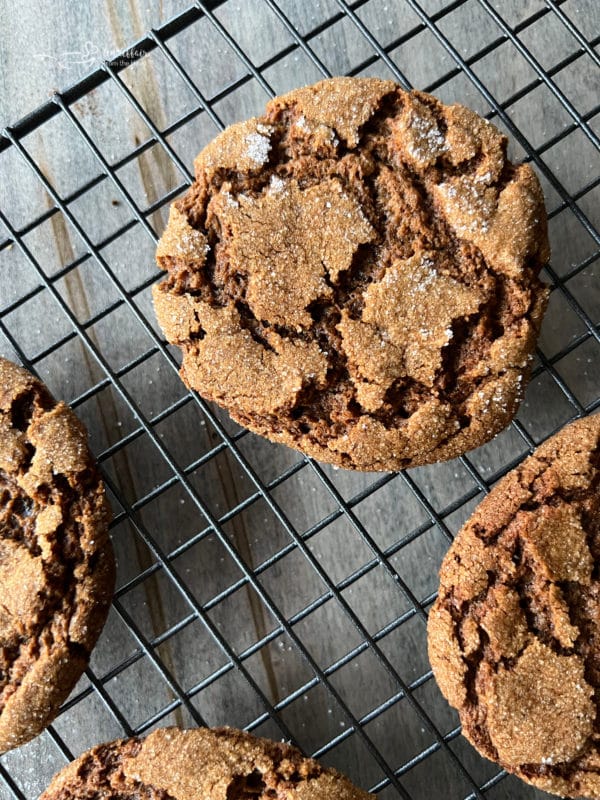 Bake the Cookies
Next, bake the cookies for 12 to 14 minutes until the cookies begin to brown around the edges. The cookies will be quite puffy when you remove them from the oven but don't worry! The cookies will flatten and crack as they cool.
Be sure to allow the cookies to cool before icing them. Of course, they are also delicious just like this, warm out of the oven!
Prepare the Icing
Then, in a bowl, whisk the powdered sugar and heavy cream until smooth and creamy.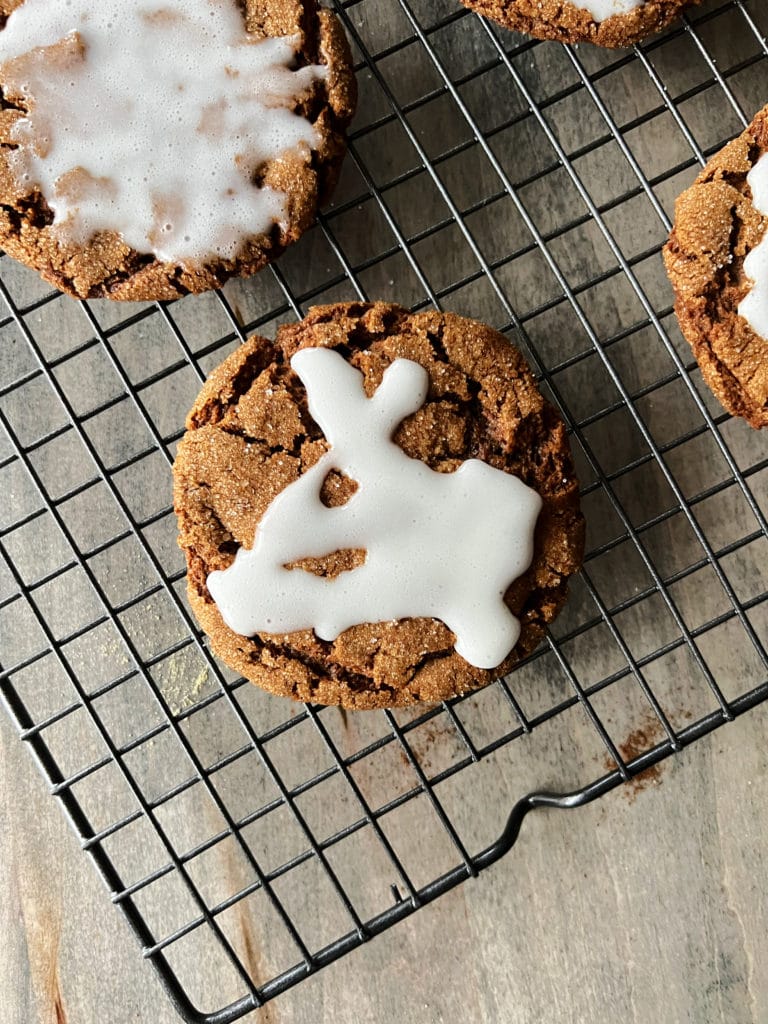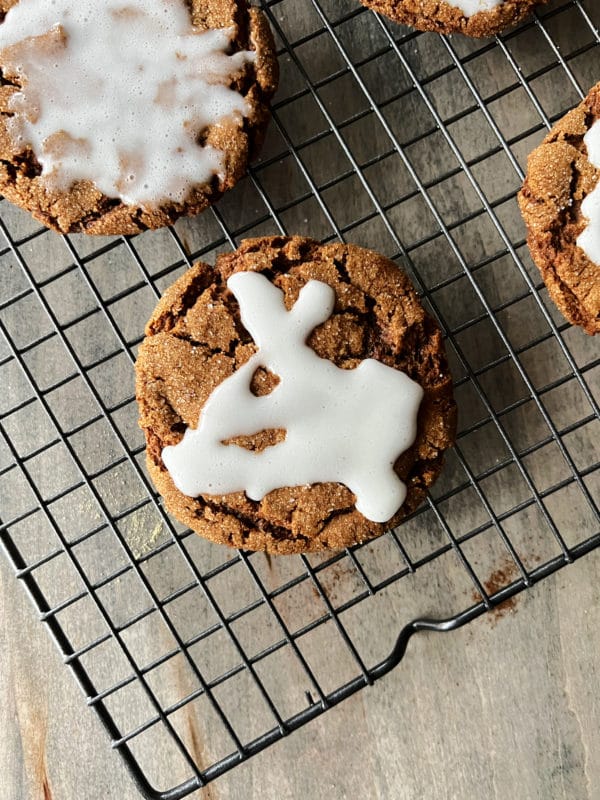 Next, drizzle the icing on the cookies and allow it to fill in the cracks of the cookies. If desired, use the back of a butter knife to spread the icing around the cookies.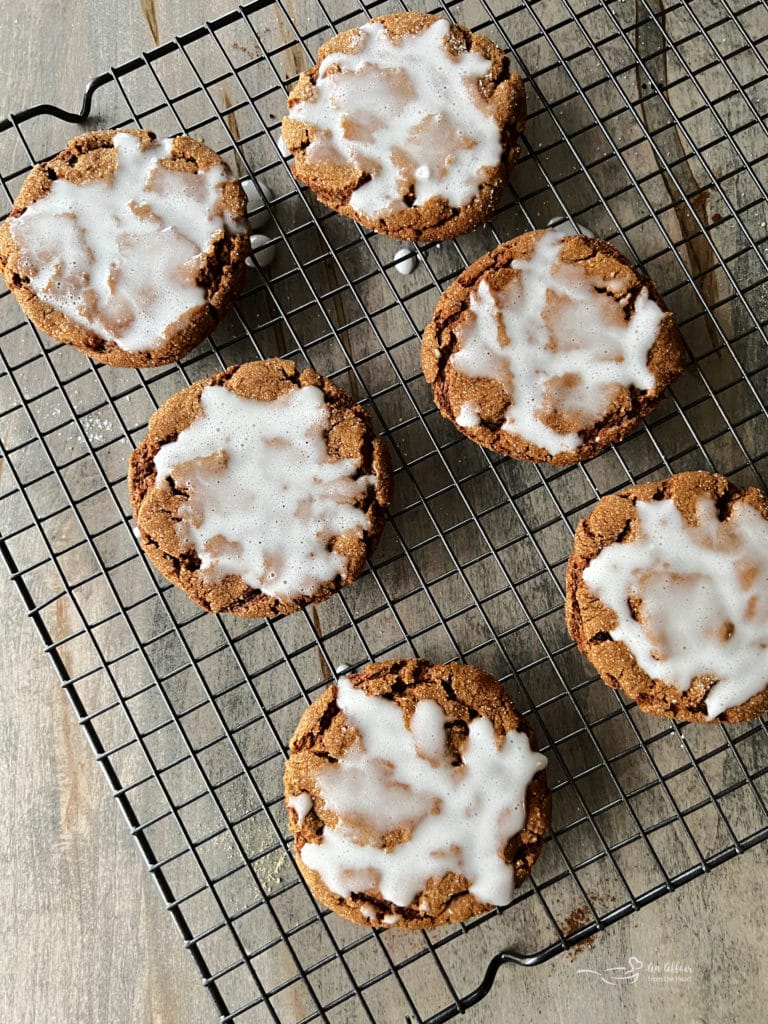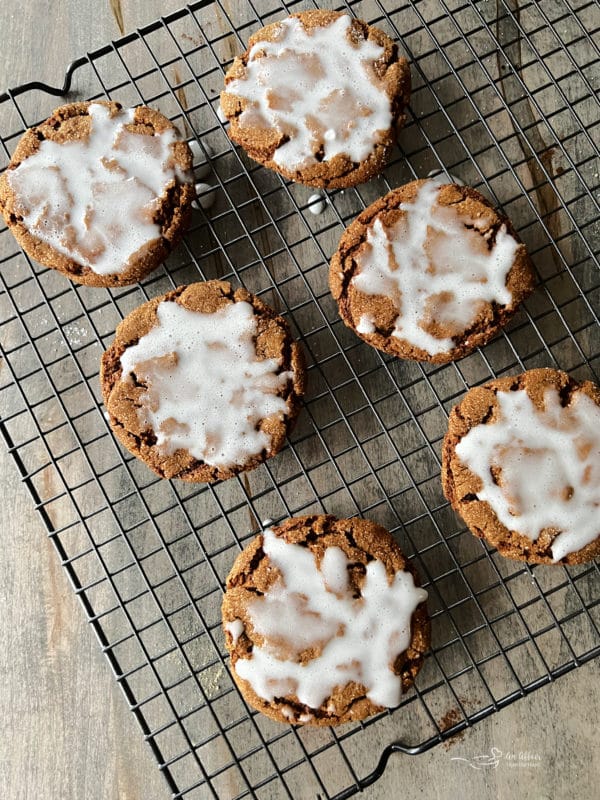 Allow the icing to harden on the cookies before transferring them to an airtight container to store.
Finally, enjoy these sweet and chewy crinkle cookies!
What Makes Molasses Cookies Crack?
If you want your cookies to crack, then you need to make sure to have enough leavening in your molasses cookies in addition to making sure the oven is fully preheated! Mixing the dough too much will cause your cookies to be without cracks, too.
Tips
Store the leftover iced molasses cookies in an airtight container at room temperature for up to five days.
Keep the cookies in the refrigerator in an airtight container for up to one week.
For a puffier cookie, then be sure to chill the dough before baking.
Freeze these cookies if you would like! Just be sure to defrost the cookies before icing them.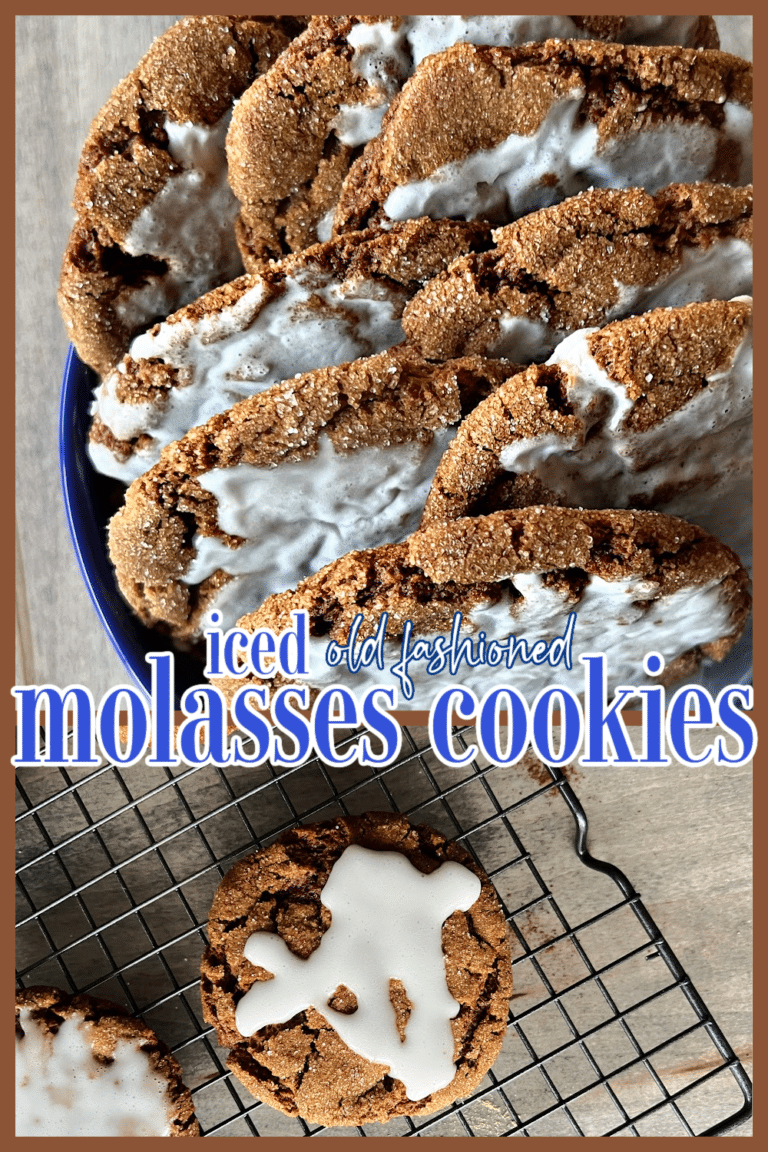 Love This Recipe?! Be Sure to Pin It!
You will want to make sure you keep these iced molasses cookies around, I PROMISE you! Save this dessert recipe to your holiday or baking Pinterest board to save for later!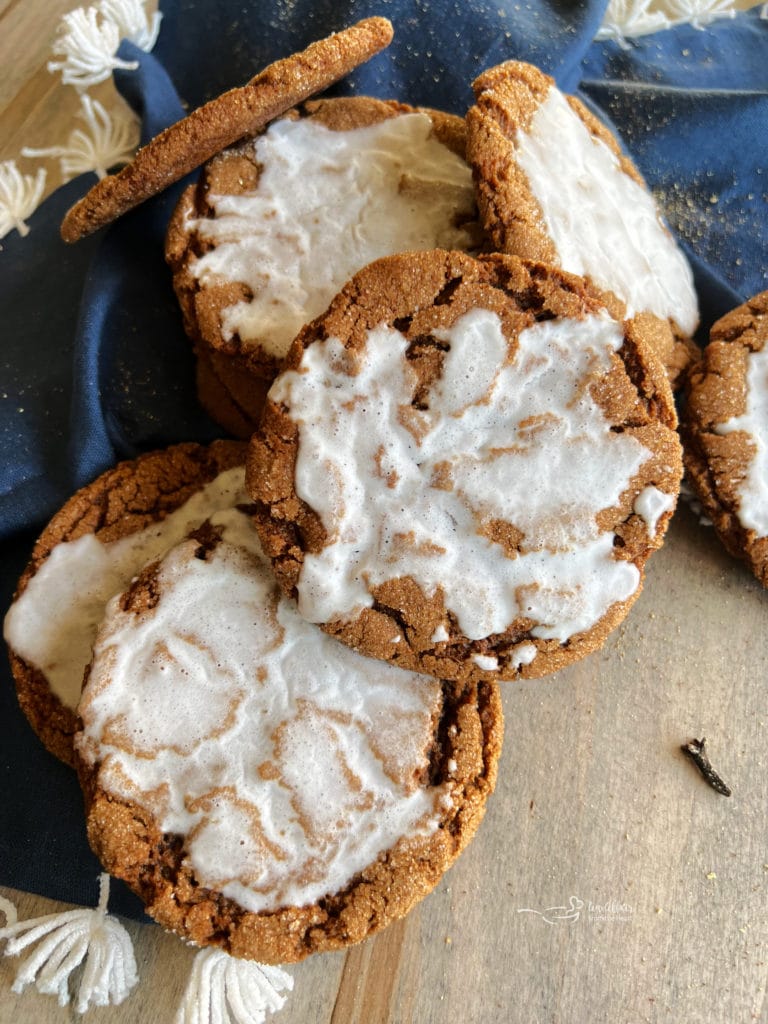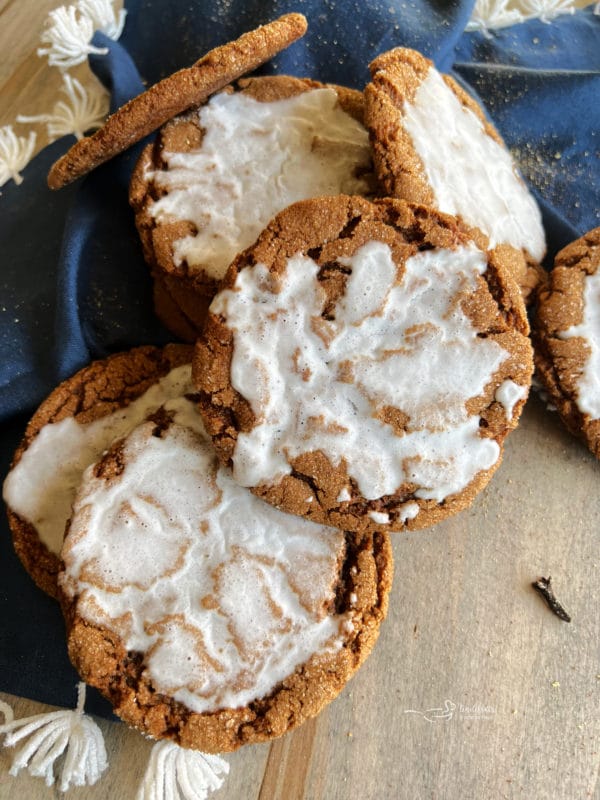 More Cookie Recipes You Will Enjoy!
I am celebrating #ChristmasCookies all week with a group of blogger friends. Here are some more of my favorite cookie recipes, and you can find theirs below, too!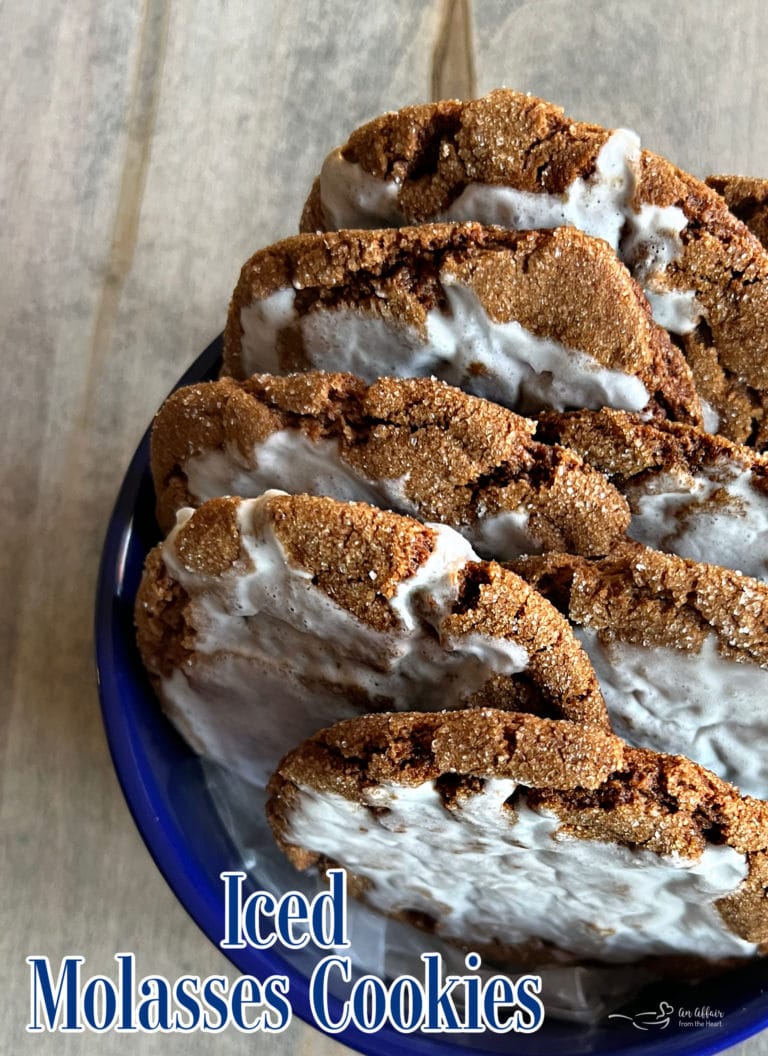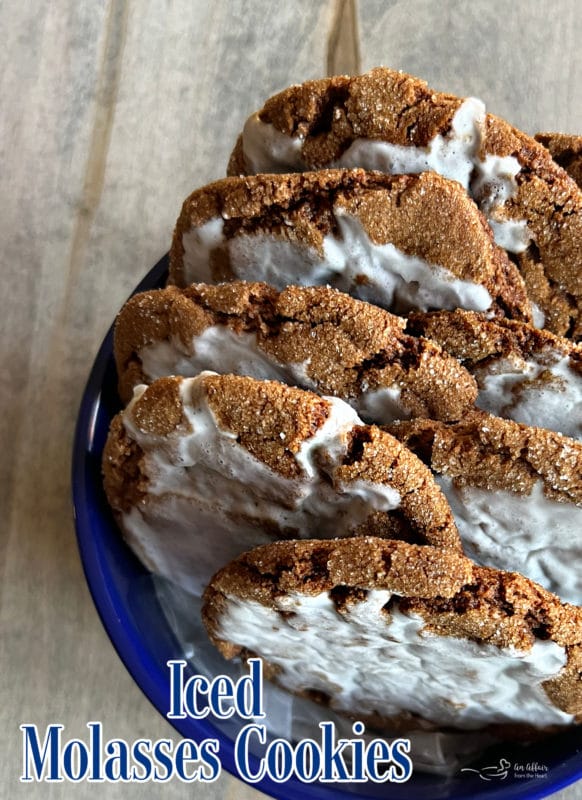 Let's bake some chewy molasses cookies!!

Yield: one dozen
Old Fashioned Iced Molasses Cookies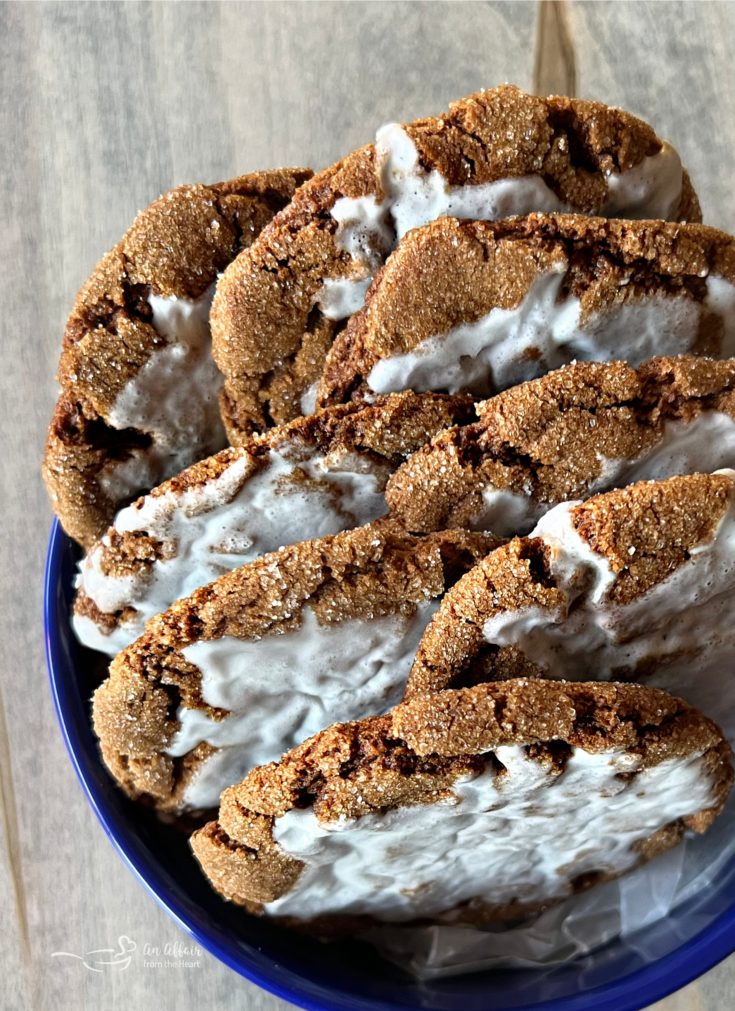 The perfect molasses cookie, chewy and crinkled iced with powdered sugar icing. Old fashioned classic cookies are always the best!
Ingredients
4 Tablespoons salted butter, softened
1/2 cup sugar
1 egg white
4 Tablespoons molasses
1 cup flour
1 teaspoon baking soda
1 teaspoon ground ginger
1/4 teaspoon ground allspice
1/4 teaspoon ground cloves
For the Icing: 1 1/4 powdered sugar and 3 Tablespoons heavy cream
Instructions
Preheat oven to 350 degrees F. Line a baking sheet with parchment paper.
In a bowl with a mixer, cream together butter and sugar until light and fluffy.

Add in the egg white and molasses and beat to combine.
Sift the flour, baking soda, ginger, cloves, and allspice into the butter mixture. Mix in the flour mixture until incorporated.
Roll into 12 dough balls and roll the dough balls in sugar before placing each of them on the cookie sheet.
Bake the cookies for approximately 12-14 minutes until the cookies begin to brown around the edges. The cookies will be puffy when you take them from the oven but will flatten and crack as they cool.
Cool the cookies before icing.
Whisk the powdered sugar and the cream together until smooth. Drizzle the icing on the cookies and let it fill in the cracks of the cookies. Use the back of a knife to spread if desired.
Let icing set before transferring the cookies to an airtight container to store.
Notes
If you prefer a puffier cookie, chill the dough for at least an hour before baking.
These cookies freeze really well. But I suggest icing them after you defrost them.
Recommended Products
As an Amazon Associate and member of other affiliate programs, I earn from qualifying purchases.
Nutrition Information:
Yield:
12
Serving Size:
1
Amount Per Serving:
Calories:

188
Total Fat:

5g
Saturated Fat:

3g
Trans Fat:

0g
Unsaturated Fat:

2g
Cholesterol:

14mg
Sodium:

144mg
Carbohydrates:

34g
Fiber:

0g
Sugar:

26g
Protein:

2g
Please note that nutrition is not guaranteed accurate.
Thursday Christmas Cookie Recipes

If you make this recipe, I'd love to know! Snap a picture, share the photo on social media with the hashtag #AnAffairFromTheHeart – I'd love to see what you made! – Michaela