Giant Butterscotch Cookies
As an Amazon Associate and member of other affiliate programs, I earn from qualifying purchases.
Fall in love with Giant Butterscotch Cookies! This old-fashioned butterscotch cookie recipe is chewy, easy to make, and way better than any storebought cookie. Made with sweet butterscotch chips, maple syrup, and two kinds of sugars making them extra sweet. You will fall head over heels for these cookies!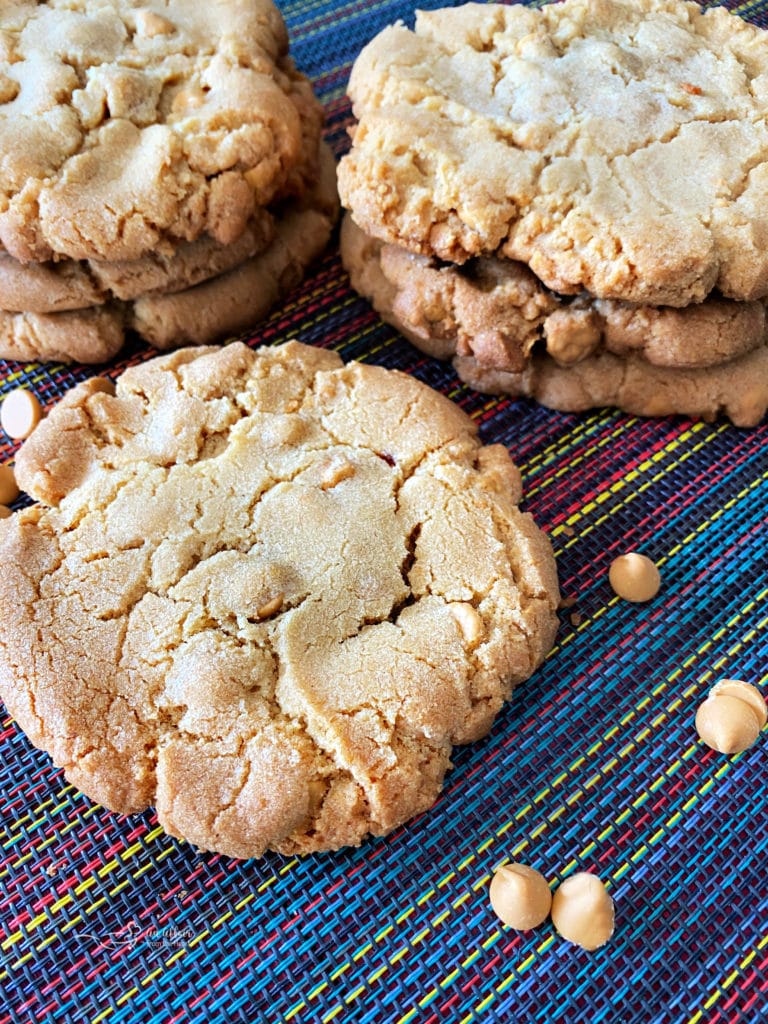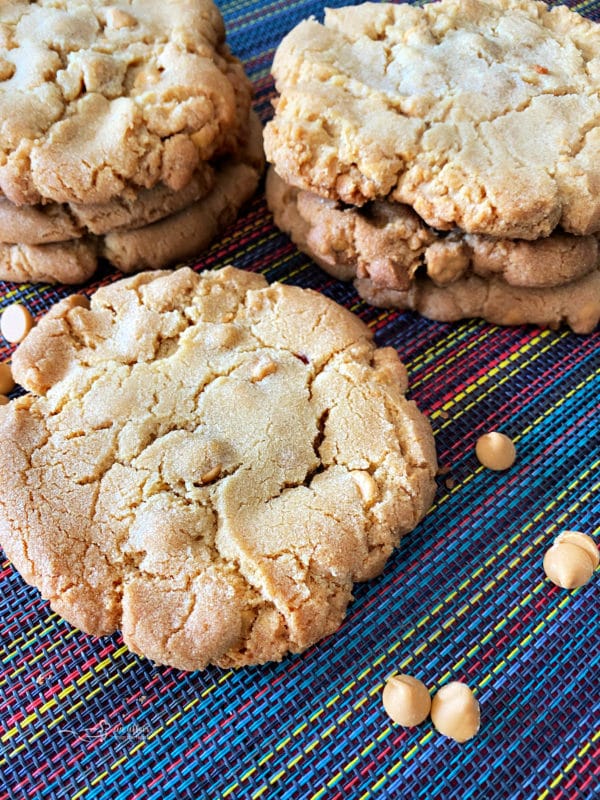 Fall Flavors Week continues with a cookie recipe that is going to knock your socks off! These giant butterscotch cookies will be your sweet tooth's new best friend. They are crisp around the edges and chewy in the middle, packed with butterscotch chips and a little fall flair from a bit of maple syrup.
Sure, you could bake them normal-sized, but I thought, if you're gonna have a cookie, then have a COOKIE!
This Giant Butterscotch Cookie recipe has been shared for a group called #FallFlavors, and I was sent products from Dixie Crystals Sugar to make them.

What to Make with Butterscotch Chips?
So, you've found yourself with a bag of butterscotch chips, now what? You can create a variety of baked goods, aside from this cookie recipe, with butterscotch chips such as brownies, cakes, sauces, and different types of candy!
You can substitute butterscotch chips in most recipes that call for peanut butter chips or even white chocolate or chocolate chips, too!

What do Butterscotch Chips Taste Like?
Butterscotch chips are known for their classic buttery sweet flavors. Whenever we're craving salty and sweet, we like to bake with butterscotch chips. Especially in the cooler months!
What are Butterscotch Cookies Made of?
Shortening: I used Crisco shortening in these cookies to make a moist, soft and fluffier cookie.
Sugar: I used Dixie Crystals granulated sugar and brown sugar.
Eggs: You will need two large eggs.
Maple Syrup: Maple syrup is added for a touch of extra maple sweetness!
Flour: All-Purpose flour is perfect for these cookies. Try to experiment with 1:1 gluten-free baking flour if you are avoiding gluten.
Salt
Baking Soda
Cream of Tartar: Are you aware of this little secret in cookies? Cream of tartar helps the cookies fully rise and come extra fluffy.
Butterscotch Chips: One package of butterscotch chips is enough for these cookies!
How to Make the Best Butterscotch Cookies
Step One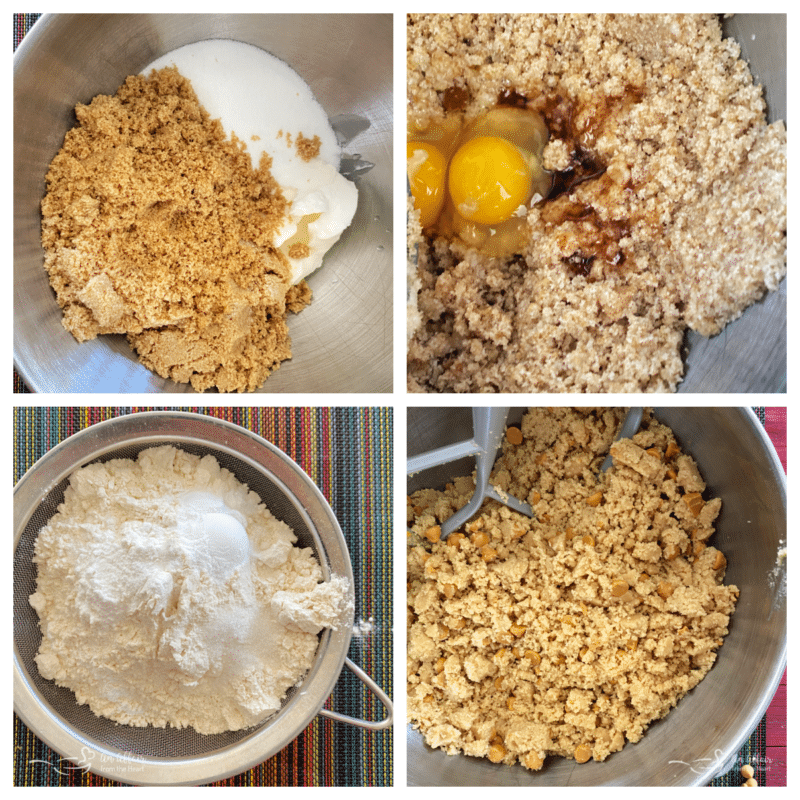 First, preheat the oven. In a mixing bowl, cream together both the shortening and sugars.
Next, add the eggs into the sugar mixture and mix well.
Step Two
Sift together the flour, salt, baking soda, and cream of tartar. Add the dry ingredients to the wet ingredients and mix well.
Fold in the butterscotch chips.
Step Three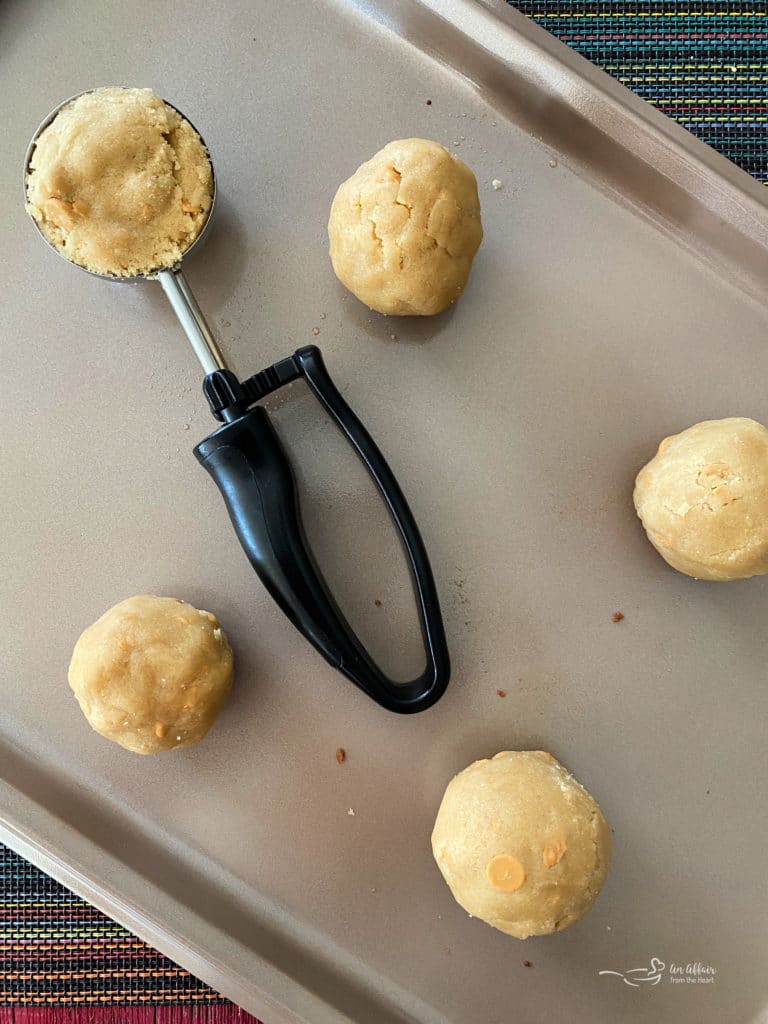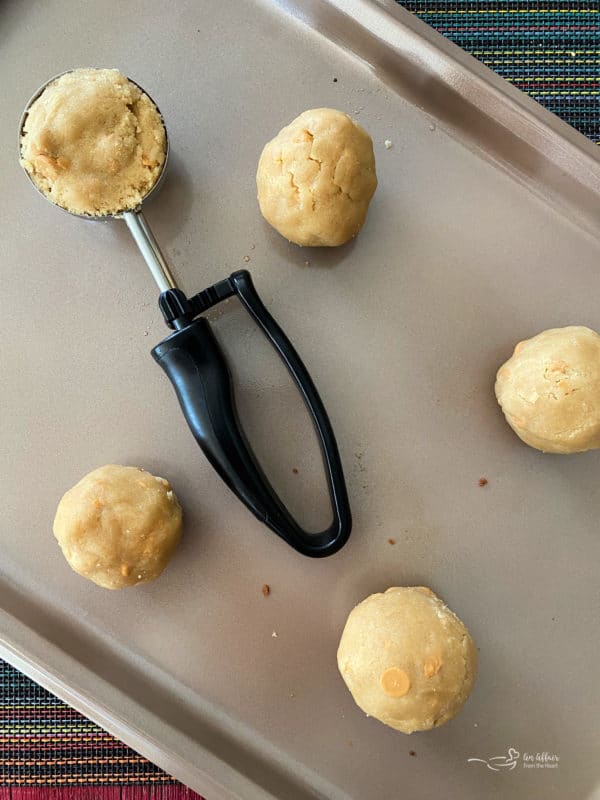 Scoop the cookie dough with a measuring cup or cookie scoop and roll the dough into balls. Lightly press down on the cookies, but do not flatten.
If you want to make these cookies regular-sized, then you will use a smaller measuring scoop and bake the cookies for a less amount of time.
Step Four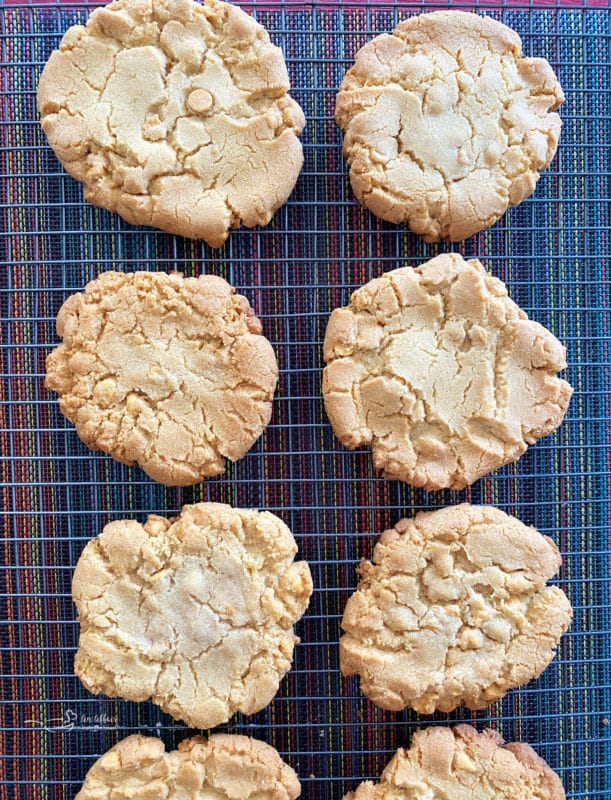 Bake the cookies for twelve minutes. Remove the cookies from the oven and let them stand on the cookie sheet for a couple of minutes before moving them to a cooling rack.

Other ideas for these cookies
Want to switch things up a bit? Add your favorite chopped nuts such as pecans or walnuts, chocolate chips, or Heath Bits: mmm, yum! You can really do much with these butterscotch cookies.
Another great idea? Sandwich a big scoop of butter pecan ice cream in the middle and make these cookies into scrumptious ice cream sandwiches.
Of course, just one of these cookies and a big glass of chilled milk is A-Okay with me!
Love it? Pin it!
If you can't wait to make this butterscotch cookie recipe, you need to remember where you found it! Pin it to your favorite Pinterest recipe board before you go!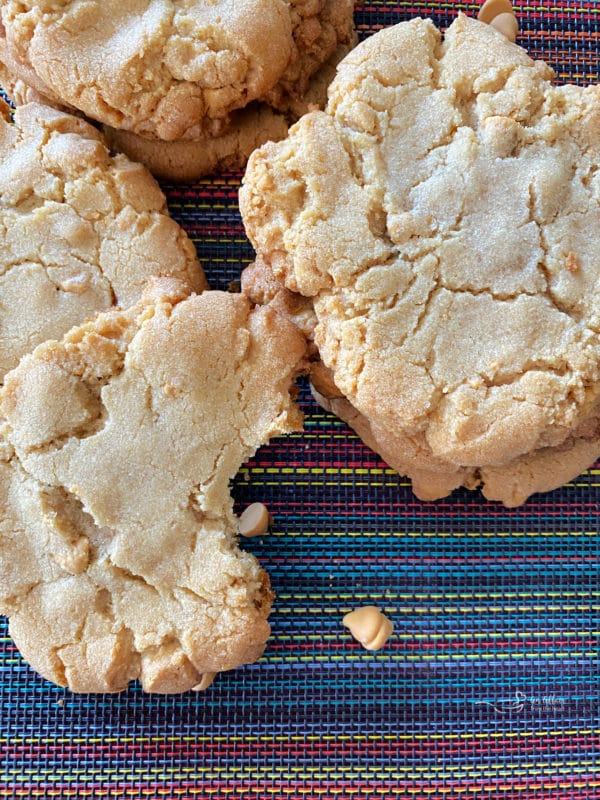 Are Caramel and Butterscotch the Same?
Caramel and butterscotch are often confused with one another, and although they can taste a bit alike they are distinctly different. Caramel is made from browning granulated sugar and butterscotch is made with brown sugar. If you like both flavors, you can easily interchange them!
Other Dessert Recipes You Will Like
Time to check out the giveaways!!
Welcome to #FallFlavors where more than 25 food bloggers are sharing recipes with favorite Fall flavors. Our sponsors, Millican Pecan, Dixie Crystals, Melissa's Produce, Taylor & Colledge, Nairn's, and the Republic of Tea, have furnished participating bloggers with a complimentary product to use in their recipe creations that they will be sharing this week. These same sponsors have generously offered prizes for our giveaway so be sure to enter and share with your friends so they can enter too. Be sure to follow our Fall Flavors Pinterest account for more inspiration.
Prize 1: Texas Pecan Candy Basket from Millican Pecan
The Millican Pecan Texas Pecan Candy Basket is loaded with a variety of pecan gifts. Includes 6 Milk Chocolate Pecan Clusters, 6 Milk Chocolate Caramillicans (similar to Turtles), 6 White Chocolate Caramillicans, 6 Pecan Pralines, and a 1/2 lb. Bag of Flavored Pecans! Every bit DELICIOUS! A $75 value.
Prize 2: Williams Sonoma Cleartouch Nonstick 6-Piece Bakeware Set from Dixie Crystals
Perfect for the occasional baker, our entry-level collection features a sturdy nonstick silicone coating at a great value. Aluminized steel, the material of choice for professional bakers, provides excellent heat transfer for even baking, so food turns out beautifully and releases easily every time. 6-Piece Set includes Half-sheet pan, 12-cup muffin pan, round cake pan, square cake pan, rectangular cake pan, loaf pan. An $80 value.
Prize 3: 3 Month Melissa's Produce Gift Subscription
A stunning selection of the most delicious produce will be delivered once a month for 3 months. At Melissa's, the produce is selected at its peak of perfection and packed by hand to ensure safe arrival. A $124 value.
Prize 4: A Red Dancing Leaves Teapot and a tin of Hot Apple Cider Tea from The Republic of Tea
Let the aroma of fresh apple and mulled cider spices envelop you as you sip this golden infusion. The crisp, lingering finish will leave you wanting more! A naturally-caffeine free blend of apples, cinnamon cloves, and ginger. Reminiscent of apple cider, with the luscious aroma of cinnamon and cloves, make this cup the perfect accompaniment to the colors of the harvest season.
Embossed, windswept leaves whirl across this 20 oz ceramic teapot. Includes a stainless steel infuser. An exclusive design by The Republic of Tea. A $44 value
Prize 5: A selection of six flavors of Oat Crackers from Nairn's
One winner will receive a box of each Nairn's Original, Chocolate Chip, Stem Ginger Oat Grahams, Caramelized Onions, Rosemary & Sea Salt Flatbreads, and Oat Cracker. Nairn's has been baking oats since 1896. They use simple, natural, and wholesome ingredients in their products. Minimum $25 value
Prize 6: A Selection of extracts from Taylor and Colledge.
One winner will receive a selection of extracts to include vanilla bean, almond, lemon, and lavender. In 1897, Taylor & Colledge won its first award for excellence in vanilla. Since then, the Taylor & Colledge commitment to unsurpassed quality has earned its reputation as one of the world's finest producers of vanilla. Minimum of $25 value.
Time to Enter the Giveaway!
Please see the giveaway disclaimer at the bottom of this post.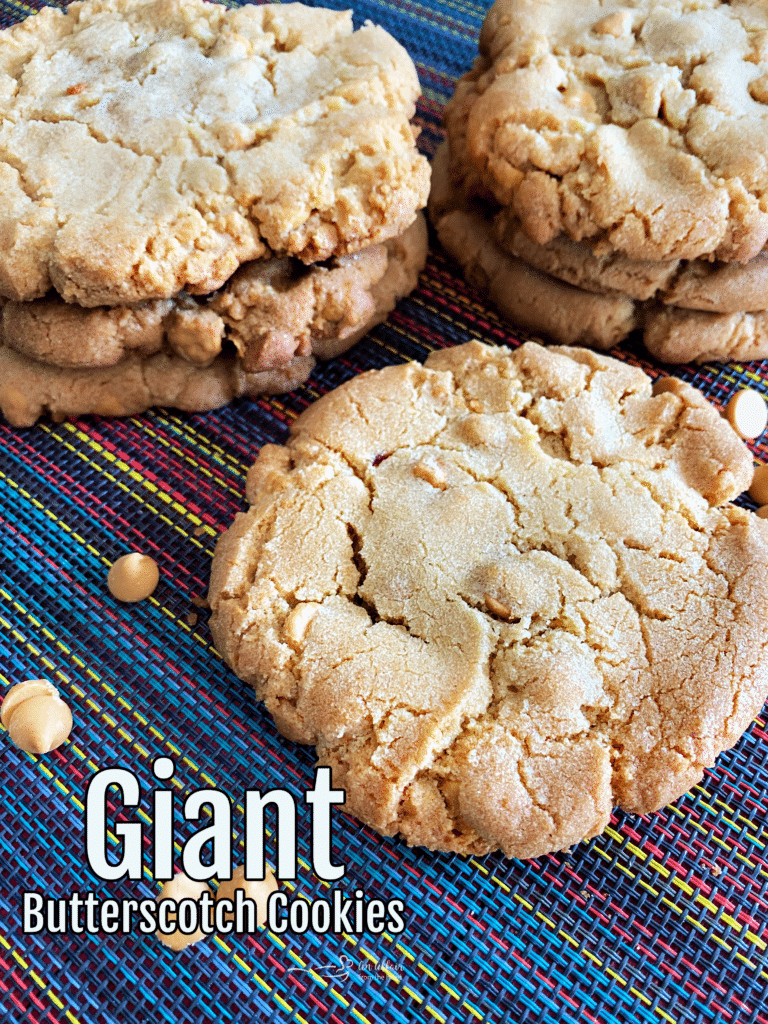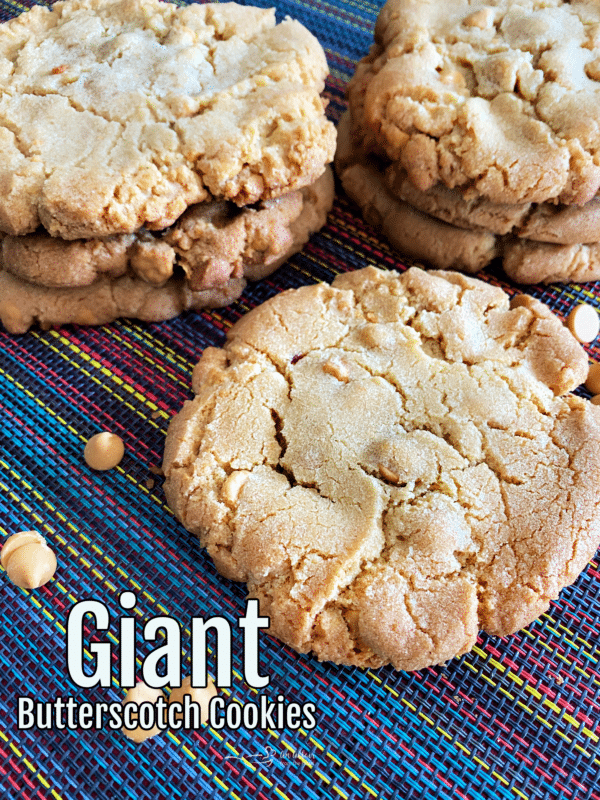 Let's bake some giant butterscotch cookies!

Yield: 20 Giant Cookies
Giant Butterscotch Cookies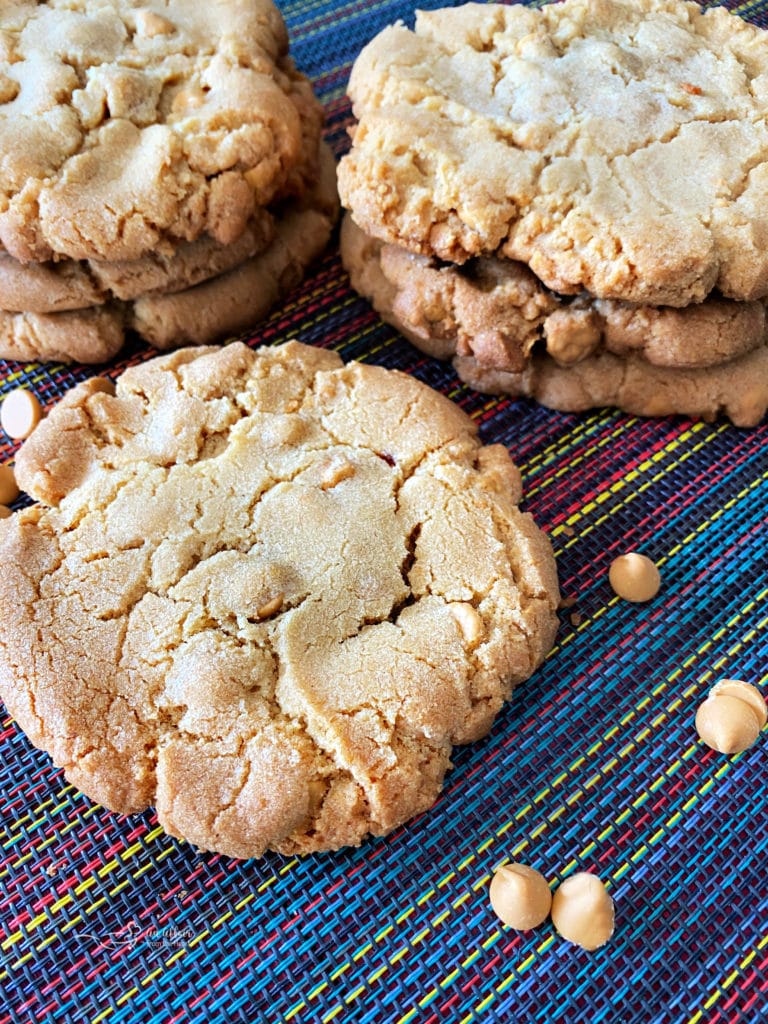 Giant sweet and chewy butterscotch cookies are a simple-to-make cookie that is a handful to hold! These giant treats will bring a smile to anyone's face!
Ingredients
1 cup Crisco
1 cup brown sugar
1 cup sugar
2 eggs
2 1/2 teaspoons maple syrup
2 3/4 cups flour
1/2 teaspoon salt
2 teaspoons baking soda
1 1/2 teaspoons cream of tartar
1 (11 ounce) package of butterscotch chips
Instructions
Preheat oven to 350 degrees.
In a mixing bowl cream together shortening and sugars.
Add in eggs and maple syrup. Beat well.
Sift together flour, salt, baking soda and cream of tartar, and add to wet ingredients. Mix well.
Fold in butterscotch chips.
Scoop with a 1/4 cup measuring scoop or cookie scoop and roll into balls. Press down the tops slightly, but do not flatten.
Bake for 12 minutes, or until the edges are golden brown. Centers will still look a little underdone, but it's okay. Leave them on the cookie sheet for a couple of minutes before transferring to a wire rack to cool.
Notes
If you make these a normal cookie size, decrease the baking time to about 8 minutes.
More #FallFlavors Recipes Below:
Appetizers, Cocktails, and Snacks
Breakfast and Baked Goods
Soups and Salads
Side Dishes
Main Dishes
Desserts
Fall Flavors 2021 Giveaway Disclaimer: Six (6) winners will be randomly selected. The prize packages will be sent directly from the giveaway sponsors. Bloggers are not responsible for prize fulfillment. Winners have 24 hours to respond once notified by email, or they forfeit the prize and an alternate winner will be chosen. The #FallFlavors bloggers are not responsible for the fulfillment or delivery of the prize packages. Bloggers hosting this giveaway and their immediate family members living in the household cannot enter or win the giveaway. Entries will be verified. No purchase is necessary. Void where prohibited by law. Must be 18 years of age or older to enter the giveaway and the contest is open only to US residents. This promotion is in no way sponsored, endorsed, administered by, or associated with Facebook, Instagram, Pinterest, Twitter, or any other social channel mentioned in the #FallFlavors posts or entries. Thank you to our sponsors Millican Pecan Company, Dixie Crystals, Melissa's Produce, Taylor & Colledge, Republic of Tea, and Nairn's for providing prizes.