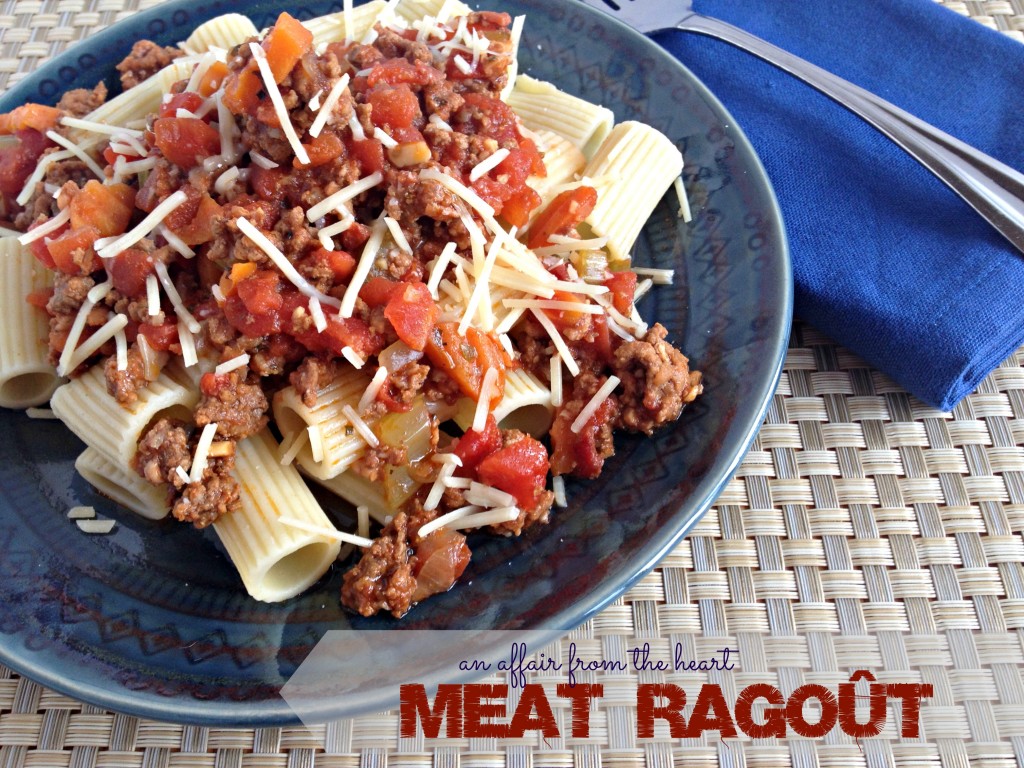 It's hard to look at this word and not pronounce it RAG-OUT.  I wondered why it wasn't just called Ragu, I mean it's pasta sauce, right?  Well, I looked it up, and here's what I found out about the difference just in case, like me, you didn't know the difference, you just saw the recipe for Meat Ragout and thought, "dang, that looks GOOD!"
"Ragout, pronounced the same as Ragu  is French and is more of a stew of sorts, often times bulked up with veggies or beans.  Ragu is more of a sauce, is Italian, and usually tomato based."
(source the gourmet wino )
This makes sense, this sauce is loaded up with veggies, and the outcome is fantastic.  I served it over Rigatoni noodles, topped it with fresh Parmesan cheese and it was a hearty meal that we all enjoyed! I shipped the leftovers off to my son and my daughter's boyfriend who are attending the University of Nebraska at Lincoln.  They froze well, and they enjoyed their "Mom T.V. Dinners!"
Meat Ragout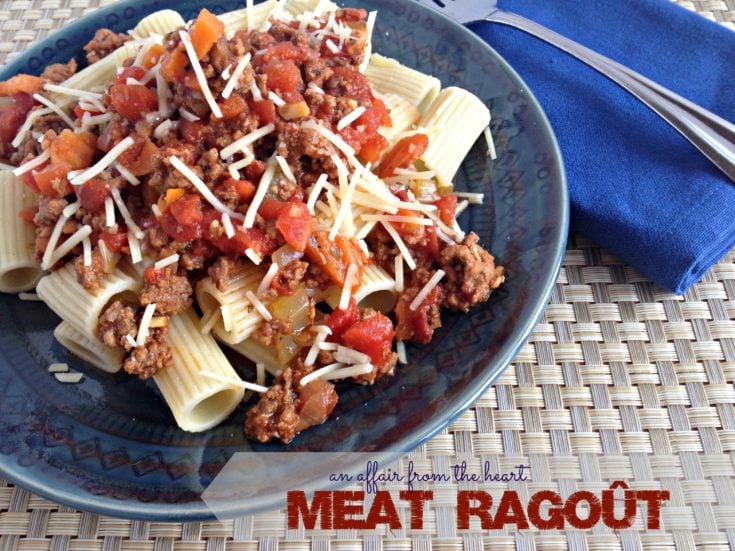 Thick meat sauce, full of veggies and served over Rigatoni pasta.
Ingredients
2 pounds lean ground beef
3 ounces jar of Real Bacon Pieces
1 medium onion, chopped
1/4 cup Italian dressing
3 stalks celery, chopped
2 cups carrot coins, or carrot slices roughly chopped
6 cloves garlic, minced
4 - 14.5 ounce cans diced tomatoes, Garlic and Olive Oil flavored
2 beef bouillon cube dissolved in 2 cups warm water
1 - 6 oz can tomato paste
1 16 oz package Rigatoni pasta, cooked and drained (for serving)
Fresh Parmesan cheese (for serving)
Instructions
In a dutch oven over medium heat, cook the ground beef, veggies, and bacon until the beef is cooked and the veggies are tender.
Stir in the rest of the ingredients (except pasta) and simmer on medium-low heat for about 1 1/4 hours until thickened.
Serve over pasta.
~~~
Enjoy pasta?  We do, too!
This Easy Weeknight Chicken Parmesan only has 5 ingredients, and it a great family meal!

If you make this recipe, I'd love to know! Snap a picture, share the photo on social media with the hashtag #AnAffairFromTheHeart – I'd love to see what you made! – Michaela