Tuna Spaghetti
As an Amazon Associate and member of other affiliate programs, I earn from qualifying purchases.
This creamy tuna spaghetti recipe is filled with flavor and so easy to make! Healthy, full of yummy ingredients, and the perfect option for busy weeknights at home, this tuna with spaghetti is certainly a crowd-pleaser and contains yummy flavors of parmesan, mushrooms, tuna, olives, and bright citrus. Ready in 20 minutes!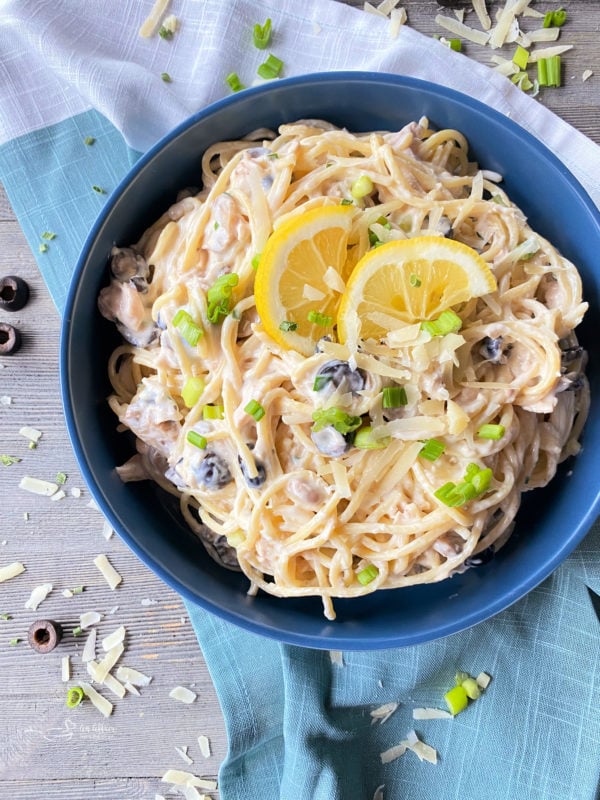 Canned tuna spaghetti is my all-time favorite dish. When I'm low on time but need to get something healthy, delicious, and quick on the table ASAP, then I refer back to this tuna spaghetti recipe. Comfort food in a bowl, these silky and savory noodles are tossed with a creamy parmesan sauce and baked with toasted buttery breadcrumbs that are perfect.
If you're in the mood for a tuna pasta bake, then I have instructions for that below in the recipe card. I just like the stovetop tuna spaghetti because it's ready in less than 30 minutes– amazing, right? Every time I make this tuna fish spaghetti, I have to make sure to cook plenty for seconds because the whole house swoons over this pasta and we quickly gobble it up!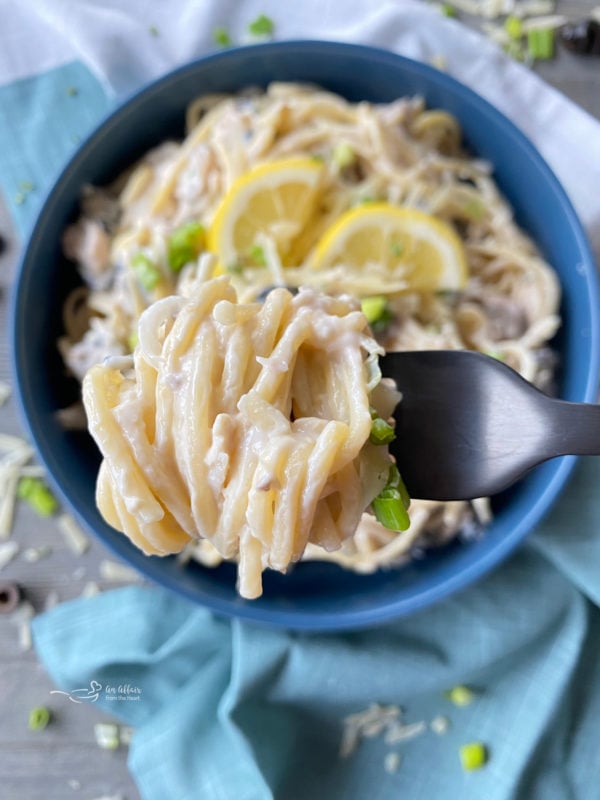 My family LOVES pasta, and spaghetti noodles are their favorite! This Tuna Spaghetti has a creamy white sauce, that is filled with Bumble Bee Albacore tuna, Parmesan cheese, mushrooms and olives. Whether you whip it up in your skillet and serve it, or make it ahead of time and bake it, this meal is delicious!
This recipe is like the perfect mix of my two quick weeknight go-to meals, my Mom's Tuna Tetrazzini Casserole and Spaghetti!
Canned Albacore Tuna – what I reach for, for lunch
My husband works close to home and is able to come home for lunch every day. We eat tuna for lunch all of the time! We love tuna salad on English muffins or stuffed into homegrown tomatoes, like this Caprese Tuna Salad!
Tuna is so good for you, low in fat and calories and high in Omega-3s. The pouches come in light tuna or premium Albacore tuna. If you want to make a big meal, their canned tuna is always an excellent option.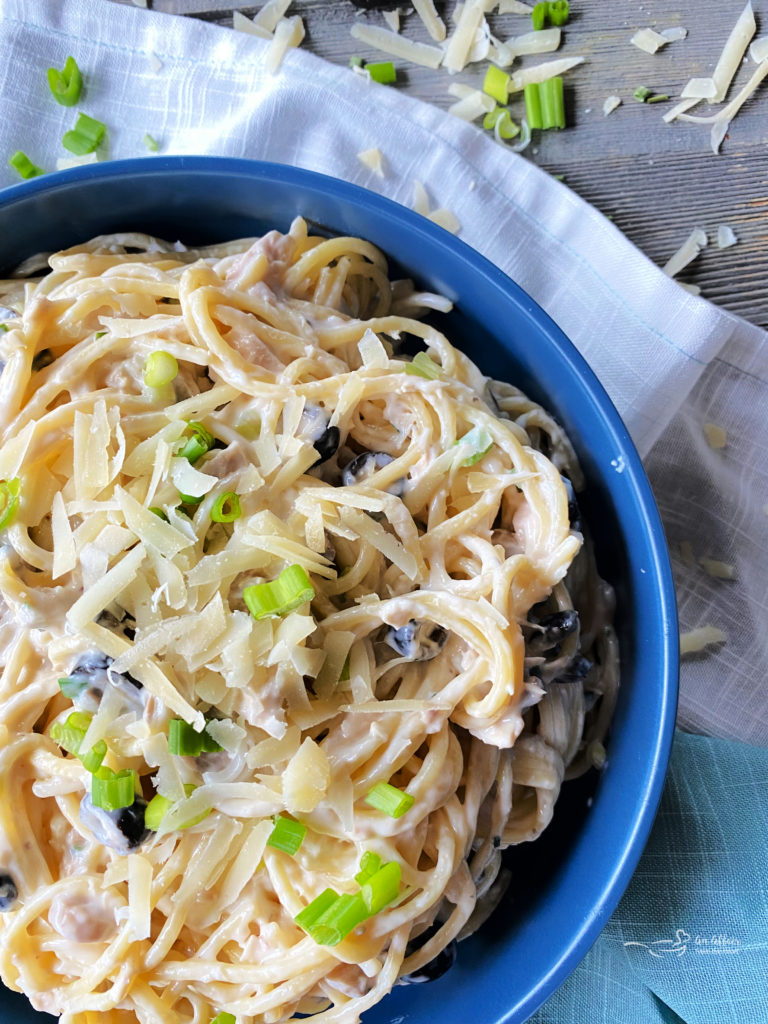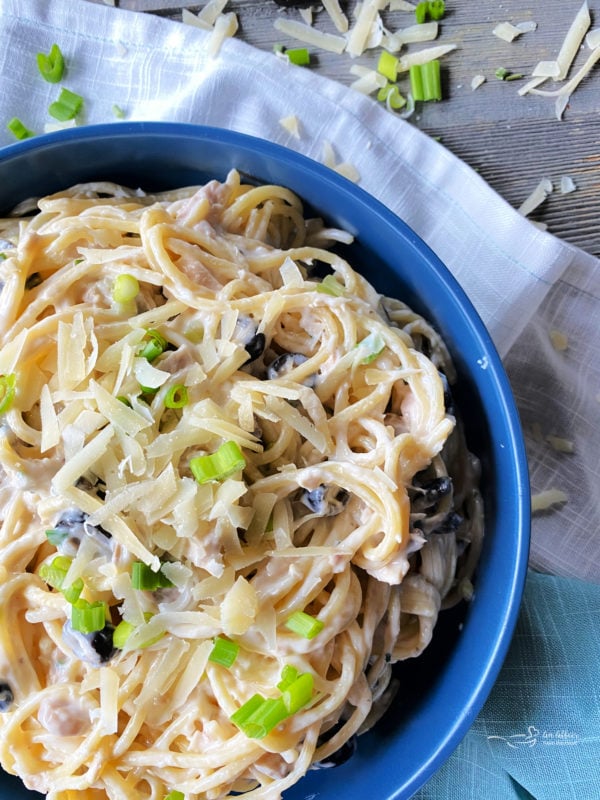 Why You're Going to Love This Creamy Tuna Spaghetti
Easy: With only a handful of simple steps, this tuna and pasta recipe will be ready in about 20 minutes! This tuna spaghetti is perfect for when you've had a long day and do not want to cook a strenuous meal. Loaded with flavor, no one will ever know it's minimal and so easy to make!
Healthy: Filled with lean protein and healthy omega-3s from the tuna fish, this 10-minute tuna spaghetti is also filled with fresh mushrooms and olives for an extra serving of veggies.
Delicious: This tuna spaghetti recipe is finger-lickin'-good and perfect for any night of the year– it's not short on flavor!

What Can I Mix with Canned Tuna?
You can mix all kinds of things with tuna such as fresh vegetables, breadcrumbs, salad, quinoa, tomatoes, pasta, and so much more. Tuna is an extremely versatile ingredient that comes in handy! Try this Tuna Caprese Salad for lunch, sometime!
Ingredients
Don't miss the full measurements for this tuna spaghetti recipe. The full measurements in are in the recipe card below!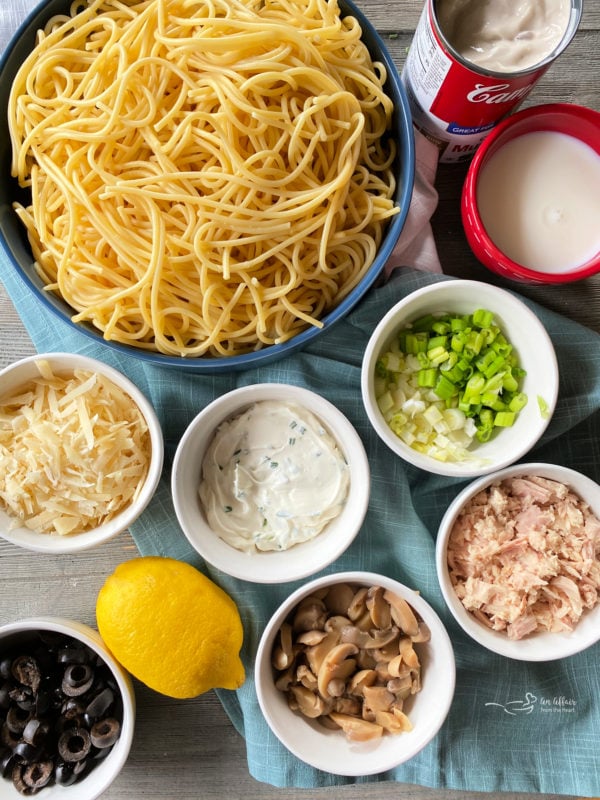 Spaghetti: I like to use spaghetti noodles for this recipe because they're really good at absorbing the creamy parmesan sauce, but you can use any type of pasta, really!
Cream cheese: A delicious blend of onion and chives, this cream cheese adds a robust flavor to the tuna spaghetti.
Mushroom soup: One can of low-fat mushroom soup or you can make your own from scratch.
Mushrooms: You can either use canned or freshly sliced mushrooms. I used canned.
Tuna: Either canned tuna or tuna in the pouches is okay for this tuna spaghetti recipe. You can choose regular or premium albacore tuna!
Olives: Sliced black olives add additional flavors to this recipe.
Onion: Freshly chopped; either yellow or white.
Milk: I used skim milk for this recipe, but you could use any type of milk.
Lemon juice: Either freshly squeezed or from the bottle. The tuna spaghetti with lemon juice adds a bright finish.
Breadcrumbs: If you are making a tuna pasta bake, then you will need the breadcrumbs for toasting.
Green onions: Sliced green onions for garnish
Parmesan cheese: Make sure the cheese is divided; I used shredded, but you can use freshly grated parmesan, too.
How to Make This Tuna Spaghetti
This dish comes together in less than 30 minutes. I simply boil the spaghetti in one pot, and in a skillet, made the cream sauce, added my Parmesan cheese, mushrooms, olives and Bumble Bee Premium Albacore Tuna. Gave it a stir to thoroughly heat the sauce and tossed it with my noodles. I topped it with some fresh Parmesan and some green onions before serving.
Step 1
Cook the pasta: First, boil and drain the spaghetti. Set aside.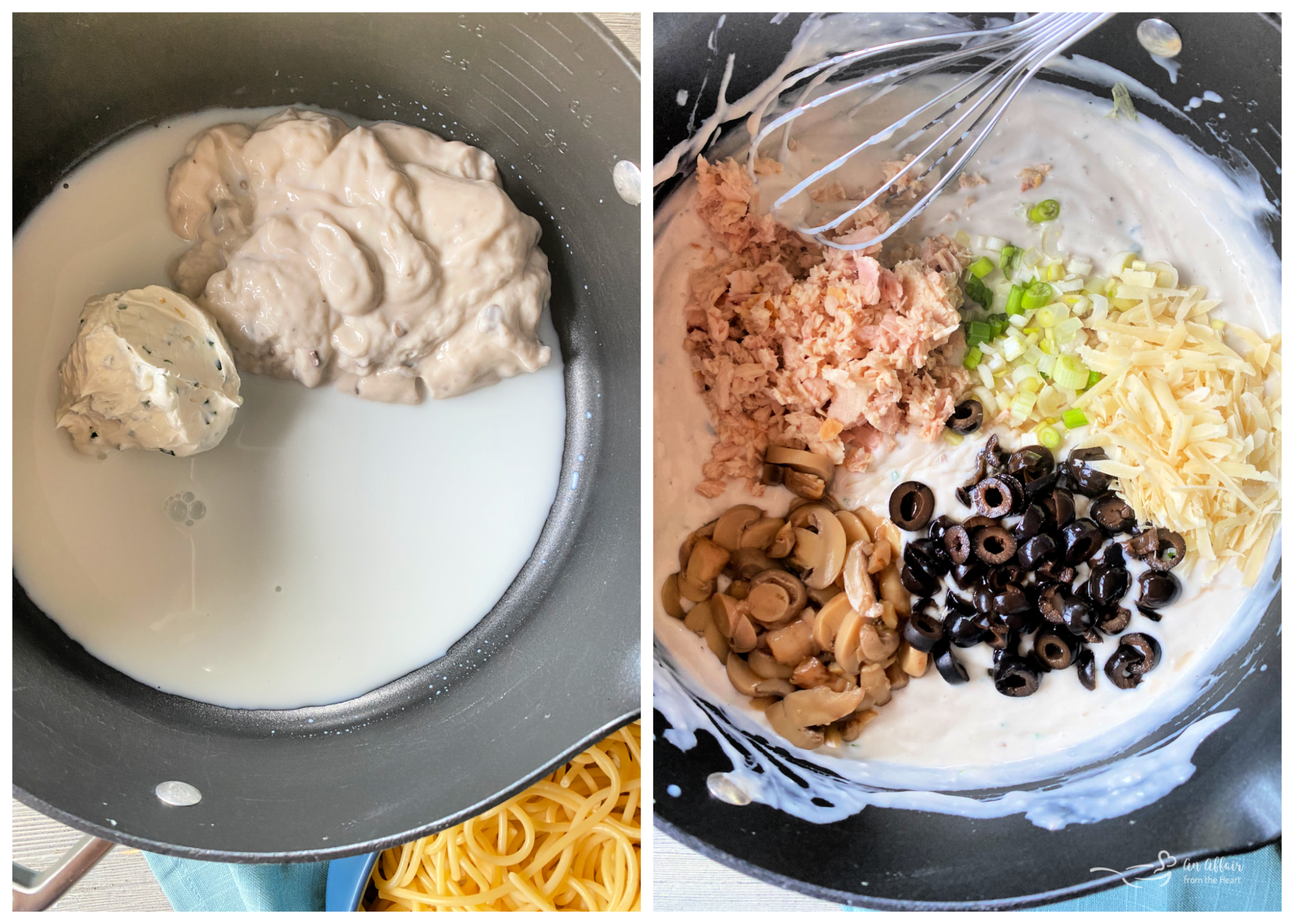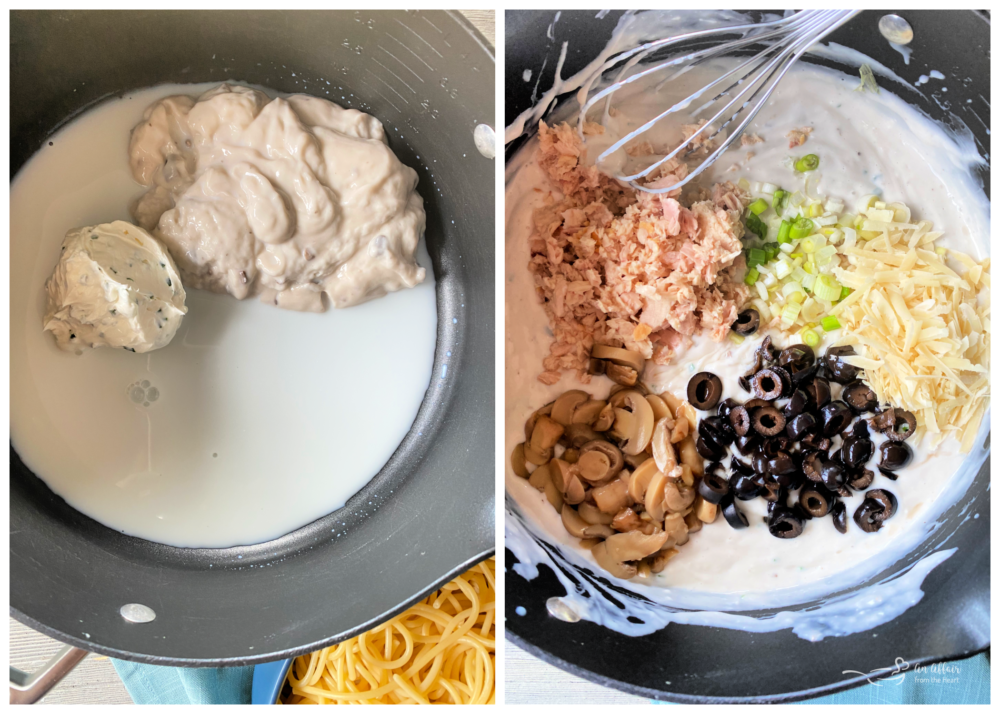 Step 2
Make the sauce: In a medium pan over medium heat, combine the cream cheese, soup, and milk with a whisk.
Step 3
Combine ingredients: Next, combine tuna, mushrooms, and ¼ cup of fresh parmesan cheese.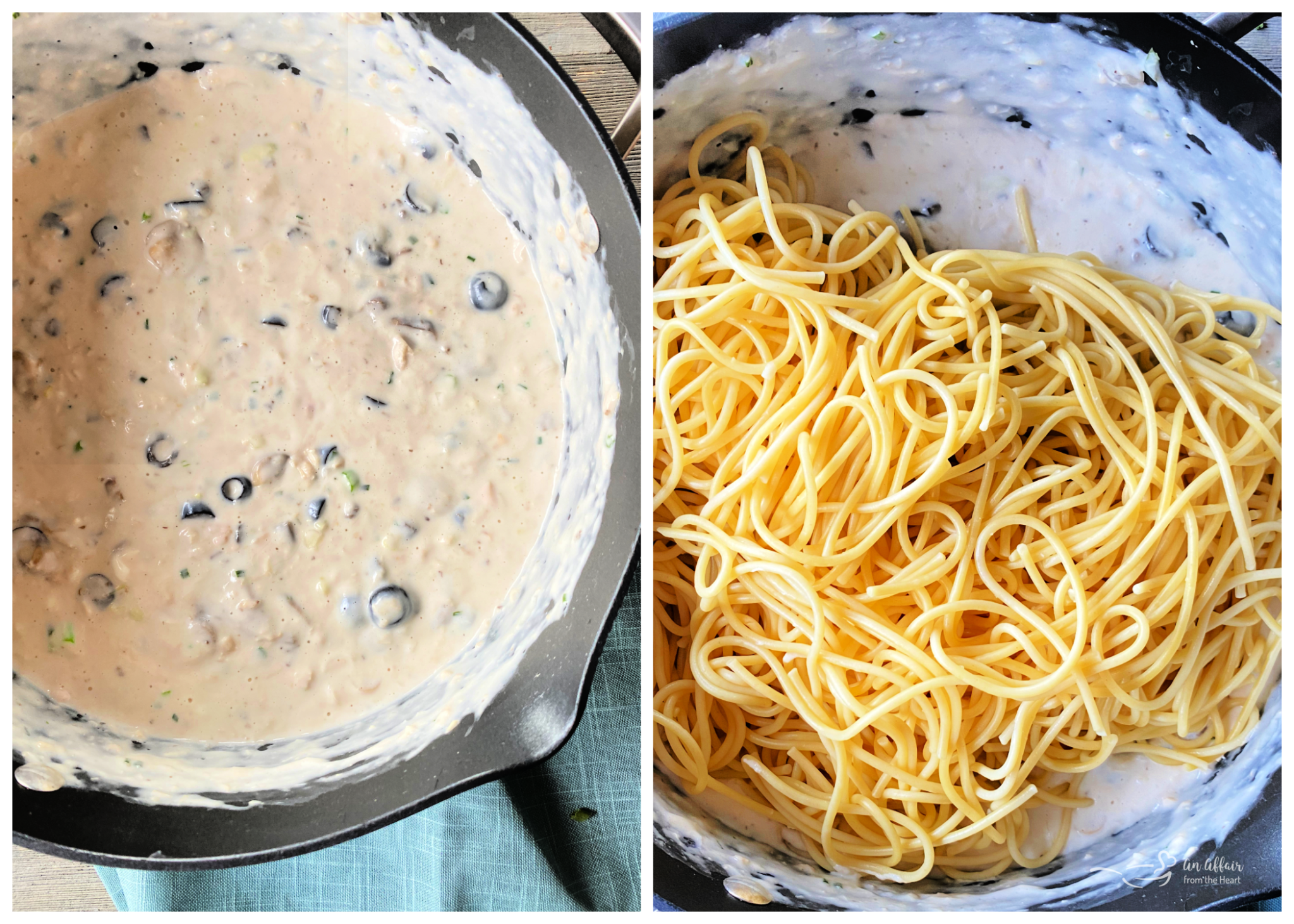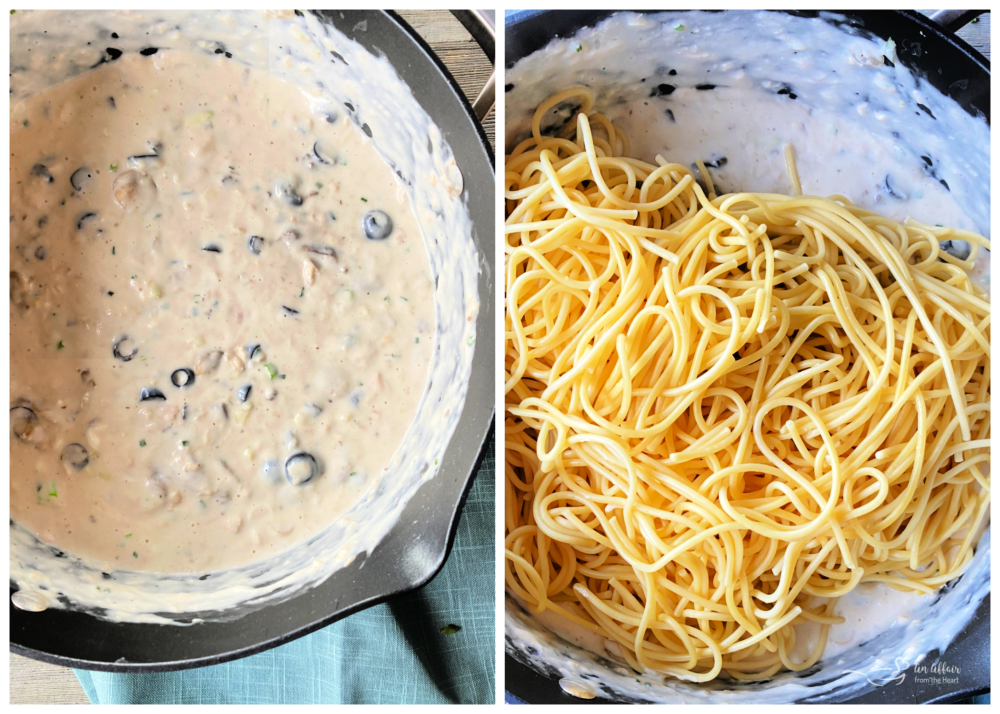 Stir until combined.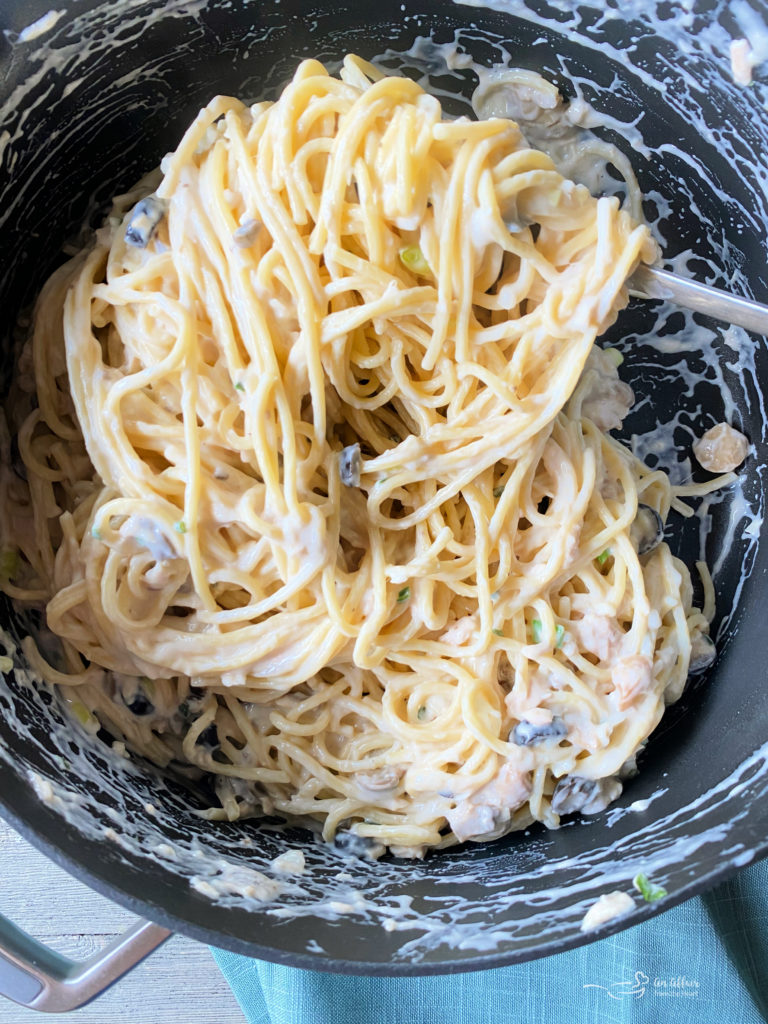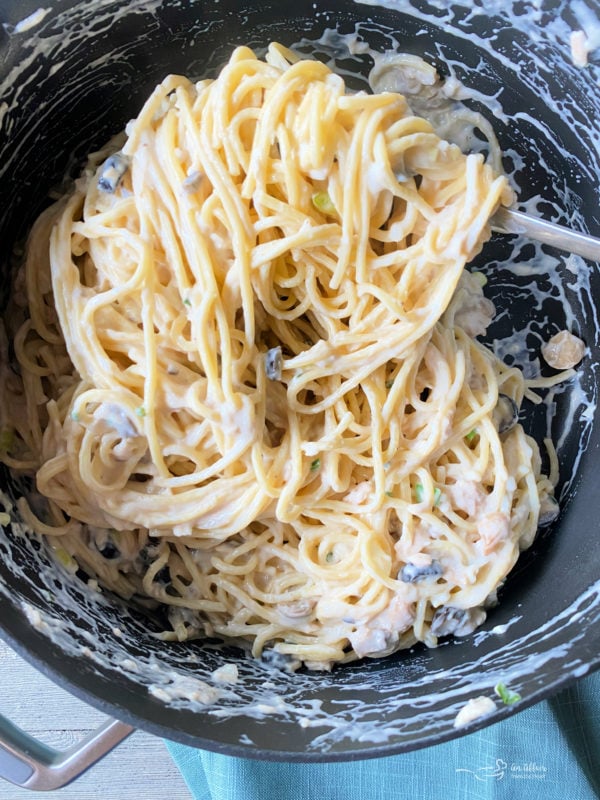 Step 4
Toss with spaghetti: Next, toss the spaghetti noodles with the warm sauce.
Step 5:
Serve with additional cheese and sliced green onions.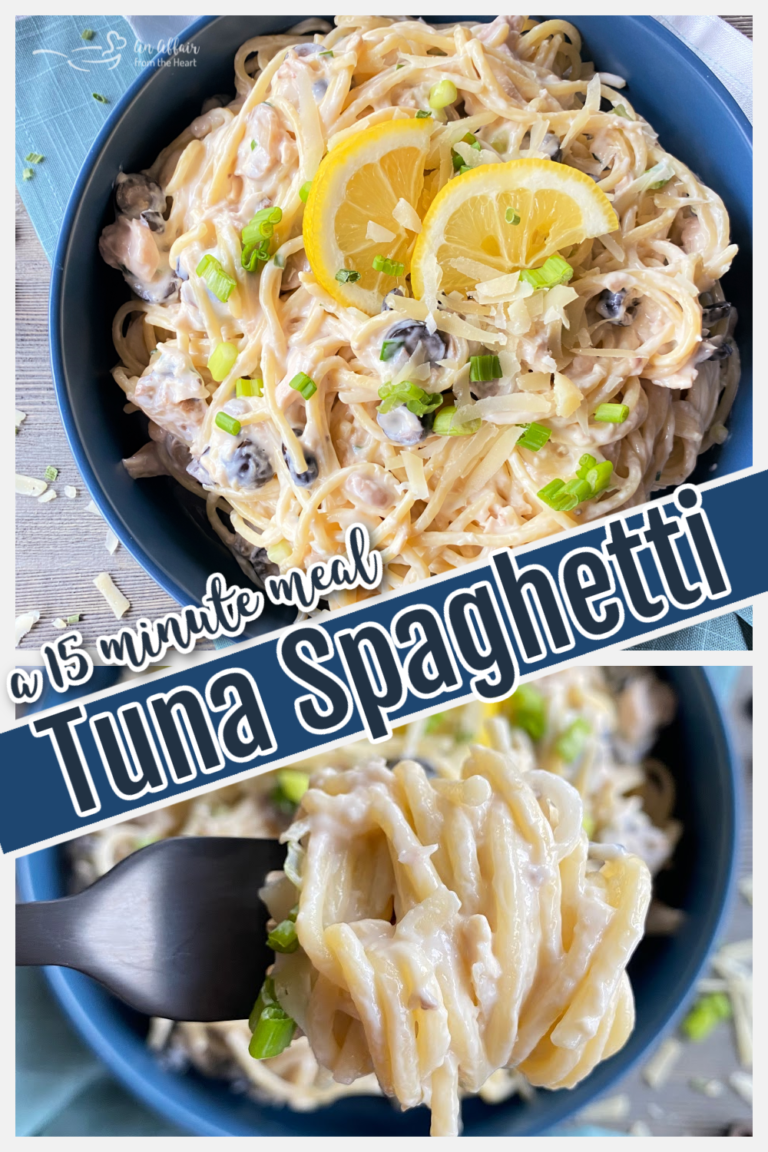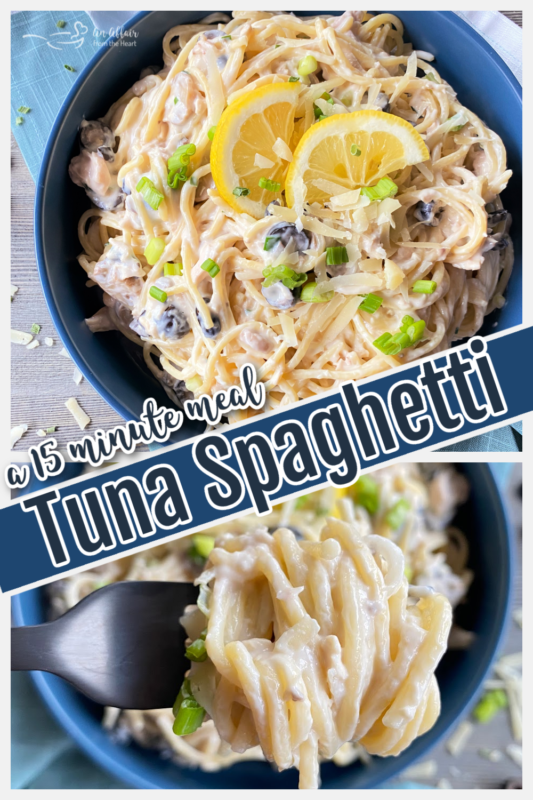 LOVE IT? PIN IT!
You're going to want to save this tuna spaghetti recipe before you go! Save it to your Pinterest board so you will have it for later!
Is Tuna Pasta Good For Losing Weight?
Tuna is a great way to squeeze in some lean protein when you're looking to keep calories low. If you want to make this tuna spaghetti even more healthy, then substitute it with gluten-free pasta.
What Can I Add to Tuna Instead of Mayo?
You can use a variety of things instead of mayonnaise! Avocado, hummus, yogurt, egg, and pesto are just some of the options there are.
What to Add to Canned Tuna to Make it Taste Better?
You can add freshly chopped veggies to tuna to make it taste better in addition to various seasonings and spices. You can serve tuna with rice or quinoa with freshly squeezed lemon juice. Another thing you can do with canned tuna is to mix it with breadcrumbs or crackers to create tuna patties.
Tips
Store the leftovers in an airtight container in the refrigerator for up to four days.
Serve with vegetable noodles for a healthier spin on this classic tuna spaghetti.
Rinse the spaghetti noodles with cool water while the sauce cooks.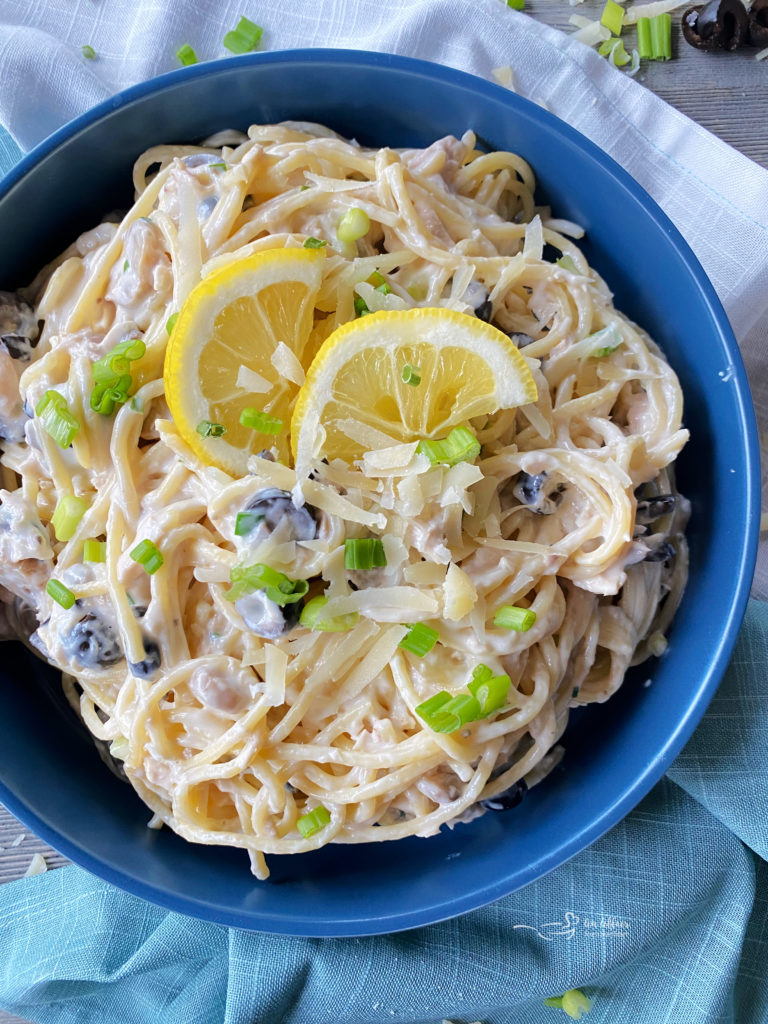 More Delicious Recipes!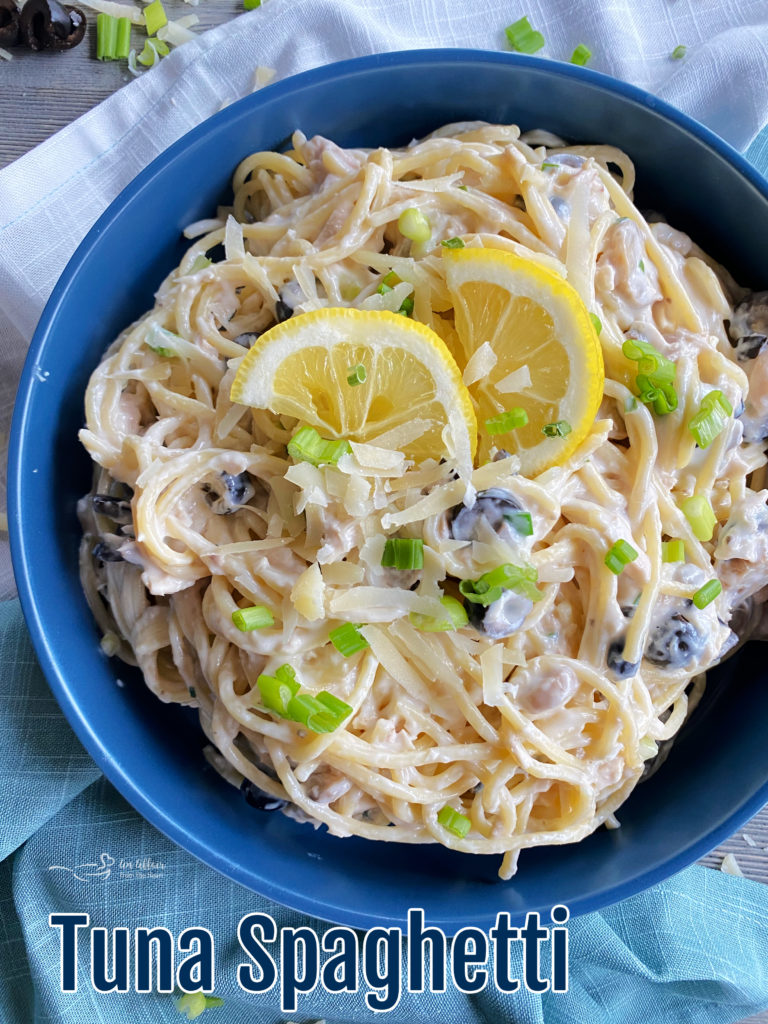 Let's make some TUNA SPAGHETTI!

Yield: 6 servings
Tuna Spaghetti
This easy weeknight meal, Tuna Spaghetti is one the WHOLE family will enjoy! The creamy white sauce is mixed with cheese, mushrooms and olives, and topped with MORE cheese. Done in 30 minutes!
Ingredients
1 - 12 ounce package of spaghetti, cooked al dente
4 Tablespoons Low fat chive and onion cream cheese
1 can cream of low fat mushroom soup
1 - 4 ounce can of sliced mushrooms, drained
1 - 5 ounce can of Bumble Bee Premium Albacore Tuna, or 2 - 2.5 ounce Pouches
1/2 cup black olives, sliced
1/4 cup onion, chopped
1/2 cup skim milk
1 Tablespoon fresh lemon juice
1/4 cup breadcrumbs (for baked version)
1/4 cup sliced green onions, for garnish
1/2 cup Parmesan cheese, divided
Instructions
Boil and drain spaghetti, set aside.
In a skillet over medium heat, combine cream cheese, soup and milk with a whisk until smooth.
Add tuna, mushrooms, olives and 1/4 cup of fresh Parmesan cheese.
Stir until combined, and heated through.
Toss with spaghetti.
To serve top with additional cheese and sliced green onions.
To make the baked version, after tossing the pasta and sauce together, pour it into a 2 quart casserole dish, prepared with non-stick spray. Sprinkle top with remaining cheese, green onions and bread crumbs. Cover and bake for 25 minutes, uncover and bake for 5 minutes more.
Recommended Products
As an Amazon Associate and member of other affiliate programs, I earn from qualifying purchases.
Nutrition Information:
Yield:
6
Serving Size:
1
Amount Per Serving:
Calories:

312
Total Fat:

13g
Saturated Fat:

6g
Trans Fat:

0g
Unsaturated Fat:

6g
Cholesterol:

35mg
Sodium:

768mg
Carbohydrates:

32g
Fiber:

2g
Sugar:

6g
Protein:

16g
Please note that nutrition is not guaranteed accurate.
This recipe was originally posted on August 27, 2014. It has been updated to improve user experience and reshared on July 4, 2021.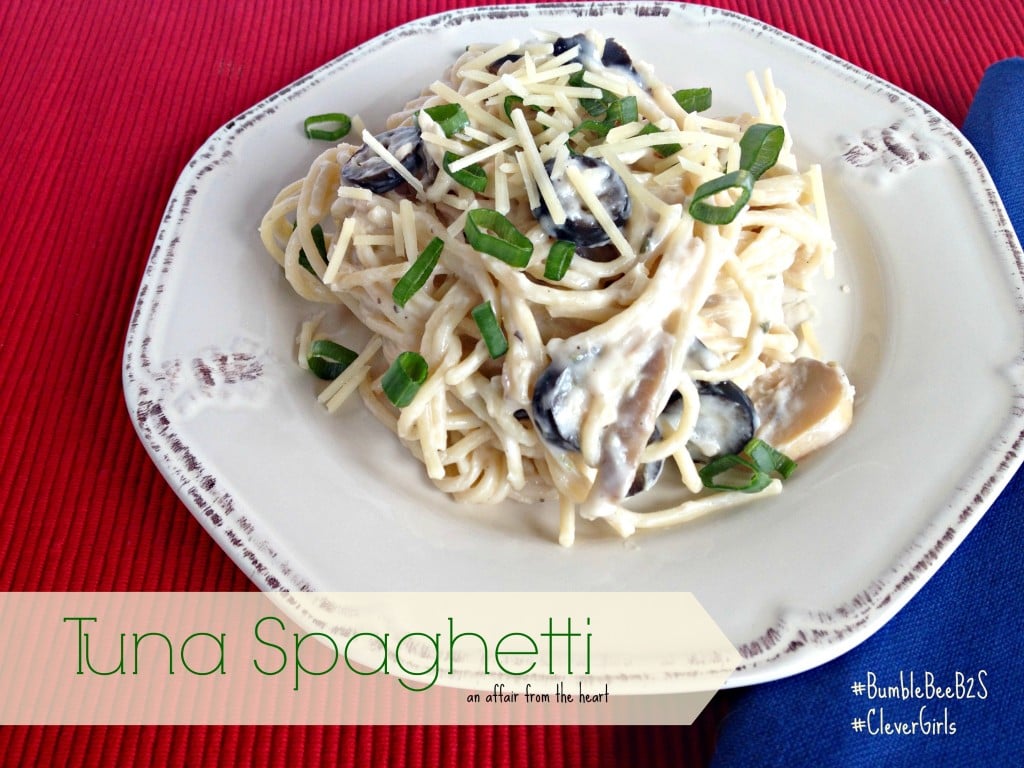 Want to make this ahead of time? That's easy!
Simply combine all of the ingredients, and place into a baking dish to have a "baked" version of this pasta dish.
I was selected for this opportunity as a member of Clever Girls Collective and the content and opinions expressed here are all my own