Deliciously tangy, Shrimp Fajitas with just the perfect amount of spice! This easy to make recipe comes together quickly in your oven on a sheet pan. Made with colorful bell peppers, fresh cilantro, citrus, and a homemade spice blend you're going to want to sprinkle on everything! Top the whole dish off with cilantro lime butter, and your tastebuds will be dancing the tango!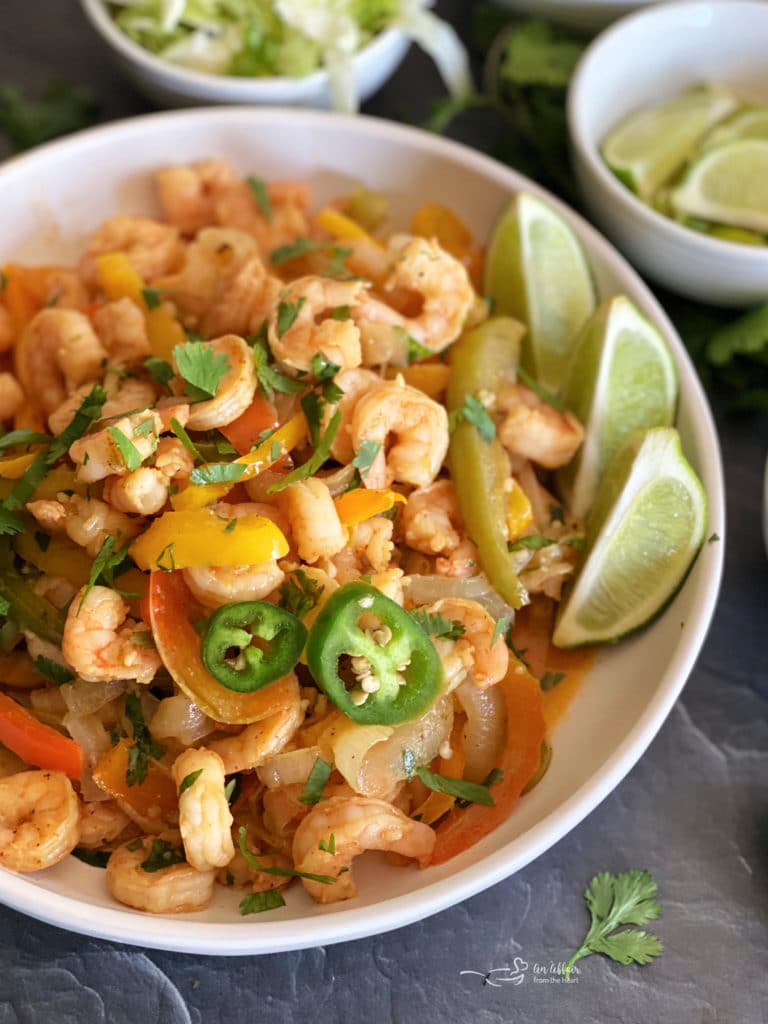 To say I have been embracing the combination of cilantro and lime lately would be an understatement! Just last week I shared a recipe for Slow Cooker Cilantro Lime Pork, and with Cinco de Mayo this week, you can bet that our Mexican-inspired dishes are always accompanied by my Cilantro Lime Rice!
Mexican food is my absolute favorite, and personally, I think it should be its own food group. Whether I am enjoying it in a restaurant, or at home, I can never say no to it.

Why You are Sure to Love These Sheet Pan Shrimp Fajitas
There are countless reasons to try this shrimp fajita recipe, I mean, besides just how incredibly tasty they are!
Minimal prep work. It takes about 10-15 minutes total to prepare the ingredients to make these seafood fajitas. In fact, I actually mixed up the shrimp fajita seasoning and sliced my peppers and onions in the morning. Then after lunch, I tossed the shrimp into the bag with the peppers and onions, added in the marinade, and put them back in the fridge until I was ready to make dinner.
Cooks all in One Pan. I don't know how you feel about dishes, but they aren't my favorite. Anytime I get to use one pot to make a meal, I am all for it! Sheet pan meals have become a fast favorite of mine.
Cooks Quick! These Mexican shrimp cook super fast in the oven. In about 20 minutes you'll be dishing up a tortilla full of flavorful cilantro and lime shrimp!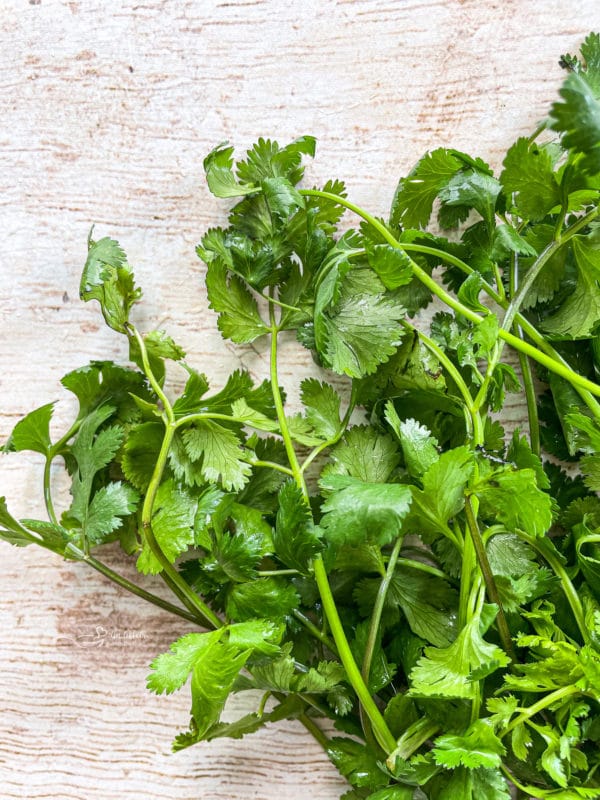 Shrimp Fajitas Nutrition
This one-pan shrimp fajita recipe is Keto friendly when eaten without the flour tortillas. The calories can vary depending on the products you use to prepare them, so please know that the nutrition information found in the recipe card can fluctuate.
I love the carb balance flour tortillas from Mission. They are always really soft, lower in carbs and higher in fiber.
And I love all of the fresh ingredients, too! There is just something about eating a meal that is bright and colorful. The bell peppers and cilantro just make those pretty pink shrimp even more appealing!
Of course, if you are part of the 4-14% of the population that thinks cilantro tastes like soap, then you might want to swap your cilantro for parsley. The recipe won't taste quite the same, but it's not your fault that your OR6A2 or olfactory receptor genes cause you to dislike cilantro.

Freaky Friday – 2021 Spring Edition
Today's recipe is being brought to you as part of a blog hop called Freaky Friday. I started this group over six years ago, and five times a year a group of us get together and cook/bake from a fellow food blog that we are secretly assigned for the round. It's one of my favorite activities because I get to introduce my readers to so many other talented food bloggers, and you all get to enjoy all sorts of new recipes!
Lemon Blossoms Blog
For this round, I was thrilled to have drawn Kathy's name! I had never been assigned her blog, Lemon Blossoms, and I couldn't wait to dig into her recipes!
Kathy went to culinary school and is a trained professional chef turned home cook. She began her career for The Food Network working for Wolfgang Puck's TV show, and later joined the culinary team of Throwdown with Bobby Flay. When her family relocated from California to Alabama, she decided to start her food blog, Lemon Blossoms, to teach others how to prepare all sorts of wonderful food!
I have has the pleasure of hanging out with Kathy in person, and she is a riot to be around! She has a huge heart, and even though our culinary backgrounds are completely different, we have very similar tastes in food.
Choosing a Recipe
So similar in fact, that it made narrowing down what I wanted to make from her site quite a task! I got my list down to about 20 recipes that I wanted to make. Then, I made myself narrow it down to four.
Aside from Kathy's shrimp with lime butter sauce, I had it narrowed down to these other recipes: Berry Swirl Cheesecake Bars, Asian Slaw with Peanut Sesame Ginger Sauce, and Blueberry Pancakes. But with Cinco de Mayo in the air this week – the shrimp won out in the end!
Ingredients in Cilantro Lime Shrimp Fajitas Recipe
The recipe looks like it has a lot of ingredients but honestly, most of them are in the spice blend and the marinade. Here is what you will need to make this recipe. (the complete printable recipe card is at the bottom of this page.)
For the fajita seasoning blend, you will need to mix together ground cumin, garlic powder, chili powder, paprika, salt, black pepper, and a little bit of clove.
If you want to really spice things up, add in about 1/4-1/2 teaspoon of cayenne pepper.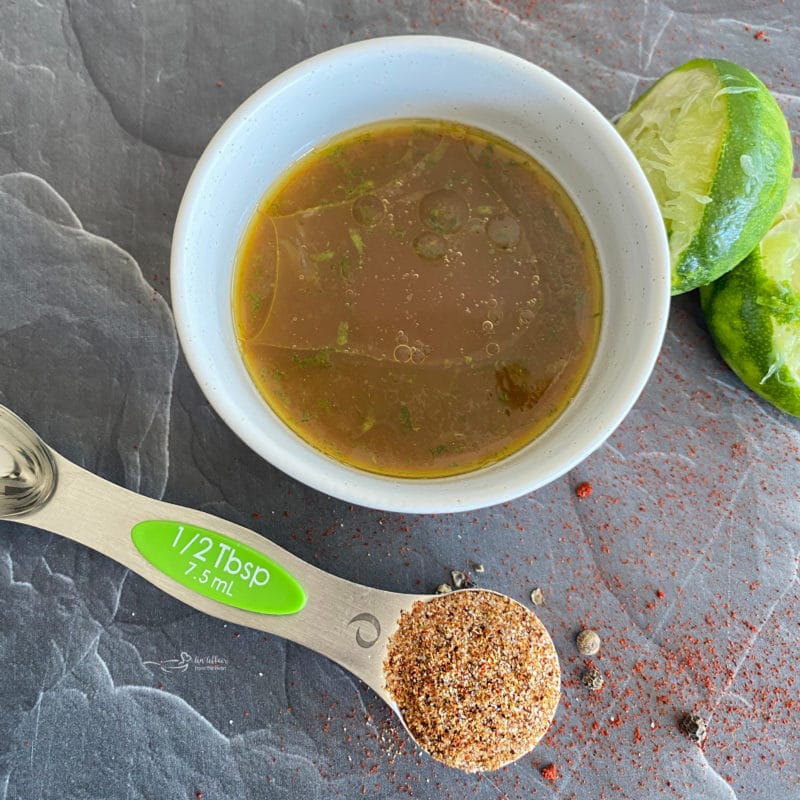 To prepare the shrimp fajita marinade, you'll need olive oil, orange juice, soy sauce, some of the spice mix and the zest and juice of one small lime.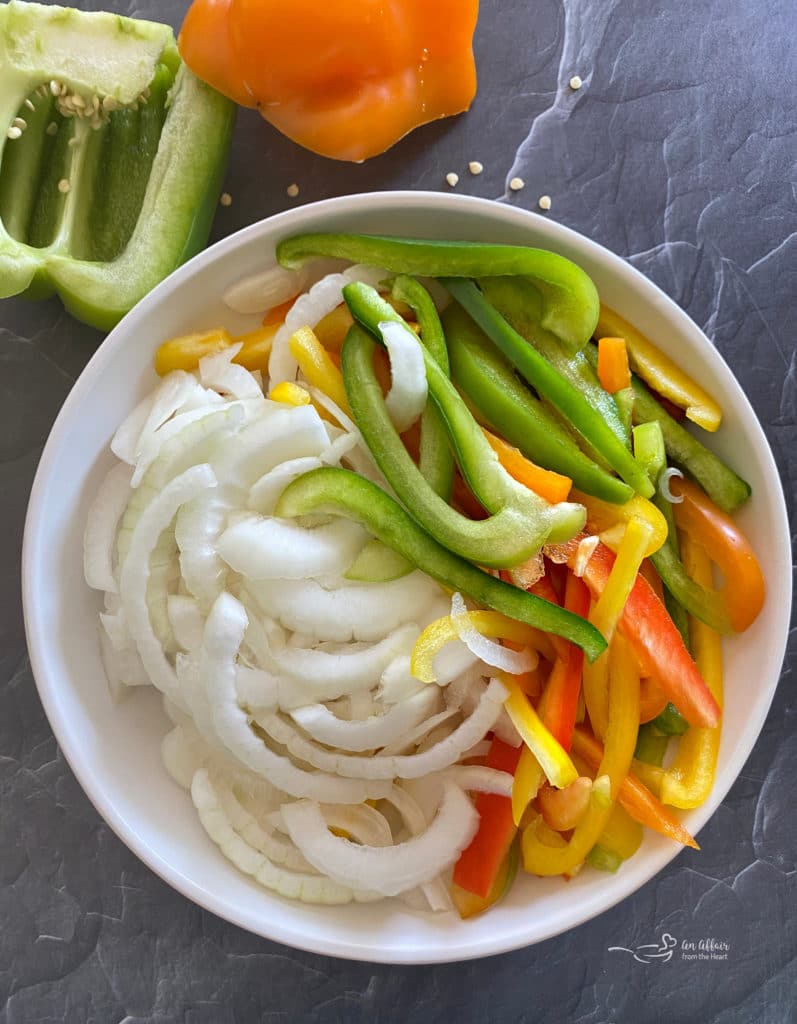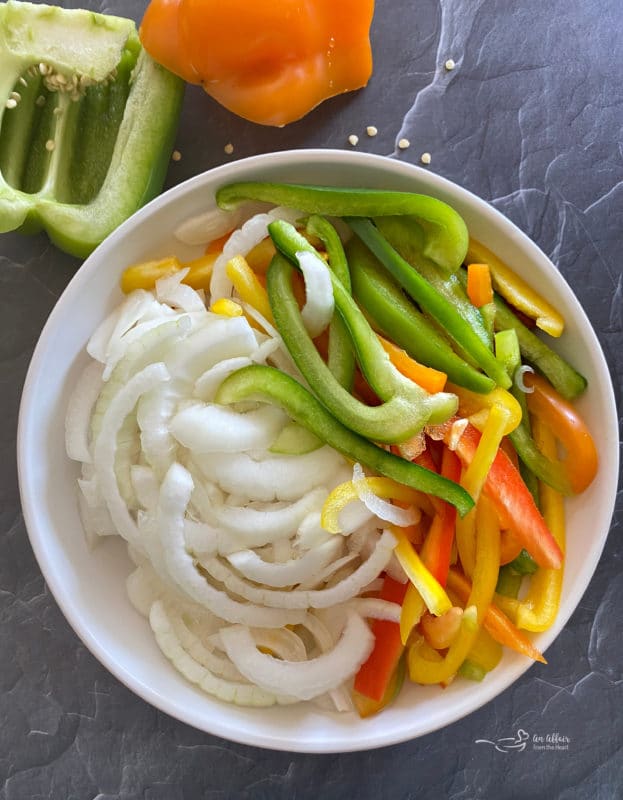 For vegetables, you'll need sliced onions and colorful bell peppers. Whichever color you choose will work just fine. I actually bought one of each, red, yellow, green and orange. I sliced them all up and used half of each color.
The rest I tossed in a plastic bag and put them in the freezer. I will have them all ready to go the next time I make my stuffed pepper skillet or pepper steak recipe!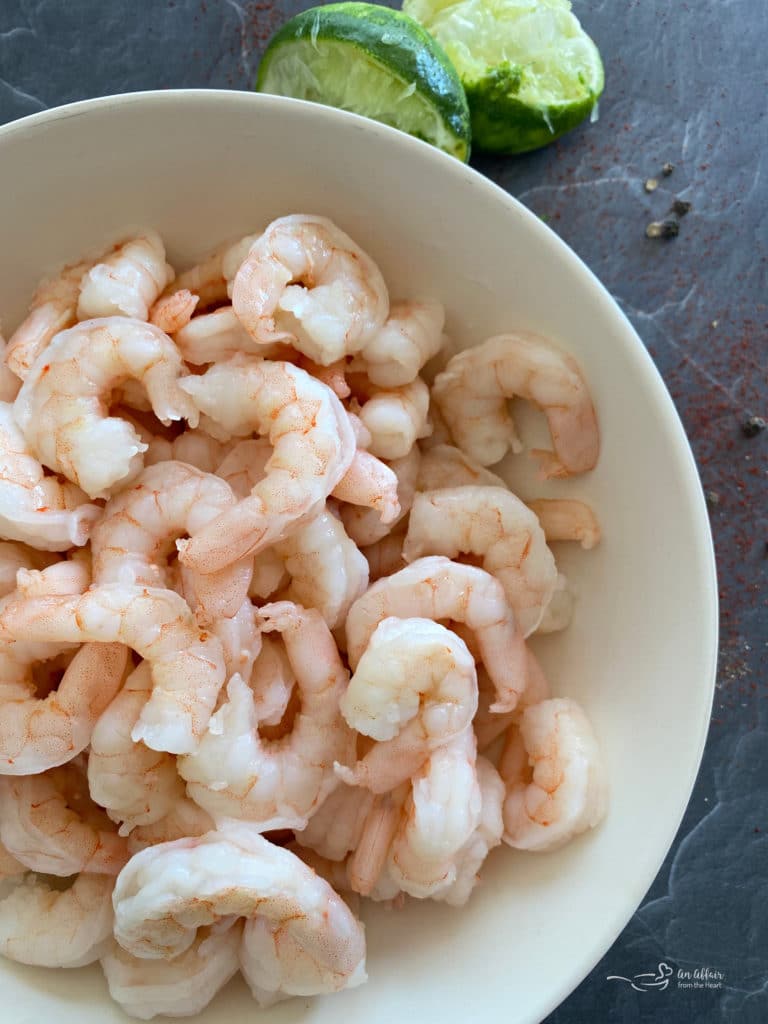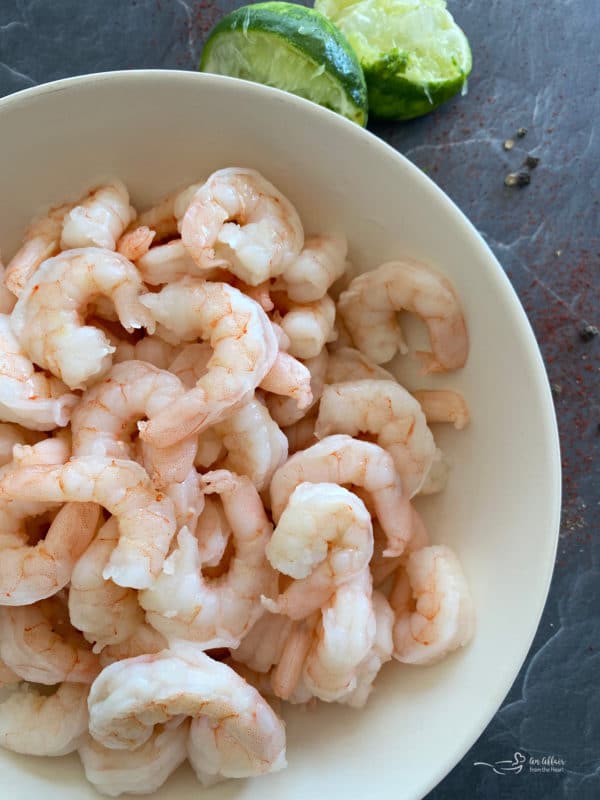 And finally, you will need shrimp! I purchased mine in the freezer section. They were already cleaned, deveined and the tails were removed. They are already cooked, so the time they were on the sheet pan was a little less than if you are using raw shrimp.
How to make shrimp fajitas on a sheet pan in the oven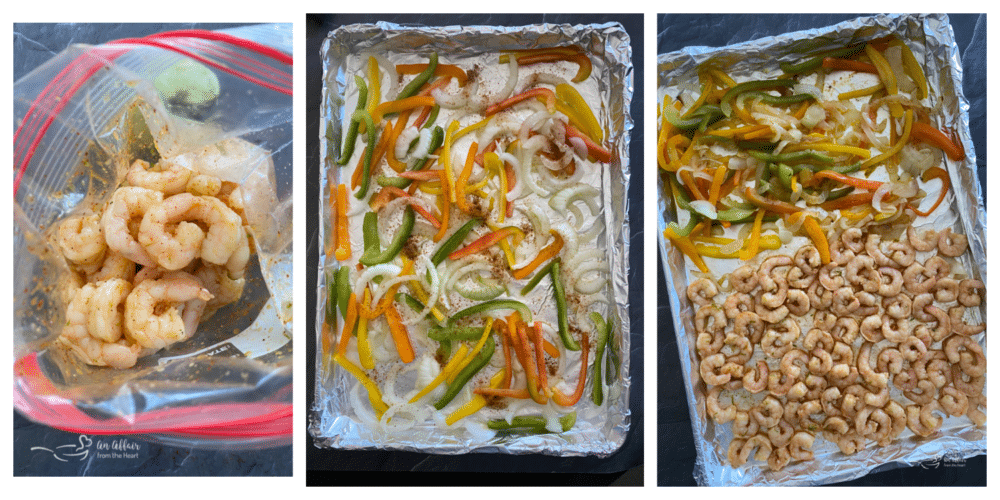 First, you'll need to soak your shrimp in the marinade for a bit. A plastic bag works great. Next, cover a sheet pan in foil and lay the peppers and onions on it. Drizzle them with olive oil, and give them a quick toss to coat them.
After spreading them into an even layer on the baking sheet, dust them with some of the seasoning mix. Place them in the oven to roast for about 15 minutes.
Pull the sheet pan from the oven and stir the peppers and onions. Push them to one side of the pan. On the other side add your marinated shrimp. (drain that liquid before you add them to the pan) Roast for another 5-8 minutes or so.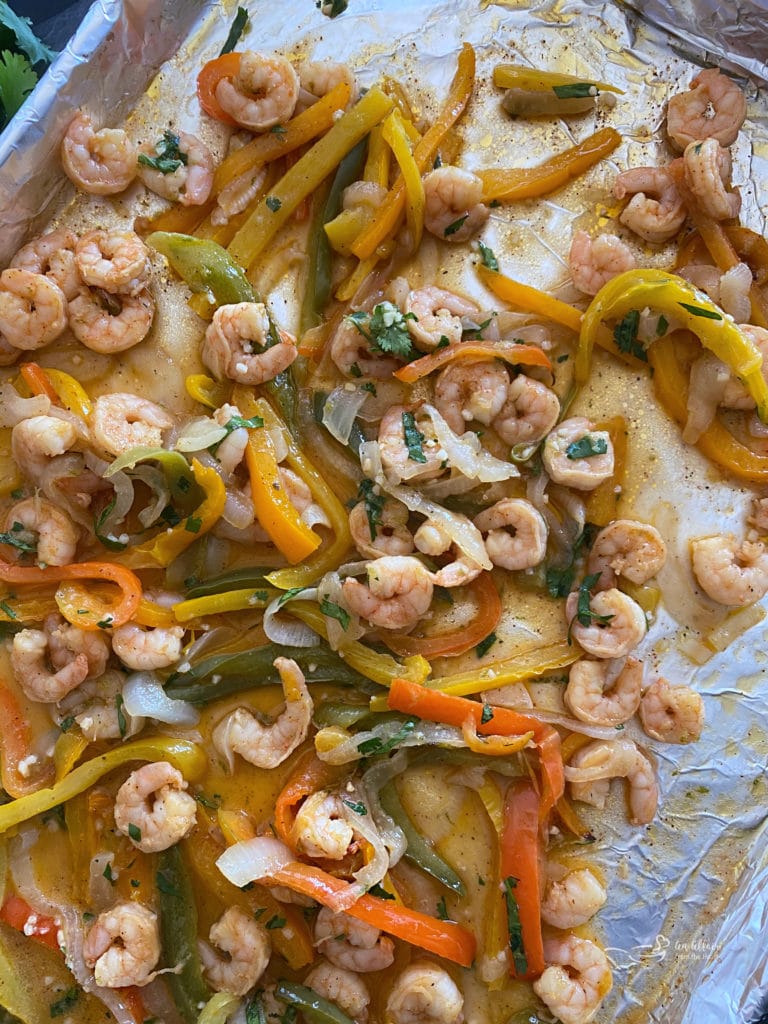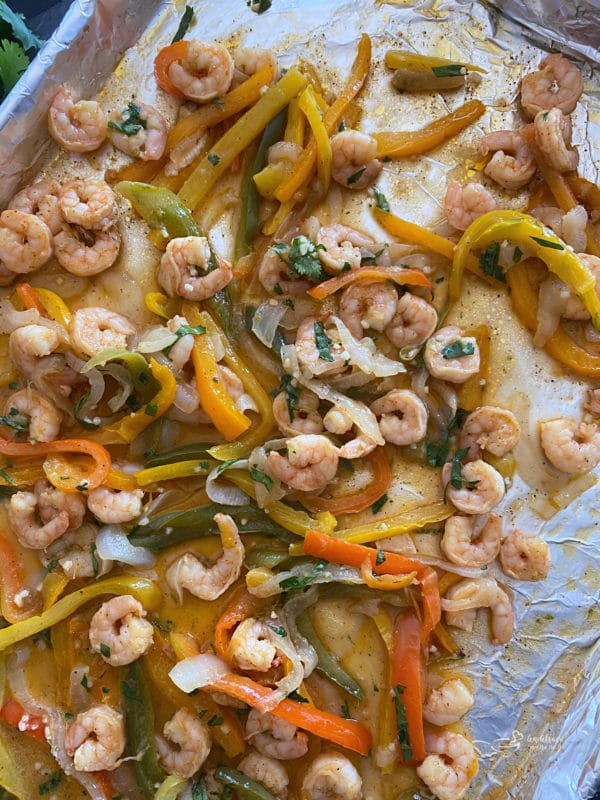 Cilantro Lime Butter for Fajitas
The final step is to drizzle the whole thing in a fajita butter sauce recipe made of melted butter, fresh cilantro, the juice and zest of a small lime and a couple of cloves of minced garlic. It totally makes the whole dish! This butter sauce is pure magic, I promise!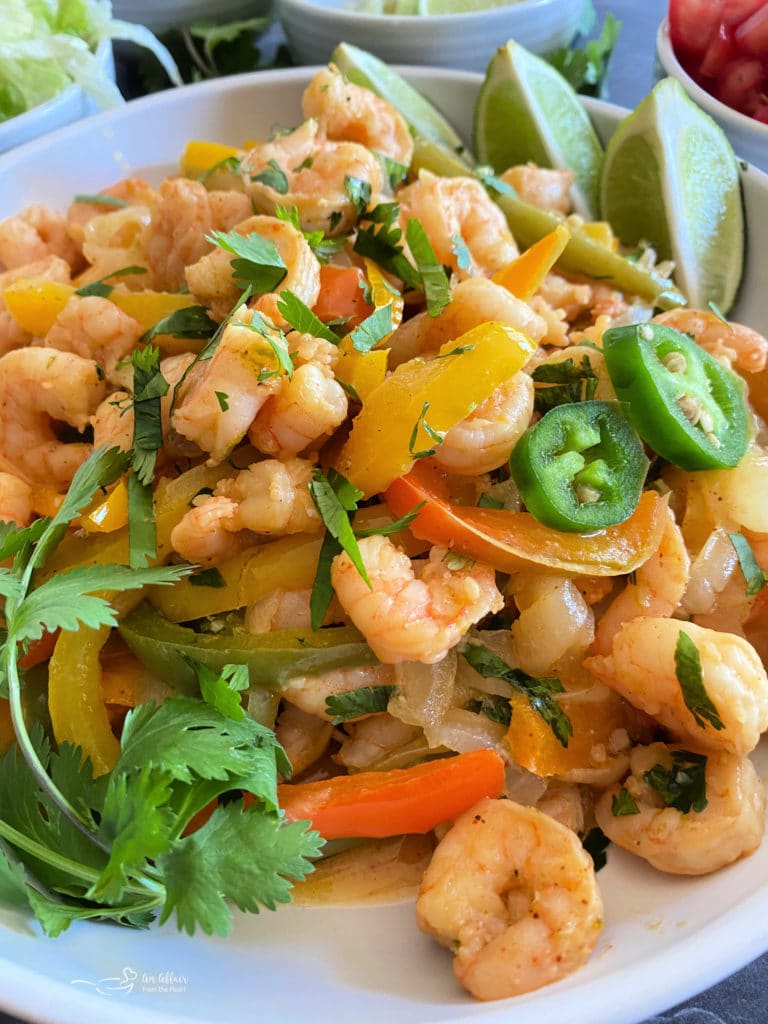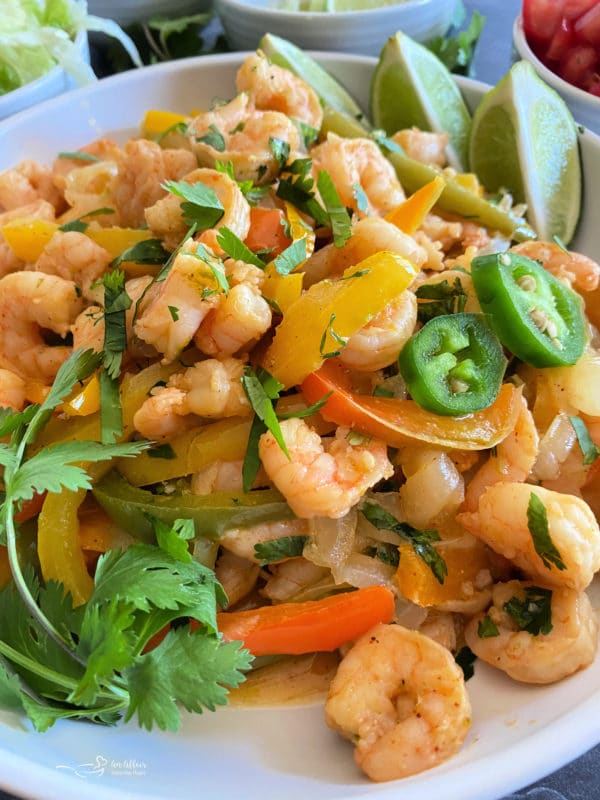 Personally, I just ate mine with a fork, just like this. I mean, why not?!
Love it? Pin it!
Don't forget where you found this recipe! Pin it to your favorite Pinterest recipe board before you go!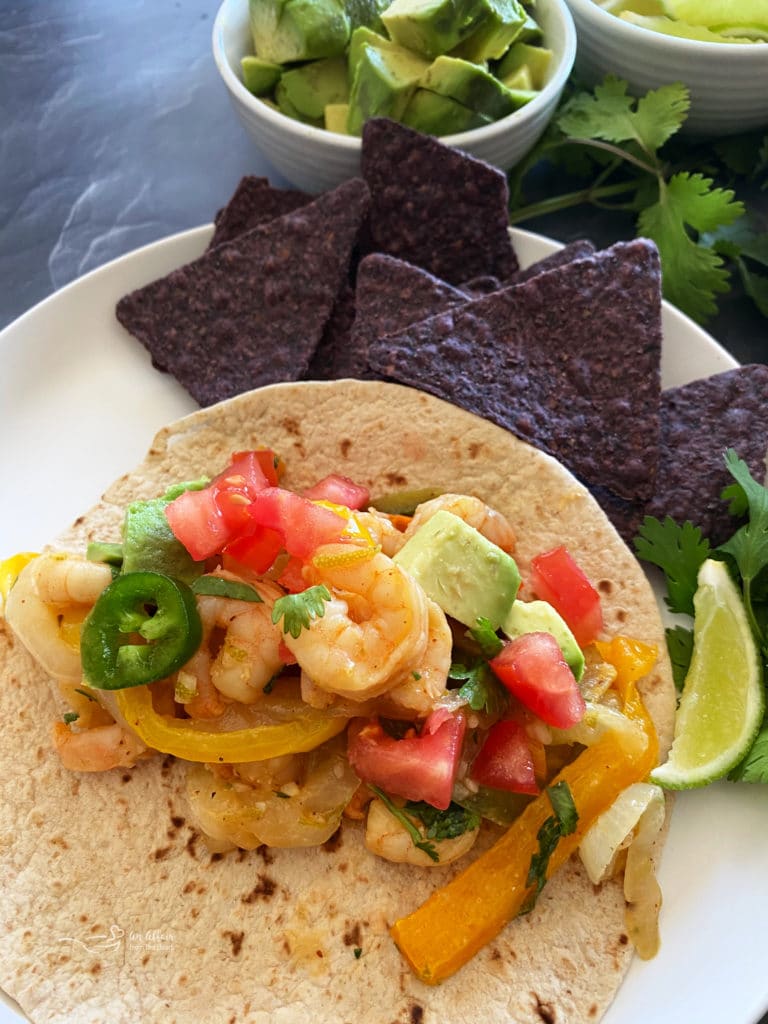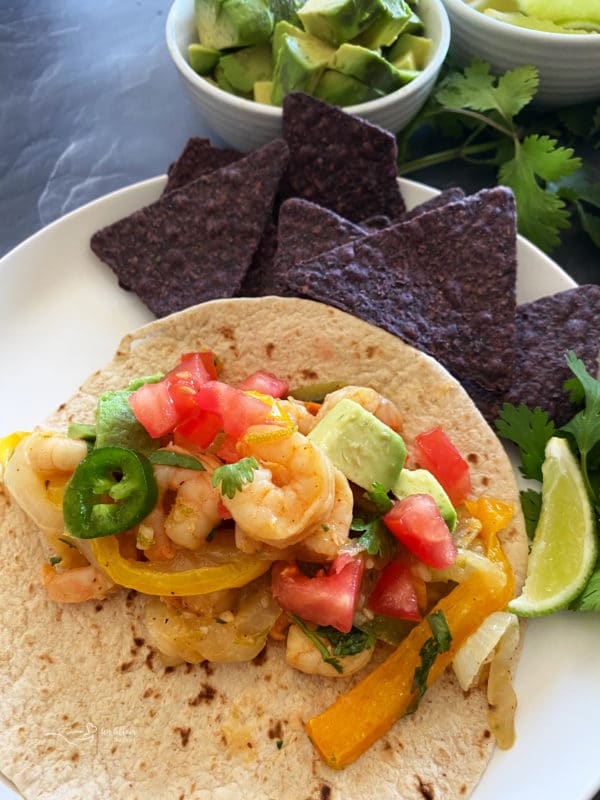 When you make these sheet pan shrimp in your oven — you have options. You can serve them all on their own, as tacos, fajitas, rice bowls or even use them atop a salad. To serve them you top them any way you like – here are some options: tortillas, tomatoes, salsa or pico de gallo, avocado, guacamole, cheese, lettuce, fresh jalapeño, and sour cream.
Be sure to check out more recipes from Lemon Blossoms, you will be glad that you did!
Take a look at all of our 2021 Freaky Friday Spring Edition Recipes:
A Dish of Daily Life – Smoky Chicken Street Tacos
An Affair from the Heart – Sheet Pan Shrimp Fajitas with Cilantro Lime Butter
An Affair from the Heart – Blueberry Mojitos
Aunt Bee's Recipes – Easy Chile Relleno Casserole
The Carefree Kitchen – Glazed Lemon Cookies
The Culinary Compass – Easy Candied Pecan Recipe
Devour Dinner – Cheese Stuffed Meatloaf
The Foodie Affair – Keto Broccoli Salad
The Fresh Cooky – Bowtie Pasta Recipe
Hostess at Heart – No Bake Chocolate Cheesecake
House of Nash Eats – Roast Beef Sliders
Lemon Blossoms – Lemon Blueberry Crumb Bars
Lemoine Family Kitchen – Lemon Blueberry Bread
Life, Love & Good Food – Cubano Sandwich
Off the Eaten Path – Grilled Vegan Guacamole
Or Whatever You Do – Blackstone Mexican Style Street Corn
The Speckled Palate – Lemon Bars
Take Two Tapas – Pepperoni Pizza Pinwheels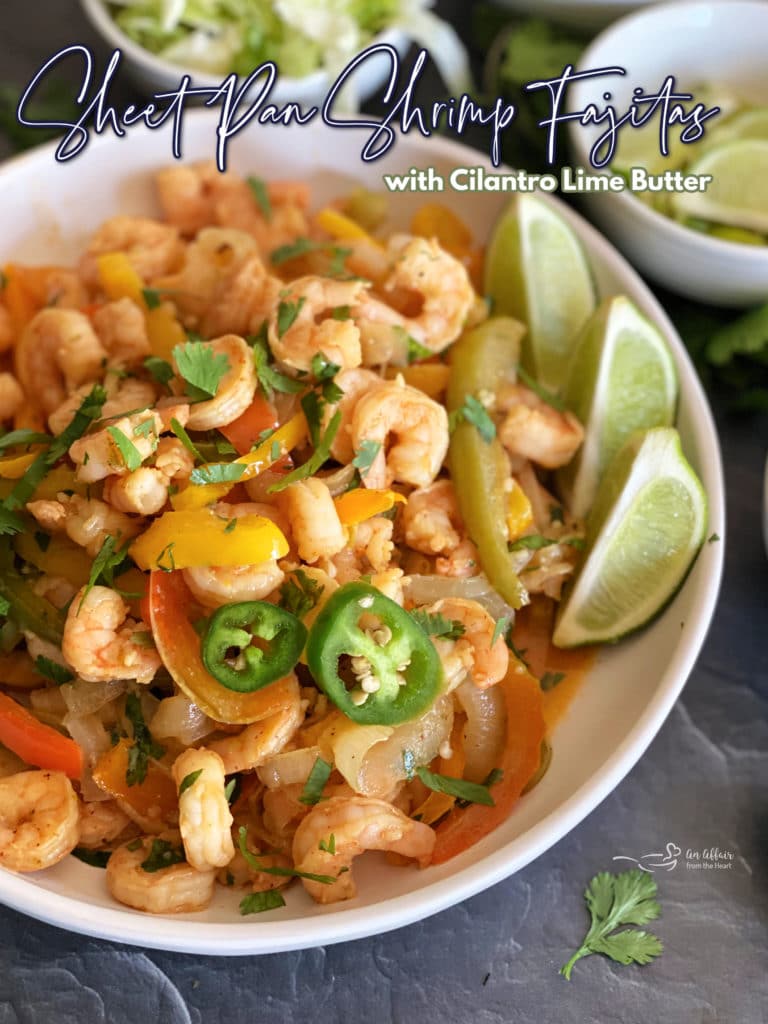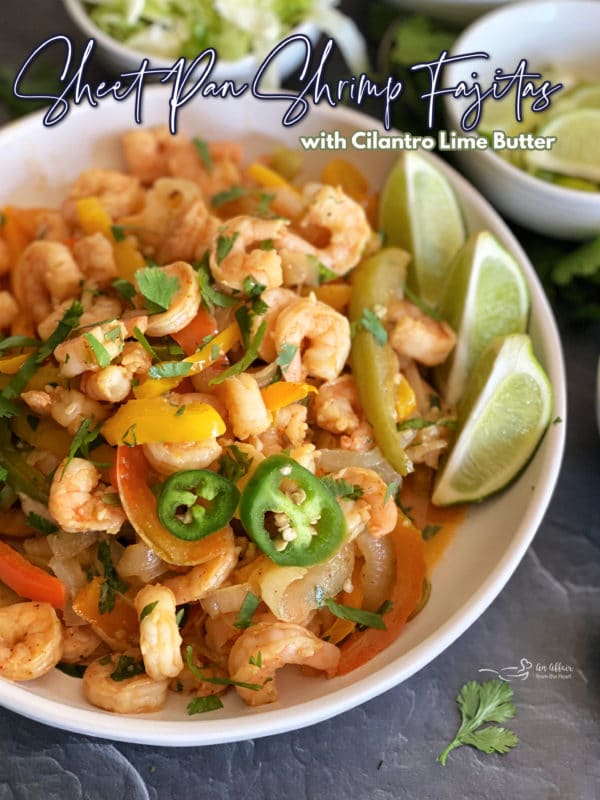 Time to whip up some easy shrimp fajitas!

Yield: 4
Sheet Pan Cilantro Lime Shrimp Fajitas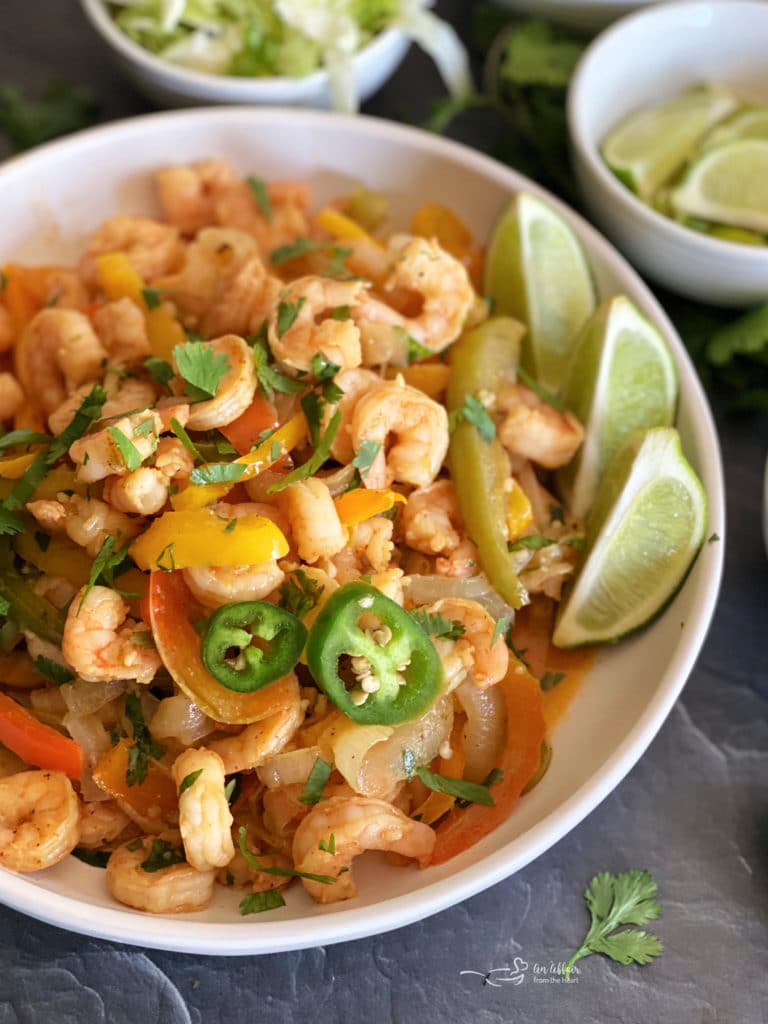 Deliciously tangy, Shrimp Fajitas with just the perfect amount of spice! This easy to make recipe comes together quickly in your oven on a sheet pan. Made with colorful bell peppers, fresh cilantro, citrus, and a homemade spice blend.
Ingredients
For the Spice Blend:
1 teaspoon ground cumin
1/2 teaspoon garlic powder
1 teaspoon chili powder
1/4 teaspoon paprika
1/4 teaspoon black pepper
1 1/2 teaspoons sea salt
pinch of ground cloves
1 pound large shrimp, peeled, deveined, tails removed
For the Marinade:
1/2 Tablespoon olive oil
Juice and zest of one small lime, about 1 Tablespoon
1 Tablespoon orange juice
1/2 Tablespoon soy sauce
1 Tablespoon of the spice blend (recipe above)
Vegetables
2 large bell peppers, sliced (any colors you want)
1/2 of a large onion, sliced
2 Tablespoons olive oil
For the Cilantro Lime Butter
3 Tablespoons butter, melted
1 Tablespoon fresh cilantro, chopped
Juice and zest of 1 small lime, about 1 Tablespoon
2 cloves of garlic, minced
For serving (ideas are optional)
tortillas, tomatoes, salsa or pico de gallo, avocado, guacamole, cheese, lettuce, fresh jalapeño, sour cream
Instructions
In a small bowl mix up your spice blend. It'll make about 2 Tablespoons. Set aside.
Place shrimp in a ziplock bag. Add ingredients for the marinade to the bag. (oil, lime/zest, orange juice, soy sauce and 1 Tablespoon of spice blend) Toss the shrimp in the marinade so they are all coated. Place the bag in the refrigerator for 30 minutes minimum and up to 2 hours. (I had mine in for 2 hours, and flipped the bag a couple of times to move the shrimp/marinade around a bit.)
Preheat the oven to 400 degrees F. Line a sheet pan with foil.
Place the onions and peppers on the sheet pan and drizzle with the oil. Give the veggies a quick toss to make sure they are coated evenly and spread them out in a single layer on the sheet pan. Sprinkle them with more seasoning mix. Roast in the oven for 15 minutes.
Mix up the ingredients for the cilantro lime butter. Set aside.
Remove the sheet pan from the oven and give the vegetables a stir. Move them to one side of the sheet pan.
Drain the marinade from the shrimp and add them in a single layer to the opposite side of the baking sheet. Place back in the oven and roast for another 6-8 minutes, or until the shrimp is cooked through. Don't overcook or the shrimp will be chewy and the veggies will get too soft.
When you remove the sheet pan from the oven, mix the shrimp and vegetables together and top them with the cilantro lime butter.
Serve with tortillas and toppings as desired.
Notes
I used frozen cooked shrimp when I made this recipe. So note that the cooking time for mine was more like 5 minutes. I basically just heated them through. If you are using raw shrimp, your cook time will be longer. The shrimp are done when they turn pink.
Store leftovers in the fridge in an airtight container and eat within 2 days.
Recommended Products
As an Amazon Associate and member of other affiliate programs, I earn from qualifying purchases.
Nutrition Information:
Yield:
4
Serving Size:
1
Amount Per Serving:
Calories:

579
Total Fat:

32g
Saturated Fat:

10g
Trans Fat:

0g
Unsaturated Fat:

19g
Cholesterol:

271mg
Sodium:

2408mg
Carbohydrates:

45g
Fiber:

8g
Sugar:

20g
Protein:

32g
Please note that nutrition is not guaranteed accurate.

If you make this recipe, I'd love to know! Snap a picture, share the photo on social media with the hashtag #AnAffairFromTheHeart – I'd love to see what you made! – Michaela